Celebrating the holidays with friends and family doesn't get much better does it? We put together this Christmas Recipes Mains and Sides list to take the stress out of getting food and drink ready to go!
Starting off with Main Courses, then moving on to the Side Dishes. Be sure to head over to our Christmas Recipes Menu for a full list of all of our Christmas recipes!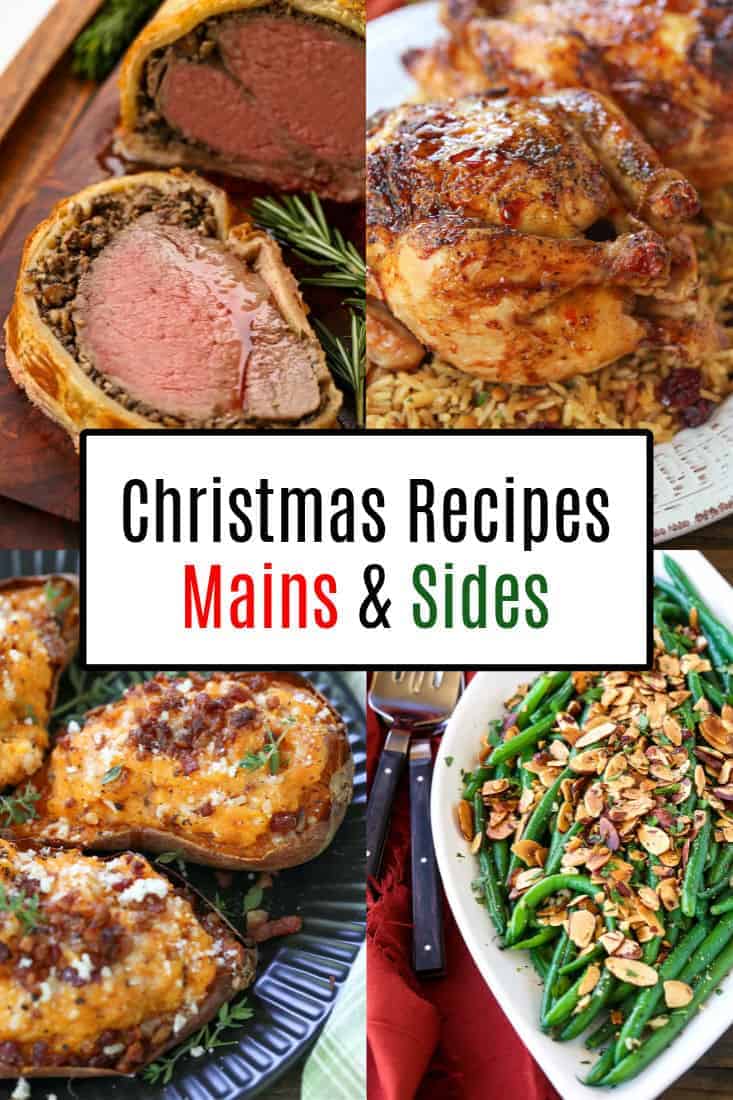 Christmas Main Course Recipes
Whether you're serving one or two (or three!) main courses for Christmas, we've got you covered. Everything from a beef roast, glazed ham, or turkey to your pasta sides likes lasagna and baked ziti!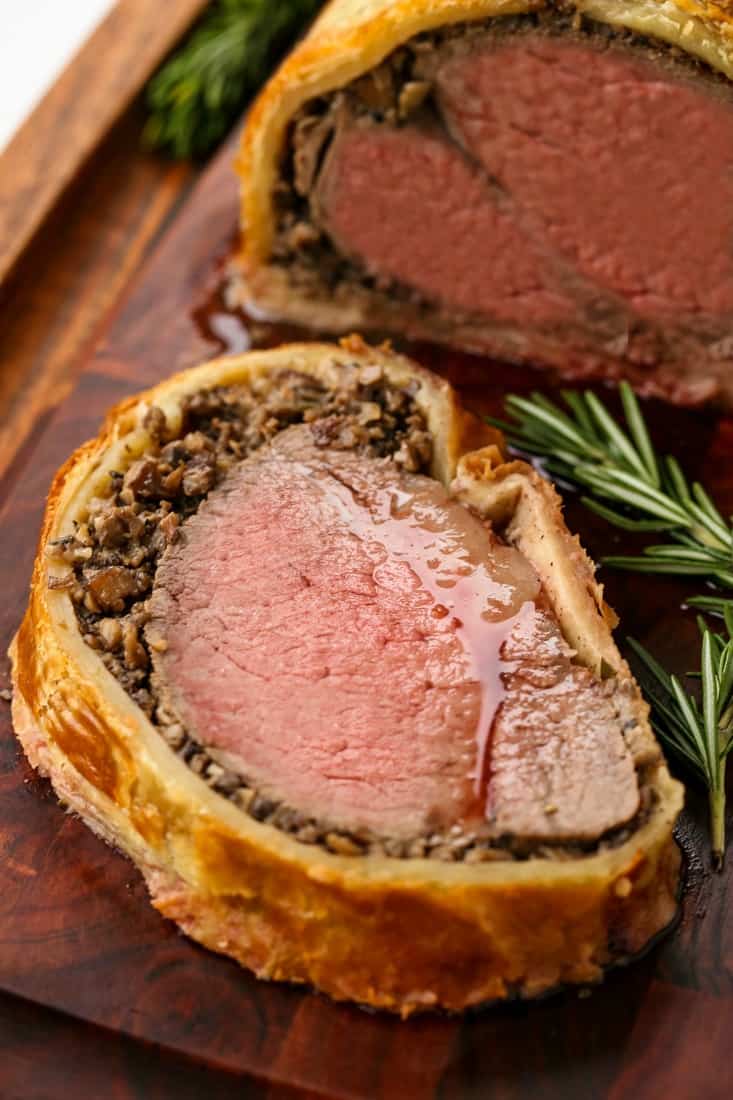 Beef Wellington is a family favorite at out house! My mom made (and still makes) this beef tenderloin recipe every Christmas Eve for as long as I can remember.
The beauty of this beef tenderloin recipe is that you can make it almost completely ahead of time and then pop it in the oven when you're ready!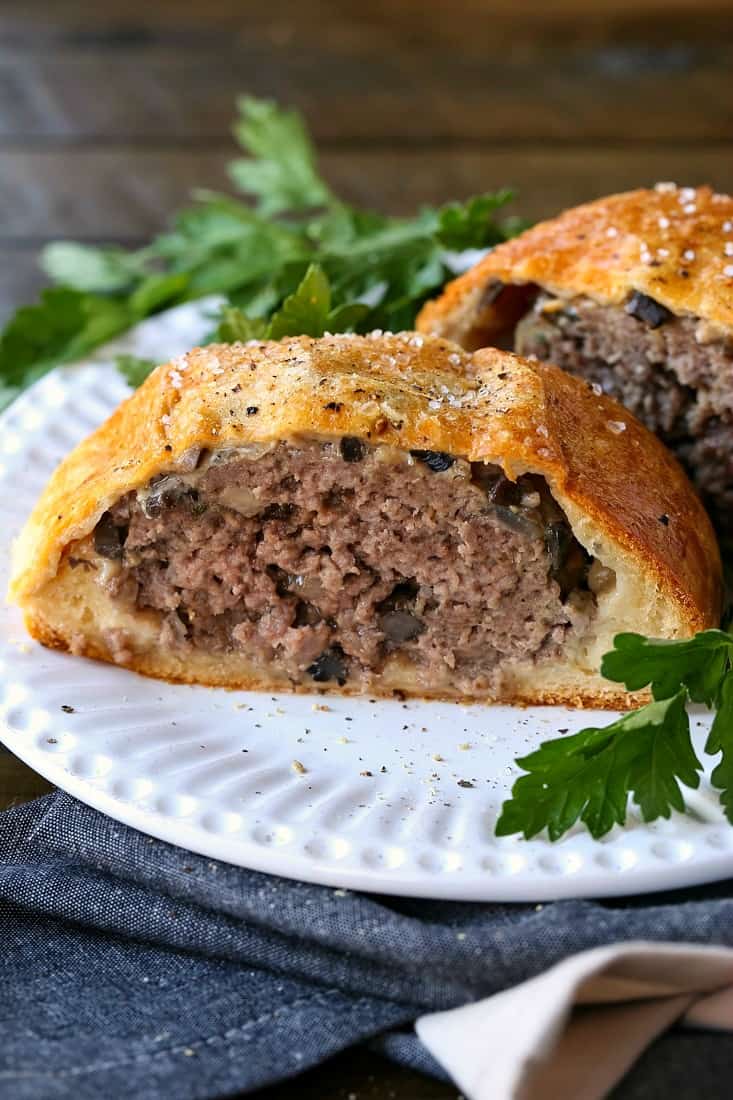 Sometimes when you're looking at Christmas Recipes Mains and Sides, you have to account for a smaller crowd. Or maybe you have a budget to stick to, then this is the recipe you need.
This Beef Wellington recipe uses ground beef instead of a beef tenderloin, but it has all the same flavors that you're looking for!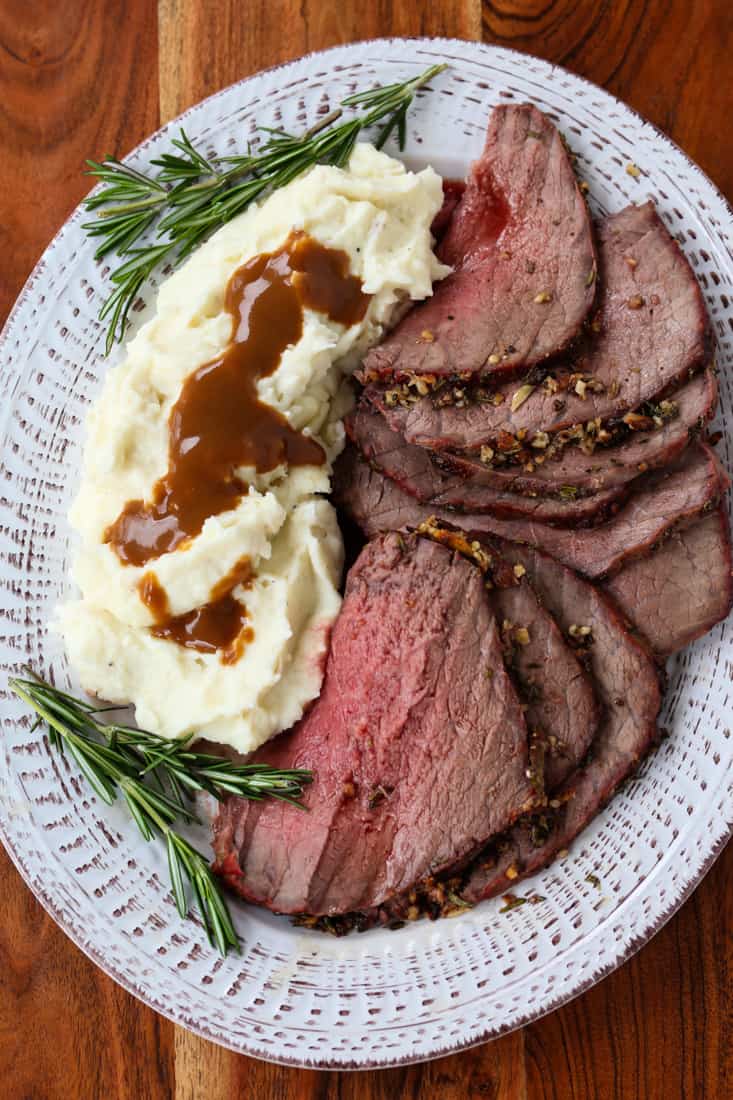 This garlic and herb crusted roast beef is a showstopper to say the least. Another easy beef recipe that everyone loves! Cook this roast beef to a nice, medium rare or rare if you prefer.
The ends of the roast usually get a little more done than the middle so there will be a slice that everyone likes!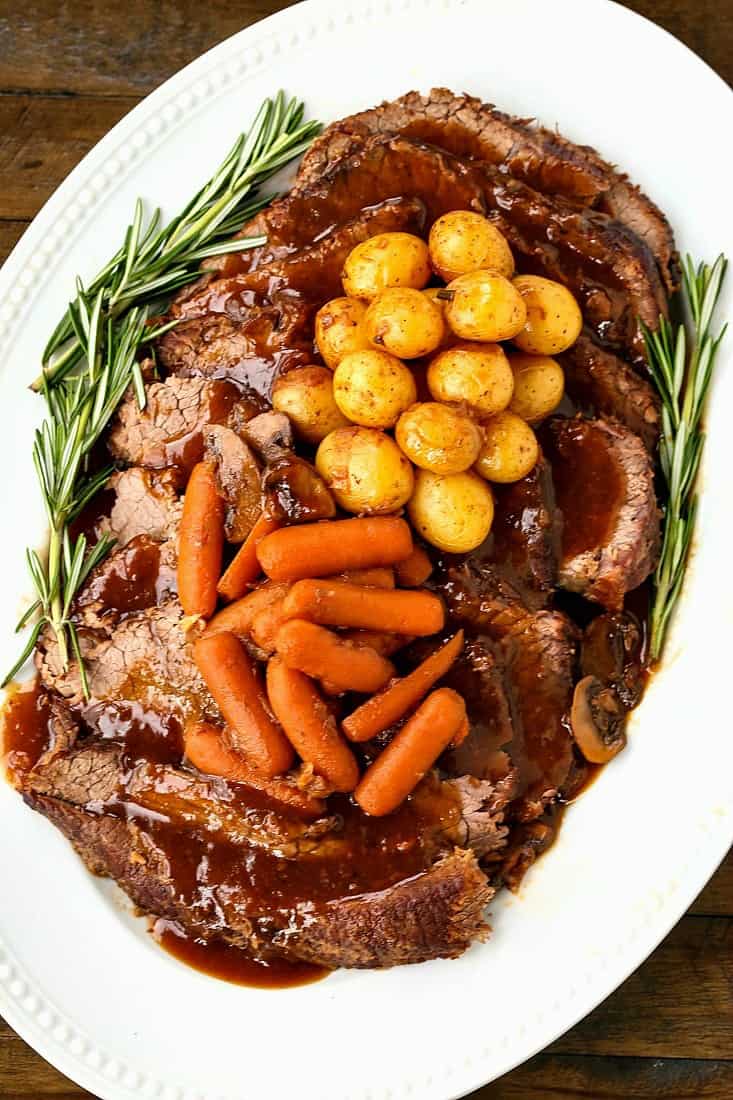 Grandma's Pot Roast is always welcome on our Christmas Recipes Mains and Sides list. Super tender beef in a thick, wine and herb flavored gravy that you'll want to eat up with a spoon.
This pot roast recipe has the main course and vegetables sides all in one recipe!
Everyone should know how to cook a turkey, in my opinion. We aren't going to be able to rely on mom and grandma forever to get that bird on the table, so dig in and learn how to do it!
Cooking a whole turkey really isn't that hard to do if you have and easy recipe to follow. All you need is some seasonings and a few hours in the oven!
Roast Turkey Breast Recipe/How To Carve A Turkey Breast
Here's another great way to get all your holiday flavors for a smaller crowd. Roasting a turkey breast is so easy our teenagers are in charge of dinner when turkey breast in on the menu.
You can season the turkey however you like, throw it in a roasting dish or a sheet pan with some aromatics and off to the oven it goes.
A couple of hours later you have delicious, juicy roasted turkey!
Cornish Hens are another great idea if you're having a smaller crowd for Christmas. You can count on one hen for two people so it makes meal planning a breeze!
These little chickens have a sweet and just a little bit spicy bourbon glaze that you won't want to miss!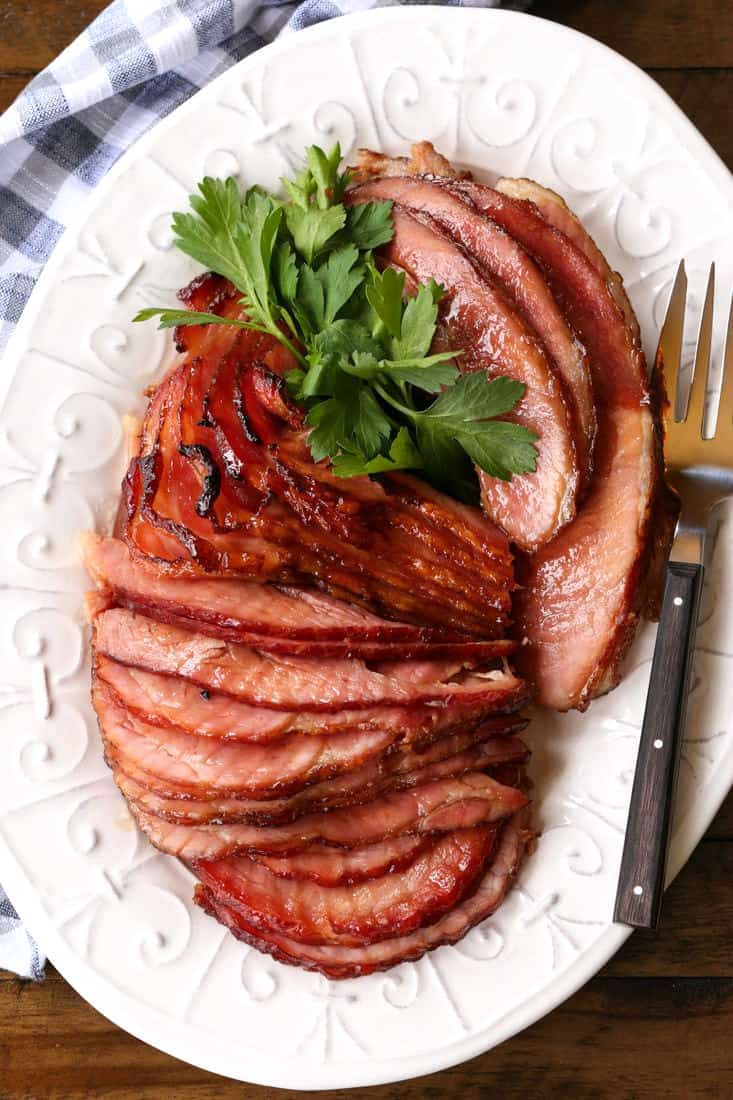 Glazed ham will always have a place on our Christmas Recipes Mains and Sides, especially a spiral sliced ham like this one.
Baked ham is one of the easiest main courses you can get on the table for Christmas. Since ham is already cooked, you're really just flavoring it and warming it up in the oven.
If you're looking for a regular baked ham, not a spiral sliced ham, this is our go to recipe. A brown butter glaze flavors every inch of this ham, especially those crispy corners that you see here.
We literally have to fight our kids off in the kitchen when we're carving this ham, all they want are those sweet, buttery, crispy bits.
Slow Cooker Captain & Coke Glazed Ham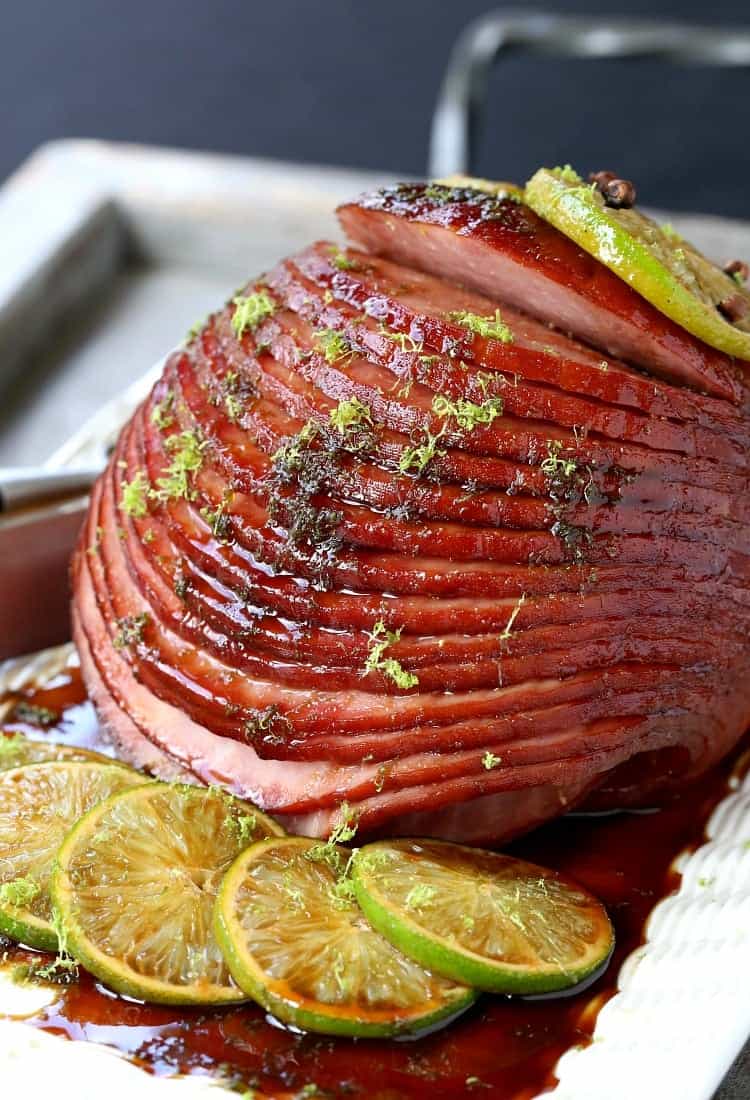 This slow cooker ham recipe not only frees up your oven space, but it definitely brings the party to a spiral ham dinner! Flavored with a little bit of rum and coke, this spiral sliced ham is always the hit of any holiday or dinner party!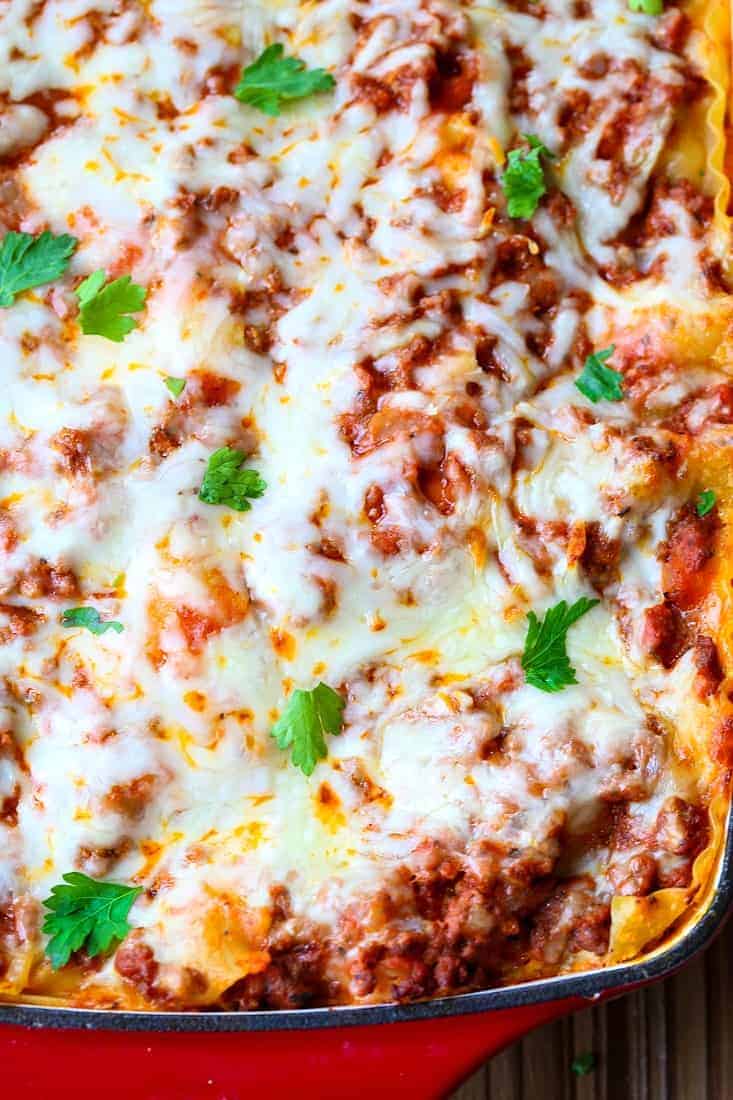 Like a lot Italian families, when planning our Christmas Recipes Mains and Sides, we have some sort of pasta dish along with our ham and turkey.
Yep, three main courses, if not more, are usually on the table at once. This beef lasagna recipe is fool proof, you can even make it a day ahead of time!
Turkey Lasagna with Pumpkin Alfredo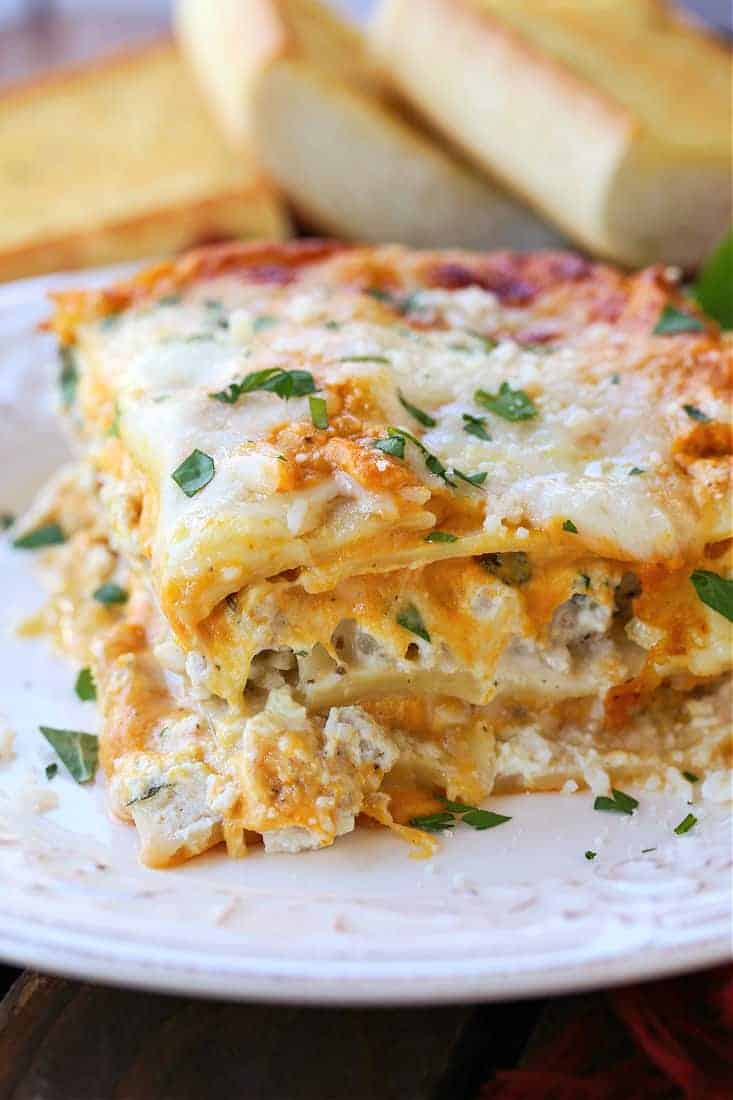 This ground turkey lasagna with an easy, pumpkin alfredo sauce is going to blow them away at your Christmas table! All the flavors of a turkey dinner stuffed right into a lasagna recipe.
Make this lasagna a day ahead of time if you need to and then just bake when ready!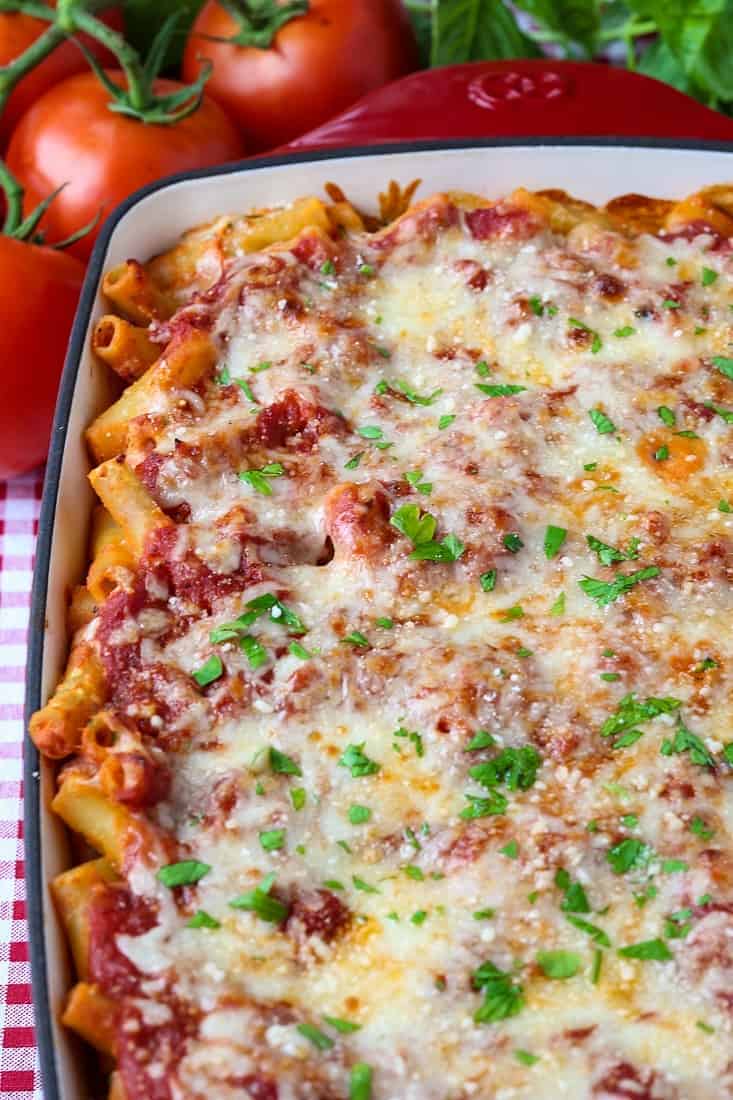 A lot of people think that you don't really need a recipe for baked ziti, just toss cooked ziti together with ricotta cheese and sauce and bake, right? Nope.
If you're looking for that perfect, comforting baked ziti vibe, this is the recipe you need.
What's there not to love about a creamy, cheesy, baked macaroni casserole??? A scoop or two of this mac and cheese next your ham or turkey is pretty much a match made in heaven.
You can prep this macaroni and cheese the day before or the morning of and then bake when ready!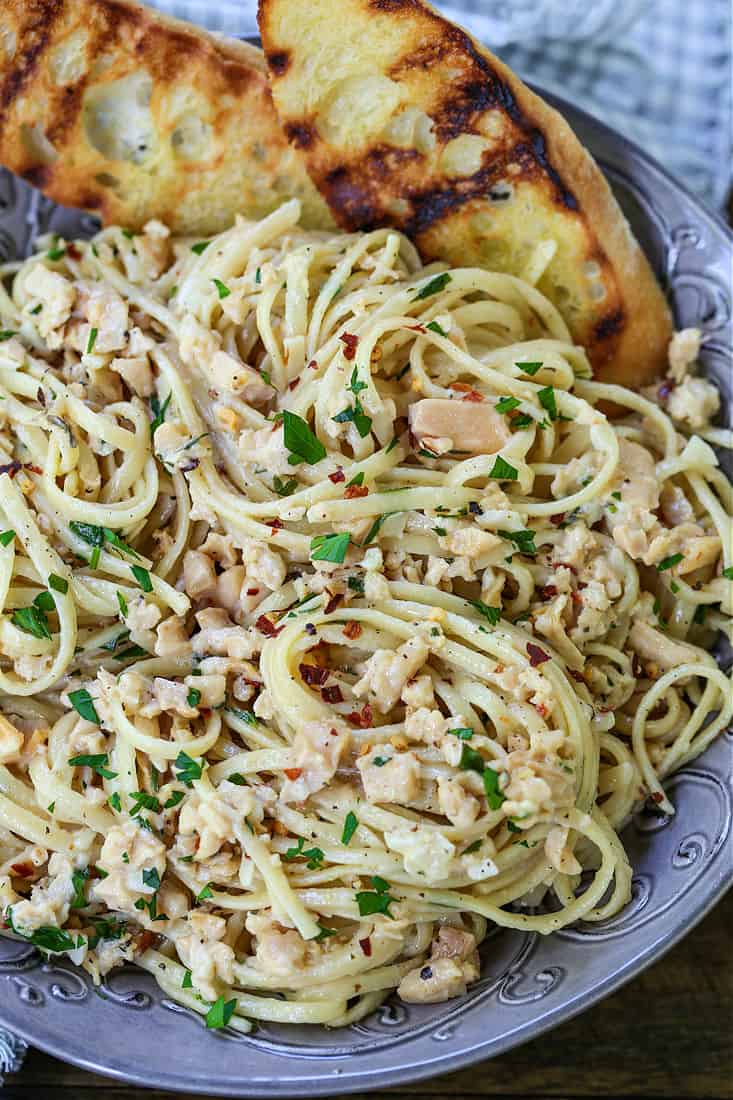 Getting into the seafood main curse here, but still overlapping with the pasta recipes. This Linguine with clam sauce os our favorite recipe to make at home.
The sauce is a little bit creamy and flavored with fresh herbs and white wine. Canned chopped clams make this seafood pasta easier to make at home!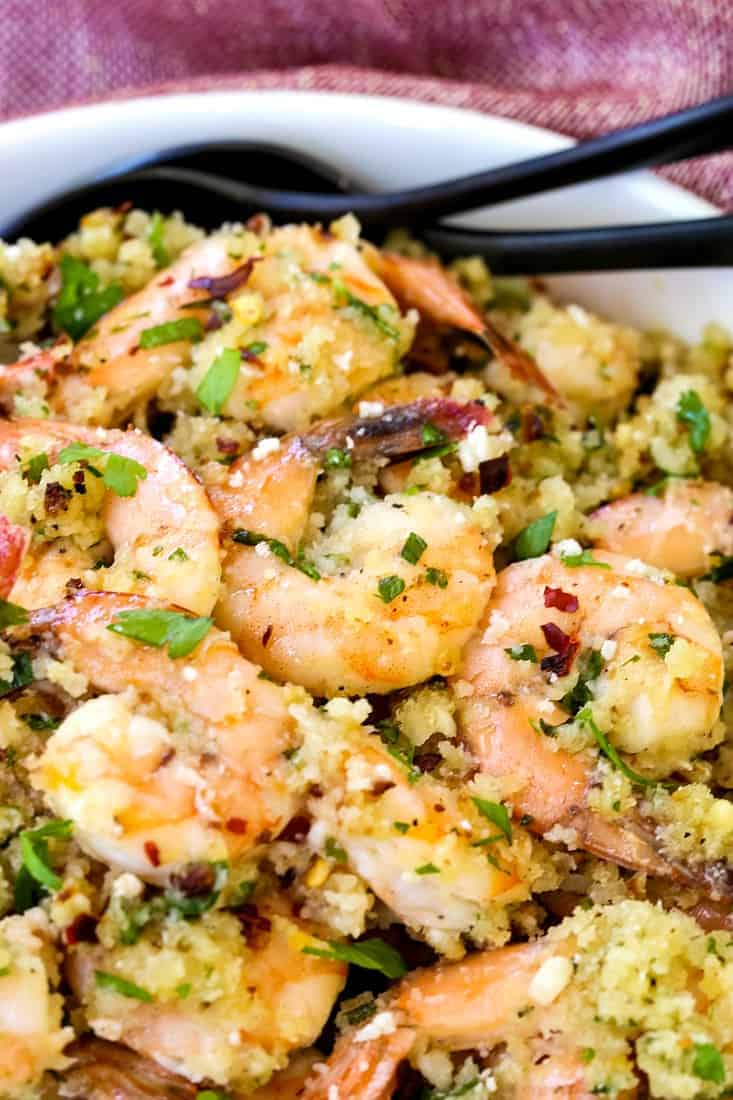 Shrimp scampi with a buttery, crispy panko breadcrumb topping! Everyone goes crazy for this shrimp recipe, just make sure you serve it with a lot of bread for dipping!
Shrimp scampi can be served as a main course or even as a first course or appetizer!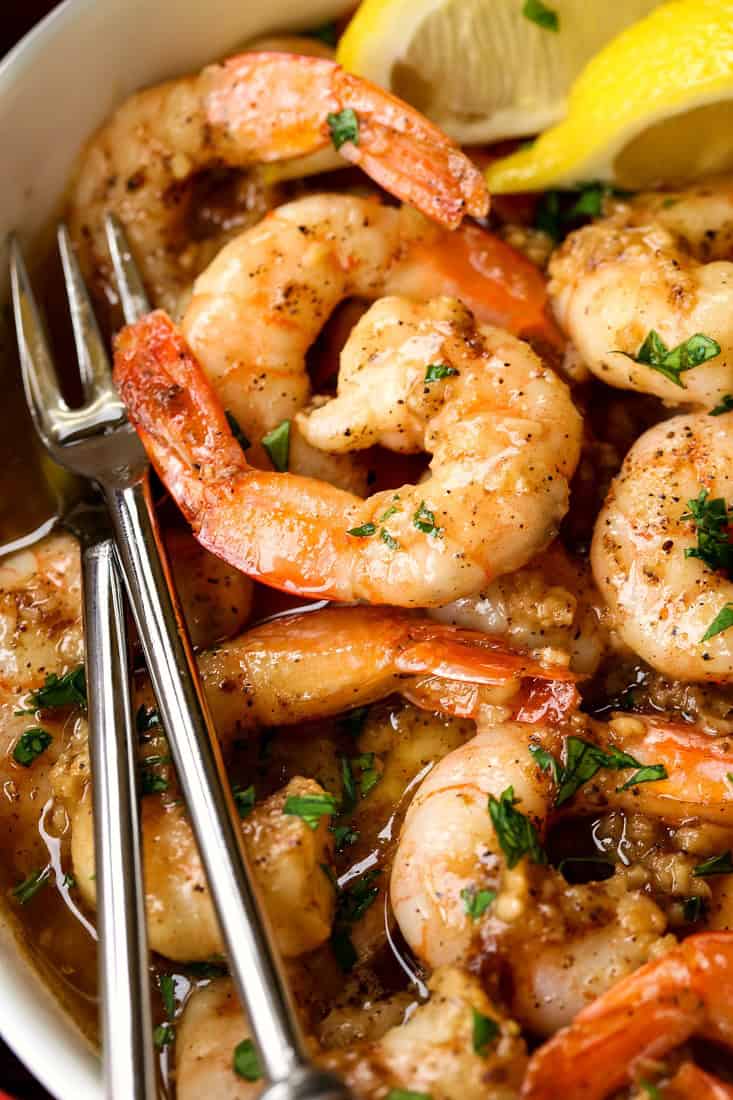 Another easy, delicious shrimp recipe! Garlic butter shrimp only takes about 15 minutes to make, and again can be served as part of the main course or an appetizer recipe.
Big pieces of crusty bread for sopping up all the garlic butter wine sauce is mandatory!
Christmas Side Dish Recipes
Is it even a holiday without the sides??? Our Christmas Recipes Mains and Sides has literally every side dish imaginable. And if you need more just head over to our complete Side Dish Menu!
Potato Sides
Yes, we know that a potato is a vegetable, but since we have so many delicious, comforting potato side dishes we thought we'd separate them from the vegetable sides!
Because you know you're going to make more than one.
These sweet potatoes are kicked up to another level! A twist on a twice baked potato made with sweet potatoes, lots of butter and a touch of cinnamon and honey!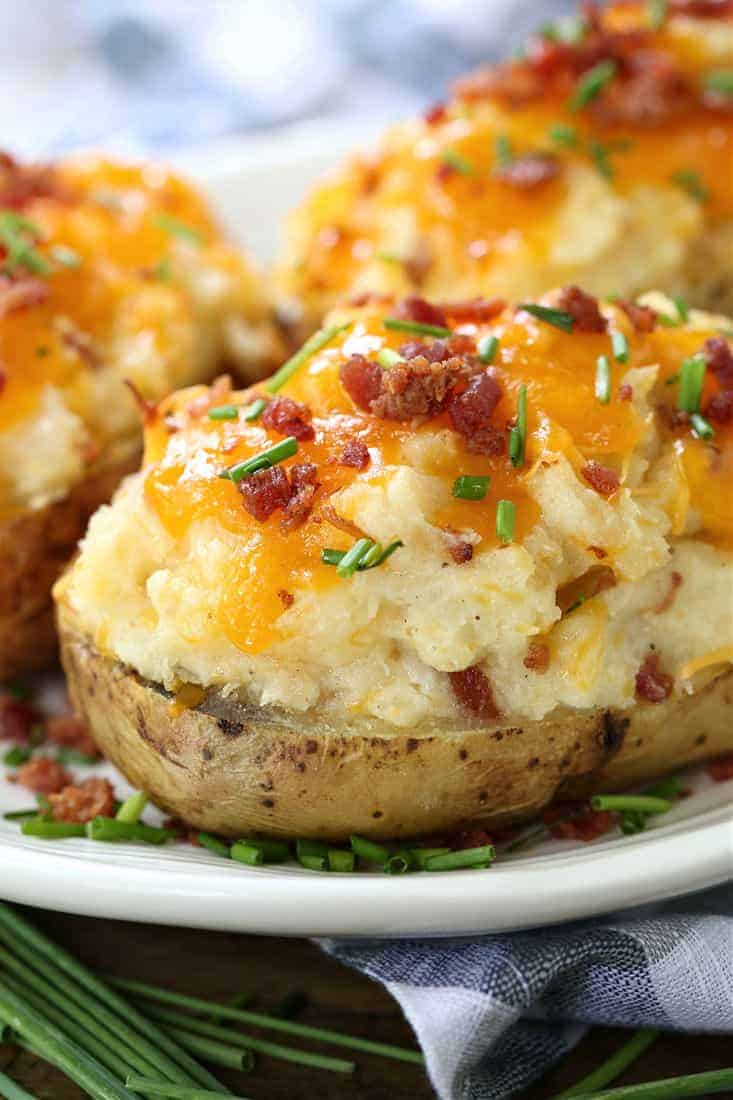 Classic, twice baked potatoes are always on our dinner menu, whether it's a holiday or not! Super creamy and fluffy potato filling with bacon and cheese, it's a home run.
Also, this potato side dish, like most on this Christmas Recipes Mains and Sides list can be made ahead of time!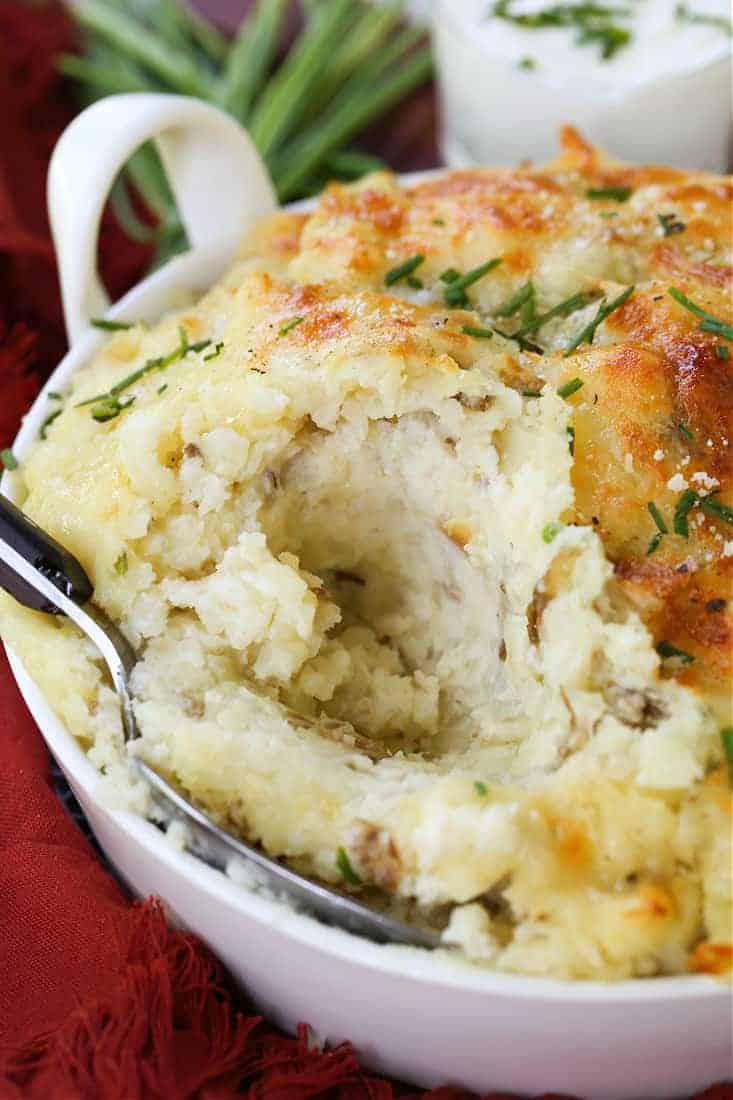 Ever heard of Potatoes Romanoff? This potato casserole is made using a special technique that makes a delicious, creamy and fluffy texture!
Also, these potatoes can be made ahead of time so you can actually enjoy your holiday!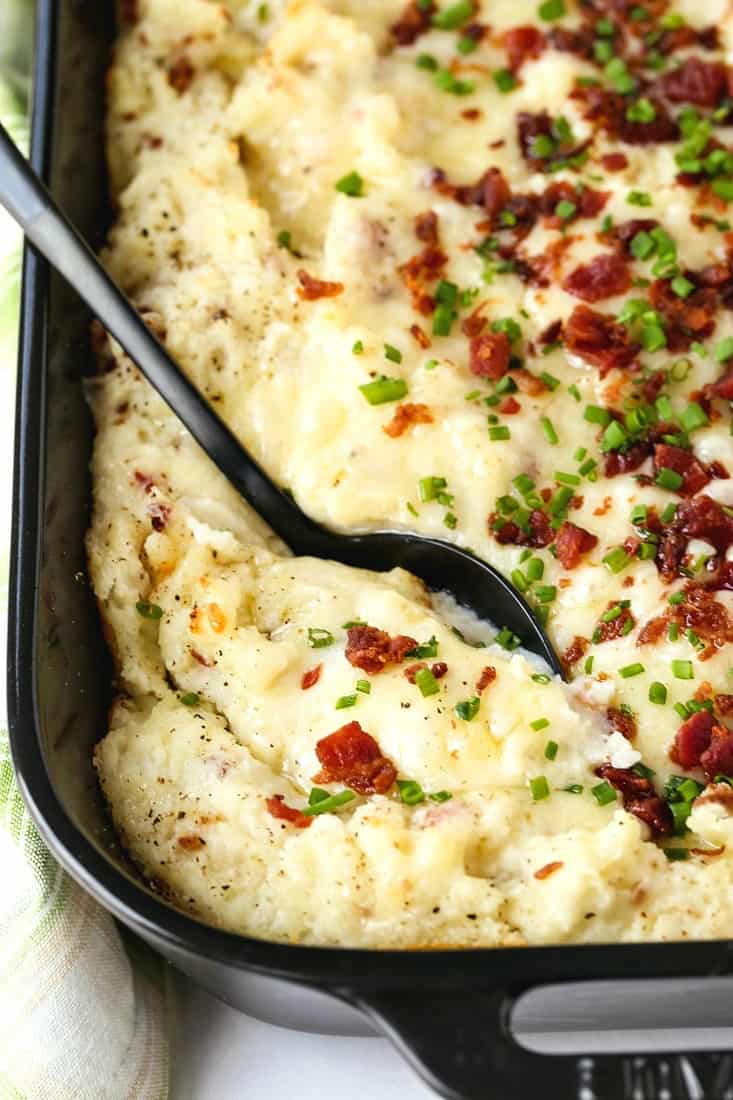 Our boys love this Twice Baked Potato Casserole so we make it whenever we can! Of course it's perfect for holidays like Christmas, but it's an easy potato casserole recipe that can be made even a day ahead of time.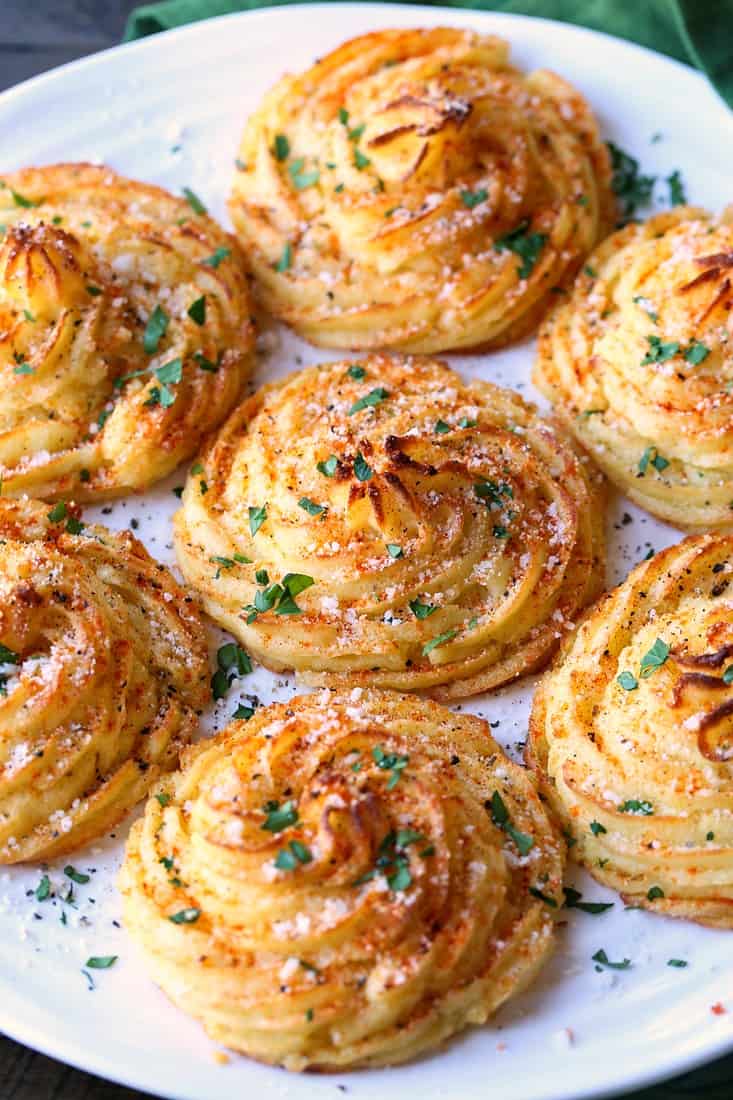 These Duchess Potatoes taste just as good as they look! Certainly, these potatoes make for a fancy presentation, but just wait until you taste them.
Creamy, cheesy potato center with crispy edges on top!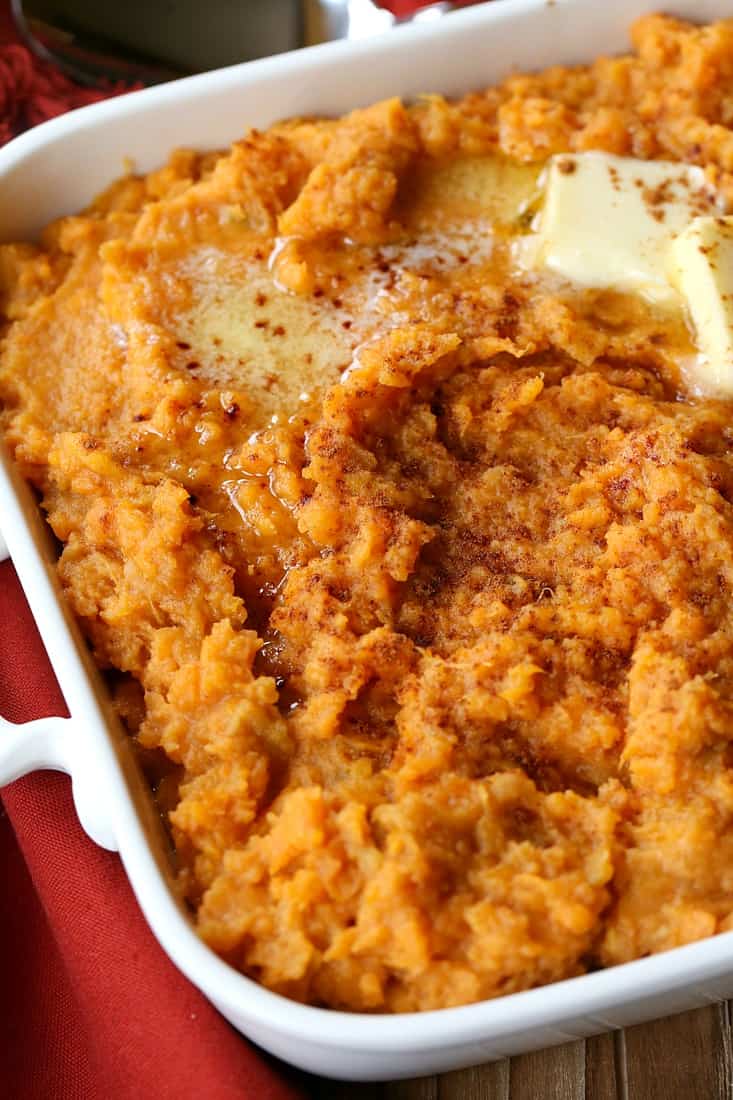 This potato casserole is loved by all. Make it ahead and pop it in the oven before dinner! Baked with sweet honey and cinnamon flavors, everything you're looking for in a Christmas side dish.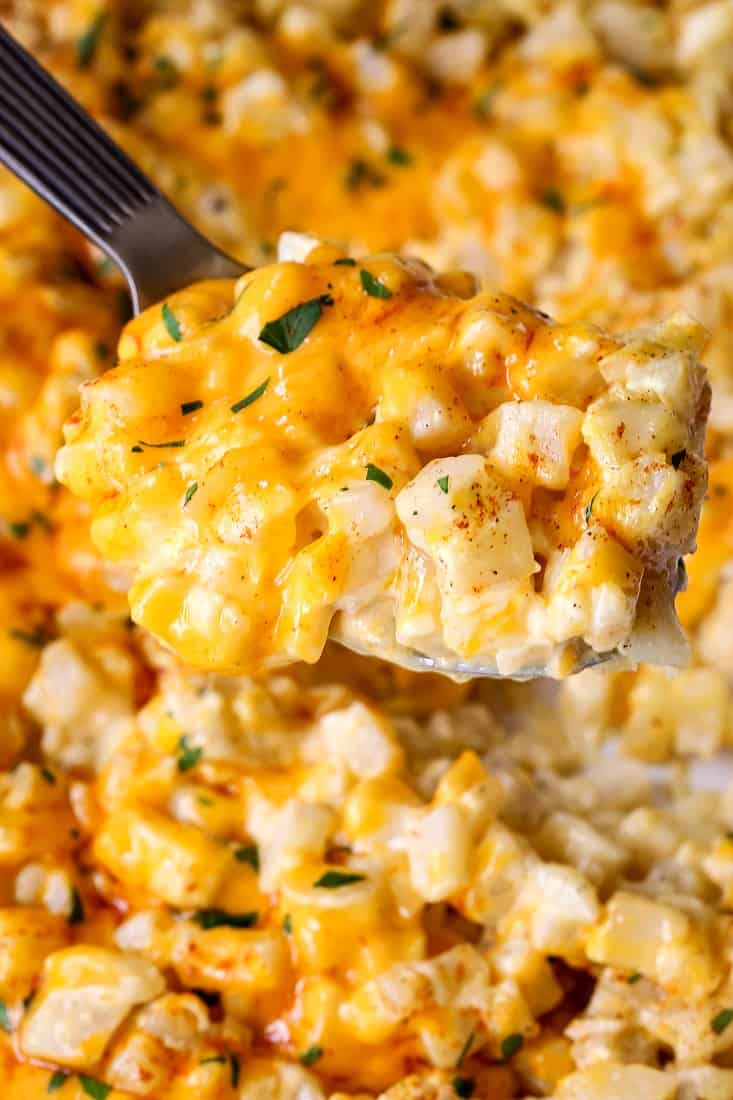 When you need an easy and crazy addicting side dish, these cheesy crock pot potatoes are the answer! Free up your oven and make these potatoes right in your slow cooker!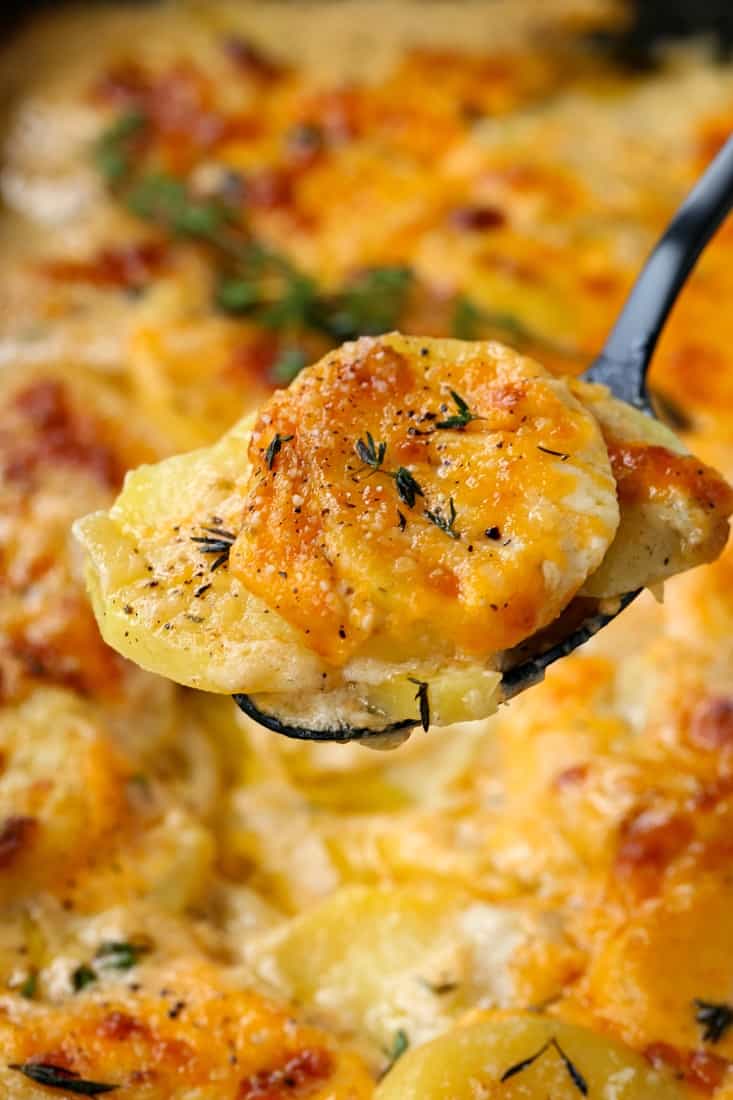 Classic scalloped potatoes are always a welcome Christmas side dish. We've added a good amount of cheese to this scalloped potato recipe, because, well, we just love cheese.
Perfectly Smooth Mashed Potatoes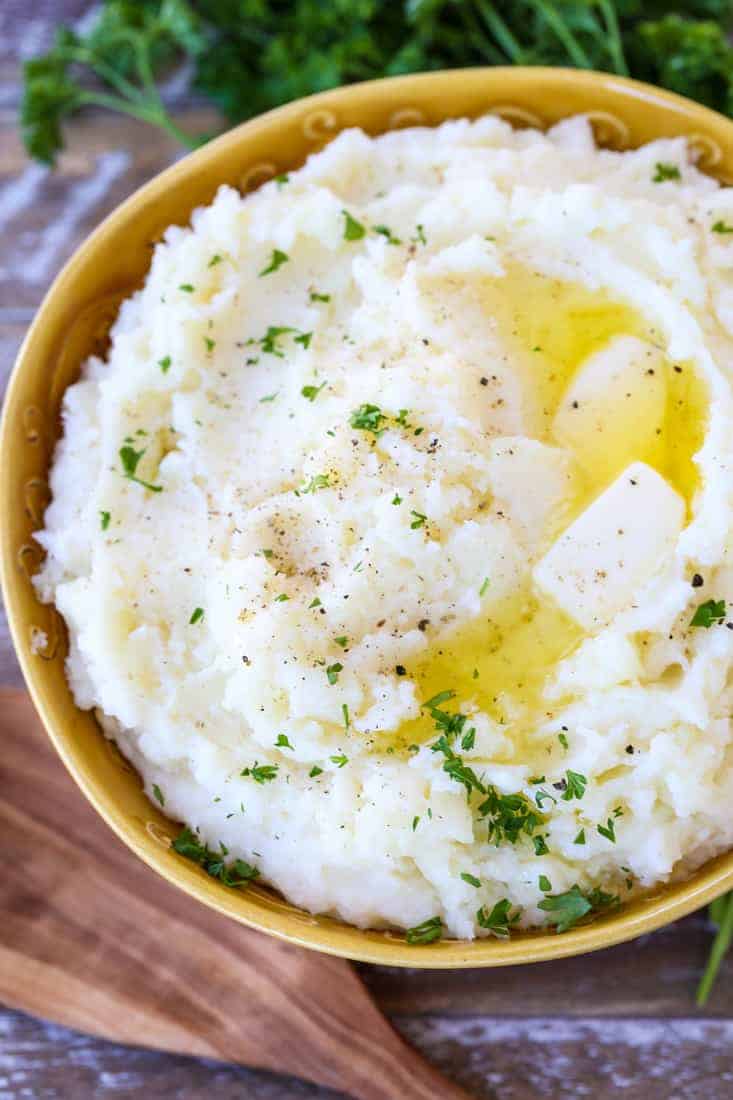 One kitchen tool helps to make these mashed potatoes the fluffiest and creamiest imaginable! It's tough making mashed potatoes any other way after trying this method.
Vegetable Sides
Acorn Squash with Brown Sugar and Walnuts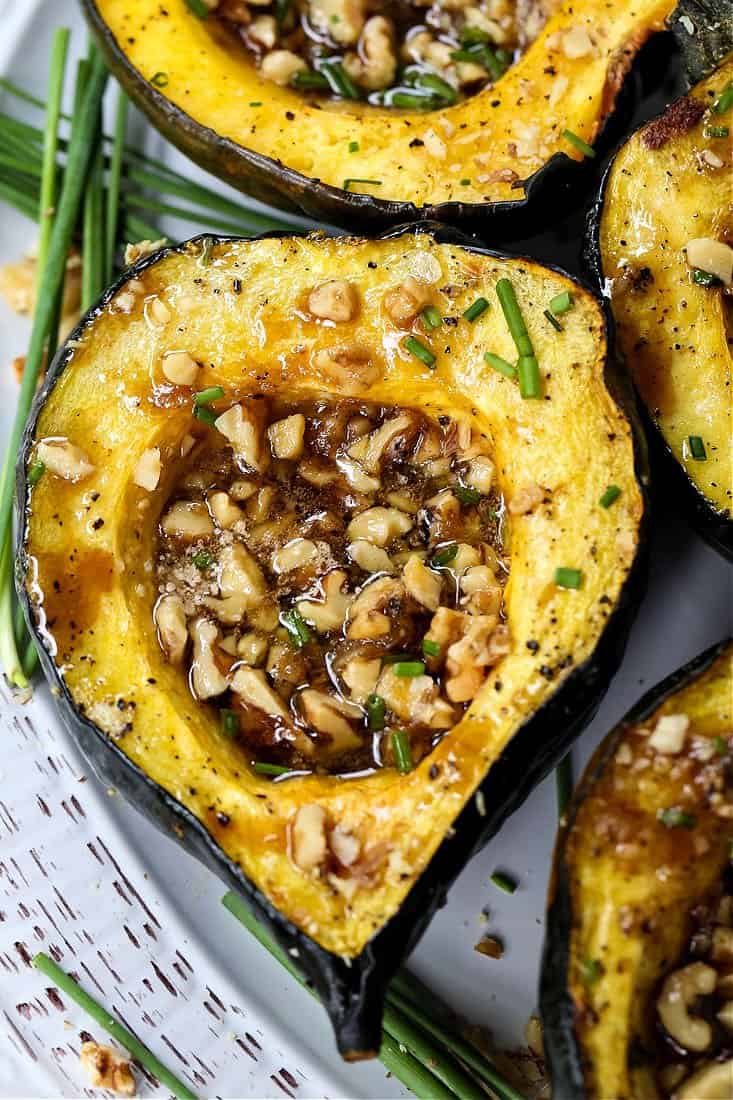 Stir in all the brown sugar, butter and nuts into this acorn squash and take a bite. Heavenly, comforting, sweet and delicious squash that's the prefect Christmas side dish!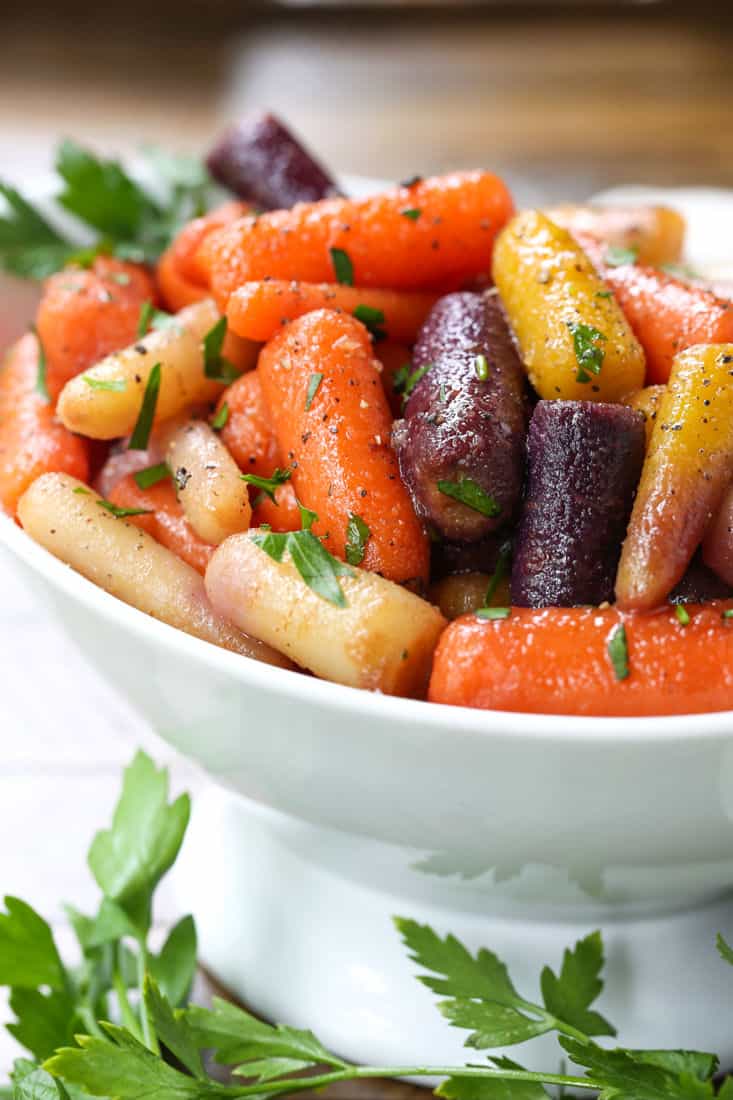 Kids go crazy for these sweet, glazed carrots and honestly, the adults do too. Super easy to make and can be made in advance!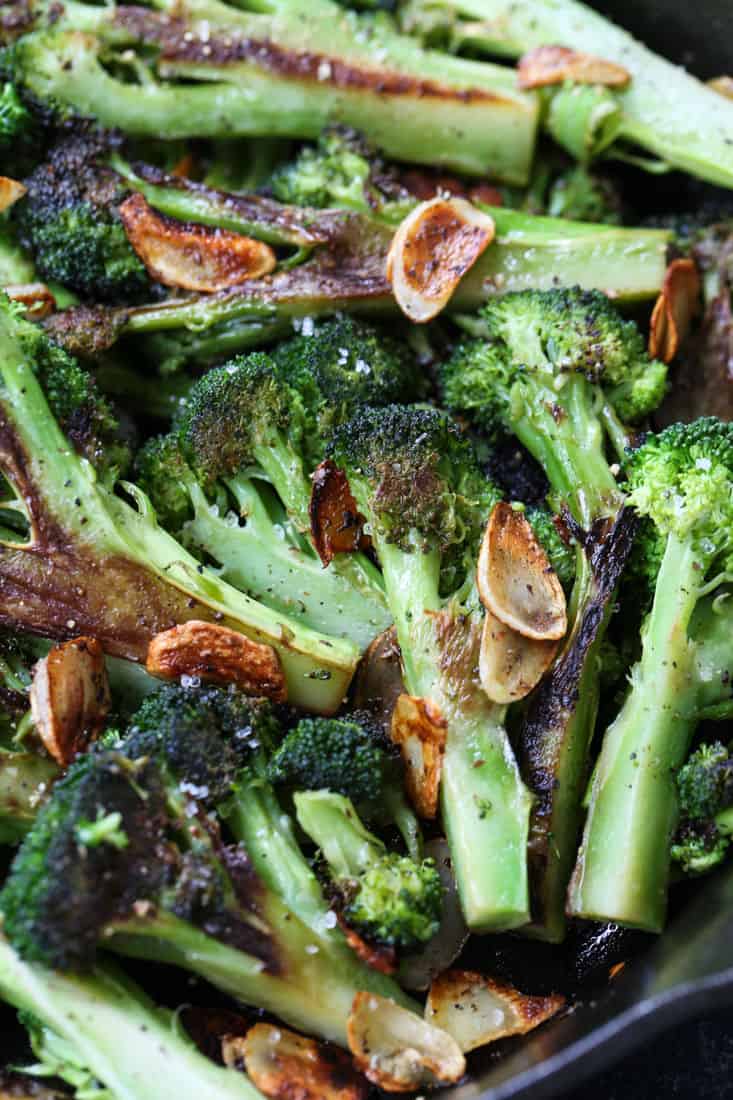 This roasted broccoli side dish is so flavorful! Garlic roasted broccoli seared in a cast iron pan to make super crispy, caramelized broccoli that will be eaten up in a flash.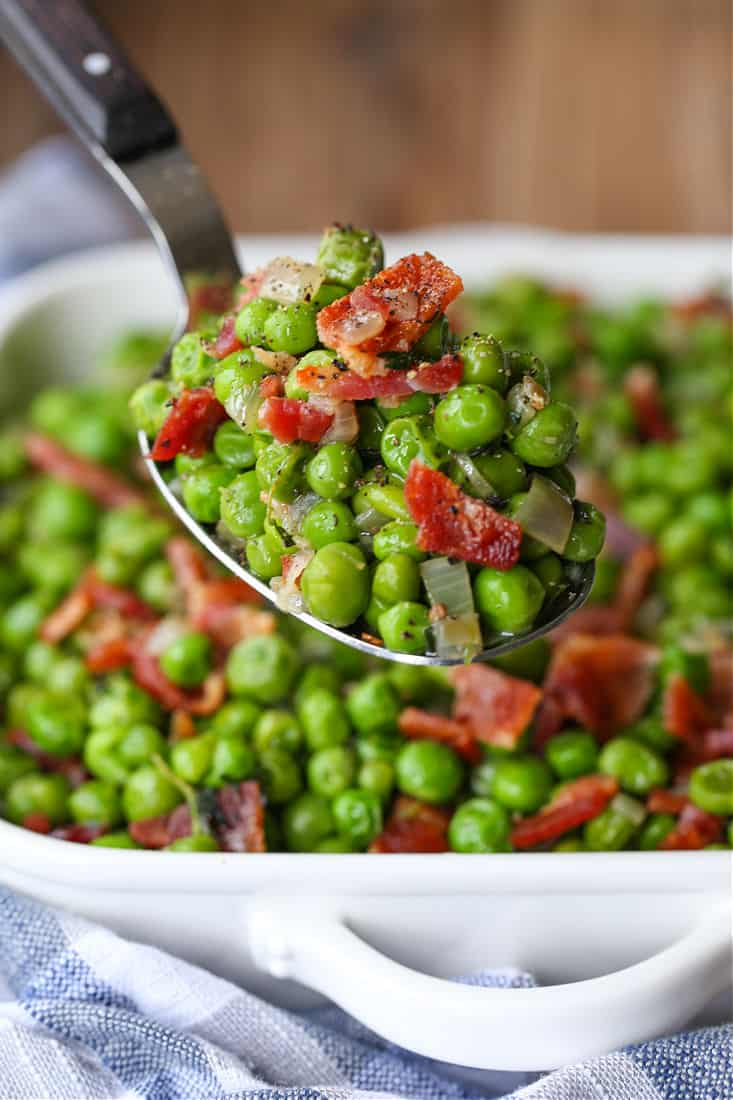 Our family loves this fun and easy peas and bacon recipe! Talk about a vegetable side dish that the kids are going to love, no one is going to pass this bowl without taking a spoonful!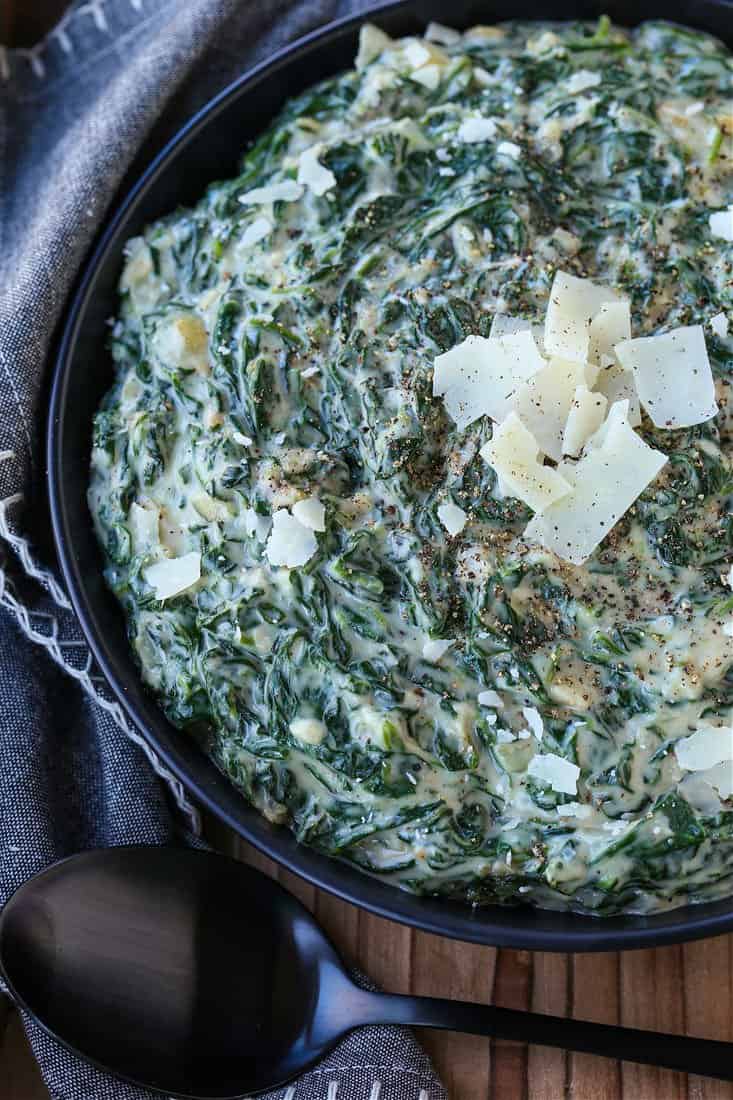 Creamed Spinach is a classic steak house side dish, but we love it on holidays like Christmas paired with our roast beef, beef tenderloin and turkey!
Steamed Artichokes with Garlic Aioli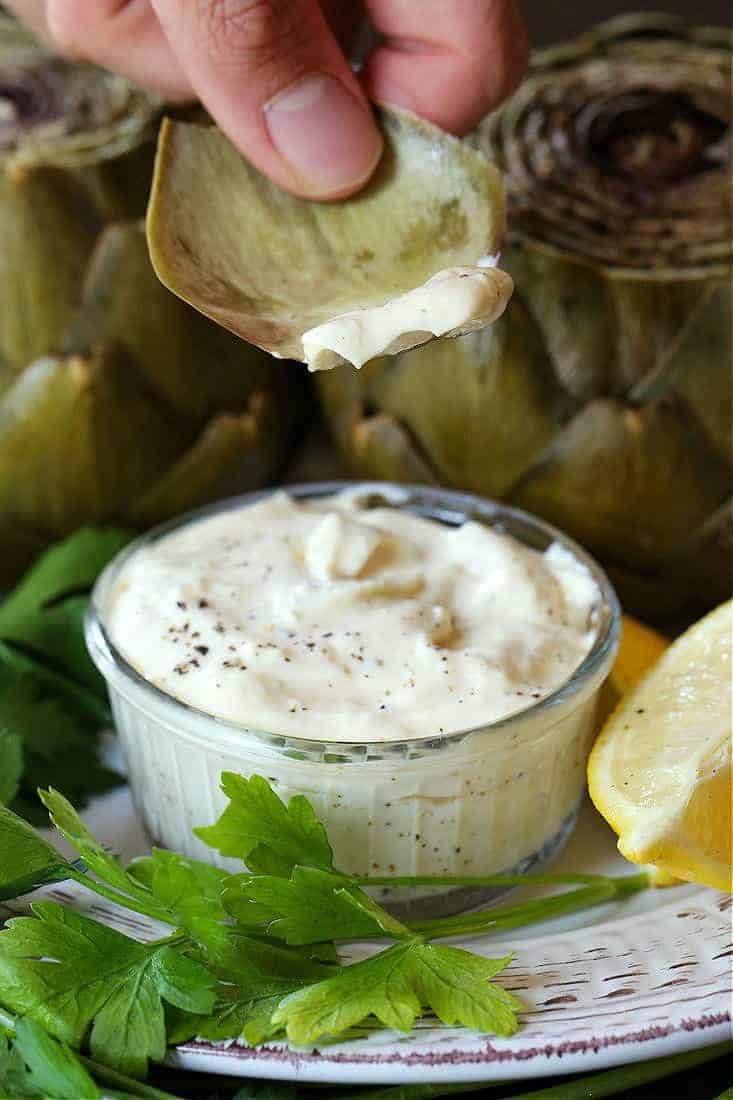 Steamed artichokes are a delicious and healthy vegetable side dish that are cooked on the stove top, freeing up your oven space!
Dip the tender artichoke leaves into a quick and flavorful garlic aioli.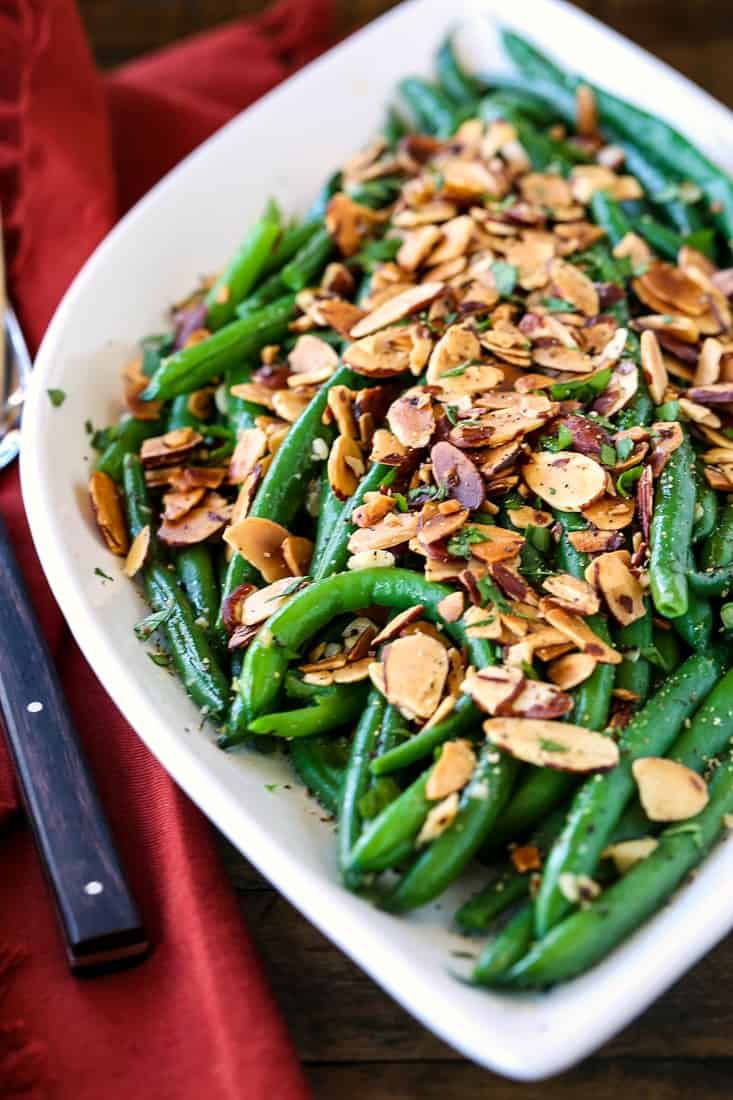 These buttery, crisp green beans are topped with a slivered, toasted almond topping that is pretty addicting. A classic, vegetable side dish that belongs on every Christmas Recipes Mains and Sides list!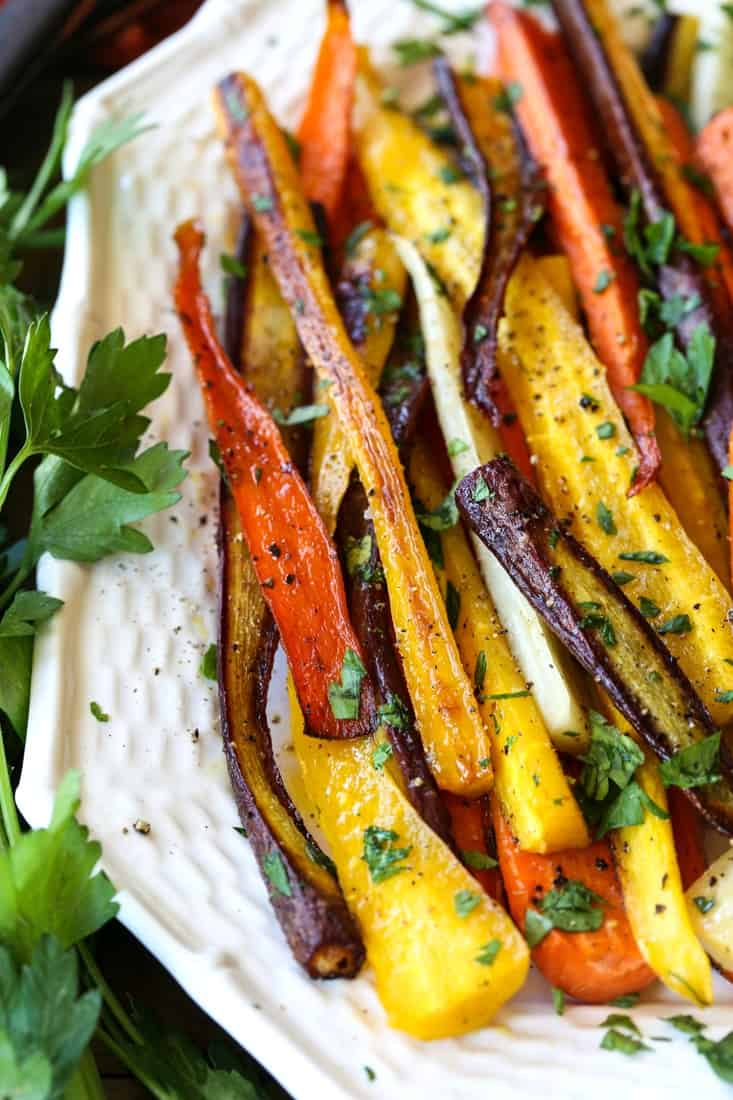 Simple and gorgeous to set on your Christmas table, these colorful roasted carrots are a family favorite!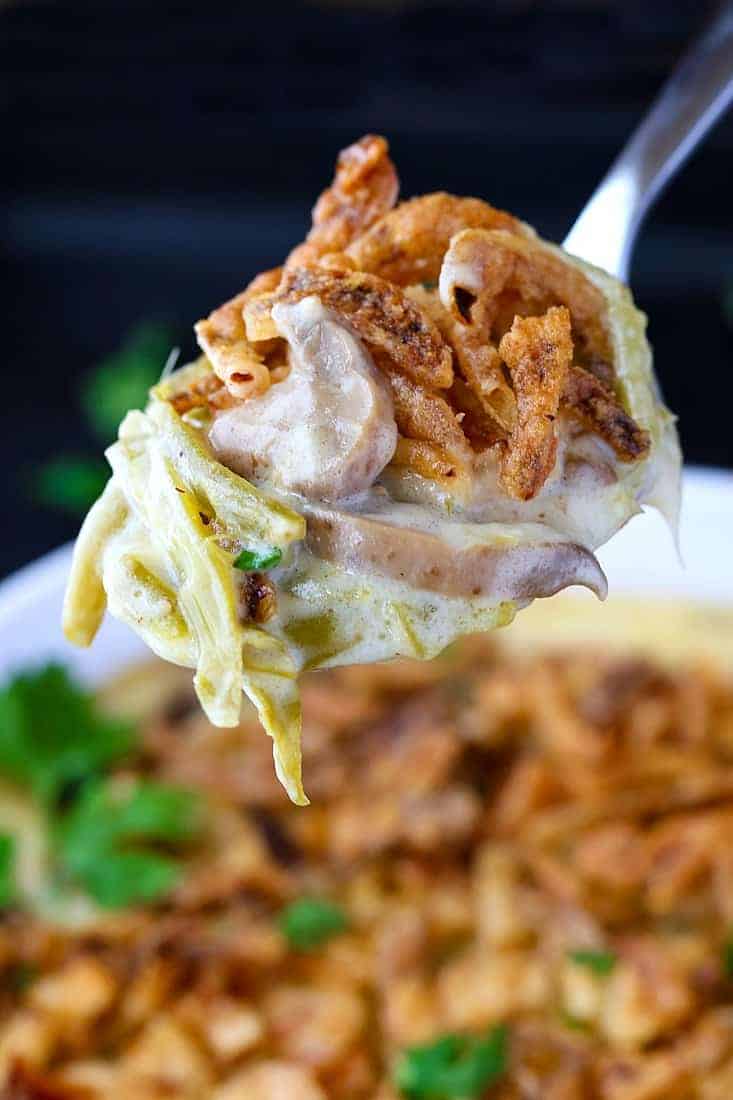 Because of course we can't just make an average green bean casserole, we have to make it from scratch and use tons of cheese to kick up the flavor! Make it ahead and warm it up when you're ready!
The BEST Brussels Sprouts Casserole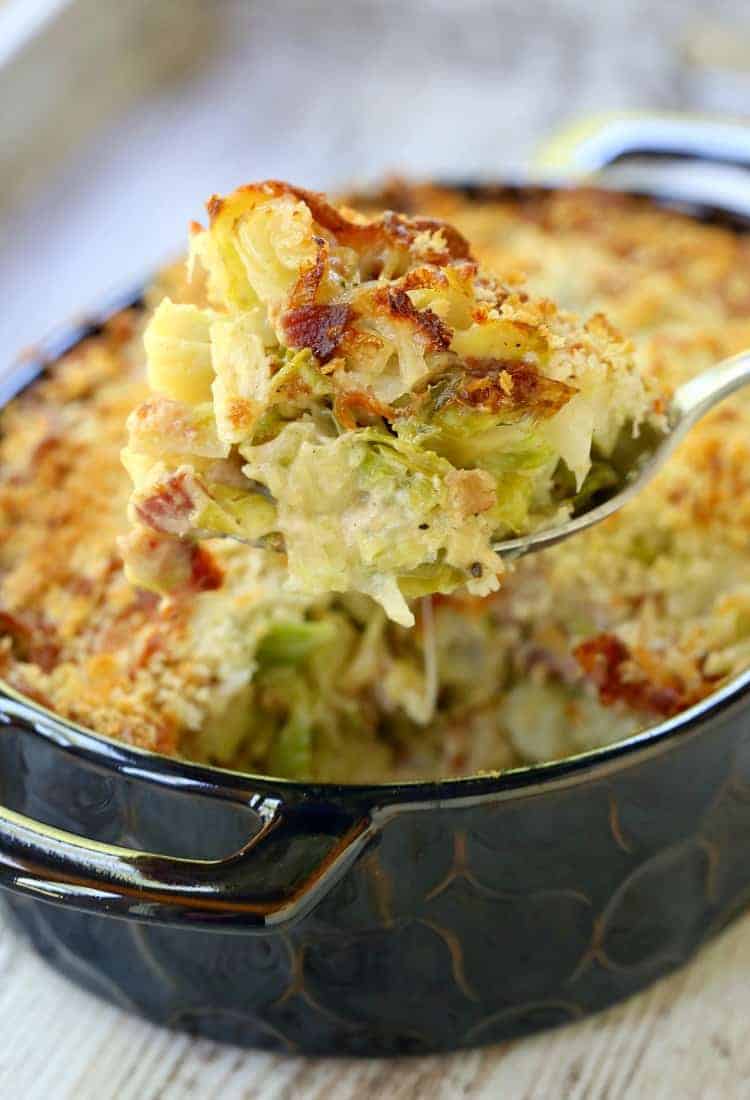 This brussels sprouts casserole has been pinned over a million times! Make it this year for your Christmas dinner to see why it's so popular with our readers.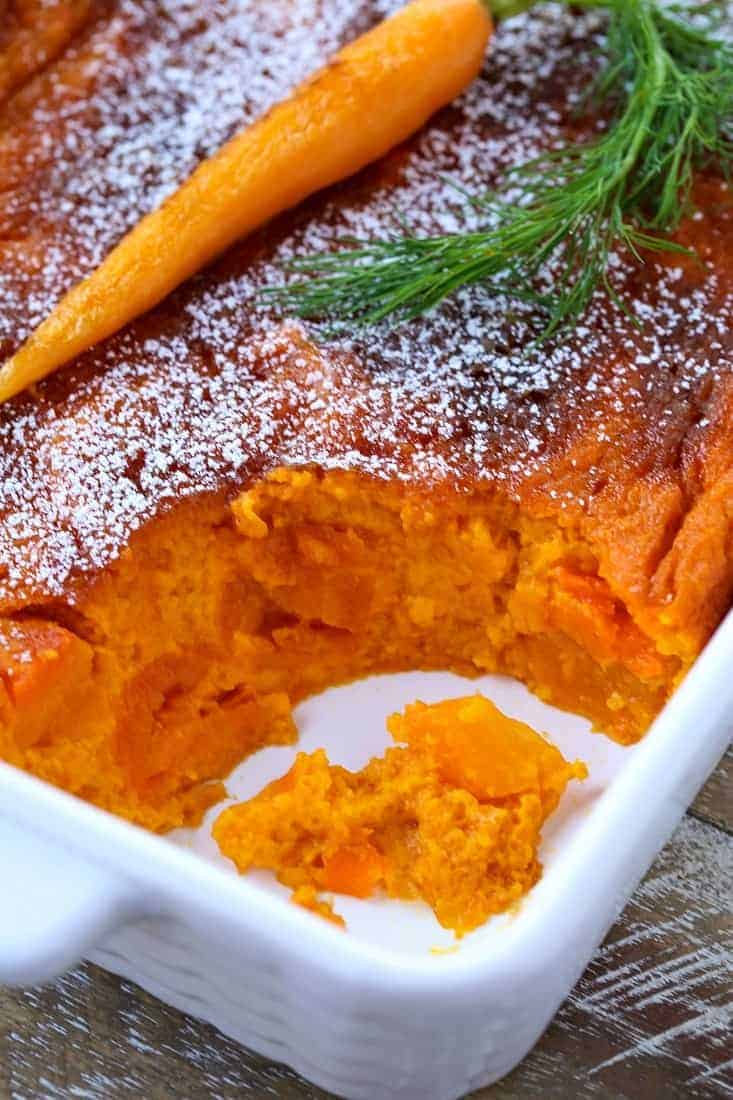 Who knew carrots could be so deliciously sweet??? We did. try this carrot soufflé for one of your Christmas sides this year and watch it disappear!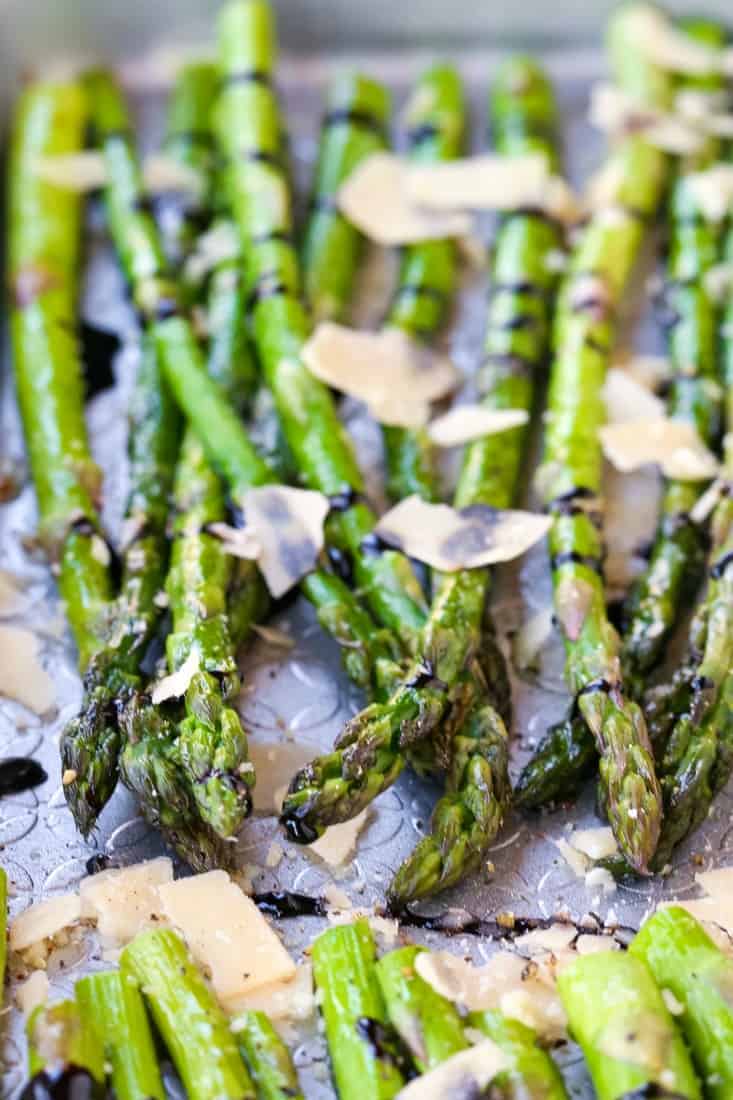 Super simple, easy but elegant! This roasted asparagus recipe looks beautiful on your holiday table, and it tastes as good as it looks!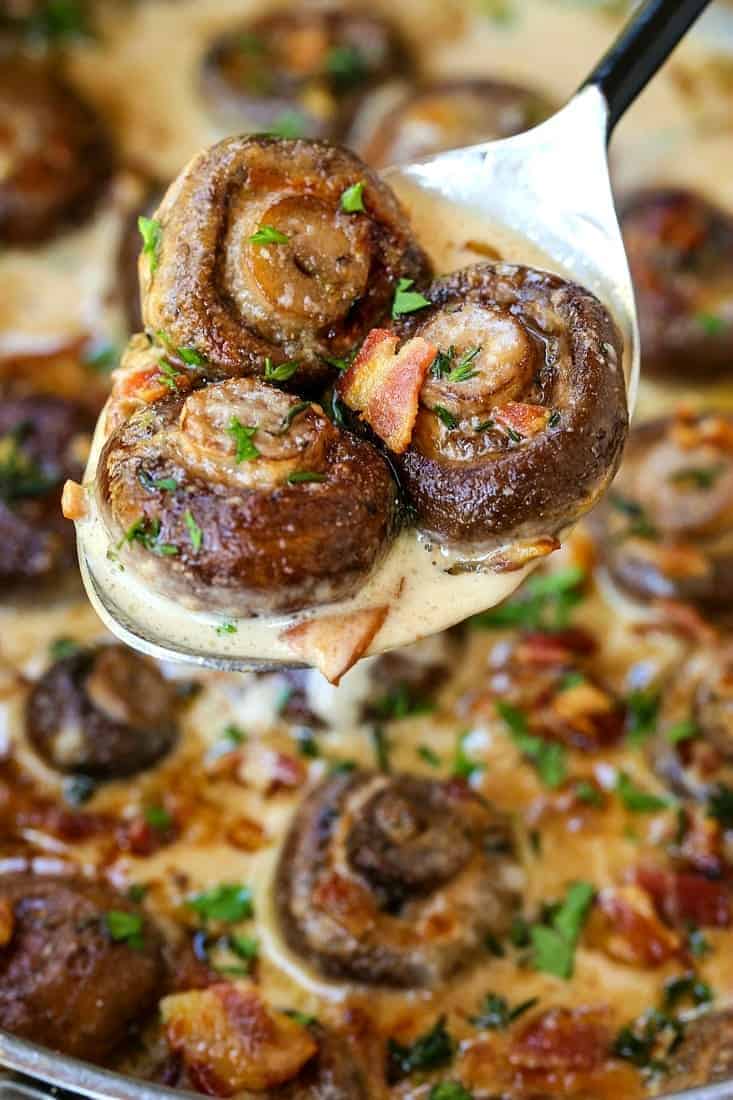 Looking for a low carb side dish? These creamy bacon mushrooms are a home run. Spooned next to your beef or turkey, even over those fluffy mashed potatoes!
Grandma's BEST Stuffed Artichokes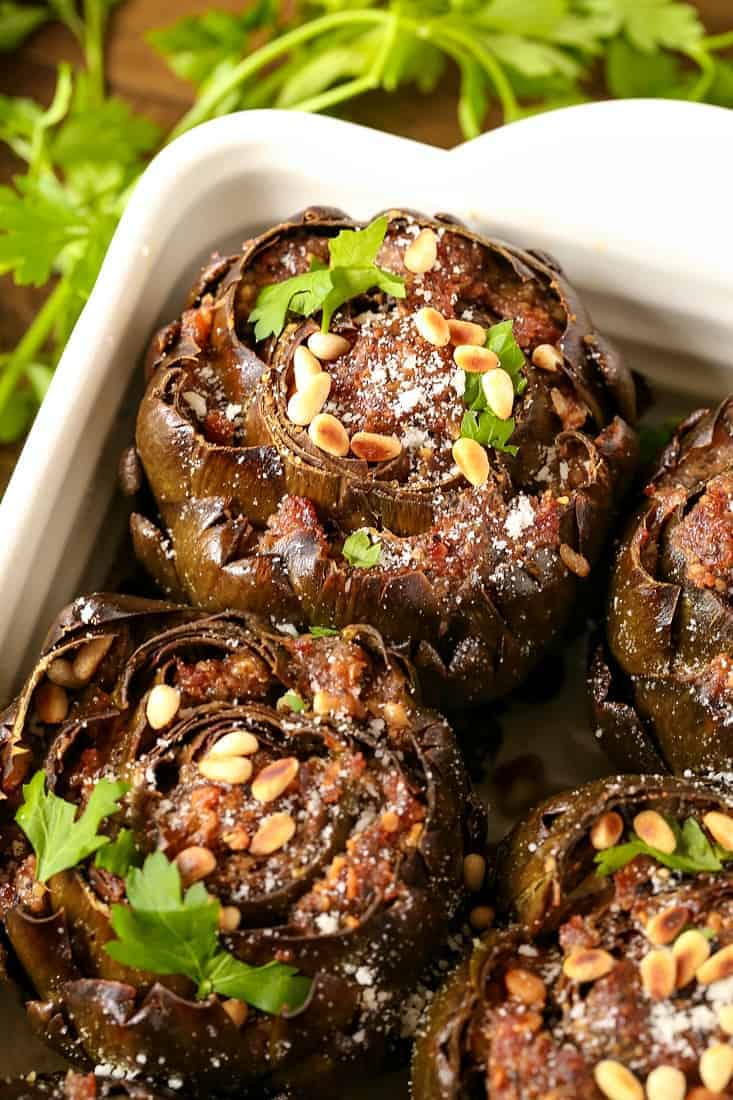 Don't be afraid to try stuffed artichokes! This recipe is made similar to the ones my Grandma used to make, stuffed with sausage, cheese and breadcrumbs.
Bourbon Sweet Potato Casserole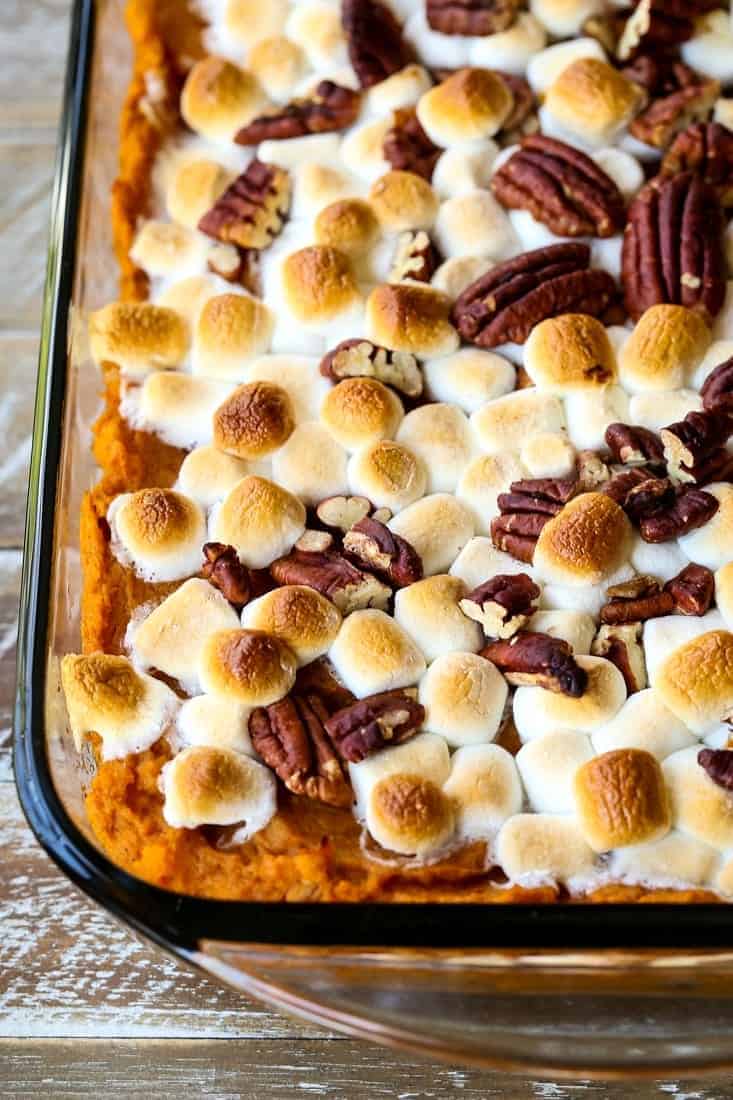 What's a side dish list without a sweet potato casserole? Of course, we're going to use these little mini marshmallows for topping, along with some toasted pecans for crunch!
All The Rest…Sides For Days
Ok, so we know that you're going to need as many side dish recipes for your Christmas menu as possible.
Whether you're making them all yourself or passing out tasks for family members. Just send them this link and start making your list!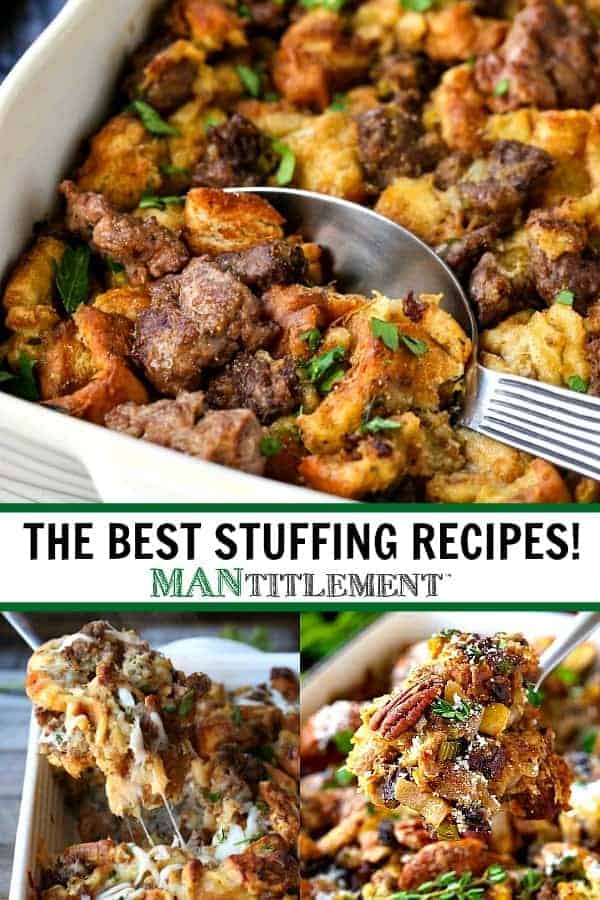 All the stuffing recipes you could ever need are right here on this stuffing list!
Rice Pilaf with Almonds and Cranberries
This rice pilaf is one of our new favorites. A festive looking rice recipe that can be made ahead of time and even warmed up in the microwave right before dinner!
This cornbread recipe is a keeper you guys. So sweet and moist it almost tastes like a cake!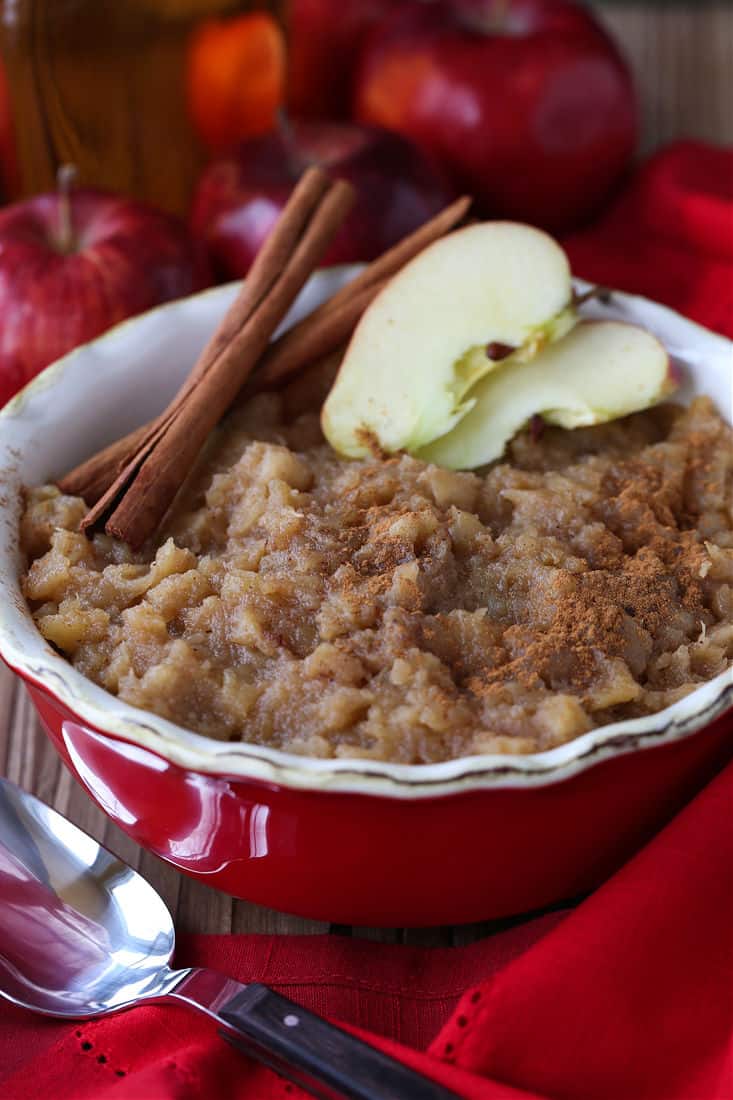 Homemade bourbon flavored applesauce is a delicious side dish to serve with your beef tenderloin or roast turkey! A great side dish idea that can be made in advance and doesn't need to be heated up.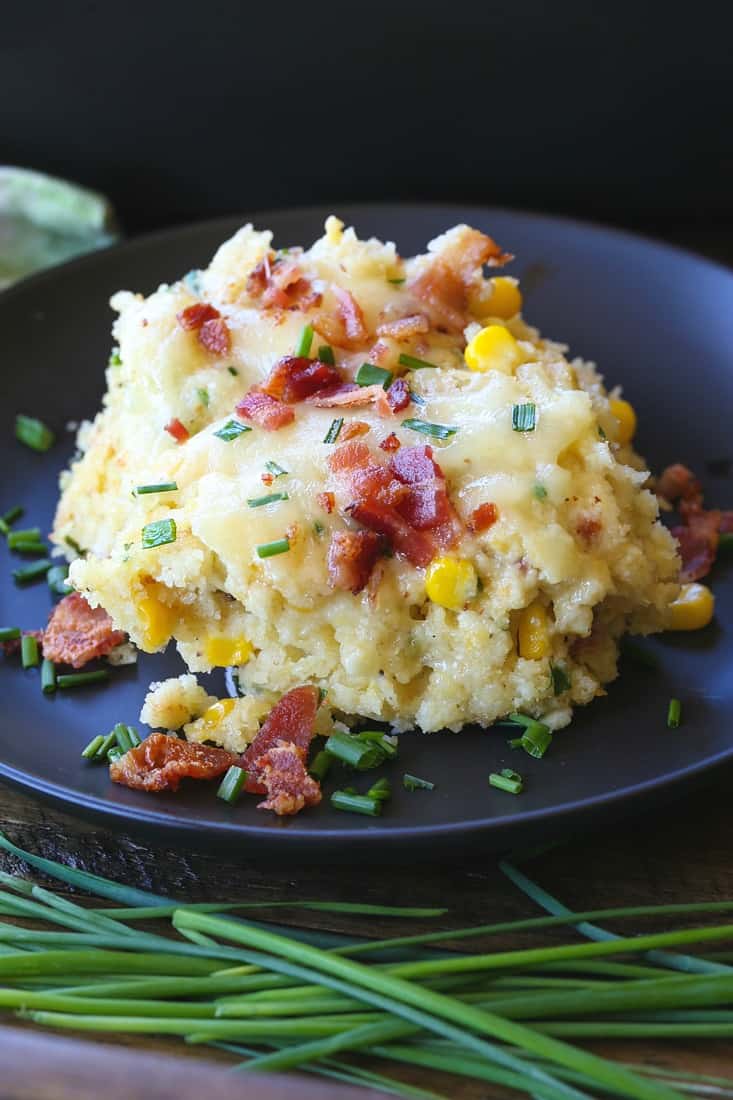 This Bacon Corn Spoon Bread is so addicting, everyone is going to be asking you for the recipe!
We always seem to have Caesar salad on our dinner menu, whether it's a holiday or just a family dinner. Our creamy, homemade Caesar dressing is a family favorite!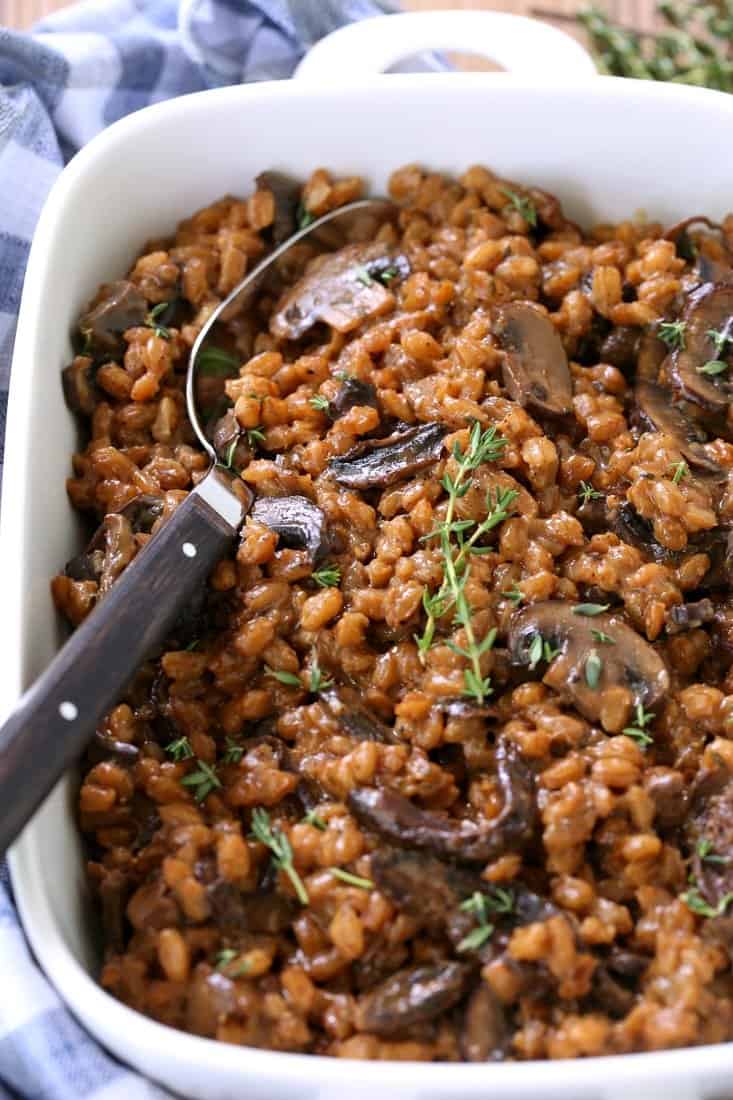 Another side dish that can be made right in your slow cooker, freeing up your stove top and oven space. If you're not familiar with farro, it's a nutty and chewy grain that goes perfectly with vegetables like these mushrooms!
That's a wrap! We hope that you've enjoyed this list of Christmas Recipes Mains and Sides! Start your menu planning early, using this list as a guide for everyone who's bringing a dish!