Beef Wellington is a classic dinner idea for the holidays! Tender, whole beef filet wrapped in puff pastry with a creamy, mushroom filling! Super easy to make and looks so impressive!
Looking fore more holiday dinner ideas? Check out our Simple Roast Turkey Recipe and our new Christmas favorite, Brown Butter Baked Ham!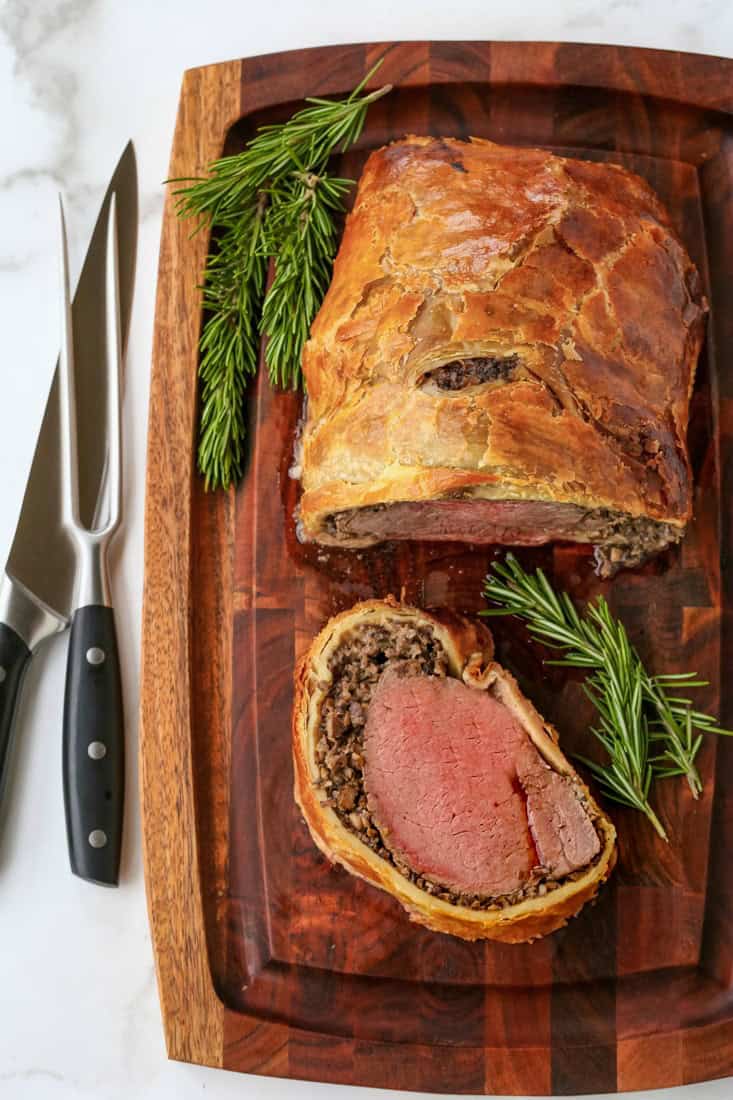 What Is Beef Wellington?
Beef Wellington is a recipe for a whole beef tenderloin that's wrapped in a mushroom duxelle (more on that later) and or a pâté. Some recipes for Beef Wellington call for another layer of prosciutto on top of the mushrooms to add another layer of flavor.
We opted not to add the prosciutto layer to our Beef Wellington recipe because, truth be told, we kind of like the flavors as is. The crispy puff pastry on top is the BEST, but also there's something about the bottom layer that has soaked up all the juices from the beef and the mushrooms that is pretty hard to beat.
Beef Wellington originated in England and could be associated with the Duke of Wellington, but there's no real evidence of that. All we can tell you for sure is that one bite of this show-stopping beef tenderloin dinner will make you a fan for life.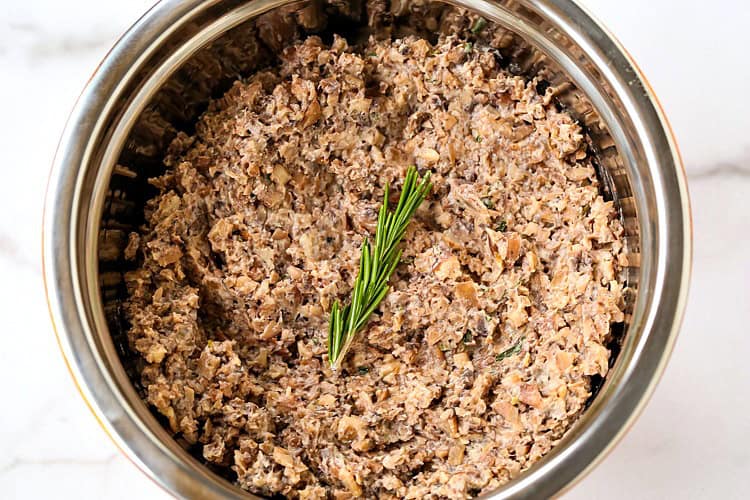 What Is Mushroom Duxelle?
Mushroom duxelle is a fancy name for minced mushrooms that are cooked down with seasonings, wine and in this case heavy cream. Why add the cream to this already super flavorful mushroom filling?
Because we hate when you slice into Beef Wellington and all the mushroom duxelle falls out. I mean you spent all this time making your roast look beautiful, then when you slice your perfectly roasted beef your left with just the puff pastry.
So if you add some heavy cream to the mushrooms it helps to bind the duxelle together and therefore more of it stays in your puff pastry wrapping. Fresh rosemary was our herb of choice for our mushroom duxelle, but you can add different herbs too.
Fresh thyme, sage or parsley would all be good choices, or a combination of a few!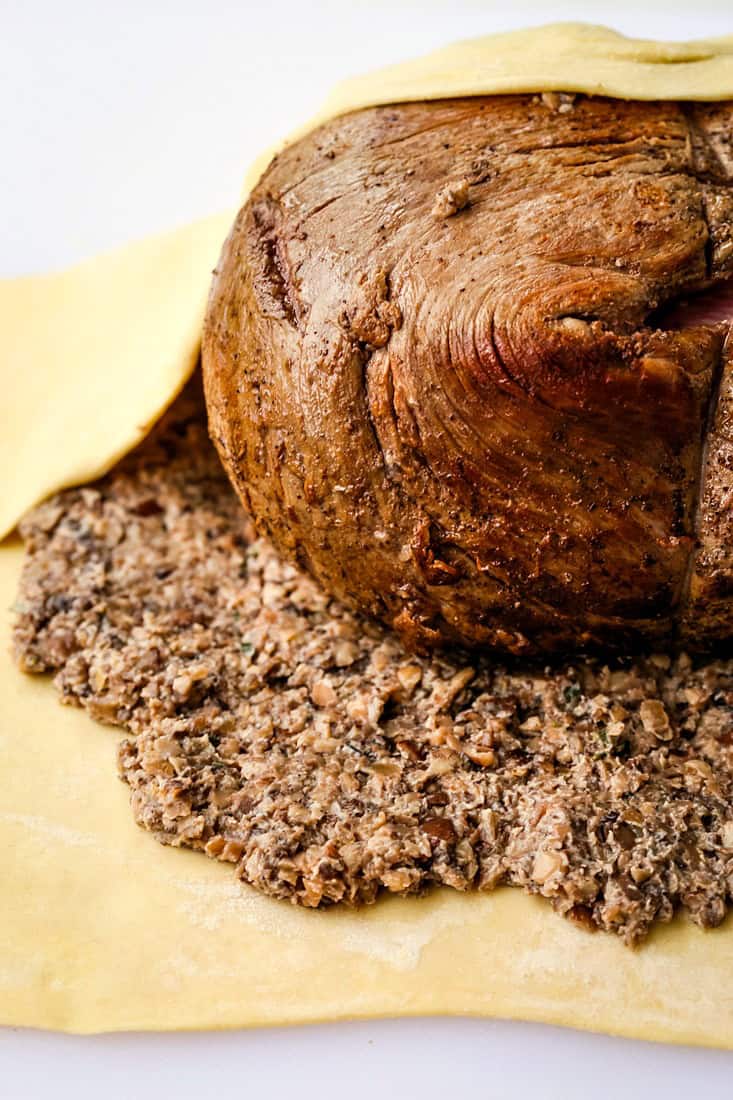 How to Make this Beef Wellington Recipe
Making Beef Wellington is really a lot easier than you might think. All you need is a pan or dutch oven large enough to fit your roast for searing the beef and a good meat thermometer.
Start by seasoning your tenderloin with a generous amount of salt and pepper. Really, add more salt and pepper here than you think you might need because you're seasoning an entire roast.
Once the filet is seared, add it to a pan with oil to sear it on all sides. Make sure that you sear the beef on all sides until you get a nice brown color like you see in the picture above. Properly searing the tenderloin will add tons of flavor to your Beef Wellington recipe!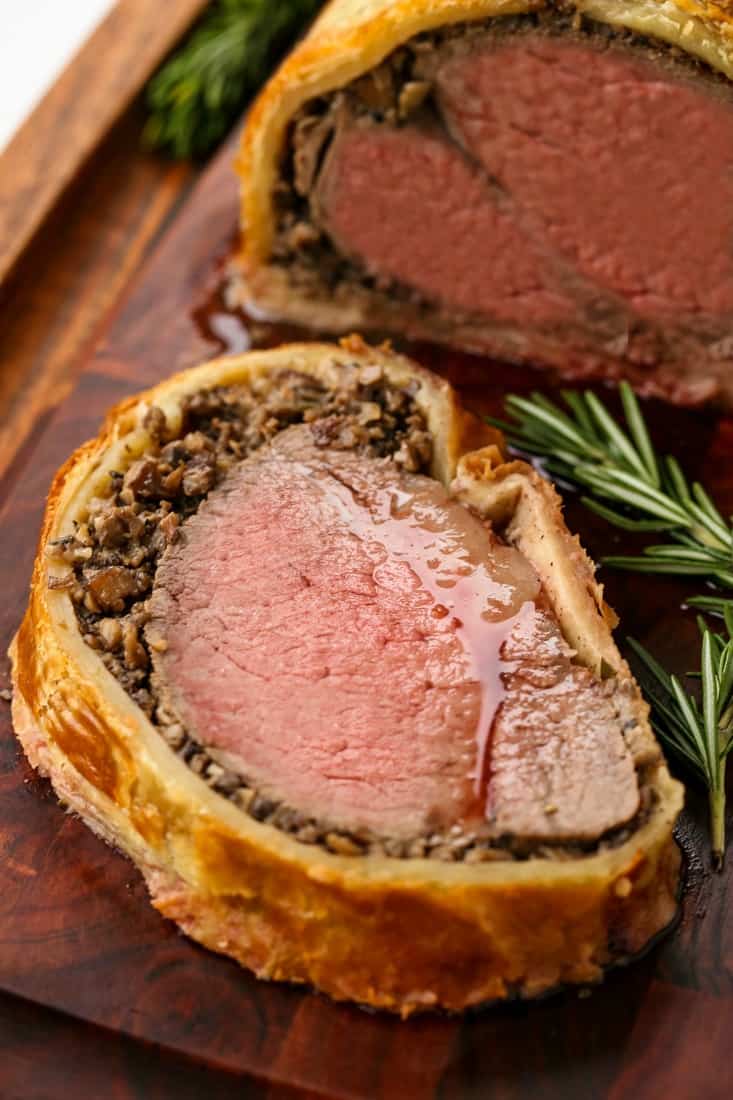 Can You Make Beef Wellington Ahead Of Time?
Yes! But not all the way through.
Prep and get this beef ready all the way to putting it into the oven, then get it into your refrigerator and let it hang out until you're ready to bake. Pull the tenderloin out of the oven about 30 minutes before you need to bake it to take the chill off and then bake!
A totally effortless holiday or special occasion dinner that everyone will love. If you do have leftovers that need reheating, a low oven for 15 minutes will do the trick or just about a minute in a half in the microwave.
The idea is to try and not overcook your perfectly pink, rare meat but some overcooking will definitely happen if you need to reheat the beef.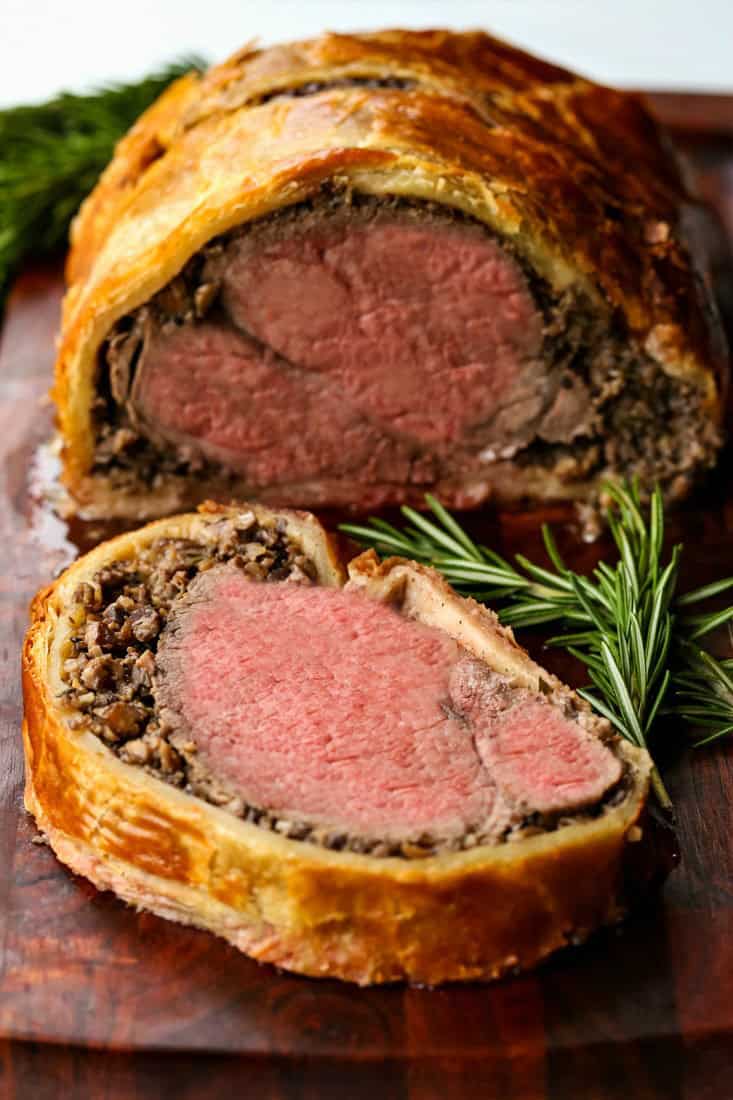 To serve this Beef Wellington, slice the tenderloin into thick portions portioning out one large slice per person. When you're buying your tenderloin, count on about a 1/2 pound per person. So a 4 pound beef tenderloin will easily feed 8 people.
Wrapping the filet in puff pastry and coating the beef with the super flavorful mushroom duxelle make this beef recipe heartier than just serving a plain beef tenderloin so one thick slice per person is more than enough.
Because we know you're still serving all the sides! Here's a few of our favorite
Side Dishes That Go With Beef Wellington:
PIN IT!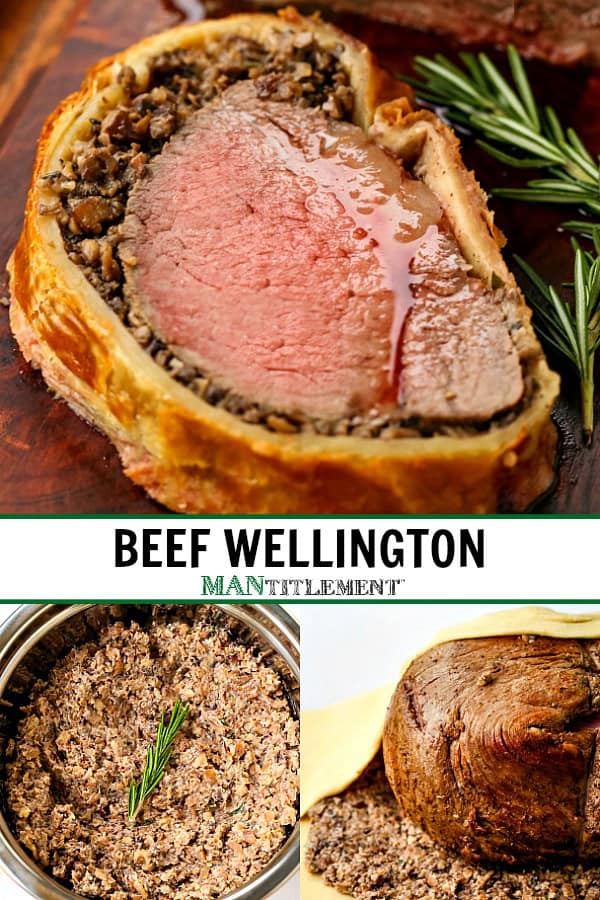 Looking For More Beef Recipes?
Print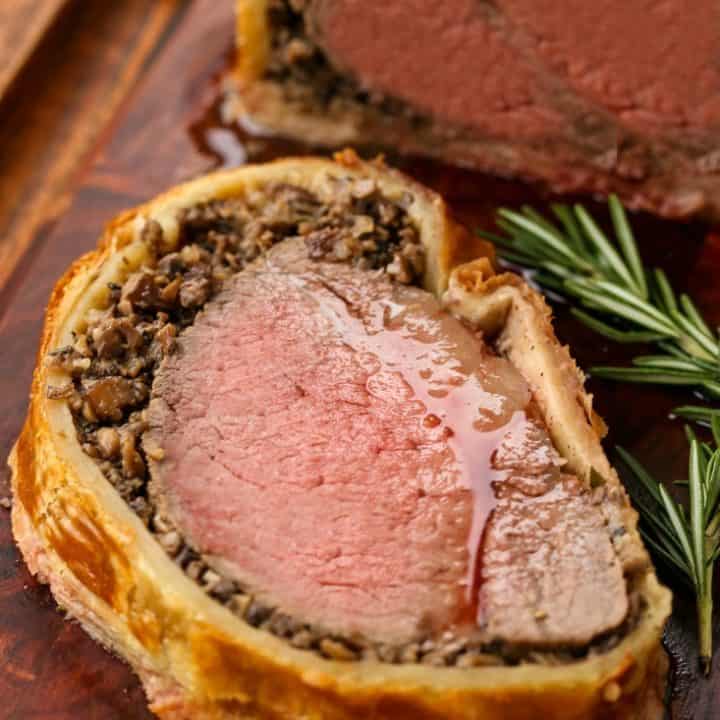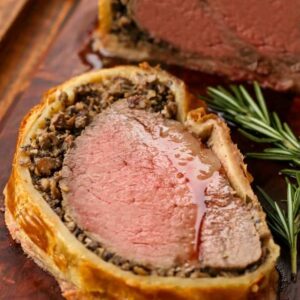 Beef Wellington
Author:

Prep Time:

15 minutes

Cook Time:

55 minutes

Total Time:

1 hour 10 minutes

Yield:

10

Servings

1

x
This tender, flavorful beef tenderloin recipe is a holiday classic! You can make this recipe ahead of time and bake it when you need it!
Scale
Ingredients
5

–

5 1/2

pound whole beef tenderloin

2

(10 ounce packages) mushrooms, stems removed and chopped fine (*see note)

1/4 cup

butter

2 teaspoons

kosher salt
Fresh black pepper to taste

3/4 cup

onion, diced

1 tablespoon

chopped garlic

1 tablespoon

fresh rosemary, chopped fine

3/4 cup

red wine

1/2 cup

heavy cream

1/4 cup

olive oil or canola oil

2

sheets puff pastry

1

egg beaten with a tablespoon of cream
Instructions
Preheat the oven to 425 degrees.
Start the mushrooms duxelle by adding the butter to a large skillet. Once the butter is melted, add the mushrooms and cook for 5 minutes, stirring.
Add the salt, pepper, and onion and continue cooking for an additional 5 minutes. Ad the garlic and rosemary, stir and cook a minute longer.
Turn the heat off and slowly pour in the red wine. Turn the heat back on to medium and bring the wine to a simmer. Cook for 2-3 minutes and then pour in the cream. Stir together and cook for a minute or two until the liquid is mostly evaporated. Remove from the heat and let cool.
Heat the oil in a skillet or dutch oven large enough to fit your tenderloin. Season the tenderloin generously on all sides with more salt and pepper.
Carefully add the beef to the hot oil and sear on all sides until browned. Remove the beef from the pot to a platter and let cool.
Sprinkle flour onto a board and roll out the puff pastry sheets to fit the size of your tenderloin. To make a 5 pound beef tenderloin like this one, you'll need both sheets of puff pastry, overlapping in the middle. Press the seams of the puff pastry together where they overlap to make sure they don't come apart.
Spread the mushroom duxelle onto the puff pastry leaving a 2 inch border. Place the tenderloin on top of the mushrooms and gently wrap the puff pastry around the beef covering it completely on all sides. Place the beef seem side down on a baking sheet that's been sprayed with cooking spray.
Brush the puff pastry with the egg wash and cut a few vents into the top of the puff pastry so that the steam can escape.
Cook the filet in the oven for 30 minutes. Remove from the oven, tent with foil and turn the oven down to 400 degrees. Place the beef back into the oven for an additional 20-25 minutes.
Insert a meat thermometer into the thickest part of the filet. When the thermometer registers 125 degrees, take the beef out of the oven and place onto a board. Cover with foil and let rest for 15 minutes.
Slice the beef into thick slices and serve.
Recipe Notes
This recipe can be easily made with a smaller beef tenderloin! If you have around a 3 pound beef tenderloin you'll want to half the mushroom duxelle and you'll probably only need one sheet of the puff pastry.
Follow the cooking time for the first part of the filet in the oven, 425 for 30 minutes. Then when you turn the oven down to 400 degrees start checking the temperature of your beef after 15 minutes for a smaller tenderloin.
You can chop the mushrooms for the duxelle in food processor to make it easy!
Category:

Dinner

Method:

Oven

Cuisine:

American
Keywords: beef wellington, beef wellington recipe, filet of beef, beef tenderloin recipe, holiday meals, christmas dinner recipes, new year's eve dinner, what is beef wellington, how to make beef wellington