Grandma's Pot Roast Recipe tastes just like Grandma used to make! Tender, slow cooked beef with a thick and hearty gravy makes for a perfect Sunday dinner!
We love serving big Sunday dinners like this pot roast recipe and having leftovers for the week! Also check out our Dry Rub Pulled Pork that feeds a crowd and this popular Grandma's Sunday Meatballs & Sauce!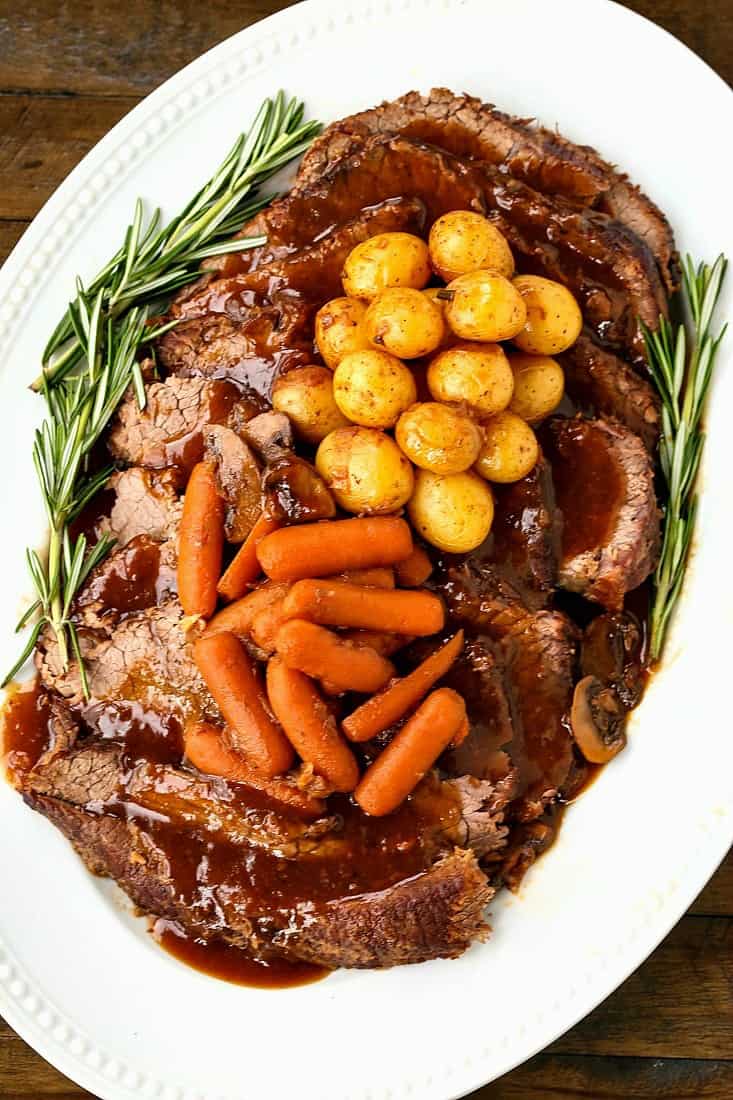 An Easy and Comforting Pot Roast Recipe
Sunday dinner is one of the things that I really look forward to at the end of the week. And I'll tell you, it's more because of the idea of Sunday dinner that I remember, not the Sunday dinners we normally have these days.
It's a shame that our schedules now are so busy, the kids included, but I know it's really not an excuse. It's one hour, one day a week that we should try and make time for.
So we do try. And it's not always Grandma's Pot Roast Recipe that we serve but it's something. As long as we're all together at the table eating a meal I call that a win. Although I have to tell you, this pot roast recipe is really so easy to make it'll take a lot less time to get on the table than you think.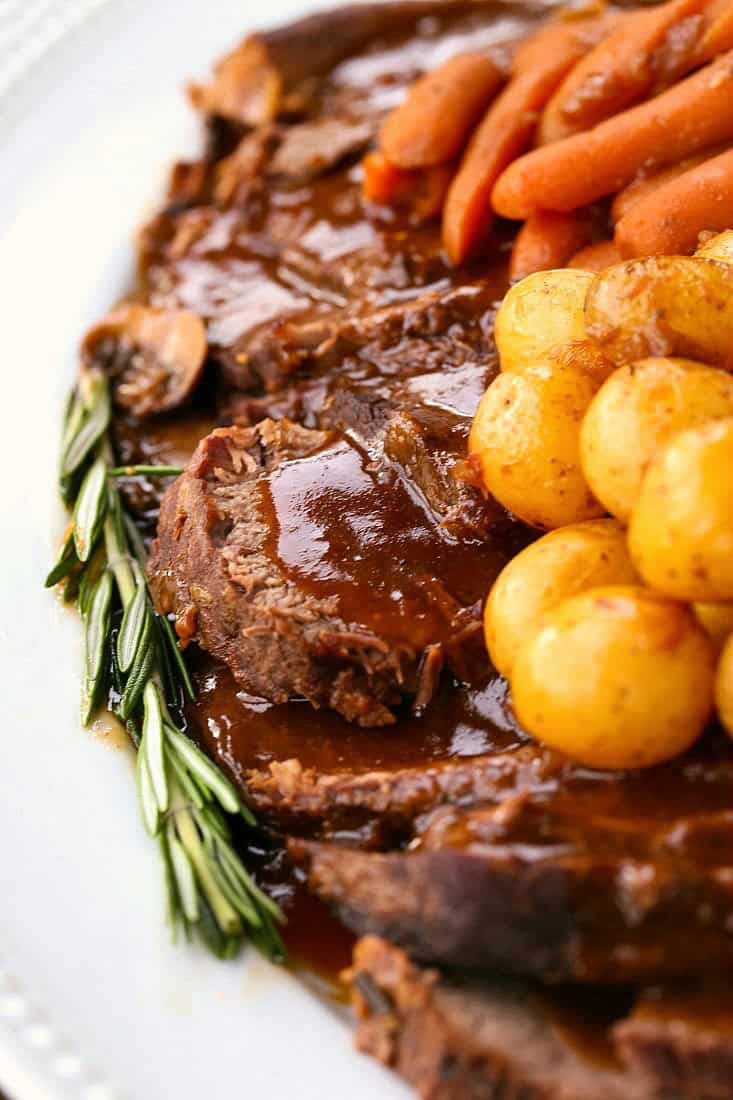 What Cut Of Beef Do You Use To Make Pot Roast?
Chuck roast is the best cut of meat for pot roast in my opinion, you can use a bottom roast, but it won't be as tender. The reason why chuck roast is the best is because it's marbled with a good amount of fat that melts away as it cooks leaving the meat tender and juicy, just like a pot roast should be.
A bottom roast will still make for a good pot roast, and will definitely be more sliceable so if that's what you have – or maybe it was on sale at the store – there's no reason not to use it.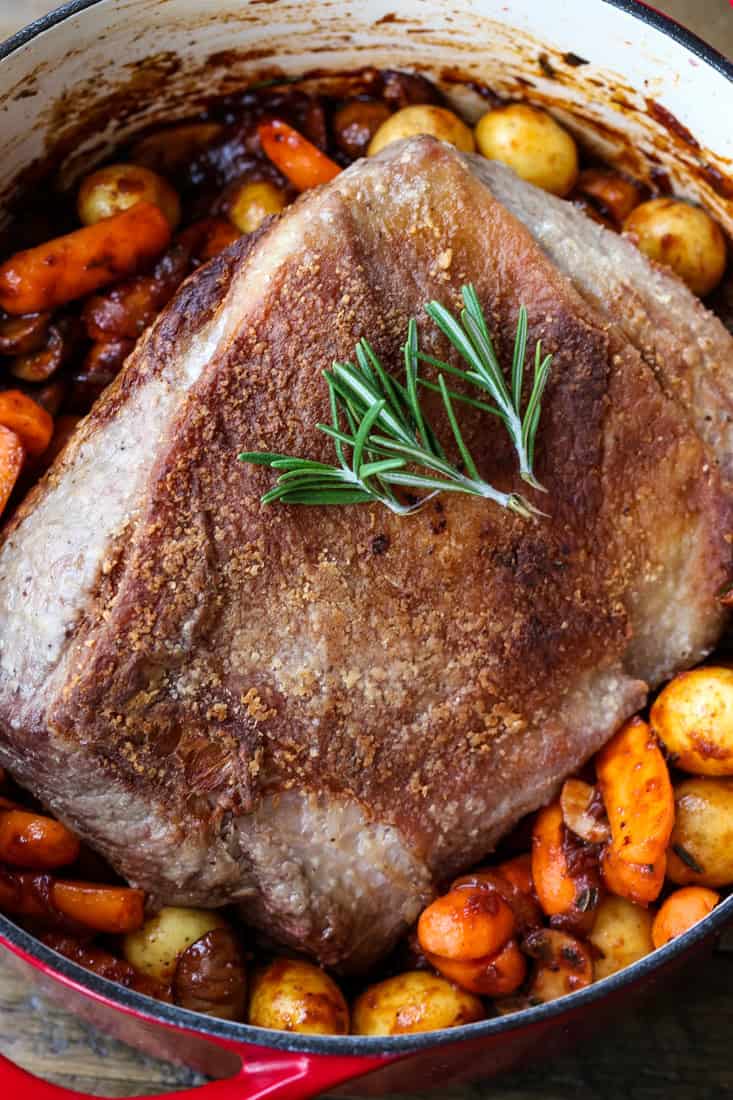 How Do You Make This Classic Pot Roast Recipe?
Grandmas' Pot Roast Recipe is made in a dutch oven, cooked low and slow in the oven. This is a more traditional way to make pot roast since back in the day there weren't such a thing as slow cookers or crock pots!
Not to say that we don't love a good slow cooker pot roast recipe – because we sure do. Our Slow Cooker Italian Beef is one example of how you cook pot roast low and slow and there's many more.
Start by searing the beef in a dutch oven, this is the same pot you will be braising the pot roast in. Searing the chuck roast really well is an important step to making a really flavorful pot roast so take the time and do it right!
Next add the vegetables, beef broth, wine and a few seasonings then get it in the oven. That's it – that's the prep time, the rest of the time is just cooking in the oven while you go about your day. When the pot roast comes out it will smell and look amazing, just like this…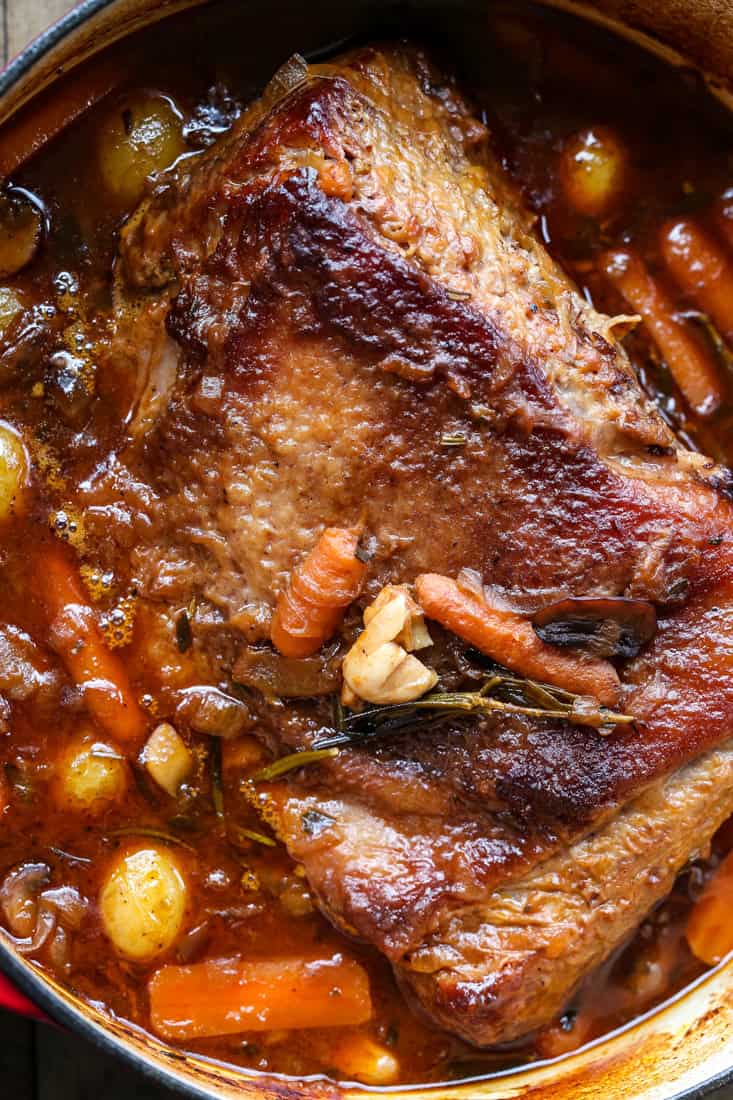 One of the main things I love about this recipe is that the meat is still easily sliceable. Sometimes when you cook a pot roast it's so tender that it just breaks apart into pieces, not a bad thing either, but sometimes you want a slice of beef.
French Bistro Beef Stew is a good example of a pot roast that you can break into tender pieces. That recipe cooks at a slightly higher temperature for about the same time, but the higher temperature breaks down the meat a bit more so the end result is a more fall apart type of pot roast.
After the beef comes out of the oven, remove the roast from the pot and place it onto a board. Take the vegetables out of the pot, place them in a bowl and cover to keep warm. Now it's time to make the gravy thick and delicious!
Bring the beef broth to a boil and add cornstarch mixed with water to thicken it up. Bring the broth back to a boil so that the gravy thickens, test for seasonings and then remove from the heat.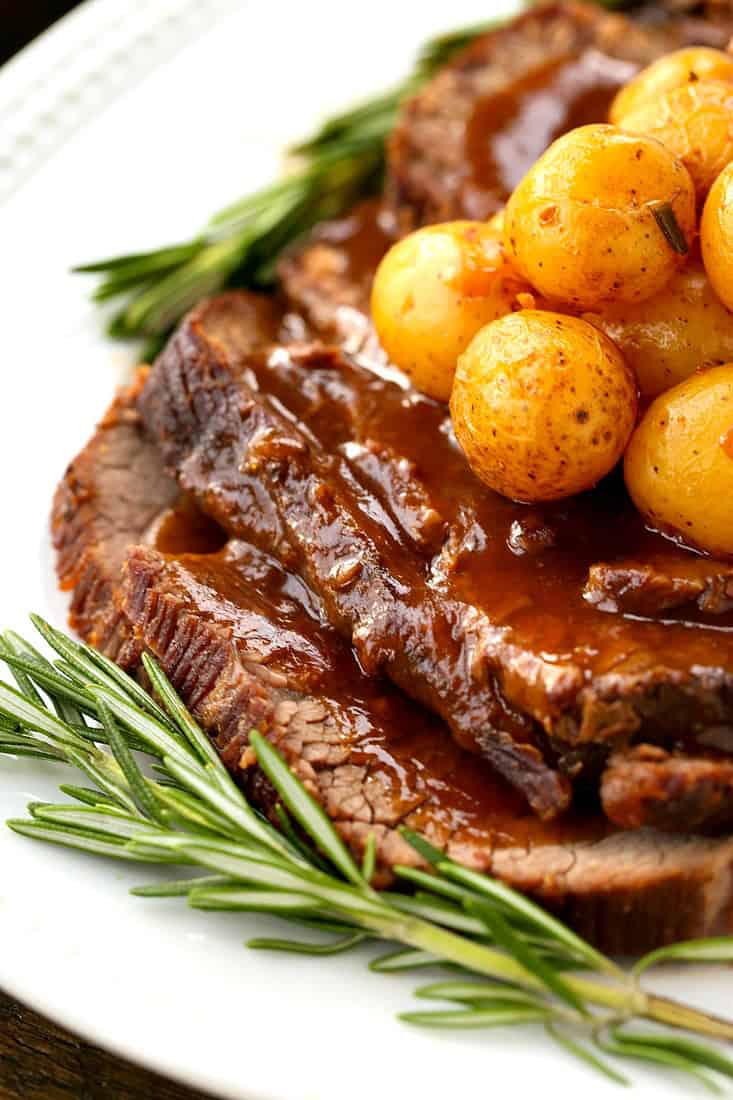 Slice the pot roast and add it to a serving platter, surrounded by the potatoes and carrots. Pour the gravy over the beef (and vegetables if desired) and serve extra gravy on the side.
This pot roast recipe is one of our favorite Sunday dinners ever! It has definitely become a family favorite recipe for us, and I hope it does for your family too!
PIN IT!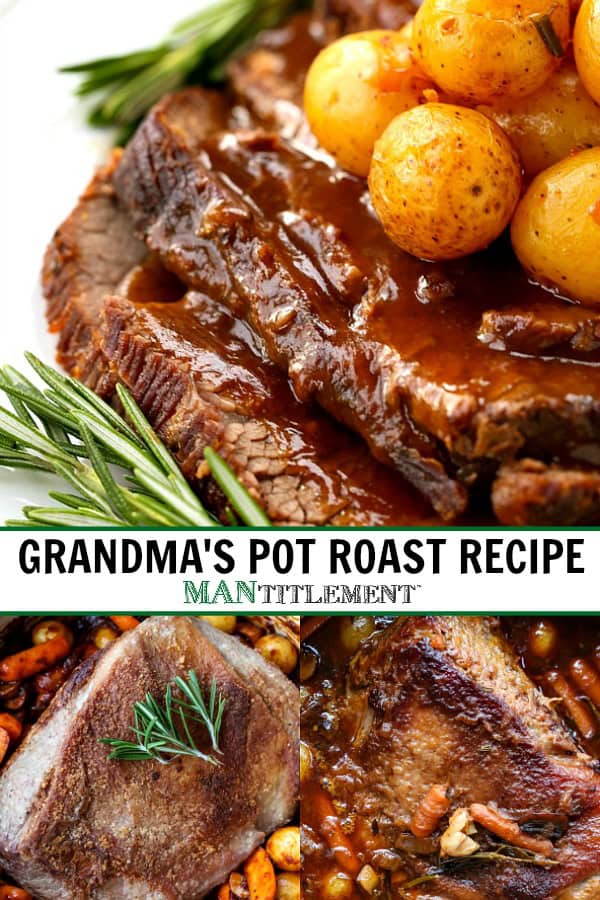 Looking For More Sunday Dinner Recipes?
Print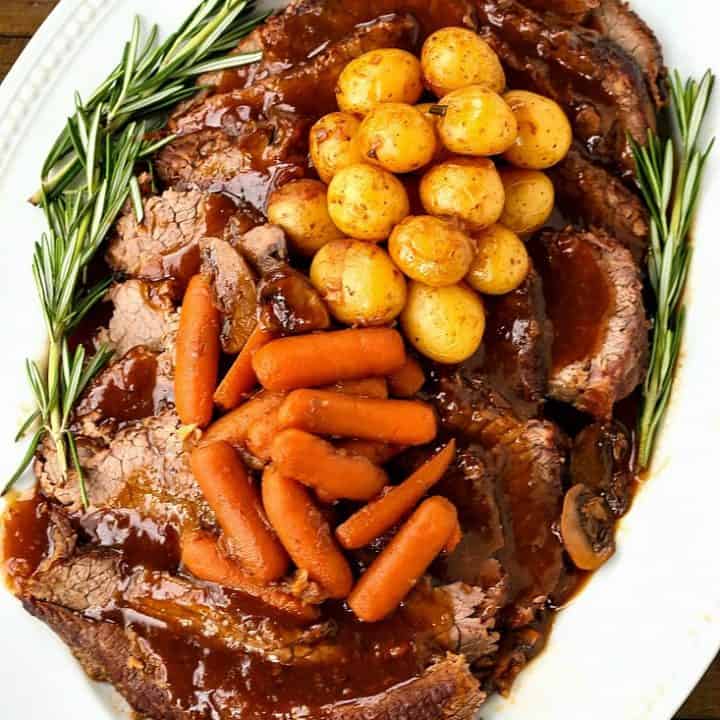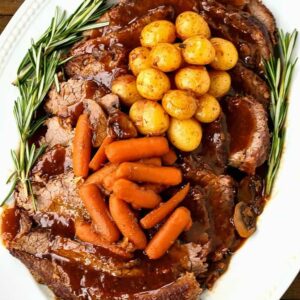 Grandma's Pot Roast Recipe
Author:

Prep Time:

15 minutes

Cook Time:

2 hours 30 minutes

Total Time:

2 hours 45 minutes

Yield:

8

Servings

1

x
This tender beef pot roast recipe is perfect for Sunday dinners and leftovers for the week!
Scale
Ingredients
4

–

5

pound chuck roast
Kosher salt and pepper for seasoning the roast

1/2 cup

flour

1/4 cup

olive oil

2 cups

sliced onions

10 ounces

mushrooms

2 cups

baby carrots, sliced in half lengthwise

3/4

pound baby potatoes

1 tablespoon

fresh rosemary

4

–

5

whole garlic cloves

1 1/2 teaspoon

kosher salt

2 tablespoons

tomato paste

1/2 cup

red wine

2 cups

beef broth

1

bay leaf

1 tablespoon

cornstarch mixed with 1 tablespoon of water
Instructions
Preheat the oven to 350 degrees.
Add the olive oil to a dutch oven over medium heat. you want a thin layer of oil at the bottom, so add as much as you need to coat the bottom of your dutch oven.
Season the meat generously with salt and pepper, and then coat with the flour shaking off any excess.
Once the oil is hot, add the roast to the pot and sear the meat on all sides until brown. Remove the roast from the pot and set on a board.
Add the mushrooms to the same pot and brown for 5 minutes, adding more oil if needed. Next add the carrots, potatoes, garlic and rosemary along with 1 1/2 teaspoons of salt and pepper to taste. Cook the vegetables for another 5-8 minutes.
Stir the tomato paste into the vegetables and then deglaze the pot with the wine. Cook out the wine for 1 minute, then add the roast back to the pot (with any juices from the plate).
Pour in beef broth, making sure the broth only comes about 1/2 up the roast. You might need more or less, depending on the size of your dutch oven.
Add bay leaf, cover and cook in the oven for 2 1/2 hours.
Remove the pot roast to a board and cover with foil. Scoop out the potatoes and carrots, add to a bowl and cover with foil. Bring the liquid in the pot to a boil, then add the cornstarch mixture and whisk until thickened.
Let the gravy simmer for 5 minutes, then taste for seasonings and adjust if needed. Slice the pot roast and add to a serving platter along with the potatoes and carrots.  Pour some of the gravy on top of the pot roast and serve with extra gravy on the side.
Category:

Dinner

Method:

Oven

Cuisine:

American
Keywords: pot roast, pot roast recipe, comfort food recipes, chuck roast recipes, how to cook a pot roast, easy pot roast recipe