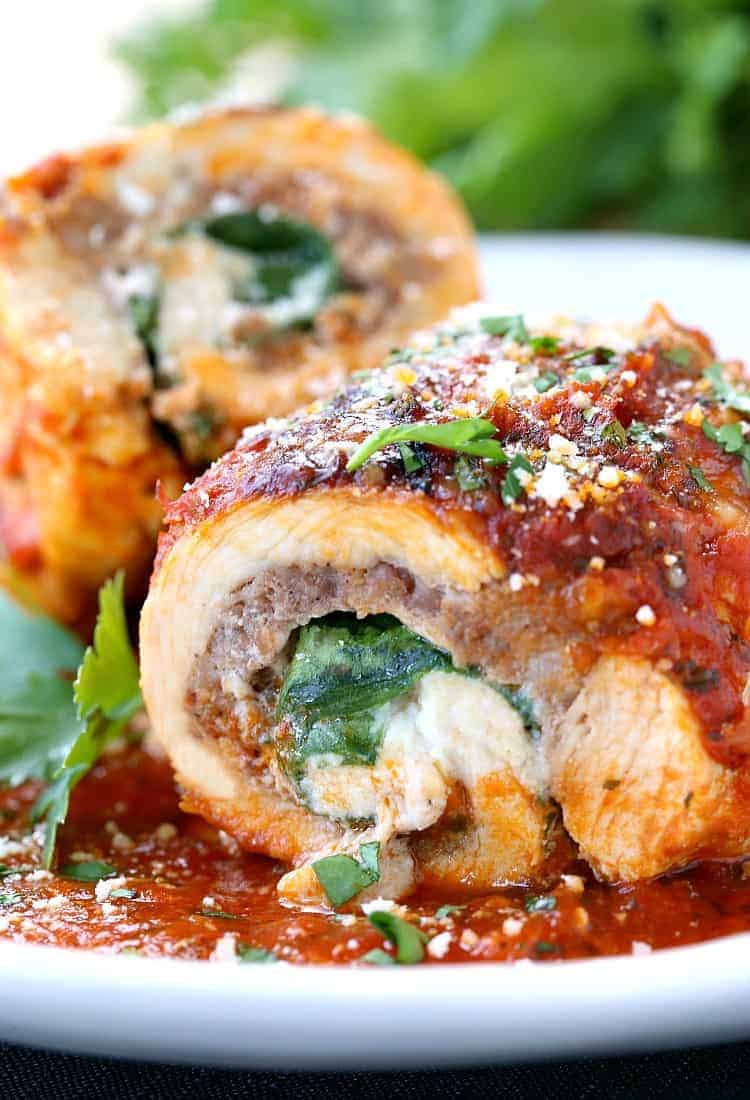 Sausage Stuffed Chicken Rollatini
This Sausage Stuffed Chicken Rollatini is a show stopping dinner! This chicken breast recipe is stuffed with sausage and cheese then baked to perfection!
We know you're making chicken breast recipes all the time, so check out some of our other favorites like our Ultimate Chicken Marsala or our favorite Chicken Fried Rice recipe!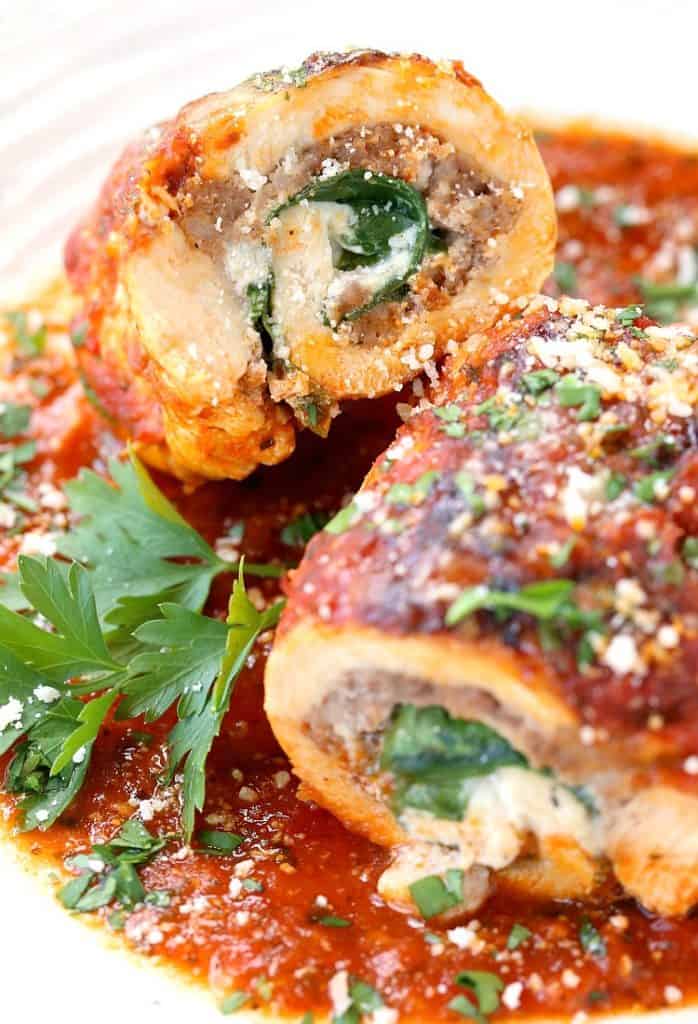 This restaurant-worthy recipe is going in our permanent dinner rotation. Maybe the Sunday dinner rotation, but definitely one that we're going to be making often.
This Sausage Stuffed Chicken Rollatini was one of those meals that every single person at the table ate everything on their plate and then went back for seconds. That's magical, isn't it? When everyone in your family loves the same dinner.
Chicken breasts stuffed with sausage, ricotta cheese and spinach…you really can't go wrong with this recipe.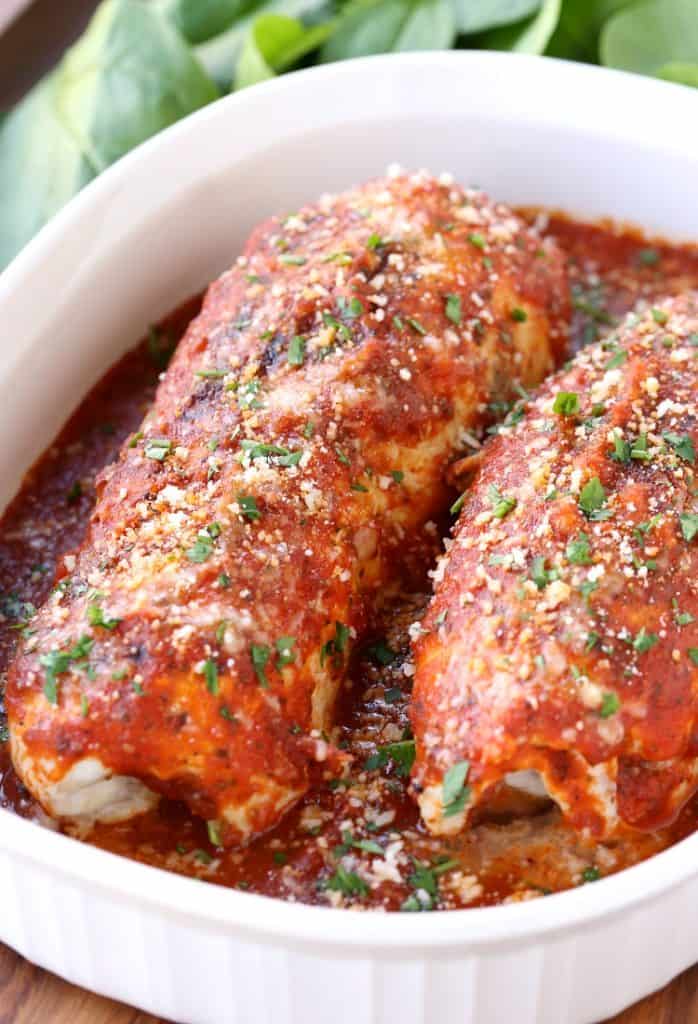 Obviously, if you have your own you should use it, we make our Homemade Marinara Sauce from tomatoes a lot in the summer so we can freeze it for the colder months but we also always have jarred sauce on hand.
But using store bought, good quality sauce makes life so much easier, so I'm not going to sweat it and you definitely shouldn't either.
How To Butterfly A Chicken Breast
There are a couple of things you need to know to get this chicken started so let's get going!
First you're going to cut the chicken breasts in half – but not all the way through. This method is called butterflying the chicken breast. So you start at the thicker side of the chicken and cut straight through the middle until you almost get to the other side., but not all the way.
Now open the chicken breast so it lies flat on your board, it will sort of look like a heart shape.
Now it's time to get the anger out from the day…lay a piece of plastic wrap over the chicken and use a meat mallet to pound the chicken breast. Do this carefully so you don't go through the chicken and make a hole, but evenly so the it's all one thickness.
Once the chicken is pounded flat, season it with salt and pepper, then add a layer of sausage to cover most of the chicken. Spread the sausage in an even layer on top of the chicken. The next layer is the ricotta cheese, parmesan cheese, fresh baby spinach leaves and a few grinds of fresh nutmeg to finish it all off.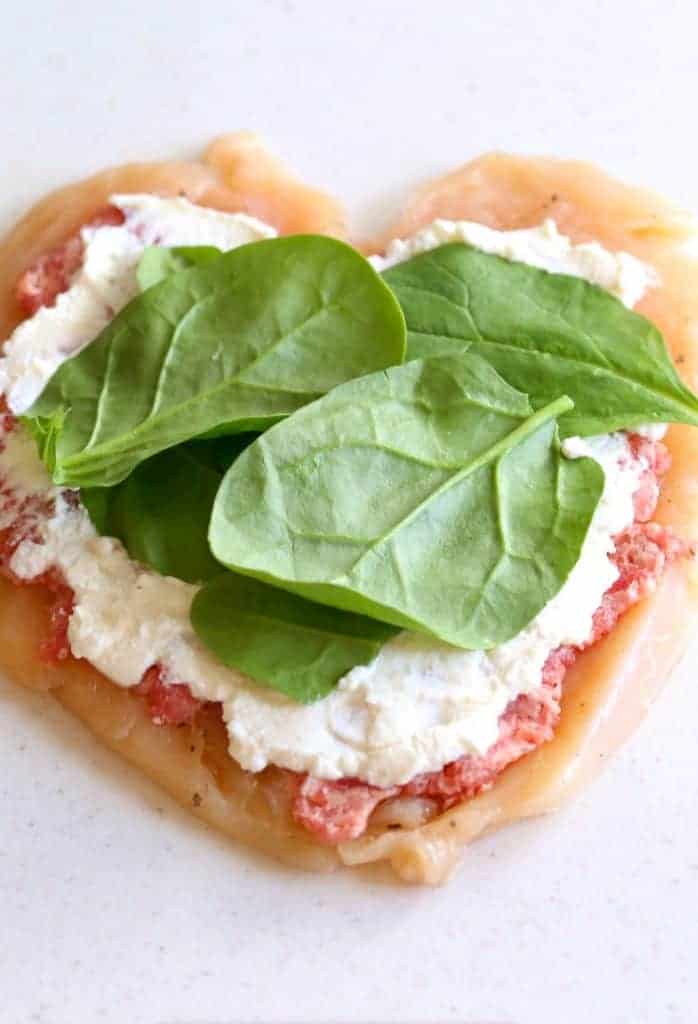 With me so far? Ok, good. Now it's time to roll it up!
Roll the chicken up from the rounded part of the chicken breast and roll up all the way to the end. While you are rolling, use your fingers to push in any filling that's trying to escape, then secure the roll with a few toothpicks.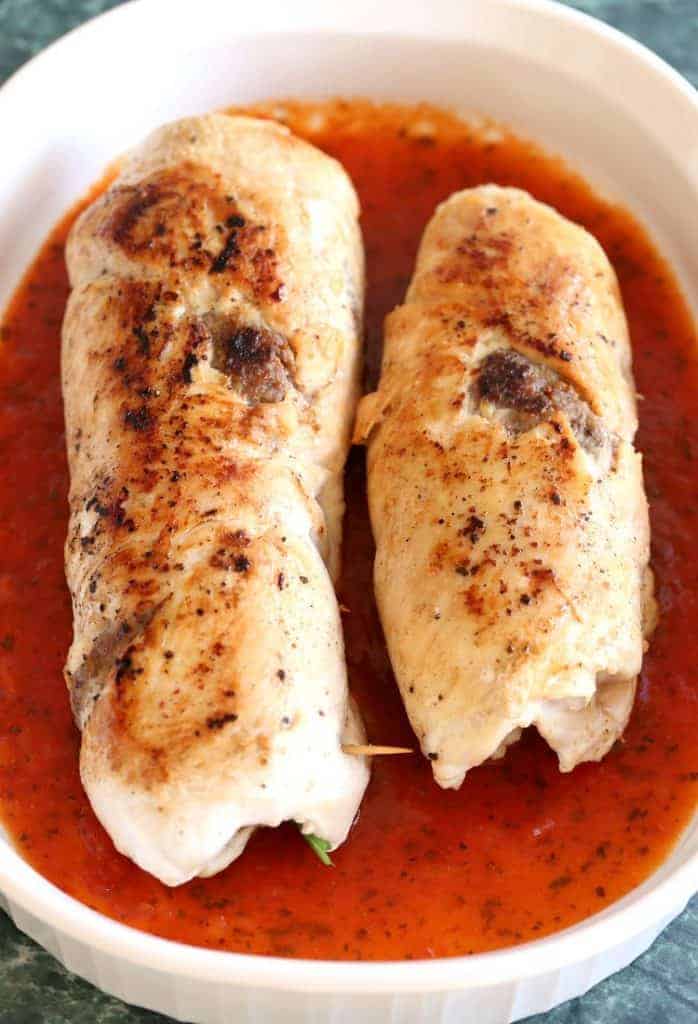 Can You Make This Chicken Recipe Ahead Of Time?
Absolutely! And you've got a few options here.
Make the recipe through until the end, slice and heat up in the oven for a few minutes until warmed through. OR you can prep the chicken breast by stuffing and rolling them and searing them quickly.
Then you can place them in a baking dish with sauce like we have here below and keep it in the refrigerator until you're ready to bake the chicken rollatini and finish them off.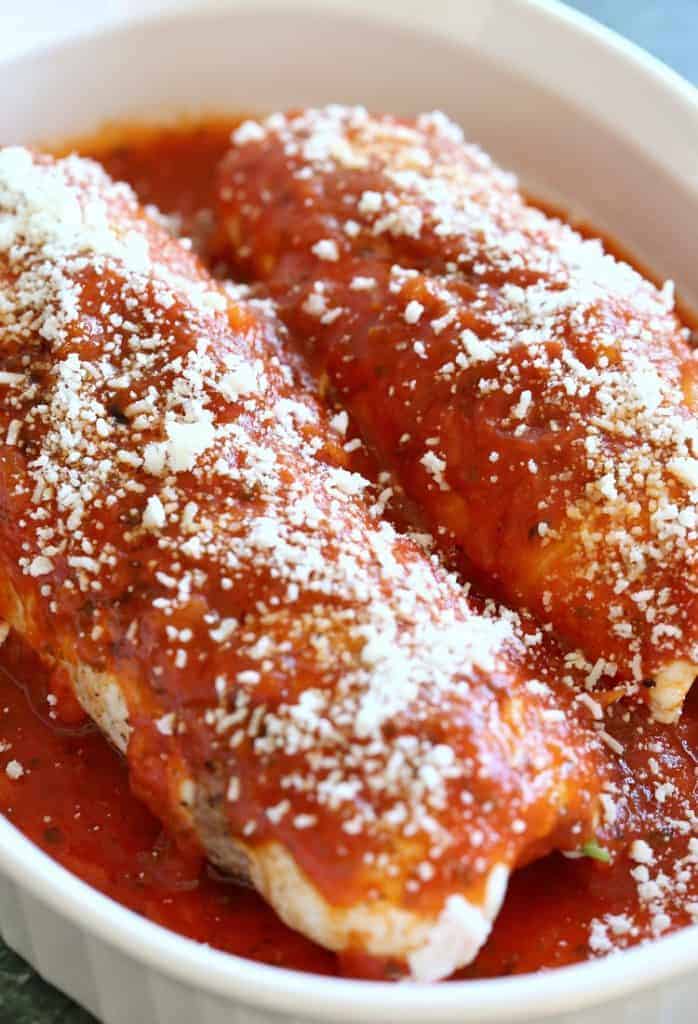 What Other Ingredients Can You Substitute In This Chicken Recipe?
Maybe you're not a fan of spinach? Then you have a few options here:
Chopped broccoli
Fresh basil leaves
Pesto
Arugula
Or leave out the vegetable
Substitutions For the Ricotta Cheese:
Mozzarella cheese
Parmesan cheese
Marscarpone cheese
Shredded gruyere cheese
Or a combination of a couple of cheeses like Parmesan/Mozzarella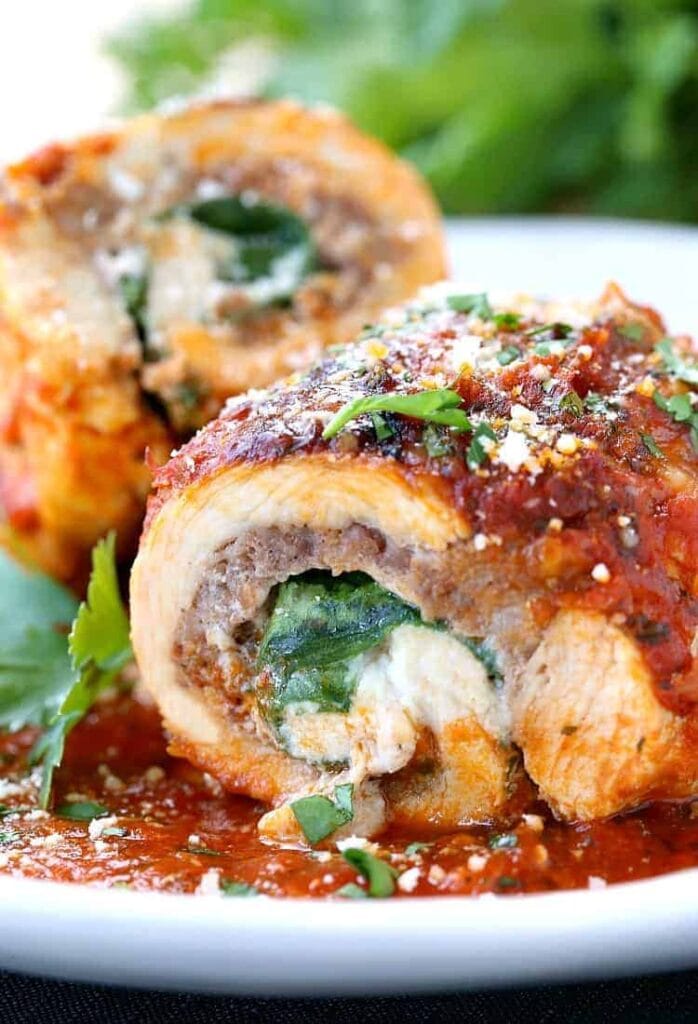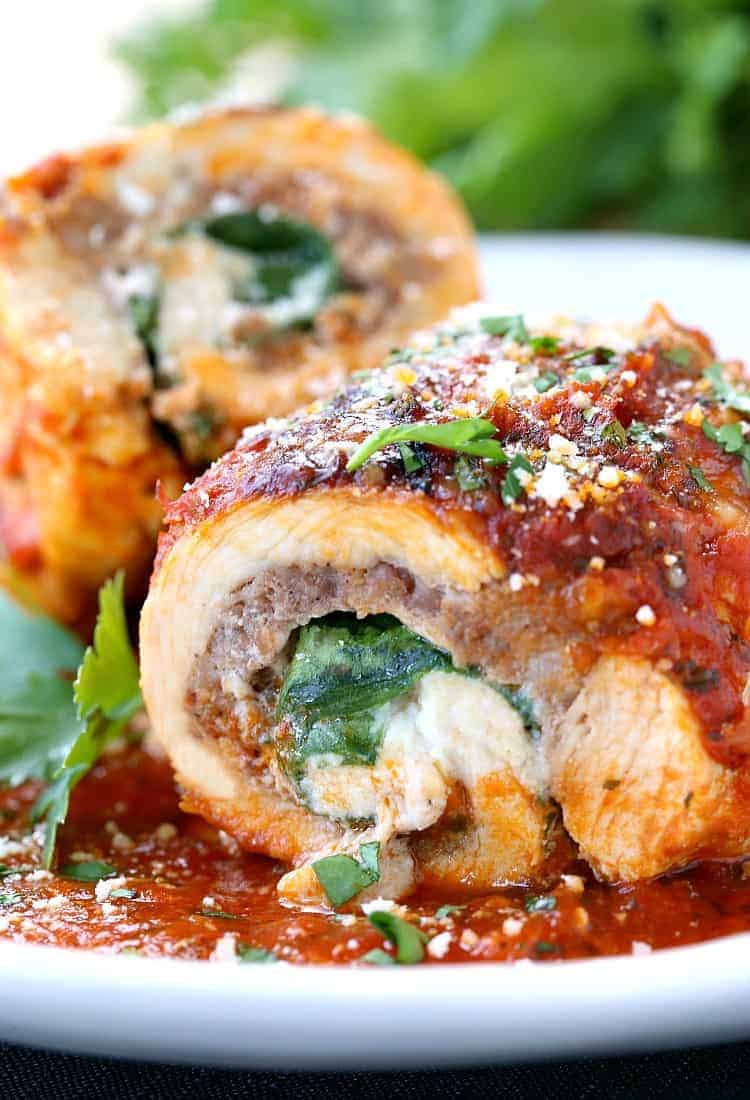 What Can You Serve With This Chicken Rollatini Recipe?
Shop This Recipe!
Pin It!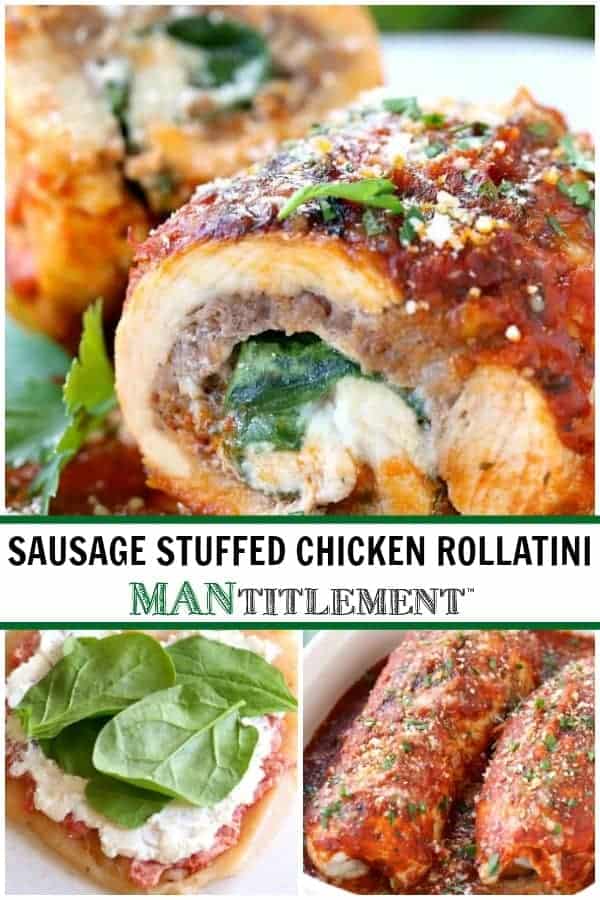 Print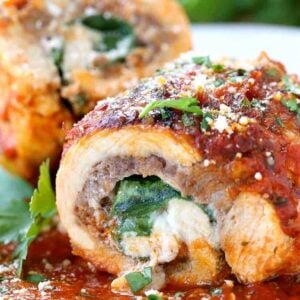 Sausage Stuffed Chicken Rollatini
Author:

Prep Time:

15 minutes

Cook Time:

35 minutes

Total Time:

50 minutes

Yield:

4

servings

1

x
Category:

Dinner

Method:

Oven/Stove top

Cuisine:

American
---
Description
This stuffed chicken breast is a true show stopper! This chicken rollatini can be served with pasta or vegetables on the side for a family dinner or a special occasion!
---
Ingredients
1 1/2 pounds boneless, skinless chicken breast (see note)
1/2 pound loose sausage meat (spicy or mild)
6 tablespoons of ricotta cheese
2 cups fresh baby spinach
1/4 cup grated parmesan cheese (plus more for topping)
1/2 teaspoon fresh grated nutmeg
Kosher salt and fresh black pepper to taste
2 tablespoons olive oil
2 tablespoons butter
1 (24 ounce) jar of your favorite marinara sauce
Chopped fresh parsley for garnish
---
Instructions
Preheat the oven to 400 degrees.
Place a chicken breast on a cutting board. Starting with the ticker part of the chicken breast, make a vertical cut through the chicken almost to the other side but not cutting the whole way through.
Open the chicken so that the chicken lies flat on the board.
Cover the chicken with plastic wrap and pound the chicken thin using a meat mallet until the chicken is approximately a quarter inch thick all around.
Season the chicken with salt and pepper, then take half of the sausage and add it on to the chicken spreading into an even layer. I used my hands for this, it was the easiest way but a spoon or a spatula would also do the job.
Next add half of the ricotta cheese on top of the sausage spreading into an even layer.
Sprinkle on half of the parmesan cheese, then add half of the fresh nutmeg to cover the entire chicken breast evenly.
Now add a 1 cup of the spinach, spreading out to evenly cover the filling.
Roll the chicken up carefully, using your fingers to press in any filling as you go then secure the seam with toothpicks.
Repeat with the other chicken breast.
Add the butter and oil to a large skillet over medium heat.
Add the chicken rolls seam side down and cook for 5 minutes until browned. Then flip the roll over to the other side and cook for another 5 minutes.
Remove the chicken rolls to a baking dish with a layer of the sauce on the bottom. Cover the tops of the chicken rolls with more sauce then cover with foil and place in the oven for 35 minutes.
When the chicken comes out of the oven, remove to a cutting board and cut into the center of one of the rolls to make sure the sausage is brown and cooked through. If there's still some pink just get it back in the oven for another few minutes.
Let the chicken rolls cool slightly on a cutting board, then remove the toothpicks from each roll.
Add more parmesan cheese to the top of each roll, then slice each roll into 4 pieces. Serve with chopped parsley for garnish if desired.
---
Notes
Usually the packages I find at the store come with 2 large chicken breasts that total between 1 1/3 pounds and 1 1/2 pounds.
Keywords: chicken breast recipes, stuffed chicken breast, baked chicken breast, chicken dinner, dinner recipes, boneless chicken breast recipes, low carb recipe, low carb dinner