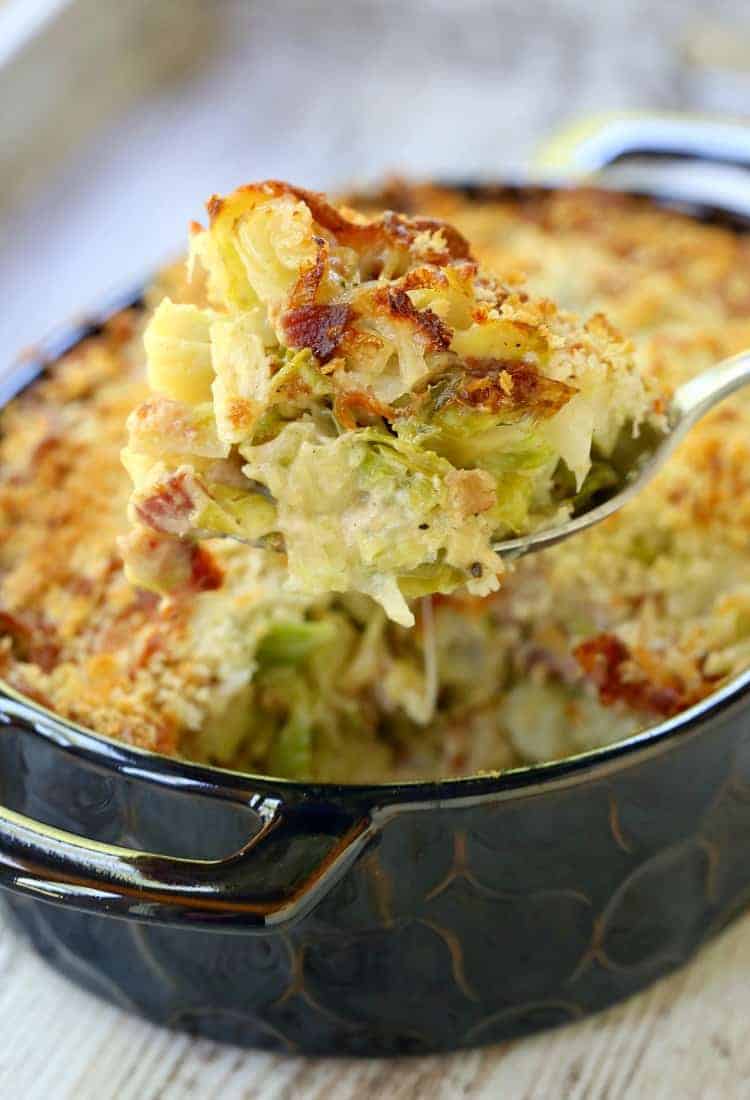 The Best Brussels Sprouts Casserole
We're calling this The Best Brussels Sprouts Casserole for good reason. One bite of this casserole and you'll be a sprout fan for good!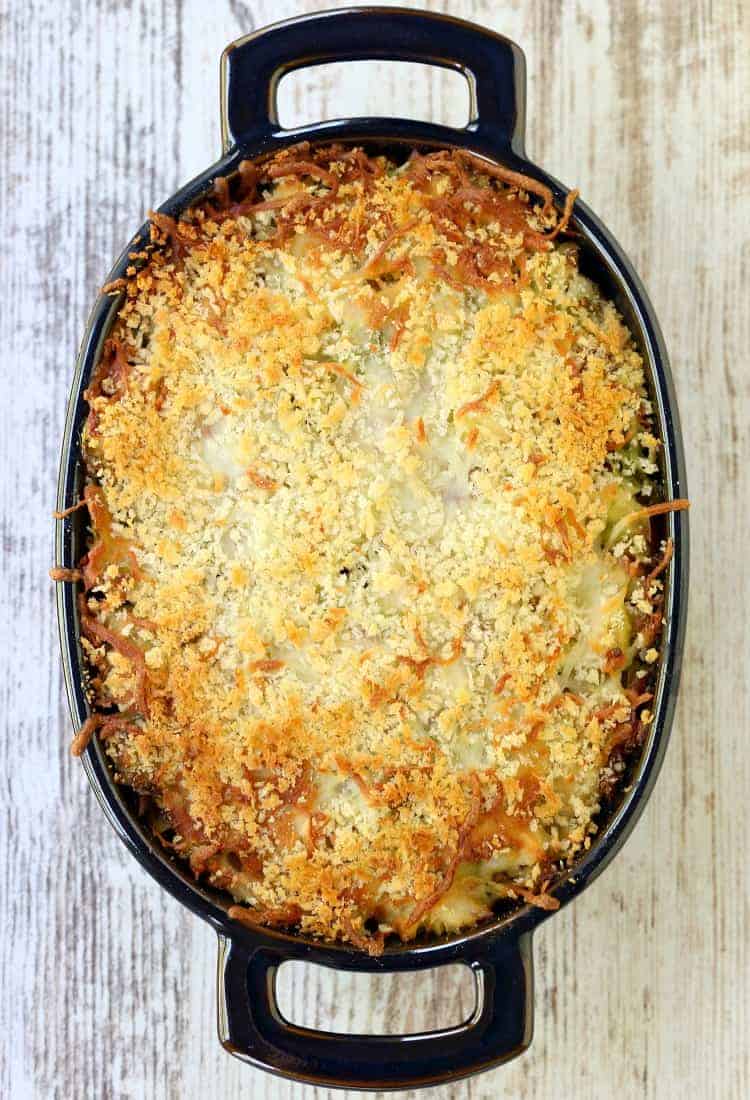 Another thing I never used to be a big fan of is brussels sprouts.
I mean, they do sort of get a bad rap as far as vegetables go. Kids don't usually like them and I'd say maybe 50/50 adults are going to say they like them or hate them.
I used to be a hater. Now I'm a lover.
We've made a few recipes with sprouts on the site here that I do love, these Whiskey Glazed Baby Carrots and Brussels are one of them, another that we make all the time is this Asian Chicken and Brussels Stir Fry.
Toss some vegetables in our favorite Stir Fry Sauce and it's usually going to be a winner dinner in our house.
I'm telling you, this casserole is one of the best things vegetable-wise I've ever eaten. We made this a few times to tweak the recipe and it was gone every single time.
We were even eating this just for dinner, no main meal required.
What's not to love here anyway? Bacon, cream, cheese and crispy panko bread crumbs…you don't even know you're eating a big bowl full of brussels here.
But there is a trick to making this The Best Brussels Sprouts Casserole THE BEST.
I think it's all in the way the brussels sprouts are cut. They are sliced into thin pieces, or shaved, so that you're not biting into a big ol' sprout.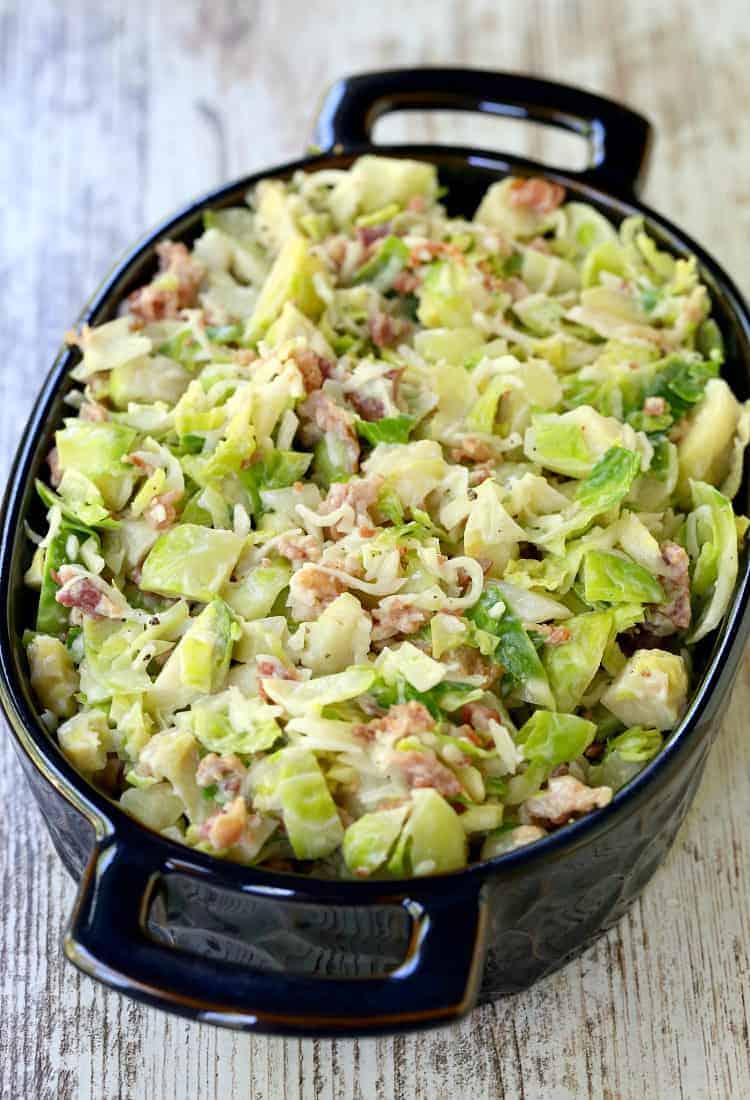 I might not be as big of a fan if they were in my casserole that way.
But the way these brussel sprouts are shaved into small pieces and mixed all together with the bacon and cream…you really can't beat it.
Then you mix those shaved brussel sprouts together with bacon bits (or crumbled bacon) cream and shredded cheese. Top it with panko bread crumbs and bake.
The Best Brussels Sprouts Casserole is coming your way…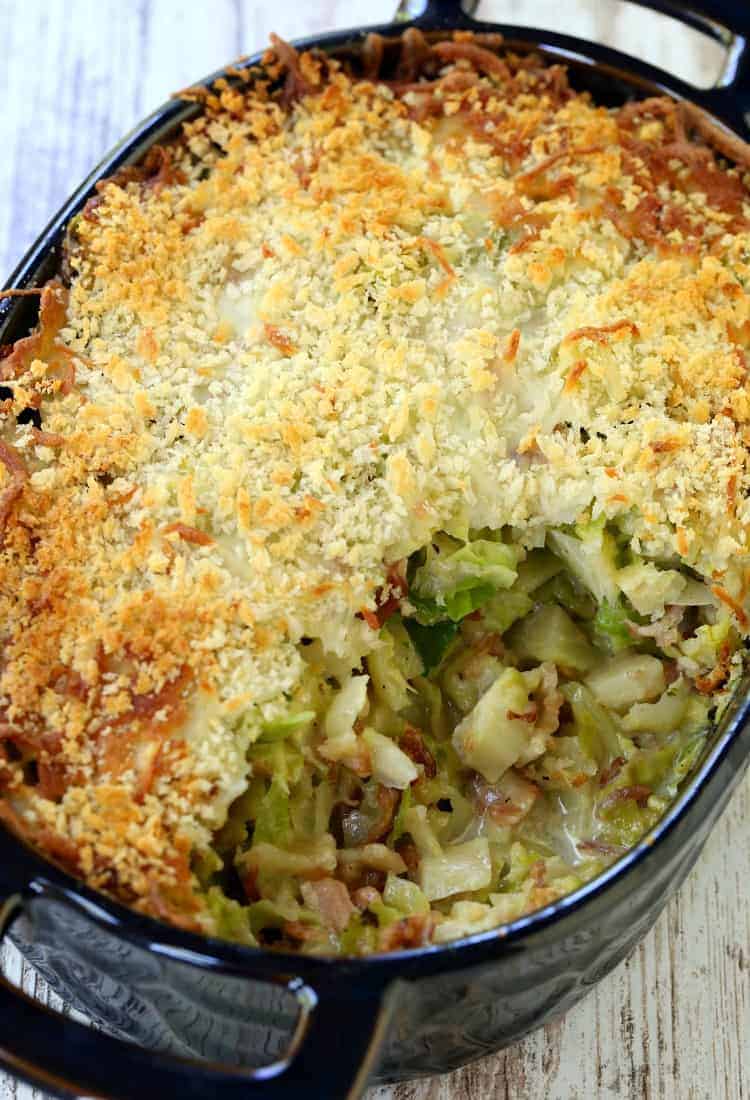 This brussel sprouts recipe can also be made ahead of time so there's no last minute boiling of the sprouts or slicing like a mad person in the kitchen at the last minute.
Just relax and do all that crazy prepping when no one is watching. Then you can act all casual when dinner is ready – you've got this.
Serve The Best Brussels Sprouts Casserole up with chicken or a steak and watch it disappear. Even the kids are not going to hate this, I promise.
If I can say that I'm a huge fan, believe me. They will too.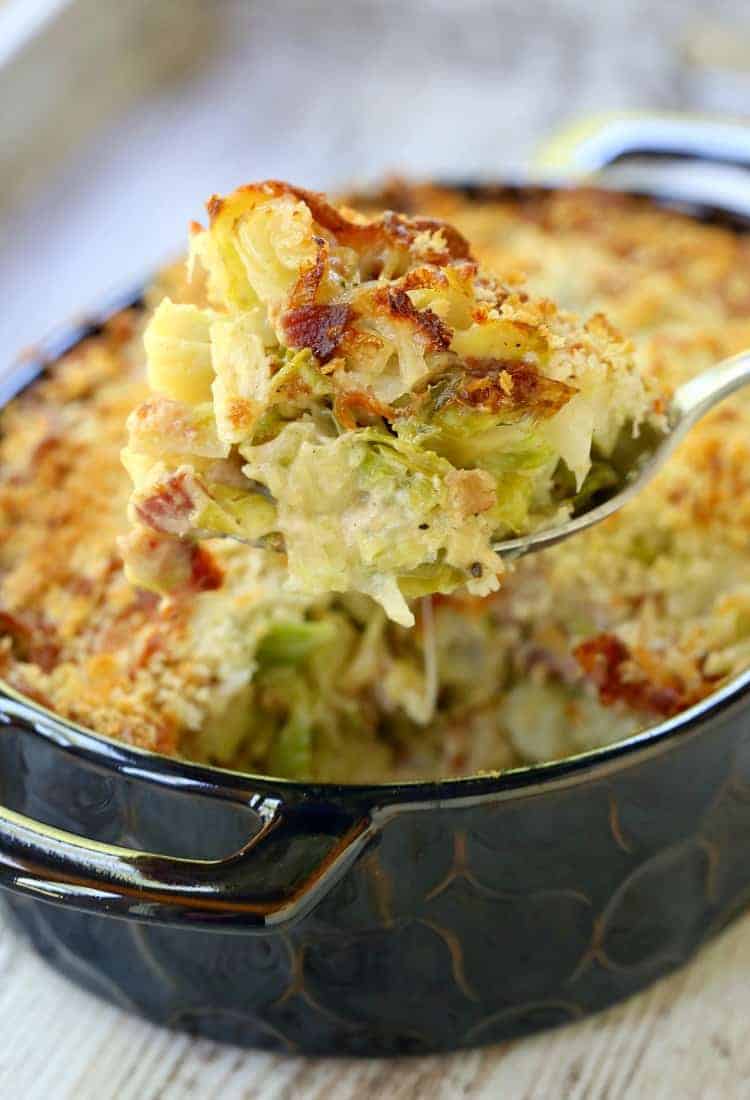 Print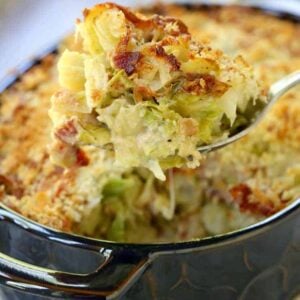 The Best Brussels Sprout Casserole
Author:

Prep Time:

15 minutes

Cook Time:

25

Total Time:

40 minutes

Yield:

6 servings

Category:

side dish

Method:

oven

Cuisine:

American
---
Description
This cheesy, bacony, creamy brussels sprouts casserole is going to be your family favorite too! A tasty side dish that works with a holiday meal or everyday dinner!
---
Ingredients
2 lb. brussels sprouts
1 cup fresh bacon bits (or fresh cooked bacon, chopped)
2 cups shredded white cheddar cheese, divided
1/2 cup heavy cream
1/2 cup panko bread crumbs
1 teaspoon kosher salt
1/2 teaspoon black pepper
---
Instructions
Preheat the oven to 400 degrees.
Fill a large pot with water and bring to a boil.
Trim the ends of the brussels sprouts, cut the sprouts in half, then add them to the water once it comes to a boil.
Boil the sprouts for 7-8 minutes, until just tender. Drain and let cool.
Slice the brussels into thin pieces then add to a large bowl.
Mix together with 1 cup of the cheese, the cream, the bacon bits, salt and pepper.
Pour into a 9 x 13 inch baking dish and cover with the remaining cup of cheese and the bread crumbs.
Bake for 25 minutes until the casserole is bubbling and the bread crumbs are brown.
Keywords: brussels sprouts, bacon recipes, side dishes