The ultimate thin-crust homemade pizza recipe! This Air Fryer Pizza is thin and crispy, and so easy to make. A delicious after school snack or an easy dinner that everyone can customize. Break out your air fryer and have a pizza party!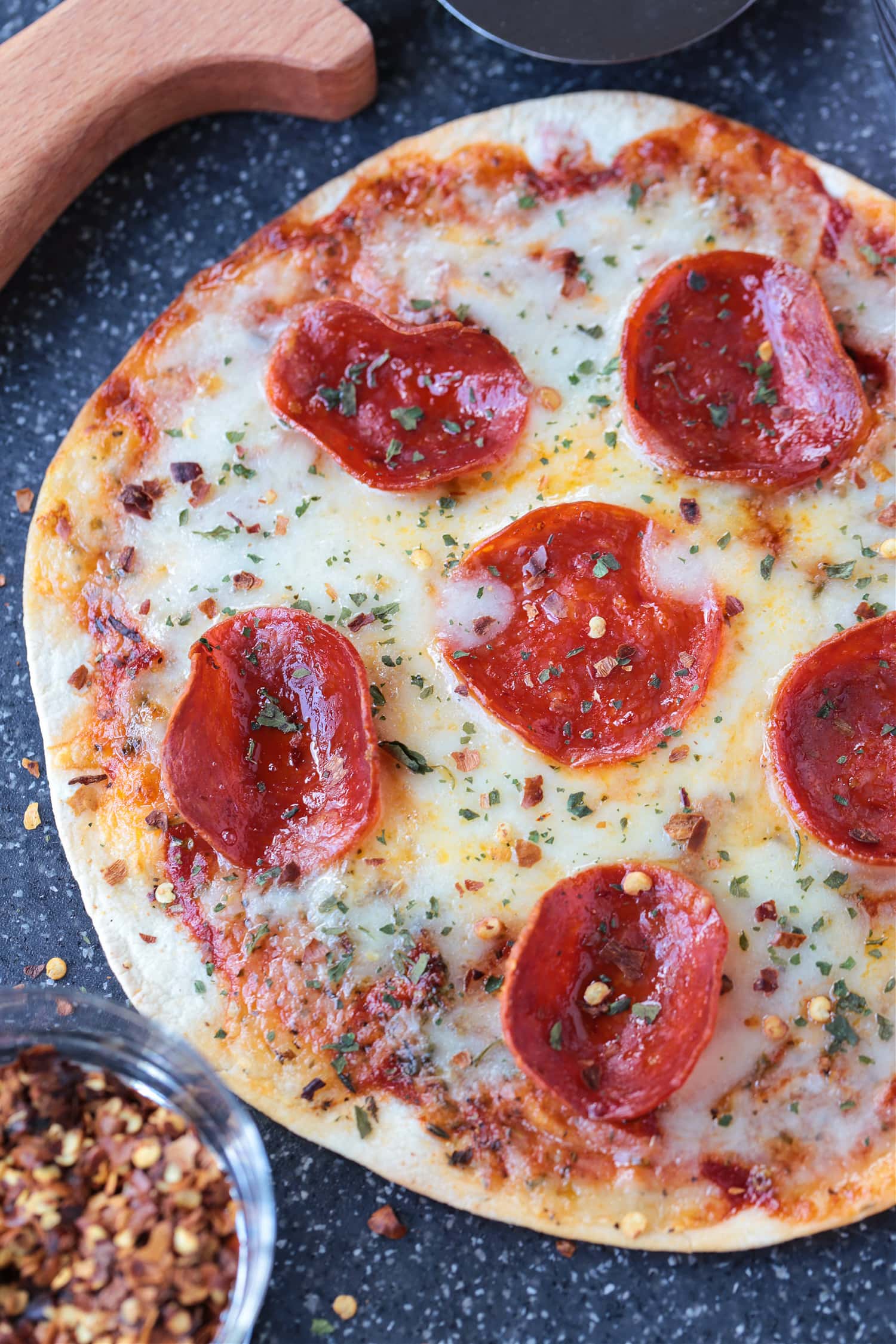 Easy To Make Air Fryer Pizza Recipe
This Air Fryer Pizza recipe is so easy to make, the kids can do it themselves. A delicious, nutritious and delicious after school snack or a fun and fast dinner. Break out your air fryer and let it do all the work for you!
You can customize these air fryer pizzas to your liking with all your favorite toppings. All you need is a few ingredients and just about 5 minutes to get these thin and crispy tortilla pizzas on the table!
Ingredients For Air Fryer Pizza
Flour Tortillas: 8 inch flour tortillas are the "pizza crust" for this air fryer recipe.
Mozzarella Cheese: You can buy pre-shredded mozzarella cheese or shred it yourself. Use any kind of mozzarella from whole milk to part-skim or low fat or even fat-free if you're watching your calorie intake.
Tomato Sauce: We like using plain tomato sauce and seasoning it up ourselves. BUT to make this pizza recipe even easier, grab a jar of store bought pizza sauce or even a good marinara sauce and then skip the seasonings.
Pepperoni or other pizza toppings: We chose pepperoni for our pizzas but you can add any kind of pizza topping that you like.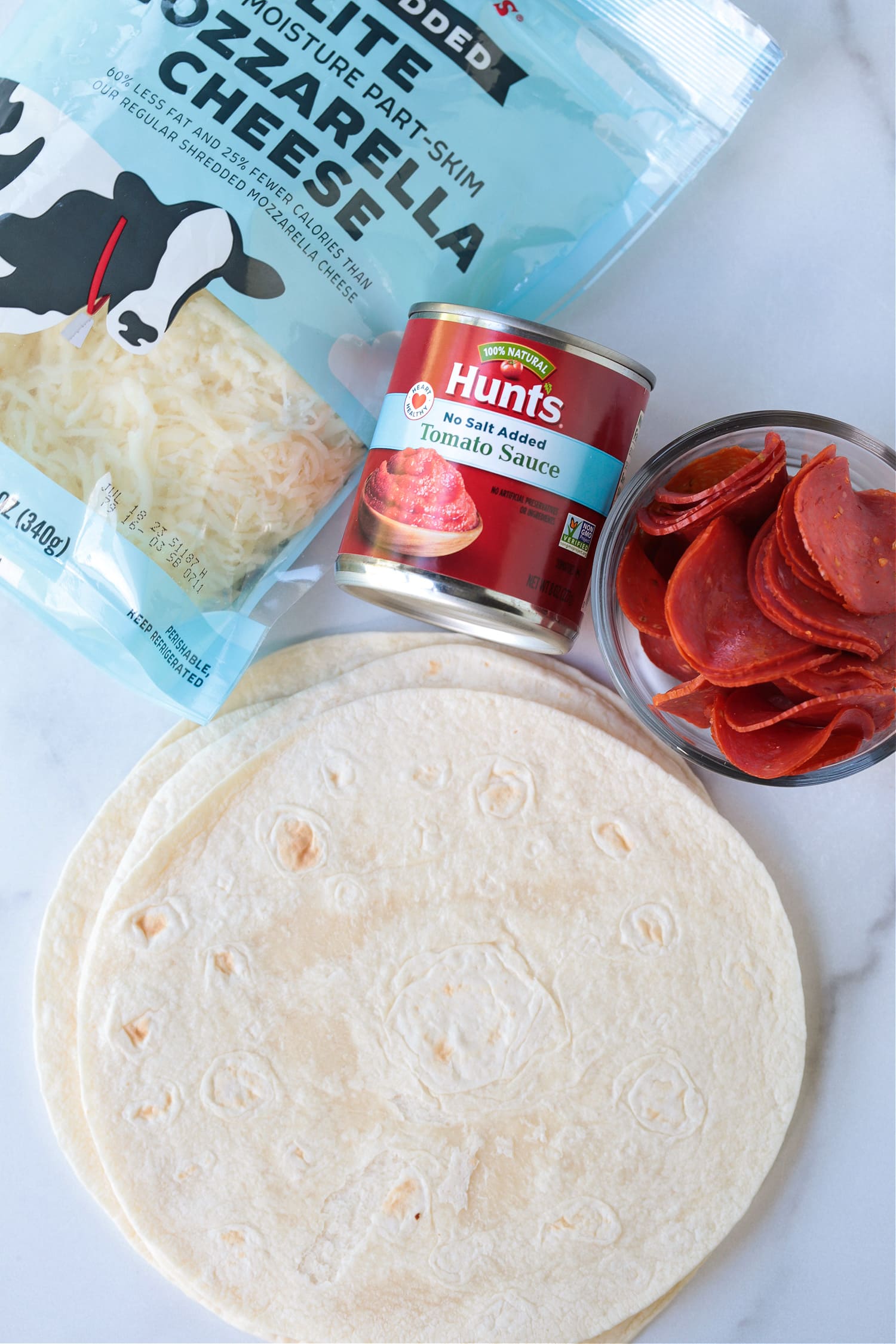 How To Make Pizza In An Air Fryer
Typically because of the size of most air fryers, you can only make one pizza at a time. But since these air fryer pizzas only take 4 minutes to cook, there won't be much downtime in between orders!
We have had great success with THIS AIR FRYER, but there are many good options out there these days. We actually have 3 air fryers, this one and another one that has racks for making larger meals.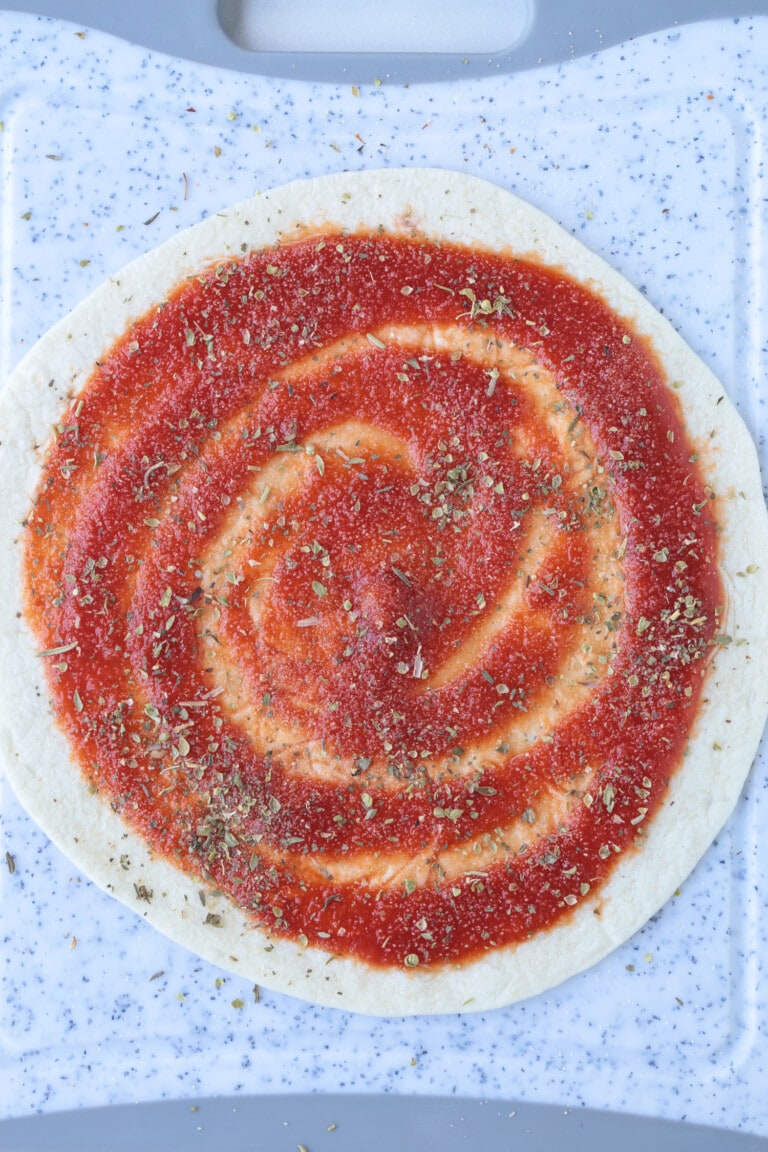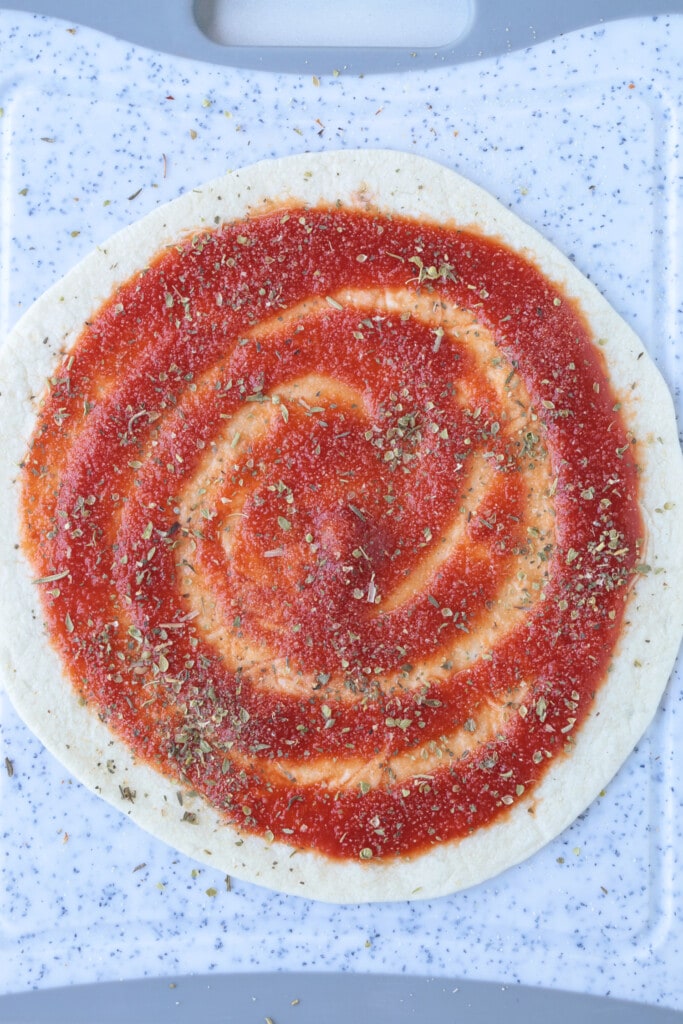 Start by adding a thin layer of sauce to a tortilla. Spread the sauce evenly to cover the tortilla leaving an edge on the outside. Season with Italian seasoning, garlic powder and onion powder. (skip the seasoning if using store bought pizza sauce or marinara sauce)
Add 1/2 cup of shredded mozzarella cheese in an even layer on top of the sauce, followed by your toppings of choice.
Place the tortilla pizza in your air fryer and cook at 400 degrees for 4-5 minutes until the cheese is melted and the tortilla is brown and crispy.
Remove the pizza from the air fryer, cut into wedges and serve.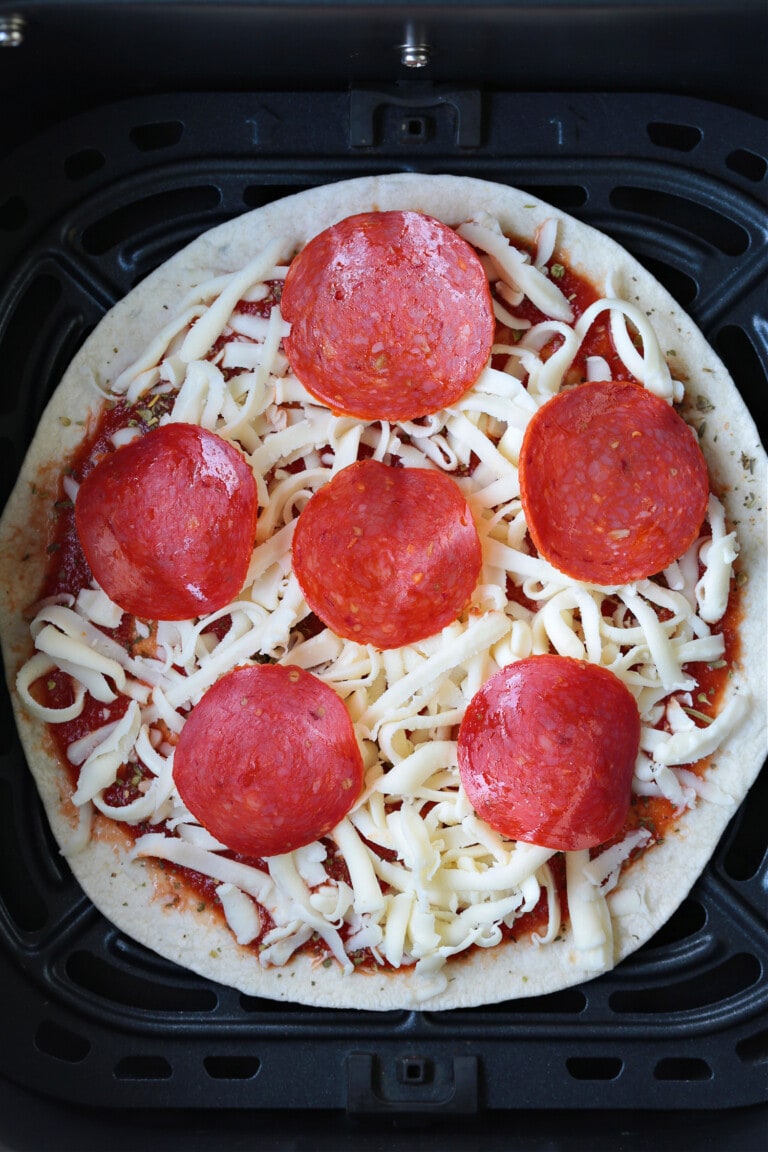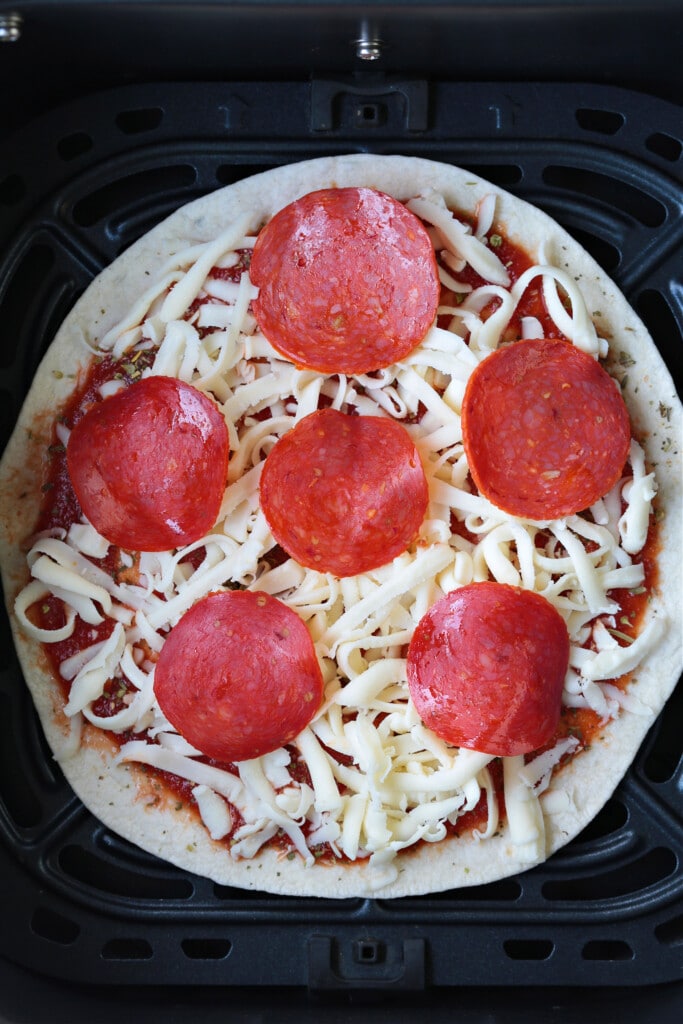 Variations
There are many, many different ways that you can switch up the flavors of these air fryer pizzas. From different toppings, to different sauce to different cheeses. Have a pizza party and let everyone customize their own pizza!
Pizza Toppings: Any pizza topping that you'd normally order on a take out pizza will work. from crumbled and cooked Italian sausage to any kind of vegetable like mushrooms, onions and green peppers.
Cheese: Of course, mozzarella cheese is a traditional topping for most pizza recipes, but you can get creative here, too! Provolone cheese will add a sharp bite, where as gruyere cheese will add a nutty flavor. A sprinkle of parmesan cheese on top is always a welcome addition. If you're making a taco pizza, even cheddar cheese or pepper jack are fun additions.
Sauce: Instead of a tomato based sauce, you can grab a jar of store bought Alfredo sauce and make a white pizza. Add a swirl of jarred pesto and/or a drizzle of chili oil to elevate the flavors even more.
Tortillas: This pizza recipe also works great with whole wheat or low carb tortillas.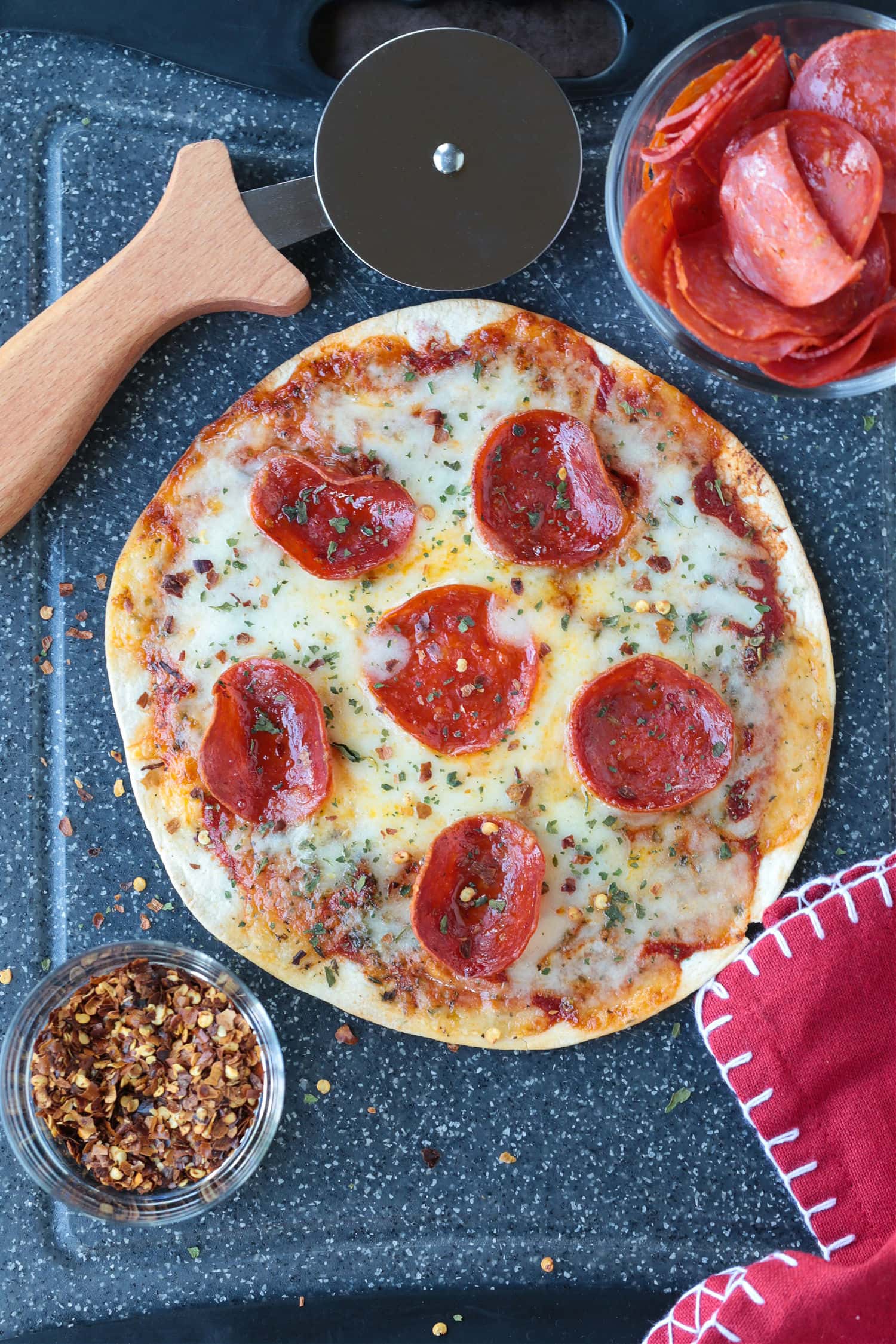 Tips For Success!
Don't add too much sauce to the tortilla. I know it's tempting to just keep adding a little more and more sauce, but it will result in a soggy tortilla. We're looking for the ultra-thin, mega crispy crust here and that result will only happen with the right amount of sauce.
Don't add too many toppings: An even layer of toppings works best. Again, these are super thin crust pizzas so if you go overboard on the toppings the pizza crust won't stand up to them.
Don't let the pizzas sit: Enjoy these tortilla pizzas as soon as they come out of the air fryer. If you let them sit out too long the crust will become soft. Still delicious, just not thin and crispy.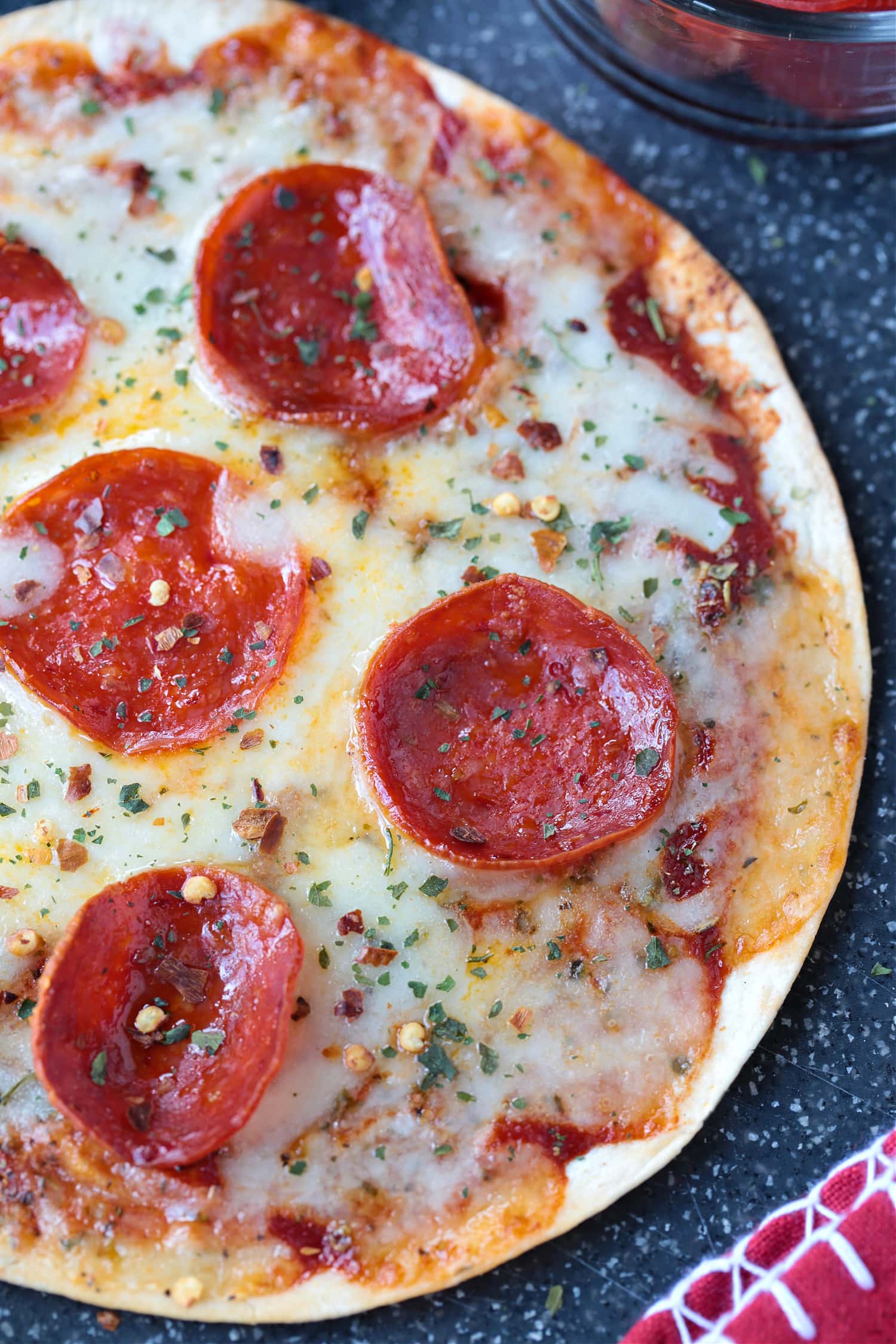 Why Use An Air Fryer Instead Of The Oven?
We have tried both, and still use both methods for making pizza. But we have found with these tortilla pizzas that using an air fryer gets the best results.
Some even compare these pizzas to a Dominos thin crust pizza. Mega thin and crispy with a bit of chew to the "crust". Using an air fryer helps to ensure that the tortilla doesn't burn and bakes up with the perfect crunch.
Another reason why we love using an air fryer to make these pizzas is because it's just so easy…there's no need to preheat a big oven to heat up the house. And even if your air fryer has a pre-heat cycle, it usually just takes a couple of minutes.
Another bonus is that our kids, even fairly young kids, can make their own pizzas using the air fryer and we don't need to be involved. That is a win for everyone – when the kids can make their own meals and it's something that you feel good about them eating!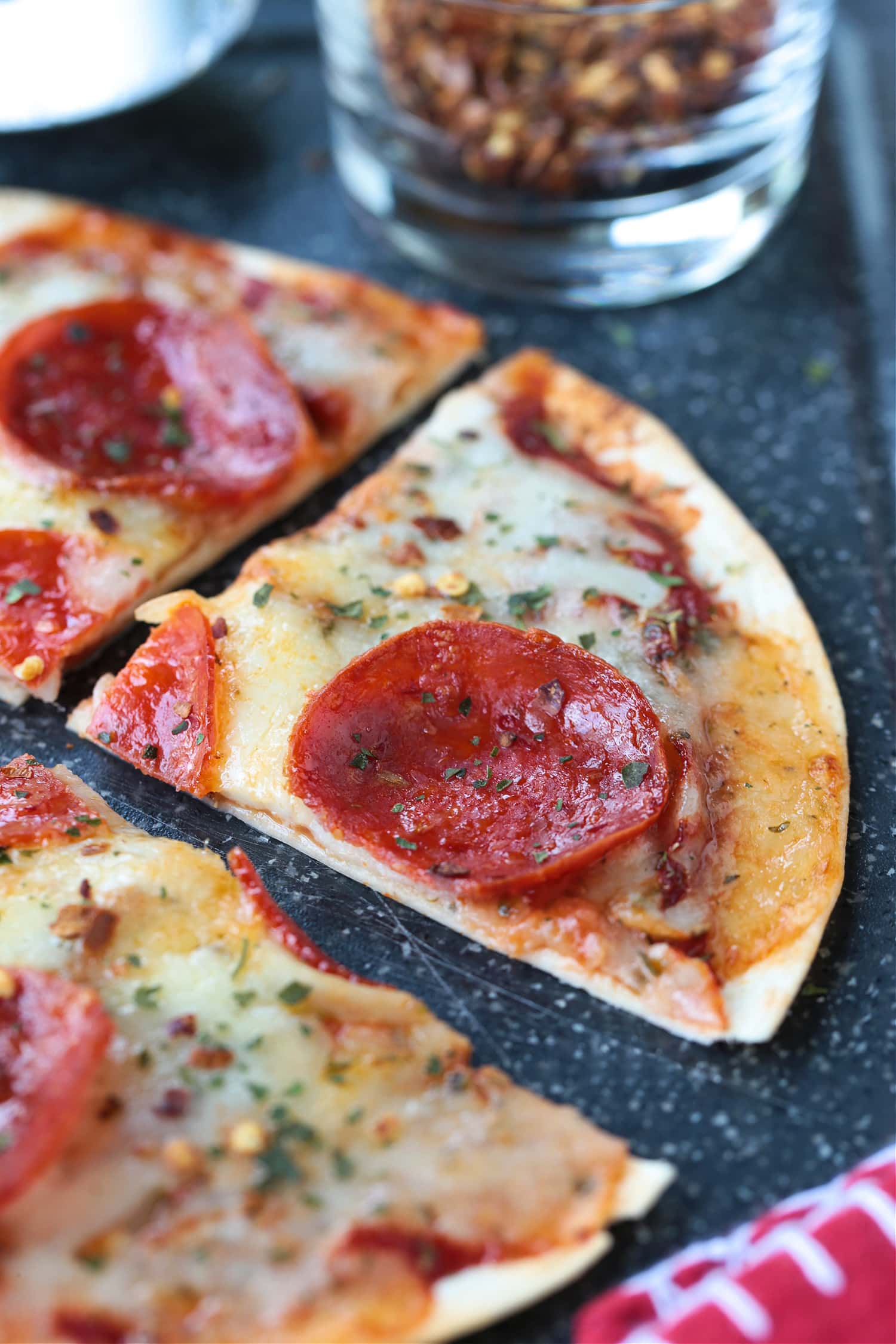 Looking For Some More Fun Pizza Recipes?
Print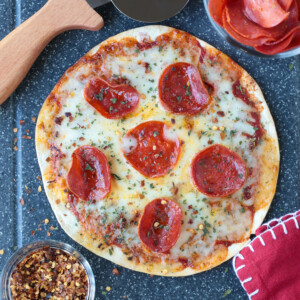 Air Fryer Pizza
Author:

Prep Time:

5 minutes

Cook Time:

5 minutes

Total Time:

10 minutes

Yield:

1

Serving

1

x
This easy to make Air Fryer Pizza is perfect for an after school snack or a fun dinner! A super thin and crispy tortilla crust with gooey cheese and all your favorite toppings!
Scale
Ingredients
1

(8 inch) flour tortilla

2 tablespoons

tomato sauce (can also use marinara sauce or store bought pizza sauce)

1/4 teaspoon

each of garlic powder, onion powder and Italian seasoning (skip if using store bought pizza or marinara sauce)

1/2 cup

shredded mozzarella cheese

5

slices of pepperoni (see post for other pizza topping ideas)
Instructions
Preheat the air fryer (if needed) to 440 degrees.
Spread the tomato sauce on the tortilla in an even, thin layer, leaving an edge around the outside. Season the sauce with the garlic powder, onion powder and Italian seasoning.
Add the mozzarella cheese in an even layer on top of the sauce, followed by the pepperoni or other pizza toppings of your choice.
Add the tortilla pizza to the basket of the air fryer and cook for 4-5 minutes until the cheese is melted and the tortilla is brown and crispy.
Cut into wedges and serve immediately.
Category:

Dinner

Method:

Air Fryer

Cuisine:

American
Keywords: mantitlement, air fryer pizza, tortilla pizza, snack ideas, after school snack recipes, easy meals, fun food, easy pizza recipe, air fryer recipe