These Copycat Totino's Pizza Rolls taste just like the original, but even better! You can stuff these pizza rolls with your favorite pizza toppings!
Usually homemade is better and that is definitely the case with this copycat pizza rolls recipe! Also try some of our other pizza flavored recipes like these Meatball Pizza Quesadillas and these Pepperoni Pizza Arancini!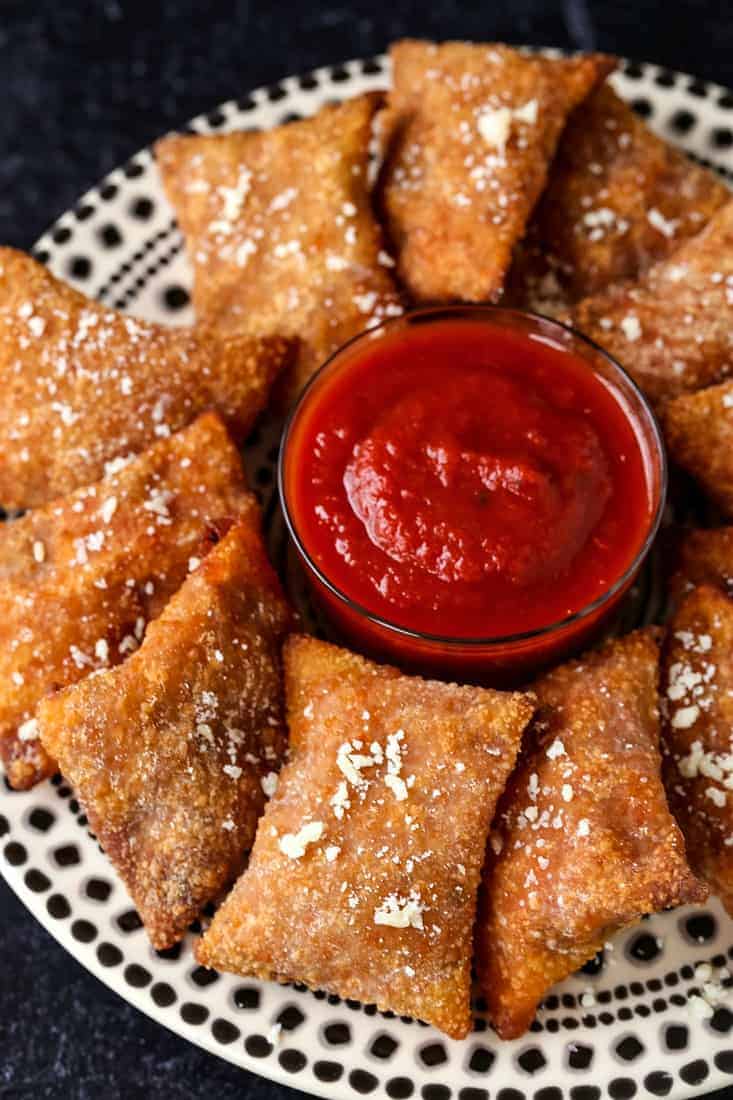 What Are Totino's Pizza Rolls?
If you've never burnt the roof of your mouth on a steaming hot bite of a pizza roll then you're not living. These Copycat Totino's Pizza Rolls taste JUST like the original, but honestly even better, so if you've never tried one before just start with these.
Totino's Pizza Rolls are a classic snack or appetizer found right at the grocery store in the freezer aisle. We used to buy them all the time for snacks after school or even (yep, I'll admit) a quick dinner on a busy night.
You can microwave or bake these, baking is obviously the crispier way to go but microwaving is faster and really the kids don't seem to care at all.
Original Totino's Pizza Rolls come in a few different flavors like cheese, pepperoni and triple meat with sausage and pork. All are equally as good, triple meat is definitely our favorite, but as we'll show you in this pizza roll recipe, you can add whatever toppings you like!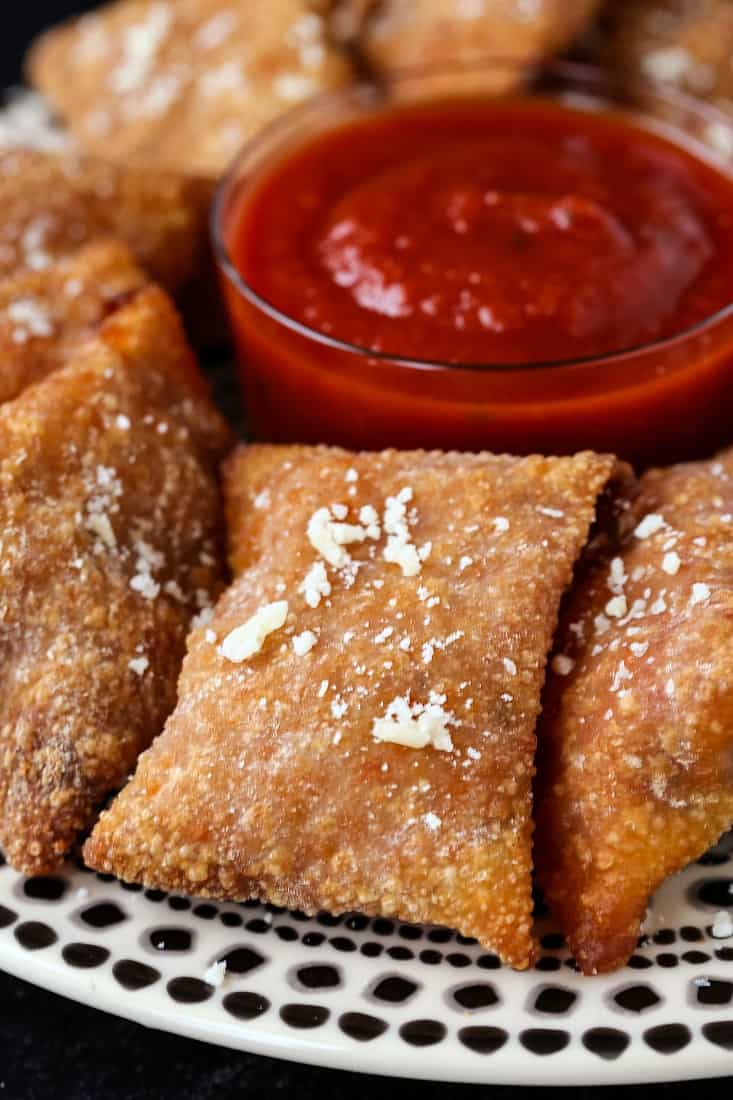 Why Make Homemade Totino's Pizza Rolls?
Well, give me a few minutes and I'll tell you why. But TBH, it's all about the flavor and the ratio on stuffing to crust.
The store bought brand is fine, they've been around forever so we're pretty sure they're here to stay. But as with most frozen snacks like these pizza rolls there is never enough filling! So you bite into the crispy, greasy pizza roll and it's delicious, but there's more crust than stuffing for sure.
When you make these Copycat Totino's Pizza Rolls you control the amount of stuffing you put inside! Now, you can only go so far, if you put too much stuffing inside these pizza rolls they might leak out or even explode a bit when you go to fry them.
So do follow our pictures and recipe here for just the right amount!
Also, since these are homemade pizza rolls you can control the quality of the ingredients that goes into them. I mean if you're going to eat some cheesy fried pizza rolls they might as well be the best quality that you can eat!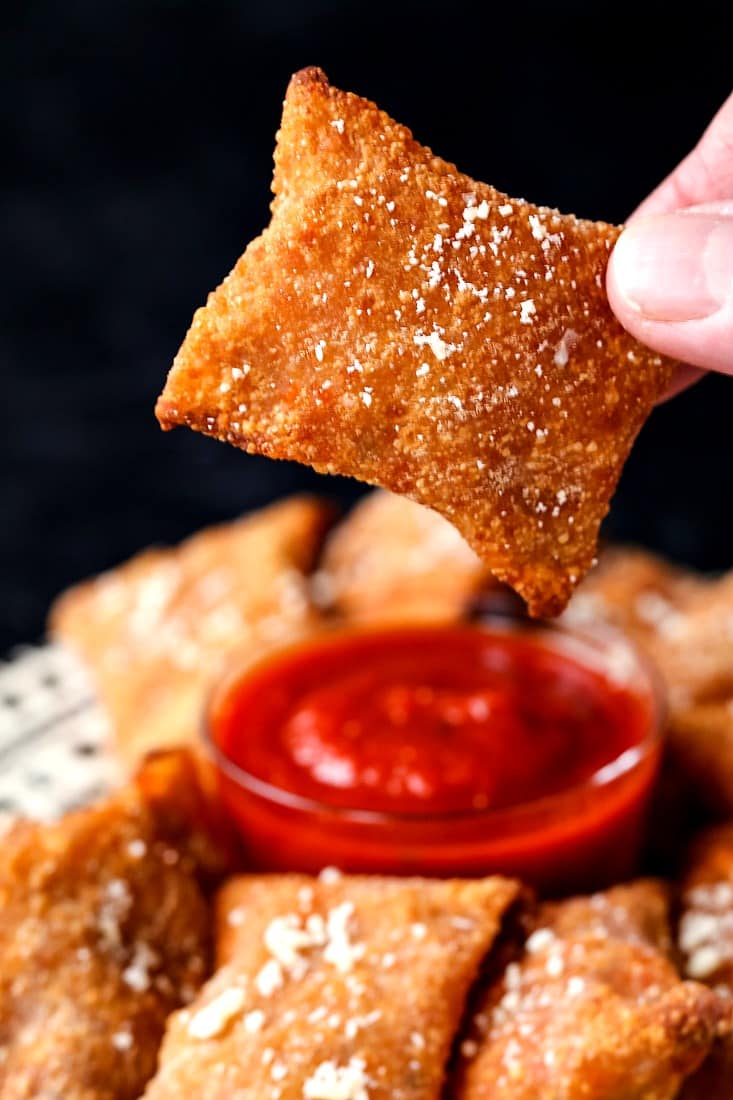 Ingredients For These Easy Pizza Rolls
Here's where you can add your own touch to this recipe. We'll give you the basic ingredients here and then give you some ideas for additional ingredient ideas!
Wonton wrappers
Mozzarella cheese
Pizza sauce
Italian Seasoning
Oil for frying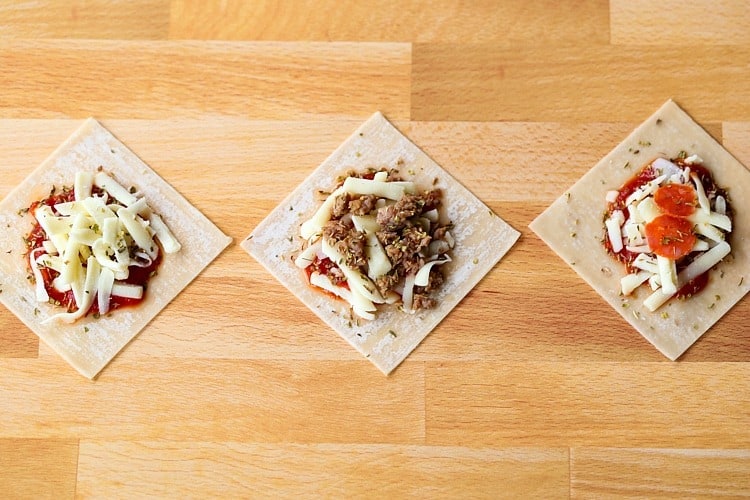 Additional Ingredient Ideas:
Sausage
Pepperoni
Ground pork, chicken or turkey
Chopped spinach
Chopped broccoli
Mushrooms
Black olives
Peppers
Bacon
Cooked or Caramelized Onions
Fresh basil
How To Make Pizza Rolls
Lay a wonton wrapper on a board in a diamond shape. Add pizza sauce, cheese and Italian seasoning to the center and then fold the two opposite corners together as shown, sealing with water along the edges.
Fold the bottom and top corners down and seal with water, making sure the wonton is sealed very well so that the filling doesn't leak out when you fry them.
Fry the pizza rolls for about 3 minutes until they turn golden brown, then remove to a paper towel lined plate to drain. Repeat with the remaining pizza rolls until they are all fried!
BONUS: You can use an air fryer too! They won't come out AS crispy as if you fry them traditionally in oil but they are a really good alternative to deep frying!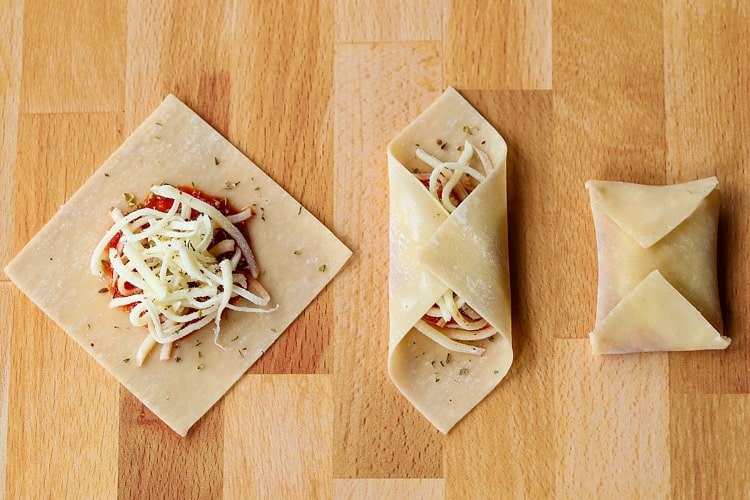 How To Keep Pizza Rolls Warm
After you fry these pizza rolls, you can keep them warm in a 300 degree oven for about an hour. They will start to get soft on you, so do try and eat them as soon as you fry them up!
Can I Make Pizza Rolls Ahead?
As I said before, these cheesy snacks are best eaten right away. The wonton wrappers will get soft as they sit so you don't want to make them too far in advance, but about an hour before serving should be fine.
What you want is super crispy on the outside and super cheesy on the inside…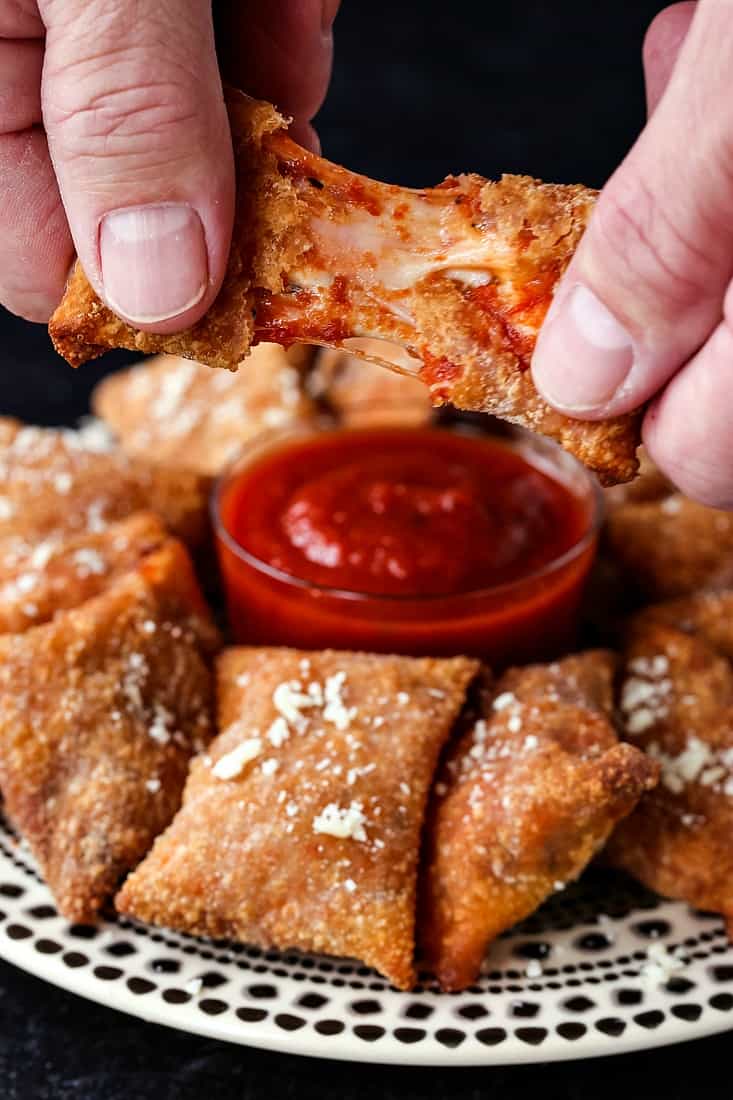 How To Reheat Pizza Rolls
Along the same lines here as making them ahead of time, these homemade pizza rolls really are best when consumed right away. Reheating these pizza rolls in the microwave will heat them up fine but they will be soft instead of crispy.
Reheating in the oven won't crisp them up that much either, so if you do happen to have any of these leftover (which I'm betting you won't) just heat them for about 15 seconds in the microwave and accept that they will still taste delicious but they will be soft.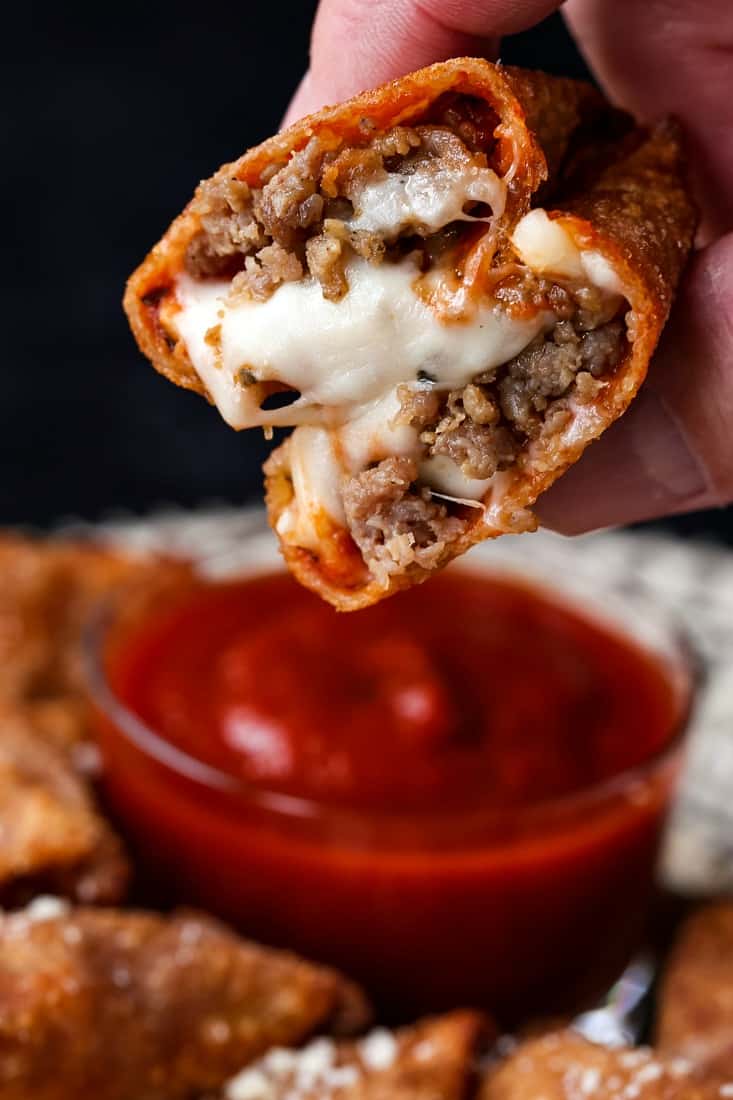 Like I said, one of the best things about making homemade pizza rolls is that you can stuff as much filling in there as that wonton wrapper can fit! We love spicy (or mild) sausage and lots of gooey mozzarella cheese…
I can promise you, once you make these pizza rolls from scratch you'll never buy frozen again!
Looking For More Appetizer Recipes?
Philly Cheesesteak Crescent Rolls
PIN IT!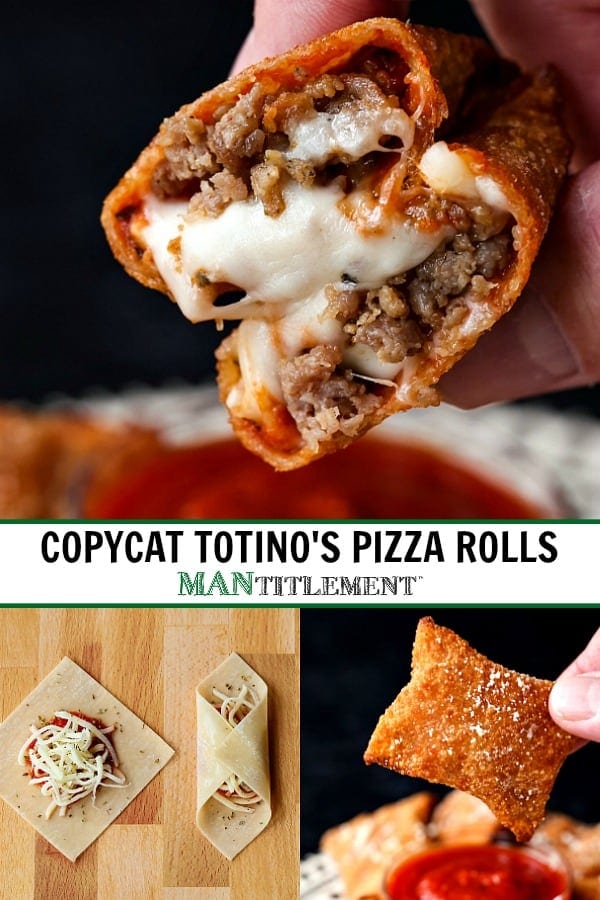 Print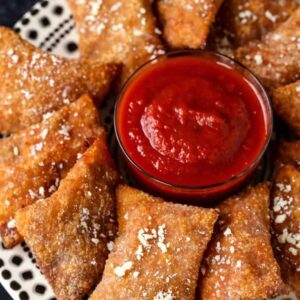 Copycat Totino's Pizza Rolls
Author:

Prep Time:

20 minutes

Cook Time:

15 minutes

Total Time:

35 minutes

Yield:

Approx. 30 pizza rolls
These copycat pizza rolls taste WAY better than the original! Super fun and easy to make, these are a hit for appetizers or after school snacks!
Scale
Ingredients
Canola or vegetable oil for frying
1 package square wonton wrappers
1 – 16 ounce bag shredded mozzarella cheese (about 3 1/2 cups)
15 ounce can store bought pizza sauce, marinara sauce or your own homemade sauce
Italian Seasoning
Grated parmesan cheese for garnish (optional)
Optional Ingredients:
1/2 pound sausage, (casings removed if any) browned and cooked into fine crumbles
1 package mini pepperoni
Chopped mushrooms, broccoli or spinach
Instructions
Lay a wonton wrapper on a board so that it's in the shape of a diamond.
Add a teaspoon of sauce, a heaping teaspoon of mozzarella cheese and a sprinkle of Italian seasoning to the middle of the wonton wrapper. This is when you can add additional toppings if you want to, just don't fill the wonton up so much that it doesn't seal properly.
Fold the sides over the center of the filling (see the post pictures above for reference) wet your fingertip with water and dab onto the edges so the wonton seals. Now bring the top and bottom corners together to meet in the middle, making a rectangle envelope shape. Seal the edges with water to make sure that no filling will leak out while frying.
Repeat with the remaining wonton wrappers.
Heat a large pot filled halfway with canola or vegetable oil over medium heat. Once the oil reaches 375˚, carefully add a few wontons to the oil and fry for 2-3 minutes until they are golden brown. How many pizza rolls you can fry at once will depend on the size of your pot. You don't want to add too many at once because it will bring the oil temperature down and the wontons won't be crisp.
Remove the pizza rolls from the oil when they are golden brown and place them on a plate lined with paper towels. Repeat with the rest of the pizza rolls.
Serve immediately with extra sauce for dipping, or keep warm in a 300 degree oven for up to an hour.
Air Fryer Directions:
Heat your air fryer to 400 degrees. Spray pizza rolls with an oil cooking spray and add to your air fryer in a single layer.
Cook for 6 minutes, flip and cook for 3-4 minutes longer.
Recipe Notes
Nutritional information is for cheese pizza rolls only.
air fryer: 400 degrees for 6 minutes then flip over and spray cook for another 4 minutes
Category:

Appetizers

Method:

Fry

Cuisine:

American
Keywords: homemade pizza rolls, copycat recipes, totinos pizza rolls, appetizer recipes, snack recipes, pizza rolls