Panini Pizza Sticks can be made in no time flat – and they'll be gone just as quick! Add your favorite toppings to make it your favorite kind of pizza!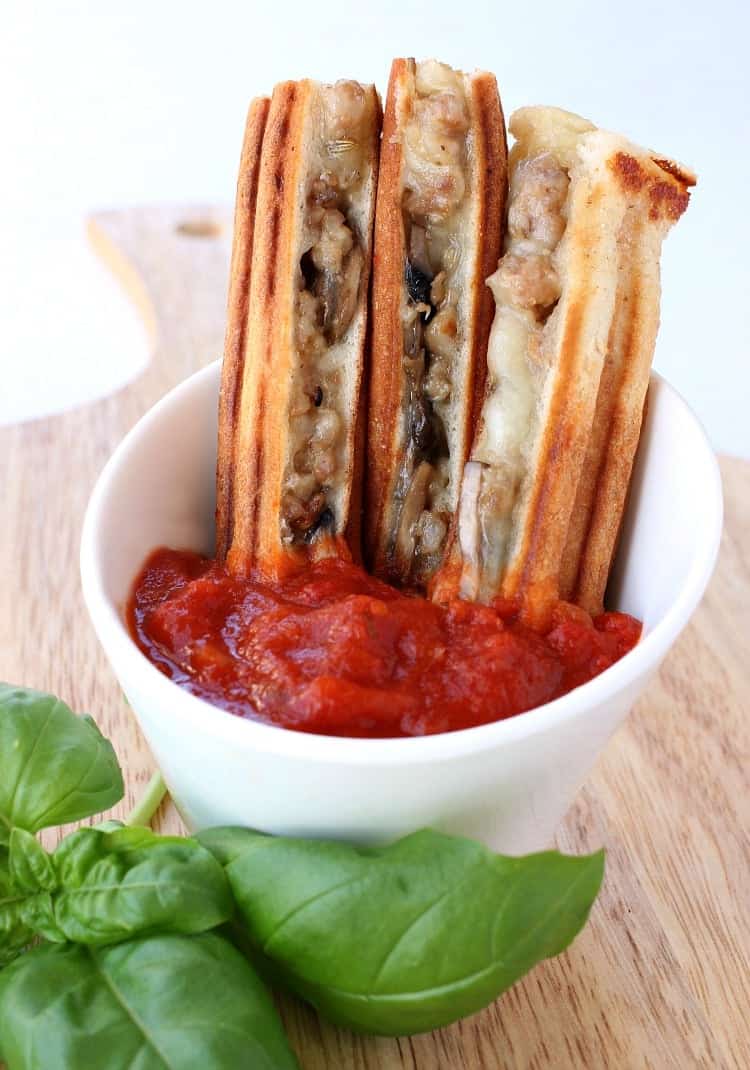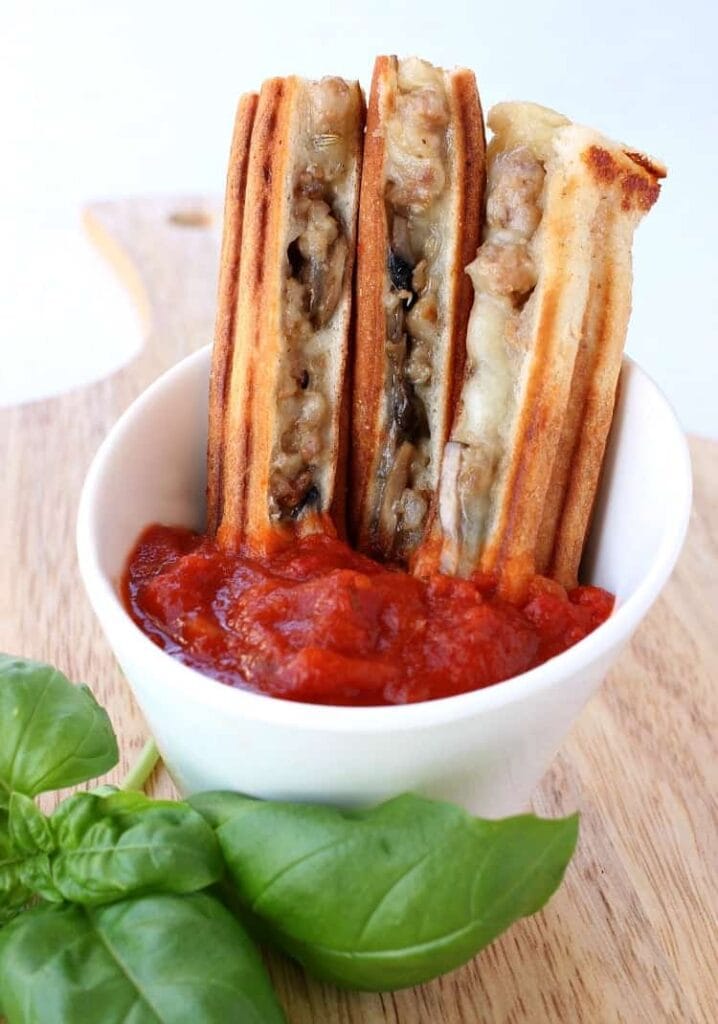 So if you guys are anything like us, we've got all these gadgets around our house that we use when we first get them and then they get shoved away in a cabinet somewhere and we forget about them.
There are definitely things that we use all the time like our mandoline slicer, the blender (smoothies every day) and the food processor. Yeah, I guess we do cook a lot…but I like to try and use the stuff that we have but we don't break out a lot like our panini press. It makes awesome sandwiches (cubans anyone?) but we just don't remember to use it as often as we would like to.
So you guys have seen everything being "waffleized" right? You can make pretty much anything in your waffle maker if you just google how to do it. Well, these too. If you don't have a panini press then you can use this same recipe with your waffle maker – just adjust the size of the dough to however big you waffle maker is and you're all set.
We grabbed sausage and mushrooms for our filling, and of course mozzarella cheese, but you can use whatever pizza toppings you like. Even jack cheese would be good for a spicier pizza stick. Or a buffalo chicken pizza stick with a ranch dipper…loads of possibilities. Buffalo Chicken anything is good in my book, right?
Here's the basic idea: roll out a tube of pizza dough just a little and cut into 2 6″x10″ rectangles. So you'll have a bottom and a top. One tube of dough makes one recipe, but you'll get about 12 large breadsticks from each batch.
Lay the dough on the panini press and then top with a layer of cheese, then your toppings, then another layer of cheese.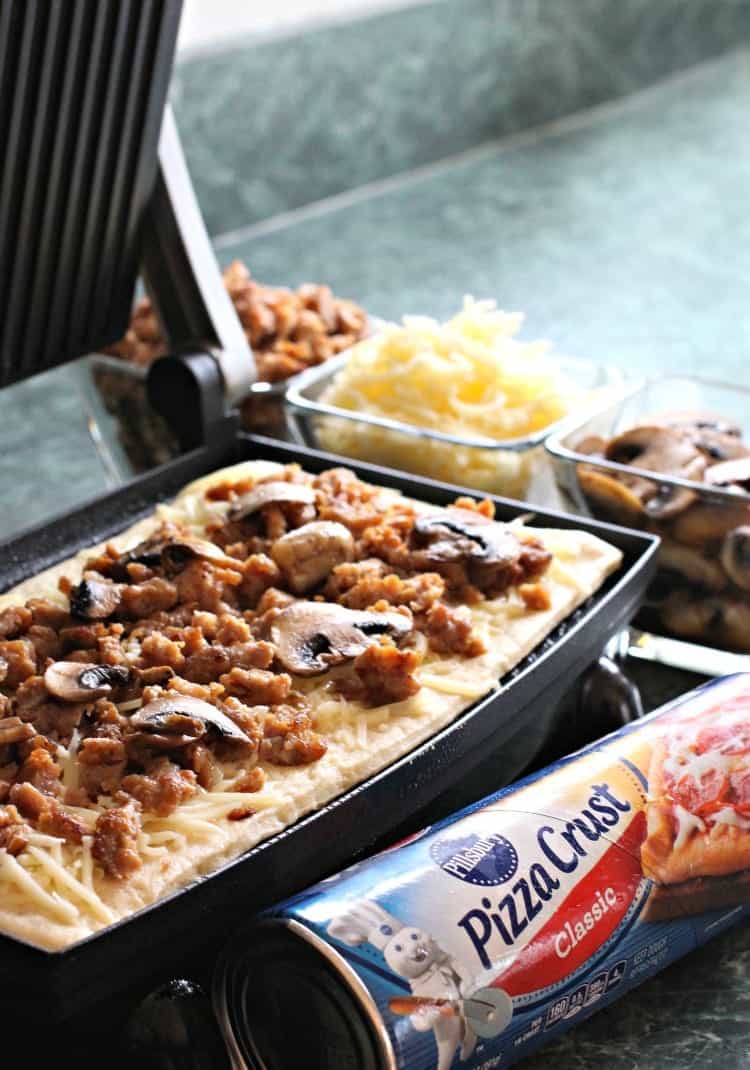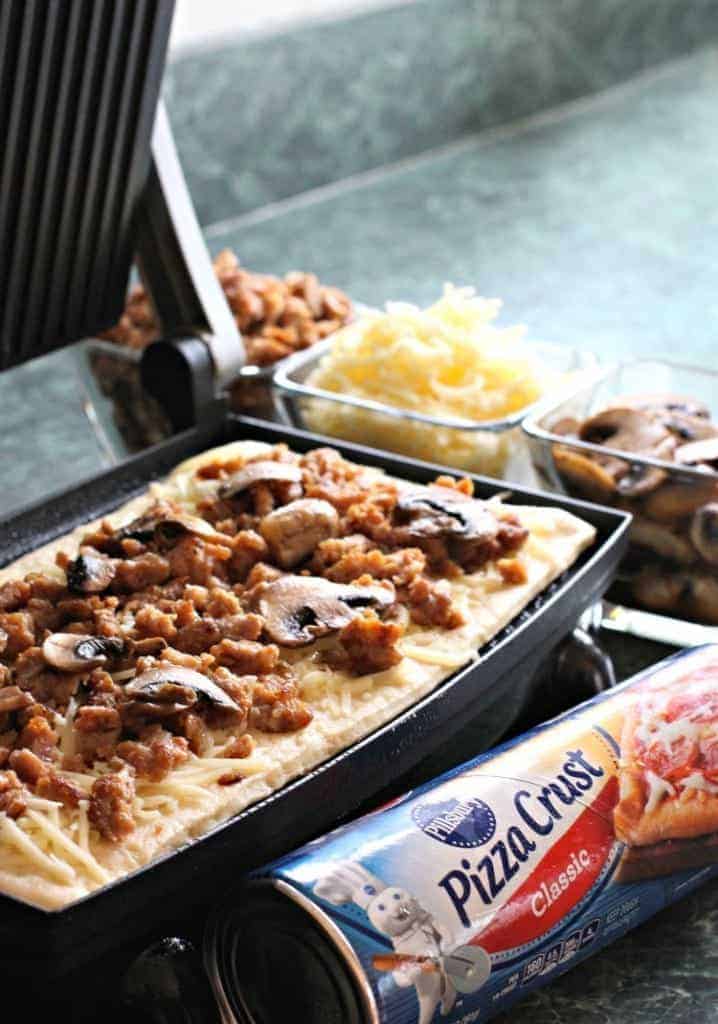 Place the other rectangle of dough on top and press down. We cooked ours for about 4 minutes and then flipped it over to cook for another 4 minutes on the other side. For some reason our panini press cooks the top a lot faster than the bottom so by doing it this way one side didn't end up well, burnt…and the other side too light. Don't worry, it's really easy to flip over once the dough starts to cook and get crispy.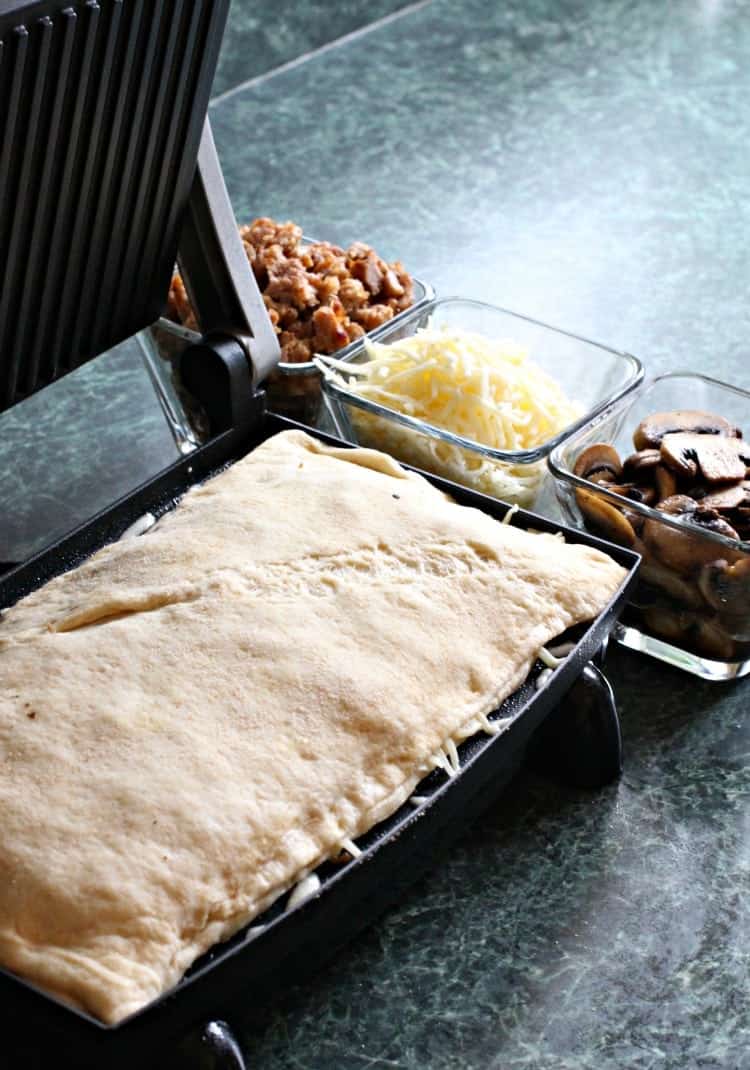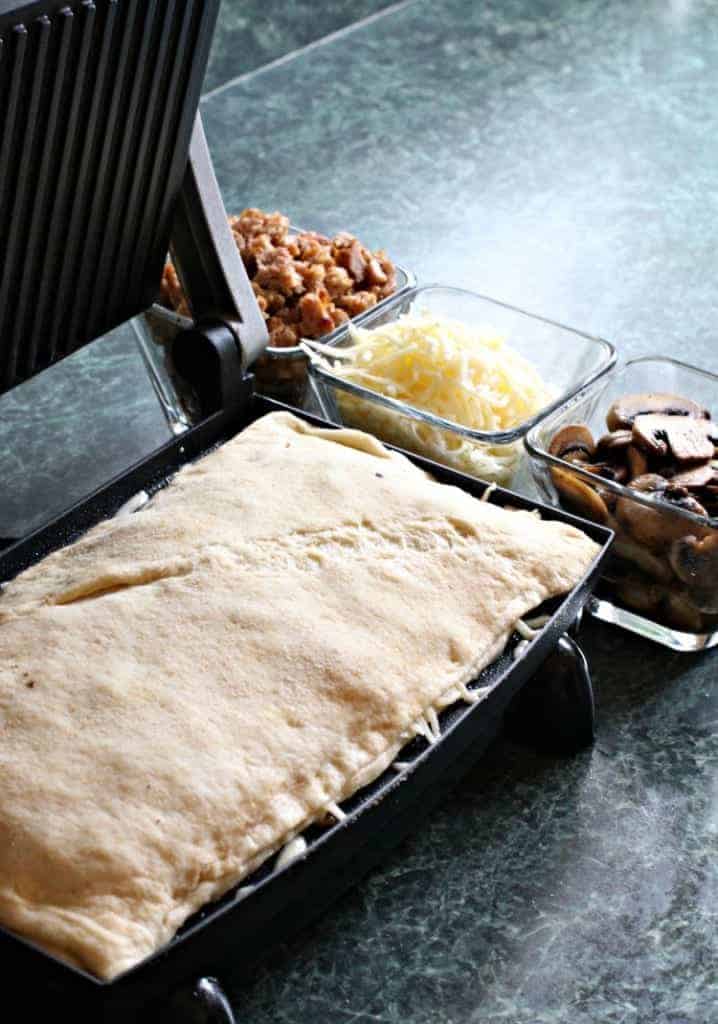 Take it out and set it on a board and let it cool. And total props to you if you can wait for it to cool for 5 minutes before cutting into it. We couldn't wait so our were a little messy. But after about 5, cut into strips and serve with marinara sauce for dipping.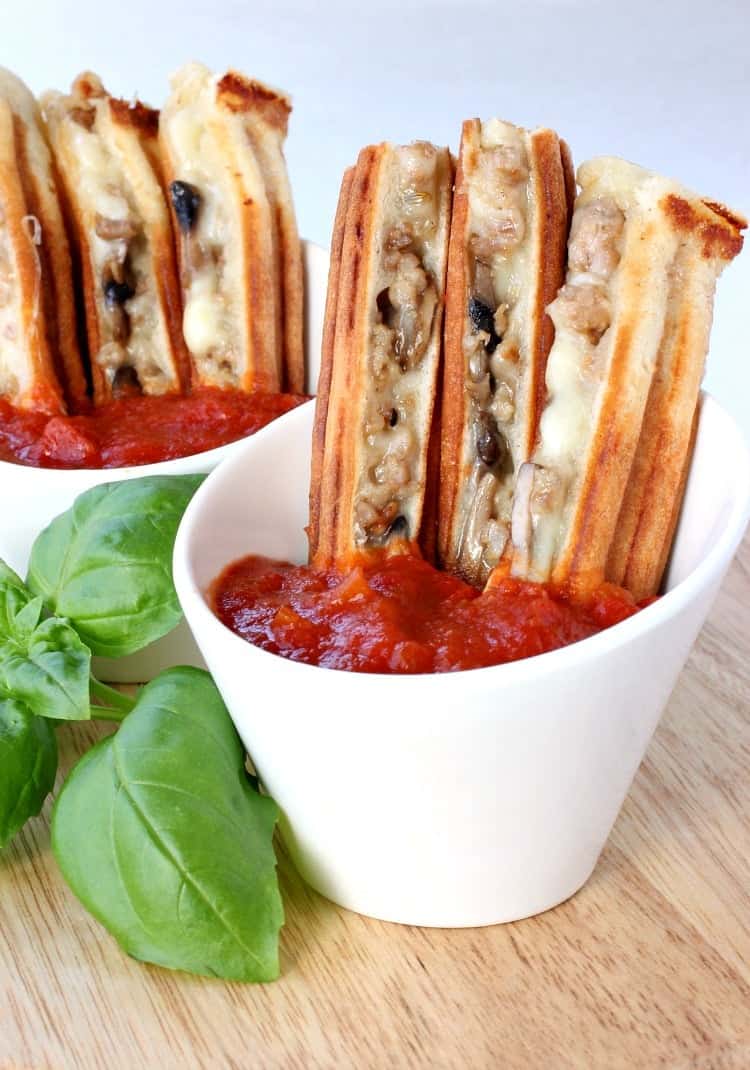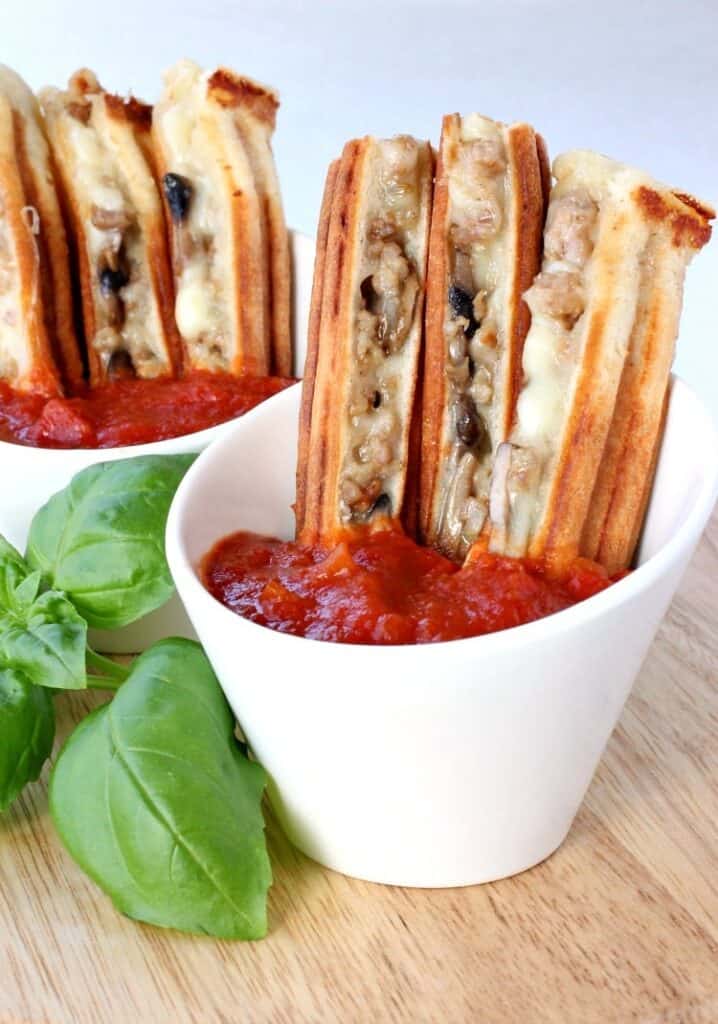 Just get yourself ready for the best pizza sticks you've every eaten. Your kids will clean their plates at dinner…your friends will buy you beer for bringing this over for Monday night football…trust me, it's a winner.
Print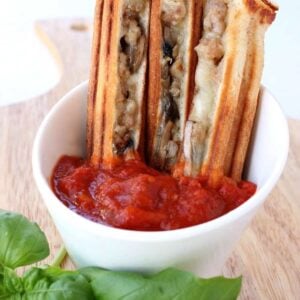 Panini Pizza Sticks
Scale
Ingredients
1

tube Pillsbury pizza dough

1/2

lb. ground sausage

1

10 oz. package mushrooms

2 cups

shredded mozzarella cheese

1/2 cup

pizza sauce
Instructions
Heat up the panini press.
Cook the mushrooms in a tablespoon of butter with 1 teaspoon of salt in a large skillet until browned and set aside.
In the same pan add the sausage, breaking up with a spoon until browned and set aside.
Roll out the pizza dough slightly until you get a large rectangle, then cut in half.
spray the panini press wiuth cooking spray and lay one half of the rectangle on the bottoem of the panini press.
Top with half of the mozzarella cheese, the sausage, mushrooms and then ending with the other half of cheese.
Top with the other half of the dough and press down with the top of the panini press.
Cook for 4-5 minutes until browned on the bottom and then carefully fip over with a spatula and press down again.
Cook another 4-5 minutes on the second side until brown and carefully remove to a cutting board.
Once cooled for a few minutes, cut into 2″ strips and serve with marinara sauce.