Our Dry Rub BBQ Chicken Wings are oven baked, not fried! These chicken wings use our favorite dry rub recipe that you can add sauce or just enjoy as is!
We have a slight addiction to chicken wings at our house…be sure to check out our popular Garlic Parmesan Wings and these crispy Marsala Chicken Wings that are both oven baked!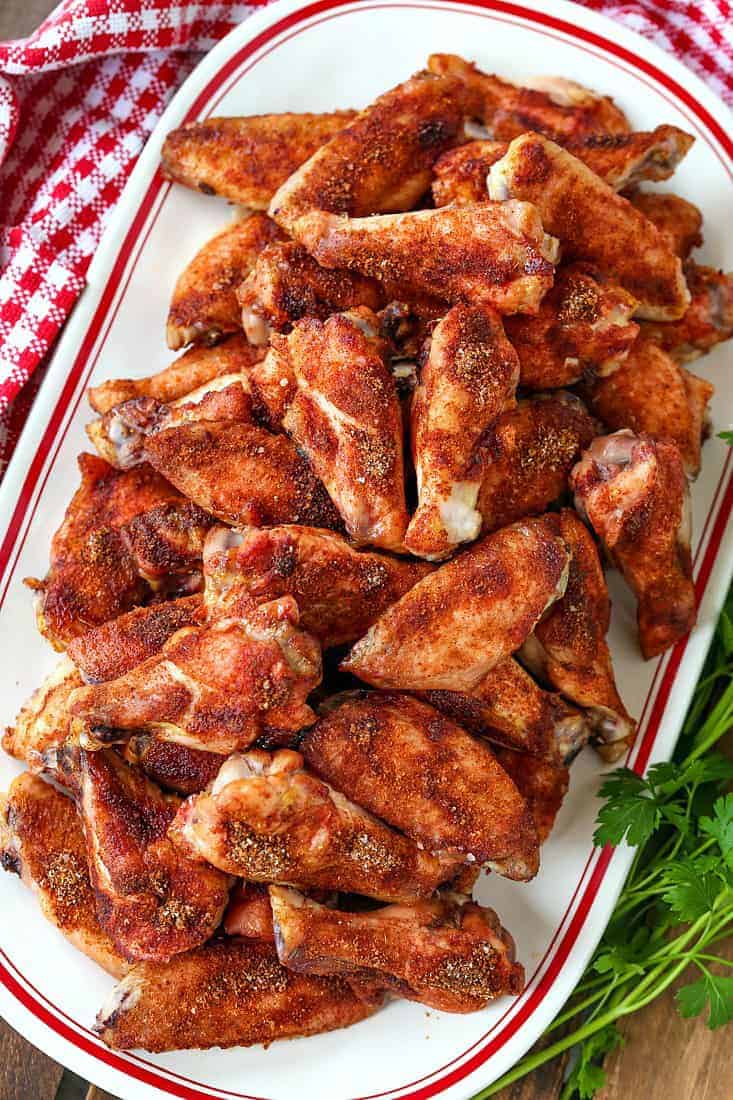 What Is A Dry Rub?
A dry rub or a spice rub is any mixture of herbs and spices that is "rubbed" onto food before cooking. Dry rubs add tons of flavor to meats and chicken without having to add sauce at the end. BUT you can add sauce if you like!
The dry rub that we use in this recipe is so full of flavor, we usually don't add any BBQ sauce or dipping sauce to these chicken wings. We just love the crispy, seasoned skin as is!
For the best possible flavor, let the dry rub sit on the chicken wings for at least 15 minutes before baking. We've done this for up to 30 minutes at room temperature, if you want to go longer than that just pop the chicken wings back into the refrigerator after you add the spice rub.
What Are The Ingredients For The Dry Rub?
We are a cumin loving family, so cumin is a predominant flavor in our spice rub. But the mixture of all the spices goes so perfectly together, it's really a go to seasoning for us! You can also use this dry rub to season pulled pork, steak or a roasted turkey breast.
Cumin: As we mentioned, we love the smokey flavor that cumin adds to this spice mixture, start with a couple of teaspoons and go up to a tablespoon.

Kosher Salt:

We're always mentioning Kosher salt in our ingredients and it's for a reason. Kosher salt has larger granules than regular table salt and also, believe it or not has a much cleaner flavor.

Paprika:

Smoked paprika or regular paprika will work, obviously smoked paprika will result in a smokier flavor than regular paprika.

Brown Sugar: That wonderful mixture of sweet and spicy that brown sugar adds can't be beat!
Ground Ginger: Ginger adds a delicious tanginess to this dry rub recipe.
Cayenne Pepper: Just to add a touch of heat, but background heat, nothing too spicy. You can add a little more cayenne if you like your food more on the spicy side, but if you keep it to just a teaspoon it won't be hot at all.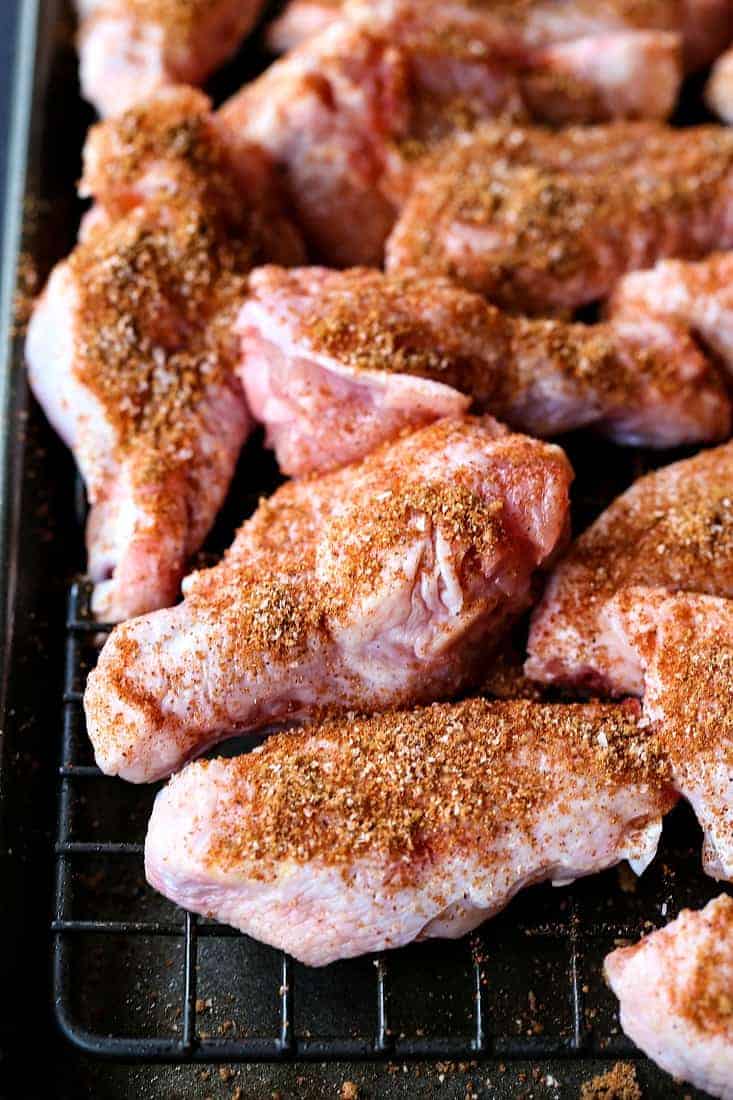 How Do You Make Crispy Chicken Wings In The Oven?
There are a few tips to follow for the crispiest oven baked chicken wings, but they are really simple.
One is to make sure that your oven is at a high enough temperature. For these Dry Rub BBQ Chicken Wings we started off at 425 to make sure the wings baked through all the way without burning on the outside. Then at the last 15 minutes we'll crank up the temperature to 450 to get that incredibly crispy skin.
Another tip for oven baking your chicken wings is to set them on a wire rack on top of a baking sheet. The rack will allow air to circulate around the wings as they cook so that all sides, including the bottom get the crispiest they can be.
Also when you cook chicken wings on a rack like this you don't have to flip them during cooking.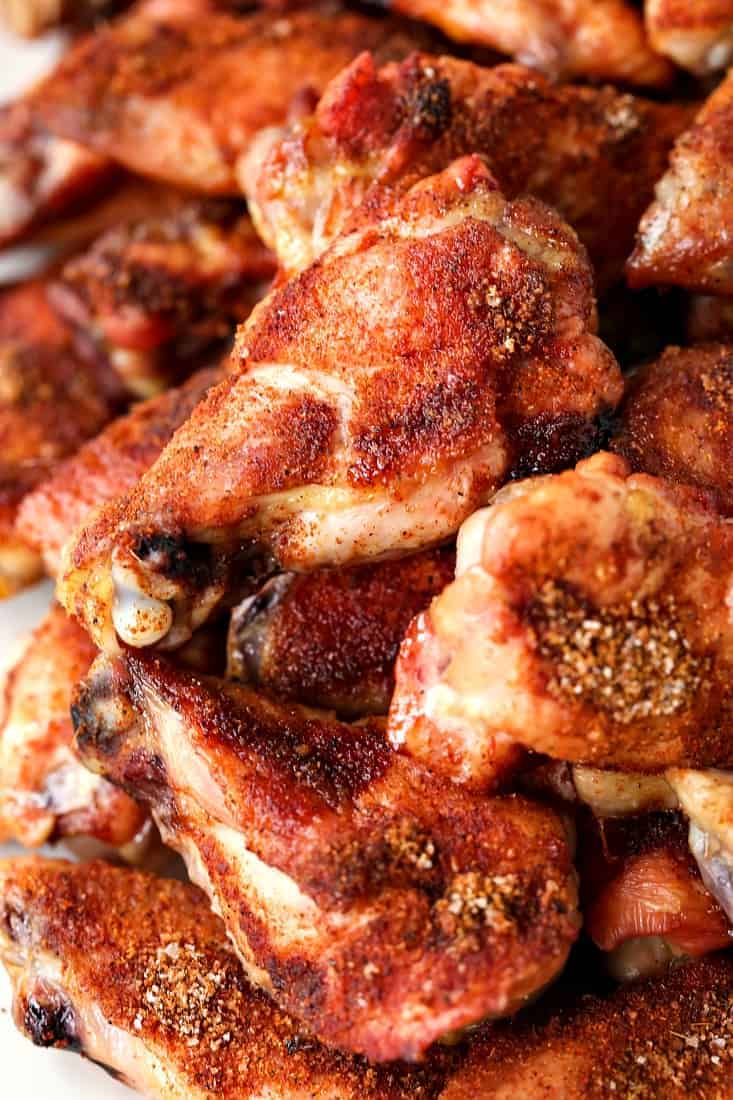 Can I Add BBQ Sauce To These Chicken Wings?
Of course! You can add your favorite BBQ sauce to these wings about 5 minutes before they are done and then pop them back into the oven. Or you can warm the BBQ sauce and just serve it on the side for dipping, as some would do with Ranch.
This chicken wing recipe is honestly crazy delicious on it's own, but don't feel bad at all about adding sauce. We've made them both ways, so it's up to how you like them!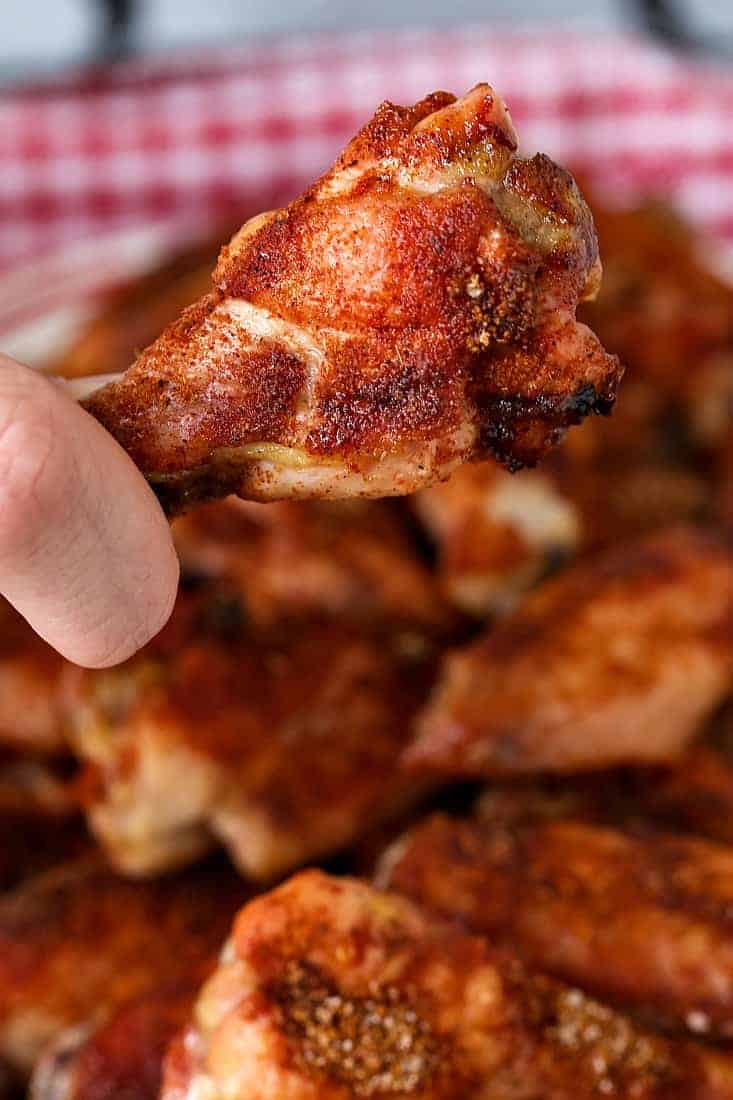 What Side Dishes Can I Serve With Chicken Wings?
If you're serving these wings for dinner instead of appetizers then you've got to think about the sides! Here are a few of our favorites:
Looking For More Chicken Wings Recipes?
Print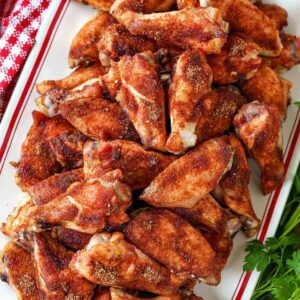 Dry Rub BBQ Chicken Wings
Author:

Prep Time:

5 minutes

Cook Time:

45 minutes

Total Time:

50 minutes

Yield:

8

servings

1

x
These crispy, oven baked chicken wings are so addicting, even without sauce! But feel free to add sauce if you like, or serve it on the side for dipping!
Scale
Ingredients
5

pounds chicken wings, tips removed and separated at the joint

2 tablespoons

brown sugar

1 1/2 tablespoons

paprika

2 tablespoons

salt

1 teaspoon

cayenne pepper

1 teaspoon

ground ginger

2 teaspoons

– 1 tablespoon cumin (depending on your taste, we use 1 tablespoon)

1 teaspoon

black pepper
Instructions
Preheat the oven to 425 degrees. Place a cooking rack over a baking sheet and spray it with non-stick spray.
Mix the ingredients together for the dry rub in a small bowl and set aside.
Add the chicken wings in a single layer to the cooking rack, if they are touching that's ok, just not on top of each other. Generously add the dry rub mixture to the tops of the wings, rubbing in so they seasoning doesn't fall off. You might not use all of the dry rub, so add it as you go. The dry rub can be saved in a plastic container for another use.
Bake the chicken wings at 425 degrees for 30 minutes. After 30 minutes, turn the the temperature up to 450 degrees and bake for another 15 minutes.
Serve immediately with or without BBQ sauce on the side.
Recipe Notes
To reheat these chicken wings, spray a baking sheet with non-stick spray and place the chicken wings directly on the baking sheet. Bake for 15 minutes at 400 degrees.
Category:

Dinner

Method:

Oven

Cuisine:

American
Keywords: mantitlement, chicken wing recipe, baked chicken wings, easy chicken recipes, bbq chicken, dry rub recipe, spice rub recipe, low carb recipe