Homemade Shoestring French Fries are so addicting! I'll show you how to deep fry, air fry and oven bake these crispy, homemade french fries!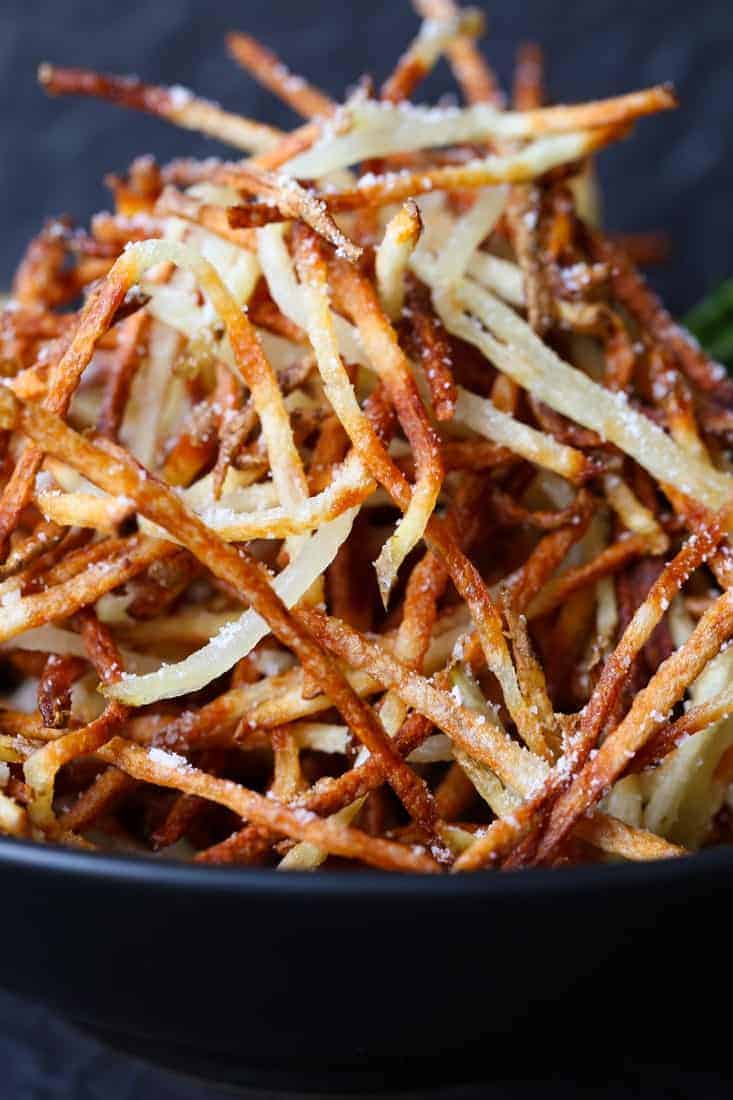 How To Make Homemade French Fries 3 Ways
So if you're following a certain diet, you've got options. Or if you want to make a recipe but don't have the exact ingredients, you've got options.
Today it's about the method of cooking as opposed to the ingredients. My obsession with homemade french fries goes deep, like these shrimp poutine fries or these spicy buffalo fries.
But this week we're talking appetizers, so instead of a regular french fry we're going to make these Homemade Shoestring French Fries. These shoestring french fries are a deep fry recipe, an air fry recipe and an oven bake recipe.
Try them all and see which way you like them or pick your favorite method for cooking french fries and go from there! People seem to be obsessed with air fryers these days…I only bought one to make these shoestring french fries so I haven't cooked a lot with it yet.
More air fry recipes to come though, I'm sure of it.
Tips For Making The Best Homemade French Fries
First you need the right tool. I'm using a mandoline slicer which I think is an essential kitchen tool for lots of recipes, not just french fries.
It has a slicing blade that you can adjust the thickness for regular sliced potatoes, or say for homemade potato chips, or a toothed blade that will make you these awesome shoestring french fries. Also there's a larger toothed blade for regular size french fries.
Definitely a kitchen tool worth the investment in my opinion!
Once you get your potatoes sliced into thin strips for the french fries, you need to soak them in cold water for at least 30 minutes to get as much starch off of them as you can. Drain the water at least once and refill during the soaking time.
The next step is to dry the potatoes off VERY WELL with lots of paper towels. If the potatoes are wet or have any moisture on them they aren't going to crisp up for you.
Now you can pick your method for cooking these Homemade Shoestring French Fries!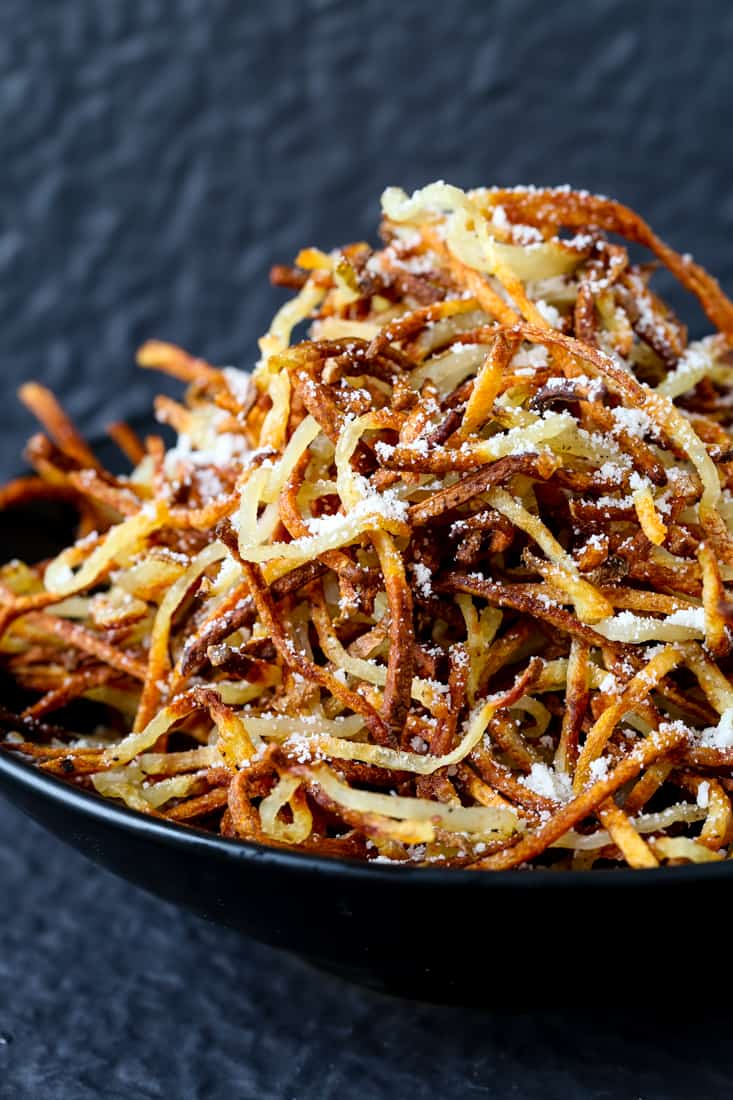 Oven Baked French Fries
We oven bake our french fries all the time, using a high temperature oven to get them crispy. Almost as crispy as deep frying them in oil. Which is one of the reasons why I didn't run out and buy an air fryer, why have a whole appliance for what I can do right in the oven?
I guess we'll see…
You do have to get in there and toss these french fries a few times during the cooking time so they get crispy all over but that's about all the work you'll have to do.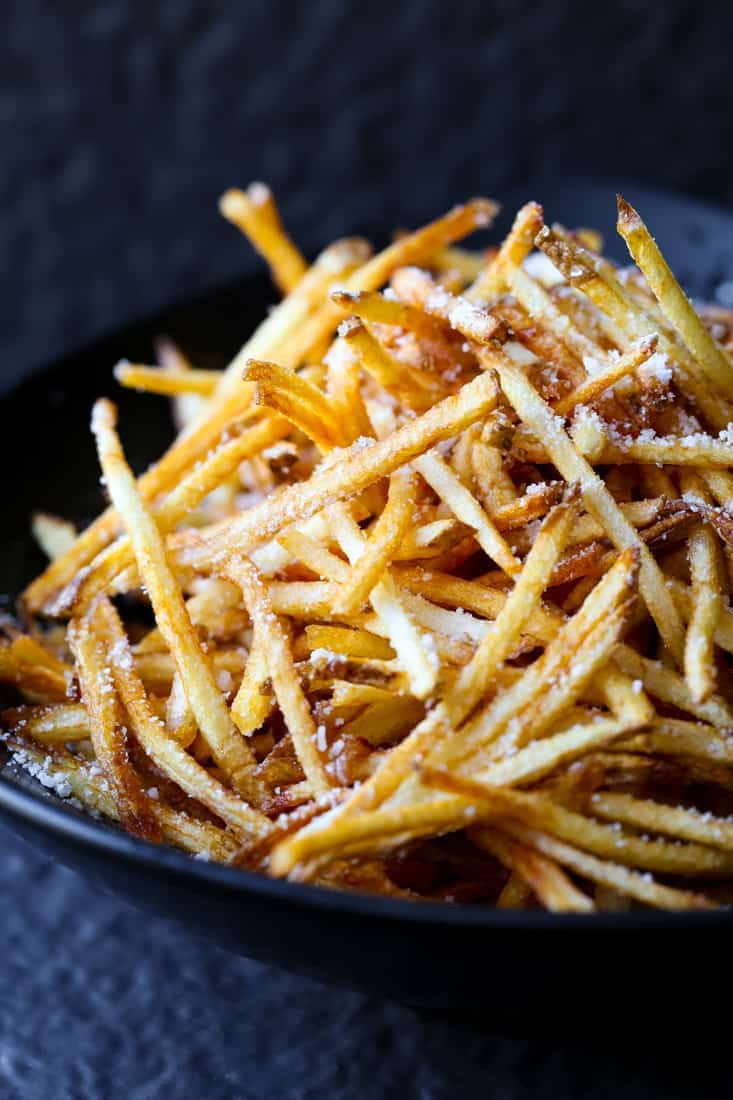 Deep Fried French Fries
Ohhhh the deep fry. It's such a treat to deep fry french fries, or deep fry anything really. You can't bet the flavor or the level of crispiness. Because I know, we don't want to be breaking out our oil to deep fry dinner every night, just once in a while it tastes SO good.
Not much to say here, deep fried, super crispy shoestring french fries. This version reminded us of thin Mc Donald's french fries. That is why there may be a little less of a pile in this photo – there were lots of hands grabbing fries at this point…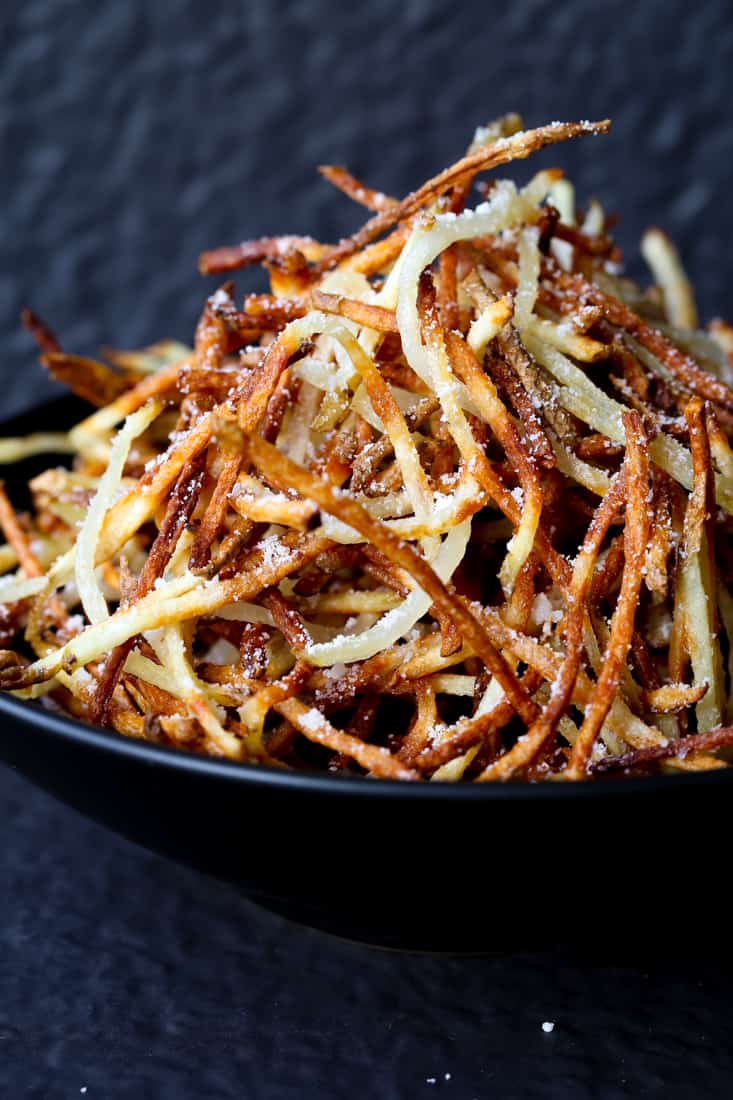 Air Fryer French Fries
Surprisingly, I did like the outcome of this french fry recipe cooked in an air fryer. The main difference was that they are extra crispy without any oil taste.
Even the oven fries had a greasier feel to them (which I'm totally good with) but with an air fryer, since the air circulates all around the food the oil literally evaporates.
And you don't have to go in there and keep tossing them so that's one less step. So as far as our house was concerned, it was a split vote! I do love the good old deep fried french fries, Christie liked the oven baked fries and the boys liked the air fryer version.
ALL french fries were eaten by the way, all of these versions are totally delicious.
You can stick to good old salt and pepper for the seasonings on this french fry recipe, or I like a good quality fresh grated parmesan cheese along with kosher salt and pepper.
But really, once you have these basic homemade french fries cooked you can flavor them however you like!
Flavor Options For Homemade French Fries
Fresh herbs like rosemary or thyme
Bacon and cheese
Chili powder and cumin
Garlic and butter
Plain with salt and a dipping sauce like homemade honey mustard or BBQ sauce
The best part about making these Homemade Shoestring French Fries is that they go perfectly in a bowl or on a cheese board for appetizers or also as a side dish to many dinners!
Looking For More Appetizer Recipes?
Print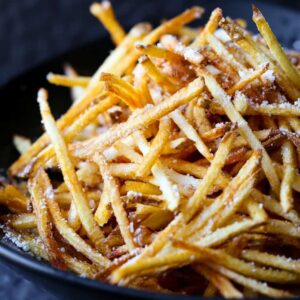 Homemade Shoestring French Fries
Author:

Prep Time:

15 minutes

Cook Time:

25 minutes

Total Time:

40 minutes

Yield:

6

servings

1

x
Crispy, homemade shoestring french fries are perfect for appetizers or a side dish! I'm going to show you how to make these french fries baked in the oven, an air fryer and classic deep fried!
Scale
Ingredients
1 1/2

pounds russet potatoes, scrubbed
kosher salt
fresh ground pepper
grated parmesan cheese
Canola oil for frying method, olive oil for oven bake and air fryer method
Instructions
Slice the potatoes into shoestrings with a mandoline slicer or use a knife to cut thin slices lengthwise, then stack the slices and cut into thin strips.
Soak the potatoes in a large bowl of cold water for 30 minutes, changing the water once during the soaking.
Dry the potatoes completely on paper towels until no moisture remains. You can leave the potatoes sit at room temperature for another 30 minutes to air dry even further.
Deep Fry Method:
Fill a large, heavy bottomed pot 1/3 of the way full with canola or vegetable oil. Do not over fill the pot with oil or the oil will boil over the pot.
Heat the oil over medium heat until it reaches 350 degrees, this should take about 10 minutes.
Fry the potatoes in batches 3-5 minutes. How many potatoes you put in the pot at a time will depend on the size pot you are using. You don't want to overcrowd the pot or it can boil over and the potatoes won't get as crisp.
Remove the fried potatoes to a plate lined with paper towels and season with salt and pepper while still hot.
Garnish with parmesan cheese if desired.
Oven Bake Method:
Preheat the oven to 425 degrees.
Add the dried potatoes to a large bowl and toss with a couple of tablespoons of olive oil.
Season with salt and pepper and add to a baking sheet that's been sprayed with cooking spray, making sure the potatoes are in a relatively even layer.
Bake for 15 minutes, remove the baking sheet from the oven and toss the french fries.
Place the french fries back in the oven and cook for another 15 minutes.
At this point you can toss the fries once more and cook another 10 minutes or eat them as is, depending on how crispy you like them. I baked my fries for the extra 10 minutes.
Air Fryer Method: 
Add the dried potatoes to a large bowl and toss with a couple tablespoons of olive oil.
Season with salt and pepper then place onto the trays of your air fryer. You'll need to use all three shelves for this recipe. If you have a basket or bucket type air fryer, you'll need to toss them a couple of times in between cooking.
Cook using the french fry setting on your air fryer (see note*). Again, depending on the level of crispiness you want, you may want to cook them for one more session or you can add an additional 5 minutes at 400 degrees.
Remove the french fries from the air fryer and season with salt and pepper and grated parmesan cheese if desired.
Recipe Notes
If your air fryer doesn't have the french fry option, we like to cook these at 400 degrees for 12-14 minutes. Flipping in between cooking if you have a basket type air fryer instead of racks.
Category:

Side Dish

Method:

Oven

Cuisine:

American
Keywords: french fries, french fry recipe, homemade french fries, shoestring french fries, appetizer recipes, side dish recipes