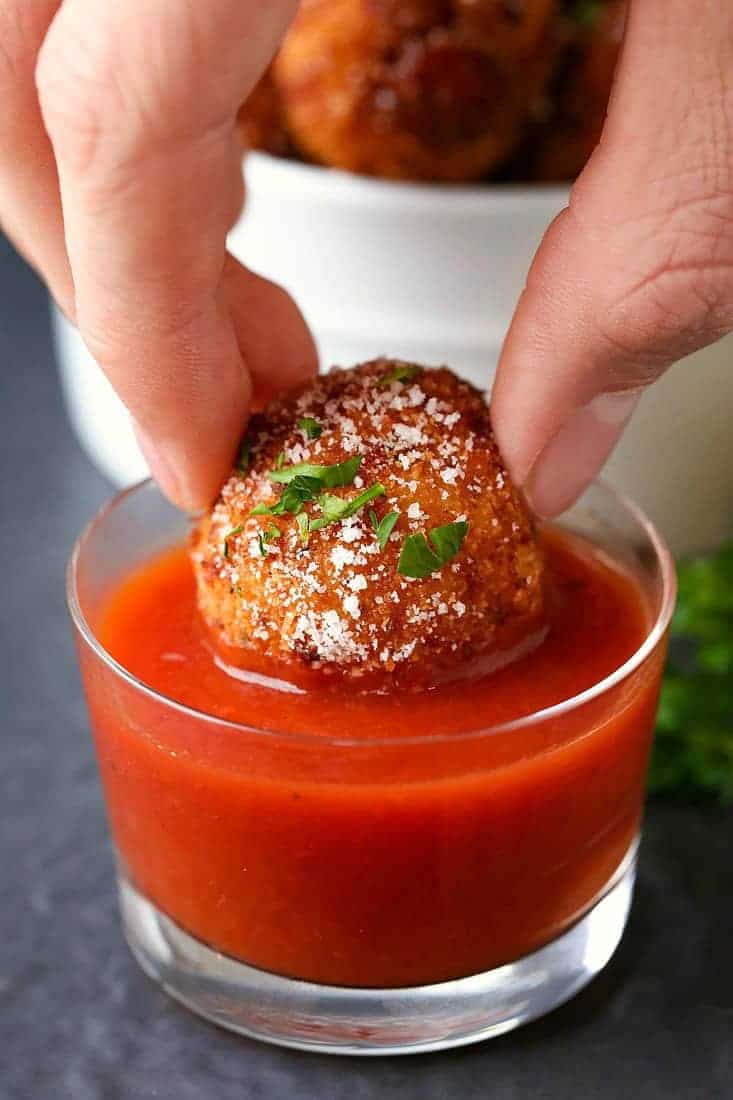 Pepperoni Pizza Arancini is such fun and tasty appetizer! These bite size pepperoni pizza balls dipped in marinara sauce are a perfect one bite appetizer!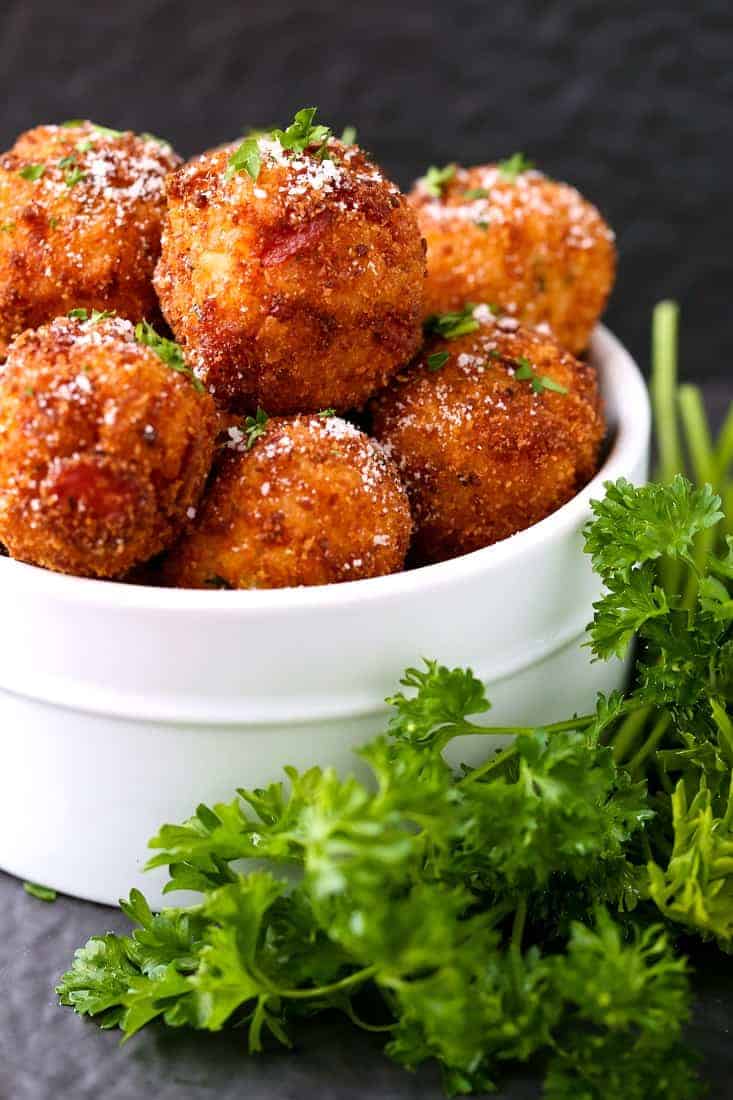 Pepperoni Pizza Arancini
Nothing says party like these little fried balls of goodness.
Because we don't normally fry our food all the time, I mean – right?? So when a crispy fried arancini is put in front of you, you have to know it's a special occasion.
These Pepperoni Pizza Arancini are a party all by themselves.
What Are Arancini?
Arancini are rice balls that are coated with breadcrumbs and fried until they are super crispy. Usually they are stuffed with sauce and cheese, but then the filling can vary.
Sometimes a classic rice ball recipe will include peas and meat of some kind like ground beef or sausage. For example in this rice ball recipe I used mini pepperoni bits and mozzarella cheese.
You do need to use arborio rice to make these arancini so don't try swapping out some other type of rice. Arborio rice is a short grain rice that is very starchy so it helps to hold the rice balls together.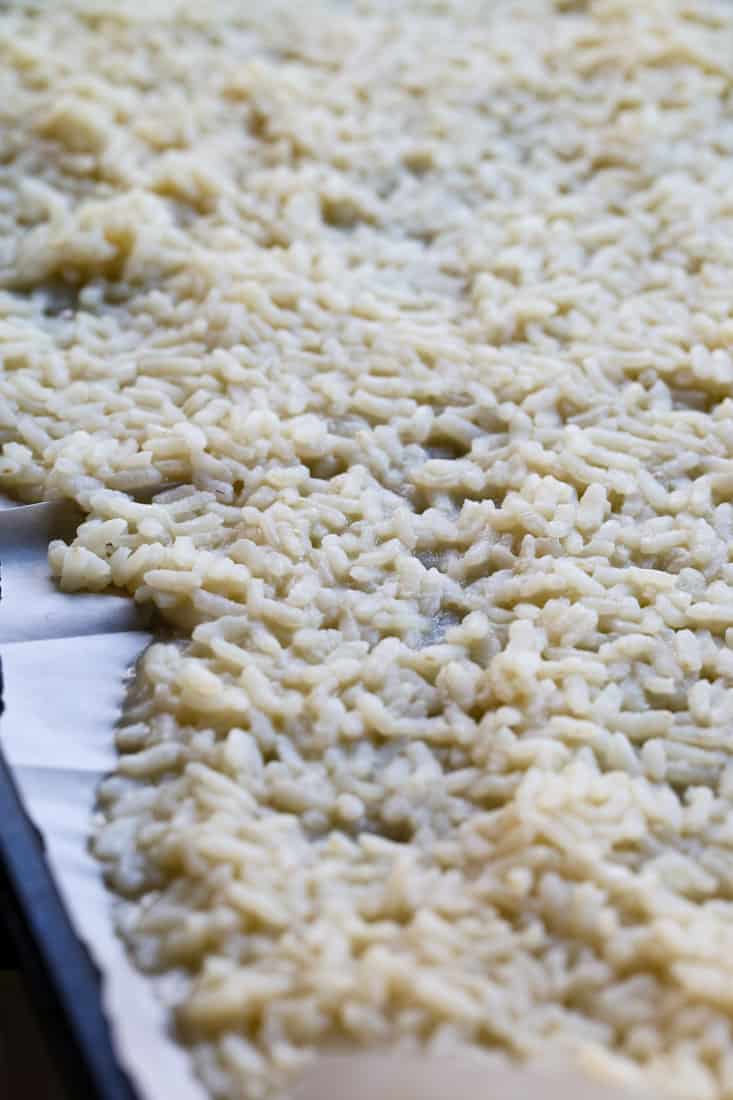 Arborio rice is also what's used to make creamy, delicious risotto recipes. So if you have to buy arborio rice you know you're going to use it in lots of recipes!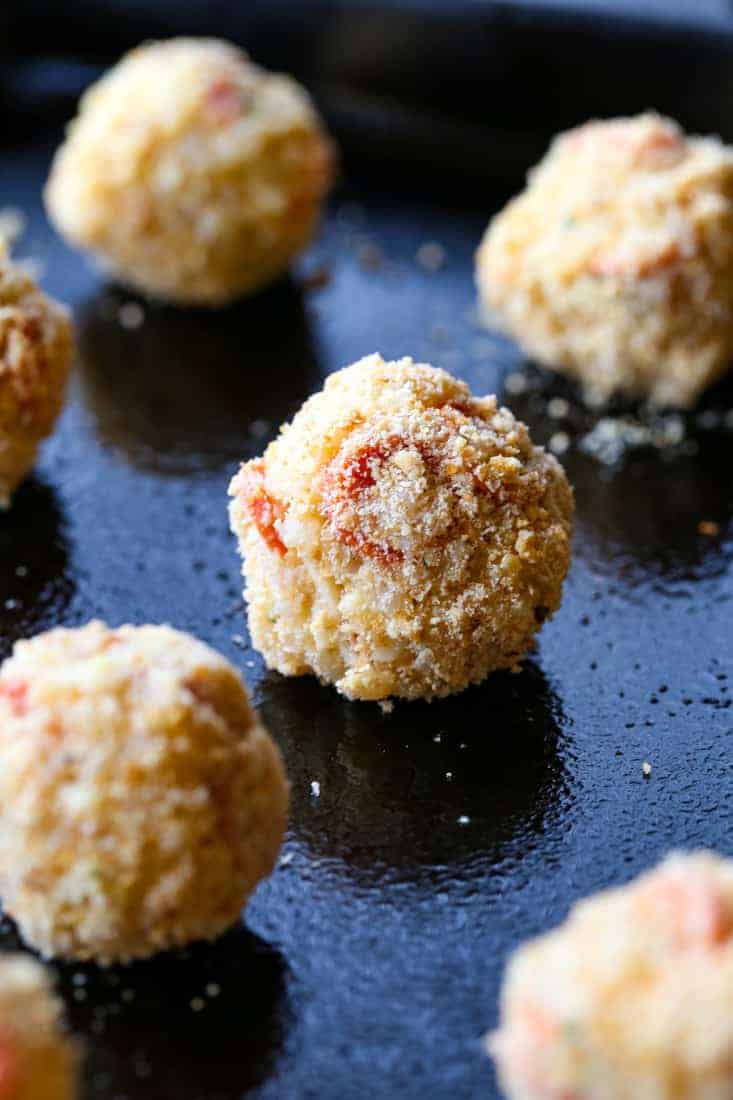 Like I said, I stuffed these rice balls with flavors that remind me of pizza. Pepperoni, mozzarella and parmesan cheeses and a marinara sauce for dipping.
Rolled them up in breadcrumbs and got my assembly line going…
When you're heating up the oil to fry these Pepperoni Pizza Arancini, make sure you only fill whatever pot your using halfway with oil. Don't be afraid of frying but do be careful, I've overflowed a pot recently and it was NOT fun.
SO fry carefully and set these arancini out on a paper towel lined plate while you fry up the rest.
Heat up your favorite marinara sauce and get ready for a flavor explosion.
Can You Freeze This Appetizer Recipe?
You certainly can! Make these pizza arancini just as the recipe states, let cool and freeze on a sheet pan. Freezing the arancini on a sheet pan first will freeze them individually so they don't get stuck together.
After they're frozen you can then put them into a freezer bag for easier storage.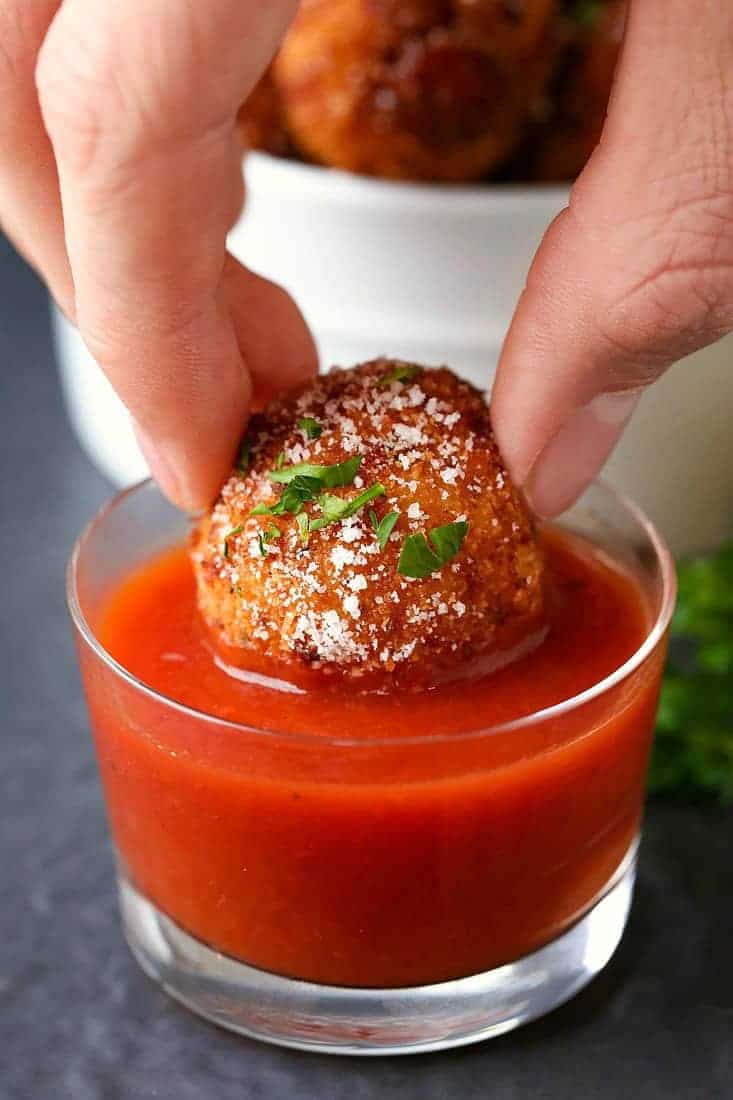 I knew these Pepperoni Pizza Arancini were going to be good but honestly, I was blown away by how good they actually were when I tasted them.
These fried rice balls are definitely something you want to put out at a party because they will be the start appetizer recipe hands down.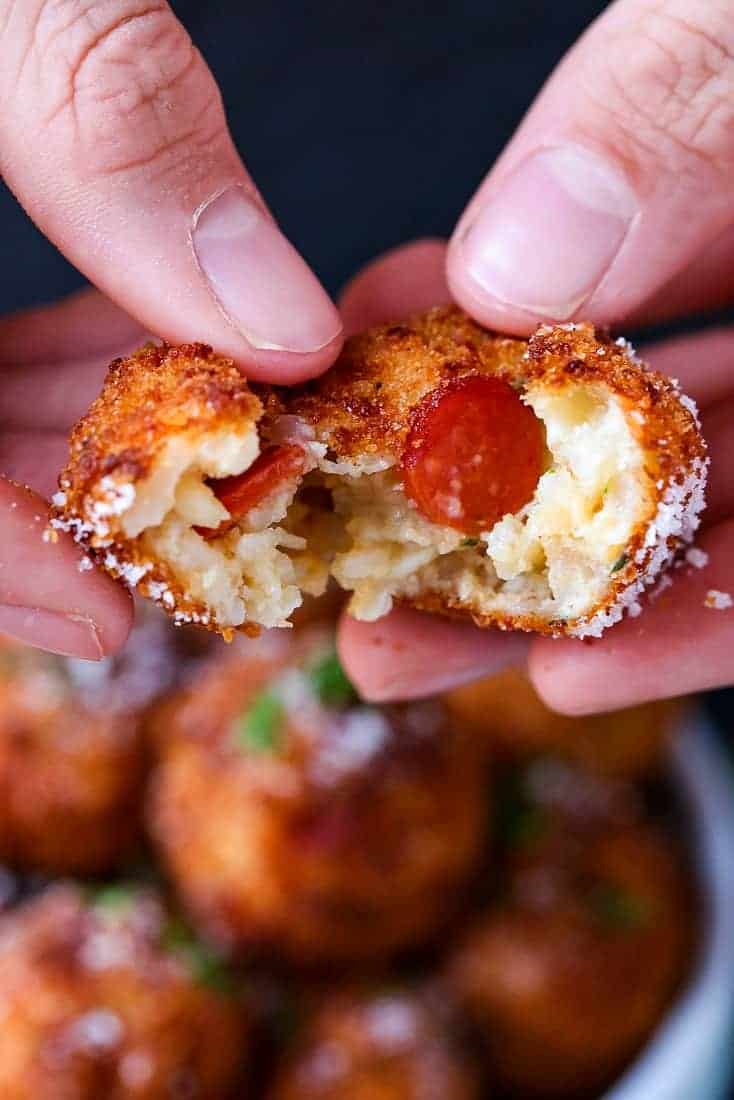 Look at all that cheesy rice and pepperoni inside these rice balls! I'm telling you guys these are so good you're not going to be able to stop eating them.
Like literally, you won't be able to stop.
Thankfully you'll have your friends grabbing them as fast as you are, eventually they will just run out.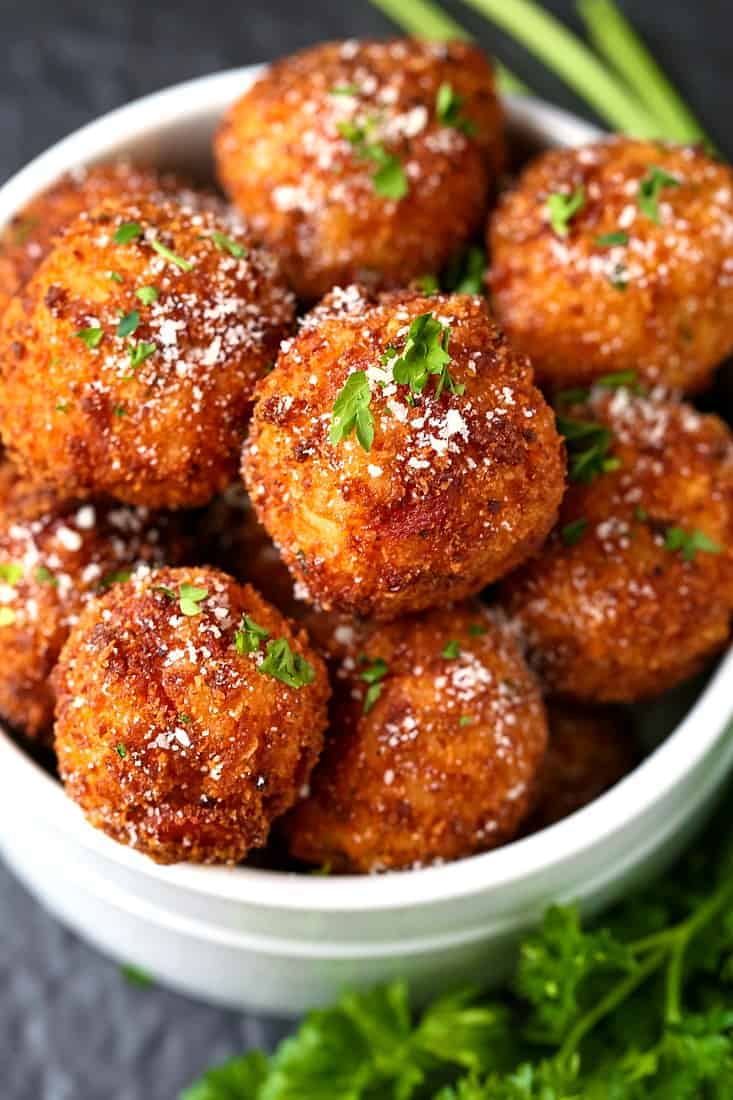 And that's the only way you'll be able to stop. When they are gone!
Looking For More Appetizer Recipes?
Shop This Recipe!
Print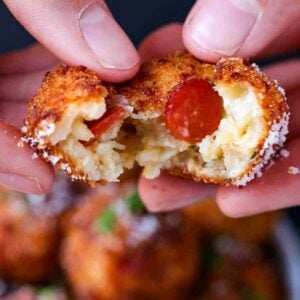 Pepperoni Pizza Arancini
Author:

Prep Time:

1 hour

Cook Time:

3 minutes

Total Time:

1 hour 3 minutes

Yield:

36

rice balls

1

x
Category:

appetizers

Method:

fry

Cuisine:

Italian
---
Description
These crispy, fried rice balls have the most creamy center! Arborio rice and cheese mixed with mini pepperoni bits make the most amazing appetizer!
---
Ingredients
3 cups chicken broth
1 cup arborio rice
dash of kosher salt

1 cup shredded mozzarella cheese
1 cup pepperoni minis (or regular pepperoni cut into smaller pieces)
1/2 cup parmesan cheese
2 eggs, beaten
1/4 cup chopped parsley
2/3 cup breadcrumbs (plus and extra 1/2 cup extra for coating the arancini)
1/2 teaspoon salt
Marinara sauce for dipping
Canola or vegetable oil for frying
---
Instructions
Add the chicken broth and a dash of salt to a medium pot and heat until simmering.
Add the rice, stir and cover. Reduce the heat and simmer for 20 minutes.
Pour the cooked rice out onto a baking sheet that's lined with parchment paper, spread out and let cool completely.
Meanwhile add the mozzarella and parmesan cheese to a large bowl. Add the eggs, parsley, breadcrumbs and salt and mix to combine.
Add the cooled rice to the cheese mixture along with the mini pepperoni, stirring together until all the ingredients are mixed well.
Fill a heavy bottomed, deep pot halfway with oil. Heat over medium heat until the temperature reaches 350 degrees, about 15 minutes.
Pour the extra 1/2 cup of breadcrumbs into a shallow bowl.
While the oil is heating up, make 1 1/2 inch balls and coat them in the breadcrumbs. You should end up with about 36 rice balls. To make this easier you can use a 1 1/2 tablespoon scoop.
Once the oil is to temperature, carefully add a few rice balls at a time to fry. Doing this is batches is the best way to get an even fry and not bring the temperature of your oil down.
Fry the arancini for 2-3 minutes until they are golden brown, remove from the oil and place onto a paper towel lined plate.
Repeat until all the arancini are fried.
Garnish with extra chopped parsley and parmesan cheese and serve with warm marinara sauce for dipping.
To Keep Warm:
You can keep these arancini in a 300 degree oven to keep warm while your frying, or until you're ready to serve.
To Cook From Frozen:
Place the frozen arancini in to a 400 degree oven for 25 minutes until the center is warm and cooked through.
To Reheat From Refrigerator:
Place fried arancini in a 400 degree oven for 15 minutes.
Keywords: rice balls, arancini recipe, appetizers, pizza recipes, pepperoni, fried food