Classic Deviled Eggs Recipe
Try this Classic Deviled Eggs Recipe for your next party! These deviled eggs are an easy appetizer recipe that can be made ahead of time!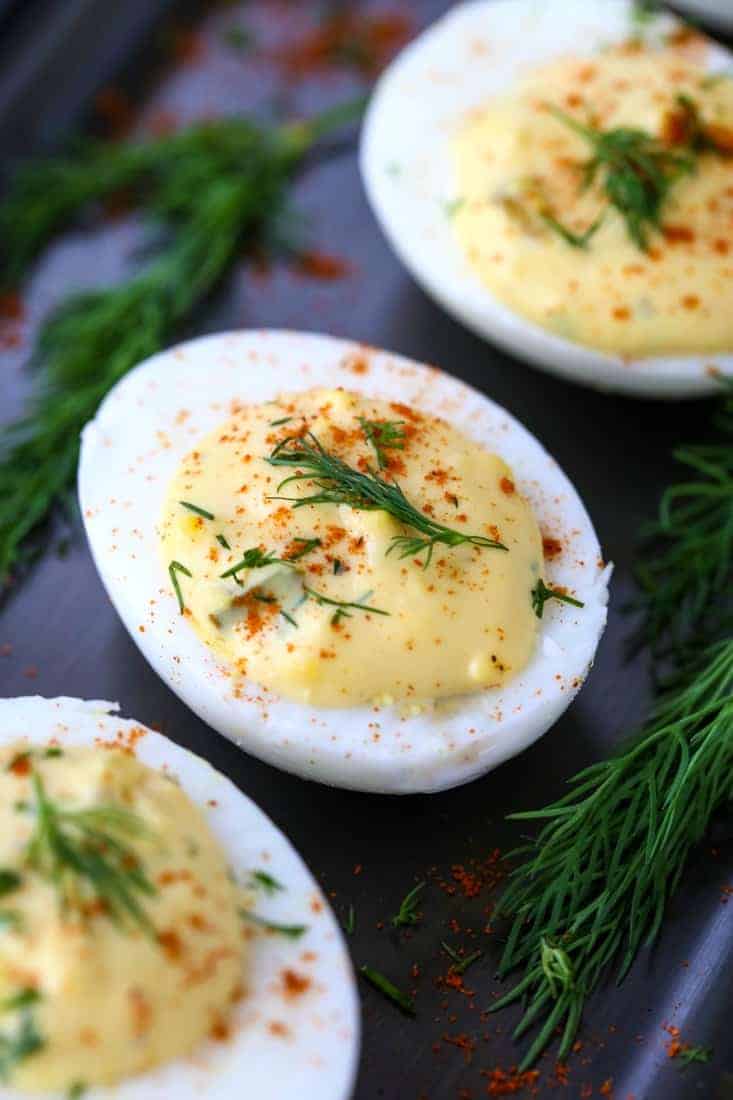 We're starting off Appetizer Week with an oldie but goodie – Classic Deviled Eggs!
Nothing beats the classic recipes. Sure we redo recipes all the time, and sometimes those recipe become our new classics…
But the classics are around for a reason. They're damn good.
And these days with so many people following a low carb diet? Well these are the low carb appetizers you're looking for. Because you can eat these deviled eggs for lunch, snacks, even a light dinner with a salad!
Deviled eggs aren't just for appetizers anymore!
There's tons of varieties of deviled egg recipes but today we're going to start with a basic deviled egg. Then once you get that recipe down you can start with some fun variations.
How To Make Deviled Eggs
Deviled eggs are really very easy to make. Most people boil their eggs, hence the term hard boil, but there are other ways to make hard boiled eggs! Let me tell you guys about this gadget I found…
It's called the Dash Rapid Egg Cooker and I couldn't say enough about it! Using this appliance, which is only about 15 bucks on Amazon, will result in the most perfect hard boiled eggs that the shell comes right off off.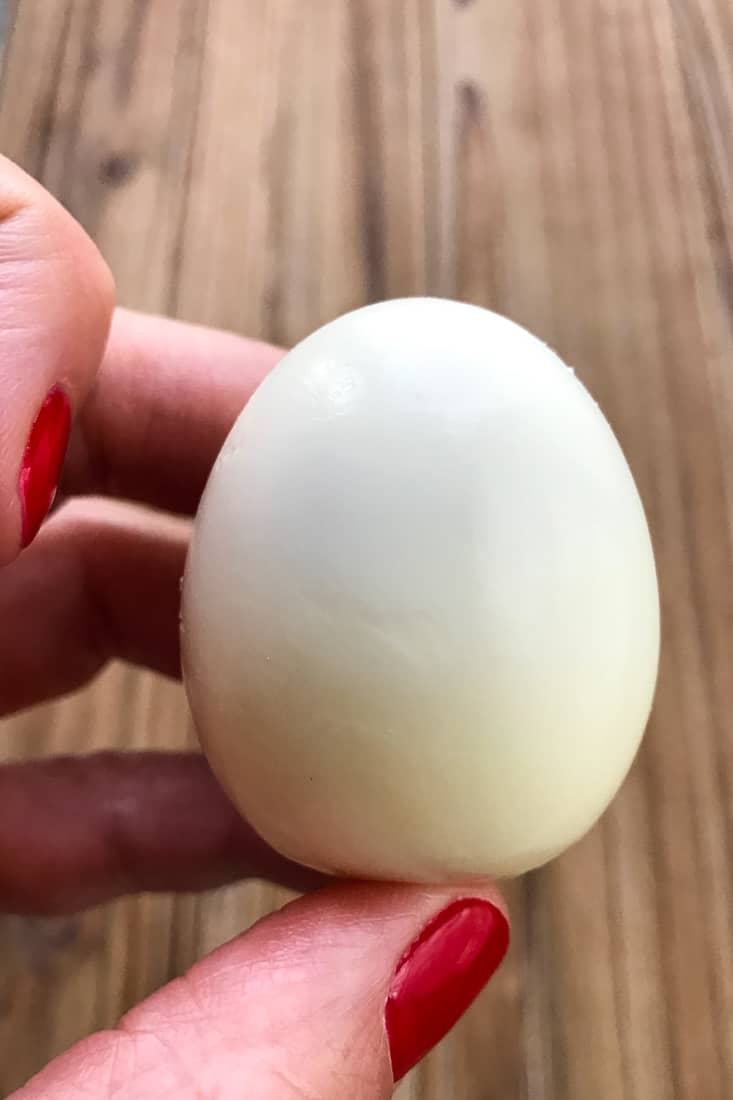 Because there's nothing worse than boiling a whole bunch of eggs and struggling to get the shells off. And I've tried all the tips and tricks – believe me – I've tried them.
Grab yourself one of these egg cookers and save yourself the trouble. Plus our boys really like eating hard boiled eggs and with this egg cooker they can make them by themselves. Win win.
OK so now that we've got the hard boiled eggs covered, let's move on to making this Classic Deviled Eggs Recipe.
Slice your eggs in half lengthwise and scoop out the yolks into a small bowl.
What Are the Ingredients For Deviled Eggs?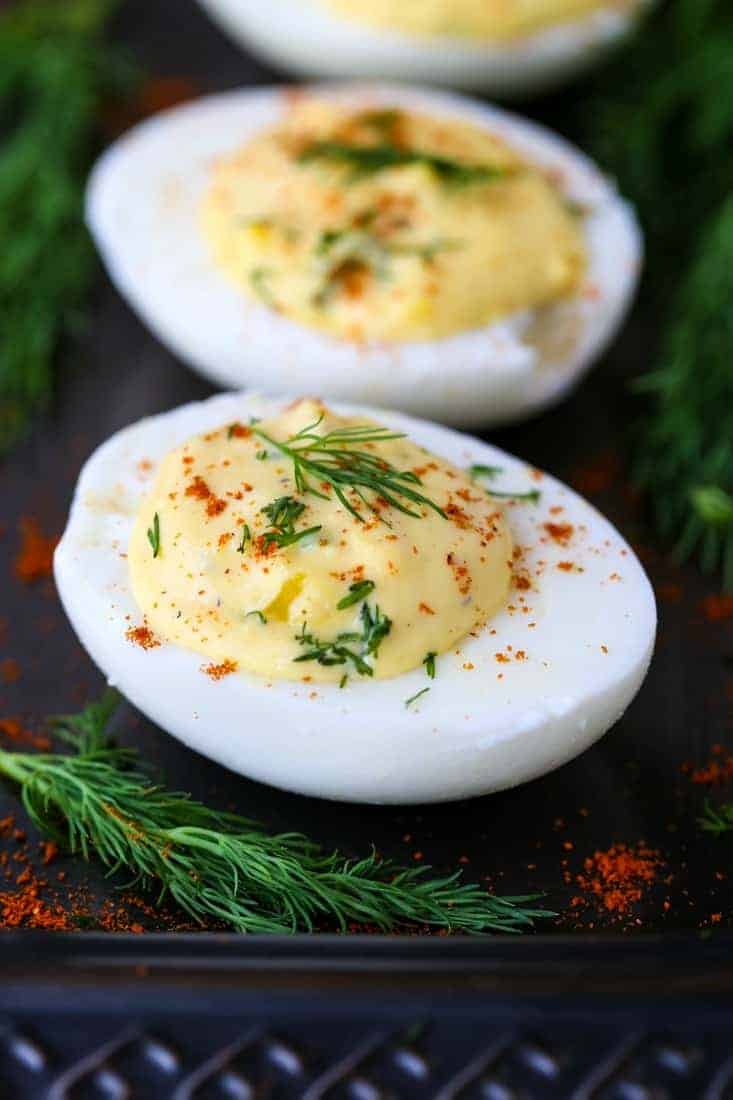 Now for the simple ingredients to make the best deviled eggs you've ever tasted.
• Mayonnaise
• Dijon Mustard
• Pickle Relish (and some pickle brine)
• Hot Sauce
• Salt and Pepper
• Fresh Dill
Like I said, these are the basics. There's tons of other ingredients that you can add to deviled eggs like bacon, avocado, even tuna! That's one of my favorite deviled egg recipes actually, the kind with Italian tuna fish blended in…but we'll get to that recipe another time.
Mix up all the ingredients with your egg yolks until they're really smooth. Smooth filling is the key to the best deviled eggs in my opinion.
As much as the flavor is important, the texture of these deviled eggs is right up there.
Now you can grab your filling and fill your eggs. If you want to get fancy you can use a piping bag and get that spiral decorative look, but we're keeping this Classic Deviled Eggs Recipe classic.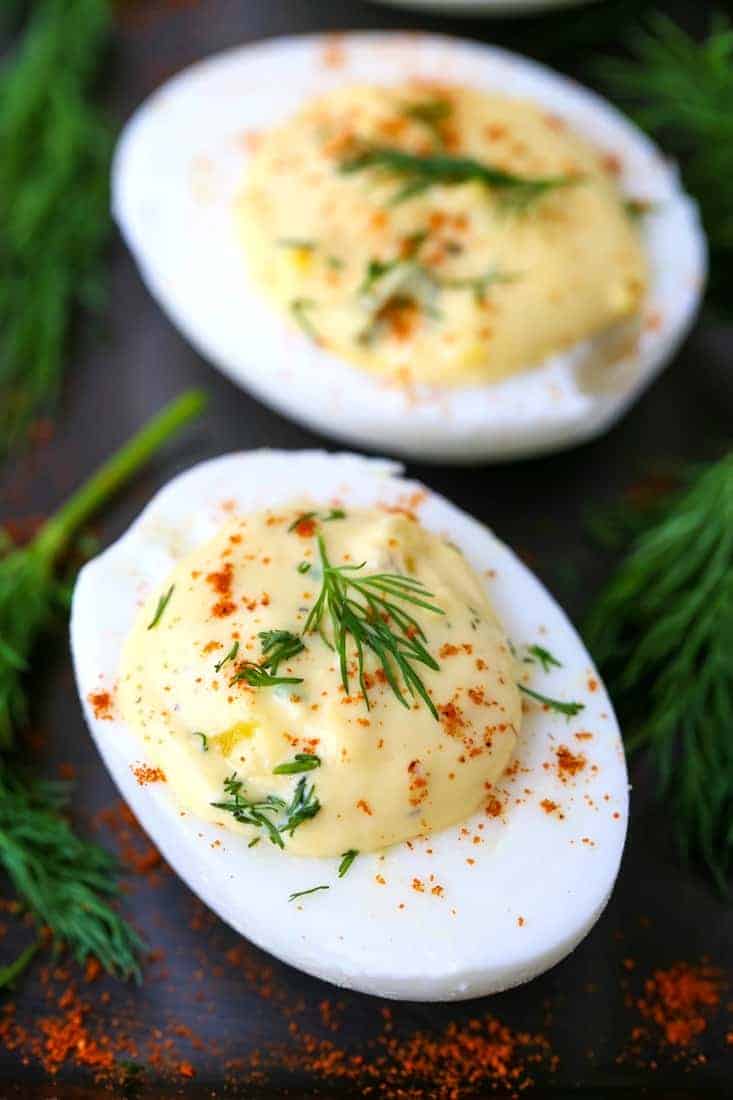 Use a regular old teaspoon and just start filling them up.
Get these eggs on a serving platter or just a cutting board if you want and garnish with more fresh dill and that classic deviled egg spice…paprika.
Paprika gives the deviled eggs some color, for one. But paprika also adds a great flavor to the eggs, especially if you have a nice, smokey paprika.
All that's left to do is serve and eat!
You can definitely make deviled eggs ahead of time too, which also makes them the perfect easy appetizer for any party!
Looking For More Easy Appetizer Recipes?
• Buffalo Chicken Celery Sticks
• Skillet Spinach & Artichoke Dip
• Pecan Chicken Salad Apple Slices
Shop This Recipe!
Print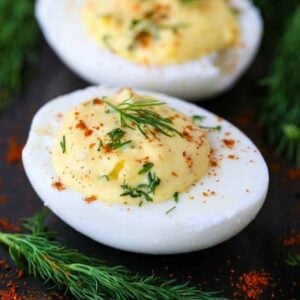 Classic Deviled Eggs Recipe
Author:

Prep Time:

15 minutes

Cook Time:

0 minutes

Total Time:

15 minutes

Yield:

12

Category:

appetizers

Method:

hard boil

Cuisine:

American
---
Description
This deviled egg recipe makes the best deviled eggs you'll ever taste! An easy appetizer recipe for parties or tailgating!
---
Ingredients
6 hard boiled eggs
1/4 cup mayonnaise
1 1/12 teaspoons dijon mustard
2 teaspoons pickle relish
1 teaspoon pickle brine (juice from a jar of pickles)
1/4 – 1/2 teaspoon hot sauce, to taste
1/2 teaspoon chopped fresh dill, plus more for garnish
Kosher salt and fresh black pepper to taste
---
Instructions
Split the eggs in half lengthwise and carefully scoop out the yolks into a bowl.
Add the mayonnaise, mustard, relish, brine, hot sauce, dill, salt and pepper to the yolks and stir together until smooth.
Fill the hollowed out center of each egg half with the yolk filling.
Garnish with more fresh dill and a sprinkle of paprika (optional)
---
Notes
These deviled eggs can be made ahead of time and kept in the refrigerator until ready.
Keywords: low carb recipe, low carb appetizer, deviled eggs, best deviled eggs, classic deviled eggs, easy appetizer recipe