These Crispy Crab Stuffed Mushrooms are one of our favorite, easy appetizer recipes! A creamy crab filling topped with crispy, buttery breadcrumbs!
If you love easy appetizer recipes like these stuffed mushrooms, try our Cheeseburger Meatballs, or this easy Buffalo Chicken Dip and always a favorite, Skillet Spinach Artichoke Dip!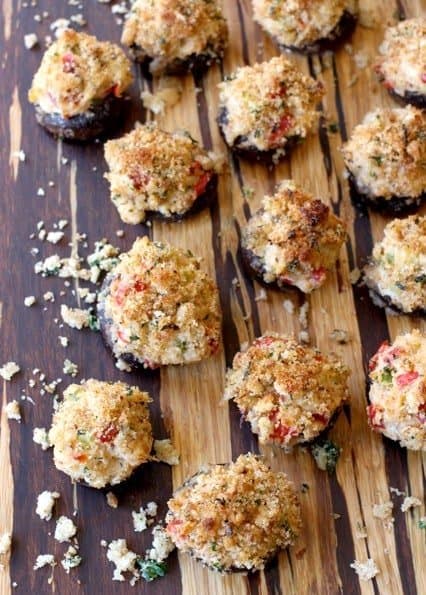 Easy Stuffed Mushrooms Recipe
There's a few standard appetizer recipes that we make all the time, but every year we try and create something new to see if it will make it to the "must have" list of appetizers.
These Crispy Crab Stuffed Mushrooms made the list. A crispy breadcrumb topping covers a creamy crab filling all sitting in a bite sized mushroom cap. So really, this stuffed mushroom recipe is the perfect appetizer.
Also these stuffed mushrooms can be made ahead of time so you can cross another thing off of your to do list when preparing for your party. Once you bring out a hot tray of these crab filled mushrooms…the party starts.
What Kind Of Crab Meat Do I Use For This Recipe?
You definitely shouldn't use lump crab meat for this appetizer recipe. Because you're mixing the filling with cream cheese and other ingredients, the crab meat breaks down so you wouldn't want to waste expensive lump crab meat on this.
Using claw meat will still give you that awesome crab flavor and is also much less expensive so you can make a LOT of these stuffed mushrooms!
I mean, you certainly can buy lump crab meat…no one will complain about that either! It's all about your budget.
The best part about these crab filled mushrooms is the crispy garlic breadcrumb topping. Homemade bread crumbs with tons of garlic and butter make the perfect topping for the rich, creamy crab filling.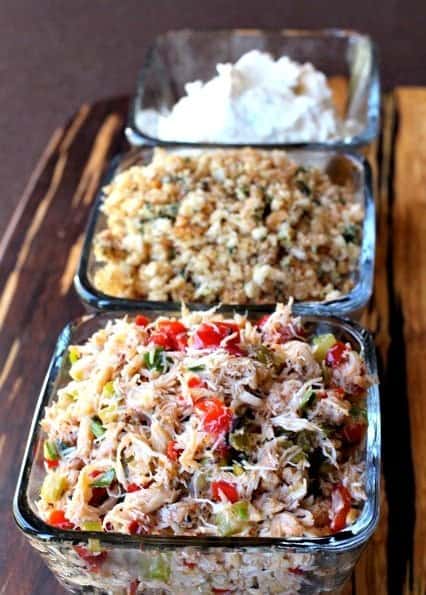 Ingredients To Make Crispy Crab Stuffed Mushrooms:
Crab Meat: Like we explained before, you don't need lump crab meat for this stuffed mushroom recipe. Claw, special or back fin will all work fine. You can even get a good quality can of crab meat!
Mushrooms: Either white or brown button mushrooms are fine. You want to make sure they are big enough to fill but small enough to be a one or two bite appetizer.
Peppers: Red or green bell peppers, any color will do. The peppers will add a mild spice to the crab meat filling.
Celery: Added crunch from diced celery will go nicely with the creamy and rich flavor of this crab filling.
Garlic: Use fresh garlic whenever you can, not the pre-chopped garlic in the jar.
Panko Bread Crumbs: These bread crumbs add a lighter, crispier texture than regular bread crumbs.
Seasonings & Condiments: A few more seasonings and condiments go into this recipe, basics that you probably have on hand!
How to Make Crispy Crab Stuffed Mushrooms
How To Make Stuffed Mushrooms
Start out by making the garlic bread crumb topping. Toss the breadcrumbs in a skillet with butter until they are golden brown, then add garlic and a few seasonings to the mixture. We are a garlic loving family so you can adjust the garlic to your liking, but the more garlic the better for me!
Remove the breadcrumbs from the skillet to a bowl to cool, the add olive oil to the same skillet to start making the crab filling. Now add cream cheese, parmesan cheese, mayonnaise and about 1/4 cup of the topping to the crab filling.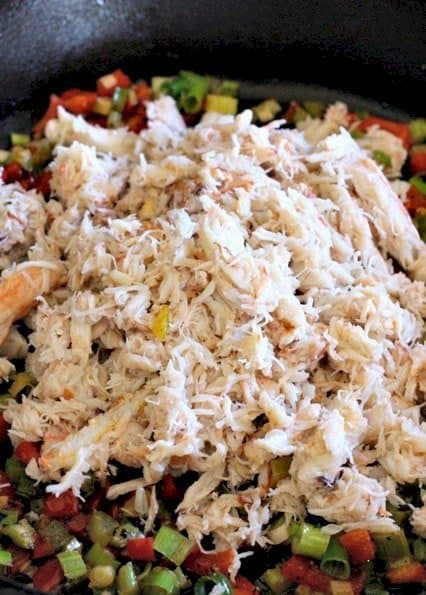 Once the crab filling is finished you can start stuffing the mushroom caps. Get a good amount in each mushroom, as much as you can fit. Try to really pack the filling into the mushrooms cap so it doesn't fall off when it bakes.
Also when you add the bread crumb topping, make sure to press lightly so that the topping will stick to the filling instead of falling off.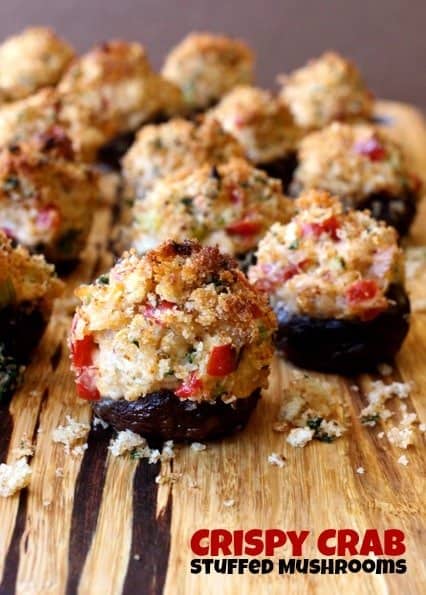 Bake these stuffed mushrooms for about 15 minutes until they are warmed through and golden brown on top. You can serve these immediately or keep them warm in the oven at about 300 until you're ready to serve.
PIN IT!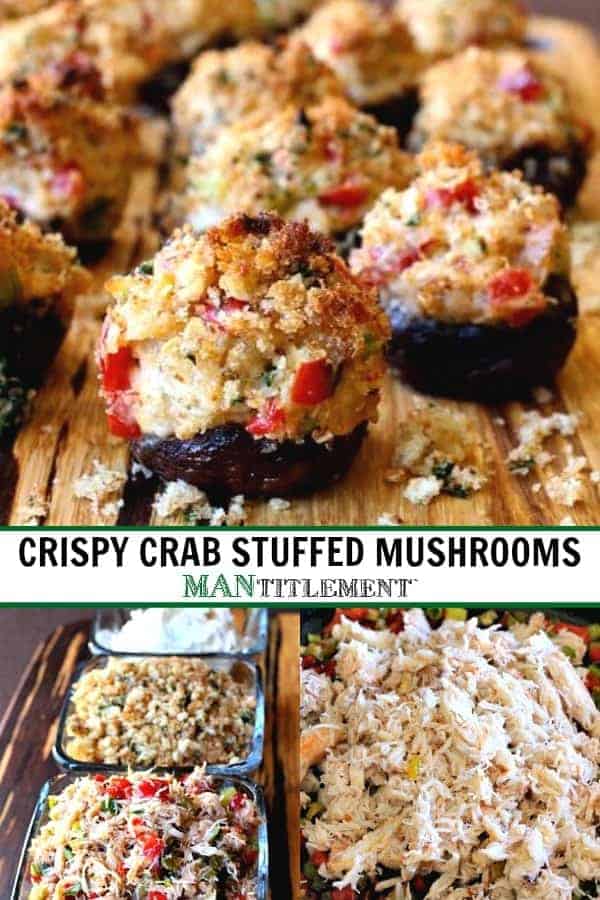 Looking For More Stuffed Mushroom Recipes?
Print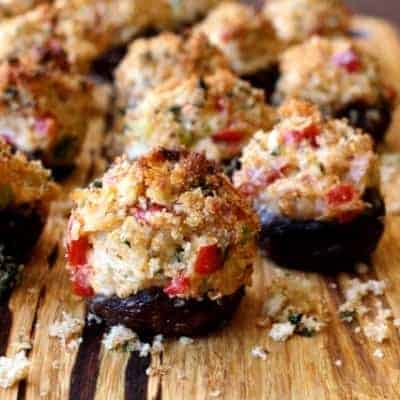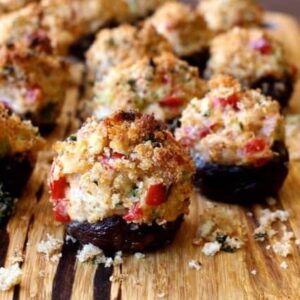 Crispy Crab Stuffed Mushrooms
Author:

Prep Time:

15 minutes

Cook Time:

20 minutes

Total Time:

35 minutes

Yield:

3

0

1

x
This creamy crab stuffed mushroom recipe is topped with the most delicious, buttery, homemade breadcrumbs!
Scale
Ingredients
For the Garlic Breadcrumb topping
2 cups

panko breadcrumbs

1 tablespoon

chopped garlic

4 tablespoons

butter

1/4 cup

chopped parsley
For the Mushrooms
30

mushrooms, stems removed and cleaned

2

 tablespoons olive oil
Kosher salt & black pepper to taste

2 tablespoons

butter

1/2 cup

celery, diced fine

1/2 cup

red pepper, diced fine

1/4 cup

scallions, chopped

2

cloves garlic, minced

1/2 teaspoons

salt

1/4 teaspoons

pepper

8 oz

. crabmeat (claw meat)

4 oz

. cream cheese, softened

2

 tablespoons mayonnaise

1/4 cup

grated parmesan cheese

1/4 cup

of the garlic bread crumb topping

1/2

lemon, juiced
Instructions
Preheat the oven to 425 degrees.
Clean the mushrooms and carefully remove the stems, leaving the cap whole.
Toss the mushrooms in a bowl with the 2 tablespoons of olive oil, season with salt and pepper, and then place the mushrooms caps on a baking sheet and set your oven to 425 degrees.
Make the breadcrumb topping by melting 4 tablespoons of butter in a large skillet. Add the bread crumbs and toss with the butter until golden brown, about 3-4 minutes.
Add the minced garlic, lemon juice and the parsley and stir to combine. Remove the breadcrumb mixture from the skillet and transfer to a bowl to cool.
Add 2 tablespoons of olive oil to the same skillet. Add in the celery, scallions and red pepper and cook for 4-5 minuets.
Next add the garlic, salt, pepper and crab meat, stirring to combine, then transfer the filling to a bowl to cool.
Once the filling has cooled, add the mayonnaise, cream cheese and the parmesan cheese  and fold gently to combine.
Fill the mushroom caps with the crab filling and then generously top with the breadcrumb topping, pressing the topping slightly onto the filling so that it sticks.
Bake for 12-15 minutes, until the tops of the mushrooms are golden brown.
Category:

Appetizers

Method:

Stove Top / Oven

Cuisine:

American
Keywords: easy appetizers, appetizer recipes, stuffed mushroom recipe, stuffed mushrooms, crab stuffed mushrooms, easy stuffed mushrooms