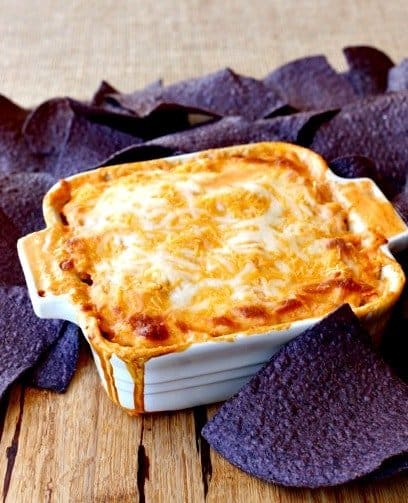 I'm getting my menu ready for Superbowl Sunday with this kicked up Buffalo Chicken Dip recipe! It's so easy to make and everyone loves it!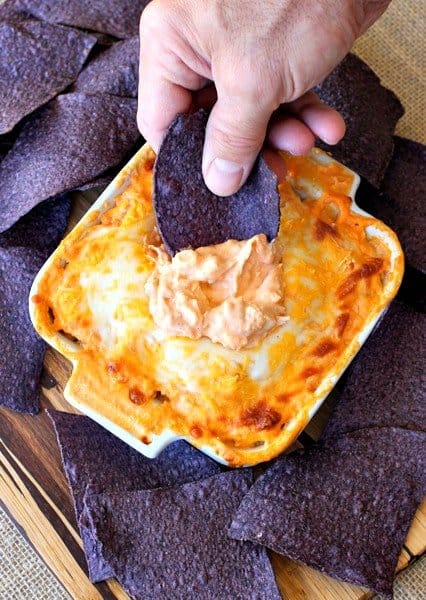 Chips and dip are usually on the list for the football game, not just one but as many as we can make.
Buffalo Chicken Dip is always a hit with everyone, but when you add jalapeño cream cheese…it's turns into something even better.
I'm always at the grocery store. I mean – all the time. Between the normal cooking that we do for our family and the cooking we do for Mantitlement, there always seems to be something we're out of.
I don't mind going though. A lot of the time going to the store and looking around gives me ideas for new things to make. Like when I saw this Philadelphia Jalapeño Cream Cheese I knew I had to grab it.
The first thing that came to mind was making an extra spicy buffalo chicken dip.
I was actually picking up cream cheese (on the list) for my little guy. He loves it with pretzels or an a bagel…but my older son won't touch it. It's great when they like different things isn't it? One wants one thing – the other wants something else.
And nope – neither of them wanted this Buffalo Chicken Dip when it was done. Sometimes that's good too – more spicy chicken dip for me!
Start off with some shredded chicken, cheese, sour cream and you spicy cream cheese…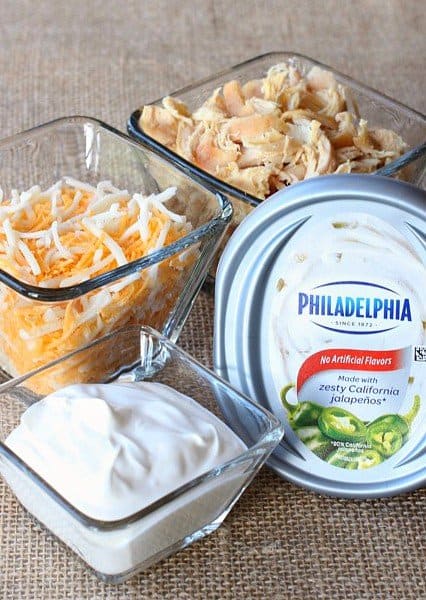 Mix it all together with a half of a cup of Frank's Red Hot sauce. I know what you're thinking – that's a lot of hot sauce – it is but I'm telling you, it works.
Even with the jalapeño cream cheese.
Put your mixture in an oven proof dish and cover with the shredded cheese. You might want to place it on top of a sheet pan in case some cheese melts over the side like mine did.
Bake it, grab a bag of tortilla chips and then start dipping.
Or dunking. Or scooping. However you can get it in your mouth – it's spicy, cheesy and awesome.
Not that I think you wouldn't…but make sure you have lots of ice cold beer on hand for this one!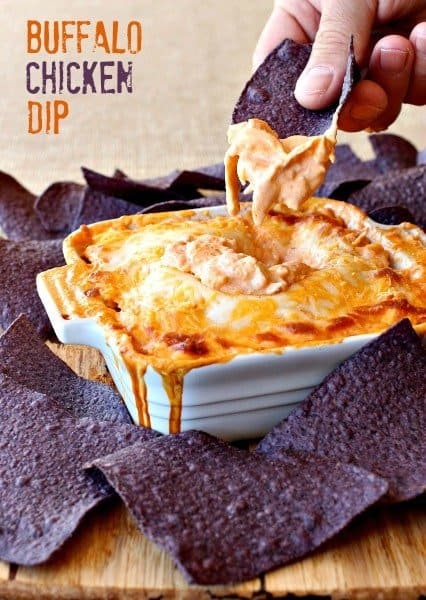 Print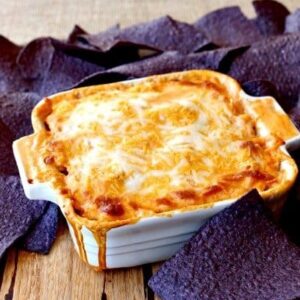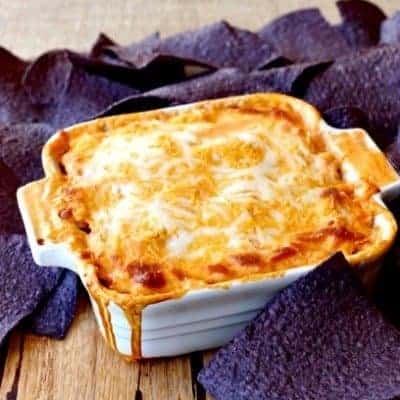 Buffalo Chicken Dip
---
Description
Serves 4-6 for appetizers
---
Ingredients
2 c. shredded chicken
4 oz. Philadelphia Jalapeño Cream Cheese, softened
1/2 c. sour cream
1/2 c. grated cheddar cheese
1/2 c. Frank's Red Hot Sauce (this is a milder hot sauce, if you have another kind start with 1/4 cup)
1 bag tortilla chips
---
Instructions
Add the cream cheese, sour cream, and hot sauce to a large bowl and stir to combine.
Stir in the shredded chicken and then pour into an oven safe baking dish.
Top with shredded cheese and bake at 425º for 20-25 minutes until the cheese is melted and bubbling.
Serve with tortilla chips for dipping.