Our Cheeseburger Quesadillas are filled with seasoned ground beef, bacon and cheddar cheese! Just like biting into your favorite bacon cheeseburger in quesadilla form. Serve as a fun dinner or for appetizers at your next party.
We love fun and tasty recipes like these quesadillas! Hop over and check out our easy stove top mac and cheese and these Chinese boneless spareribs that are on the table in 15 minutes!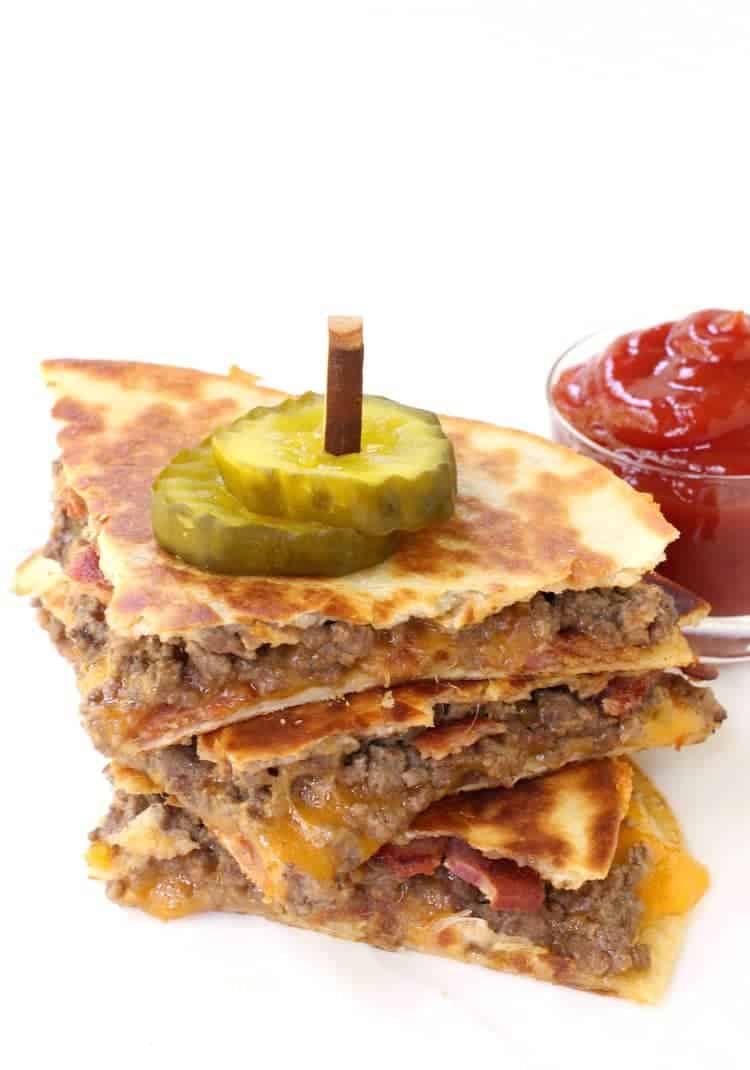 Making Quick & Easy Quesadillas At Home
Making quesadillas from scratch is one of our favorite things to make for dinner or appetizers. Quesadillas are fun food, one hand food and definitely party food.
And who's opposed to turning a boring ol' dinner time into a party? (Just in case you're not having an actual party) Not me, that's for sure. Anytime we can get a meal on the table that our boys gobble up, that's a win.
These Cheeseburger Quesadillas are totally on our family favorite list of recipes. Super cheesy, beefy filling that's loaded with bacon…you really can't go wrong.
Don't be afraid to nail this homemade quesadilla recipe and then switch up the fillings – you could have a quesadilla night EVERY night! The trick is in the flipping, and we're going to tell you how to do that.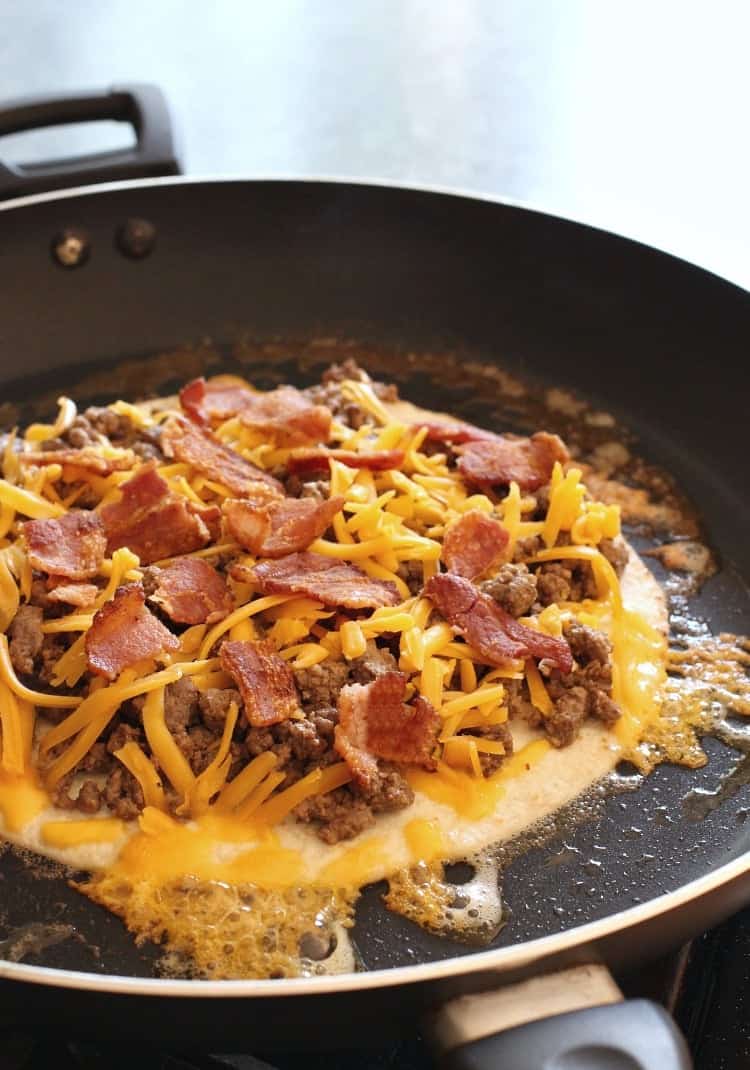 How Do You Flip A Quesadilla?
I don't know if you've ever tried to flip a quesadilla, but sometimes it can be a mess. You think you nailed the wrist action, a smooth, seamless flip of the spatula and then, boom. Filling everywhere, hopefully most of it in your pan.
Flipping the quesadilla properly is also going to depend on how big your quesadilla is, the larger burrito size tortillas are definitely going to need the plate trick.
Start out by placing a tortilla down in a skillet with butter or oil, then add a layer of beef, cheese and bacon.
Place another tortilla on top and press down with a plate (the side you eat on face down). Only a minute or two, remember that bottom quesadilla had been in the skillet for the assembly time too, so be careful not to burn it.
Now for the flip. Place your hand firmly on the plate and flip the whole skillet over so that the plate is in your hand with the quesadilla on top. Now carefully slide the uncooked side of the quesadilla unto the skillet.
Perfect flip, no mess.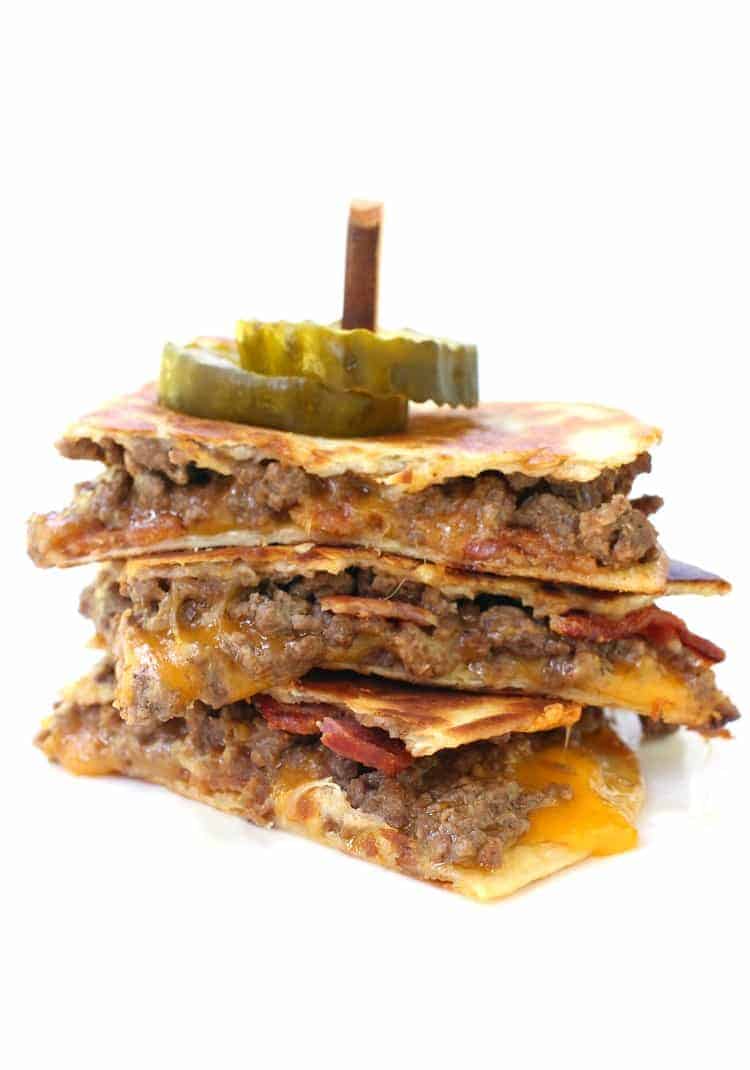 Can You Make These Quesadillas Ahead Of Time?
Oh yes, and we do that a lot. We're always running around with the boys, driving them back and forth to sports and friends' houses, in between work and everything else going on…who's got time to make dinner?
So yes, you can make this quesadilla recipe ahead of time and heat them back up in a 350 oven or the microwave. Obviously the oven will give you the crispiest results but it's all about the time you have.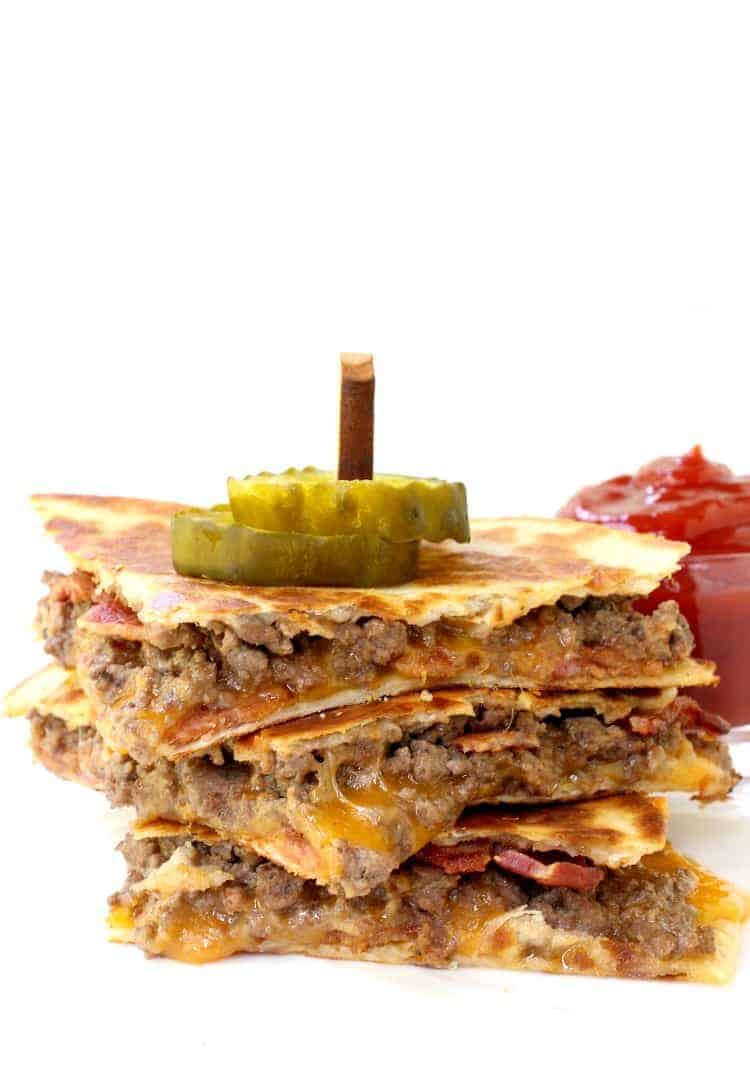 You can serve these Bacon Cheeseburger Quesadillas with ketchup on the side for dipping, or maybe try our AWESOME SAUCE! Really whatever sauce you would put on your cheeseburger will work.
Definitely put out a few different types of dipping sauces if you're doing this for a party…BBQ sauce, sriracha mayo, honey mustard, even ranch dressing.
Then let the party start – even if it's just dinner for the family, these quesadillas are going to make it seem like you're having a party!
PIN IT!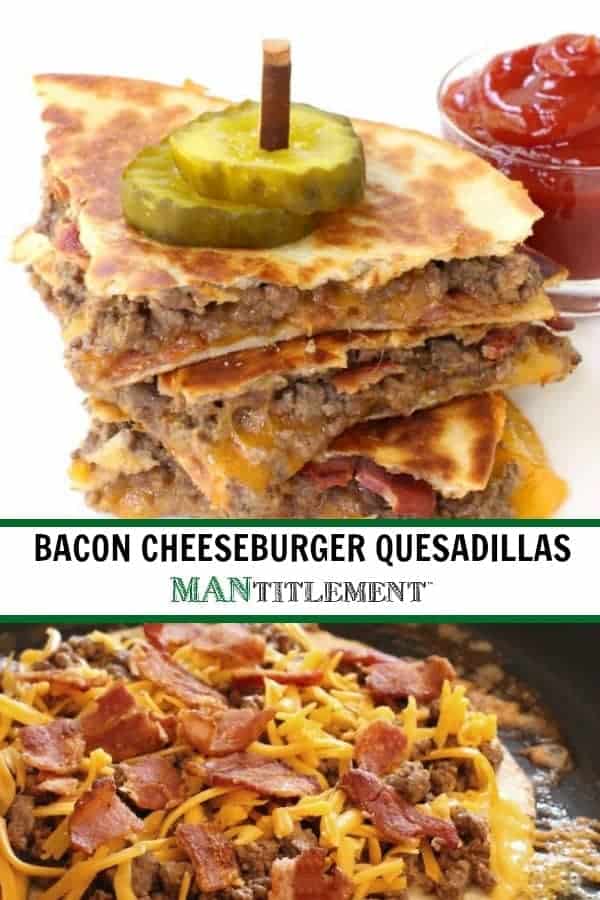 Looking For More Quesadilla Recipes?
We've got lots more recipes to share with you!
Print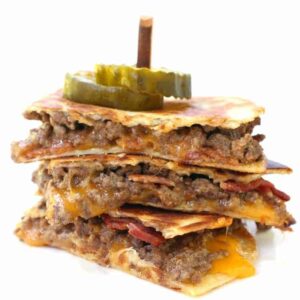 Cheeseburger Quesadillas
Author:

Prep Time:

15 minutes

Cook Time:

30 minutes

Total Time:

45 minutes

Yield:

8

Servings

1

x
These Cheeseburger Quesadillas are filled with beef, bacon and tons of cheese! This quesadilla recipe is perfect for a family dinner or appetizers with friends!
Scale
Ingredients
1 tablespoon

olive oil

1

pound ground beef

1 tablespoon

Worcestershire sauce

2 tablespoons

ketchup

2 tablespoons

cream cheese

1/2 teaspoon

garlic powder

1/2 teaspoon

salt

6

strips bacon, cooked until crisp and crumbled

8

large flour tortillas

2 cups

shredded cheddar cheese
Instructions
To make the beef filling, heat a large non-stick skillet with the olive oil, then add the ground beef to cook while breaking up into crumbles. Drain any grease from the pan.
Add the Worcestershire sauce, ketchup, cream cheese, garlic powder and salt then stir.
Remove the beef filling from the pan to a bowl. Let the skillet cool for a few minutes, then carefully wipe the skillet out with a paper towels.
Turn the skillet back on over medium heat, then spray the skillet with cooking spray or add another drizzle of olive oil. You don't want too much oil in the pan, just a very thin layer so the tortilla doesn't stick.
Place one flour tortilla into the skillet then add a cup of the beef filling, then a half cup of cheese and a couple of tablespoons of the crumbled bacon.
Place another flour tortilla on top and press down with a plate (face side down).
Cook for a minute, then check the bottom of the quesadilla with a spatula to see if it's brown. If the bottom tortilla is brown you can flip the quesadilla by placing your hand firmly on the plate and flipping the whole skillet over so that the plate is resting in your hand, then return the skillet to the stove. Gently slide the quesadilla (uncooked side down) into the skillet and cook for another 3-4 minutes until brown. If needed, you can add a little more butter or spray the skillet again before adding the quesadilla back to the pan.
Slide the quesadilla out onto a cutting board and let cool for 2 minutes before cutting into wedges.
Repeat with the remaining 3 quesadillas.
Recipe Notes
This recipe makes 4 large quesadillas which can be cut into 4 or 8 wedges each. You can easily cut this recipe in half and only make 2 large quesadillas that will serve 4. We like the leftovers!
Category:

Dinner

Method:

Stove Top

Cuisine:

American
Keywords: mantitlement, quesadillas, quesadilla recipes, cheeseburger quesadillas, kid friendly recipes, ground beef recipes, recipes with bacon