These Chicken Quesadillas will knock your socks off! Juicy chicken, spicy chilis, rich beans, and gooey cheese combine to make quesadillas that you'll want to eat over and over again.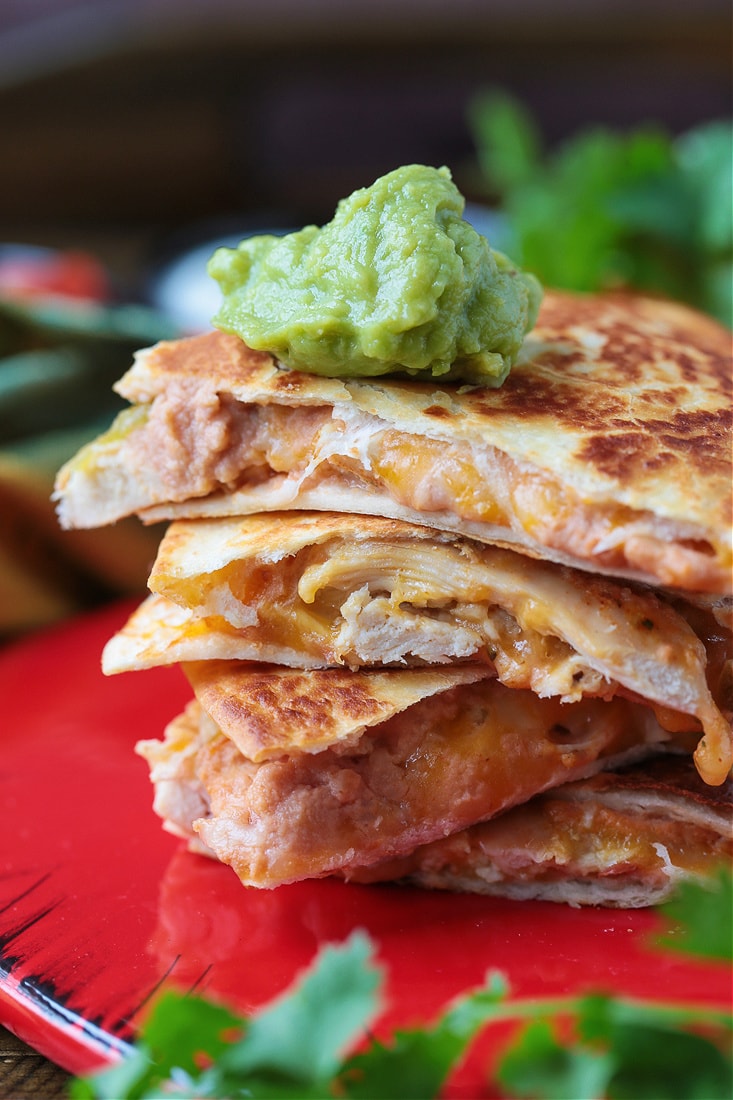 The Ultimate Chicken Quesadillas
I'm a big fan of Mexican food, and these chicken quesadillas are one of my favorite Mexican recipes. They have everything that I want in a quesadilla: spiciness and intense seasoning, hearty beans, melted cheese oozing out of the flour tortillas, and the star, moist, mouth-watering chicken.
But the best part? They take less than 20 minutes to make! In the time it might take you to drive to a restaurant and get a seat, you can make these juicy, spicy chicken quesadillas at home. I like to make them as a main course, or as a snack food when people are over.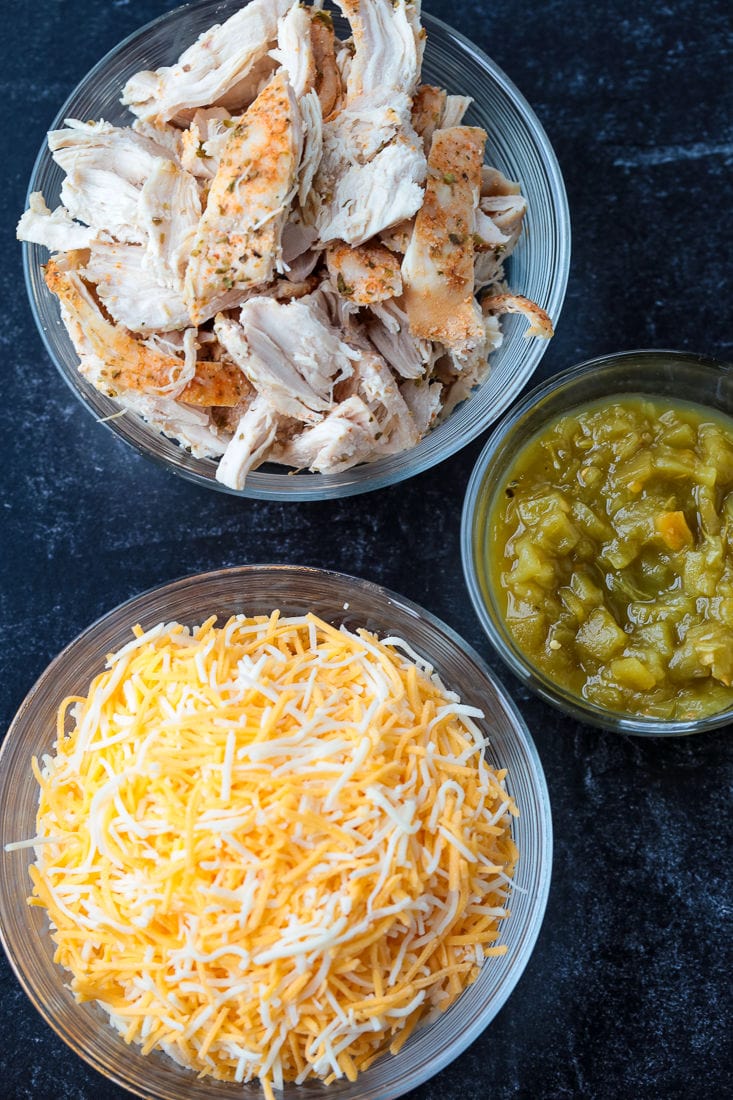 Recipe Ingredients
Here's everything you need to make our ultimate chicken quesadillas. Make sure you scroll to the recipe card at the bottom of the article to find the exact amounts of each ingredient.
Cooked chicken – Make sure to use chicken that is shredded.
Garlic powder
Fajita seasoning
Cumin
Refried beans
Sour cream – You can use low-fat sour cream to make this recipe healthier, but it's best with full-fat sour cream.
Salsa – Red or green salsa works for this recipe.
Flour tortillas – Look for tortillas that are labeled as being taco size.
Shredded Mexican blend cheese – You can replace this cheese blend with a mixture of grated cheddar and jack cheeses.
Vegetable oil – Canola oil, or any other type of neutral oil will also work.
What is Fajita Seasoning?
Fajita seasoning is a spice blend that you can find in most grocery stores. It varies from brand to brand, but is a combination of popular Mexican spices. Most fajita seasonings have cumin, chili powder, garlic powder, paprika, and cayenne pepper. If you don't have fajita seasoning, you can use taco seasoning instead. Taco seasoning is usually spicier than fajita seasoning, though, so go a little lighter if you don't like spice.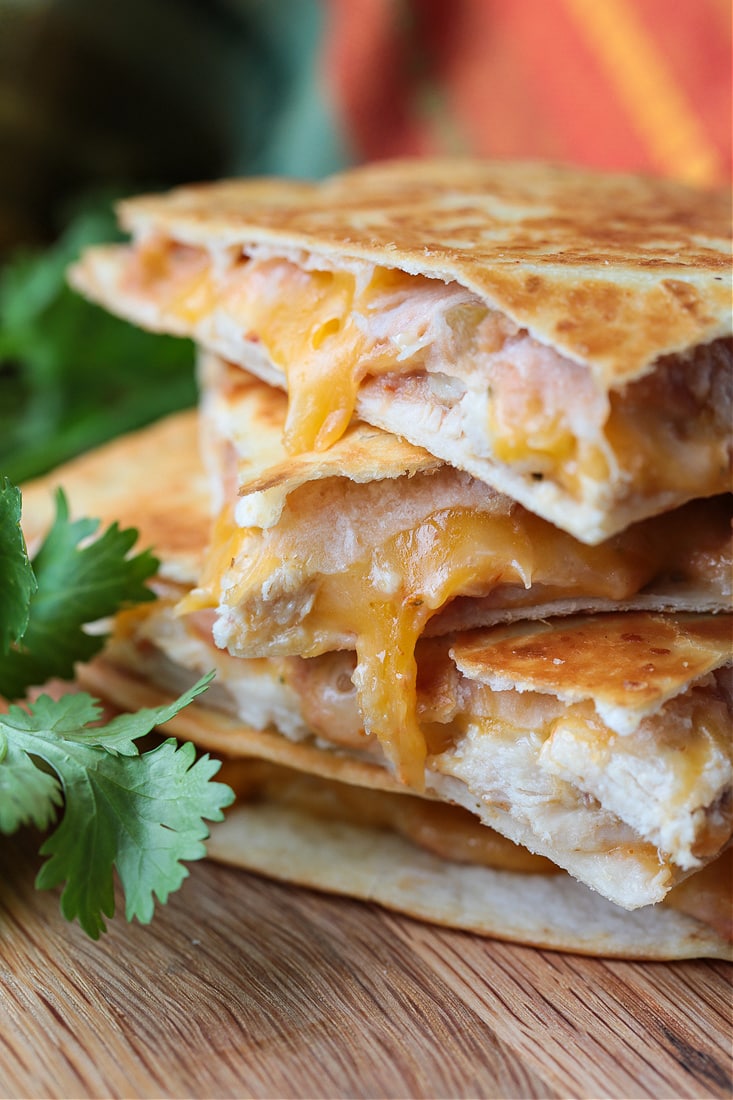 How to Make Chicken Quesadillas
Here's how to make these 20-minute ultimate chicken quesadillas.
Flavor the chicken. Put the chicken in a bowl, and add the garlic powder, fajita seasoning, and cumin. Mix until well combined.
Make the bean mixture. Place the refried beans, sour cream, salsa, garlic powder, fajita seasoning, and cumin in a bowl, and stir until the mixture is combined.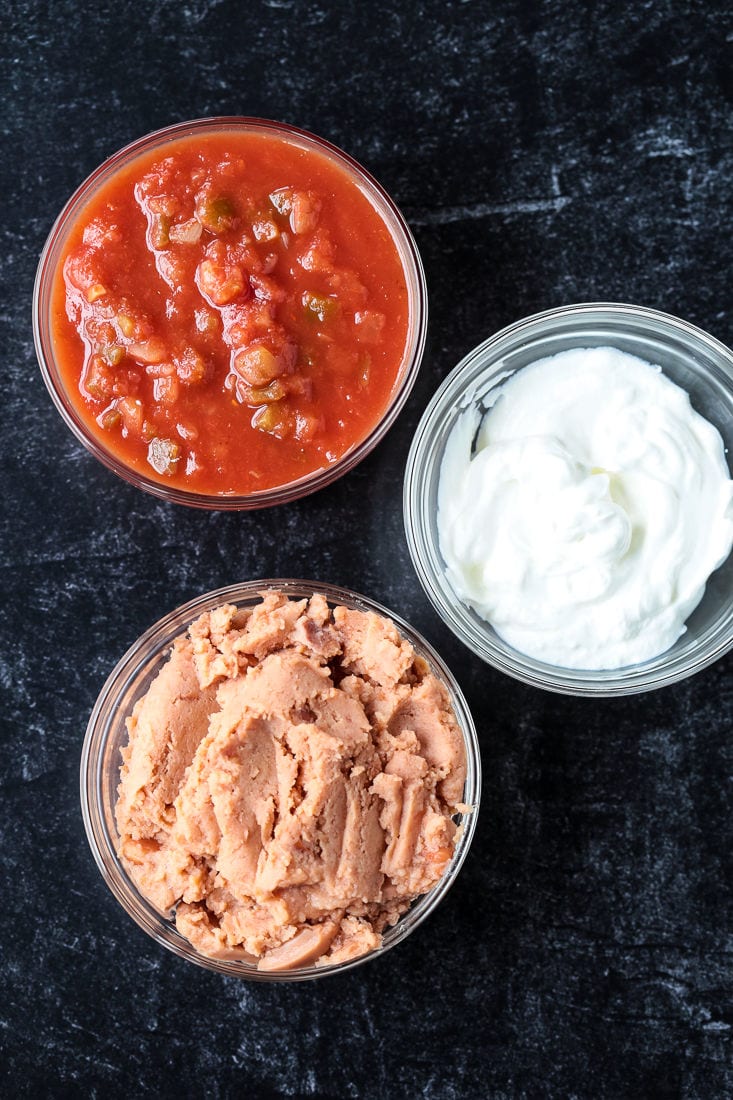 Assemble the tortillas. Place two tortillas on your cutting board, and spread some of the bean mixture on each one. Add shredded cheese on top of one of the tortillas, then top it with chicken. Add a second layer of cheese on top of the chicken, then place the other bean-covered tortilla on top. Repeat this process with the rest of the quesadillas.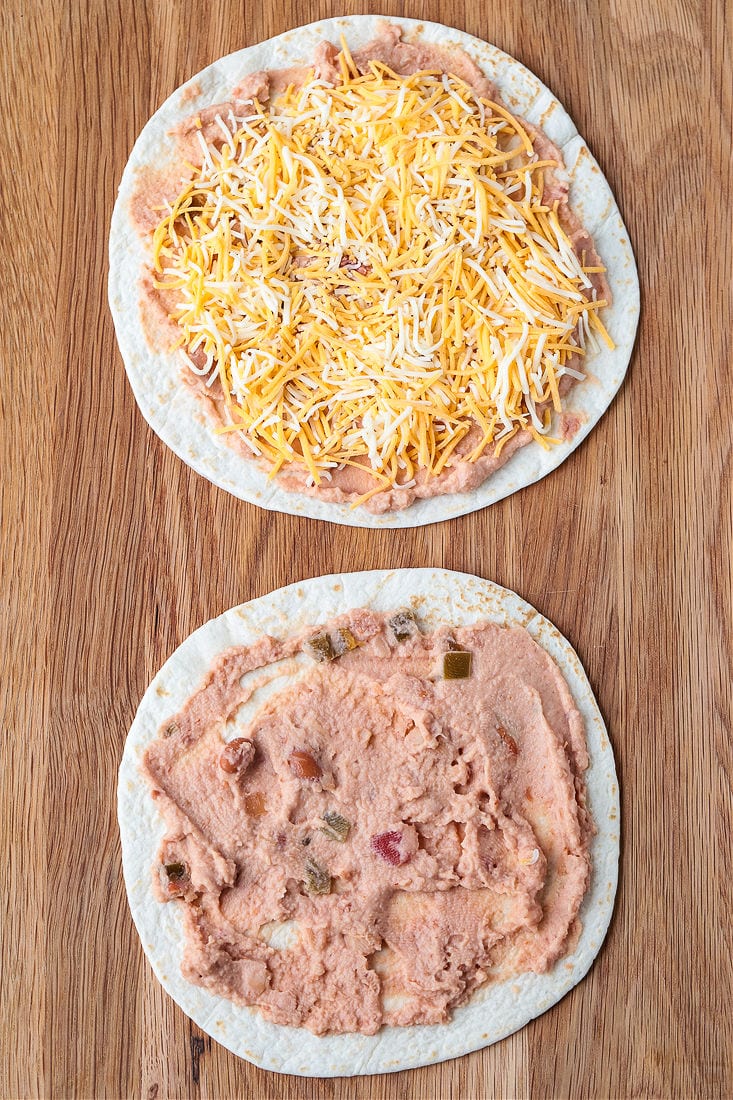 Cook the quesadilla. Heat a skillet over medium heat. Add oil, then put one of the quesadillas in the pan. Put a plate on top of the quesadilla to press it down a little bit, and cook for 2 minutes, at which point the tortilla should be browned on the bottom. If it's not, cook it for another minute. If it is brown, flip it over, and cook for 2 more minutes. Remove from the pan, cut into quarters or eighths, and dig in!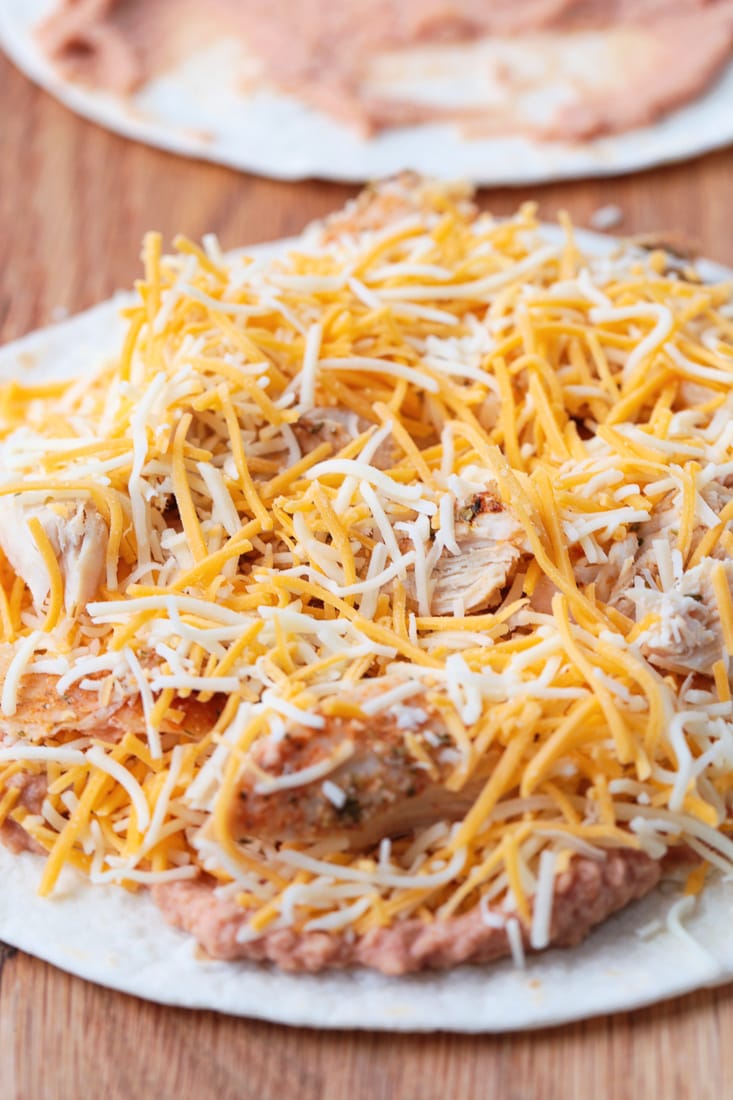 Tips for Success
Here are some good tricks for making these meaty, cheesy chicken quesadillas.
Keep them warm. You can only cook one of these quesadillas at a time, so it's nice to keep the cooked ones warm when you fry the next batch. To keep them warm, place them in a 300F oven until you're ready to serve them.
Use dark meat. Chicken thighs have more flavor, and are juicier than chicken breasts. For the best quesadillas, use thigh meat, or mixture of light meat and dark meat.
Have fun with toppings. These quesadillas are full of flavor, but they're even better if you finish them off with some toppings. The possibilities for what you can put on top of these chicken quesadillas is endless. Some of my favorite toppings are salsa, hot sauce, guacamole, avocado, cilantro, radishes, and pickled red onions.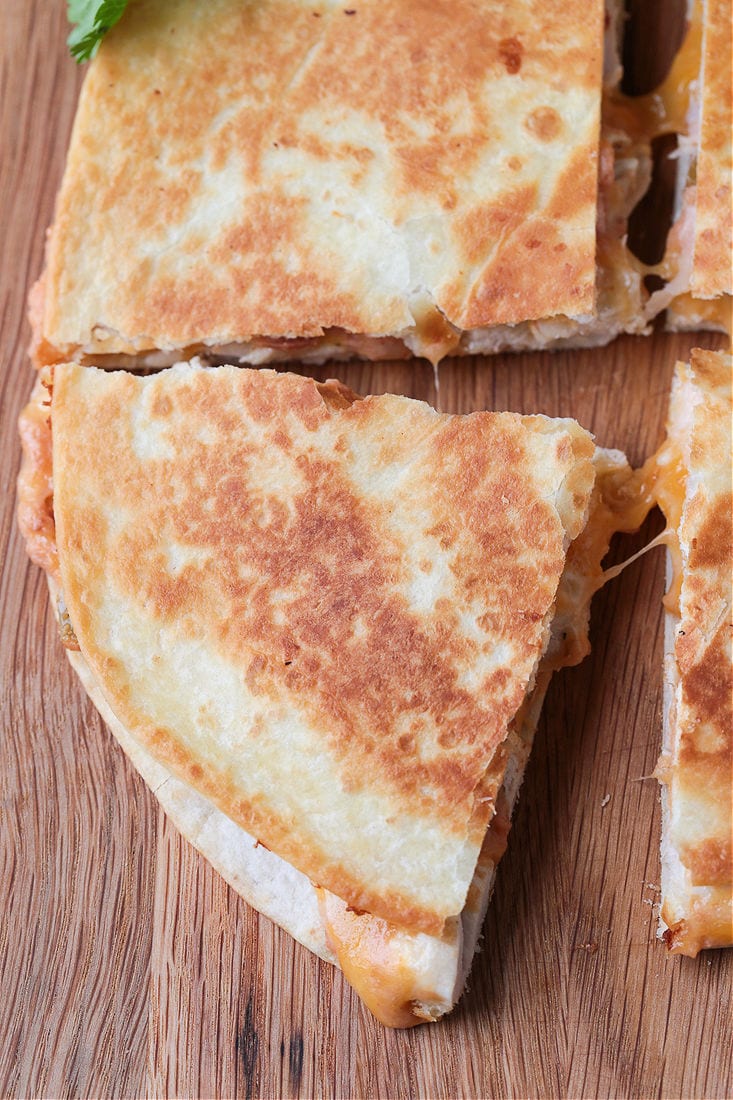 How to Store and Reheat Leftover Chicken Quesadillas
You can store these chicken quesadillas in an airtight container or bag in the fridge for up to 3 days. To reheat, place them on a baking sheet that's lined with parchment paper, and put it into a 400F oven for 7-8 minutes. Reheating them in the microwave will also work in a pinch.
Can You Freeze This Recipe?
You can freeze these quesadillas in an airtight container for up to 3 months. Just make sure to thaw the chicken quesadillas in the fridge before reheating.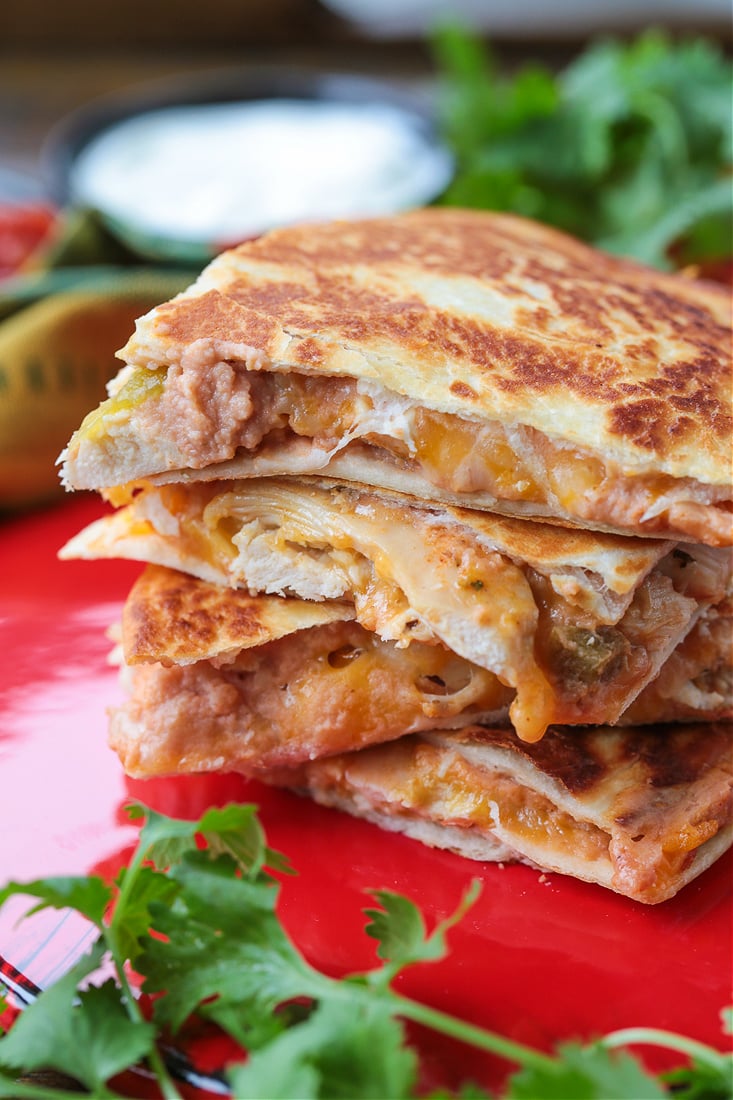 More Quesadilla Recipes to Try
Here are some more of my other favorite quesadilla recipes for you to try out, we hope you like them just as much as we do!
Print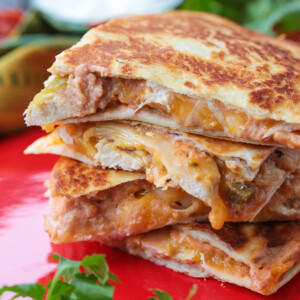 Chicken Quesadillas
Author:

Prep Time:

10 minutes

Cook Time:

8 minutes

Total Time:

18 minutes

Yield:

4

servings

1

x
These chicken quesadillas are full of gooey cheese, spicy beans, and juicy chicken. Plus, they only take 20 minutes to make!
Scale
Ingredients
For The Chicken:
2 1/2 cups

cooked, shredded chicken

1/2 teaspoon

garlic powder

1/2 teaspoon

fajita seasoning (can swap taco seasoning)

1/4 teaspoon

cumin
For The Refried Beans:
16 ounce

can refried beans

1/4 cup

sour cream

1/3 cup

salsa

1/2 teaspoon

garlic powder

1/2 teaspoon

fajita seasoning (can swap taco seasoning)

1/4 teaspoon

cumin
For The Quesadillas:
8

taco size flour tortillas

4 cups

shredded Mexican blend cheese

4.5 ounce

can diced green chilis

4 tablespoons

vegetable or canola oil, divided
Instructions
Place the shredded chicken in a bowl. Add the garlic powder, fajita seasoning and cumin and toss to combine.
Add the refried beans to another bowl along with the sour cream, salsa, garlic powder, fajita seasoning and cumin. Stir to combine.
Place two tortillas on a board. Spread a layer of the bean mixture onto each tortilla. Next add about 1/2 cup of cheese on top of one of the tortillas with beans, spreading in an even layer. Add a heaping 1/2 cup of the chicken on top of the cheese in an even layer. Add a heaping tablespoon of the diced green chilis, scattered around on top of the chicken, followed by another 1/2 cup of the cheese.
Place the other tortilla (refried bean side down) on top of the quesadilla. Repeat the process to make 3 more quesadillas.
Heat a large non stick skillet over medium heat. Add 1 tablespoon of the oil to the skillet, then place one quesadilla in the pan, swirling around to coat in the oil. Place a plate on top of the quesadilla and press down slightly.
Let the quesadilla cook for 2 minutes. Check to see that the bottom is browned and then flip the quesadilla over to cook the other side. There should be enough oil in the skillet for the second side, but add a drizzle more if needed. Cook for another 2 minutes on the second side until the tortilla is brown and crispy on both sides. Use a spatula to remove the quesadilla from the skillet to a board. Cover the quesadilla with foil to keep it warm while you cook the remaining quesadillas.
Cut the chicken quesadillas into quarters for dinner and into eighths for appetizers.
Recipe Notes
You can keep the quesadillas in a warm, 300 degree oven until ready to serve. This quesadilla recipe makes 4 large quesadillas which will feed 4 – 6 for dinner or 8 for appetizers.
Store: Let the quesadillas cool completely, then store leftover quesadillas in a resealable bag or container in the refrigerator for 3 days.
Reheat: Place the quesadillas on a sheet pan lined with parchment paper and place into the oven at 400 for 7-8 minutes until warmed though. If the quesadillas are cut into wedges the will heat up faster than a whole quesadilla.
Category:

Appetizer, Dinner

Method:

Stove Top

Cuisine:

American / Tex-Mex
Keywords: how to make quesadillas with chicken, easy chicken quesadillas recipe, tex-mex recipes