This Lighter Chicken Corn Chowder recipe is the best trick to making a creamy chowder without a ton of added cream! It just tastes like it does…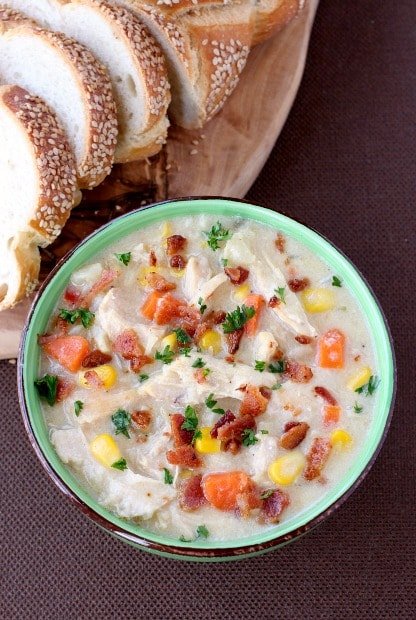 Spring is here – so they say. It's actually snowing right now so I'm not sure I believe it. So to get the best of both worlds in one recipe I made this Lighter Chicken Corn Chowder that has all the flavors of a bowl of comfort food but it's actually good for you too!
I say "lighter" because there is also bacon in here. So I'm not calling this diet food but it is pretty light as far as a creamy chowder goes.
I'm sure you've all heard about this cauliflower craze? Like no one has ever heard of cauliflower until 2015. It's pretty funny to me how food trends go. Like who starts it? Someone who grows cauliflower I'm guessing.
There's cauliflower crust for pizzas…cauliflower rice (which I have tried and it does NOT taste like rice to me, sorry) pretty much anything that you'd use a potato for you can find a recipe that subs in cauliflower.
Not sure I was buying it.
But it does work in this Lighter Chicken Corn Chowder. It's packed full of vegetables and only uses a half cup of cream for the whole pot. Are you in? Let's try and see how it goes…
Start off by cooking some onions and garlic in olive oil.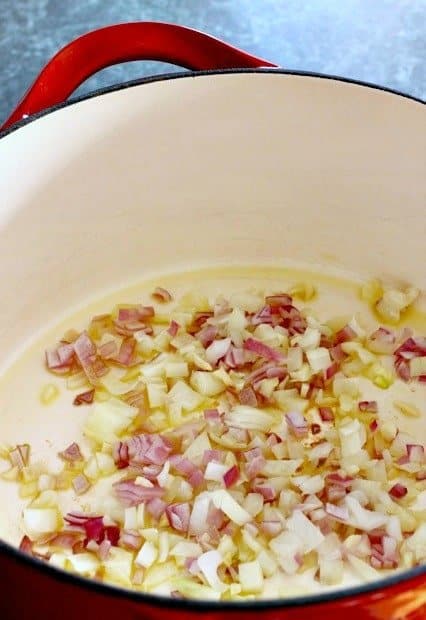 Next add in carrots, celery and bell peppers and some flour to thicken up the soup at the end.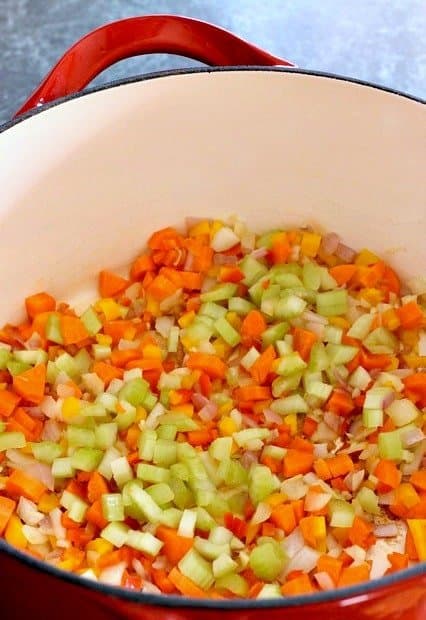 Now it's time for the cauliflower. I cut mine up pretty small in an attempt disguise the cauliflower if I wasn't liking it…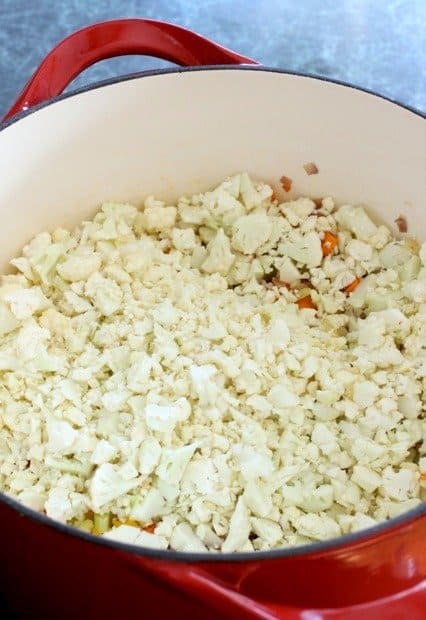 And to cook all that down I added a beer. A light beer.
I needed to man this recipe up somehow and the beer gives a great flavor to this chowder. We're talking about a few more calories here but you could just use all chicken broth if you want to.
Then goes in the milk and a little cream. If you don't have cream or don't want the extra calories you could leave that out too – but it tastes really good if you put it in.
Once the soup thickens you can stir in some shredded chicken and frozen corn. Let it cook for 10 minutes and dig in.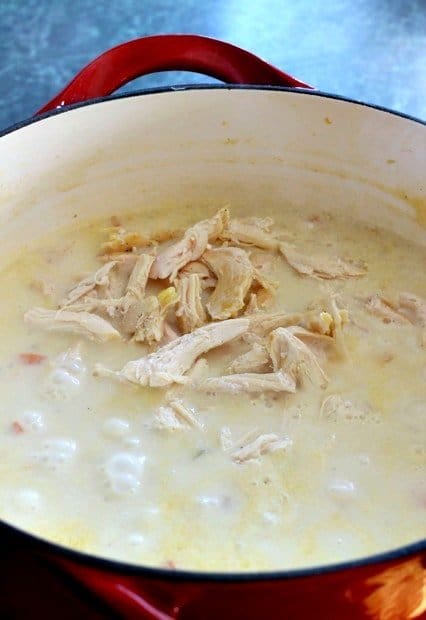 Rich, tasty, comforting chowder that won't make you feel bad about eating it.
What's my vote for using the cauliflower? Definitely works in this Lighter Chicken Corn Chowder. It not only works but it's pretty damn good.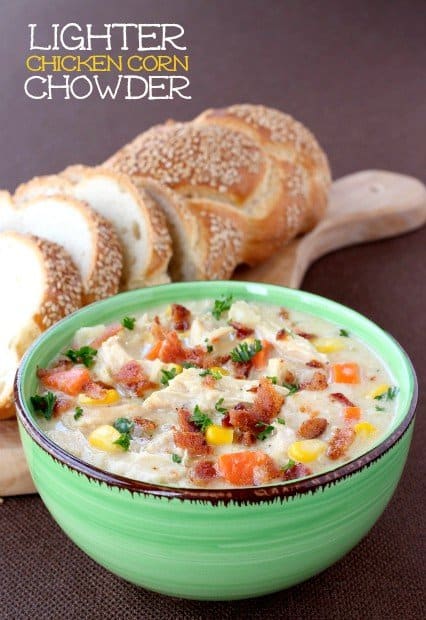 Print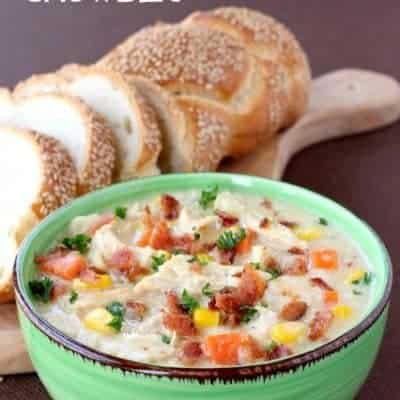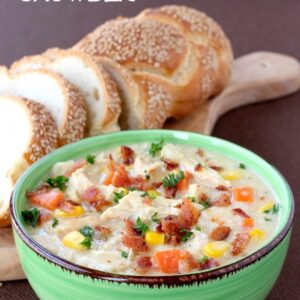 Lighter Chicken Corn Chowder
Scale
Ingredients
2

T. olive oil

1 1/2

c. diced onion

4

cloves garlic, chopped fine

1/2

c. diced carrots

1/2

c. diced bell peppers

1/2

c. diced celery

4

c. diced cauliflower (about

one

small head)

1 1/2

t. salt

1

t. black pepper

1/4

c. flour

1

12 oz. can of light beer

1 1/2

c. chicken broth

3

c. 1 or

2

% milk

1/2

c. heavy cream

1 1/2

c. frozen corn

3/4

lb. chicken breasts, cooked and shredded (about

2 cups

)

6

slices of cooked bacon, chopped

1/4

c. chopped parsley
Instructions
Heat a large pot with the oil over medium heat.
Add the onions and garlic, stir and cook for 5 minutes.
Next goes in the carrots, peppers, celery, cauliflower, salt and pepper. Stir and cook for another 5 minutes.
Add the flour to the vegetables evenly and stir for 3 minutes until the flour starts to brown a little.
Pour in the beer and stir well to get all the flour of the bottom of the pot and let come to a boil.
Add in the chicken broth, milk and cream.
Stir together and then let the chowder come to a boil again.
Turn the heat down to simmer and let cook for 15 minutes.
After the chowder has cooked down and thickened, stir in the shredded chicken and frozen corn, give it 5 minutes and spoon out into bowls.
Top with the chopped parsley and bacon.
Recipe Notes
If you don't want to use a beer, just add in 3 cups total of chicken broth.