Easy Cheesy Garlic Bread has tons of mozzarella cheese and TONS of buttery, garlic flavor! This homemade garlic bread only takes minutes to make!
Serve this garlic bread recipe with our Grandma's Sunday Meatballs and Sauce, or any pasta dish like our favorite Beef Lasagna will work! But don't forget others dinners like Beefy Tomato Soup or a classic Chicken Marsala! Also check out our Classic Garlic Bread Recipe too…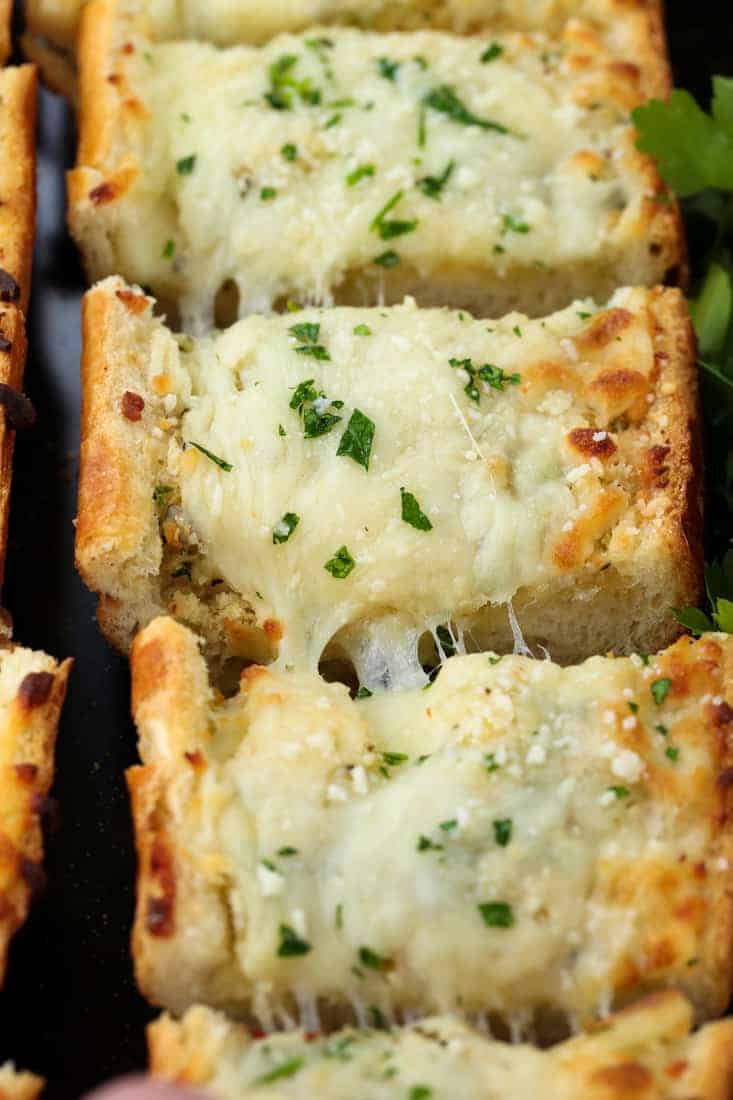 Why We Love This Cheesy Garlic Bread Recipe
I mean there's not much to NOT love here. This garlic bread recipe has the PERFECT amount of butter and garlic. And I mean perfect. That's actually tricky to do…
Some garlic bread has way too much – and I do love me some garlic. And some garlic bread shouldn't even be called garlic bread because you can hardly taste the garlic at all.
Now, when I say perfect amount I mean that we tested this recipe several times to get it right. Just enough butter to soak into the bread but not too much that it's saturated with butter.
If that's your thing then maybe add some more butter to this recipe but butter soaked bread isn't what I call yummy. Then we top that perfectly slathered bread off with a good amount of mozzarella cheese and bake it until the bread is super crispy and the cheese on top is melted and dripping off the sides…
That's what I call perfection right there.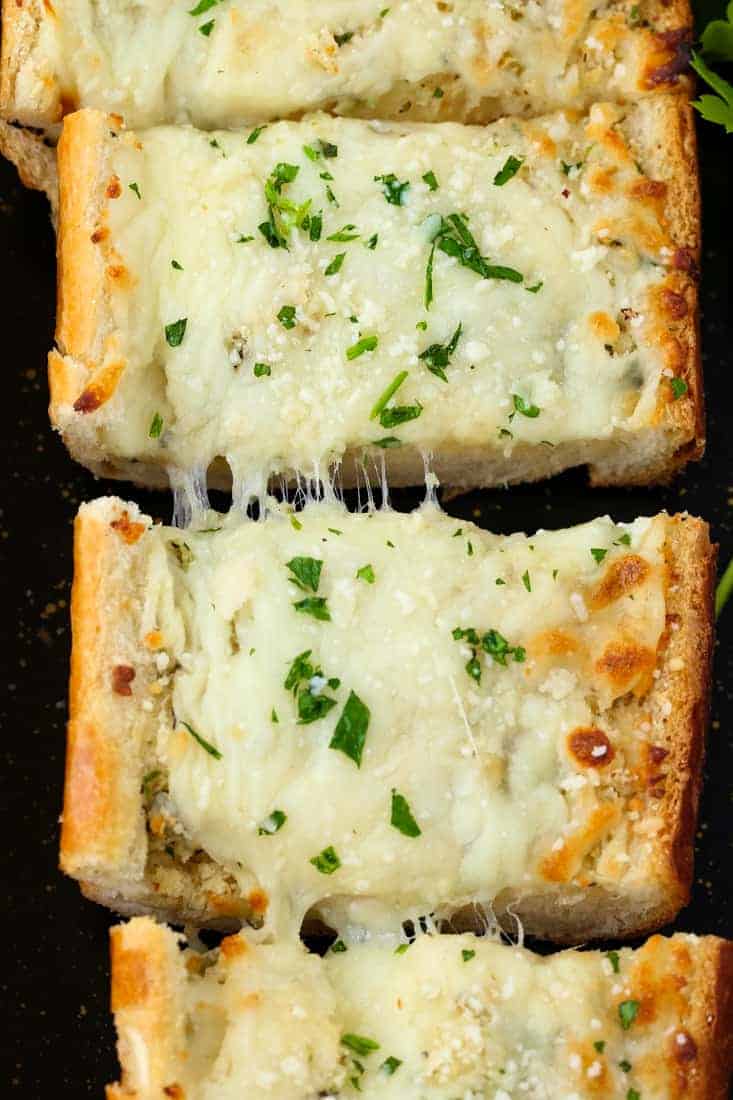 Crispy Garlic Bread Versus Soft Garlic Bread
What if you don't like your garlic bread super crispy? Well then move along, friends because you are wrong. The way we make this Easy Cheesy Garlic Bread you get the best of both worlds. Crispy on the edges but still soft in the center…
I'm telling you it's is the PERFECT garlic bread recipe.
BUT say, for instance, super crispy isn't your thing. Just wrap the garlic bread in foil for the first part of this recipe, then open it up, add the cheese and bake or broil until the cheese is melted.
So you really don't have to move along…I have options for everyone.
Ingredients To Make This Cheesy Garlic Bread
Just a few simple ingredients are all you need to get started!
Garlic: When you're making a recipe like garlic bread where garlic is the main ingredient, you want it to be the best quality it can be. So skip the jarred, pre-chopped garlic and use fresh garlic instead. If chopping garlic makes you crazy you can use a garlic press instead!
Italian Bread: We like a big, soft Italian loaf of bread for making our garlic bread recipe. You can use whatever loaf you have on hand or you find at the store, but Italian bread makes the perfect, crispy on the outside soft on the inside garlic bread!
Mozzarella Cheese: And lots of it, please. You can use part skim or whole milk cheese here, both will work. If you like a sharper cheese flavor you can mix in a little provolone cheese too!
Parmesan Cheese: Again, we like to use a good quality, nutty parmesan cheese in our recipes. Not the pre-grated stuff in the can. You're just not going to get the best flavor punch from using that kind of cheese.
Butter: Make sure you plan ahead and let the butter come to room temperature so it's soft and spreadable.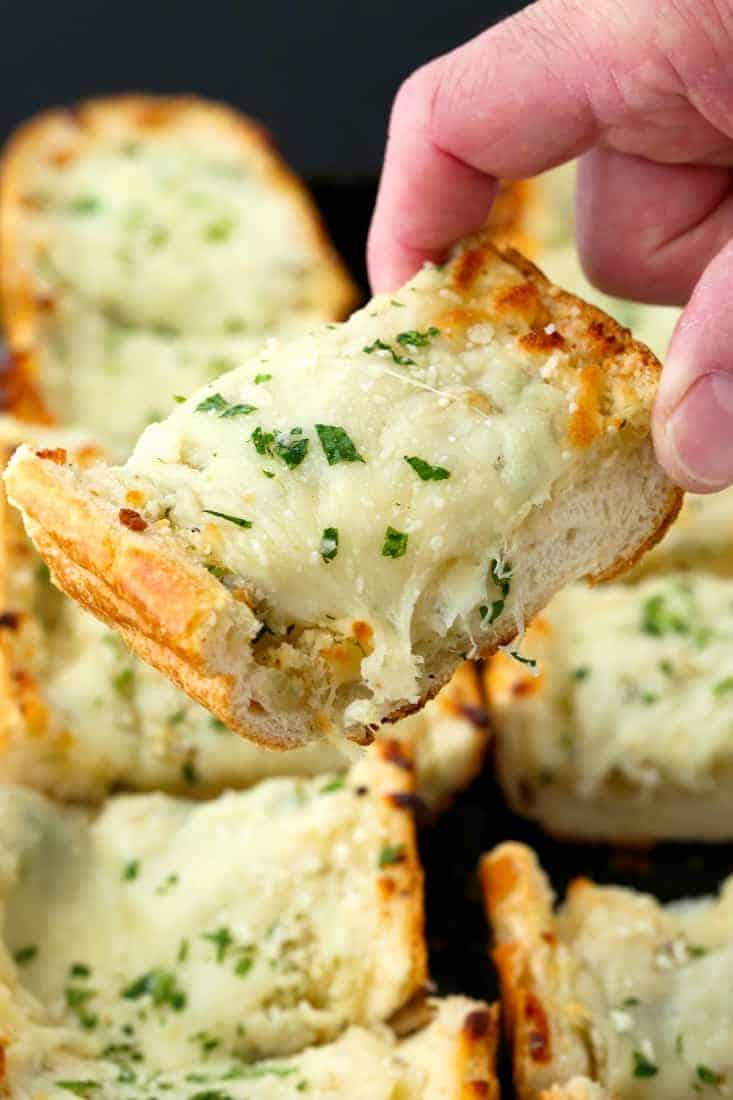 What Kind Of Bread Do You Use To Make Garlic Bread?
There are a few different choices and they mostly come down to your preference and taste.
We used a soft (large) Italian bread for this cheesy garlic bread. You can see in the picture above that it's a pretty normal size thickness, if not leaning towards the thicker side of a baguette.
If you like a thinner garlic bread then you can try using a ciabatta loaf or a smaller french baguette. Basically you need to find a loaf that looks good to you, because any bread that you use it going to still turn out insanely good.
Can You Freeze Garlic Bread?
So glad you asked because yes because yes, you can.
Homemade garlic bread is so easy to make, you probably won't have a ton of need to make it ahead of time but if you're having a big party of a huge family dinner, it's one less thing you have to worry about.
Or if you maybe went a tad garlic bread crazy and have a lot leftover? Yeah. we run into this problem a lot. Our eyes are always bigger than our stomachs.
What you can do if take the leftover, cooled garlic bread and freeze it. Yep, wrap it in foil first by putting the two halves back together (cheese side to cheese side) then place it into a freezer bag.
When it's time to reheat, take the garlic bread out of the freezer to thaw completely.
Remove from the freezer bag and place the foil wrapped bread into the oven at 350 for 20 minutes. Now, we ate it just like that, but after the 20 minutes you can open the bread up and place it under the broiler for a minute or two also.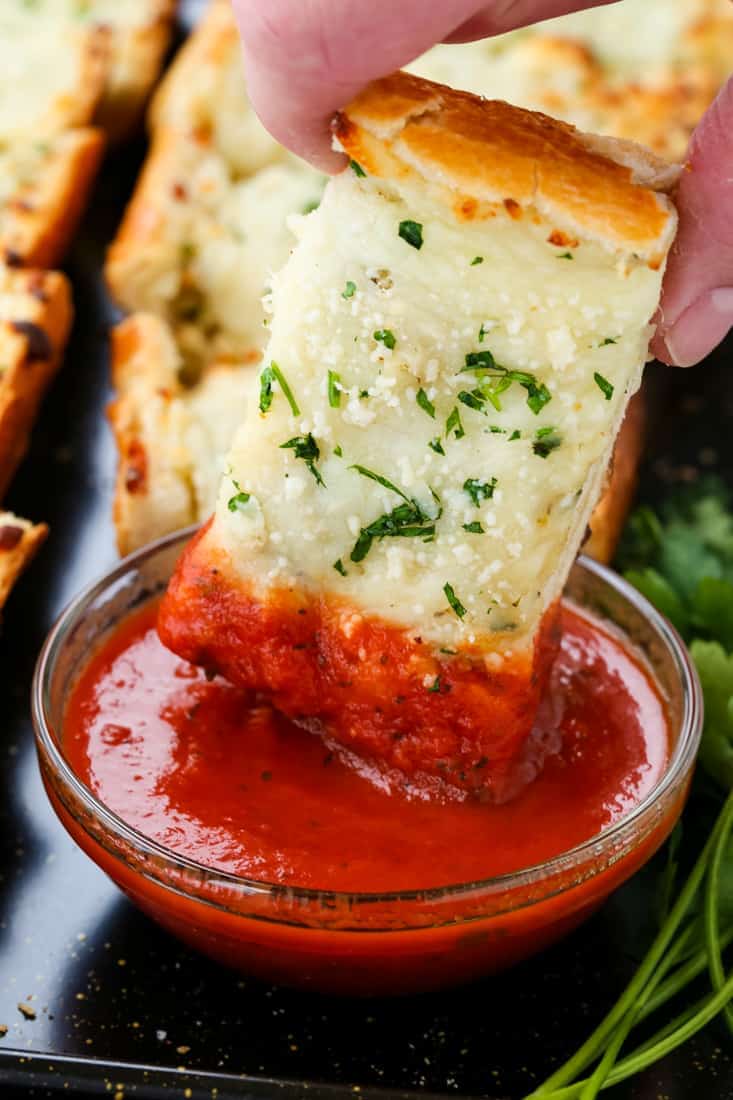 Perfect for saving leftovers and an awesome way to make this garlic bread ahead of time so it's one less thing you need to do at dinner!
Just in case you need more options, this Easy Cheesy Garlic Bread isn't just a side dish! We like to serve this recipe as an appetizer with marinara sauce for dipping! I'm telling you, it's a crowd favorite with both kids and adults!
Dinner Recipes That Go With Garlic Bread:
Some we've already listed at the top of the page, but there's SO many dinner recipes that work with garlic bread. Almost too many to list here but we'll give you a few ideas to start!
Print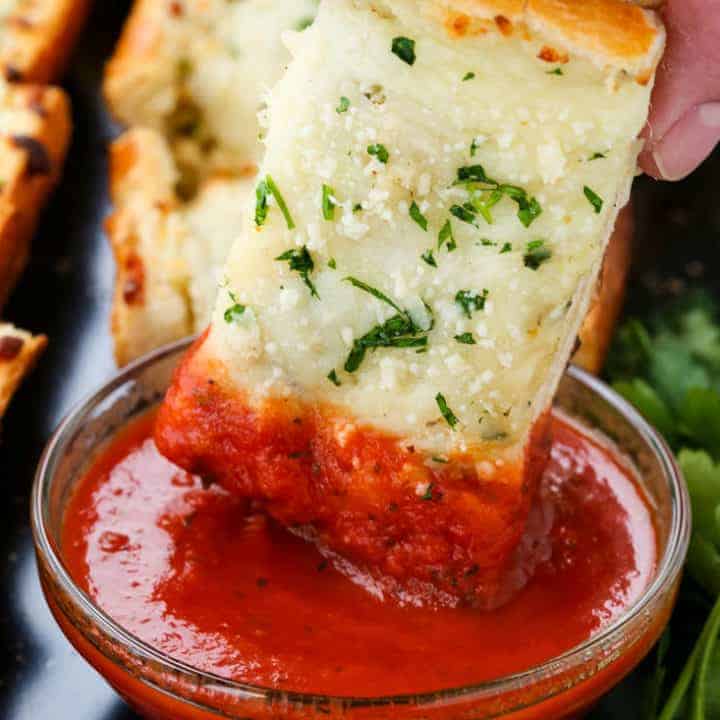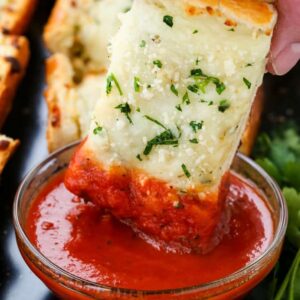 Easy Cheesy Garlic Bread
Author:

Prep Time:

5 minutes

Cook Time:

25 minutes

Total Time:

30 minutes

Yield:

8

servings

1

x
This cheesy garlic bread recipe is so easy to make – AND it's perfect for appetizers or a side dish!
Scale
Ingredients
1

large (1 pound loaf) of Italian bread, sliced in half lengthwise

2 cups

shredded mozzarella cheese

1

stick butter, softened to room temperature

1/2 teaspoon

kosher salt

Fresh cracked black pepper to taste

1/2 teaspoon

Italian seasoning

2 tablespoons

fresh garlic, chopped fine or minced through a garlic press

1 tablespoon

fresh parsley, chopped

marinara sauce for dipping (optional)

Chopped parsley for garnish (optional)
Instructions
Preheat the oven to 400 degrees.

Make the butter mixture by adding the butter, salt, pepper, Italian seasoning, garlic and parsley to a small bowl and mixing together.

Split the bread open lengthwise and place each half, cut side up, on a baking sheet.

Divide the butter between the halves, spreading the butter to cover the bread completely.

Bake the bread in the oven for 10 minutes, then remove the bread from the oven.

Top each half with the mozzarella cheese, then place back into the oven for 5-7 minutes until the cheese has completely melted.

Garnish with chopped parsley (optional)

Slice and serve with marinara sauce for dipping (optional)
Freezing the Garlic Bread:
Make the recipe and let the bread cool completely. Put the halves back together then wrap in foil and put into a freezer bag.

To reheat the bread from frozen, thaw the bread completely in the refrigerator. Place the bread into a 350 degrees preheated oven for 20-25 minutes until heated through. Open up the bread and serve as is or broil for an additional 2-3 minutes.
Recipe Notes
If you like a softer, less crispy garlic bread you can butter the bread then place the halves together and wrap with foil. Bake for 10 minutes, remove the bread from the oven and place the halves open on a baking sheet. Now add the cheese and return to the oven for another 5-7 minutes until the cheese is melted.
Category:

Side Dish/Appetizer

Method:

Oven

Cuisine:

American
Keywords: garlic bread, garlic bread recipe, cheesy bread, garlic bread with cheese, how to make garlic bread, homemade garlic bread recipe,