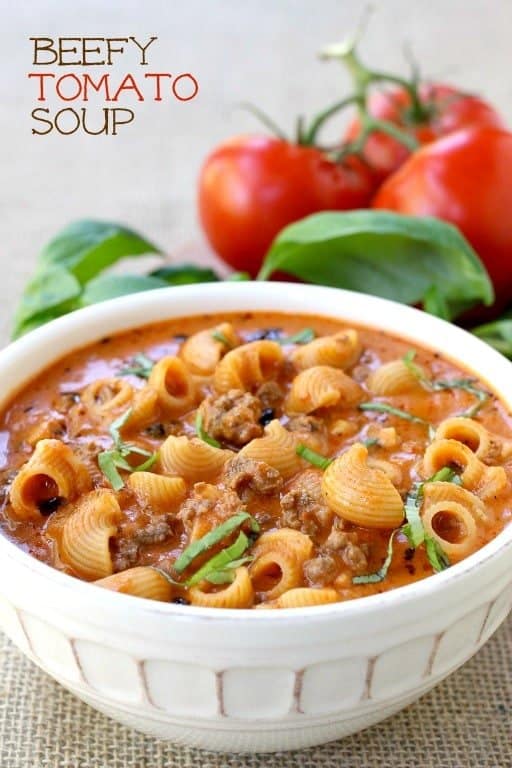 If you need a quick and comforting dinner that you're whole family is going to love, this Beefy Tomato Soup is what you're looking for!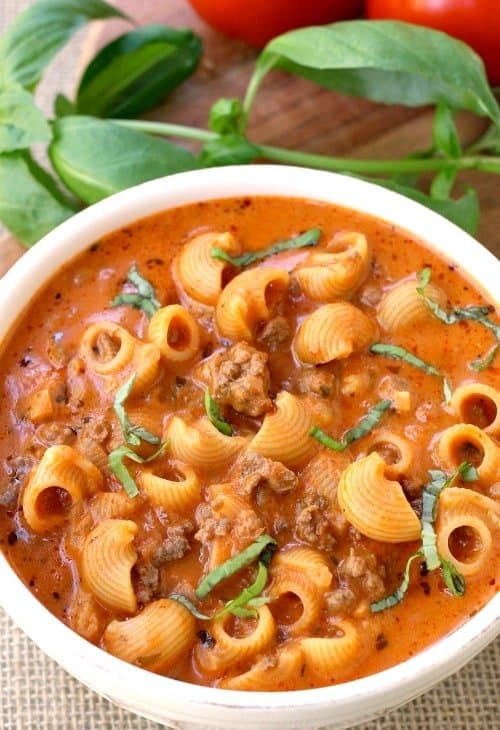 Soup is a regular meal in our house.
Seems like any time of year, we still make soup. From Homemade Turkey Soup in the winter to this Summer Grilled Chicken Soup during the warmer months.
It's an easy one-pot meal that you can make ahead of time and have waiting for you for dinner. Add a loaf of bread or crackers and dinner is done.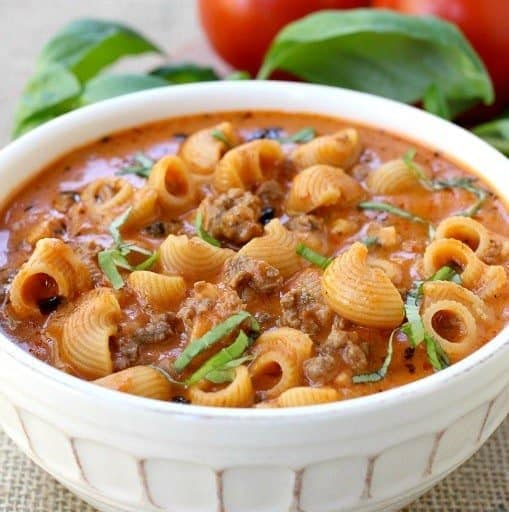 My little guy's favorite kind of soup is tomato soup with basil – add a half a loaf of buttered bread and he'll sit there all night. While I do love soup, I like some sort of meat in my soup – whatever it is – chicken, turkey, sausage or beef.
So in comes this Beefy Tomato Soup recipe…
Because I like to try and use what we have in the house, I opened the freezer, the fridge and all the cabinets to take stock.
I grabbed some ground beef from the freezer, cream cheese from the fridge, onions, basil and garlic from the cabinets and got to work.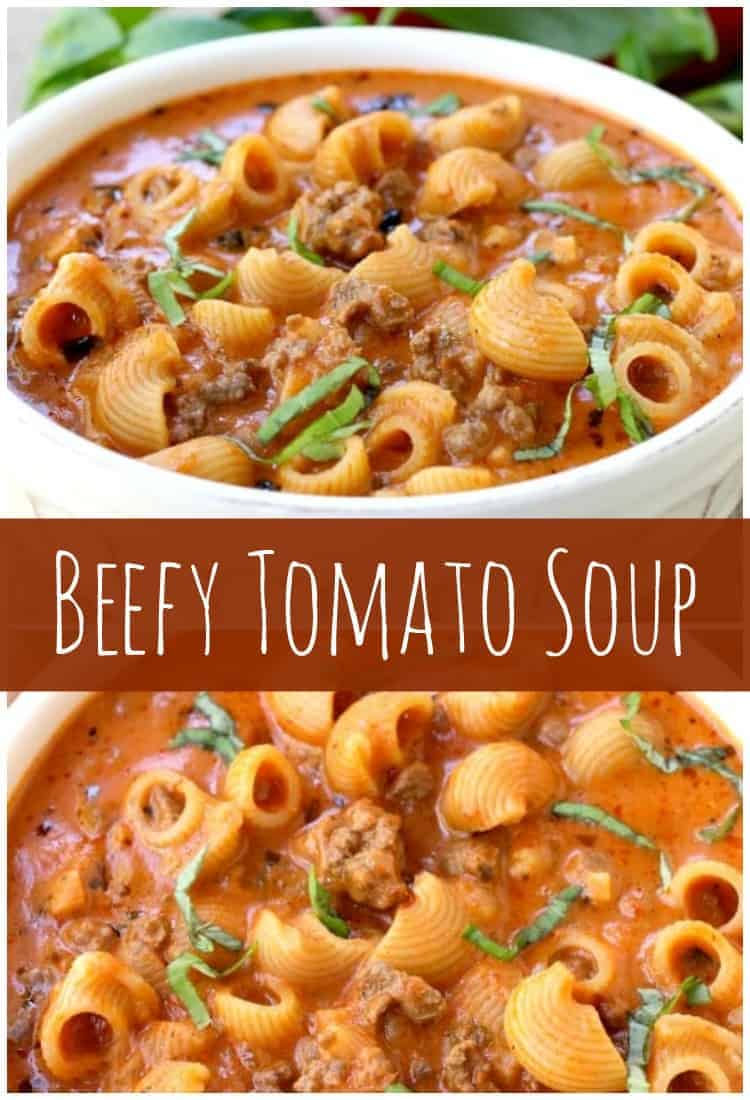 Usually, we use crushed tomatoes to make tomato soup but this time we were out. It's one of those things you always think you have…until you don't.
So as a result, I grabbed a jar of pasta sauce from the shelf.
This recipe is just one of the ways I like to use spaghetti sauce in recipes as a short cut and a boost of flavor. And probably one of my favorite ways, too.
Maybe it was a good thing that we were out because this soup is now on the regular dinner rotation at our house!
Even more so than how good it tastes, it's super easy. Just start the soup by browning the beef with the onions and garlic.
Add in a few seasonings and then the chicken stock and a whole jar of spaghetti sauce, whatever kind you like. Another reason we love this soup is that we always seem to have everything we need now to make it!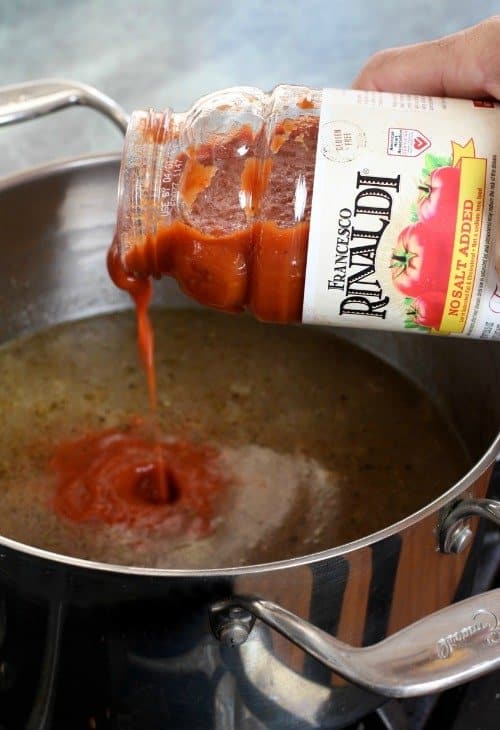 Give it a stir and let it simmer for 10 minutes, not a full boil, just a simmer.
Stir in cream cheese to make it nice and thick, add some fresh basil and finally – pour in the pasta. The soup will thicken up as a result of the pasta cooking in it.
If you like this Beefy Tomato Soup more "brothy" then cook the pasta separately and add it in the each bowl as you serve.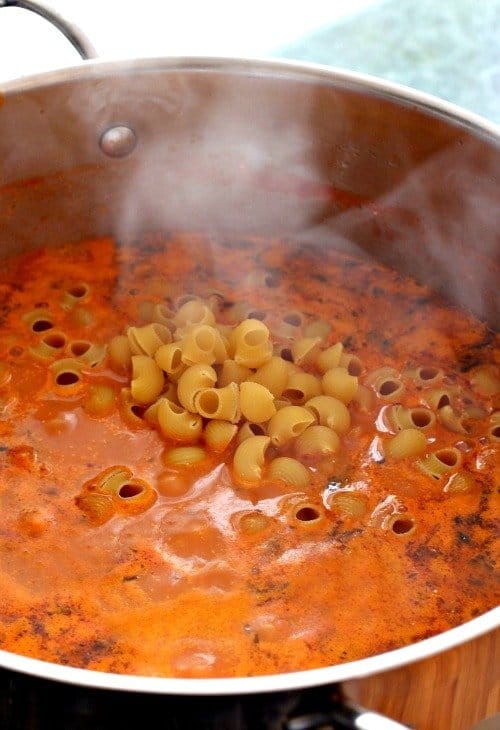 Finally, put the lid on a let the soup cook for another 10 minutes until the pasta is tender and dinner is served. Almost, that is…
Because bread and soup is not optional. You can't forget the big loaf of bread and lots of butter for dipping.
Maybe next time we make this soup we'll try crackers instead. Just maybe. But there has to be some sort of carb going on the side.
This soup has become a fan favorite since we posted it way back in 2015! It seems like it's a hit with everyone who tries it, let us know if it's a favorite of yours too!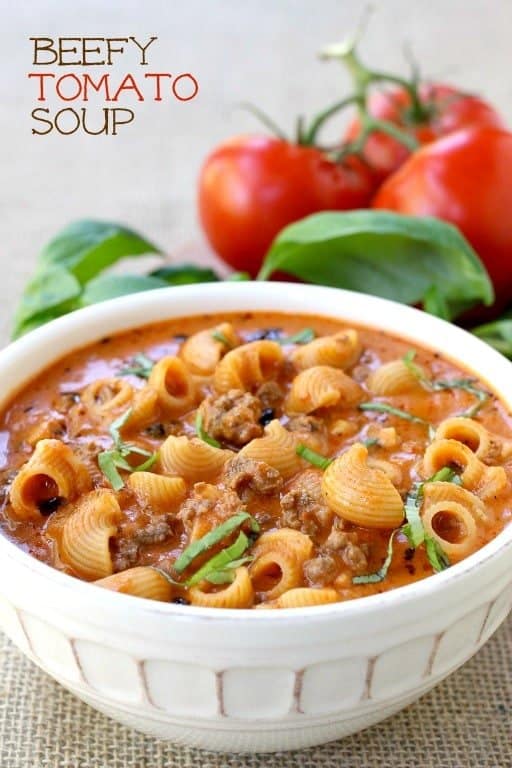 Try this Beefy Tomato Soup tonight because it will become a favorite at your house too!
Print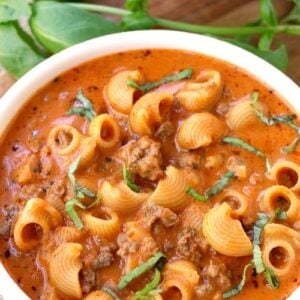 Beefy Tomato Soup
Author:

Prep Time:

15 minutes

Cook Time:

20

Total Time:

35 minutes

Yield:

6 servings

Category:

soup
---
---
Ingredients
3/4 lb. ground beef
2 tablespoons olive oil
1 onion, chopped
3 cloves of garlic, minced
2 teaspoons salt
1/4 teaspoon ground black pepper
1 teaspoon oregano
1 (23.5) oz jar of spaghetti sauce
4 cups of chicken stock
1/2 cup of cream cheese, at room temperature
1 1/2 cups elbow macaroni or short-tubed pasta
1/4 cup fresh chopped basil, divided
---
Instructions
In a large pot heat the olive oil over medium heat.
Add the onion and garlic to the pot and cook for 3-4 minutes, stirring, until the onion softens.
Add the ground beef to the onions, breaking up with a spoon and cook until no longer pink.
Next add the salt, pepper and oregano to the beef and stir to combine.
Now pour in the chicken stock and the pasta sauce, stir and bring to a simmer for 10 minutes.
Whisk in the cream cheese until smooth then add 1/2 of the fresh basil.
Pour in the pasta, stir and let cook for 10 minutes, covered, stirring halfway through cooking.
Spoon into bowls and garnish with the leftover basil.
---
Notes
Your favorite spaghetti sauce can be substituted, or even a can of crushed tomatoes with a little more seasoning works!
*NOTE – A few of our readers have commented that the noodles soak up all the broth when you reheat the next day…Now some readers (including me) love this about this soup and some don't. If you want the soup for leftovers with more broth, cook the pasta separately and then add it to each bowl as you heat it up!

*This post contains affiliate links which may minimally support our site at no extra cost to you.