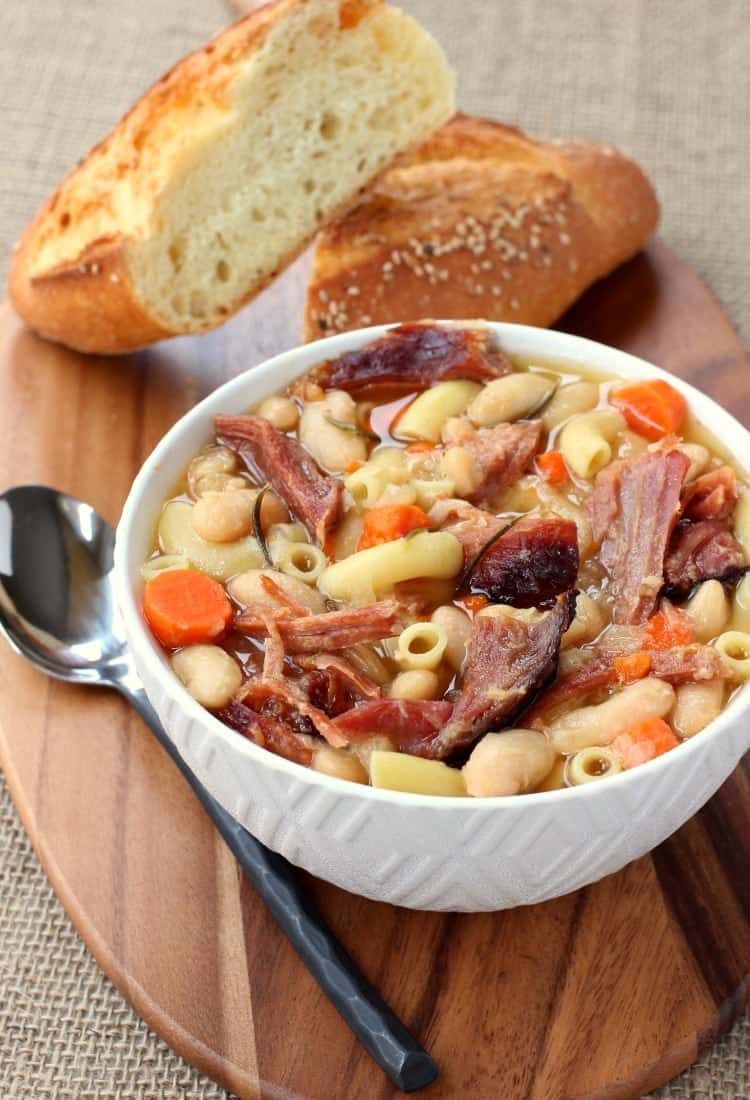 Slow Cooker Pasta Fagioli
Slow Cooker Pasta Fagioli is one of my favorite comfort food dinners! Never throw away that leftover ham bone – make soup!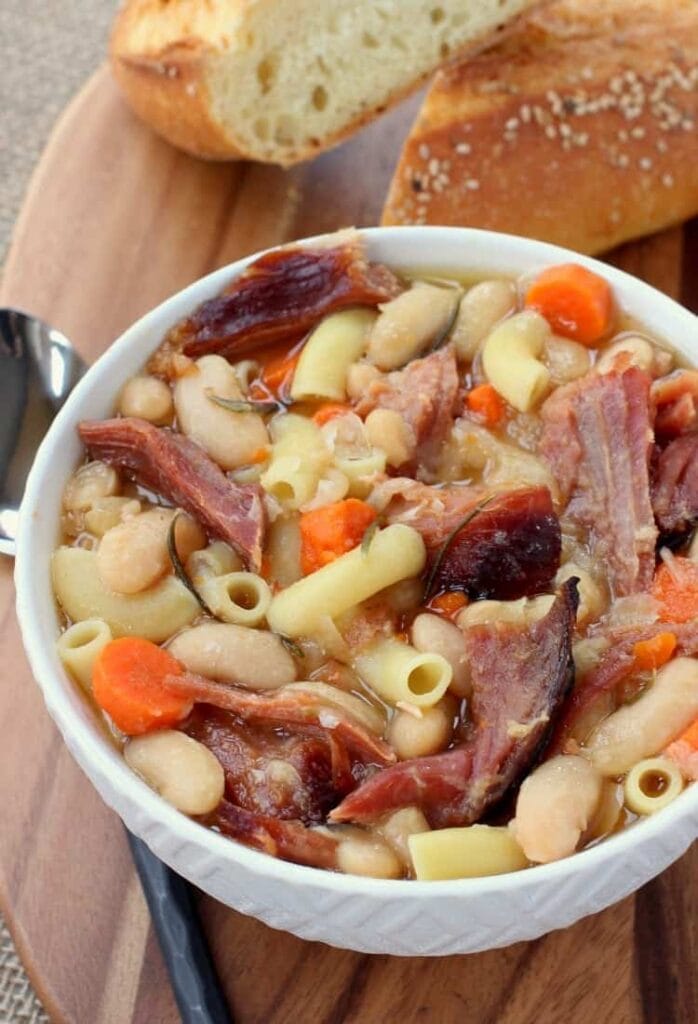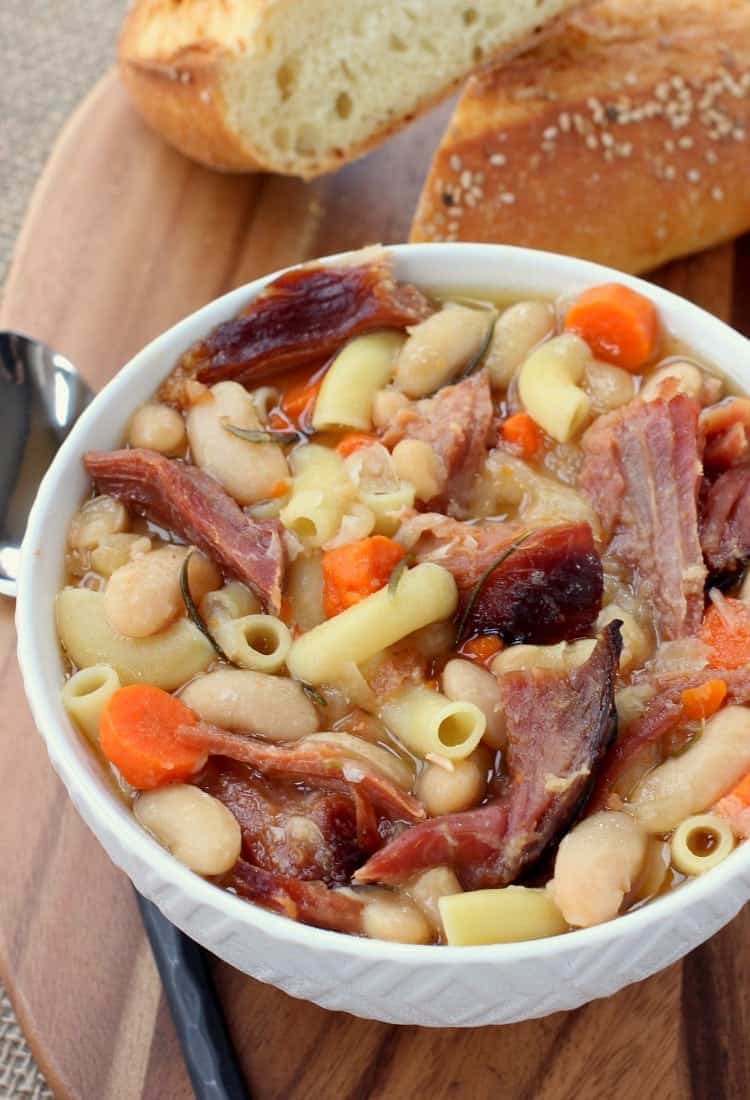 So my mom always makes ham for the holidays. Except for Thanksgiving, that one is turkey, but most other holidays – it's ham. Which makes my boys really happy because it's one of their favorite things to eat.
I've mentioned before that Christie and I go prepared to my mom's for Thanksgiving with our own large stock pot in hand…because we steal her turkey bones after dinner and bring them home to make Homemade Turkey Soup.
You can officially call yourself a foodie when you start to steal your family members leftover turkey carcass. Can't deal with that going to waste – for one it's an awesome dinner. For two it feeds my family for days, and with two growing boys (one who is bigger than me) I'm not letting a few days of food go to waste.
Call me crazy. Lots of people do anyway.
Don't be afraid to try homemade soups either, it's so easy it's stupid. You really just have to get everything in a pot or slow cooker, add your vegetables and herbs and cover it with water. Done.
The key is to only cover just to the top of your ingredients. Don't fill the water up above the ingredients because you're broth won't come out full of flavor.
For this Slow Cooker Pasta Fagioli Soup, cut the onions just in half or in quarters and the celery into 4 big pieces each. You're going to pick out the onions and celery when the soup is done so you don't want to be fishing around for them.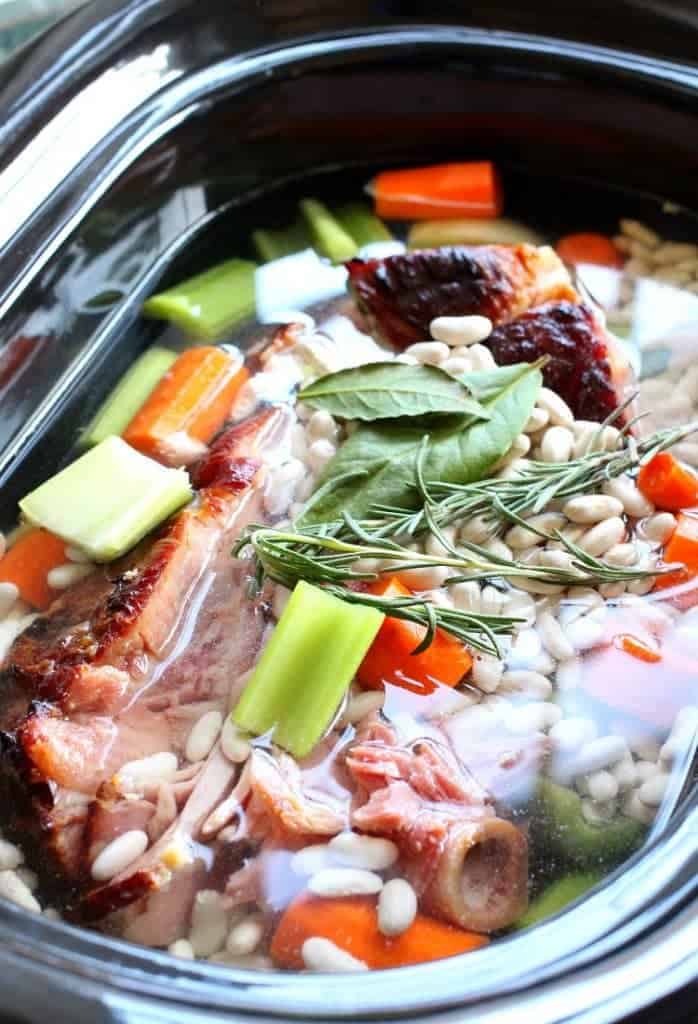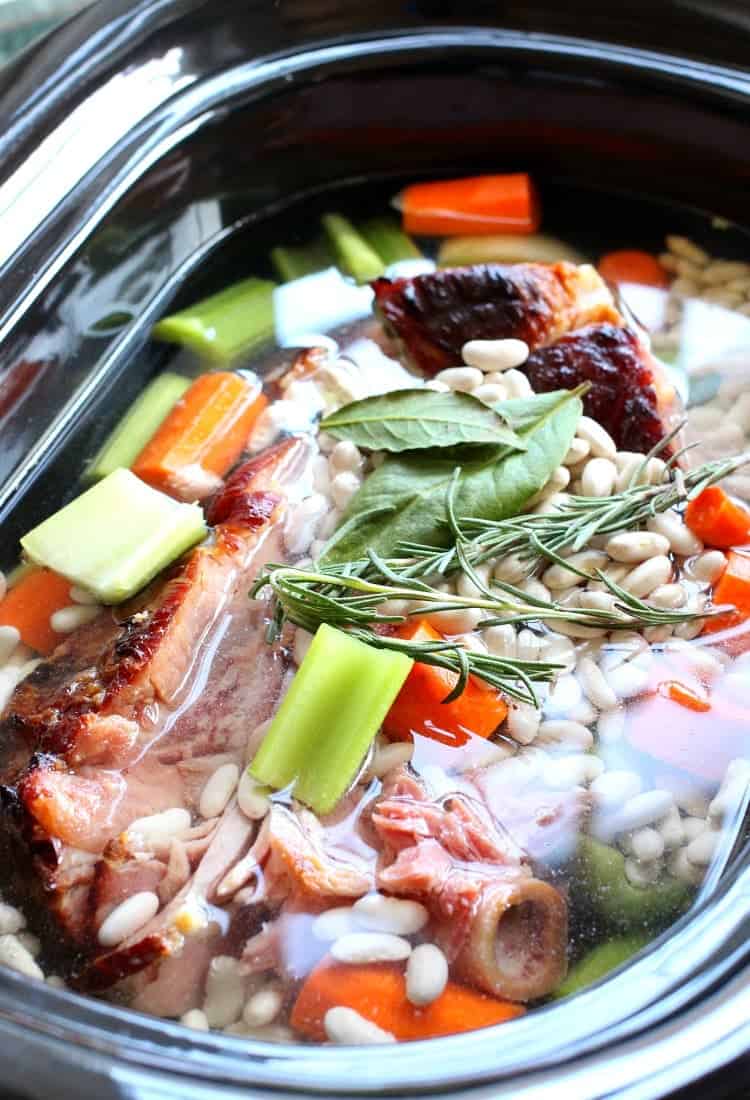 Unless your my little guy who hovers around me during this part and eats the scraps like crazy. Celery slow cooked for 8 hours…who knew that would be so tasty to him?
So – get rid of the celery and onions after you strain the soup into another stock pot, pick the ham off the ham bone and add it to the broth.
Some of the beans will stay whole after the 8 hours and some will just fall apart. We want some of those mushy beans though, that's what thickens up the soup with crazy good flavor.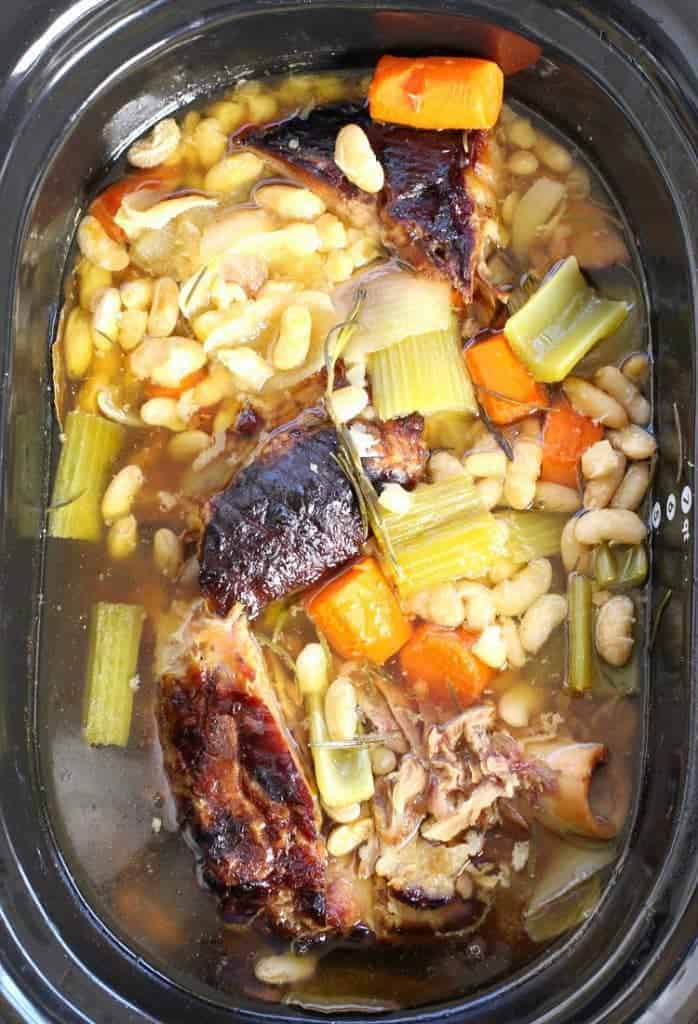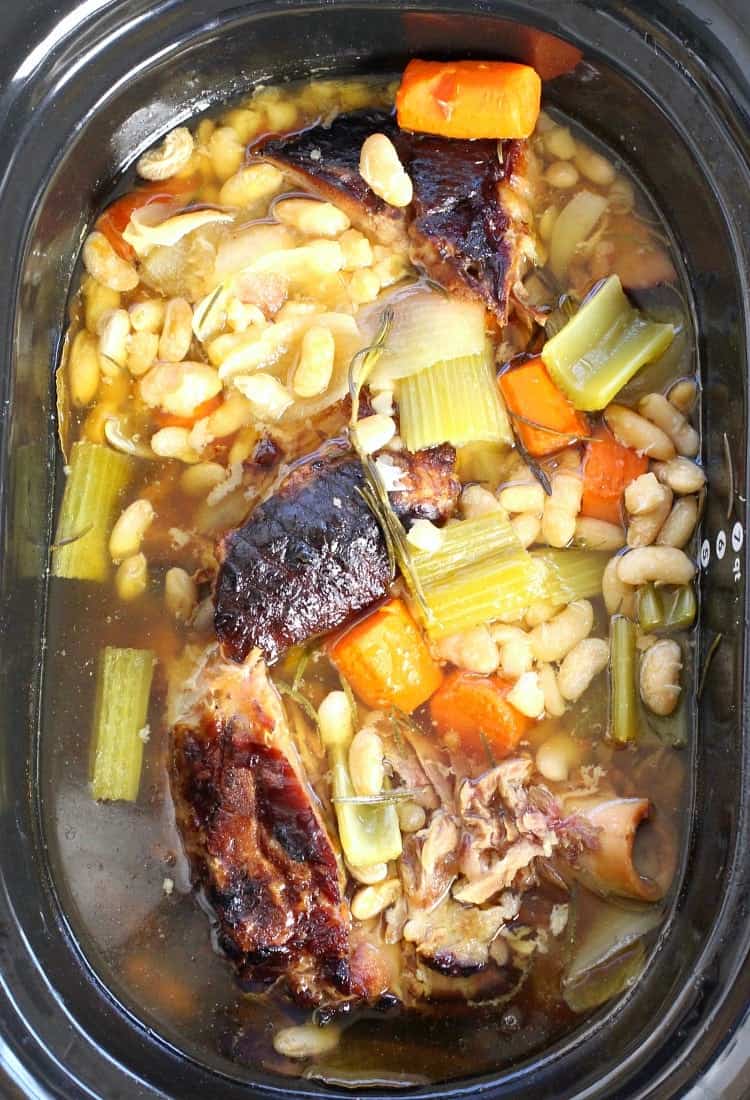 All you need is a big loaf of bread (with lots of butter) and a big bowl of this Slow Cooker Pasta Fagioli soup for an amazing comfort food dinner!
AND a relative to steal the ham bone from if you don't have your own.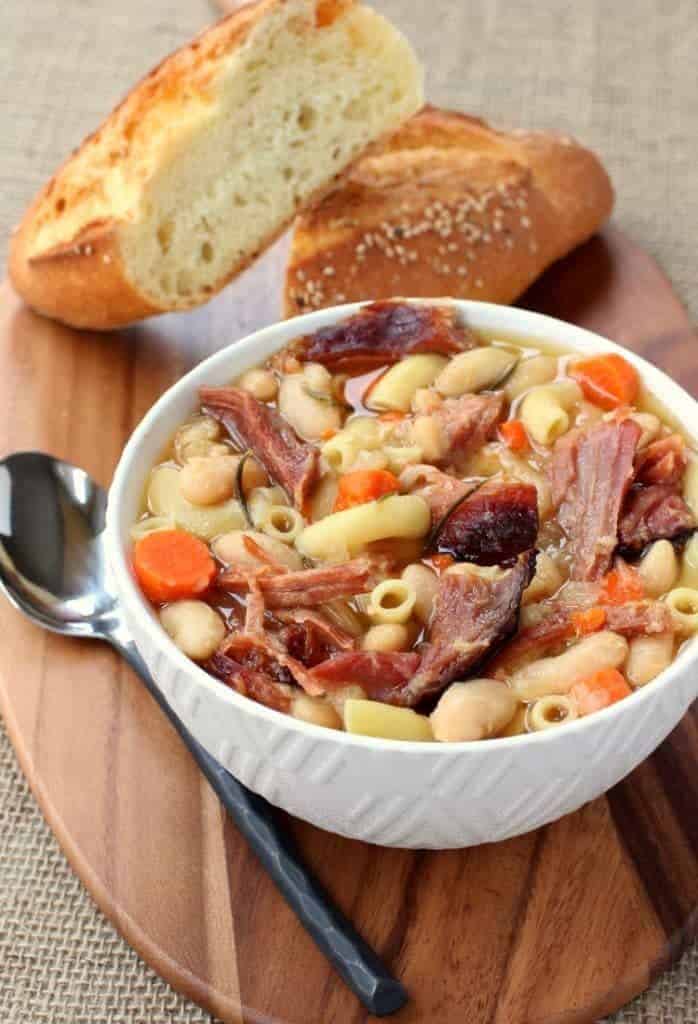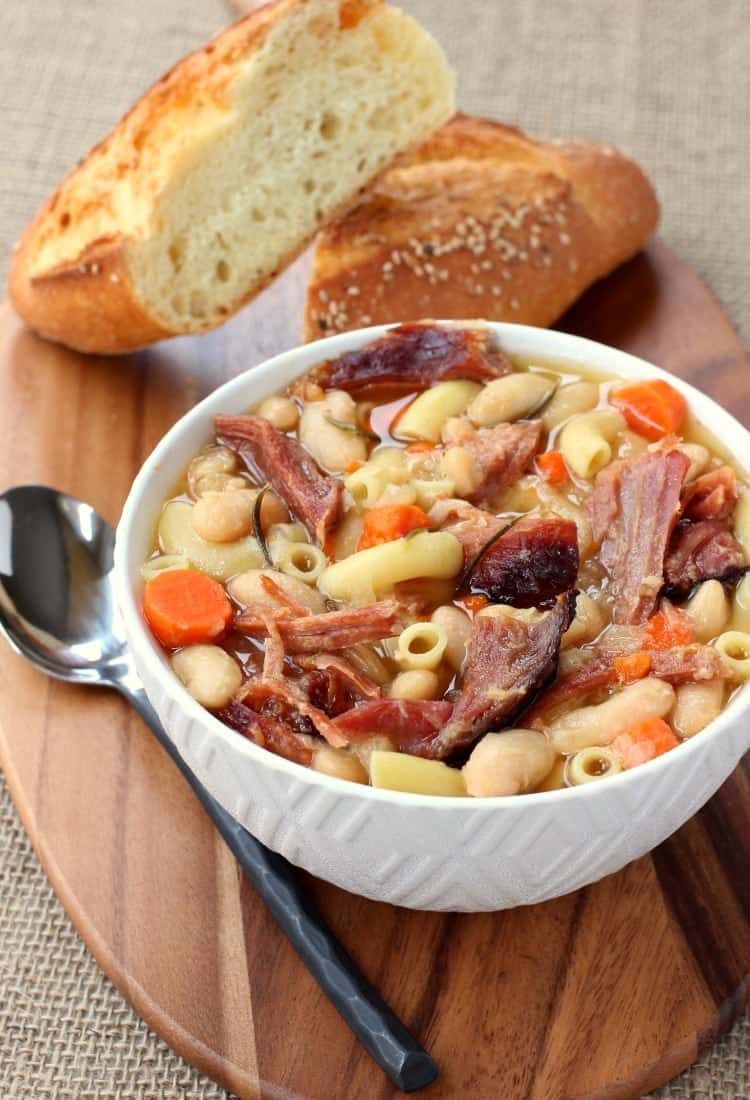 Print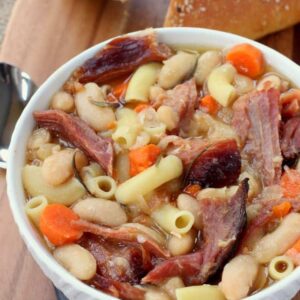 Slow Cooker Pasta Fagioli
Author:

Yield:

8
---
Ingredients
1 (4 lb.) ham bone, with extra ham
1 lb. bag dried white beans
3 carrots, peeled and cut
6 stalks celery, cut into 4 large pieces each
2 medium onions, peeled and cut into quarters
2 bay leaves
2 sprigs of fresh rosemary
1 tablespoon salt
8 cups water
3 cups cooked pasta
---
Instructions
Place all the ingredients except the pasta in a slow cooker and cook on low for 8 hours.
Place a colander over a large pot and strain the broth from the slow cooker.
Take out the ham bone, shred the meat (discarding the bone) then put the ham into to stock pot with the broth.
Pick through the vegetables and beans in the strainer to remove the large pieces of onion and celery, then add the rest of it to the broth with the ham. Don't worry about the beans that have smashed up, they will help to thicken the soup.
Taste the soup at this point and test for seasonings. If the flavor is too concentrated you can add up to 2 cups of water.
Add the cooked pasta to the soup and serve.