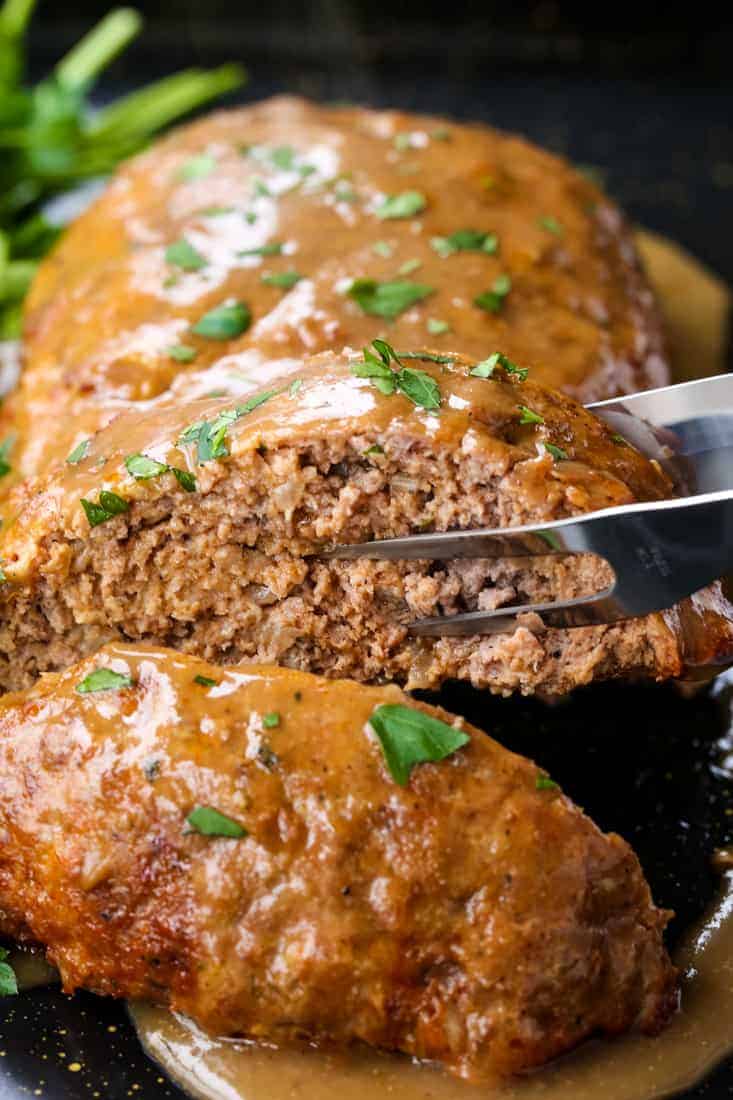 Brown Gravy Meatloaf Recipe
This Brown Gravy Meatloaf Recipe is the best meatloaf recipe ever! Every time we make this meatloaf it comes out perfect – and we make it a lot!
If you like meatloaf, you're going to love this meatloaf recipe! All you need is our simple Brown Gravy Recipe, a side of super crispy Shoestring French Fries or our favorite Mushroom Rice and dinner is served!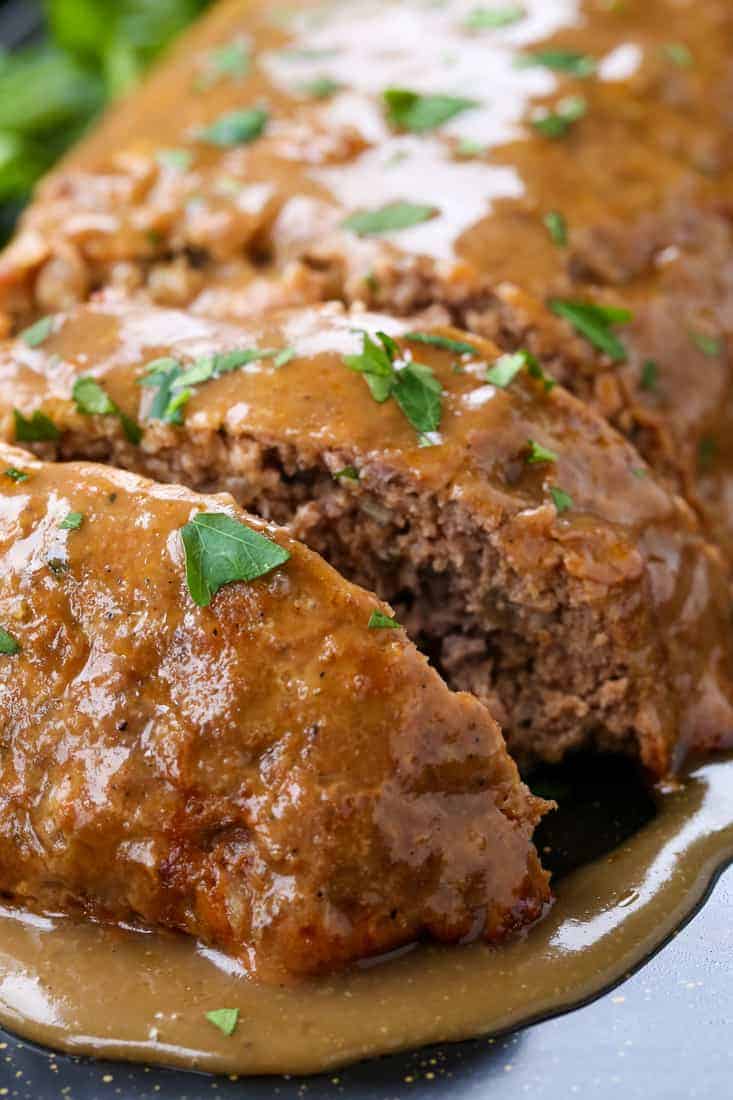 Meatloaf night is big at our house – we are a meatloaf loving family. This Brown Gravy Meatloaf recipe is one we make very often, too.
It's an easy meatloaf recipe covered with a homemade brown gravy that only takes minutes to make! it seems like you're either a meatloaf with brown gravy person or a classic meatloaf with tomato glaze person.
We're both.
Tips For Making The Best Meatloaf Recipe
Onions. Onions people. Onions are what makes a meatloaf recipe taste as good as it does.
Not undercooked crunchy onions, but tender, super sweet onions that practically melt into the meatloaf. SO make sure in the first part of this meatloaf recipe you take the time to really cook the onions down.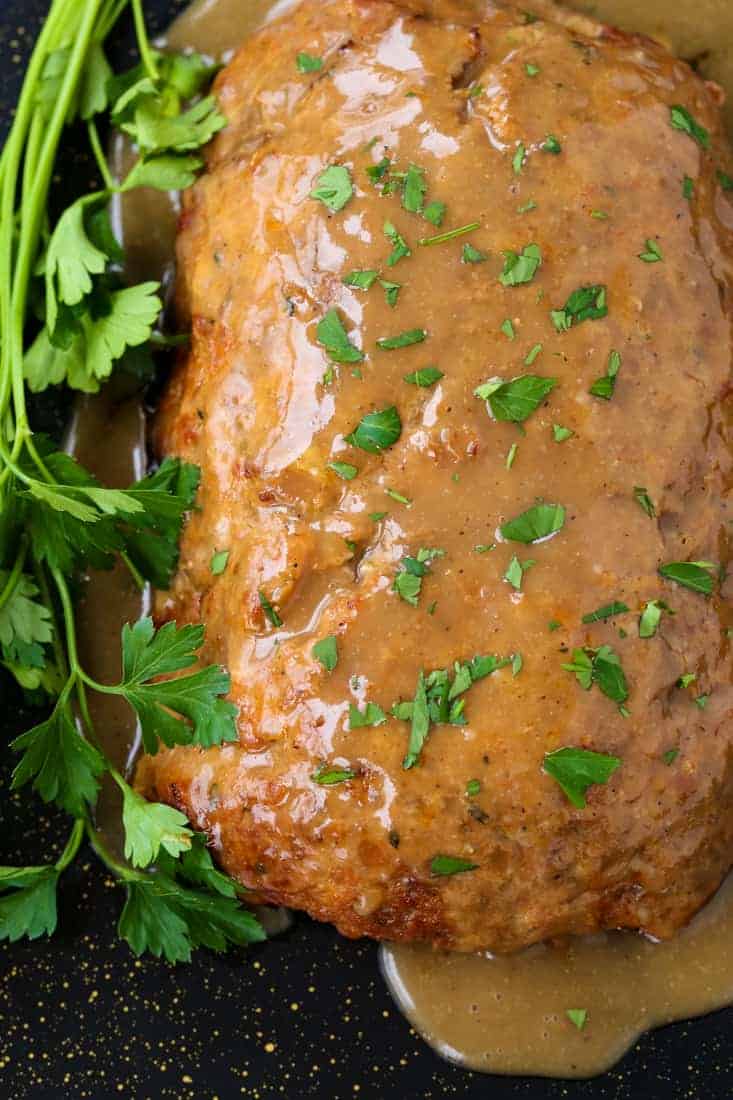 Also, to get a tender meatloaf you can't overwork the meat. So don't go mixing it like crazy for hours, just mix the meat well enough to get all your ingredients combined and walk away.
It's all going in the same spot anyway.
Lastly, you have to make sure that you season your meatloaf properly before you go through all the trouble of shaping it into that loaf and cooking it. Take a small ball of the meat after you've mixed it and fry it up really quick in a pan.
Taste it to make sure it's seasoned to your liking then move on to your loaf shaping.
Can You Make This Meatloaf Recipe Ahead Of Time?
You definitely can, and you've got a couple of options here.
You can make the meatloaf mixture and store it in the refrigerator until you're ready to bake, or you can make the meatloaf all the way through, let it cool and reheat later.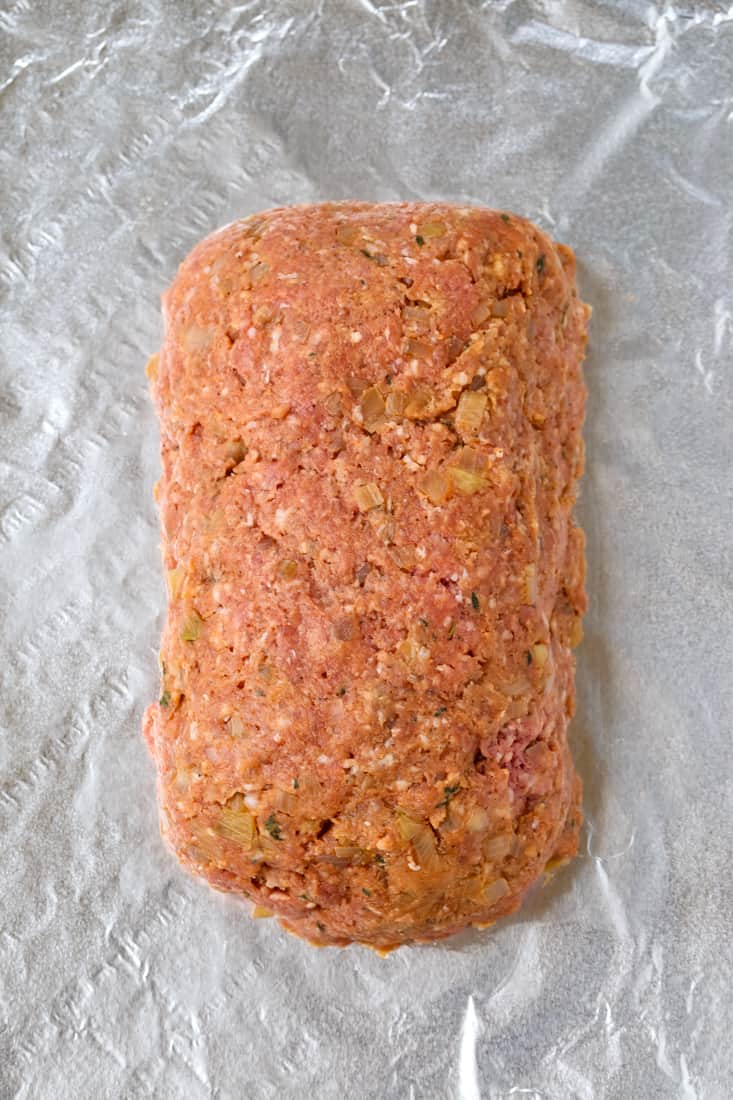 Either way works totally fine so pick your method.
This Brown Gravy Meatloaf Recipe is our adaptation of an old meatloaf recipe we used to make all the time from Ina Garten. It's a classic meatloaf recipe, kicked up with fresh thyme and lots of onions.
And let's be honest, Ina knows how to perfect everything so you know it's going to be good.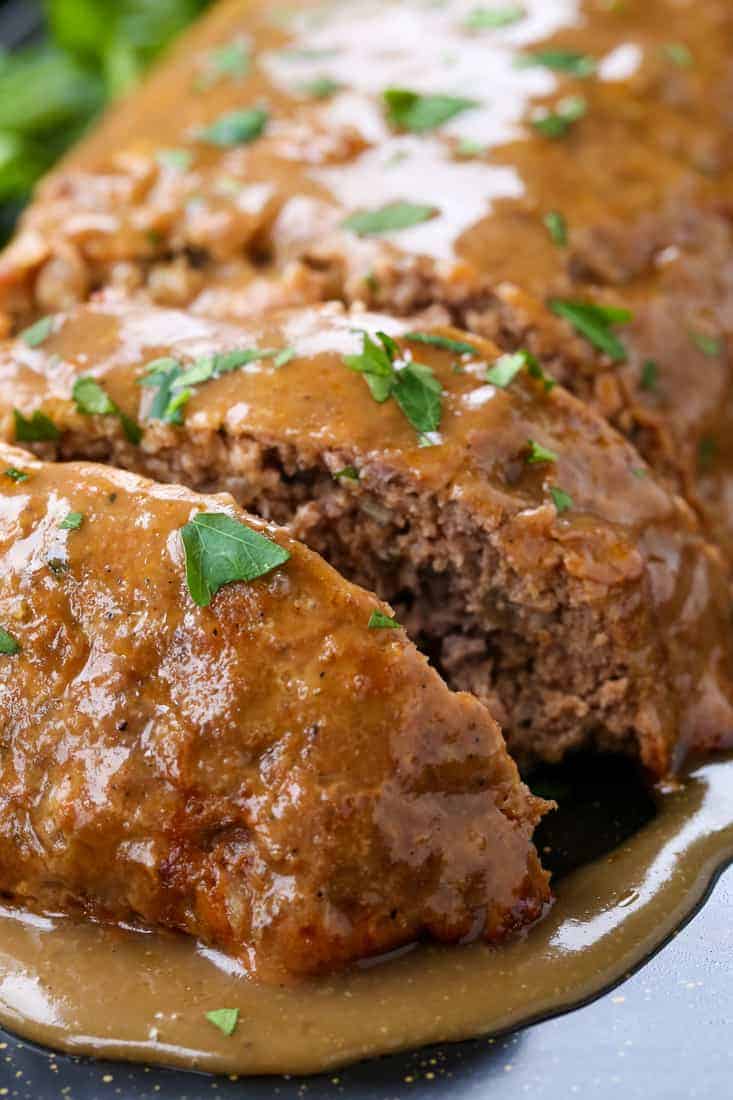 When this meatloaf comes out of the oven, you can pour the brown gravy all over the top and serve with extra gravy on the side.
Or just serve this meatloaf as is with all the brown gravy on the side. Either way it's going to be delicious.
Don't forget extra gravy for your big pile of french fries on the side!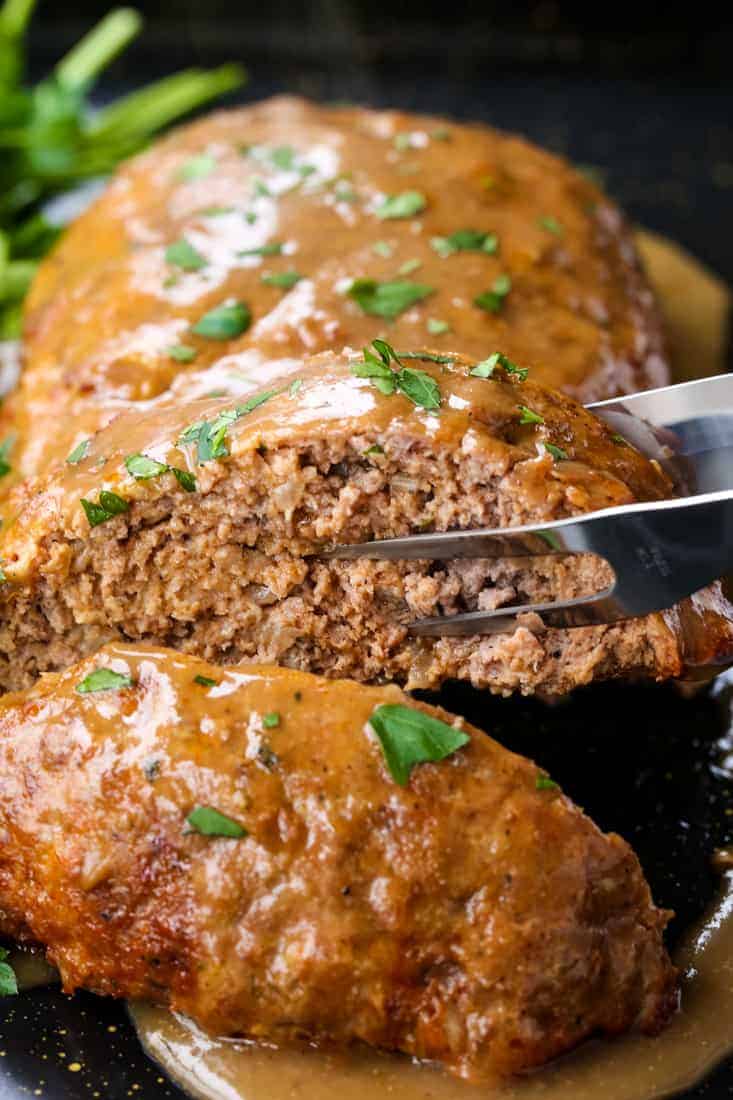 Looking For More Meatloaf Recipes?
• Tasty AF Turkey Meatloaf with Bacon
• Chicken Cordon Blue Meatloaf
Print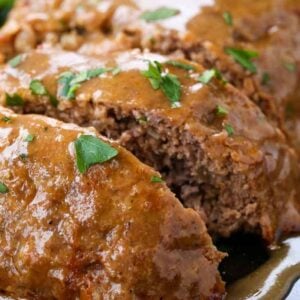 Brown Gravy Meatloaf Recipe
Author:

Prep Time:

20 minutes

Cook Time:

45 minutes

Total Time:

1 hour 5 minutes

Yield:

8

Category:

dinner

Method:

oven

Cuisine:

American
---
Description
This meatloaf recipe is such an easy dinner idea, you'll be making it all the time! Serve this meatloaf with our simple brown gravy recipe can be whipped up in just 5 minutes!
---
Ingredients
2 – 2 1/2  pounds meatloaf mix* (can also substitute all beef )
1 tablespoon olive oil
1 cup diced onions
1 teaspoon kosher salt
1/2 teaspoon black pepper
1 1/2 tablespoons chopped garlic
1 tablespoon fresh thyme, chopped
1 tablespoon tomato paste
1 tablespoon Worcestershire sauce
1/4 cup chicken broth
3/4 cup breadcrumbs
2 eggs, beaten
Brown Gravy Recipe (for serving)
---
Instructions
Preheat the oven to 350 degrees.
Add the oil to a skillet over medium heat.
Add the onions, salt and pepper and cook for 8-10 minutes until slightly browned and softened.
Add the garlic, stir and cook for a minute longer, then add the thyme, tomato paste and Worcestershire sauce.
Work the tomato paste into the onions and garlic, then pour in the chicken broth and stir. Let the chicken broth reduce for 3-4 minutes then turn the heat off and remove the skillet from the burner to cool.
To a large bowl, add the meatloaf mix along with the eggs and breadcrumbs. Once the onion mixture has cooled, add it to the bowl with the meat and mix to combine. (Clean hands work the best!)
Line a sheet pan with aluminum foil and spray with cooking spray. (You can also use a piece of parchment paper) Form the meat into a loaf shape and place in the oven.
Cook the meatloaf for 45-55 minutes. Check the meatloaf after 45 minutes to see if it's cooked through, this will depend on the size and shape you made your meatloaf.
While the meatloaf is in the oven you can make the brown gravy. When the meatloaf comes out of the oven you can pour the gravy over the top of the meatloaf or slice the meatloaf and serve the gravy on the side.
---
Notes
Meatloaf mix is a ground meat combination of beef, pork and veal which is sold in most grocery stores.
Keywords: meatloaf recipe, meatloaf, brown gravy meatloaf, easy dinner ideas, dinner recipes, ground beef recipes