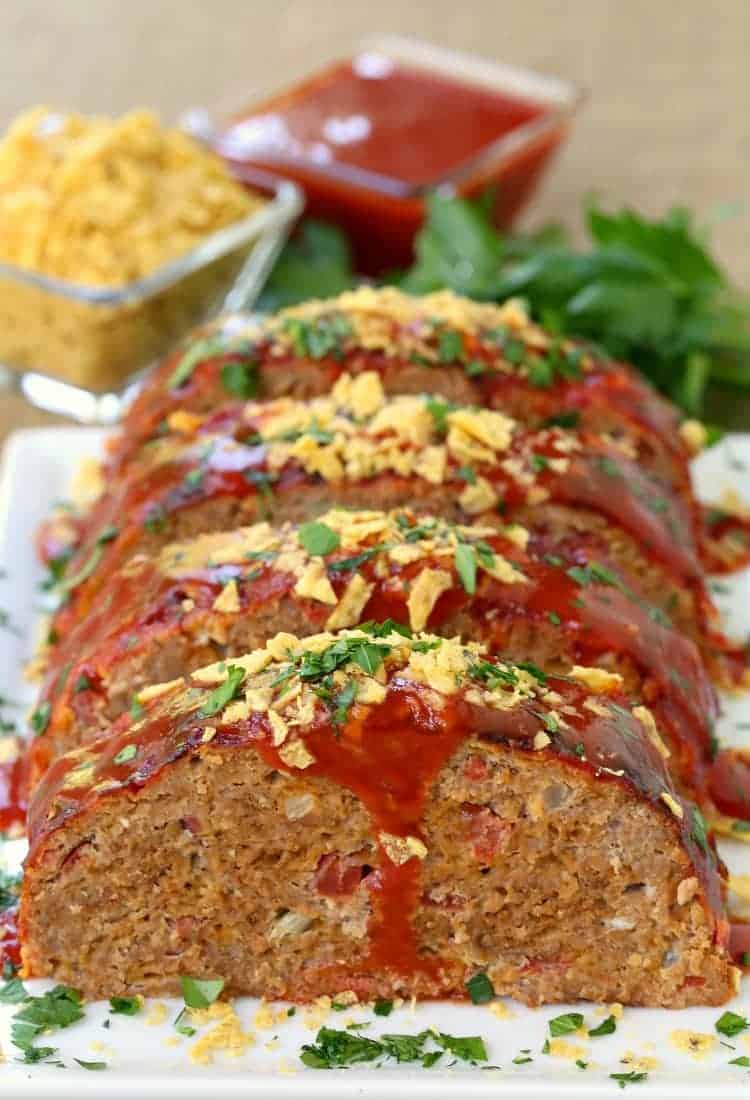 Now enter this seriously tasty Turkey Taco Meatloaf for dinner…I guarantee there won't be an empty plate at the dinner table tonight!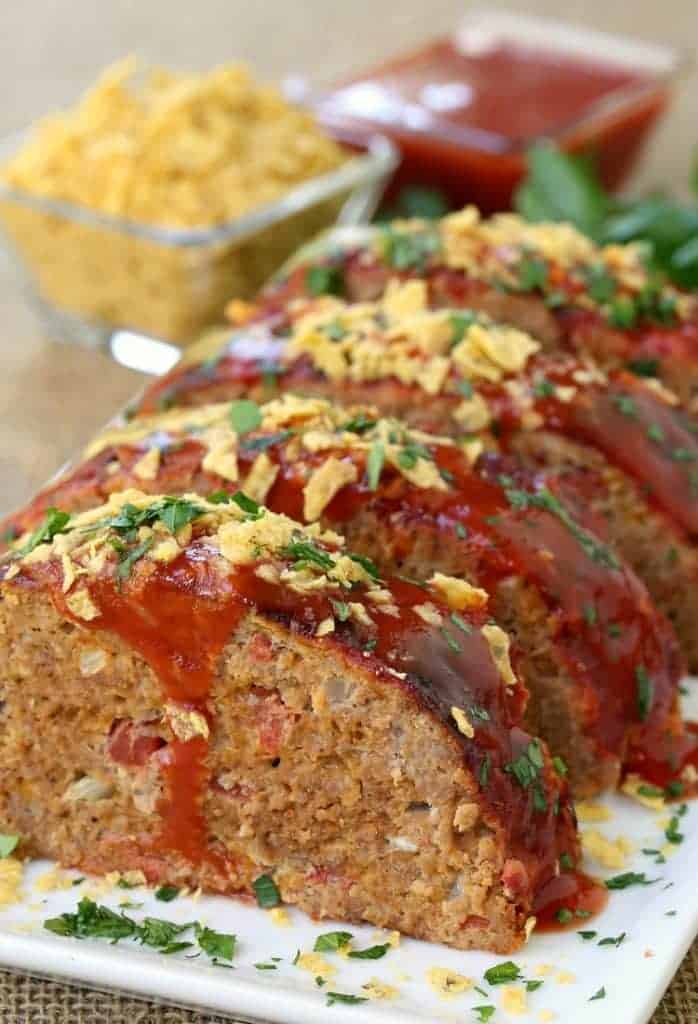 What's the deal that we're all so obsessed with tacos? Like is there some sort of food type or dinner that other countries are obsessed about with our cuisine? Burgers and fries maybe?
But most are Americans just taco obsessed, that is for sure.
My boys love taco night – and so do we. And the fun part about tacos is that you can make them SO many different ways. Naked Tacos, Oven Baked Tacos, or even Taco Pizza.
It's all good, however you want to make them. It's the flavors that make up the tacos that we really crave.
And now we can have tacos flavor in our meatloaf. This Turkey Taco Meatloaf is hands DOWN one of the best meatloaf recipes I've ever had. So full of taco flavor – I might never go back to regular tacos.
That probably isn't true at all, but I'm really loving this meatloaf. I think the cheese is key, I love the cheese oozing out of this Chicken Cordon Bleu Meatloaf too…sometimes it's just about the cheese.
For this recipe it's the taco seasoning, the cheese, the diced tomatoes and the turkey…all baked together with a layer of taco sauce and tortilla chips on top that seals the deal.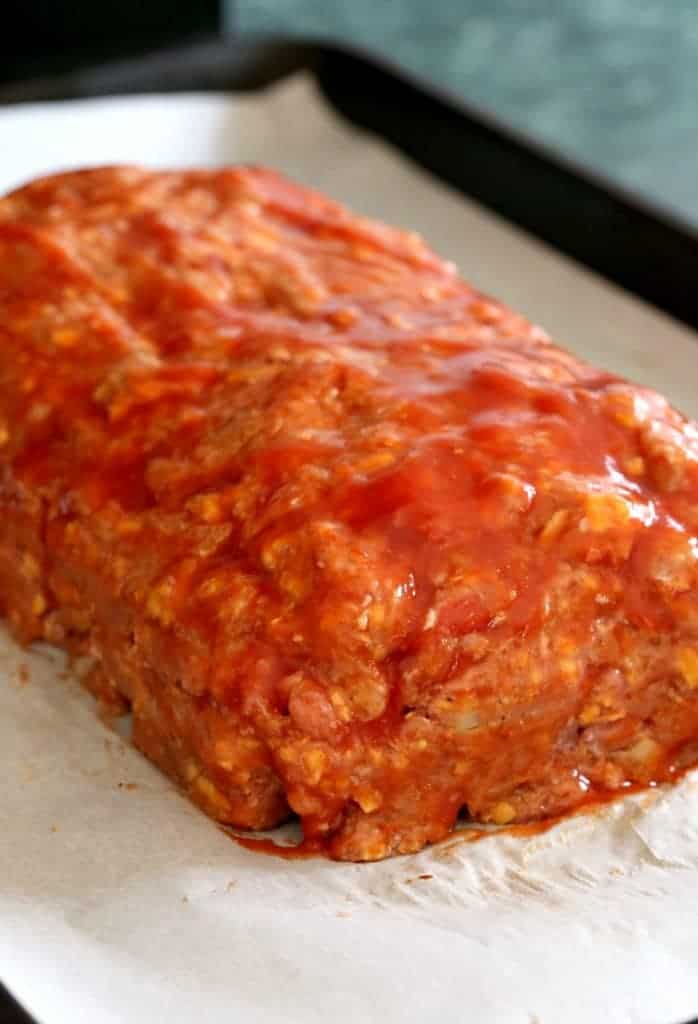 Make it.
And watch them come running.
The time that this meatloaf cooks is really going to depend on how you make your meatloaf "shape". If you do it like I did here so you get some nice, big pieces, it's going to take about an hour.
If you make your meatloaf a little longer and thinner it'll take a little less time but I can promise you that this Turkey Taco Meatloaf is worth the wait.
Have a few bowls of chips and salsa while you're waiting and you'll be just fine.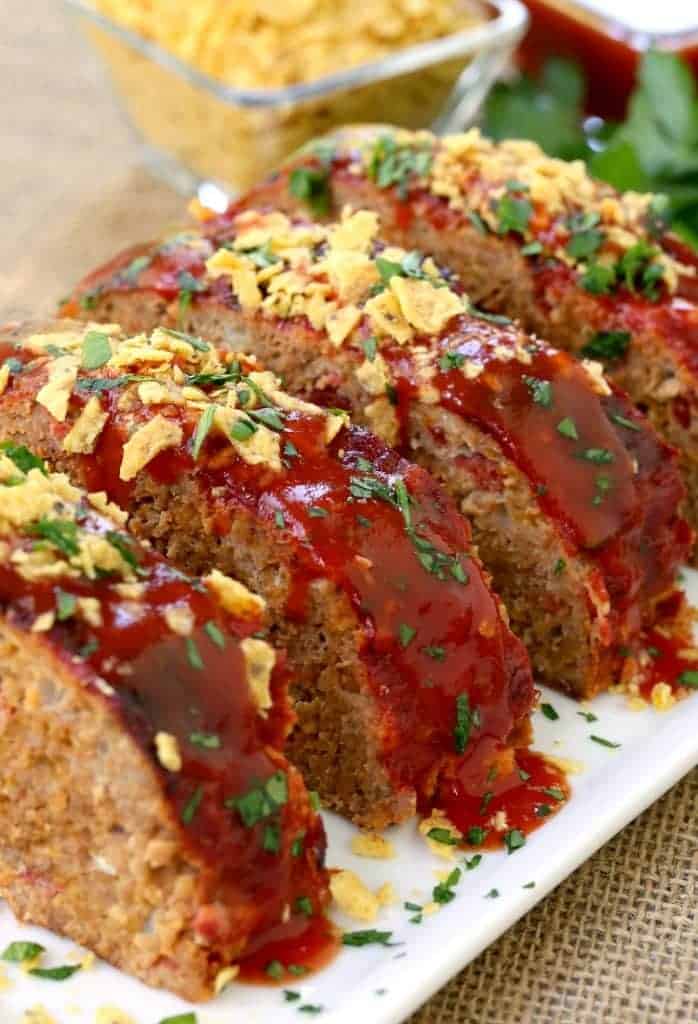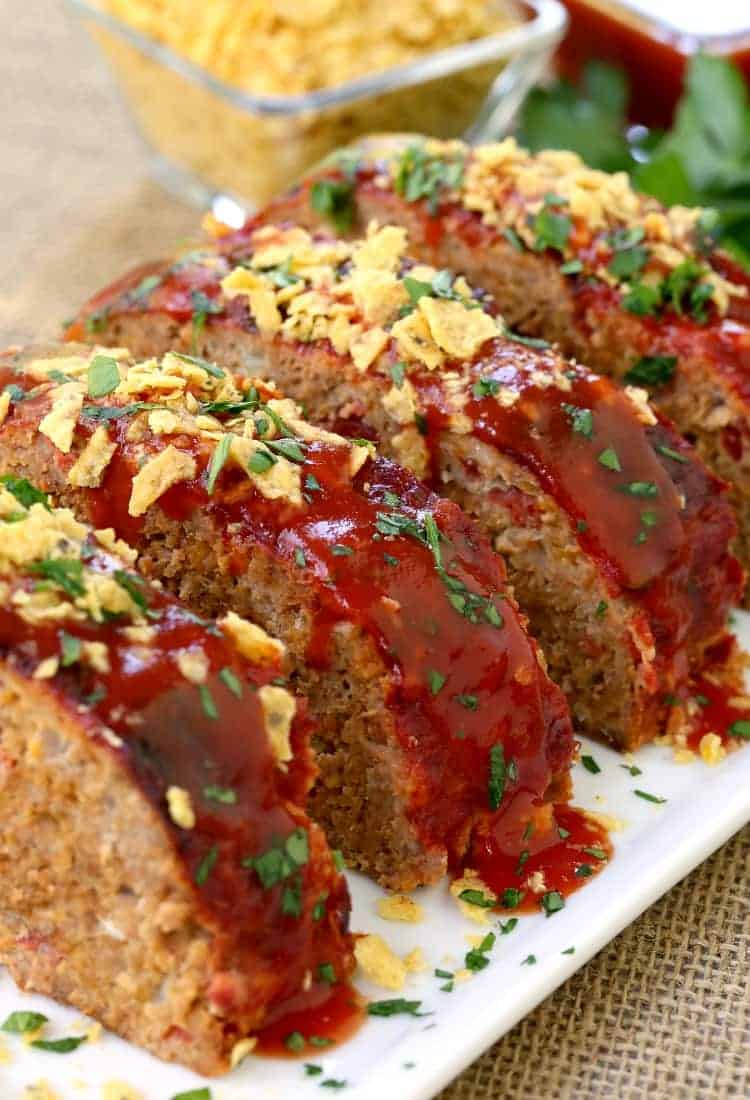 This meatloaf can totally be made ahead of time to, like over the weekend when you have some time and then slice and warm up in the microwave for busy weeknight dinners.
Maybe even eat a slice cold on a roll with some guacamole and salsa…have a Turkey Taco Meatloaf Sandwich…I can't wait for the leftovers!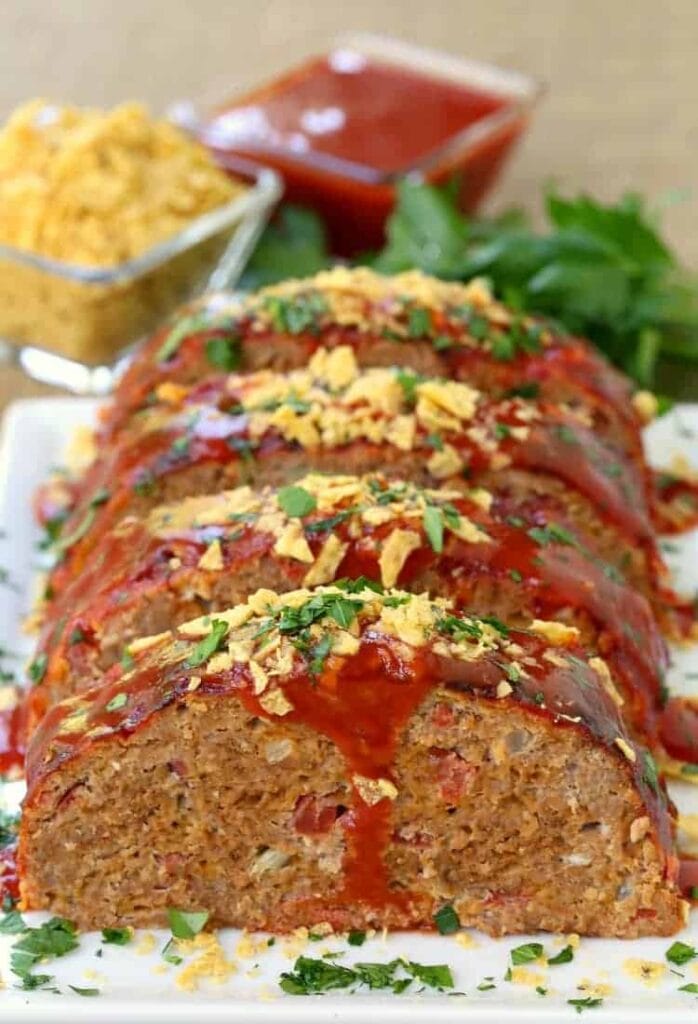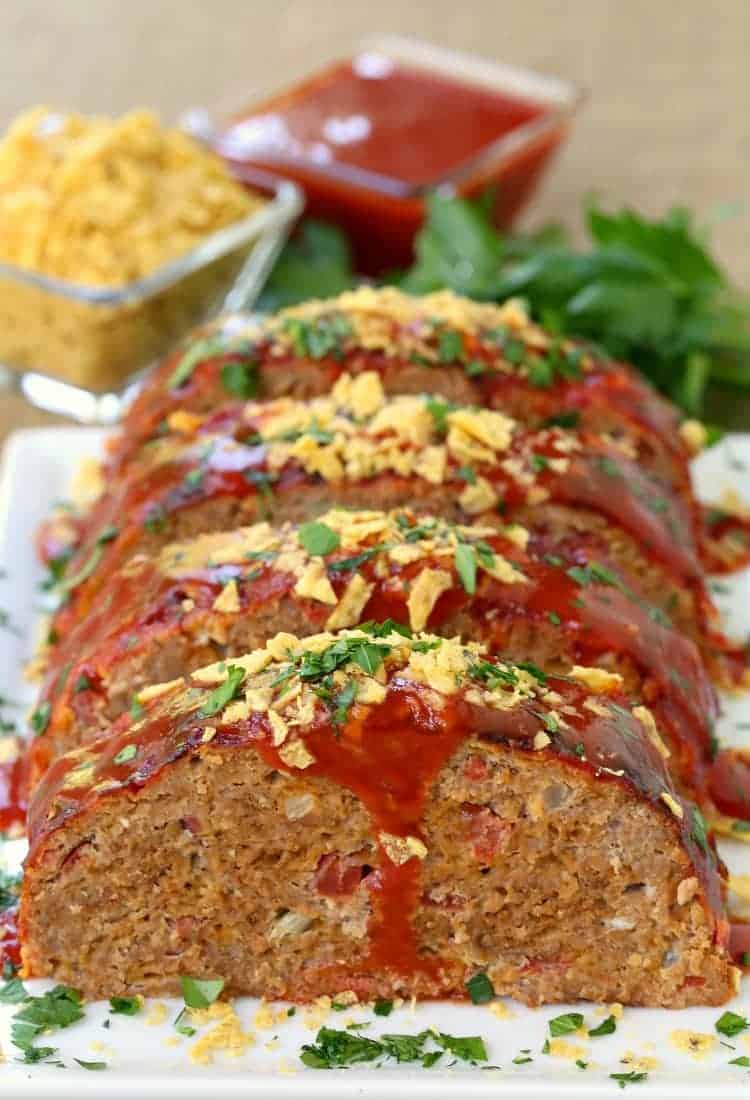 Print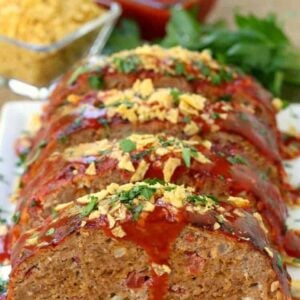 Turkey Taco Meatloaf
Author:

Yield:

8
---
Ingredients
2 lbs. ground turkey, 93% lean
3 cups shredded cheddar cheese
1/2 cup bread crumbs
1 15 oz. can petite diced tomatoes
1/2 cup chopped onion
2 teaspoons salt
1 teaspoon cumin
2 1/2 tablespoons taco seasoning
2 eggs, beaten
1 cup mild taco sauce, plus more for serving
---
Instructions
Preheat the oven to 400 degrees.
Line a baking sheet with parchment paper and set aside.
Add the turkey, cheese, bread crumbs, tomatoes, onion, salt cumin, taco seasoning and eggs to a large bowl and mix well until all the ingredients are combined.
Place the meatloaf onto the prepared baking sheet and form into a long, rectangular shape. You want it to be about 2 inches high, by 9 inches long and 5 inches wide, not exactly but just for overall cooking time.
Brush with half of the taco sauce and bake for 45 minutes..
Remove the meatloaf from the oven, baste with the rest of the taco sauce and return to the oven for another 15 minutes.
Slice and serve.
---
Notes
You can use spicy taco sauce too if you like the heat!