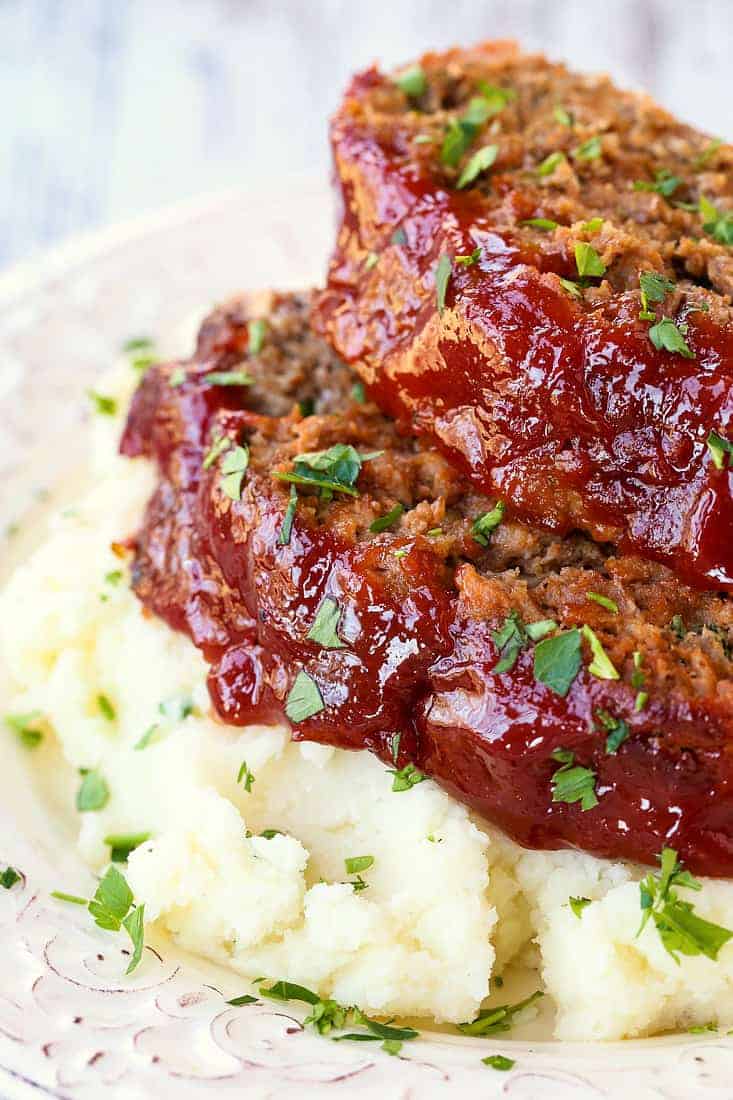 This Classic Meatloaf Recipe is sure to become a favorite family dinner! This tender meatloaf with a simple glaze on top brings me back to my childhood! If you've ever wondered how to make the best meatloaf, this post is for you!
We love comforting, easy dinner ideas like this meatloaf! If you love meatloaf like we do, try this Brown Gravy Meatloaf recipe or for a twist on taco night this Turkey Taco Meatloaf! Another turkey meatloaf we think you'll love is our Tasty AF Turkey Meatloaf with bacon!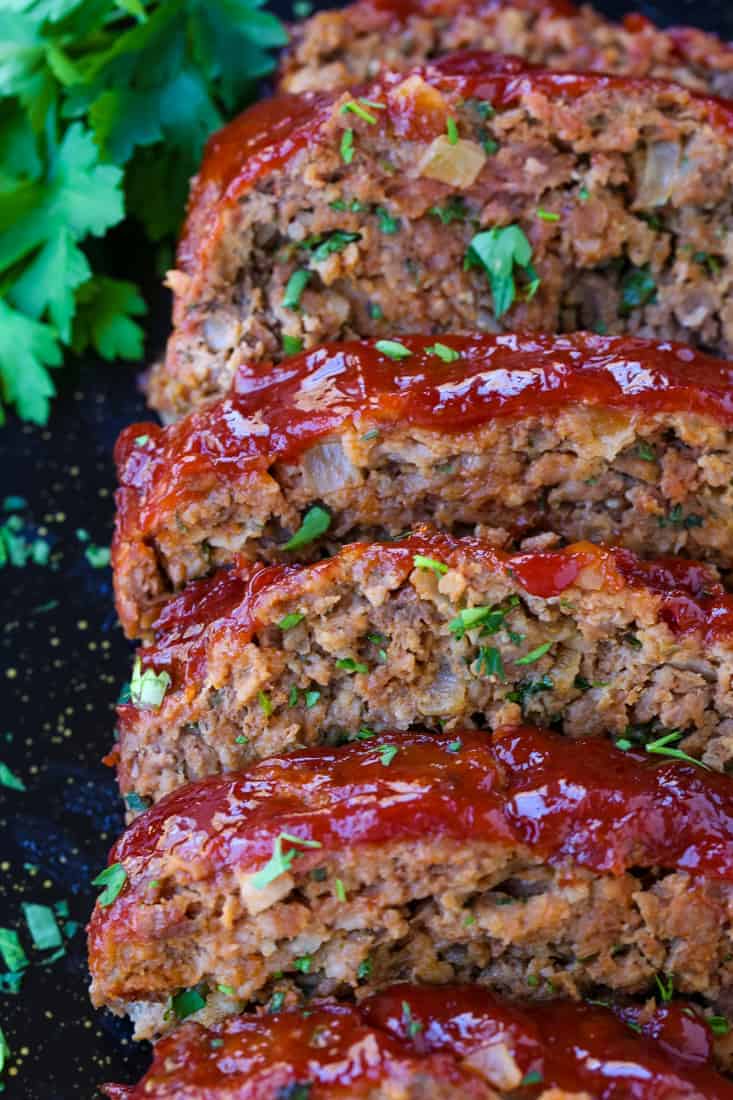 An Easy, Classic Meatloaf Recipe
Meatloaf is big in our house! We even have a Chicken Cordon Bleu meatloaf recipe with layers of ham and Swiss cheese. Not to mention an oldie but goodie, Swedish Meatloaf, which tastes just like a giant Swedish Meatball.
And I'm not promising we're going to stop there either. I have TONS of meatloaf recipe ideas to go!
How to Make the Best Meatloaf Ever
There's a few things that I think are key to making the best meatloaf you can get on your dinner table.
The first thing is using what most grocery stores call a "meatloaf mix". Meatloaf mix is a combination of beef, pork and veal instead of using all beef. This combination of meats makes for a super juicy meatloaf.
Of course this is for your classic, beef meatloaf recipes, not for a turkey meatloaf or a chicken meatloaf.
Another key to making the best meatloaf is making sure not to mix the meat mixture too much. Just mix it enough with your hands (clean hands are the best tools!) to make sure all the ingredient are combined and walk away.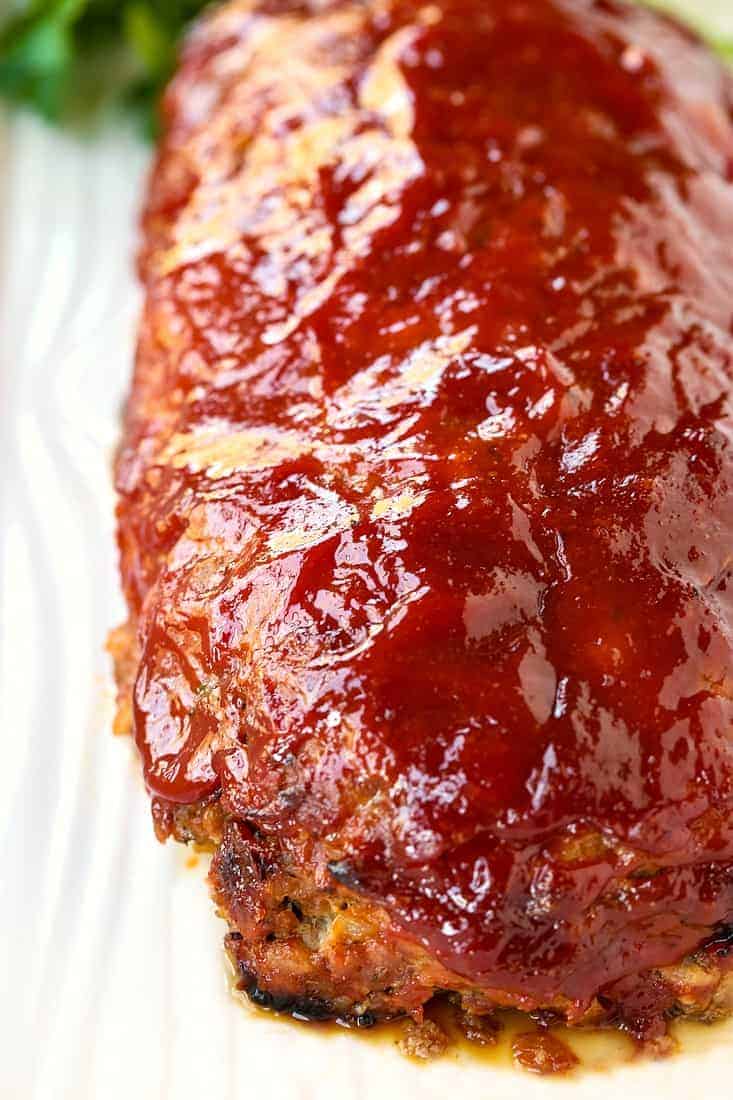 Over mixing will result in a tougher meatloaf texture and we're not looking for that at all.
To cook the onions or not to cook the onions? COOK THE ONIONS. I see tons of meatloaf recipes that just add uncooked, raw onion to the meatloaf mixture. Don't do it.
Not only does cooking the onions before adding them to the meatloaf mixture soften the onions but it brings out the sweetness and adds much better flavor.
Cook the onions, you won't go back.
The last tip for making the best meatloaf is to test your meatloaf for seasoning before it goes into the oven! I mean, how disappointing would it be to get this big meatloaf in the oven, cook it for almost and hour then bite in to a bland, under-seasoned meatloaf.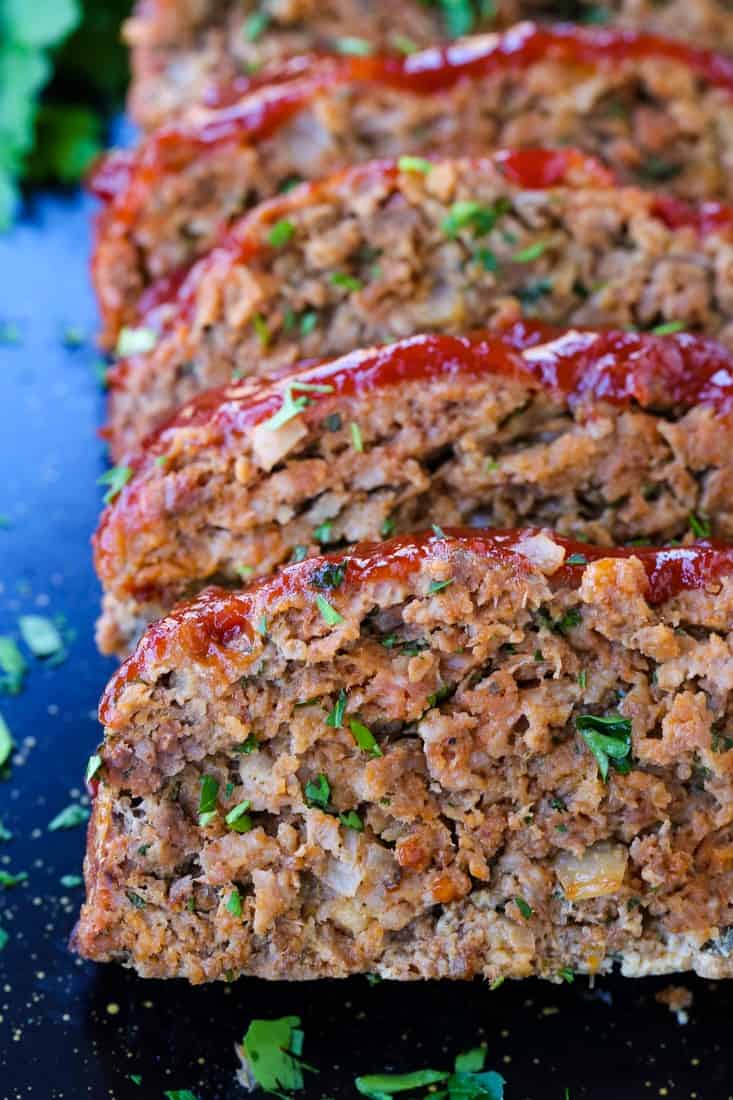 So the way to do this is to take a piece of the meatloaf and fry it up in a pan before baking your meatloaf. Check it for seasonings, adjust if needed, then proceed.
Salt and pepper are key, everyone thinks that there's too much salt going in at the beginning of a recipe like this but when you're working with 2 1/2 pounds of meat, you need a lot of salt and pepper.
Can You Freeze Meatloaf?
Meatloaf is a one of the best dinner recipe that I can think of for making ahead of time. There's a few different ways to make meatloaf ahead and have an easy dinner waiting for you!
You can make the meatloaf ahead, put in in your refrigerator and bake it off before dinner
Make the meatloaf and cook, then reheat in the microwave right before dinner
Make the meatloaf, bake, let cool then slice and freeze for easy reheating
Make the meatloaf, wrap and freeze before baking, then take out a day before you need it. Let the meatloaf thaw in the refrigerator then bake per the directions.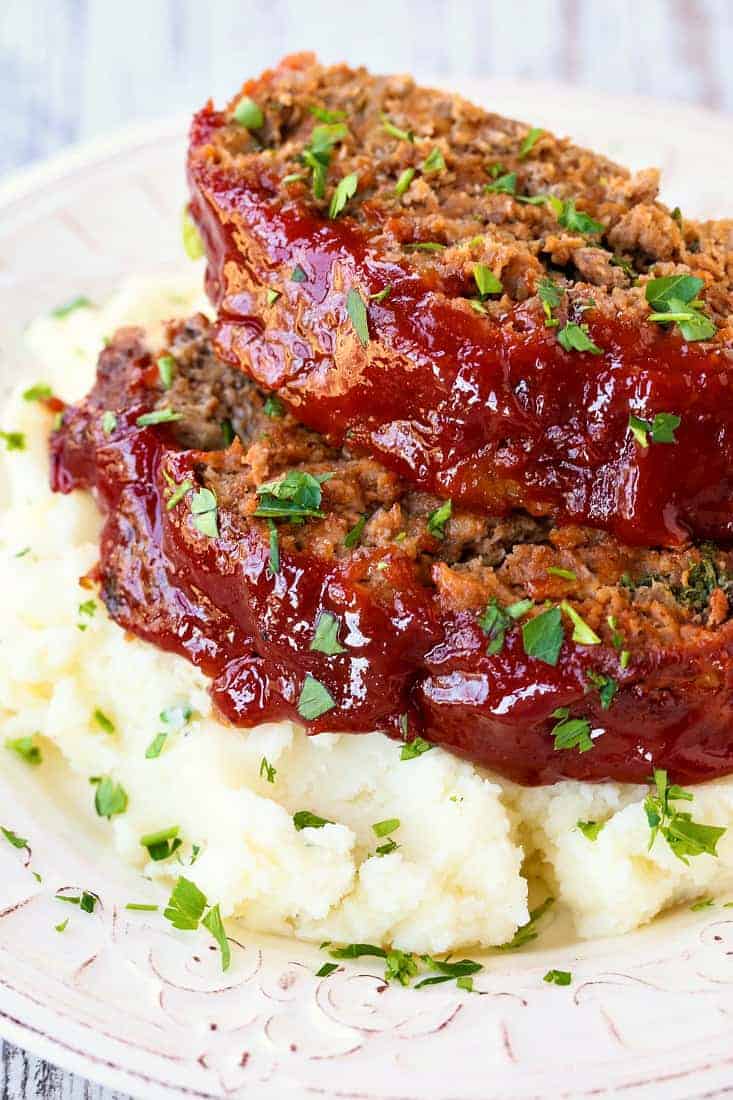 So you've got lots of choices here. Sometimes I do think that the flavor is even better when you get the meatloaf together in the morning and then cook it at night before dinner.
But this Classic Meatloaf recipe is going to be good any way you make it. It's called classic meatloaf for a reason!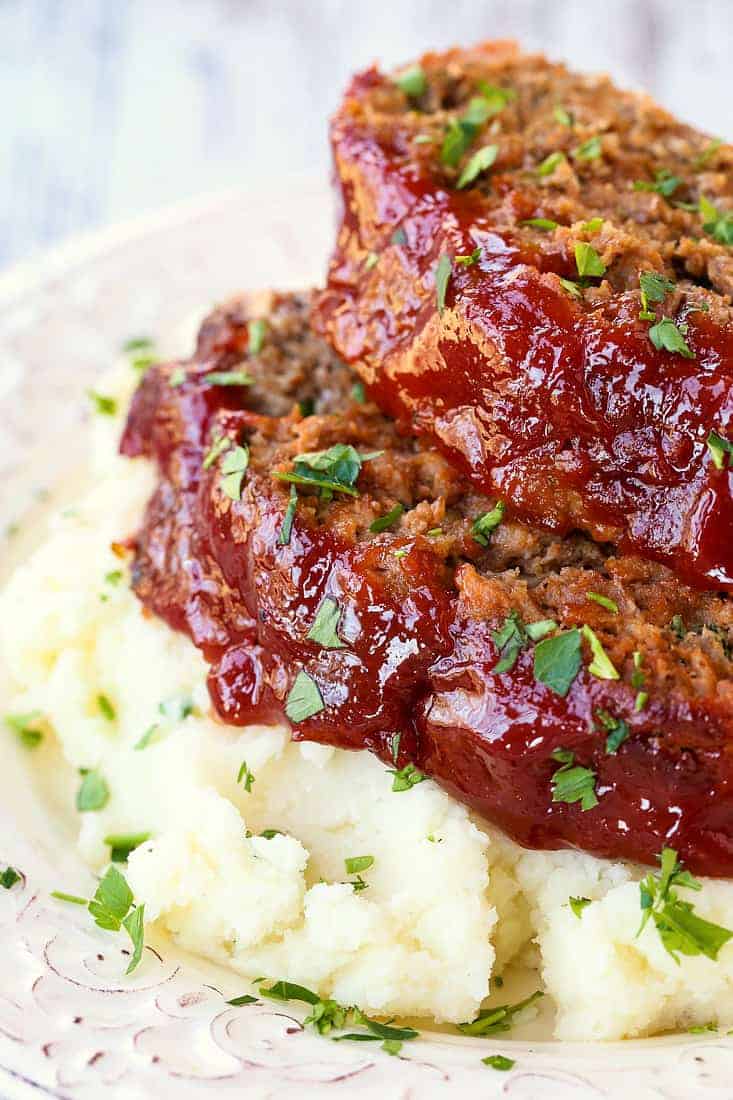 Looking For More Easy Dinner Ideas?
Print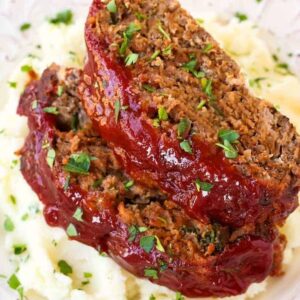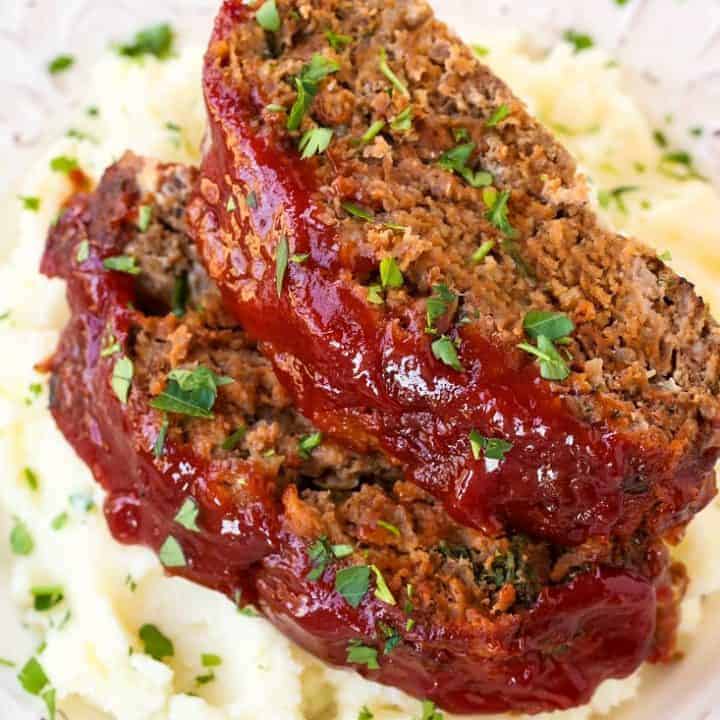 Classic Meatloaf Recipe
Author:

Prep Time:

15 minutes

Cook Time:

55 minutes

Total Time:

1 hour 10 minutes

Yield:

8

servings

1

x
Category:

Dinner

Method:

Oven

Cuisine:

American
---
Description
This Classic Meatloaf Recipe is sure to become a favorite family dinner! This tender meatloaf with a simple glaze on top brings me back to my childhood! If you've ever wondered how to make the best meatloaf, this post is for you!
---
Ingredients
1 tablespoon butter
1 tablespoon olive oil
1 1/2 cups diced onion
1/4 cup tomato paste
2 1/2 teaspoons kosher salt, to taste
Fresh ground black pepper, to taste
2 1/2 pounds meatloaf mix or ground beef
2 tablespoons Worcestershire sauce
2 tablespoons spicy brown mustard
1 cup Panko breadcrumbs
2 eggs, beaten
1/4 cup chopped fresh parsley
1 1/2 teaspoon garlic powder
1 1/2 teaspoons dried basil
For the Glaze:
1 cup ketchup
2 tablespoons sweet chili sauce
1 tablespoon Worcestershire sauce
1 teaspoon dry mustard
2 tablespoons brown sugar
---
Instructions
Preheat oven to 400 degrees.
Add the butter and oil to a skillet.
Once the butter is melted, add the onions and cook 7-8 minutes until softened.
Add the tomato paste to the onions and stir to combine. Remove from the heat and let cool slightly.
Add the meatloaf mix to a large bowl along with the salt, pepper, Worcestershire sauce, mustard, breadcrumbs, eggs, parsley, garlic powder, basil and the cooled, cooked onions.
Mix together until all the ingredients are incorporated but do not over mix, as this will make for a tough meatloaf.
Line a baking sheet with foil or parchment paper, or spray a baking sheet with cooking spray. If using foil, make sure you spray that with cooking spray as well before you add the meatloaf.
Add the meatloaf mixture to the baking sheet, forming into a loaf shape approximately 10″ long by 5″ wide.
Stir the ingredients together for the glaze in a small bowl. Pour half of the glaze over the meatloaf and save half for later.
Place the meatloaf in the oven for 35 minutes, remove from the oven to pour on more glaze, then return to the oven and bake another 20-25 minutes.
Keywords: meatloaf, meatloaf recipe, classic meatloaf, ground beef recipe, the best meatloaf recipe, easy meatloaf recipe, ketchup glaze for meatloaf