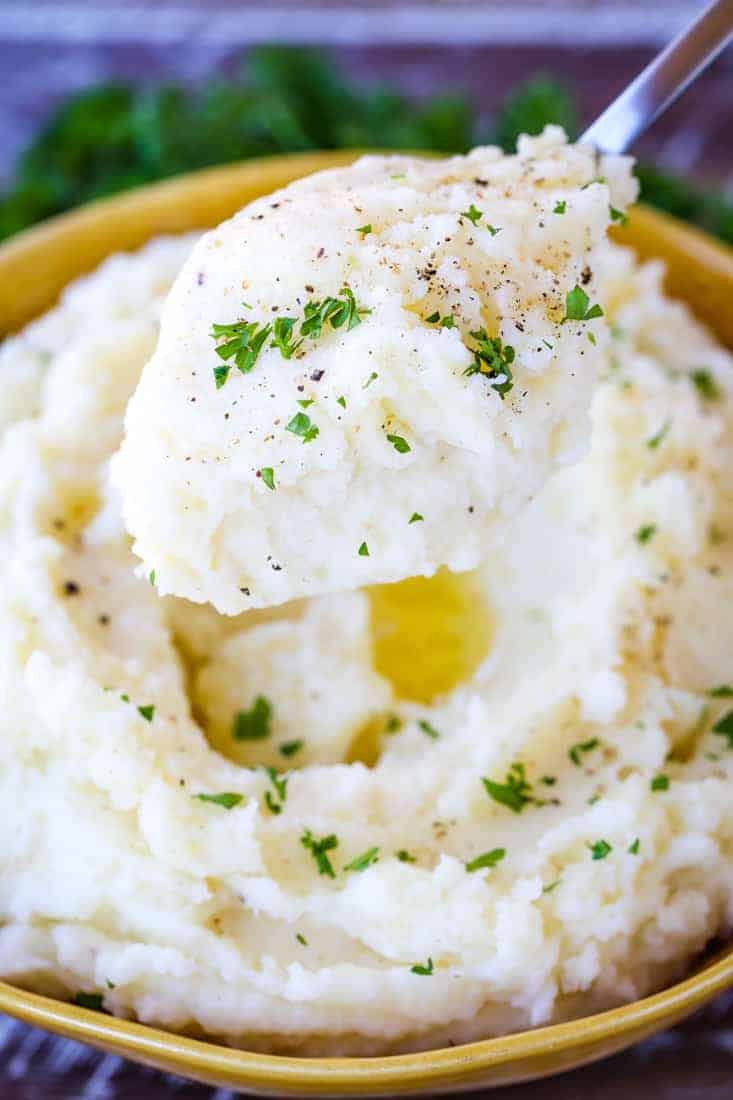 Perfectly Smooth Mashed Potatoes
Perfectly Smooth Mashed Potatoes are so creamy and delicious, you won't make them any other way! One tool is key to making these mashed potatoes the best!
We love serving these mashed potatoes with comfort food dinners like our Brown Gravy Meatloaf! Or you can try our Ultimate Chicken Marsala for soaking up all the delicious gravy!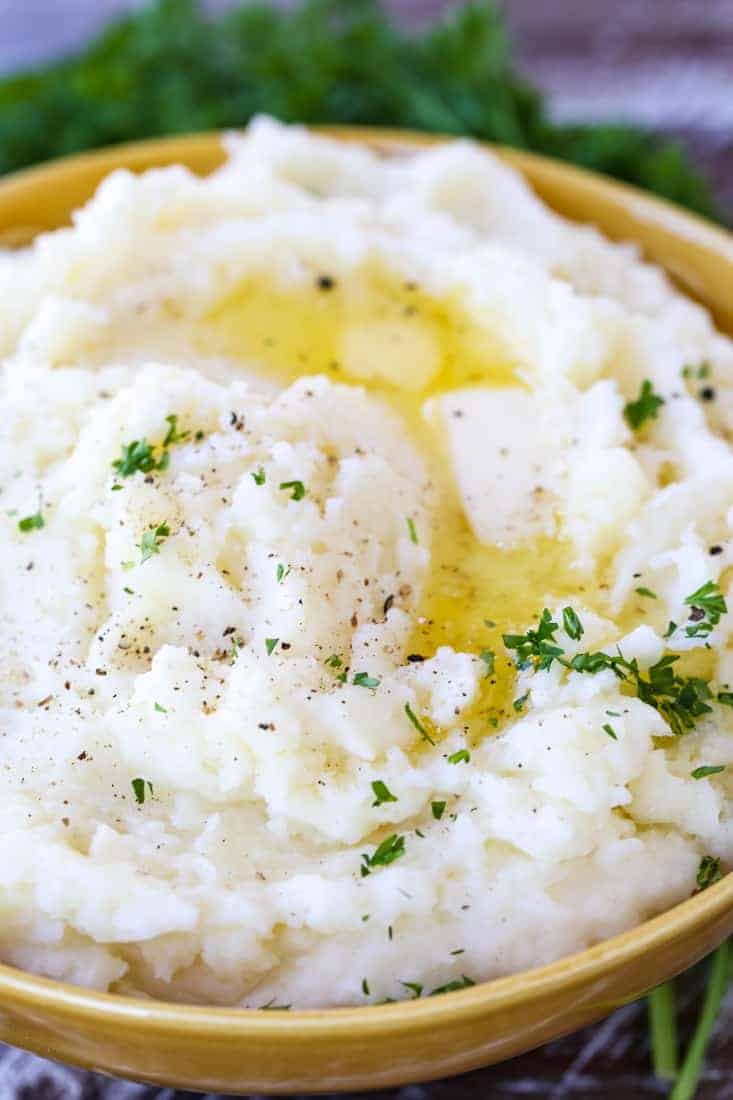 How To Make Smooth Mashed Potatoes
There's really only one trick to making the most delicious, creamy, smooth mashed potatoes and it involves one kitchen tool.
A potato ricer.
Yep, it is what you need to make these potatoes lump free. And I already know what you're going to say to me, that you use a hand mixer and beat your potatoes with that?
Nope. Using a hand mixer is OK, but what it does is create gluten in your potatoes so they can develop a gluey texture. You know, kind of like that paste you used to use back in school?
Using a potato ricer presses your cooked potatoes into tiny little strands that break down into creamy, smooth mashed potatoes with just a couple of stirs.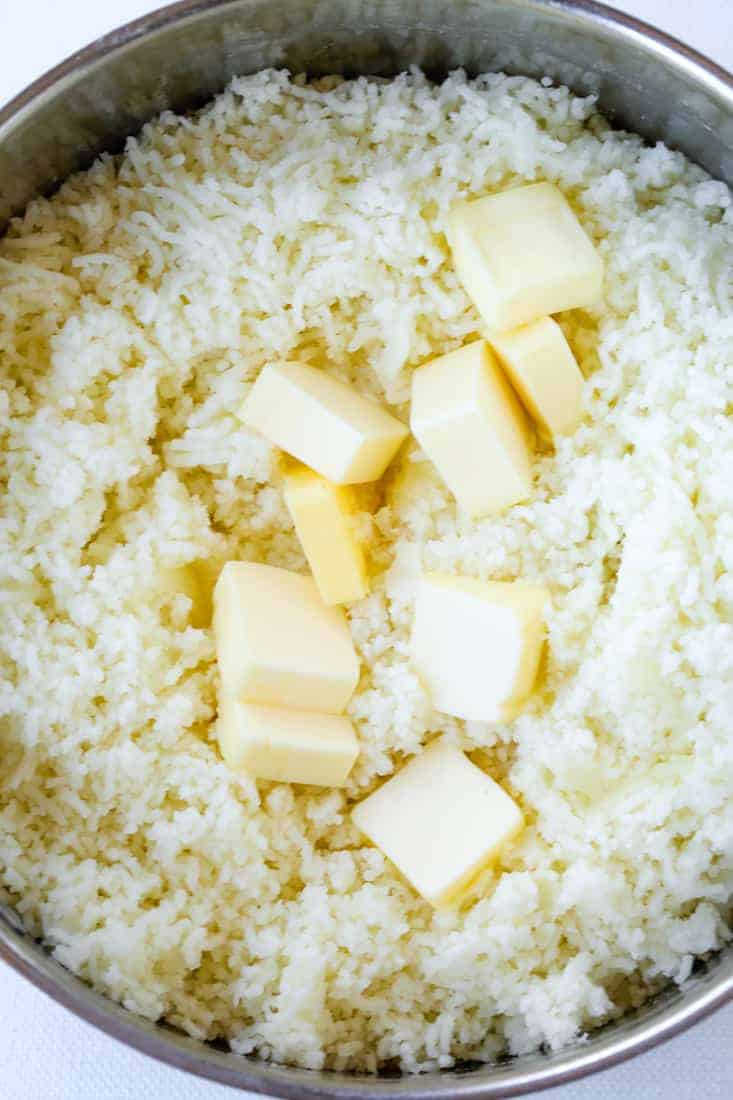 Once your potatoes are cooked, rice them and quickly add the butter so that it melts into the still warm potatoes. Next you can add basic salt and pepper and a handful or good quality grated parmesan cheese.
Because a small handful of parmesan cheese is what gives these Perfectly Smooth Mashed Potatoes a little flavor boost. Along with lots and lots of butter.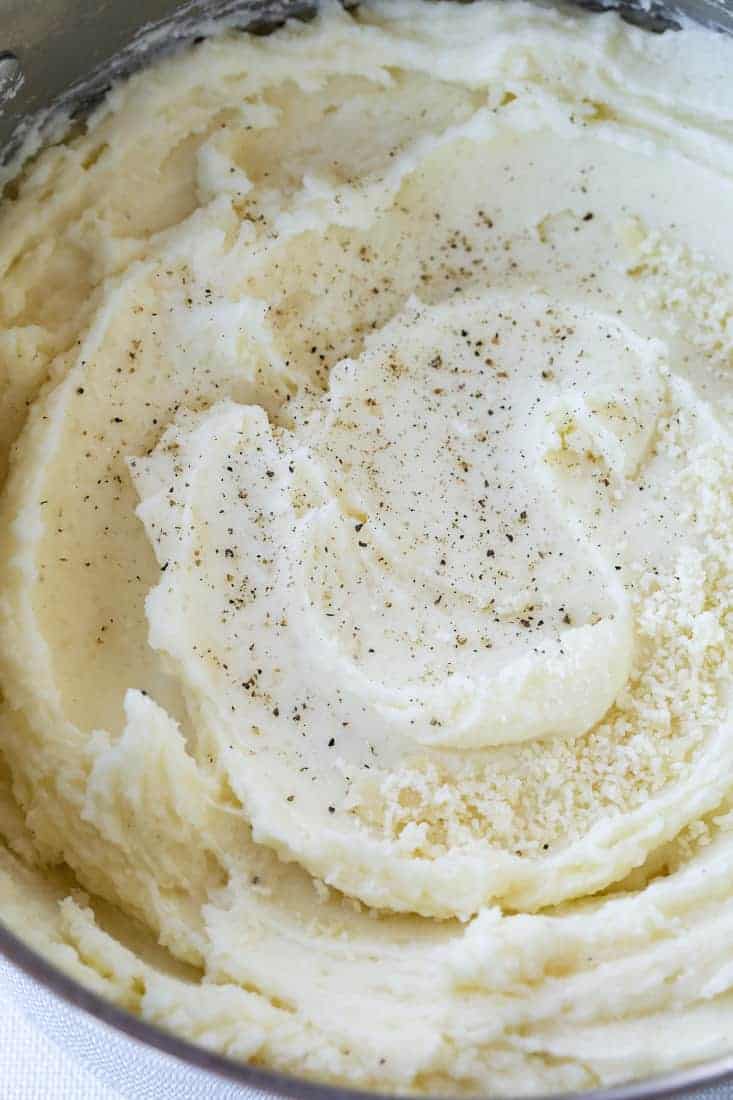 SO because you're only stirring these riced potatoes a few times, just to combine the ingredients, you're not going to develop the gluten which is what makes them gummy or gluey like paste.
Just perfectly fluffy, smooth potatoes.
I mean, take a look at that scoop! There is some serious height to that spoonful of mashed potatoes.
So fluffy, so creamy, you just can't stop eating them.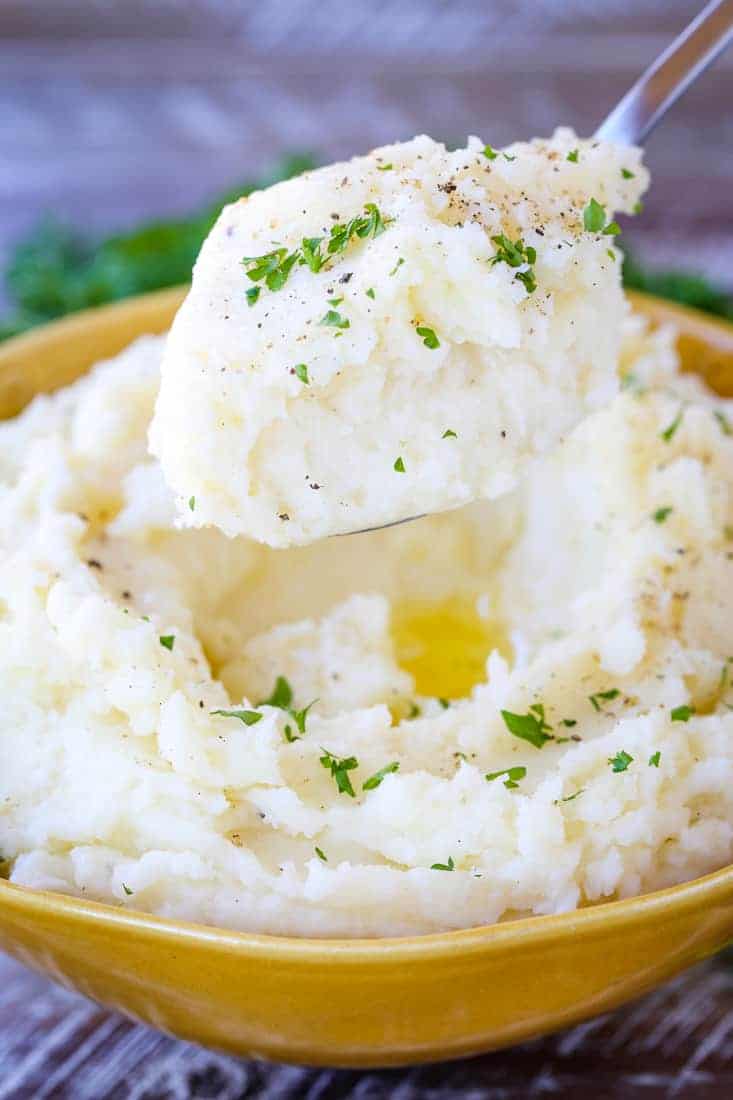 Can You Make Mashed Potatoes Ahead Of Time?
You definitely can, they won't be as fluffy as they are when you first make them, but perfectly smooth – yes. You can reheat these mashed potatoes in the microwave or covered in the oven.
Both ways of reheating will probably require a little more milk and or cream to get the consistency back to where they were. AND, yes, more butter.
Or if you want to make these mashed potatoes a few hours before dinner you can keep them warm right in your slow cooker so it's one less thing you have to do at dinner time.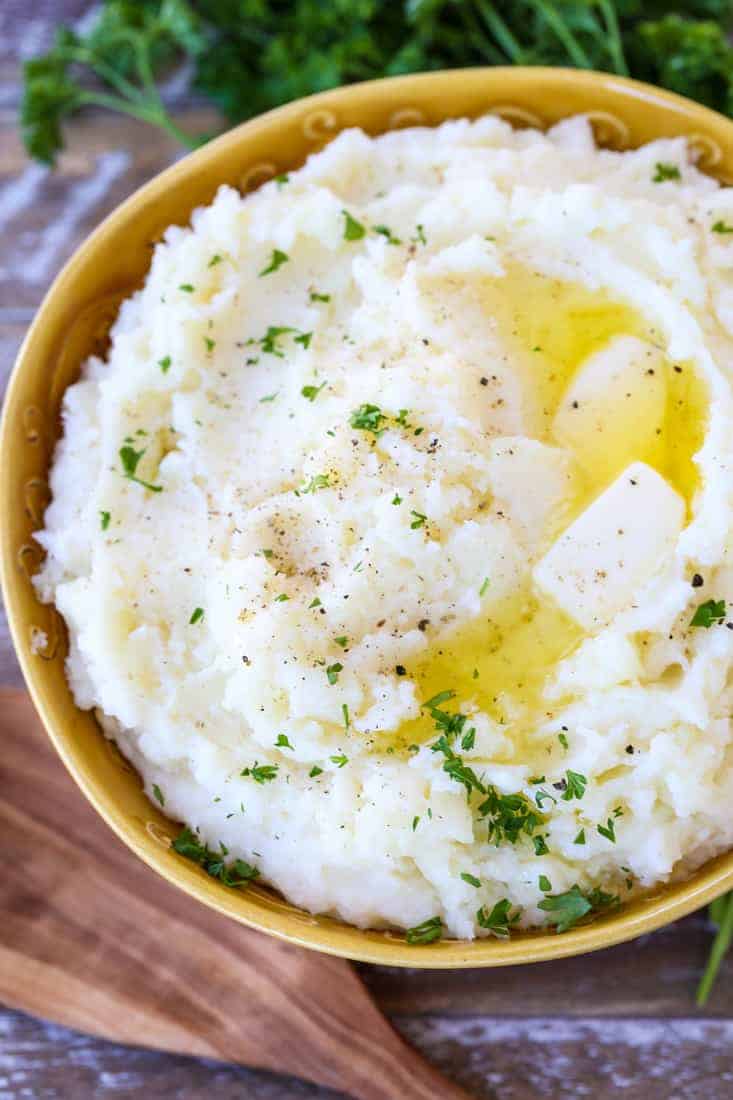 What Are The Best Potatoes To Make Mashed Potatoes With?
My favorite is a good old russet potato. It's a higher starch potato that makes the most fluffy, smooth and full of flavor mashed potatoes.
Using a waxy potato like a Yukon Gold will make a creamy mashed potato, but can lean more towards the gluey, paste-like mashed potatoes. And we've already discussed why you don't want to go there.
So stick with plain russet potatoes riced with a potato ricer and you can't go wrong!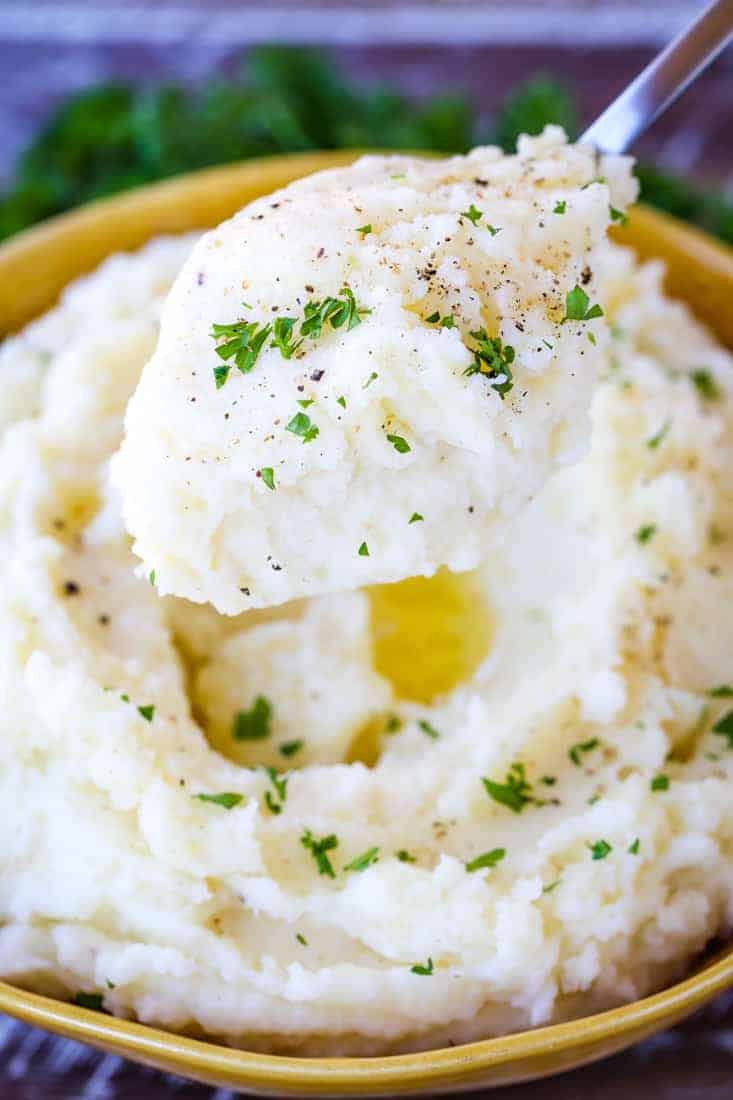 Looking For More Side Dish Recipes?
• Creamed Spaghetti Squash Casserole with Bacon
• The Best Brussels Sprouts Casserole
Shop This Recipe!
Yield: 10 cups
Perfectly Smooth Mashed Potatoes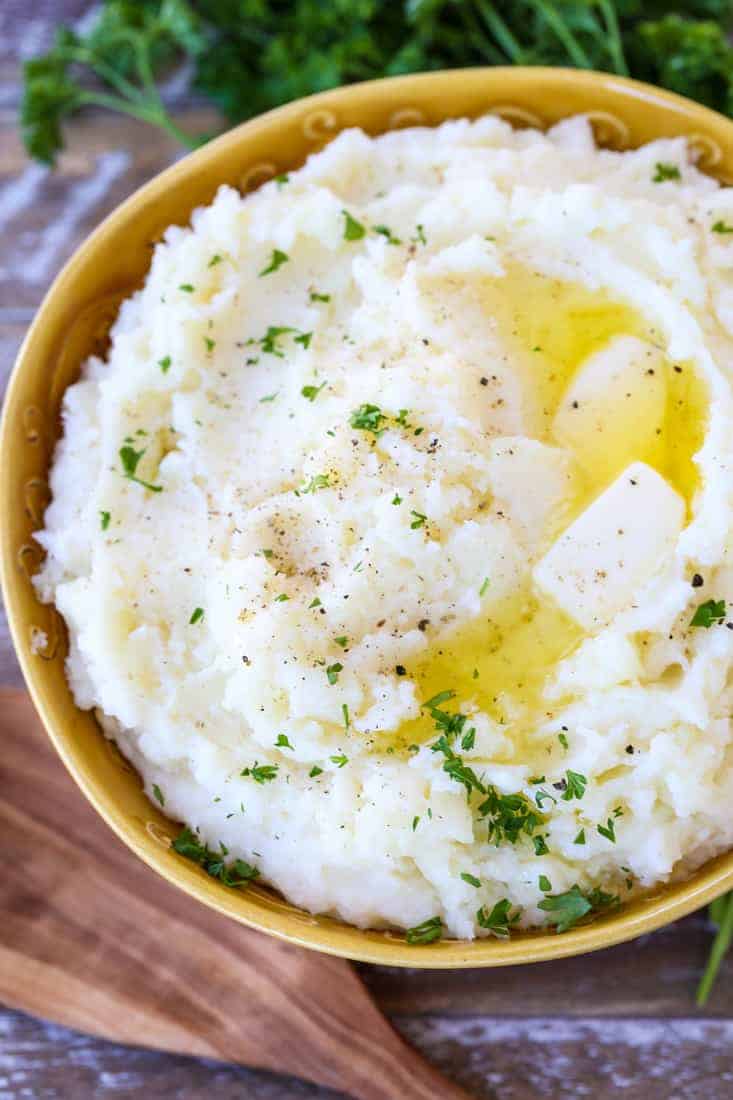 This super creamy, super fluffy mashed potato recipe is the only way we make our mashed potatoes!
Ingredients
5 lb. bag of russet potatoes
1 stick of butter
1/2 cup grated parmesan cheese
1/2 cup sour cream
1/2 cup milk
1/4 cup cream
kosher salt and pepper to taste
Instructions
Wash and peel the potatoes, then cut them into fourths. You might have to cut larger potatoes in more pieces, just try and make them roughly the same size.
Add the potatoes to a large pot, then cover the potatoes with cold water.
Add 2 tablespoons of kosher salt to the water then turn the heat on high and bring to a boil.
Once the water has come to a boil, turn the heat down to medium and let the potatoes simmer until they are fork tender, about 12-15 minutes.
Drain the potatoes and place them into a large bowl.
Heat the milk and cream together over low heat in a small saucepan while you rice the potatoes.
Put the cooked potatoes through the potato ricer right back in to the same pot, then add the butter, parmesan cheese, sour cream, milk, cream, salt and pepper.
Stir a few times just to combine the ingredients and create a smooth texture, taste for seasonings and adjust if needed.
Serve immediately or keep warm in covered in the pot or transfer to a slow cooker set on low or the keep warm setting.
Nutrition Information:
Yield:
10
Serving Size:
1 cup
Amount Per Serving:
Calories:

371
Total Fat:

15g
Saturated Fat:

9g
Trans Fat:

1g
Unsaturated Fat:

5g
Cholesterol:

43mg
Sodium:

236mg
Carbohydrates:

51g
Fiber:

5g
Sugar:

3g
Protein:

8g
This nutritional information is for informational purposes only. As I am not a nutritionist, this information is provided only as a courtesy.