These Fried Mashed Potato Balls are super creamy on the inside and crispy on the outside! A perfect appetizer recipe for using up leftover mashed potatoes!
Leftovers of our Perfectly Smooth Mashed Potatoes are what we use to make these crispy, fried potatoes balls! Dip them in your favorite dipping sauce or our famous Awesome Sauce!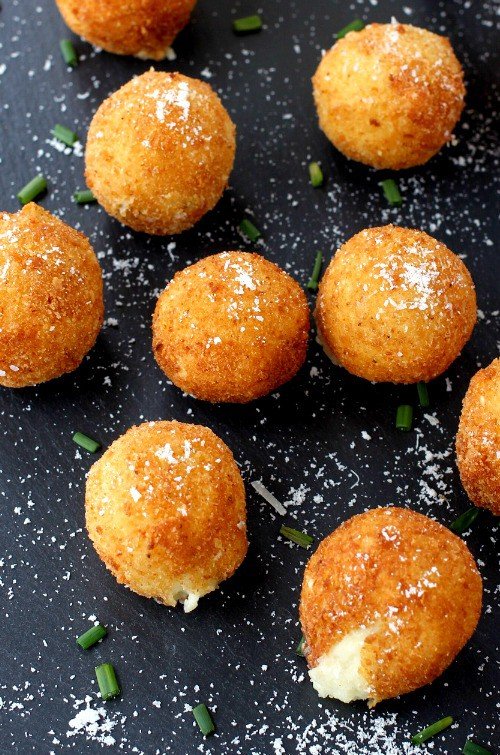 Leftover Mashed Potatoes Transformed!
When we make mashed potatoes, we make a lot. I don't think we ever make less than the five pound bag of potatoes, I mean what's the point?
If you're going through the trouble of peeling, boiling and ricing potatoes you might as well make a LOT. Mashed potatoes are good in your refrigerator for at least a few days of meals, and then there are leftover recipes like these Fried Mashed Potatoes.
All you need to make this appetizer recipe is your leftover mashed potatoes, bread crumbs and a couple of eggs. And yes, if you don't happen to have leftover potatoes, you can still make these fried potato balls!
Just grab pre-made mashed potatoes at the grocery store, there are a few brands that make really good mashed potatoes right in the butcher department at the store.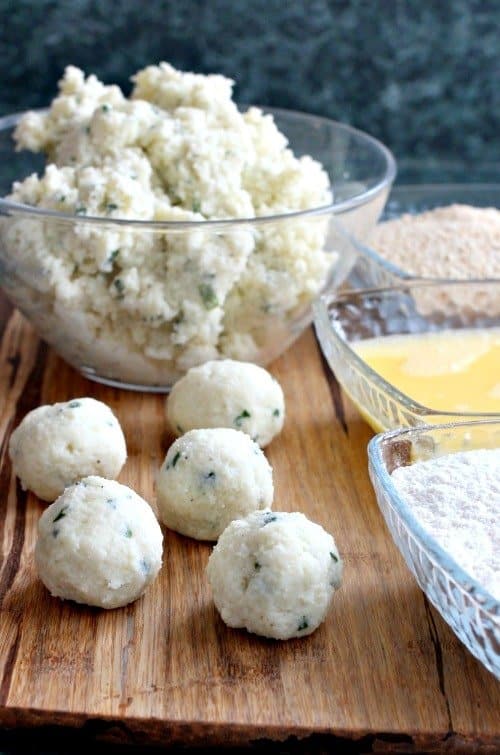 Can You Use Instant Mashed Potatoes For This Appetizer Recipe?
I knew you were going to ask that, so here's the short answer. Nope. Sorry! First of all, I'm not a fan of instant mashed potatoes. They might have their place in certain recipes, I won't deny that.
But for just straight up eating? I'd rather skip it or at least buy the good packaged kind at the store. But for this recipe specifically, instant mashed potatoes will be too loose and too smooth so these fried mashed potatoes will just fall apart on you when you go to fry them up.
Also, instant mashed potatoes have a thinner consistency that aren't going to work the best for these Fried Mashed Potato Balls. We're looking for thick, creamy mashed potatoes to get a "ball" that's going to hold together.
Can You Bake These Mashed Potato Balls?
Again, nope.
Sorry but this appetizer recipe requires a good old fashioned fried recipe. Don't be afraid of the deep fry my friends! No need to get fancy with your equipment, just a heavy deep pot and a fry thermometer, if you have one. Otherwise, you can drop a bread cube into the oil to test it, if it browns up in 10 seconds your oil is good for frying.
Do invest in a thermometer though if you can. They are very inexpensive and we use it for so many different recipes!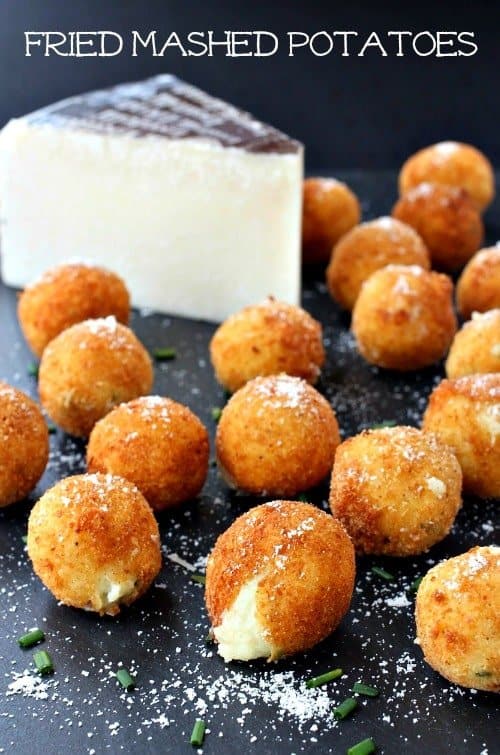 Can You Make These Fried Potatoes Ahead Of Time?
You can, I'll give you a yes on this one! But not too long ahead…
You can keep these mashed potato balls in the oven (350 degrees) to keep warm while you are frying them and up to a couple of hours in advance. If you are keeping them warm for an hour or two, lower the oven temperature to 300 degrees. They'll still be nice and crispy!
Looking For More Appetizer Recipes?
Print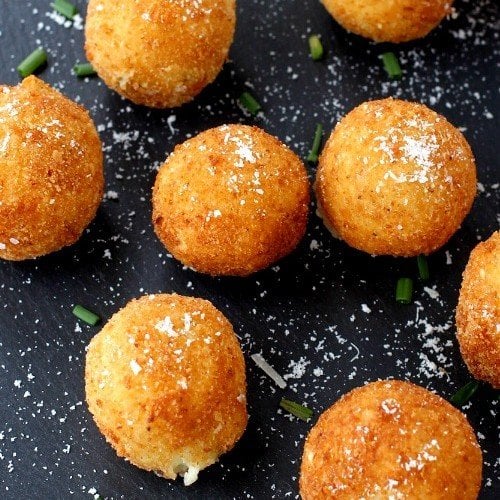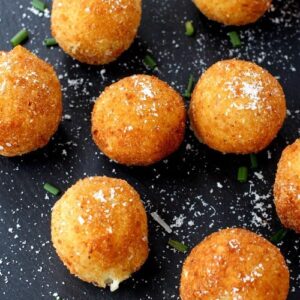 Fried Mashed Potatoes
Author:

Prep Time:

10 minutes

Cook Time:

10 minutes

Total Time:

20 minutes

Yield:

3

0

1

x
This leftover mashed potato recipe makes super creamy and super crispy appetizers!
Scale
Ingredients
4 cups

leftover mashed potatoes (or store bought, pre-made)

3 oz

. cream cheese, softened

2 tablespoons

chives, chopped

3

eggs, beaten

1/2 cup

grated parmesan cheese

1/2 teaspoon

garlic powder

1/2 teaspoon

salt

1/4 teaspoon

ground black pepper

1 cup

bread crumbs

1 cup

flour
Vegetable or canola oil for frying
Instructions
Start heating a large, deep pot filled halfway with oil over medium heat until it reaches 350 degrees.
While the oil is heating, mix together the mashed potatoes, cream cheese, chives, one egg, parmesan cheese, the garlic powder, salt and pepper in a large bowl.
Roll into balls about the size of a golf ball and set on a board.
In three bowls set out the bread crumbs, flour and the remaining 2 eggs beaten with a tablespoon of water.
Dip each mashed potato ball into the flour first, shaking off the excess, then into the beaten egg, letting the excess drip off, and then last into the bread crumbs.
Once your oil reaches about 350 degrees, start frying the balls in batches, not overcrowding the pot as you fry.
Fry for 3-4 minutes until golden brown and then remove to a paper towel lined board or plate.
While still warm, top with extra salt and parmesan cheese.
Recipe Notes
You can keep these in the oven on low (250º) for about 30 minutes to an hour if you want to make them ahead of time.
Nutrition information is approximate, it will depend on the recipe that you used for the mashed potatoes.
Category:

Appetizers

Method:

Fry

Cuisine:

American
Keywords: leftover mashed potato recipe, appetizer recipe, fried food, easy appetizers, game day food, potato recipes