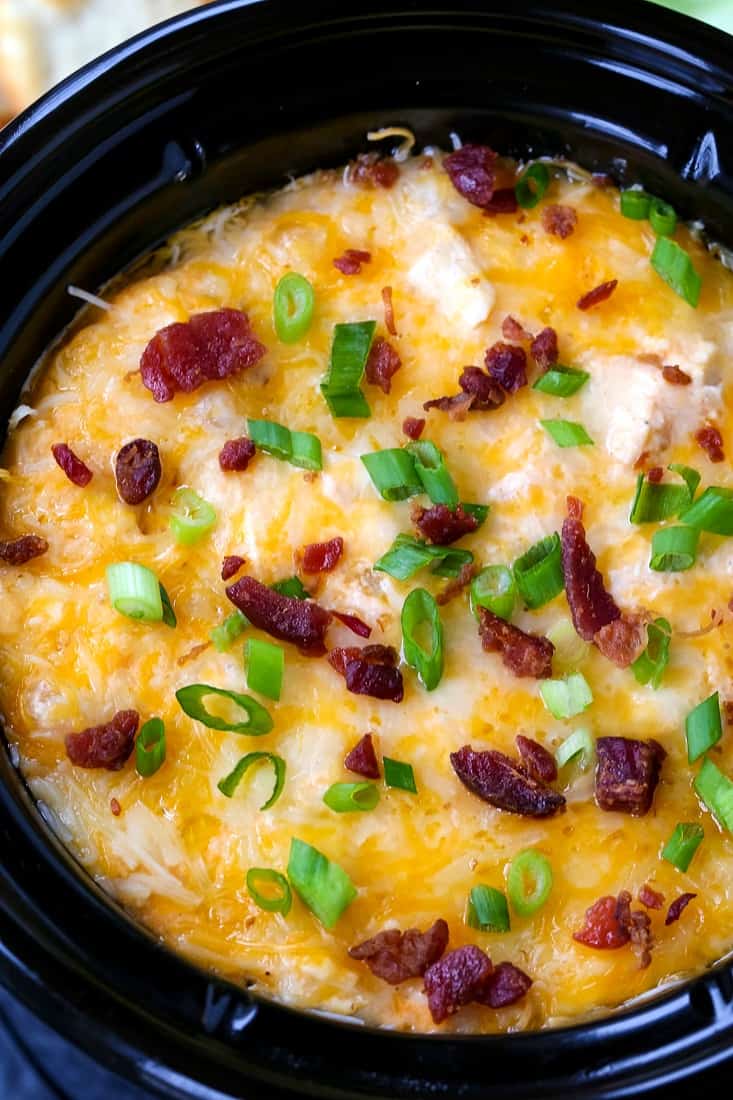 Crock Pot Buffalo Chicken Dip
Try this Crock Pot Buffalo Chicken Dip for an easy appetizer that's always a hit! Crock pot recipes like this one make party planning a breeze!
If you love appetizers as much as we do, you have to try our Buffalo Chicken Celery Sticks, our famous Garlic Parmesan Chicken Wings or these super easy Italian Deli Roll Ups!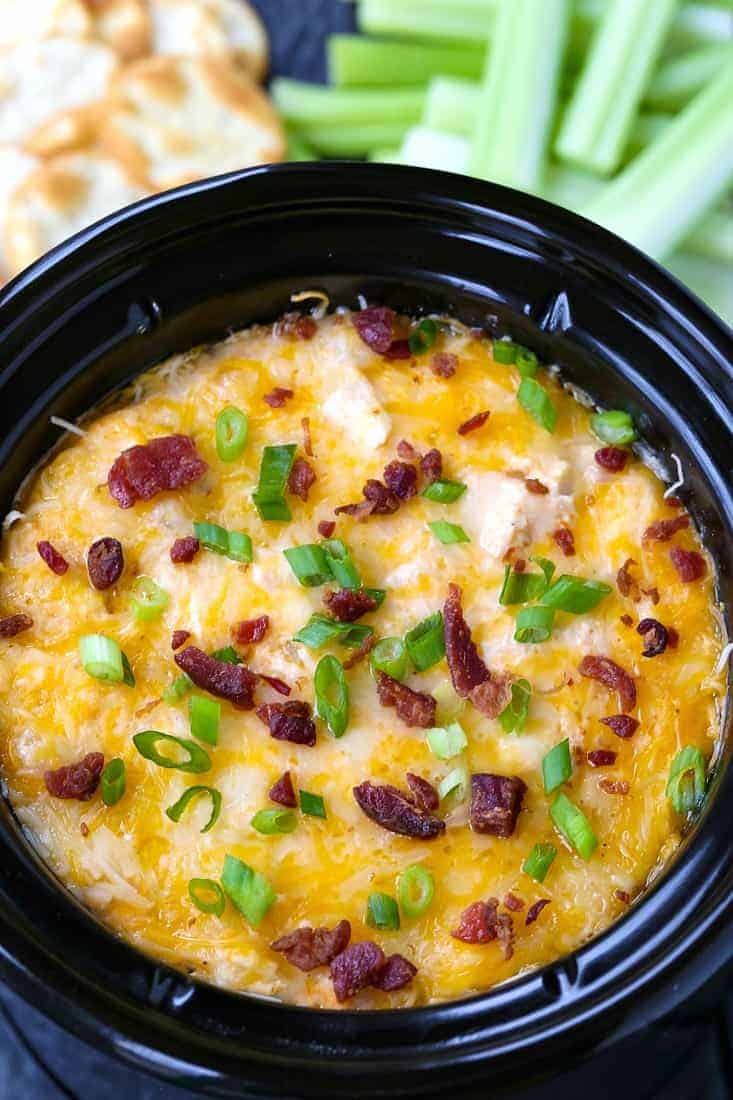 This buffalo chicken dip recipe is always on the top of our appetizer list!
It's an easy, make ahead recipe that can also be kept warm all night right in your slow cooker. No reheating to worry about!
Because the last thing you need to worry about at your party is if your hot dip recipe is still hot…there's cocktails to make people.
Buffalo Chicken Dip Recipe
There's basically two different ways to make buffalo chicken dip. The slow cooker method like this recipe or an oven baked Buffalo Chicken Dip.
Both produce very similar results, there's not much difference in flavor, it's just a matter of if you want your dip to stay hot for longer or if it doesn't matter.
For instance, if we're having just a few friends over for drinks, we'll make this oven baked buffalo chicken dip recipe. Because we'll probably all be sitting around the kitchen table eating the dip until it's gone.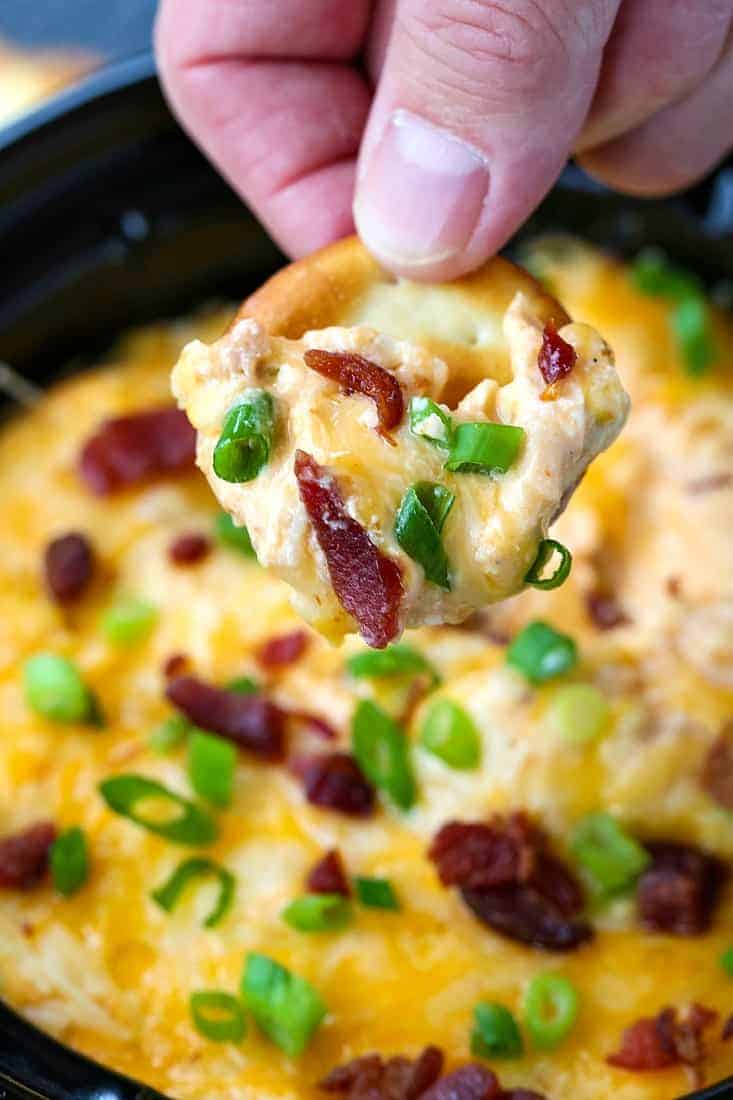 But if you're having a larger party with lots of different appetizers then you might want to go with this crock pot version so it stays warm all night for you.
What Can You Serve With Buffalo Chicken Dip?
Pretty much everything you can think to dip with. Tortilla chips, pita chips, pretzels, even cut up celery sticks and carrots sticks to keep it low carb.
Most types of crackers will be great, bagel chips, even thick cut potato chips, Fritos or Doritos. It's a party, people. Don't start counting the calories now…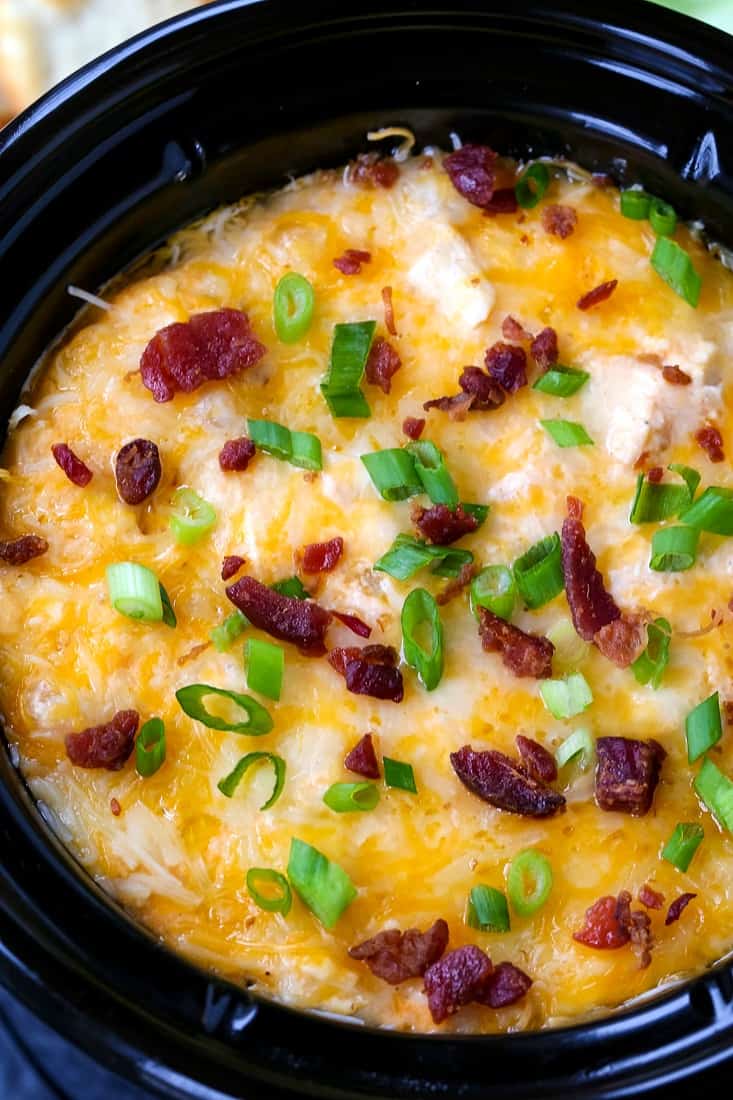 You can use any type of cooked chicken you have on hand, a rotisserie chicken works great for this recipe or you can cook up a couple of chicken breasts and shred them.
We've taken the liberty of adding bacon to our buffalo chicken dip, because well, bacon. Bacon works really well in this dip recipe, i'm surprised I don't see more recipes that have bacon in them! But if you really want to, you can of course leave out the bacon.
Not sure why anyone would want to leave out the bacon but you do you.
Chicken recipes like this hot dip are so easy to make, we usually do have some sort of cooked chicken on hand in the fridge, if our boys don't get to it before we do.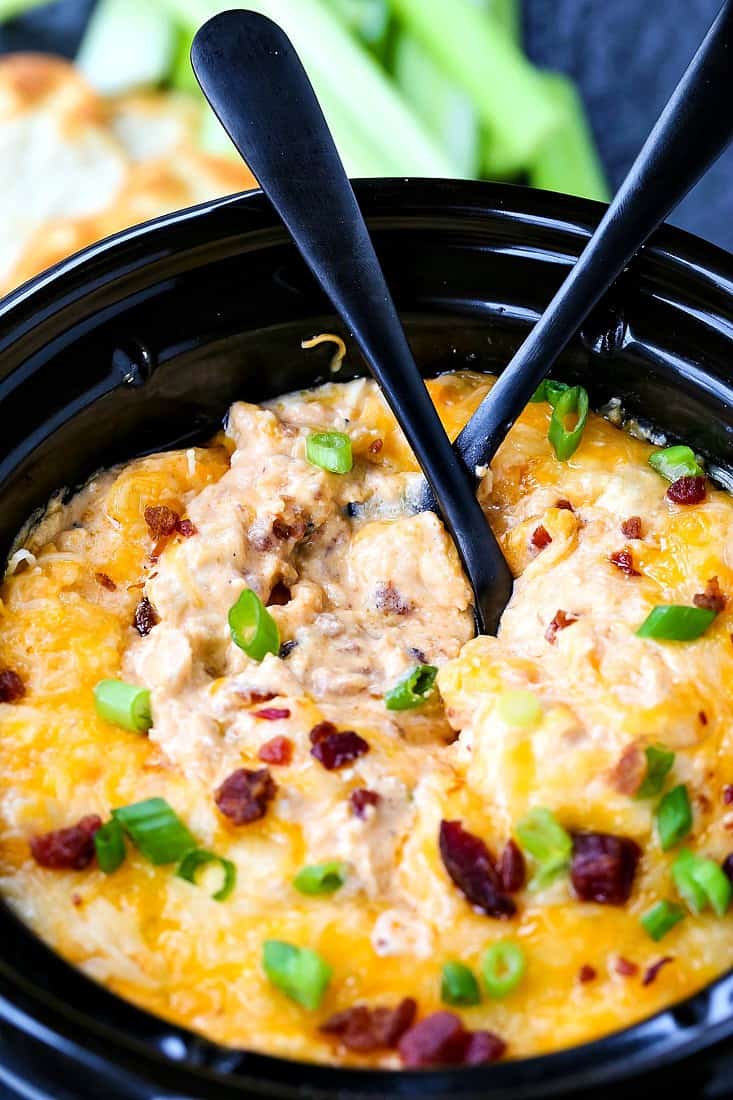 Usually buffalo chicken dip recipes call for a couple of blocks of cream cheese. And sour cream or mayo.
Instead of using all cream cheese I lightened up the texture here with a cup of ricotta cheese. Now I'm not saying that you're going to be saving tons of calories here, I'm just saying I like the lighter feel that ricotta cheese adds to this dip.
Try it this way if you can, I think you're really going to like it. Of course, if you have every single thing to make this buffalo chicken dip except for ricotta cheese then go ahead and add another block of cream cheese.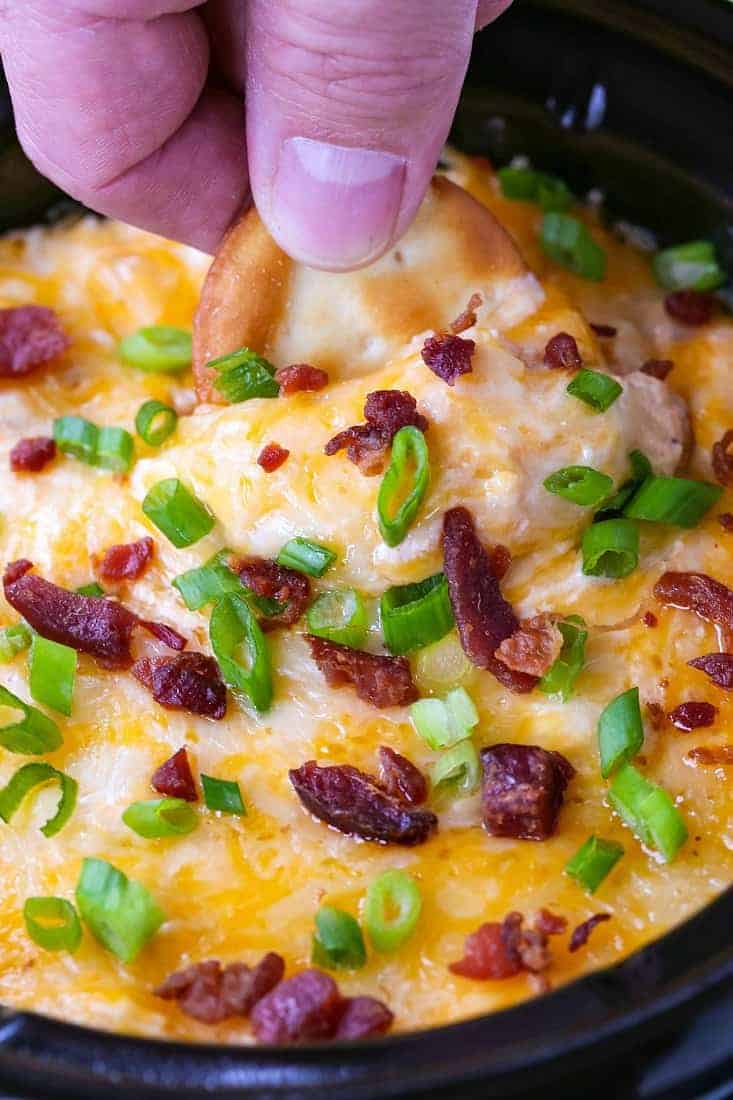 But you see how nice and easy this dip "dips"? You'll actually be able to dip your chip in here without it breaking into pieces since it's a little lighter than using all cream cheese.
Looking For More Appetizers?
• Slow Cooker Sweet Chili Chicken Wings
• Skillet Spinach Artichoke Dip
Yield: 8 servings
Crock Pot Buffalo Chicken Dip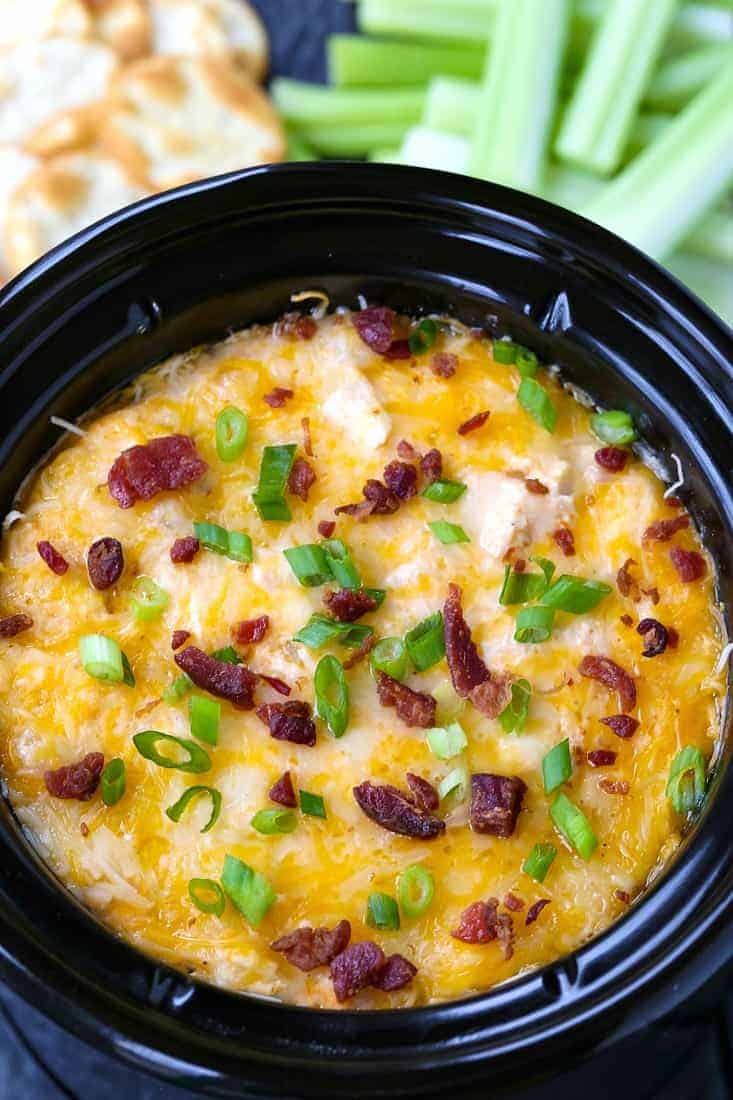 This crock pot buffalo chicken dip is always a hit at parties! Serve this dip with tortilla chips, pretzel chips or cut vegetables for dipping!
Total Time
3 hours
5 minutes
Ingredients
2 cups cooked, shredded chicken
1/2 cup mayonnaise
1 cup ricotta cheese (part skim or whole milk)
8 ounces cream cheese, softened
1/2 cup buffalo wing sauce (or a mild hot sauce)
2 cups shredded Mexican blend cheese, divided
1/2 teaspoon kosher salt
black pepper to taste
1/2 cup ranch dressing
1/2 cup crumbled bacon or "real" bacon bits
Chopped scallions and extra bacon for garnish
Instructions
Add all the chicken, mayonnaise, ricotta cheese, cream cheese, buffalo wing sauce, 1 cup of the Mexican blend cheese, salt, pepper, ranch dressing and bacon to a bowl.
Stir to combine the ingredients well then pour into a 2 quart crock pot or slow cooker.
Top with the remaining cup of Mexican blend cheese and cook on low for 2-3 hours until the dip is warmed through and the cheese on top pis melted.
Serve with tortilla chips, pita chips, pretzel chips and/or cut vegetables
Nutrition Information:
Yield:
8
Serving Size:
1/2 cup
Amount Per Serving:
Calories:

483
Total Fat:

42g
Saturated Fat:

16g
Trans Fat:

0g
Unsaturated Fat:

23g
Cholesterol:

89mg
Sodium:

1213mg
Carbohydrates:

7g
Fiber:

0g
Sugar:

4g
Protein:

18g
This nutritional information is for informational purposes only. As I am not a nutritionist, this information is provided only as a courtesy.