Need a delicious appetizer on a budget? You HAVE to try is Lobster Delight Dip, it will be a hit at any party! Just mix together, bake and serve!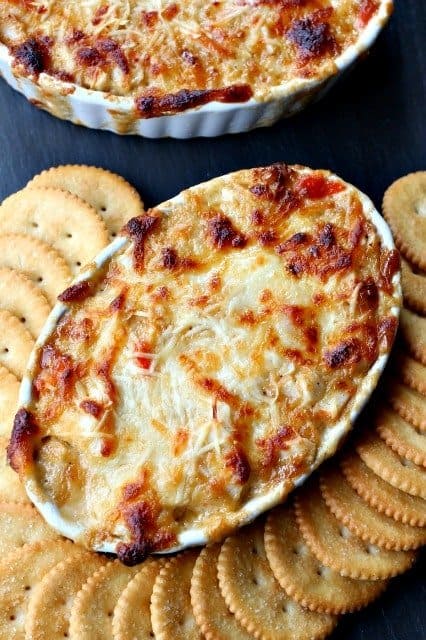 Christmas is my favorite holiday, but with two kids (and a wife) it definitely leaves my wallet feeling a little lighter when it's over. And then there's New Year's Eve and New Year's Day to get through. I guess I don't mean "get through" because I do love a good party on New Year's Eve. Then there's New Year's Day with all the football, beer and good food…my kind of holiday.
But things can definitely be tight after buying all those lego sets for Christmas.
I put my brain to work and tried to come up with some inexpensive but still impressive appetizers. Then I remembered my favorite dip that I get at the seafood counter at my grocery store.
Have you ever heard of Lobster Delight? Let me give you a hint – it's not lobster.
But I guess that's not totally true. It does have lobster in it, it's just not all lobster.
So what exactly is this Lobster Delight? It's real seafood – mostly Alaskan Pollock that's finely minced together with crab and lobster, egg whites and seasonings. Then it's cooked, cut into pieces and vacuum sealed in a bag.
And an 8 oz. bag is only going to run you about 3 bucks.
So for less than 10 dollars you can make an awesome, hot seafood dip that your guests are going to flip for.
Get your ingredients together…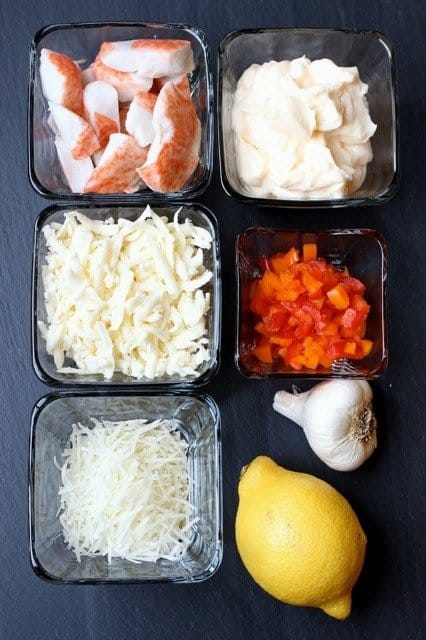 Stir them up, pour the dip into an 8″ x 8″ dish, top with some cheese and throw it in the oven. I actually made mine in 2 crocks instead of one larger one, 1 for New Year's Eve and one for me to eat on New Year's Day while watching the football games…always thinking ahead.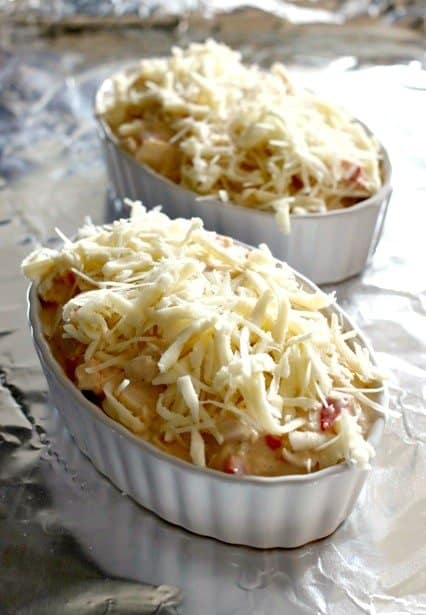 20-25 minutes later it's bubbling and ready for you to dive in. This dip is awesome with Ritz crackers but it's equally good with tortilla chips. And I have to admit I even tried it with a potato chip.
That was pretty good too.
Maybe potato chips crushed on top as a crunchy coating next time? Or the Ritz crackers.
Anyway – don't be afraid to cut some corners with this appetizer. No one will ever know (or care) because it tastes so good!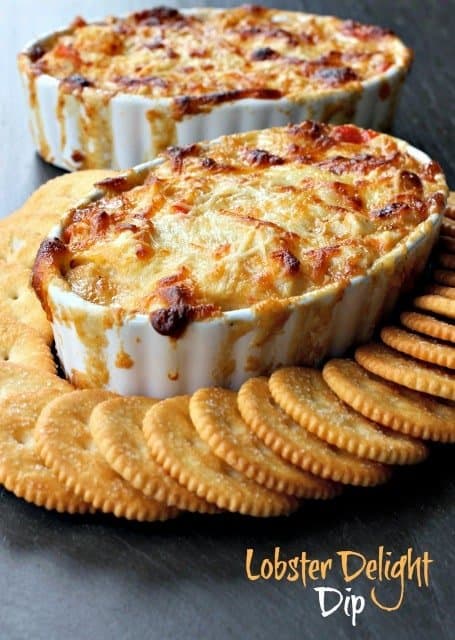 Print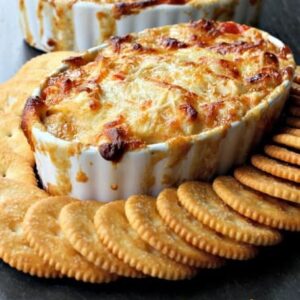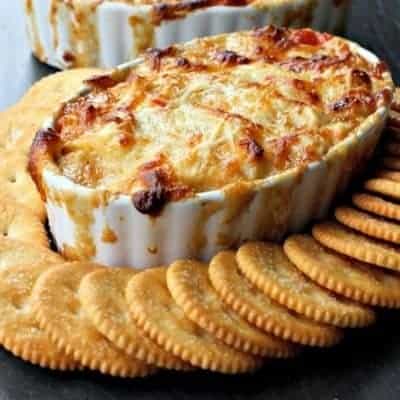 Lobster Delight Dip
Yield:

6 servings
---
Description
Serves 8 for appetizers
---
Ingredients
1 (8 oz.) package Louis Kemp Lobster Delight
1 cup mozzarella cheese, grated (divided)
1/2 cup parmesan cheese, grated (divided)
1/4 cup red bell peppers, diced
1 cup mayonnaise
2 tablespoons fresh lemon juice
2 tablespoons worcestershire sauce
1 to 2 teaspoons hot sauce
1 teaspoons dry mustard
1/2 teaspoon salt
1/2 teaspoon black pepper
crackers or tortilla chips for dipping
---
Instructions
Pre-heat the oven to 350 degrees.
Chop the Lobster Delight into smaller, bite-sized pieces.
Add the lobster delight, a 1/4 cup of the mozzarella cheese, a 1/4 cup of the parmesan cheese, pepper, mayonnaise, lemon juice, worcestershire sauce, hot sauce, dry mustard, salt and pepper into a bowl and mix together.
Pour into a 8″ x 8″ square baking dish or you can use 2 (8 oz.) gratin dishes.
Top with the remaining mozzarella and parmesan cheeses.
Bake for 20-25 minutes until the cheese is brown and bubbling.
Serve hot with crackers, tortilla chips or pita chips.