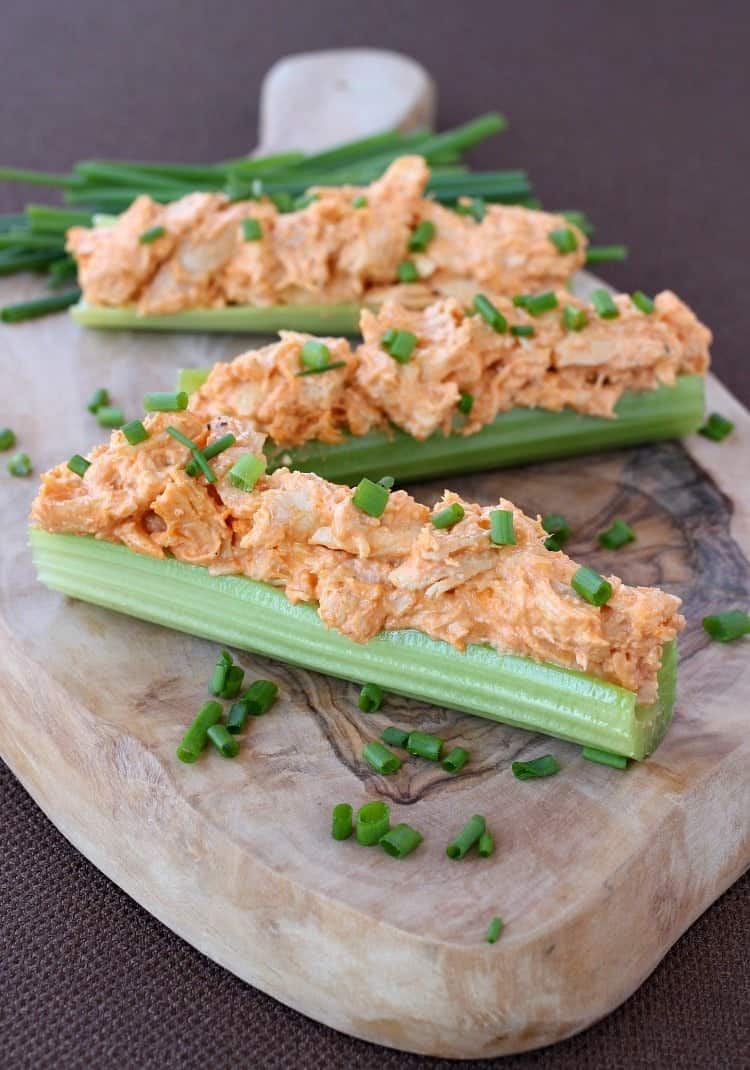 Buffalo Chicken Celery Sticks
Buffalo Chicken Celery Sticks are a totally addictive low carb snack! We make them all the time for an easy appetizer, snack, or lunch!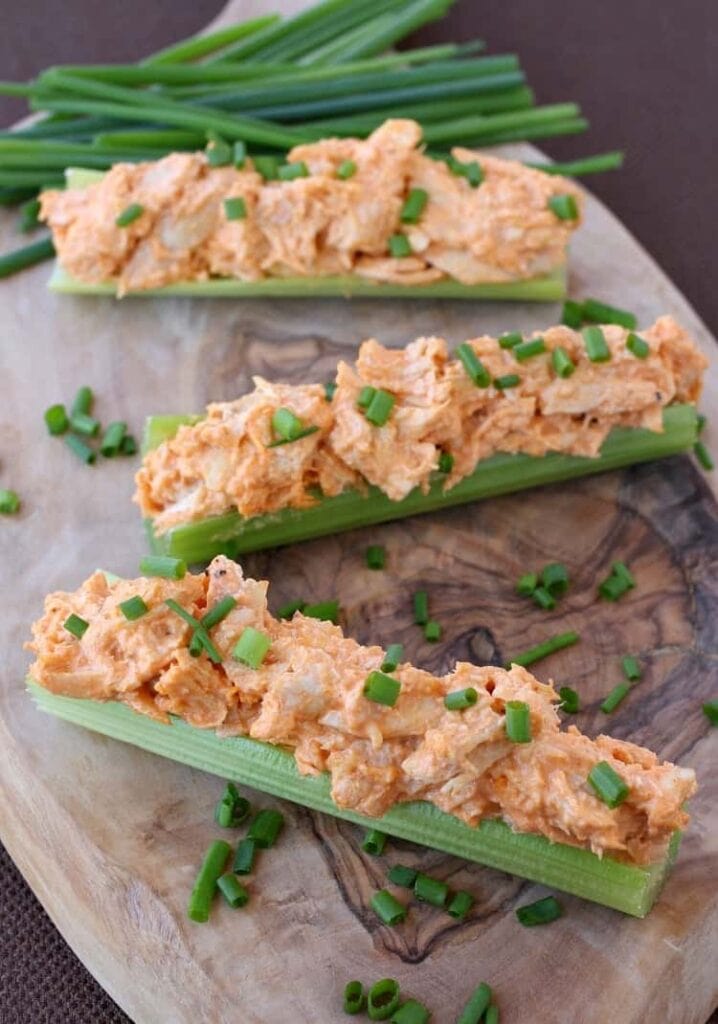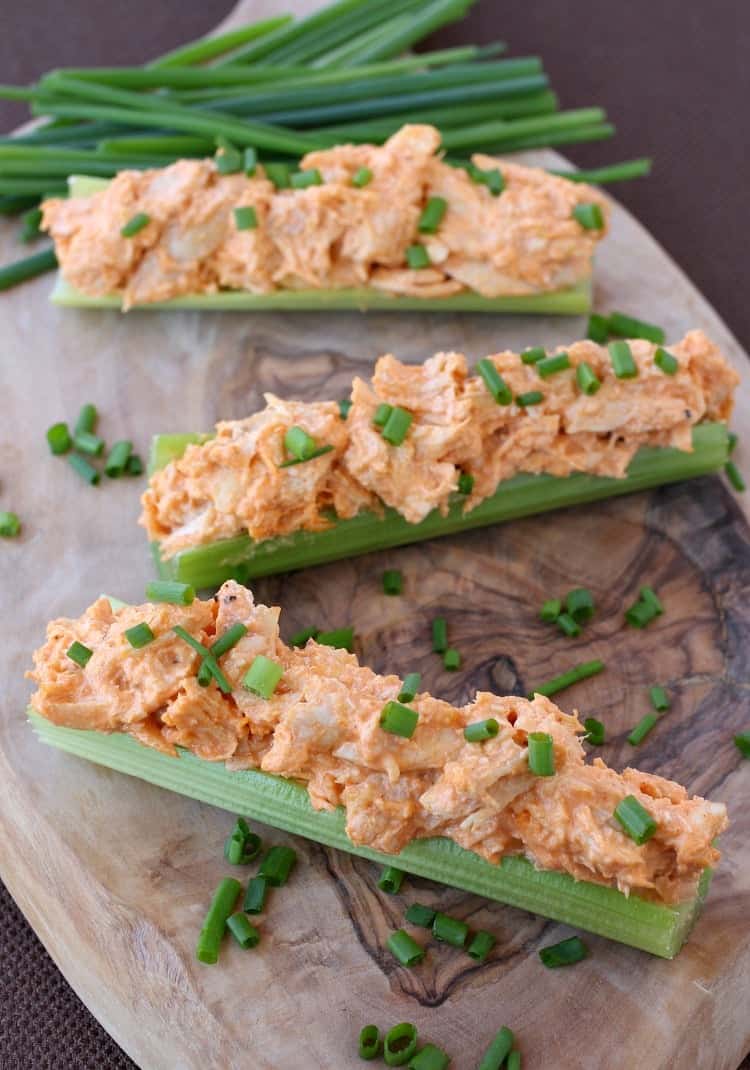 It seems like by the recipes on the site lately I'm trying to lighten things up a little. Due to the fact that my jeans are tight fitting these days, the time to diet is finally here.
That doesn't mean I'm not going to fry up a few things on the weekends but during the week it's going to be some lighter meals like these Chicken Stuffed Portobello Mushrooms we had the other night for a low carb dinner.
For now anyway…because something's gotta give. It seems like everyone is going low carb these days so I thought I'd give it a try too.
I can't stand boring food though. Because boring food isn't going to keep me sticking to any kind of diet, I've learned that before.
As a result of the tight fitting clothes I have, I have set out to make more interesting food that's going to make me actually want to eat it.
Agreed? It's really important to love the food you're making and eating so you want to make it and eat it again. Think about it – who really craves a celery stick?
But almost everything buffalo chicken flavored keeps me pretty interested, like this Buffalo Chicken Dip. You can also use celery sticks for that dip instead of chips!
Wings are my number one favorite appetizer though. If you're following low carb type diet, chicken wings aren't the worst thing in the world but I'm guessing that eating a bucket of fried wings is probably not going to get me in shape.
Because low carb or not, fried wings just are not health food. SorryNotSorry. Maybe try a baked chicken wing recipe, that is sure to be better for you than fried!
So when I started to think of lighter, low carb recipes, like celery stick recipes…I knew they really had to be good.
Also, this recipe only uses 1/4 cup of mayonnaise so you can adjust if you want less or more, because it's the buffalo wing sauce that really brings the flavor.
Roast and shred your own chicken – which we almost always have in the fridge – or grab a rotisserie chicken from the store OR…wait for it…
Maybe try using canned chicken. Finally, there is a decent use for canned chicken with this Buffalo Chicken Celery Sticks recipe because I haven't found one before this.
Really, if you pick up a good quality canned chicken it's going to taste awesome. Done it, loved it. Perfect for a low carb snack in a pinch.
Just mix up the chicken filling then grab some celery sticks and start stuffing.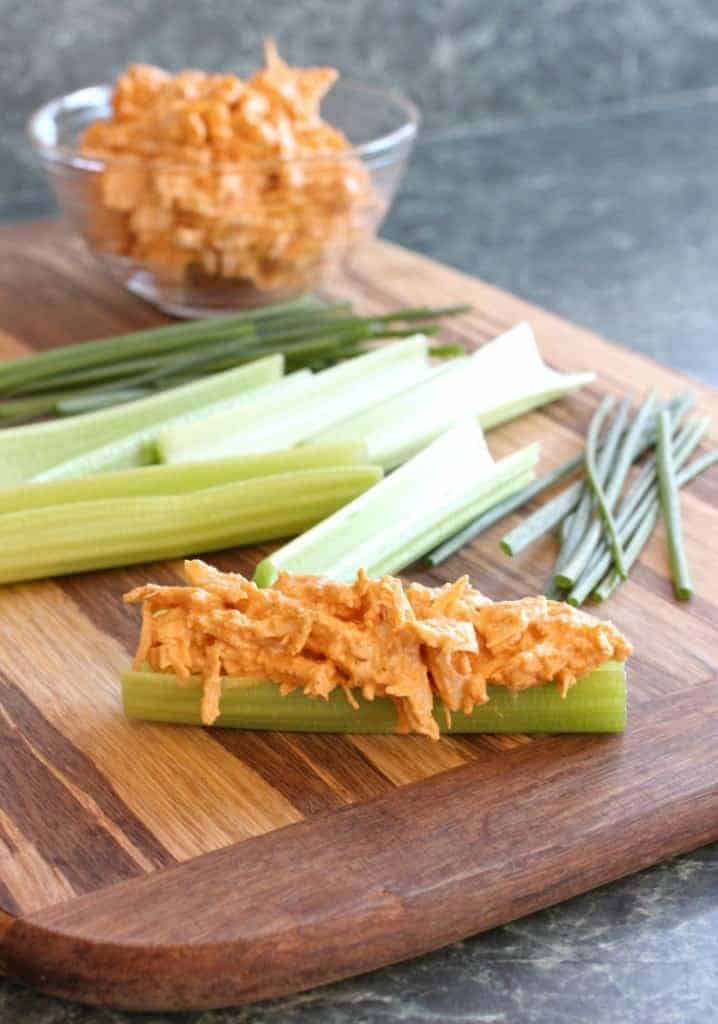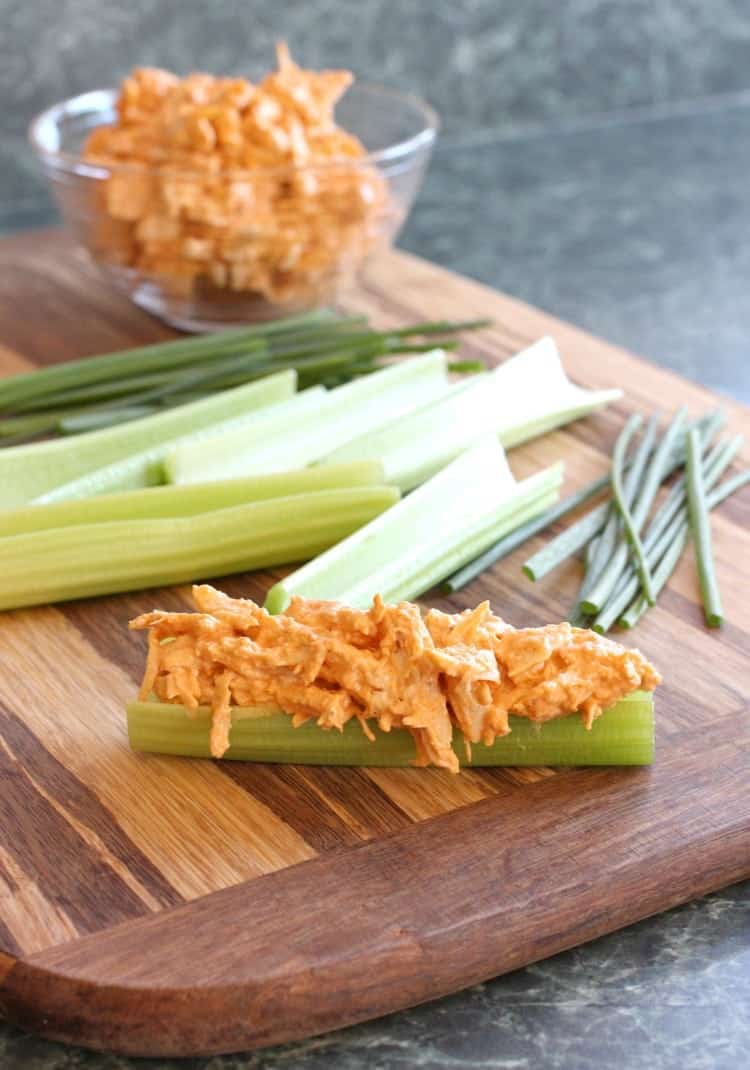 If you're a blue cheese fan you can load some of that on top but because I'm not I just topped mine with scallions. Ranch would also be great drizzled on top here too!
You're either on team blue cheese or not. There's no in between.
So I choose to serve these "naked" or as is with ranch or blue cheese on the side for dipping or drizzling. Maybe even a little sign as to which is which…
These Buffalo Chicken Celery Sticks are perfect for an easy appetizer too, you can make them way ahead of time and because of that crunchy celery stick nothing is going to get soggy on you.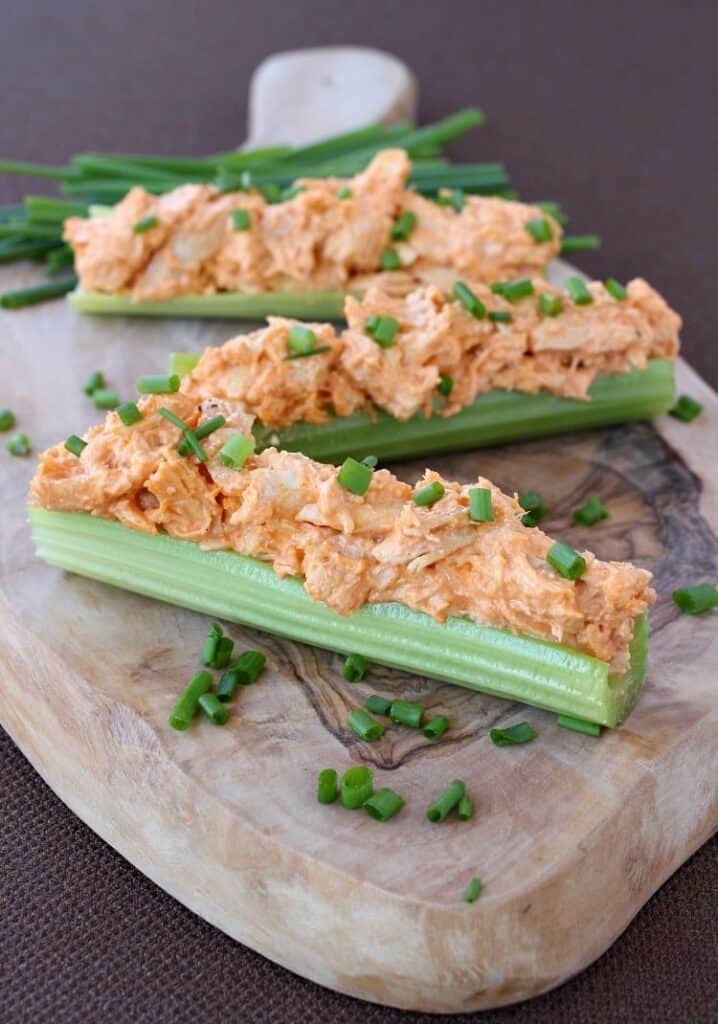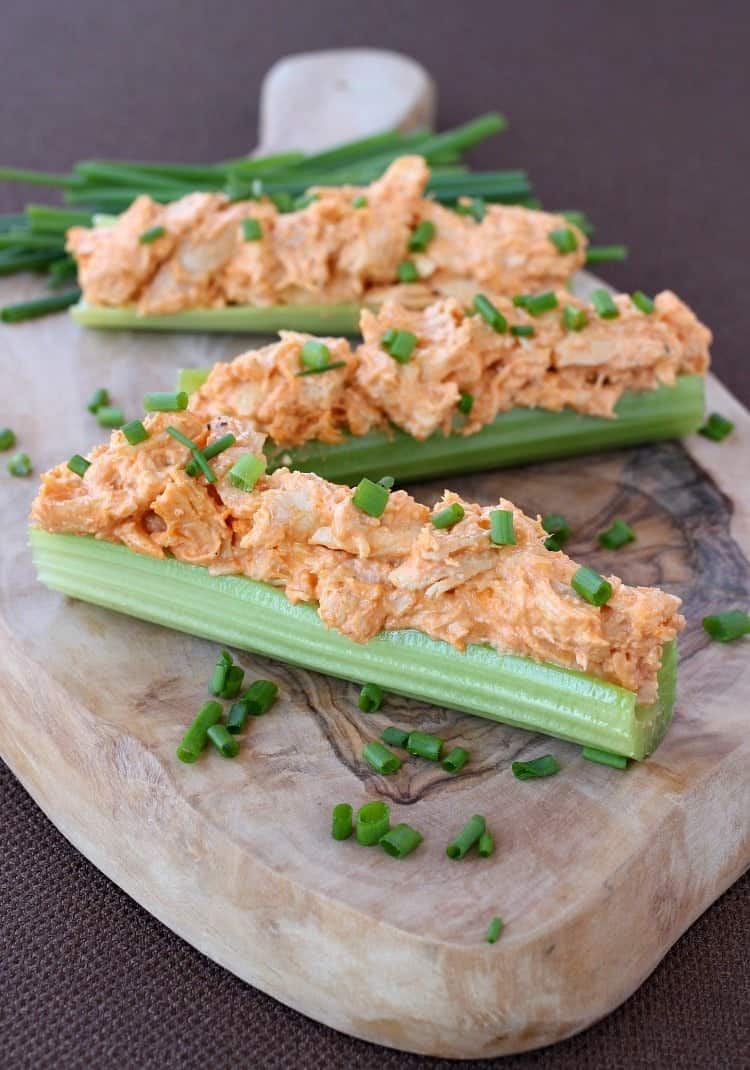 You're going to love these stuffed celery stick weather you're on a low carb diet or not. You can even try making your own variation, like BBQ chicken salad or even an Asian flavored chicken salad!
Just pile it up on crunchy celery sticks and get snacking! Finally a healthy recipe that's also delicious too!
Print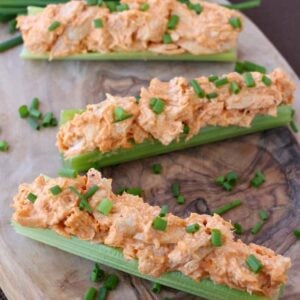 Buffalo Chicken Celery Sticks
Author:

Prep Time:

5 minutes

Total Time:

5 minutes

Yield:

12 servings

Category:

Lunch

Method:

No Cook

Cuisine:

American
---
Description
Creamy buffalo chicken stuffed into celery sticks for a low carb snack or even a meal!
---
Ingredients
2 cups shredded chicken (you can use leftover chicken, rotisserie chicken or canned)
1/4 cup mayonnaise
1/2 teaspoon garlic powder
1/4 teaspoon salt
1/4 teaspoon ground black pepper
3 tablespoons buffalo wing sauce
6 celery stalks cut in half (12 total)
chopped chives for garnish
---
Instructions
Mix the chicken, mayonnaise, garlic powder, salt, pepper and buffalo wing sauce together in a bowl.
Fill each celery stalk with the chicken filling and garnish with chopped chives.
Keywords: low carb recipe, snack ideas, buffalo chicken, appetizers, celery sticks