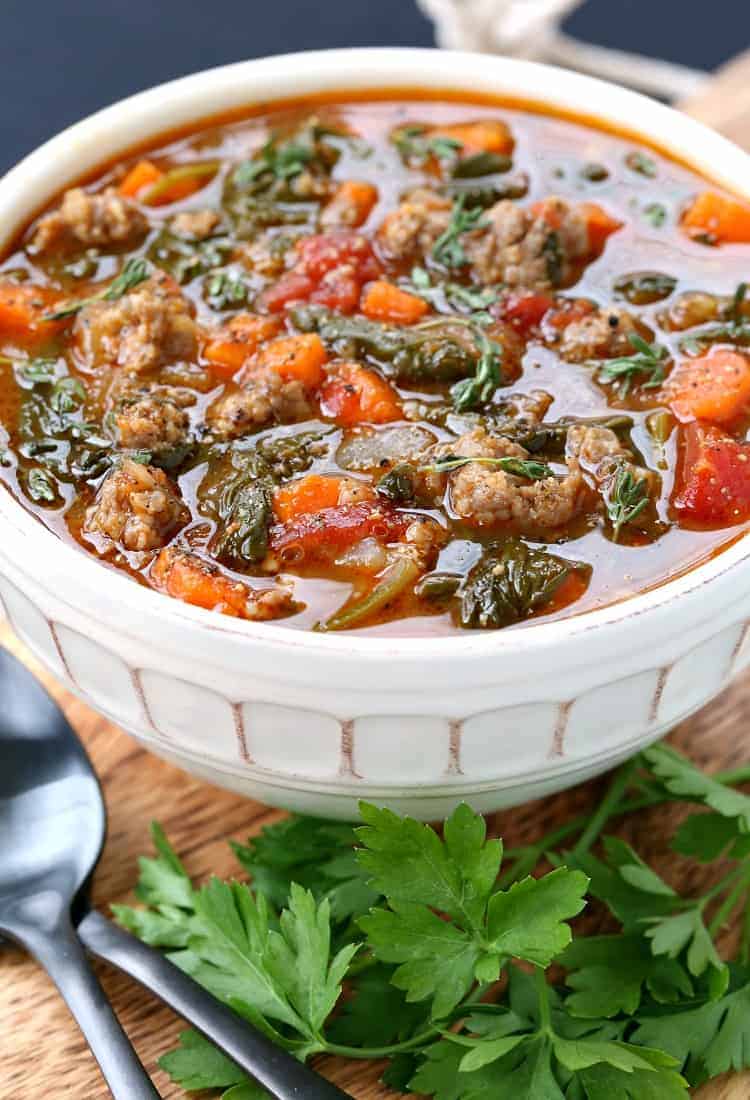 Low Carb Sausage Vegetable Soup
With this Low Carb Sausage Vegetable Soup you'll never miss the pasta! And you can always serve some on the side for your carb lovers!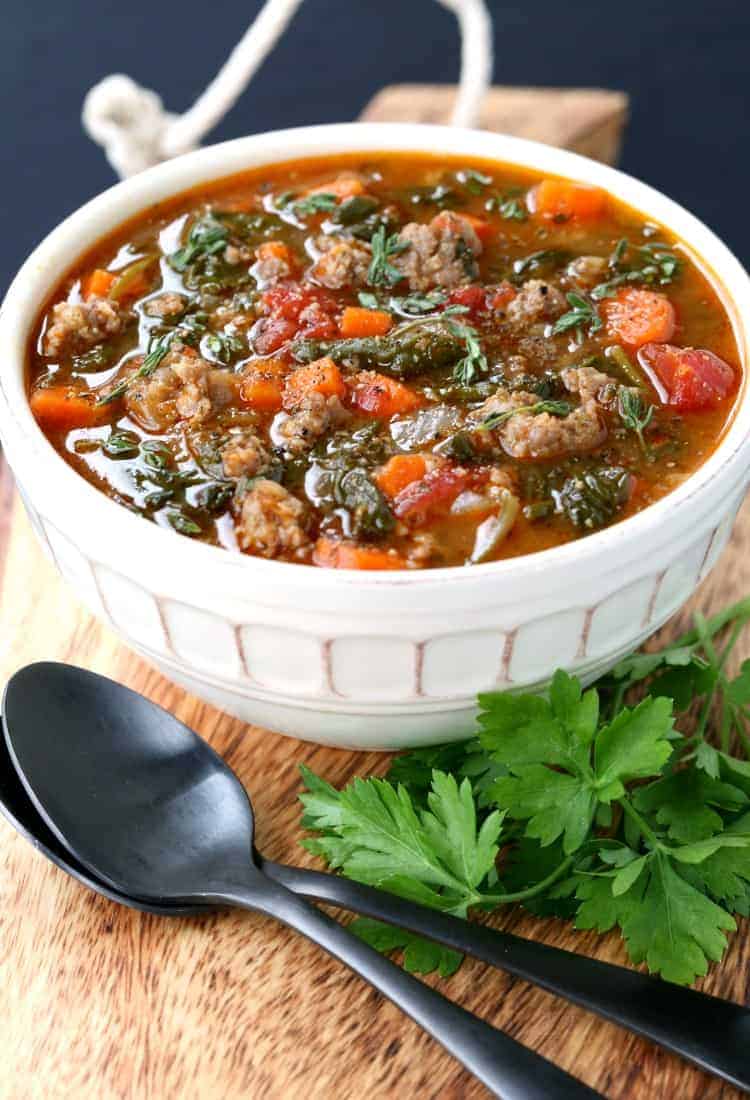 Here's the key to any diet. Right here, so listen up.
You have to eat food that doesn't make you feel like you're on a diet.
I know that seems like an easy concept but it's harder than it seems. How many awesome ways can you make a salad or grill up a chicken breast?
Well, a lot. But you have to get creative and make a variety so you don't get bored. I need to be excited about my food, it's just the way that I am.
This Low Carb Sausage Vegetable Soup will do just that. Make you excited about dinner and keep you sticking to that low carb diet. Even if you're not following any kind of low carb plan you're going to love this soup since you can easily add pasta or beans or rice right to it.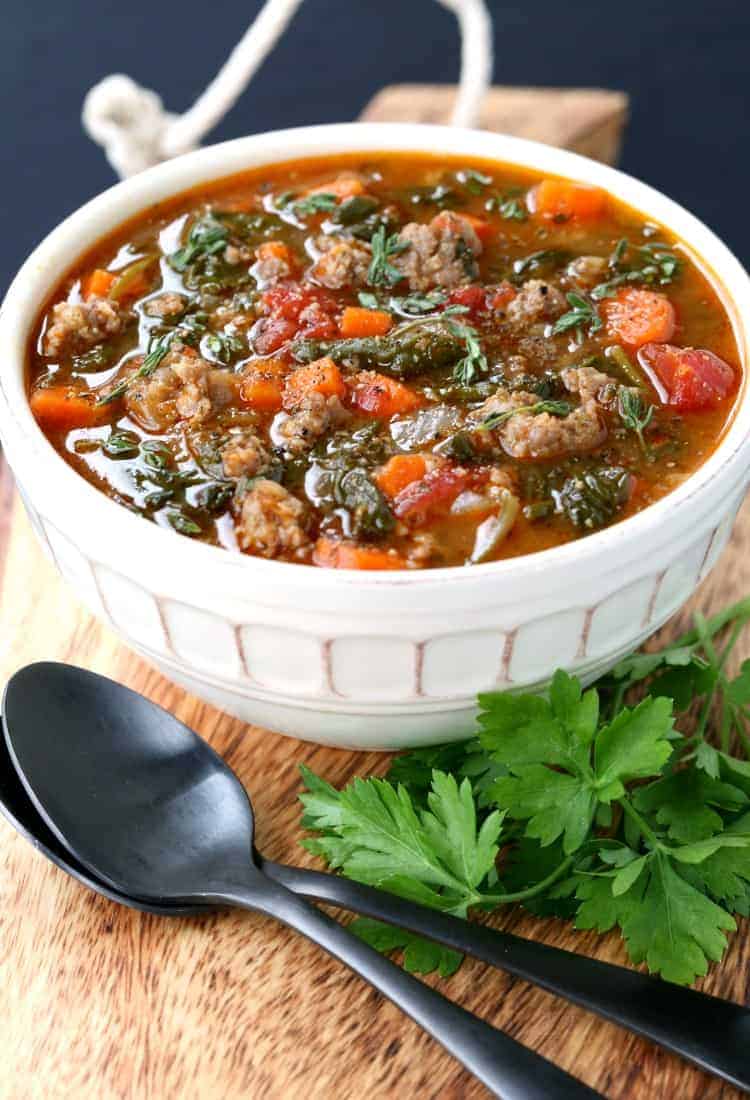 And here's the best part – if you're trying to get more vegetables in your diet but don't really love eating all the vegetables…make this soup ASAP. The flavors blend so well together I could eat this every single night and be way more healthy than I was the night before because this soup is LOADED with vegetables.
If you really need a past loaded soup, you should totally try our famous Beefy Tomato Soup – that's a classic. Or another one of my favorites id this Beefy French Onion Soup. You definitely need the toast for that one.
Start out by browning onions and carrots in a pot, then add the sausage.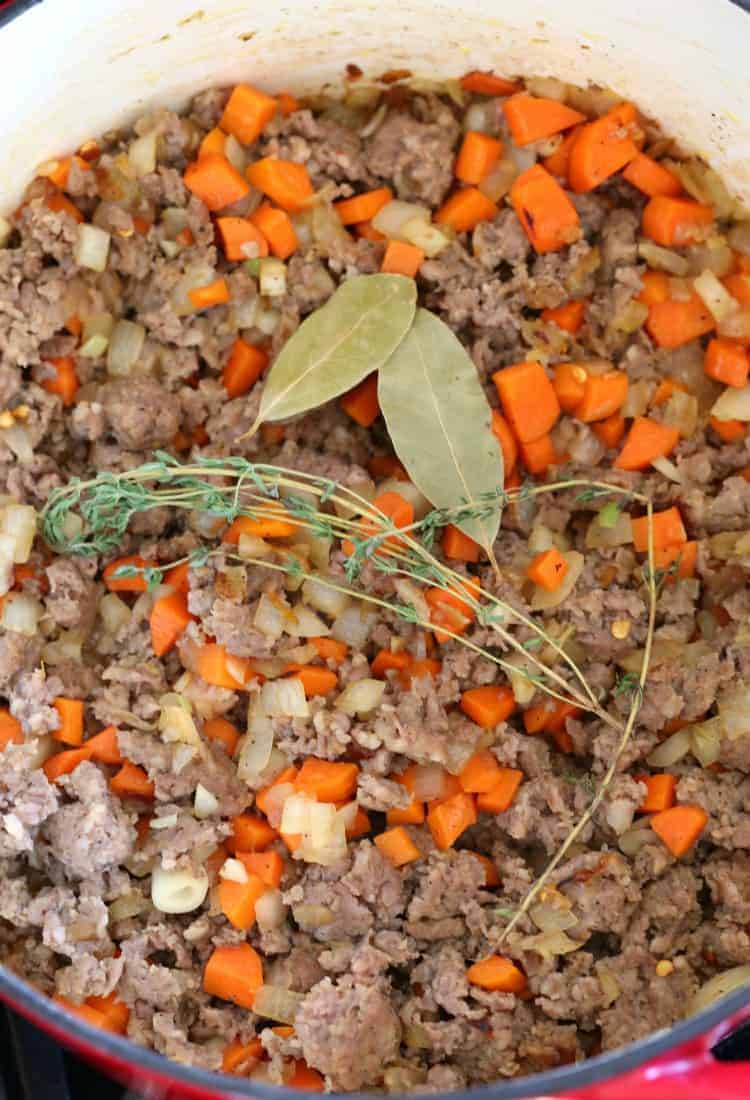 You could use chicken sausage or spicy sausage or even ground beef or pork. Use up whatever is in your fridge for this one, but sausage is my go to for flavor.
Next add the chicken broth and diced tomatoes, give it a stir then add the spinach.
A lot of spinach.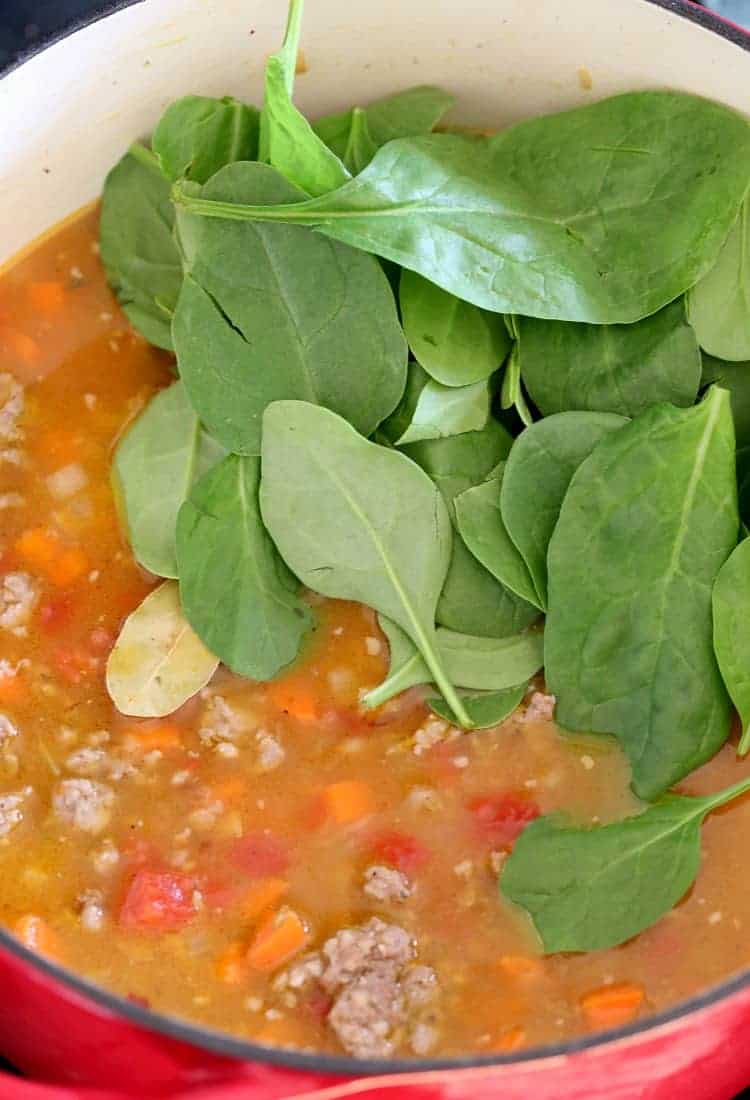 It looks ridiculous at first, I used to never believe Christie when she would tell me to keep adding more spinach because it wilts down. Well it does, so keep adding it in.
That's pretty much it guys, just stir it up and let it simmer for about 20 minutes.
Time to get your grub on.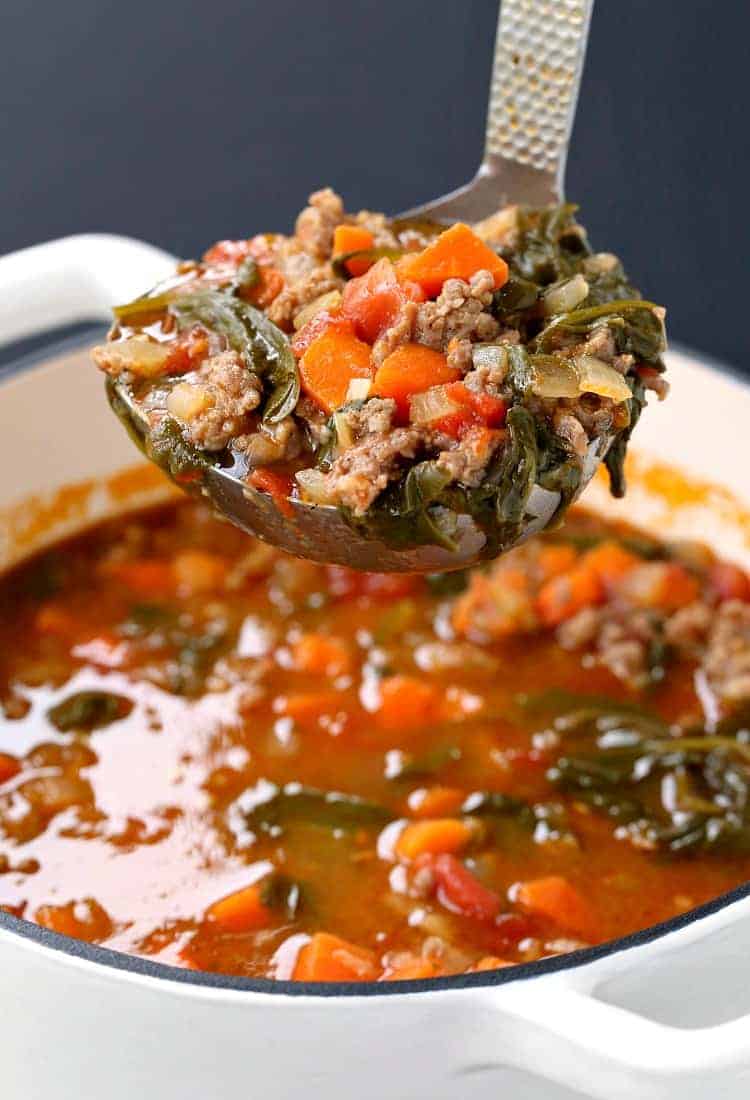 You could add your carb of choice to the bottom of a soup bowl for your carb lovers then ladle the soup right on top or just serve as is for the low carbers.
Grated parmesan cheese and fresh cracked black pepper on top is perfect!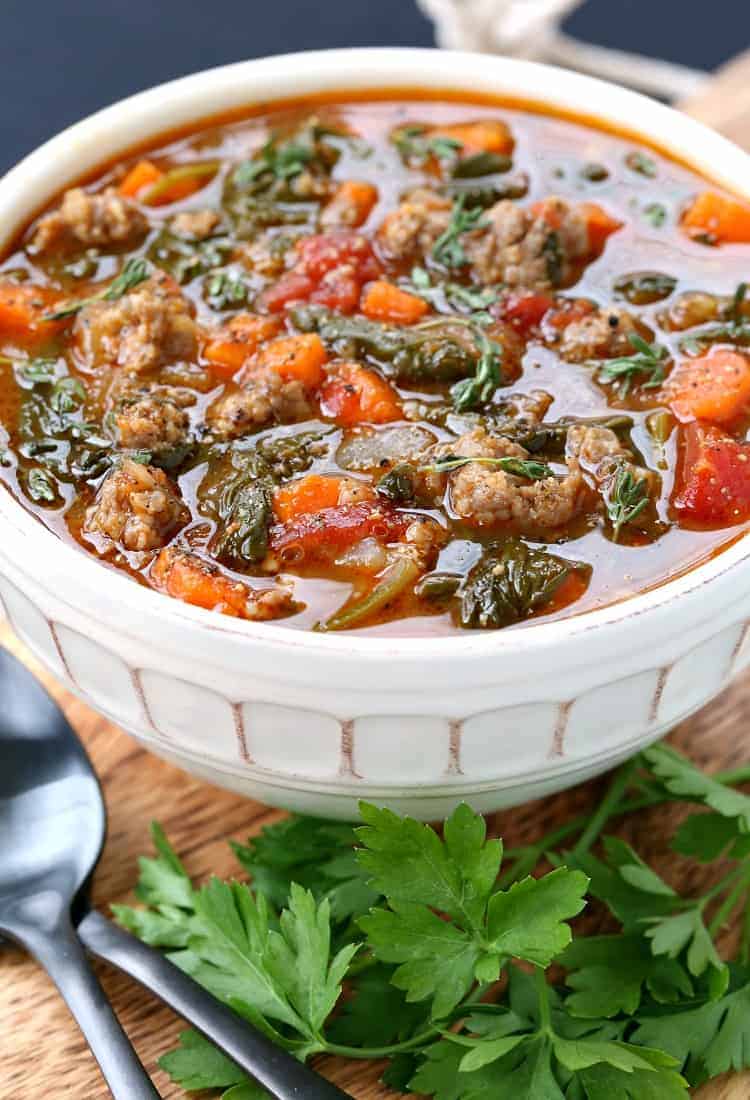 Print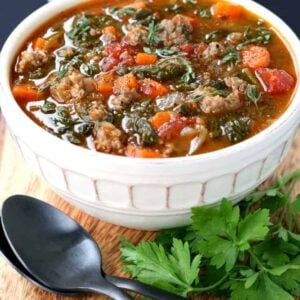 Low Carb Sausage Vegetable Soup
Author:

Yield:

6 servings
---
Ingredients
3 tablespoons olive oil
2 onions, chopped
4 carrots, peeled and chopped
1 pound sweet or spicy sausage
4 cloves of garlic, chopped
1 teaspoon salt
1/4 teaspoon black pepper
4 cups chicken stock
1 can diced tomatoes with juice
10 ounces baby spinach
2 bay leaves
4 sprigs fresh thyme
---
Instructions
Add the oil to a soup pot over medium to medium low heat.
Add the onion and carrots, salt, pepper, bay leaves and thyme to the pot. Stir to coat in the oil and cook for 8-10 minutes until the carrot and onion are soft.
Add the sausage to the pot, breaking up with a spoon and cooking until no longer pink. Add the garlic to the pot and cook for a minute more.
Pour in the chicken stock and the can of diced tomatoes, then add the spinach leaves stirring into the broth to wilt.
Simmer for 20 minutes.
Remove the bay leaves and the thyme sprigs, season with more salt and pepper to taste if needed and serve.