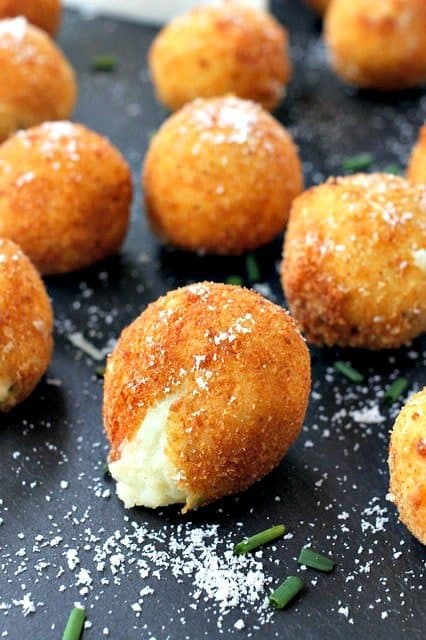 These Fried Mashed Potatoes are not only an awesome way to use leftovers – you might find yourself making mashed potatoes just to make this recipe!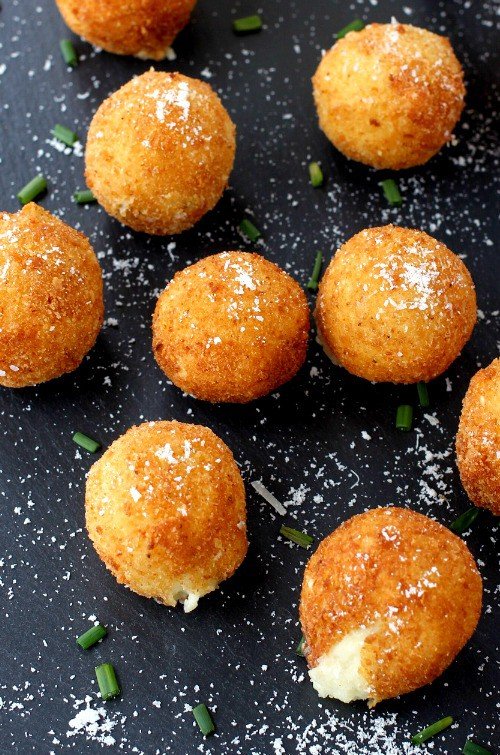 So, what do I love about summertime?
Summer time to me means hanging outside – as much as I can – with friends and family, neighbors, anyone who's up for stopping over for some food and a beer.
Summer time as a dad also means lots and lots of baseball. Both my boys play baseball so there's a lot of games and practices to get to. But there's also a lot of Yankee games to get to. I try and take the boys as much as I can because nothing says summer to me than watching a ball game and eating a hot dog with my boys.
Then there's this video of some epic summer time fun brought to you by Schick Hydro®. I played this for my boys and they were freaking out – they asked me if I could take them there soon…I guess I'll be googling where this was filmed because it does look pretty awesome.
But for the nights at home when we're not doing baseball of some sort, I love just hanging out on my deck. Get the music going and start the grill and the party will follow. Casual, t-shirts and shorts nights, as long as I'm showered and shaved all I care about is being cool and comfortable. And comfortable is key – the Schick Hydro® has a hydrating gel with shave oils that work with skin guards to reduce friction and irritation. No razor burn is coming to my party.
When we hang out on the deck and grill with friends, I like to have a couple of apps or sides that I can make ahead of time so I'm not grilling and serving the whole night. These Fried Mashed Potatoes are perfect for grilling night. They can stay warm in your oven and when you pull that steak off the grill your side dish is waiting for you.
Just take a few cups of your leftover mashed potatoes and put them in a bowl with some softened cream cheese, chives, and egg and seasonings. If you don't have leftover mashed potatoes, you're gonna need to make some.
Next set up 3 dishes with a beaten egg, bread crumbs and flour. Form into balls like the size a golf ball, then coat in the flour, then the egg and finally roll into the bread crumbs to cover. Repeat, repeat and repeat until you're all done.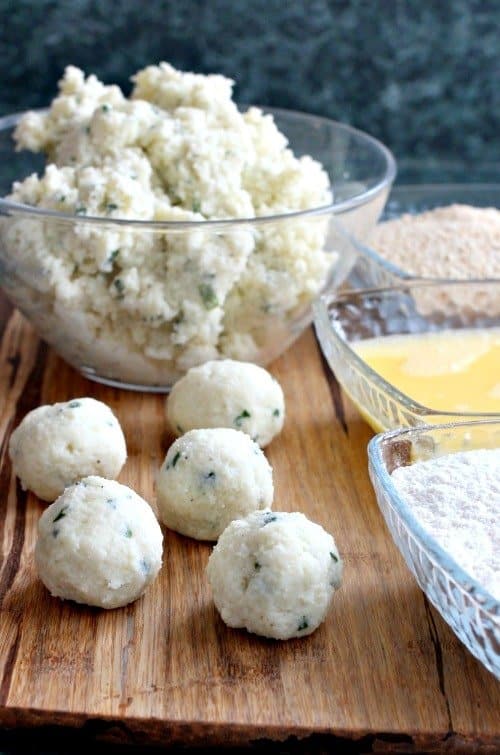 Then comes the deep fry! Fry for a few minutes in a large pot with oil and then let cool on paper towels. While they're still hot, give them a good coating of parmesan cheese.
And that's it – Fried Mashed Potatoes. You might never be able to serve plain old french fries with that grilled steak again.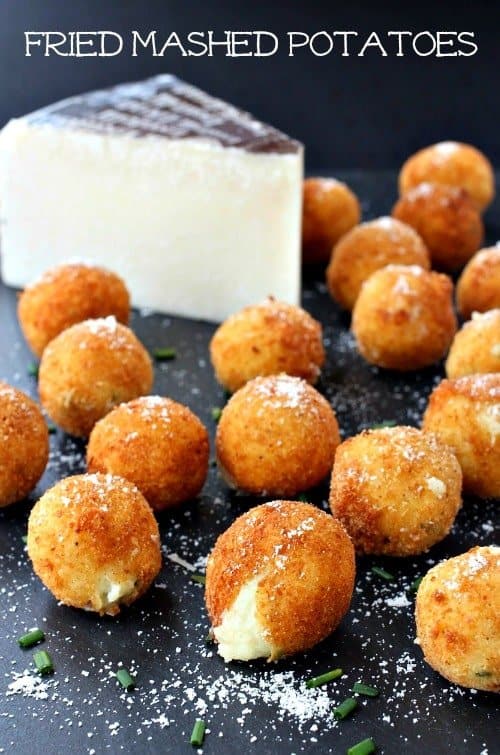 Print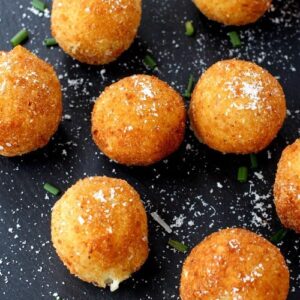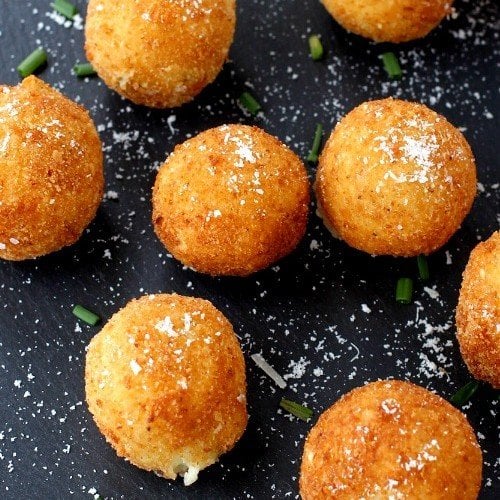 Fried Mashed Potatoes
---
Description
makes about 30 mashed potato balls
---
Ingredients
4 cup

s leftover mashed potatoes

3 oz

. cream cheese, softened

2

T. chives, chopped

3

eggs

1/2

c. grated parmesan cheese

1/2

t. garlic powder

1/2

t. salt

1/4

t. ground black pepper

1

c. bread crumbs

1

c. flour
vegetable oil for frying
---
Instructions
Start heating a large, deep pot filled halfway with oil over medium heat until it reaches 350 degrees.
While the oil is heating, mix together the mashed potatoes, cream cheese, chives, one egg, parmesan cheese, the garlic powder, salt and pepper in a large bowl.
Roll into balls about the size of a golf ball and set on a board.
In three bowls set out the bread crumbs, flour and the other 2 eggs, beaten with a tablespoon of water.
Dip each mashed potato ball into the flour first, shaking off the excess, then into the beaten egg, letting the excess drip off, and then last into the bread crumbs.
Once your oil reaches about 350 degrees, start frying the balls in batches, not overcrowding the pot as you fry.
Fry for 3-4 minutes until golden brown and then remove to a paper towel lined board or plate.
While still warm, top with extra parmesan cheese.
---
Notes
You can keep these in the oven on low (250º) for about 30 minutes to an hour if you want to make them ahead of time.
I'm sharing these epic moments thanks to Schick Hydro® as part of a sponsored post for Socialstars #MakeItEpic