This Chicken Cordon Bleu Meatloaf Recipe has layers of ham and Swiss cheese tucked inside a juicy meatloaf recipe that you're going to love!
If you love meatloaf recipes like we do, you HAVE to try our Brown Gravy Meatloaf Recipe! Or you can try this over the top Tasty AF Meatloaf recipe…and turn any night into a party with this Turkey Taco Meatloaf!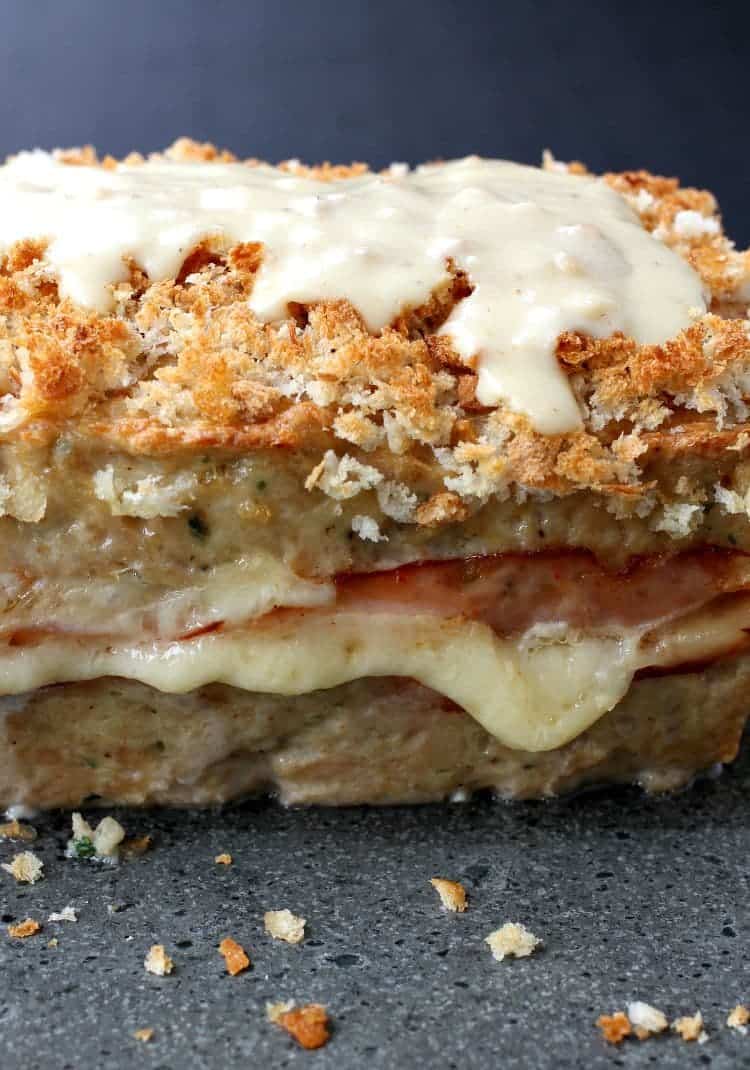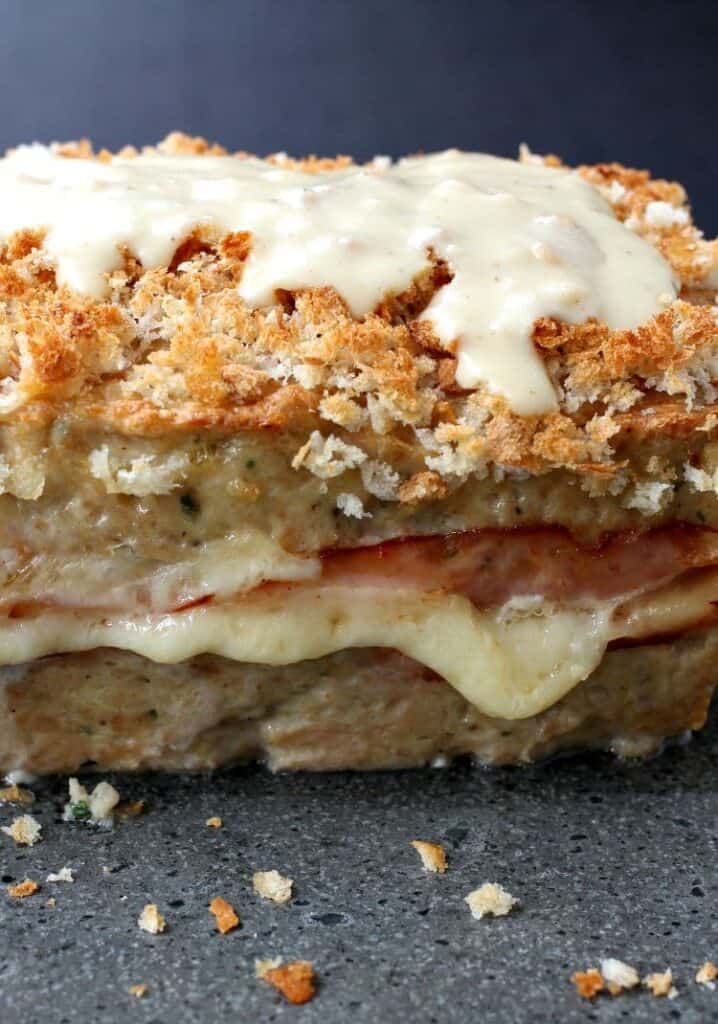 A Show Stopping Meatloaf Recipe
I feel like meatloaf is one of those things that people feel pretty strongly about. Either you love it or you hate it, there's not much in between.
We are a meatloaf loving family, all of us will eat meatloaf at any given time. There's not really much not to love in my opinion, it's basically like a giant meatball that's baked and sliced.
I mean, unless you don't like meatballs…
Another great thing about meatloaf recipes is that you can make them ahead of time and just warm a slice up in the microwave when you need it. With everyone going in different directions these days that is a dinner I can get behind!
All this brings me to the subject of this post. Meatloaf. Chicken meatloaf to be exact and a mighty tasty version too! This easy meatloaf recipe is based off the classic Chicken Cordon Bleu flavors.
What is Chicken Cordon Bleu?
Cordon bleu is basically a meat wrapped around some type of cheese, that's breaded and fried. You can make cordon bleu with chicken, pork or veal. Ham seem to be optional in traditional definitions, but we typically see cordon bleu recipes with ham as well.
This extra juicy chicken meatloaf (not dried out by using a secret ingredient) is basically two layers of chicken meatloaf with a middle layer of ham and Swiss cheese.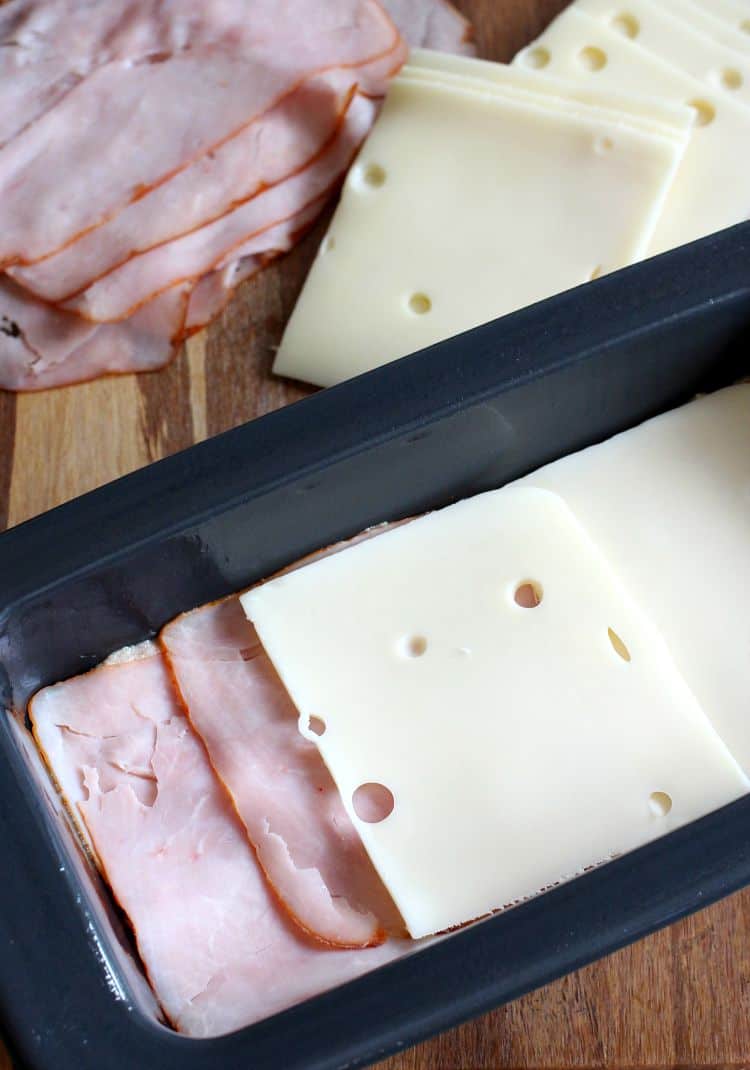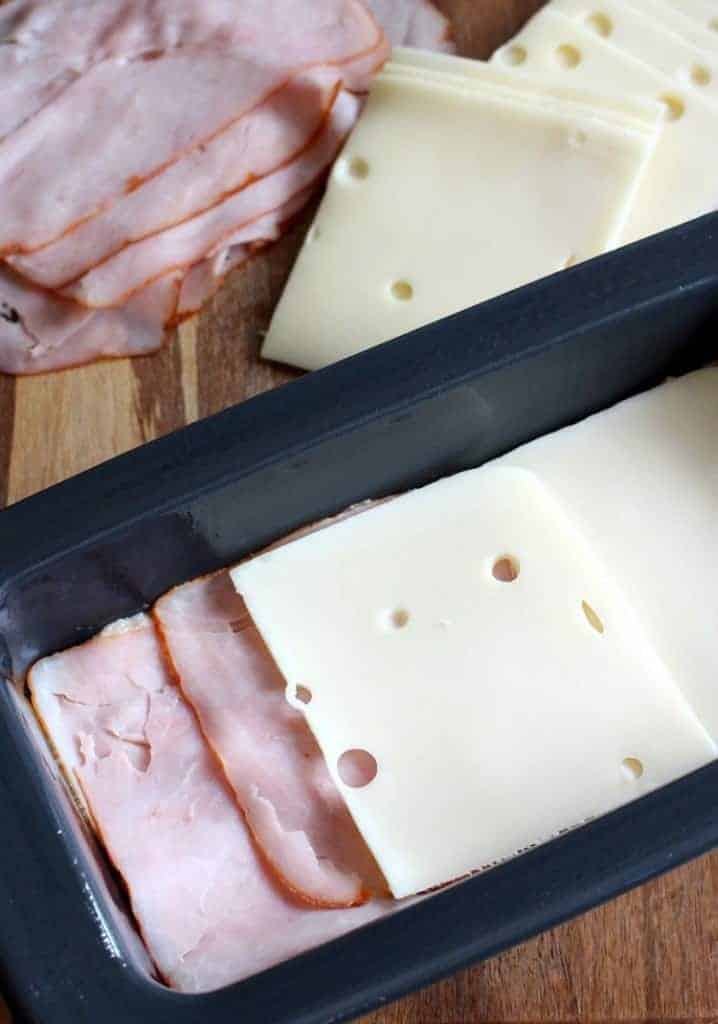 What Makes this Chicken Meatloaf So Moist And Delicious?
OMG it's so good you guys…
Don't look at this meatloaf recipe and pass it by because you think it looks difficult in any way. Because it's super easy – promise. A handy loaf pan really does all of the work for you.
We're going to mimic that crunchy, crispy fried texture of chicken cordon blue by adding Panko breadcrumbs to the top of this meatloaf that are going to crisp up int the oven. The result is a tender, juicy meatloaf oozing with cheese and a crispy topping to soak up the sauce.
How Do You Make This Chicken Meatloaf?
Basically, you start by mixing together your protein together, your turkey, beef or in this case chicken with seasonings, eggs and breadcrumbs.
Layer half of the chicken mixture in the bottom of a loaf pan. Next layer ham and Swiss cheese all across the chicken layer, then follow that with the other half of the chicken mixture on top.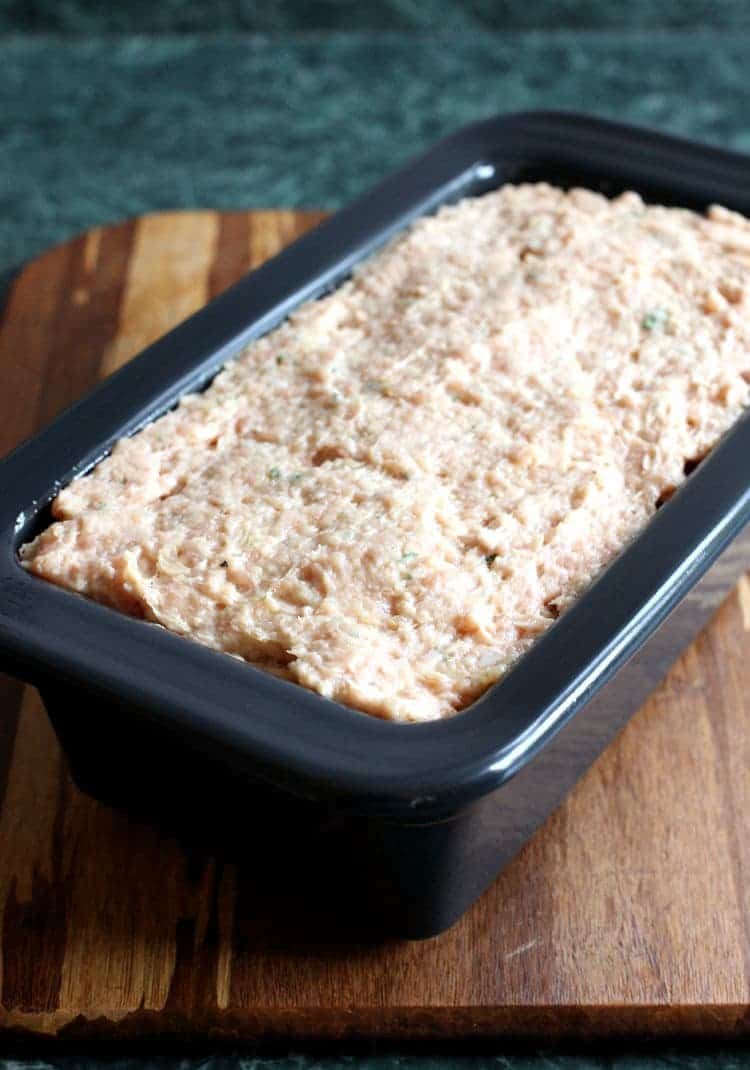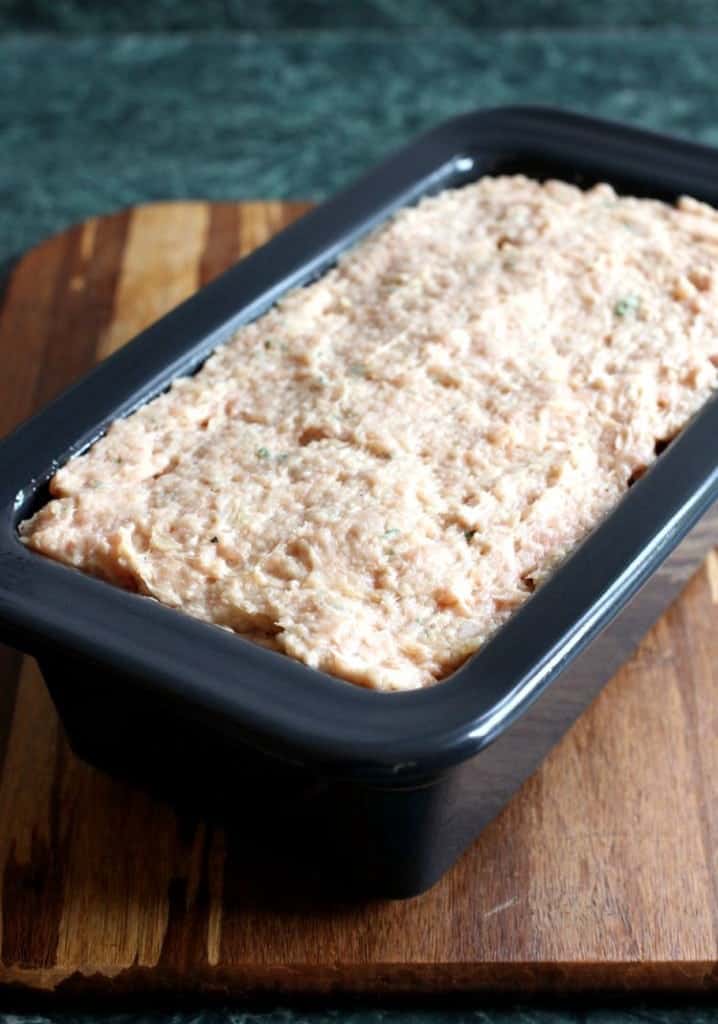 We don't want the crispy breadcrumbs to burn, so first cook the meatloaf without the breadcrumb topping, then add the Panko breadcrumbs during the last 15 minutes of cooking.
Don't worry, I'll keep you busy while this meatloaf is in the oven. Now we can get together the ingredients for the creamy dijon gravy that will be spooned over the top of the meatloaf or used as a dipping sauce on the side.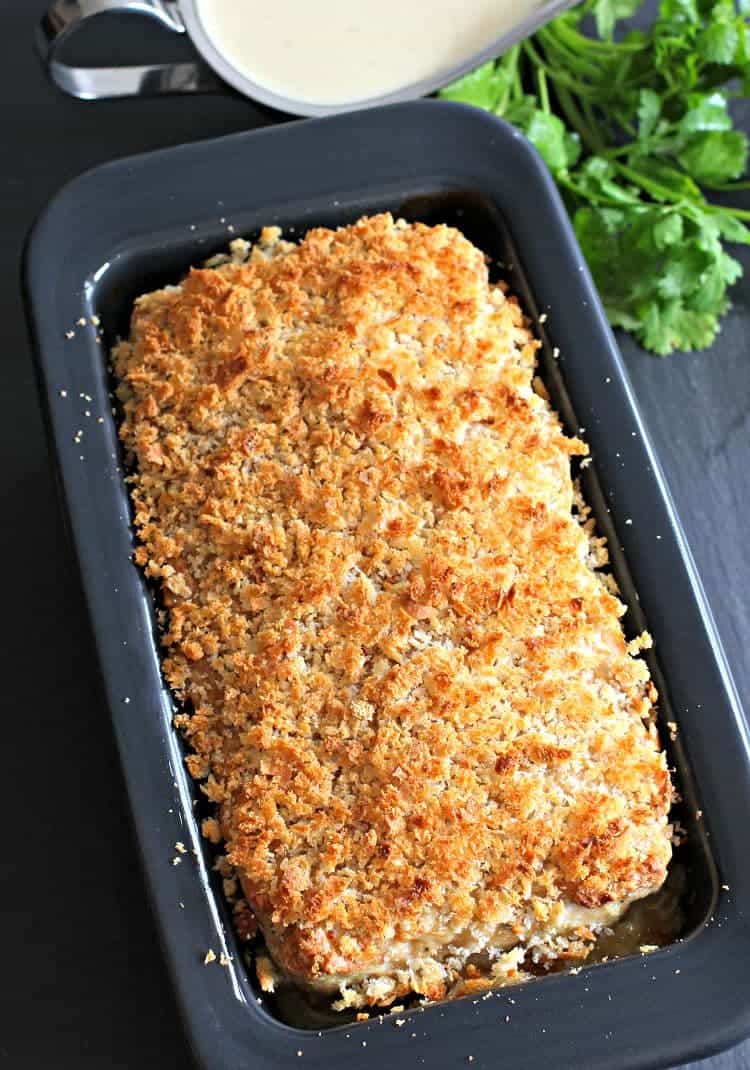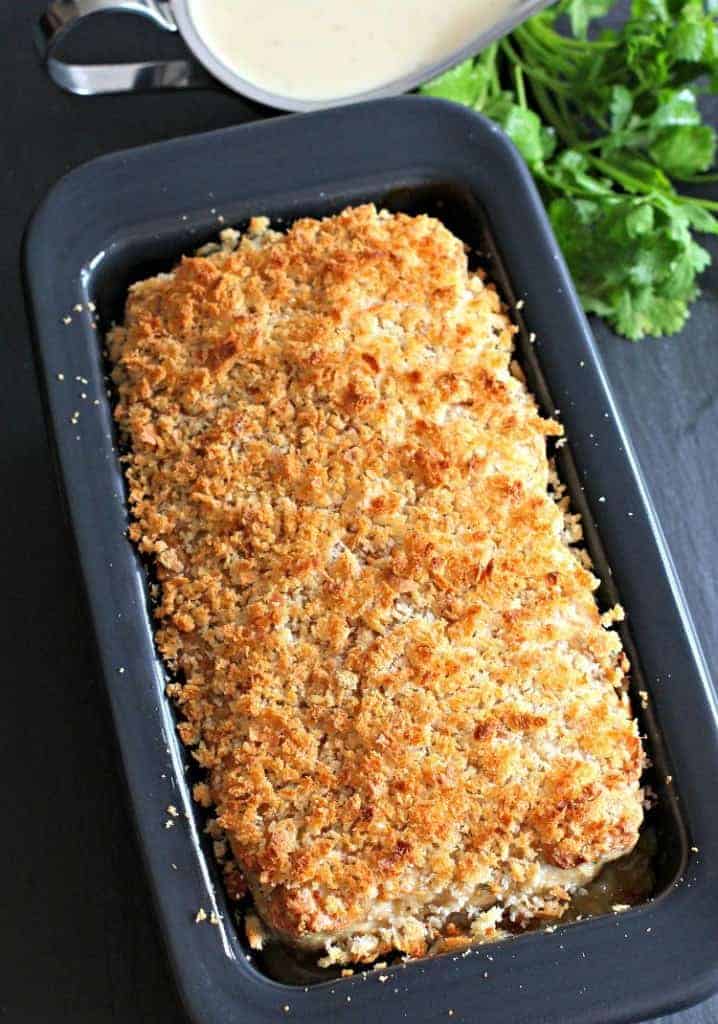 Slice it up, pour the gravy all over and serve. Am I right? Meatloaf awesome enough to serve at a party.
This Chicken Cordon Bleu Meatloaf is show stopping enough to serve at any party and definitely tasty enough to get all the "oohs" and "ahhs" from your guests. Yep, this meatloaf is going to be a home run.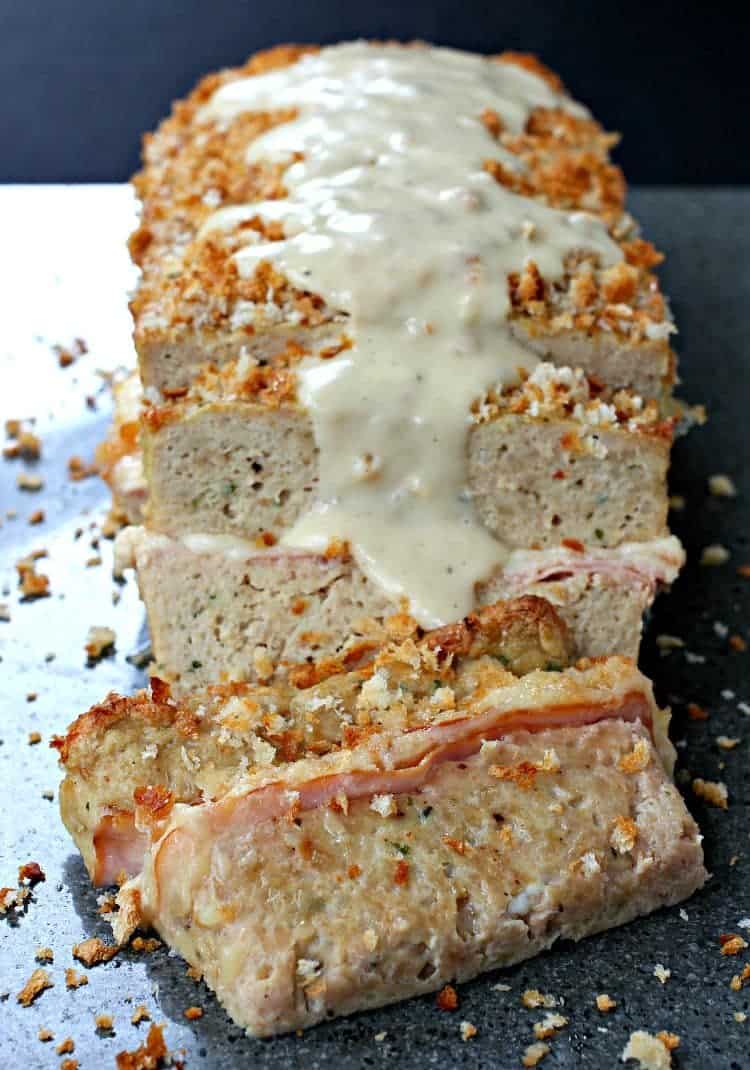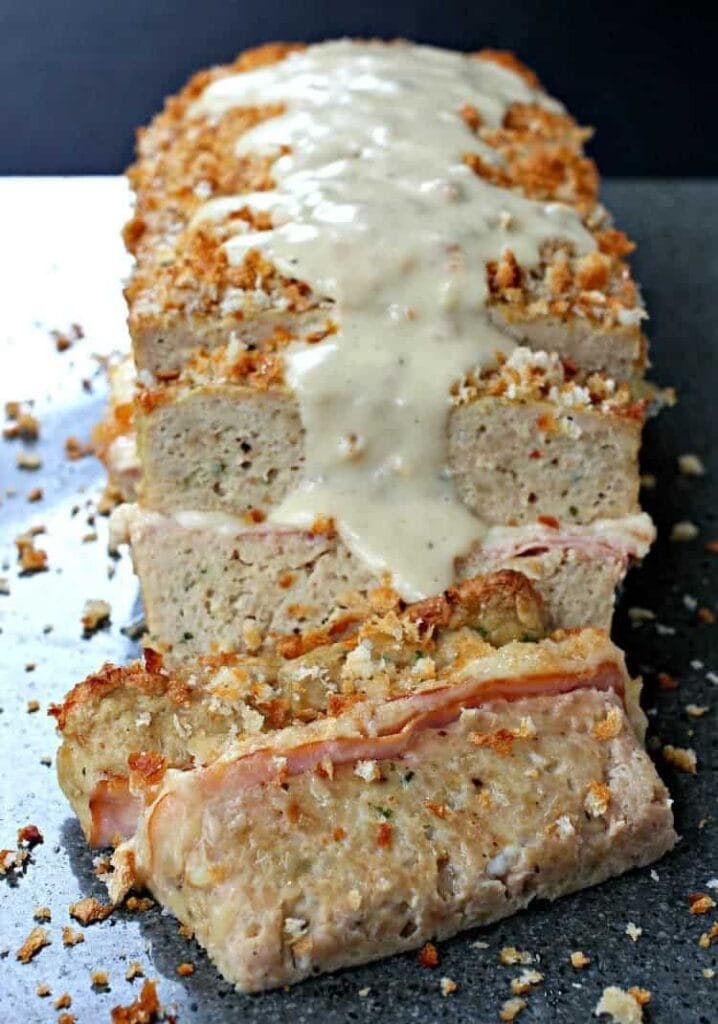 PIN IT!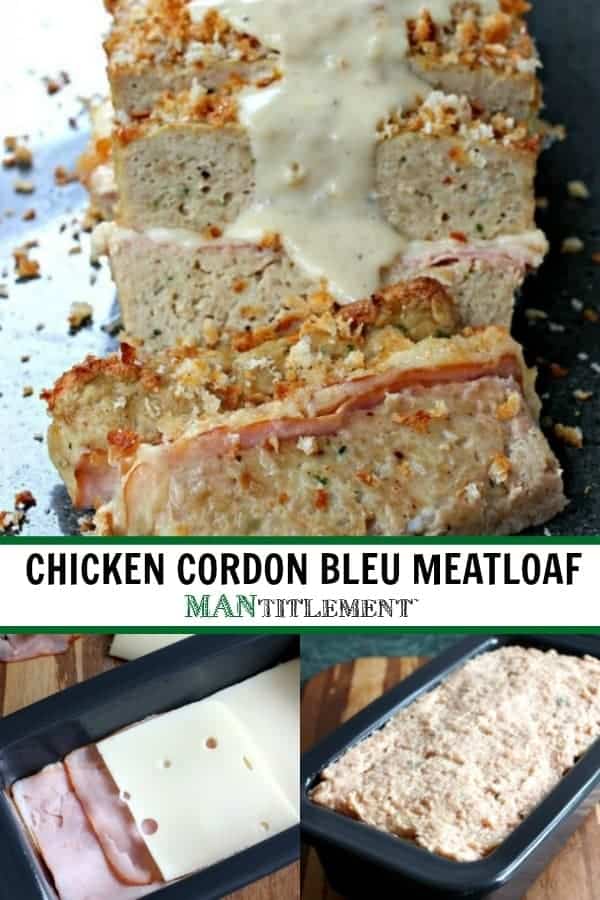 What Side Dishes Can I Serve With Meatloaf?
Print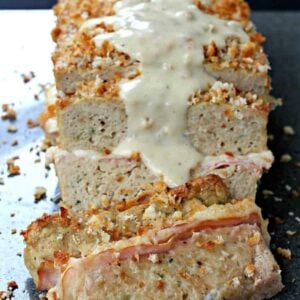 Chicken Cordon Bleu Meatloaf Recipe
Author:

Prep Time:

10 minutes

Cook Time:

40 minutes

Total Time:

50 minutes

Yield:

6

Servings

1

x
This easy Chicken Cordon Bleu Meatloaf Recipe has all the flavors of the classic Chicken Cordon Bleu in one delicious meatloaf. Layers of ham and Swiss cheese are tucked inside a juicy meatloaf recipe that can't be beat!
Scale
Ingredients
2

lbs. ground chicken

1

egg

1/4 cup

bread crumbs, plain

2 teaspoons

minced onion

1 1/2 teaspoons

garlic powder

1/2 teaspoon

dried parsley

1 1/2 teaspoons

salt

1/2 teaspoon

ground black pepper

1/4 cup

mayonnaise

6

slices virginia ham

6

slices swiss cheese

3/4 cup

fresh or panko breadcrumbs for the topping
For the Creamy Dijon Gravy
3 tablespoons

butter

3 tablespoons

flour

1/4 cup

heavy cream

1 cup

skim or

1

% milk

1 teaspoon

worcestershire sauce

1 tablespoon

dijon mustard

1/2 cup

grated parmesan cheese

1/4 teaspoon

freshly grated nutmeg
pinch of salt and pepper to taste
Instructions
Preheat the oven to 400 degrees.
Add the ground chicken to a large bowl and mix with the egg, mayonnaise, 1/4 cup of the breadcrumbs, minced onion, garlic powder, dried parsley, salt and pepper.
Spray a 9″ x 5″ loaf pan with cooking spray and add half the chicken mixture to the bottom of the pan spreading it out to make an even layer.
Next layer on three slices of ham then three slices of cheese. Repeat with another layer of ham and cheese. Top the meatloaf with the rest of the chicken, spreading the layer evenly.
Bake for 25 minutes and then remove from the oven and carefully top with the breadcrumbs.
Place the meatloaf back in the oven for 15 minutes, covering with foil halfway through if the breadcrumbs start to get to browned.
To make the gravy, add the butter to a saucepan over medium heat. Once melted, whisk in the flour and cook for one minute. Next add the cream, milk, Worcestershire sauce and dijon mustard. Whisk to combine and let come to a simmer to thicken.
After 3-4 minutes add the parmesan cheese and nutmeg, whisk to combine and taste for seasonings and then add salt and pepper to taste.
Let the meatloaf rest for 10 minutes in the loaf pan after you remove it from the oven, then carefully lift out of the pan and slice.
Serve with sauce on the side or spooned over top.
Recipe Notes
* Insert a meat thermometer and make sure the chicken is 165 degrees before serving.
Category:

Dinner

Method:

Oven

Cuisine:

American
Keywords: meatloaf recipe, chicken meatloaf, meatloaf, chicken cordon bleu, low carb dinner, easy chicken recipe, ground chicken recipe