Make this Stove Top Split Pea and Ham Soup with your leftover ham bone! There's nothing better than the smell of this soup simmering away on your stove top!
And we've got lots more where that came from! For more leftover ham ideas try this Slow Cooker Pasta Fagioli or this super comforting Ham and Noodle Soup and this delicious Dill Pickle Ham Salad!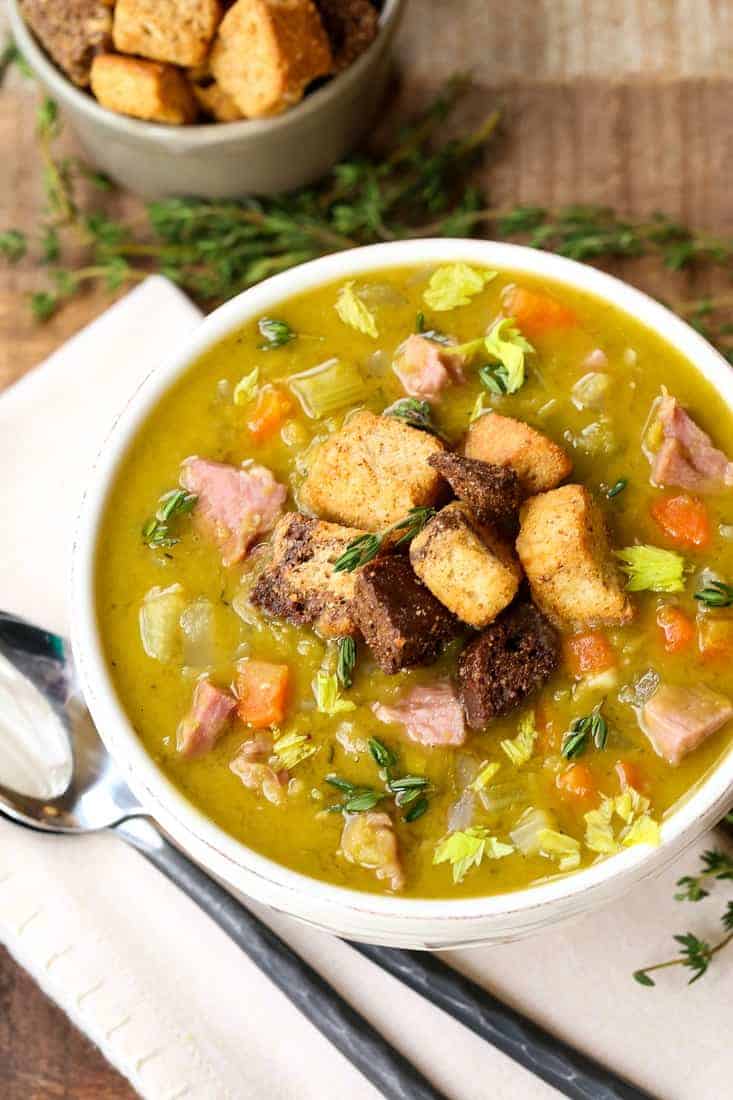 Split Pea and Ham Soup Recipe
There's really nothing more comforting than a pot of soup simmering away on your stove. We're such a crazy soup family, it doesn't even have to be cold outside for us to want to make some!
Stove Top Split Pea and Ham Soup is a newer soup recipe that I now love, it just wasn't in my top 5 for a long time, until we made this recipe. For me, it's all about the texture…
So I've decided that I really don't like that completely pureed sort of like baby food consistency of split pea soup, which is really the only way I've had it before. I definitely prefer the more brothy texture of this recipe, where the split peas fall apart on their own instead of being blended.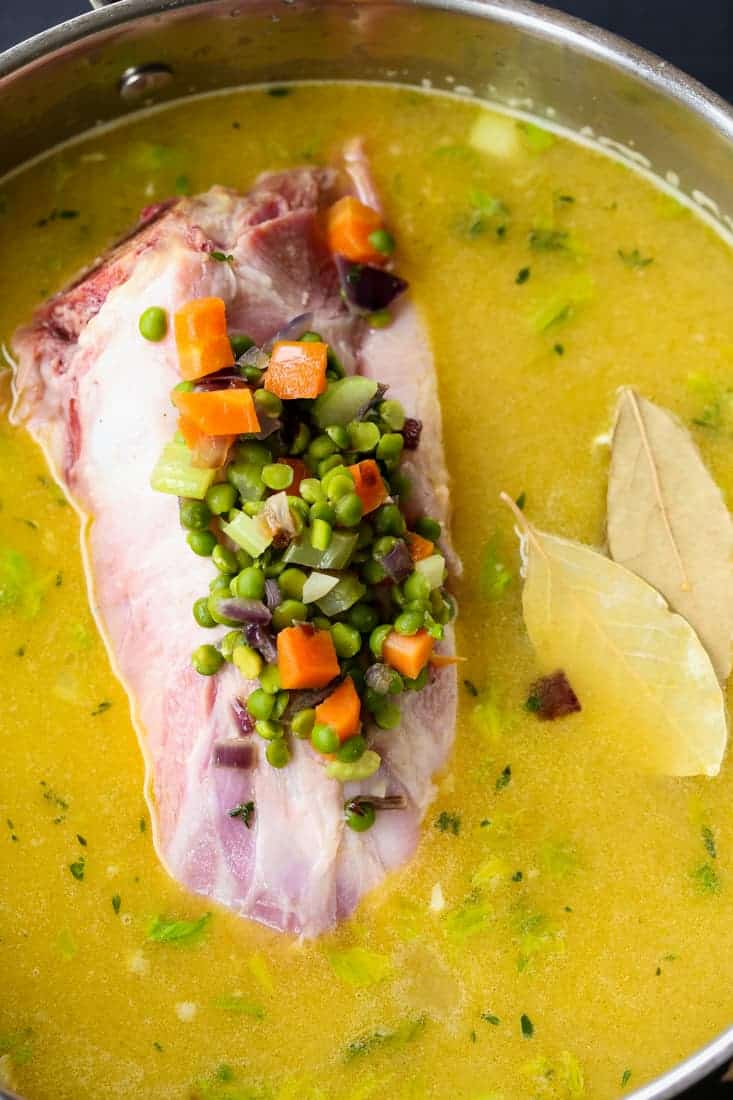 Can I Make This Soup Without A Ham Bone?
If you don't happen to have a giant leftover ham bone, you can get a few ham hocks from the store and use that in this soup recipe too. Don't feel like you have to cook a 15 pound ham before you get your split pea soup fix!
I like to add mostly water to start out, but a couple of cups of chicken broth really adds to the flavor of the stock when this is all done.
Make sure and get a really good chicken stock from the store, too. There's so many watery chicken broth brands out there that really do nothing more than add a liquid to your soup. Homemade would obviously be best but try and go for the brands that say chicken "stock" instead of chicken broth.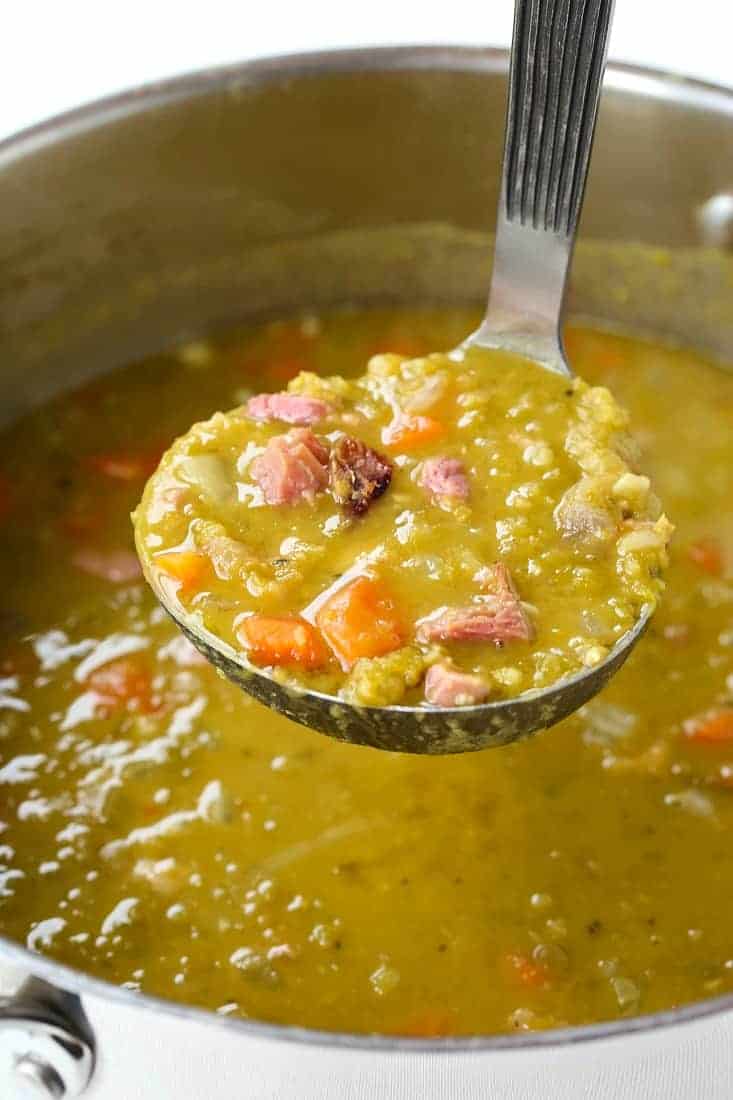 Simmer the ham bone, vegetables and split peas for about an hour and a half, stirring every so often, and you'll end up with the most perfect split pea soup recipe you've ever tasted.
When the soup is finished, remove the ham bone and take off any extra ham from the bone and add it back to the soup. Any leftover ham that you have can be chopped up and put into this Stove Top Split Pea and Ham Soup too.
The more ham the better if you ask me!
Taste the soup for seasonings to see if it needs any extra salt or pepper, more pepper is always added at our house. The ham bone does add salt to the soup while it's cooking so do taste it first before you add any additional salt.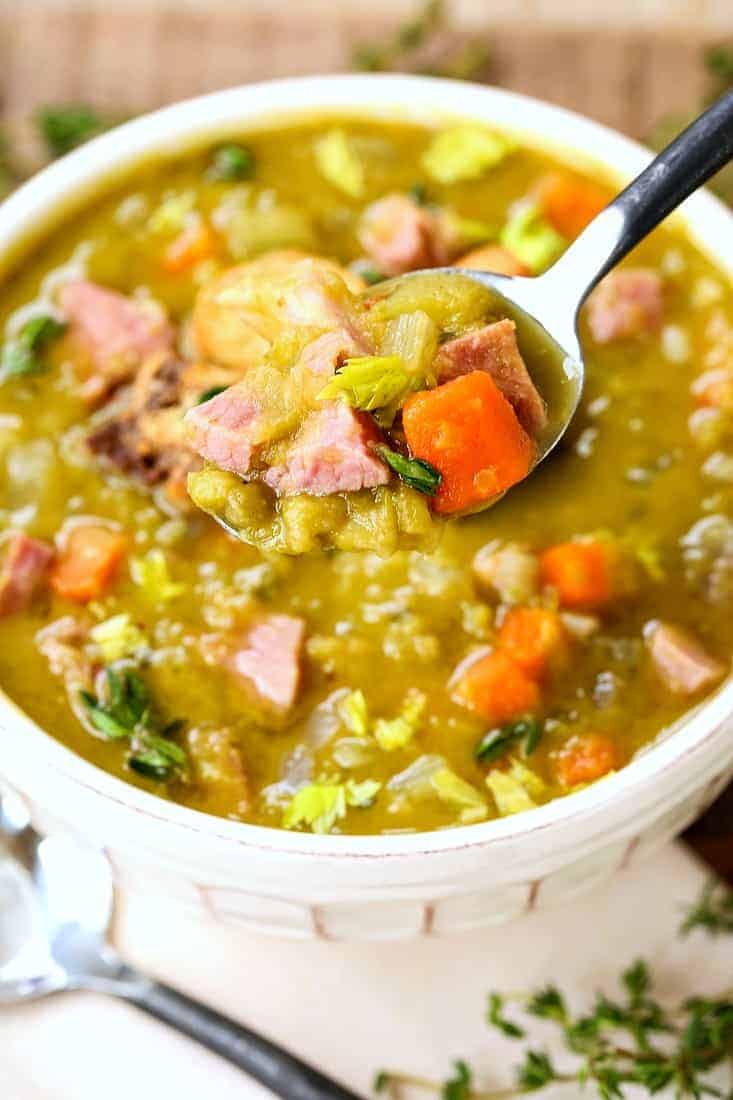 Can I Make This Soup In A Slow Cooker?
Looking to break out your slow cooker instead? You can make this same recipe right in your slow cooker too! I still think it's important to take the step and cook down your onions and carrots first, then you can put it all in your slow cooker.
Cooking down the vegetables adds a little more flavor to the soup and it only takes a few minutes to do.
Set it on low for 6-8 hours, remove the ham bone and add any extra ham back in the soup. It's basically the same end result, it's just a matter of how quickly you want your split pea and ham soup on the table.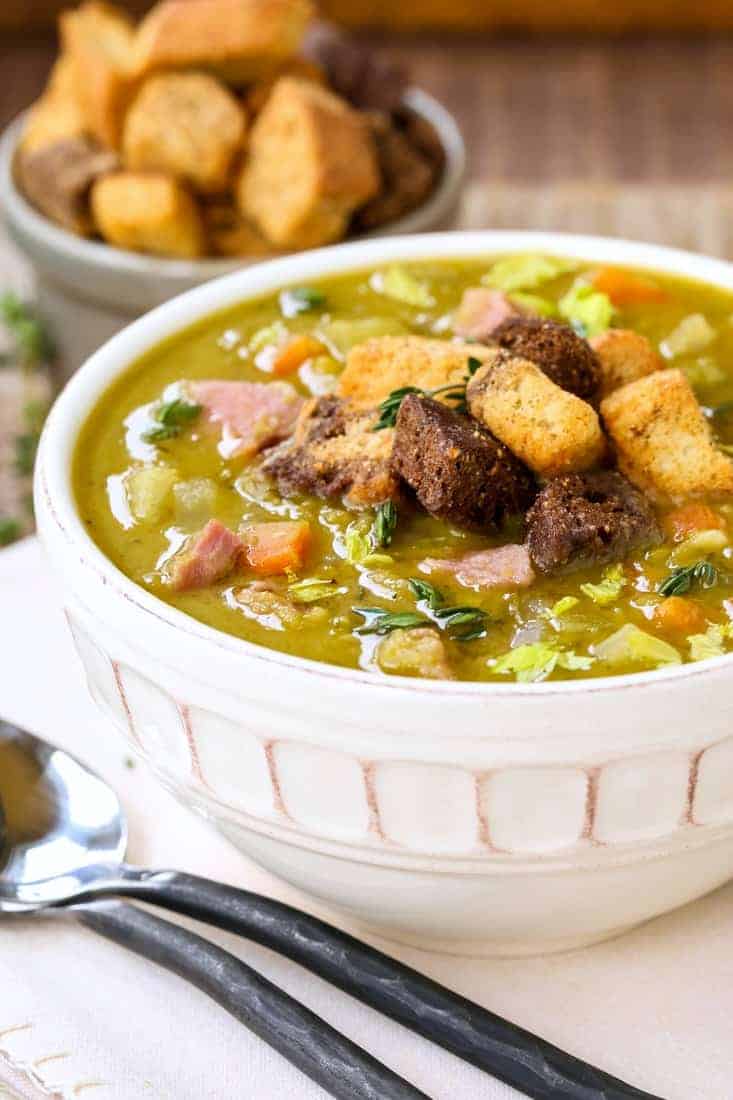 Don't forget to top this split pea soup with the crunchiest croutons! There's no shortage of croutons on our dinner table when we serve this soup for dinner!
Looking For More Soup Recipes?
Cheeseburger and Fries Chowder
PIN IT!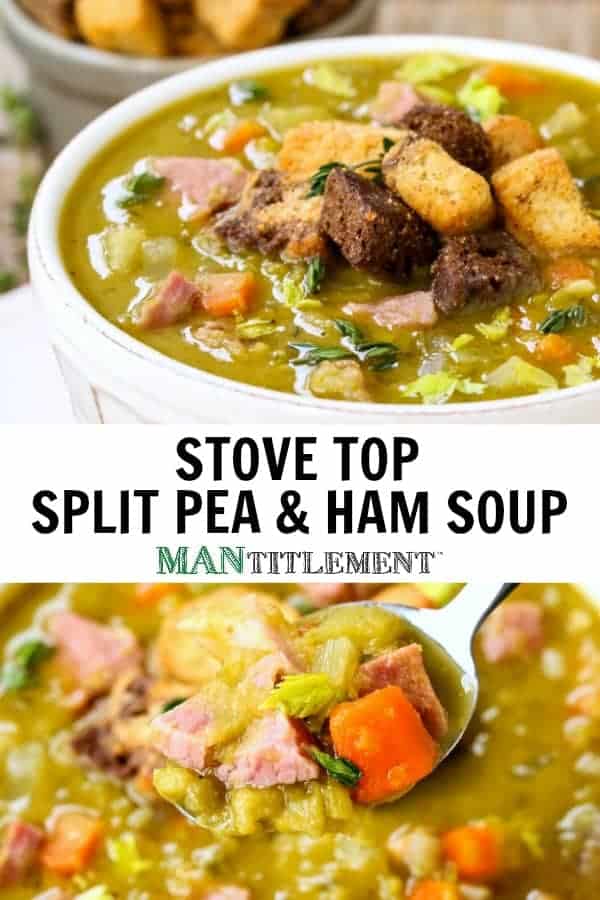 Print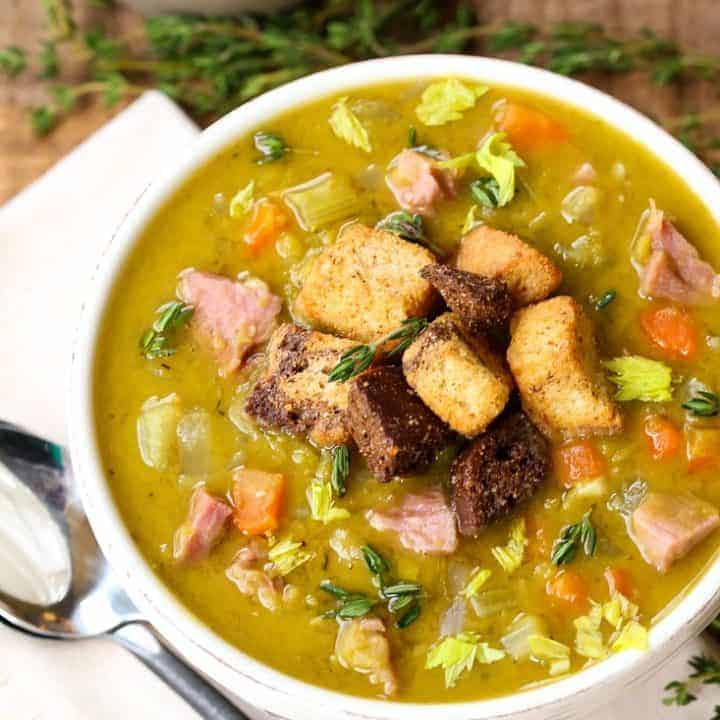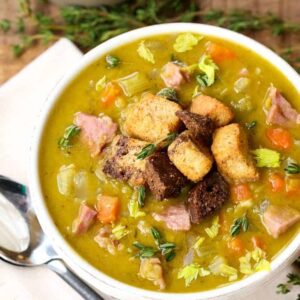 Stove Top Split Pea and Ham Soup
Author:

Prep Time:

15 minutes

Cook Time:

1 hour 30 minutes

Total Time:

1 hour 45 minutes

Yield:

8 servings
This delicious, comforting split pea and ham soup recipe is the perfect way to get another meal from your ham dinner!
Ingredients
2 tablespoons butter
1 tablespoon olive oil
1 cup diced celery
1 1/2 cup diced onion
1 cup diced carrots
1 teaspoon kosher salt
Fresh black pepper to taste
1 tablespoon fresh thyme
1 (16 ounce) bag of split peas
1/2 teaspoon cumin
2 cups chicken stock
6 cups of water
1 ham bone from an 8-10 pound ham, with extra ham on the bone (if you don't) have a ham bone, get 2 large ham hocks from the butcher department and a 1 pound ham steak)
2 bay leaves
3/4 pound diced leftover ham (can use a 1 pound ham steak from the store if you don't have leftover ham)
Croutons for topping
Instructions
Add the butter and olive oil to a large stock pot over medium heat. Add the celery, onions and carrots and cook for 5-7 minutes until softened.
Season the vegetables with salt, pepper, cumin and thyme and then add the split peas that have been rinsed and picked through.
Stir and cook for 2 minutes, then pour in the water and chicken stock.
Add the ham bone and the bay leaves then bring the soup to a boil.
Turn down the heat to a simmer, partially cover the pot and cook for 1 hour, stirring occasionally.
After cooking for an hour, check to see if the peas are tender. Simmer the soup for another 15-30 minutes if the peas aren't tender enough then recheck.
When the peas are tender, remove the ham bone to a board to cool. Remove any extra ham from the ham bone and add it back to the soup along with the 3/4 pound diced ham.
Remove the bay leaves and serve the soup topped with croutons.
Category:

Soup

Method:

Stove Top

Cuisine:

American
Keywords: split pea soup, split pea and ham soup, leftover ham recipe, soup recipes, dinner recipes