This Pasta Fazool is our family recipe and we can't wait to share it with you. This is Grandma's pasta fazool, and it has giant pieces of tender ham that fall right off the ham bone while the soup is cooking. This soup turns out so thick, it's almost like a stew, with elbow macaroni and white beans to round it out.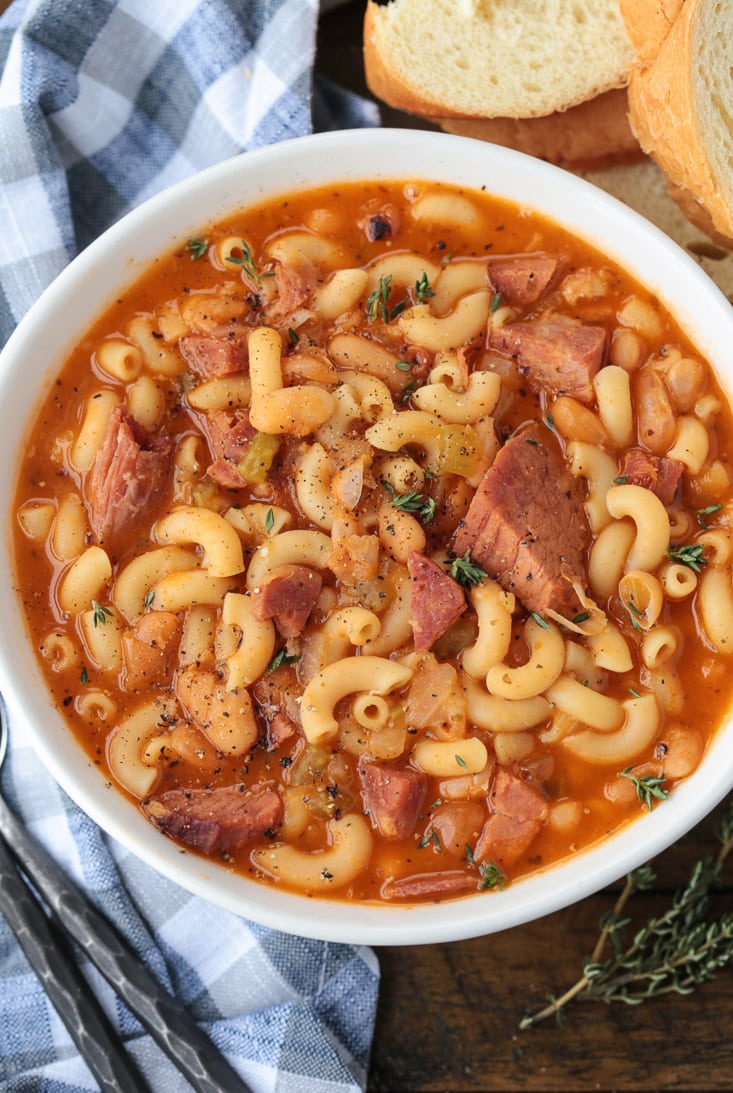 Is It Pasta Fazool or Pasta Fagioli?
The traditional way to pronounce this ham and pasta soup recipe is pasta fagioli or pasta e fagioli. Pasta e fagioli translates to pasta and beans. It's often called pasta fazool or pasta fasul in the New York and New Jersey Italian dialect, deriving from the Neopolitan name, pasta e fasul.
Do You Need A Ham Bone To Make Pasta Fazool?
For this recipe, yes. This soup is one of our favorite leftover ham recipes because it uses everything up. Cooking the ham bone in the broth, which for this recipe is water and just a touch of tomato sauce, is what gives the soup it's delicious, home-cooked flavor.
We often make this soup after we make our Crock Pot Ham, even though it's a spiral sliced ham recipe it works wonderfully. However, you can certainly use a traditional ham as well, like our Brown Butter Ham recipe.
But if you really want to make this pasta fazool without cooking a whole ham, you can grab a few ham hocks from your grocery store or butcher and use those instead. When using ham hocks instead of the ham bone, you'll have to buy a couple of ham steaks to cut up and use in the soup.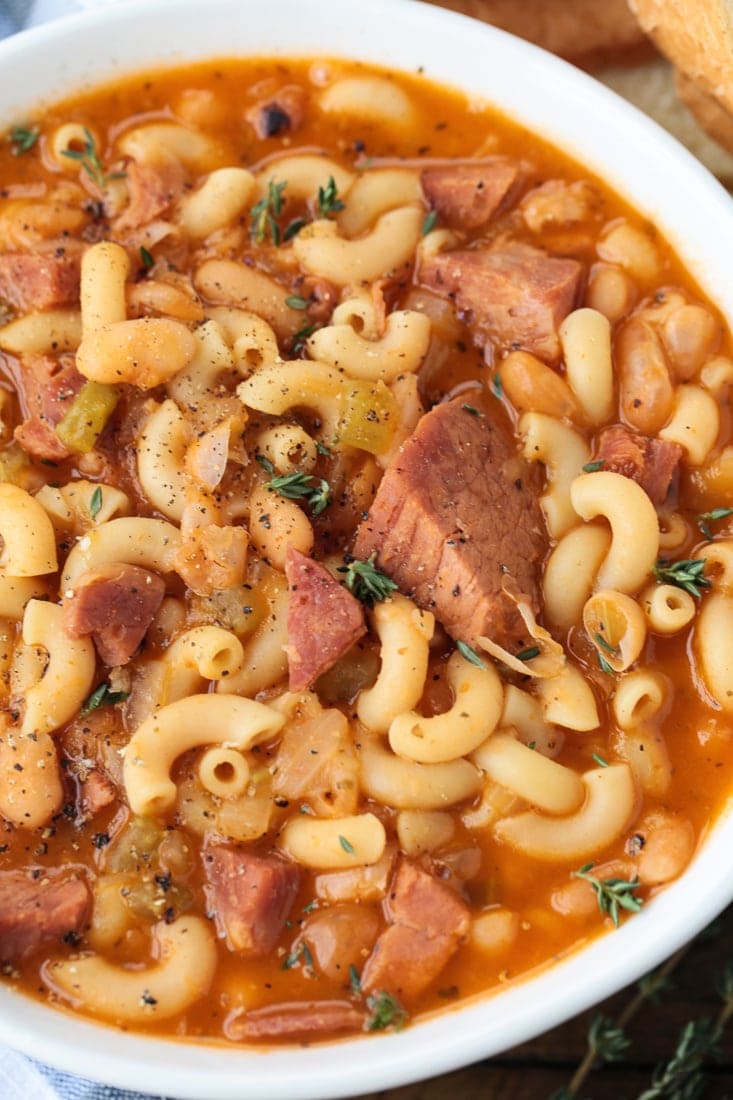 How Do You Make Pasta Fazool?
This soup recipe is so easy to make, with just a few simple steps, but it does take some time to cook. Start by boiling dry Northern Beans, or you can use cannellini beans, in the largest pot you have filled to the top with water.
You'll need at least an 8 quart stock pot for this recipe, trust me, it makes a LOT of soup. Add the beans and then fill the pot 3/4 full, with about 26 cups of water. Bring the beans to a boil, cover and then turn the heat off and let the beans sit for an hour.
This pasta fazool recipe is our mom's recipe that she's been making for years, so I'm sticking to how she makes it! But you could add the ham bone into the pot with the beans to add even more flavor to the broth.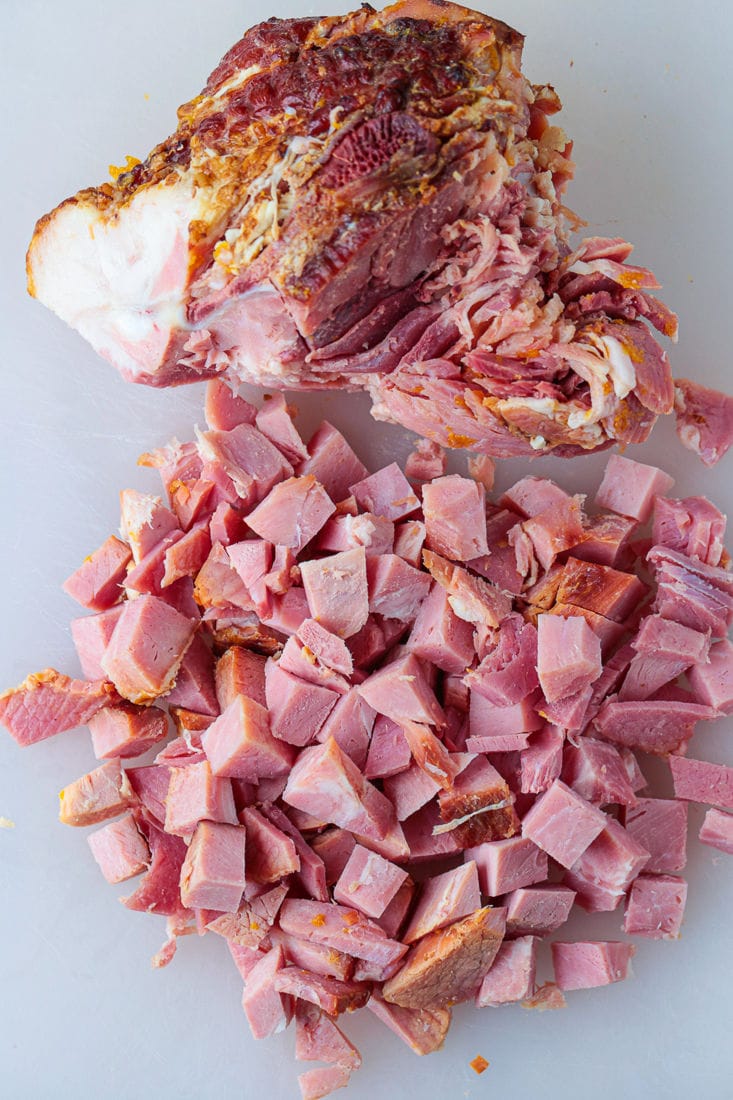 While the beans are sitting on the stove, cut most of the ham off of the ham bone (see the picture above for reference, you'll need about 4 cups of ham). You can always grab a ham steak from the store if you think you're ham bone won't have enough extra ham on it – we like a lot – but it'll be delicious with less ham, too.
Next add the ham bone and ham into the pot with the beans, along with tomato sauce, onions, celery and a few seasonings. Bring the pot to a simmer and partially cover for 2 hours.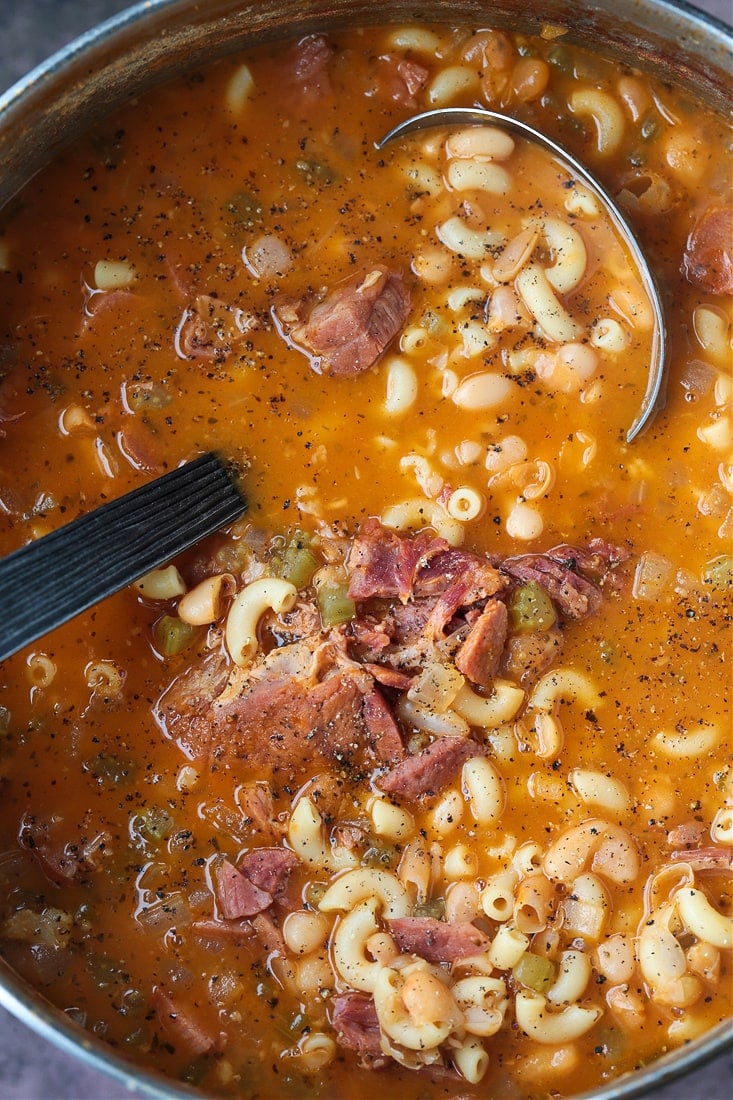 Now you're going to add an entire box of elbow macaroni, yes, the whole box. This soup cooks up so thick it's pretty much like a stew. But if you want a more broth-based soup you can add less pasta. Stir and let the macaroni cook for 15 minutes, and then remove the ham bone to a board.
At this point if there's any large pieces of ham left on the bone you can cut it off and add it back to the soup, or just sit and pick at it like we usually do while the soup is cooling down a bit.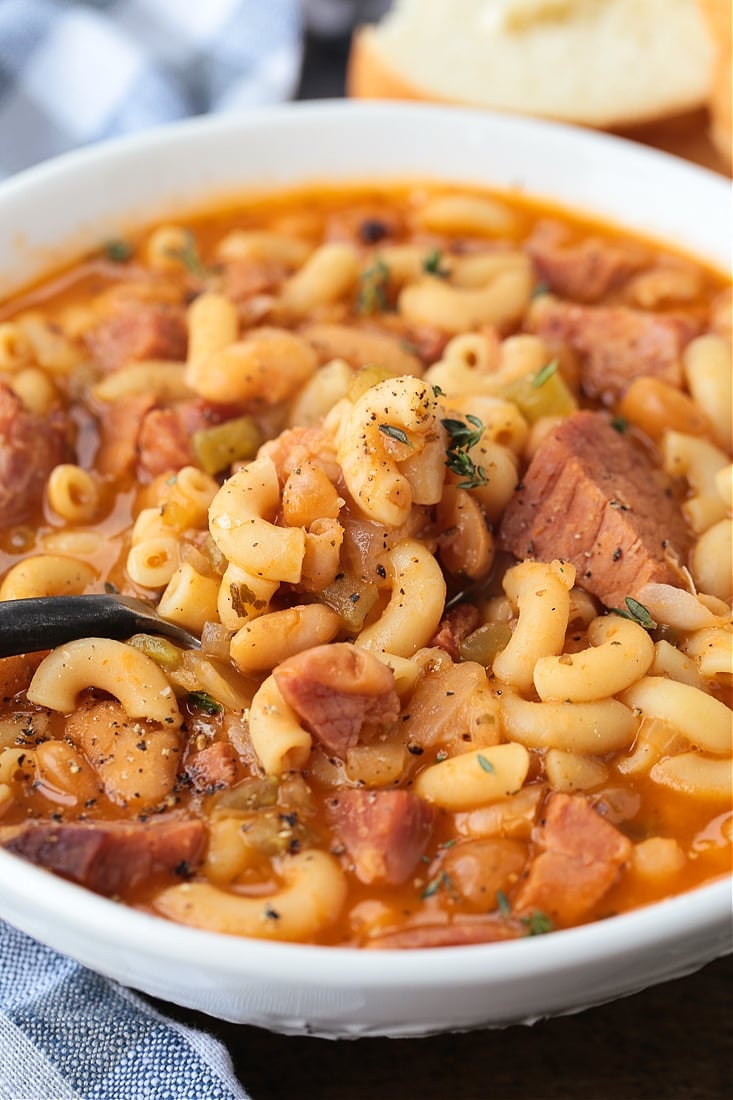 How To Serve Pasta Fazool
Ladle this thick, cozy ham and bean soup into big bowls and add fresh black pepper and parmesan cheese on top. We like to add a sprinkle of fresh herbs like thyme or parsley, not the way mom does it, but that's really the only variation that we sometimes add.
As this soup sits, the elbow macaroni will absorb a lot of the broth almost giving it a stew-like feel. We love that about this pasta fazool recipe, but as we said before, if you like to have more broth in your soup just add less macaroni to the pot.
How About Some More Family Recipes?
Print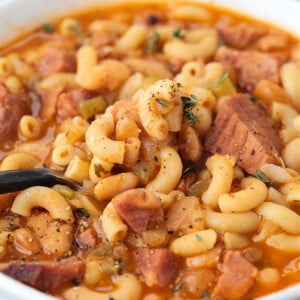 Pasta Fazool
Author:

Prep Time:

10 minutes

Cook Time:

3 hours 15 minutes

Total Time:

3 hours 25 minutes

Yield:

10

servings

1

x
Pasta Fazool (AKA Pasta e Fagioli!) is a mega comforting, meal in a bowl soup! This is our family favorite recipe that has just a few simple ingredients with giant, tender pieces of ham!
Scale
Ingredients
16 ounce

bag dried great northern beans (can also use cannellini beans)

1

ham bone from an 8-10 pound ham with ham cut off, reserve ham (about

4 cups

)

2 cups

diced onion

2 cups

diced celery

15 ounce

can tomato sauce

2 tablespoons

Italian seasoning

1 tablespoon

kosher salt
Fresh black pepper to taste

16 ounce

box elbow macaroni
Grated parmesan cheese for topping the soup
Instructions
Add 26 cups of water to an 8 quart stock pot. Rinse the beans and then add the to the pot and bring to a boil. Turn off the heat, cover the pot and let sit on the stove for 1 hour.
In the meantime, cut the ham off the ham bone and reserve. You'll need about 4 cups of ham for this recipe, a little more or less is fine. Chop the onion and celery and set aside.
After the beans have soaked for an hour, add the ham bone to the pot along with the reserved ham, onions and celery. Pour in the tomato sauce and add the Italian seasoning, salt and pepper. Stir and bring to a simmer. Partially cover the pot and let the soup simmer for 2 hours. You can stir the soup a few times while it's cooking, but it's not totally necessary.
Pour in the whole box of elbow macaroni, stir and cook covered for another 15 minutes. Remove the ham bone from the soup and discard. The soup will thicken as it sits, we usually let the soup sit on the stove top with the heat off for about 15 minutes before serving, but you can certainly enjoy right away.
Garnish the soup with fresh black pepper and grated parmesan cheese if desired.
Category:

Dinner

Method:

Stove Top

Cuisine:

American / Italian
Keywords: mantitlement, pasta fazool, pasta e fagioli, pasta fasule, ham soup, ham and bean soup, leftover ham recipe