Grandma's Sunday Meatballs and Sauce is the ultimate Sunday night dinner. This recipe cooks for hours so your house smells amazing by dinner time!
We love making comfort food dinners like this meatball and sauce recipe! If you're looking for more comfort food recipes like this try our Beefy French Onion Soup or our Beer Braised Lamb Shanks or this Turkey Tetrazzini!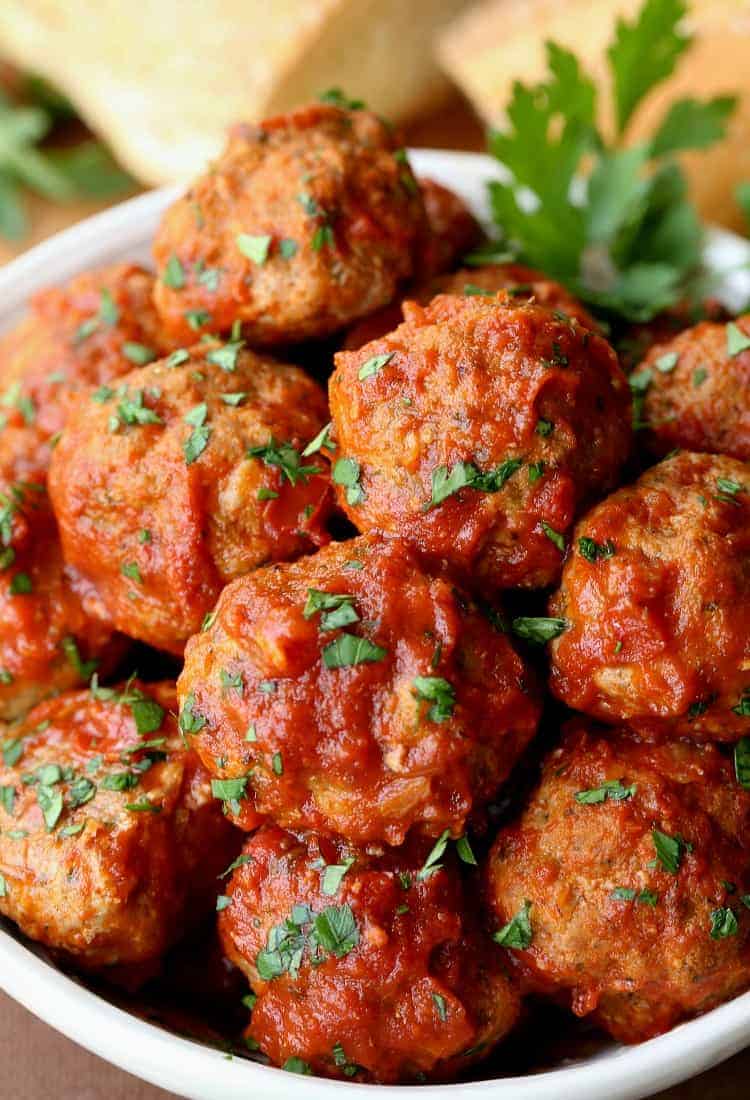 Meatballs And Gravy or Sauce?
Italian Sunday gravy, Sunday sauce, gravy…sauce. Whatever name you call it, this is the epitome of Sunday dinner in my family.
And nope, there aren't any short cuts with this Italian meatball recipe.
This is an old school, authentic recipe for sauce and meatballs that cooks low and slow pretty much all afternoon just like my Grandma used to do.
When we talk about our Grandma, we really mean a collective group of them. It was my Grandma, my Aunt and three great Aunts that all lived together in an apartment building.
They lived on separate floors but they were always together, cooking and eating.
That's pretty much what they did. Cook and eat.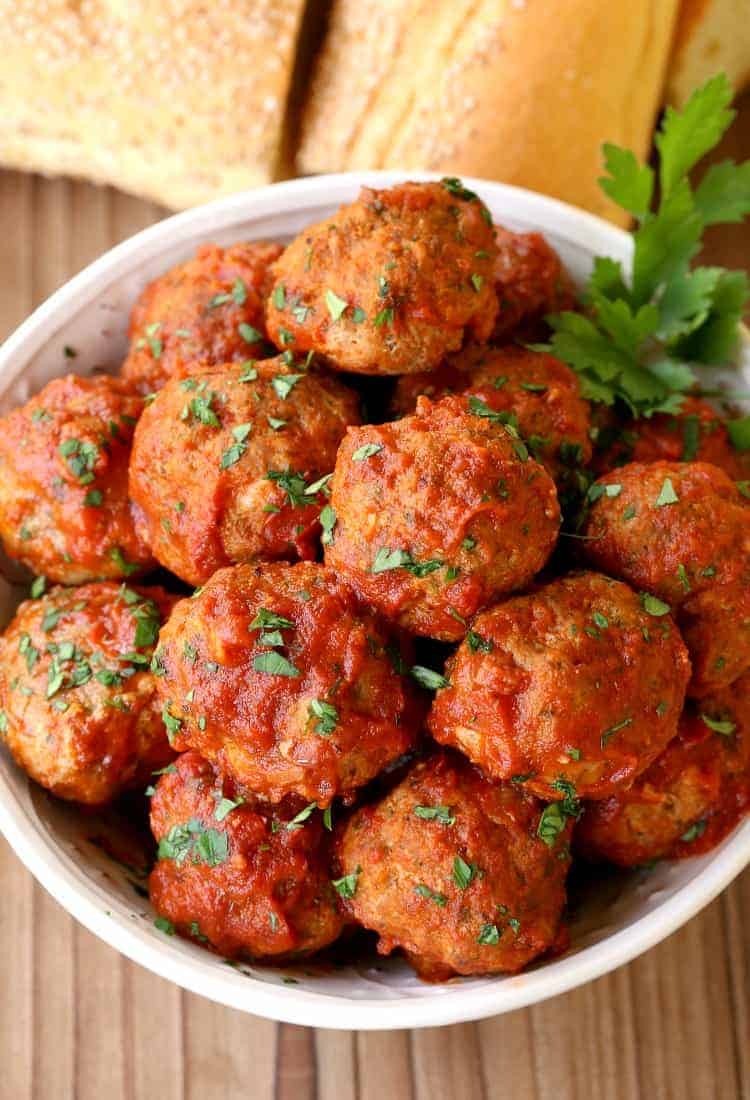 Can you imagine that life? What's for dinner tonight guys? Ok lets throw together some homemade chicken and pastina soup, some meatballs and sauce and oh hey – how about a pot roast on the side?
Those are my people. I was definitely born at the wrong time.
My dad used to take us downtown to visit them pretty often, I'd say at least once a week or every couple of weeks – a lot of times on Sundays.
They'd make Sunday dinner that started in the early afternoon and it kept going until way after dinner time.
All of the above mentioned foods were on the dinner list too, so you're talking at least three different MAIN courses, not to mention all the side dishes that were served too.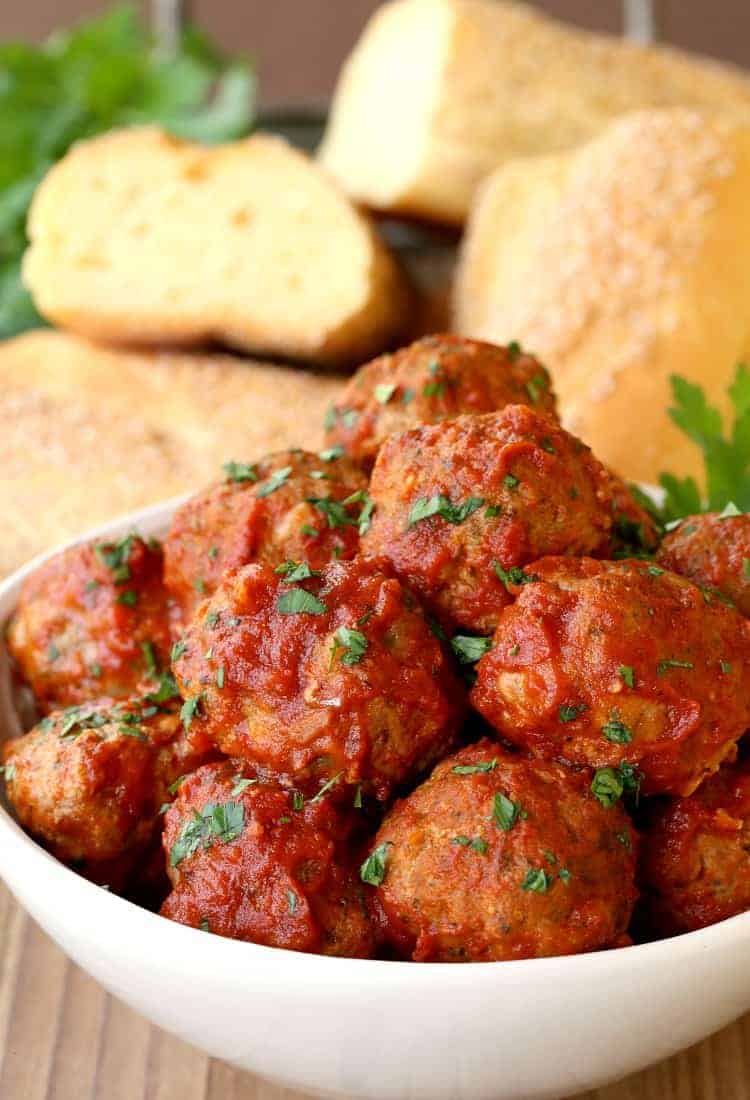 These days when we do a Sunday dinner, I usually keep it to one main course like this Grandma's Sunday Meatballs and Sauce.
Because I have lost my ability to sit down and eat for an entire afternoon.
This recipe is enough on its own to feed an army of people so it's perfect for a large family dinner or a party.
And I mean, this meatball recipe has a LOT of meat going on. You've got the meatballs, then you have the delicious pork neck bones that literally fall apart into the sauce and a few links of sausage.
How To Make The Best Meatballs
To get the best meatball for spaghetti and meatballs, you want a soft meatball but still firm enough to hold together. This takes just the right amount of meat to breadcrumb to egg ratio.
And these meatballs are it.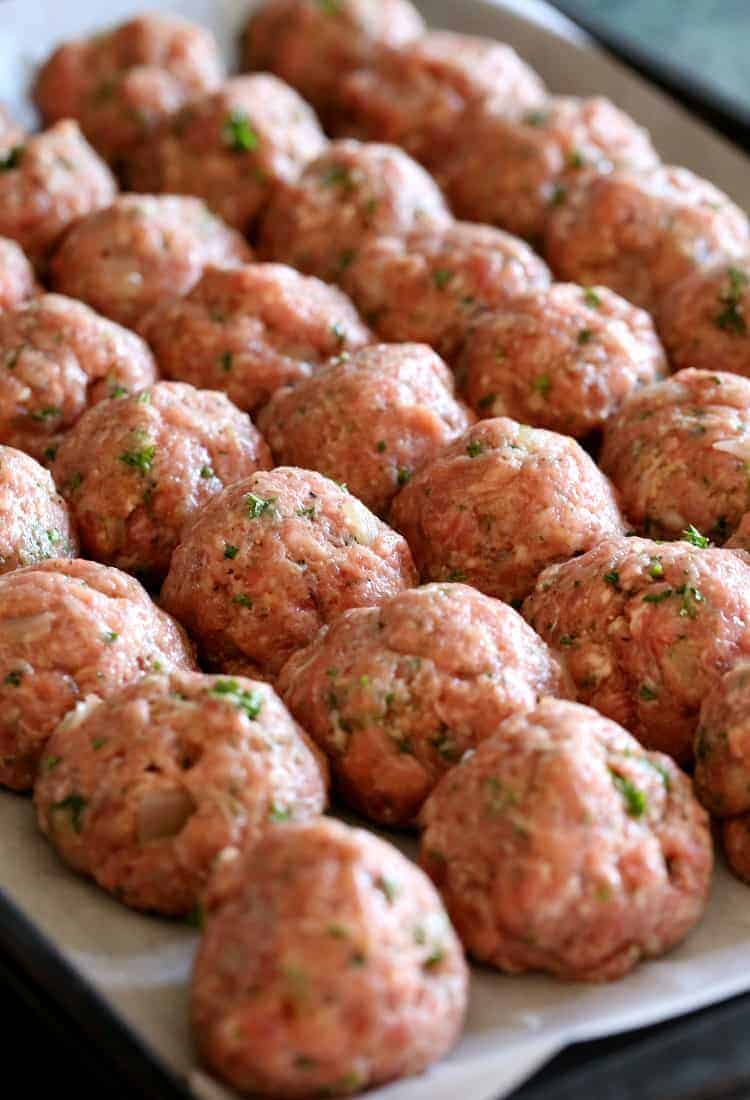 Once you get the meatball ingredients mixed together roll them into large balls and get them on a sheet pan to bake in the oven…
Just where they start out, then they finish cooking in the sauce.
Do You Cook These Meatballs Right In The Sauce?
For this meatball and sauce recipe they start in the oven, even though some authentic Italian meatball recipes will add the raw meatballs right into the sauce.
Totally not opposed to cooking them that way but if you want a pretty plate of spaghetti and meatballs without the meatballs all broken apart I like to start them in the oven.
Then the meatballs finish off cooking in the sauce to get them soft and full of flavor.
It sounds like a lot of steps, because it is, but trust me in that you don't want to leave anything out here. If you can't find pork neck bones (they're in the butcher department at my regular grocery store) you can use pork spare ribs instead.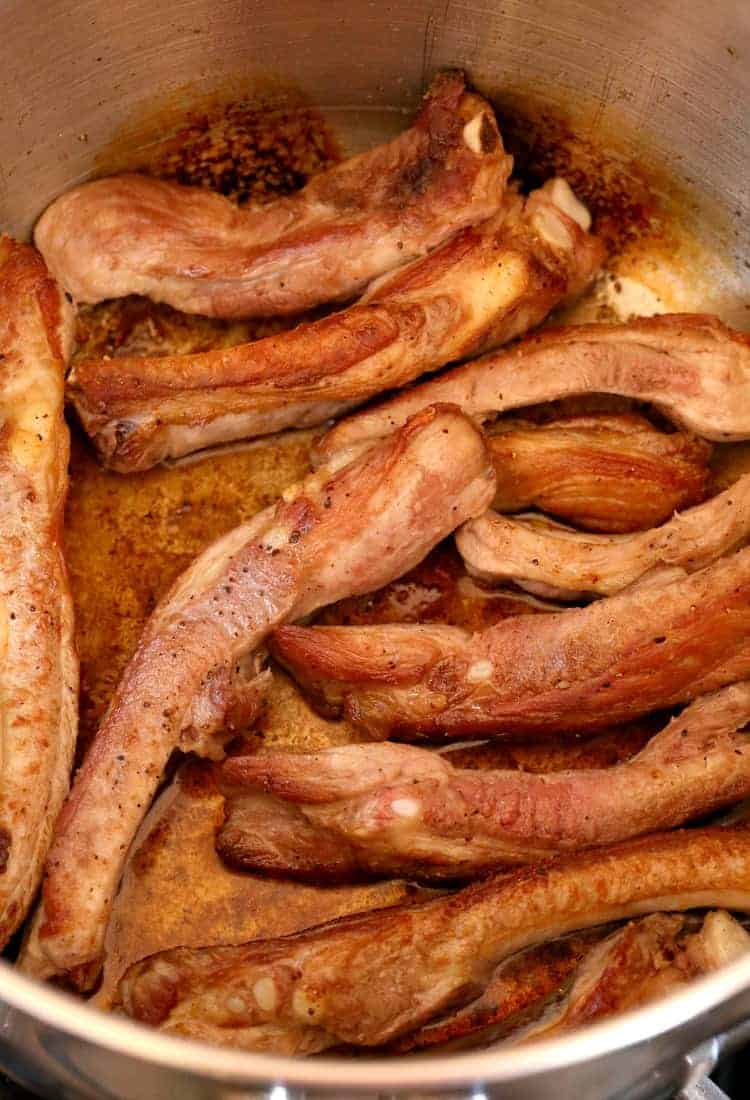 How Do You Serve This Meatball and Sauce Recipe?
When we serve Grandma's Sunday Meatballs and Sauce, I like to put everything in its own bowl. So the meatballs go in one bowl, the pork bones in another bowl and the sausage in another bowl.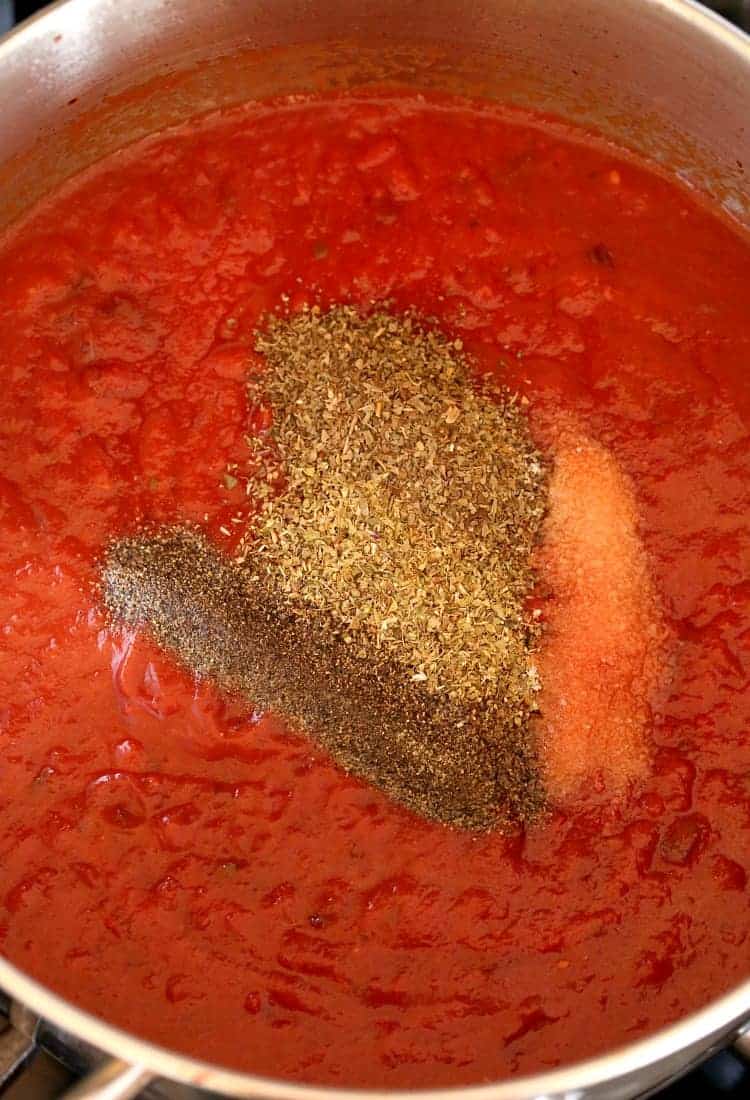 Then we serve a huge bowl of spaghetti tossed with the sauce and a bowl of extra sauce on the side. With the addition of a couple bowls of sliced Italian bread – I'm telling you it barely fits on our dining room table!
I do like serving a giant Caesar Salad with this dinner to balance out the heaviness of the meal. Not that a caesar salad is light in any way but at least you've got some crunchy greens going on.
Finally, if there's room you can fry up some homemade fried zeppoles for dessert. Even if you're full, throw them on the table anyway.
Italian people will probably eat them no matter how full they are.
Try this meatball recipe for your next family dinner and maybe you'll start a new tradition of your own!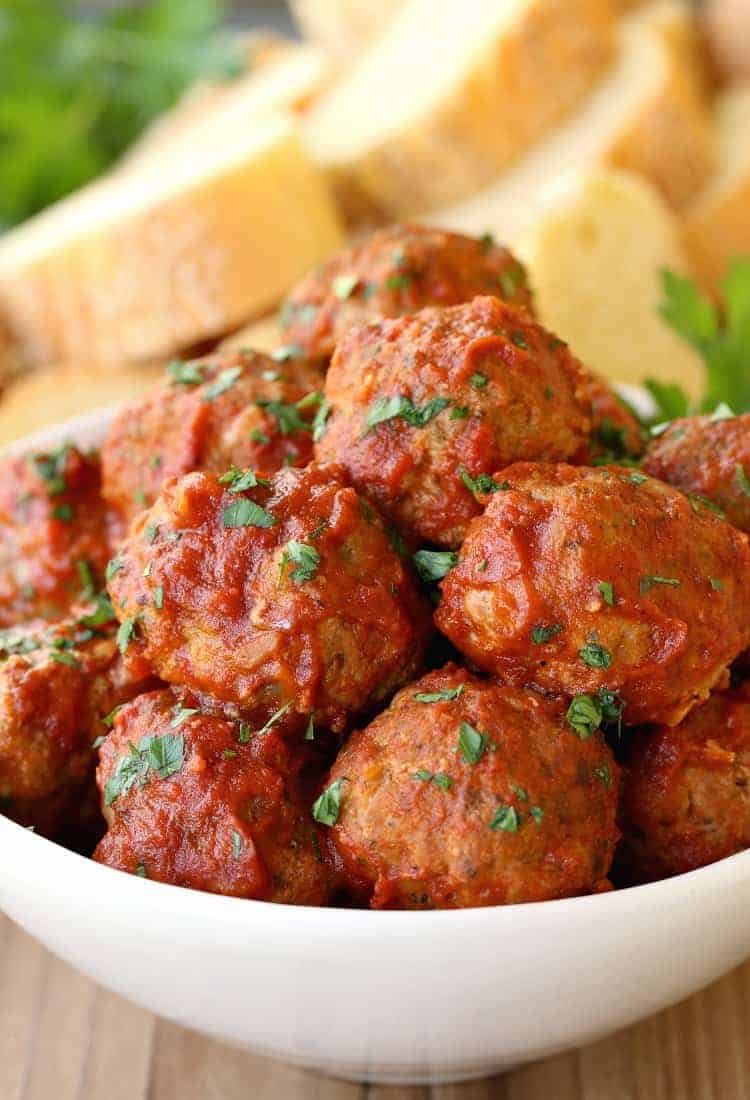 Looking For More Meatball Recipes?
PIN IT!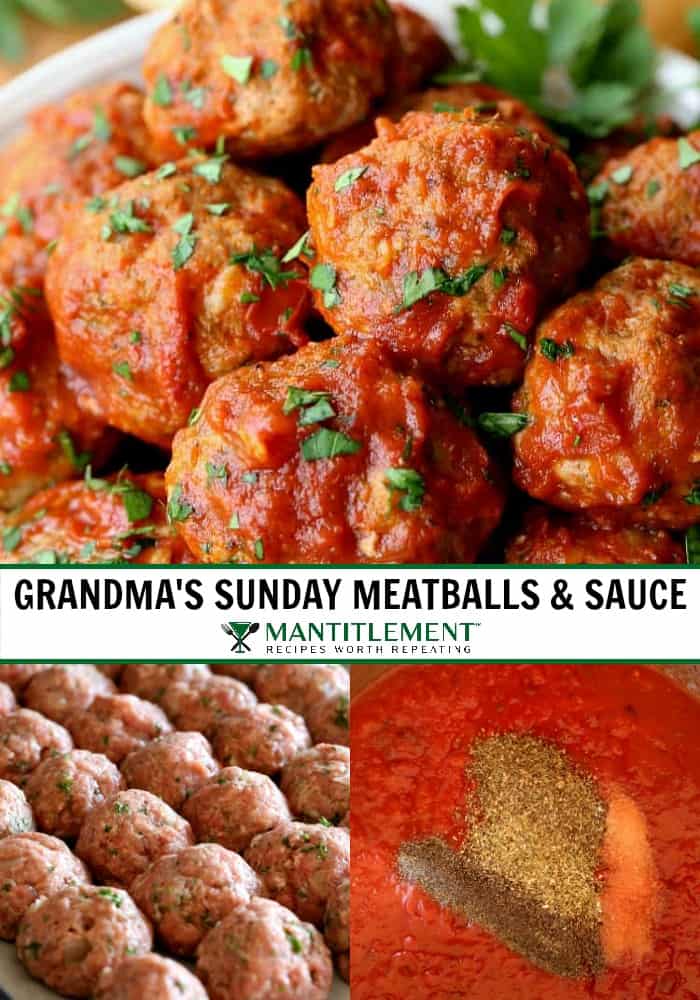 SHOP THIS RECIPE!
Print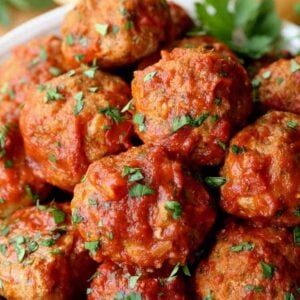 Grandma's Sunday Meatballs and Sauce
Author:

Prep Time:

1 hour

Cook Time:

4 hours

Total Time:

5 hours

Yield:

12

servings

1

x
Grandma's Sunday Meatballs and Sauce is the ultimate Sunday dinner recipe! These slow cooked meatballs in sauce will take you right back to your childhood!
Scale
Ingredients
For the Sauce
1/4 cup olive oil
2 pounds pork neck bones (you can substitute pork spare ribs)
1 pound Italian sausage (sweet or spicy or a mixture of both) each link cut into thirds
2 cups diced onions
2 teaspoons salt
2 tablespoons garlic, chopped (about 4 cloves)
3/4 cup red wine
1 (6 ounce) can tomato paste
2 (28 ounce) cans crushed tomatoes
2 (28 ounce) cans tomato puree
1 can water
2 teaspoons dried basil
1 1/2 teaspoons dried oregano
2 teaspoons kosher salt
1 teaspoon black pepper
For the Meatballs
1/3 cup olive oil
2 cups finely diced onions
2 tablespoons chopped garlic
4 pounds meatloaf mix (a mixture of beef, pork and veal)
4 eggs, beaten
2 cups fresh breadcrumbs soaked with 1/2 cup milk for 15 minutes (squeeze out the excess milk before adding to the meatballs)
1 1/2 cups grated parmesan cheese
2 1/2 teaspoons kosher salt
1 1/2 teaspoons black pepper
1 cup chopped parsley
1 1/2 teaspoons dried oregano
1 1/2 teaspoons dried basil
Instructions
Preheat the oven to 350 degrees.
Start making the meatballs first by adding the olive oil to a large skillet over medium low heat.
Add the onions and cook for 15 minutes until very soft, stirring often.
Next add the garlic and cook for another 2-3 minutes, being careful not to burn the garlic. Turn the heat off and let cool.
Add the meatloaf mix, eggs, the soaked bread crumbs (squeezed out), parmesan cheese, salt, pepper, parsley, oregano and basil and cooled onions and garlic to a large bowl.
Mix well until all the ingredients are combined then make a small meatball with the mixture and fry it up in the same skillet you used to cook the onions to test for seasonings.
Adjust seasonings if needed then start to form the meatballs. (I like to make the meatballs an extra large golf ball size, about 2 inches in diameter but you can make them as big as you like)
Place the meatballs on a parchment lined baking sheet and bake for 20 minutes. The meatballs don't have to be cooked all the way through as they'll finish cooking in the sauce.
While the meatballs are in the oven you can start the sauce by adding the oil to a large sauce pot over medium heat.
Add the pork bones and cook for 15 minutes, turning so the bones brown on both sides then remove from the pot.
Next add the sausage and brown on all sides, about 7-8 minutes, then remove from the pot.
Add the onions to the pot and cook for 15 minutes, stirring, until softened.
Next add the garlic and salt, stir and cook for 2-3 minutes more.
Now pour in the red wine to deglaze the pot, scraping the bottom with a spoon as the wine cooks down, about 3-4 minutes.
Add the tomato paste to the pot, breaking up and stirring into the onions. Then pour in the crushed tomatoes, the tomato puree and a can of water from one of the empty tomato cans.
Add the oregano, basil, salt and pepper to the sauce and stir.
Add the cooked meatballs, sausage and pork bones to the sauce and bring to a simmer.
Partially cover the pot with a lid, stirring occasionally for 3-4 hours or even longer if you have time.
To serve, remove the meatballs and sausage from the sauce and place in a serving bowl. Remove the pork bones and either shred the meat and add back to the sauce or serve the pork bones in a serving bowl on the side.
Keywords: spaghetti sauce, meatballs, sausage, pork bones, sunday sauce, sunday gravy, spaghetti and meatballs