Cinco De Mayo is coming up next week…Let's start celebrating with these Chicken Enchilada Quesadillas! A combination of two Mexican classics.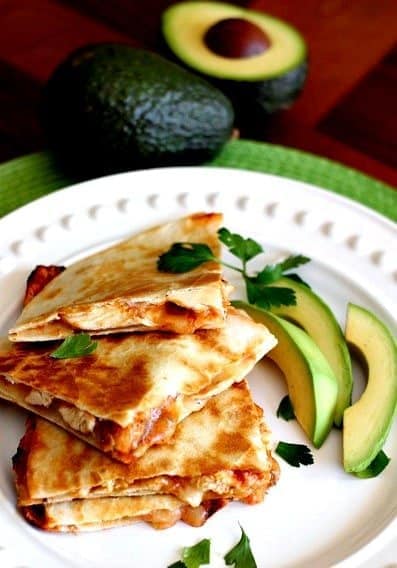 What a great holiday -an excuse to drink buckets of Corona and eat delicious Mexican food.
I had a lot of ideas for this week coming up, but my wife got to me first. She was thinking that maybe with summer coming I should lighten things up a bit…?
I hadn't really thought about that at all until she mentioned it. I guess some of us can't eat all the things we want to eat all the time. Congratulations to those of you that can – but I guess she has a point.
But I really don't want to start making salads, or anything that's too diet-like. This is Mantitlement after all, so I'm going to give her a week and see how it goes.
I know what you might be thinking, quesadillas? enchiladas? Not exactly health food, but my wife does have a way of making things taste so good that you think it's way worse for you than it is.
These quesadillas use deliciously seasoned, shredded grilled chicken, layered with a homemade enchilada sauce and Cabot® Sharp Light 50% reduced fat cheddar cheese. I convinced her to throw in some Cabot® Pepper Jack, this is Mexican food after all.
I have to admit that these are some of the most tastiest quesadillas I've ever had. The combination of the enchilada sauce with the melted cheese and the crispy tortillas, you're not going to miss anything with this recipe.
The other way she keeps it light is by using a cooking spray (like PAM) instead of oil or butter to fry the quesadillas. They come out so crispy – I don't think I'll use oil to cook a quesadilla again.
The enchilada sauce is just a few ingredients and can be put together in about 2 minutes, let it simmer while you grill your chicken.
These are all the ingredients you need, minus the tortillas, it's really easy!
Make an assembly station with the cheese, chicken, enchilada sauce and the tortillas.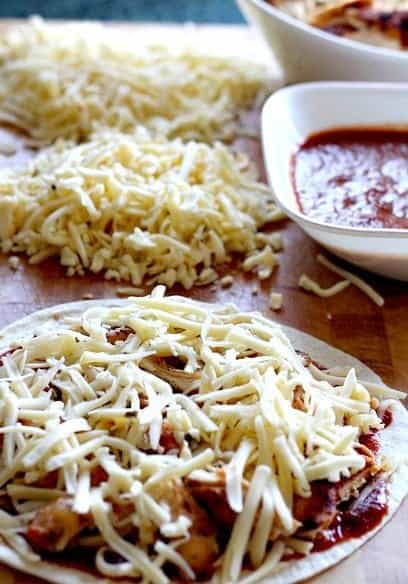 Next, spray a large skillet with cooking spray and place in the bottom layer of your assembled quesadilla.
Put in some more cheese and then top with the second tortilla. Then spray the top of the tortilla with cooking spray and cook for 3-4 minutes. Flip the quesadilla over and let it brown on the other side.
Remove to a cutting board and slice into wedges. Serve with some avocado slices and dig in.
No guilt with these Chicken Enchilada Quesadillas! Good thing for me because Mexican food calls for lots of beer on the side…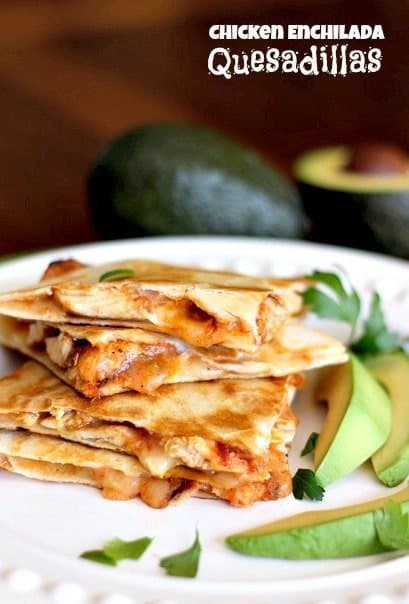 By the way, my wife Christie also follows Weight Watchers sometimes and she tells me that a quarter of these quesadillas is only 4 points. I'm not entirely sure what that means but she says it's very low, even if you have 2 pieces for dinner at 8 points.
I don't know, if the food can taste this good and still be good for you, maybe I should try it out too!
Print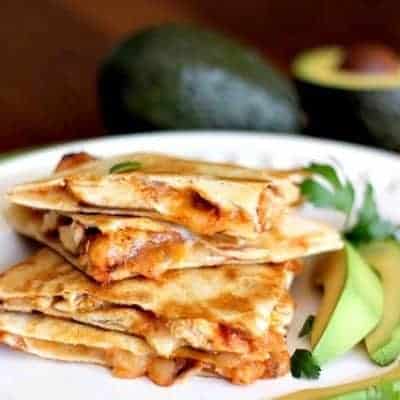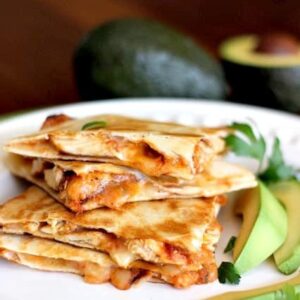 Chicken Enchilada Quesadillas
Prep Time:

25

Total Time:

25

Yield:

4

1

x
A quesadilla and enchilada combined into one meal!
Scale
Ingredients
4

skinless, boneless chicken breasts

1

8 oz. package Cabot® Sharp Light 50% reduced fat cheddar, shredded

1

8 oz. package Cabot® pepper jack, shredded

2

T. seasoned salt (for seasoning chicken)
Ground pepper (for seasoning chicken)

8

(8 inch) flour tortillas

2 cups

tomato sauce

1

t. chili powder (plus more for seasoning chicken)

1/4

t. cinnamon

1

t. cumin (plus more for seasoning chicken)

1 1/2

t. brown sugar

1 1/2

t. sriracha or hot sauce
Cooking spray
Instructions
Combine the tomato sauce, sriracha, 1 t. cumin, 1 t. chili powder, 1/4 t. cinnamon and 1 1/2 t. brown sugar in a small pot. Simmer for 15 minutes.
Season the chicken with the extra cumin, seasoned salt, extra chili powder, salt and pepper.
Grill over medium heat for 3-4 minutes per side until cooked through.
Let cool, then shred.
Combine the shredded cheeses together, then separate into 4 even piles for each quesadilla.
Divide the shredded chicken into four even piles.
Heat a large non-stick skillet over medium high heat. Place one tortilla on a cutting board, spread about 3 T. of the enchilada sauce over the tortilla. Enough to cover the bottom well.
Take half of one of the piles of cheese to spread over the enchilada sauce. Then add one of the piles of chicken, spreading out evenly over the surface. Add the other half of your pile of cheese to the top then transfer to your hot skillet, sprayed with cooking spray.
Place the second tortilla on top and flatten with your hand. Spray the top of the tortilla with cooking spray and place a plate on top to weigh down the quesadilla as it cooks. Cook for 3-4 minutes, then flip to the other side and cook another 3-4 minutes until brown.
Remove to a cutting board and repeat to make the other 3 quesadillas.