Tex-Mex night is going to be screaming out for these Korean Beef Quesadillas! A sweet and tangy beef and cheese filling make these quesadillas a winner dinner in my house!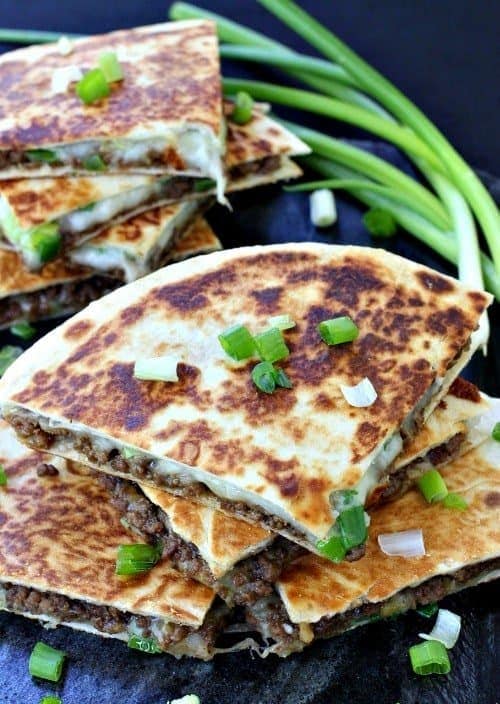 We're big fans of quesadillas in my house. Any ingredients that we can take and stuff into a couple flour tortillas with some sort of cheese…quesadillas.
The kids always seem to like the basics – chicken and cheese. Shredded chicken and cheddar cheese quesadillas that they can dip into guacamole and salsa. And for the little guy, sour cream. I swear the quesadilla is just like a spoon for him to get that sour cream into his mouth.
I like the chicken and cheese quesadillas too…but Christie and I like to add caramelized onions or peppers, or both.
But one bite of these Korean Beef Quesadillas and your going to be sold. Sweet korean flavored beef, mozzarella cheese and scallions. That's it. Simple but so tasty.
To make the korean beef just brown ground beef in a large skillet and add a sauce made from brown sugar, soy sauce, fresh ginger, sesame seeds and a pinch of red pepper flakes. I like to crush my sesame seeds up first before I add them to the sauce but adding them whole is totally fine.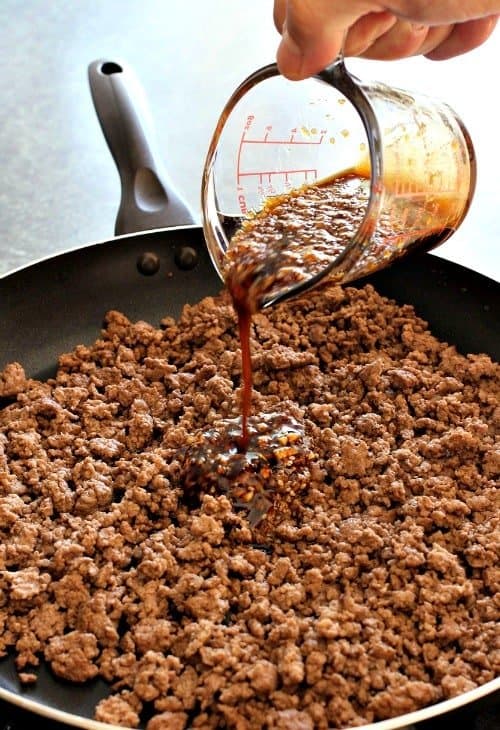 If you want to stop right there…serve that over rice and you have one of my kids favorite dinners.
But we're taking it one step further today so grab yourself a couple of quesadillas and get your pan ready…wipe out the same skillet you made the beef in and heat it up again with another coating of cooking spray.
Place in one of the flour tortillas and then add an even layer of the beef. The cover the beef with a good layer of shredded mozzarella and scallions.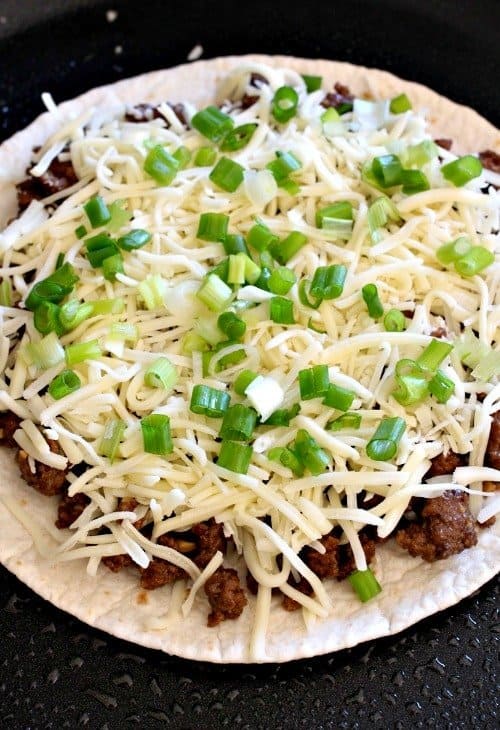 Place another tortilla on top and press down with a large dinner plate.
Check the bottom with a spatula after a few minutes to see if it's brown. If it is – it's time to flip.
Cook on the second side until it gets just as brown and crispy as the first side. Slide it out to a cutting board to cool while you make the other three quesadillas.
These Korean Beef Quesadillas are a favorite family dinner in my house but they'd also make awesome appetizers cut up into smaller wedges.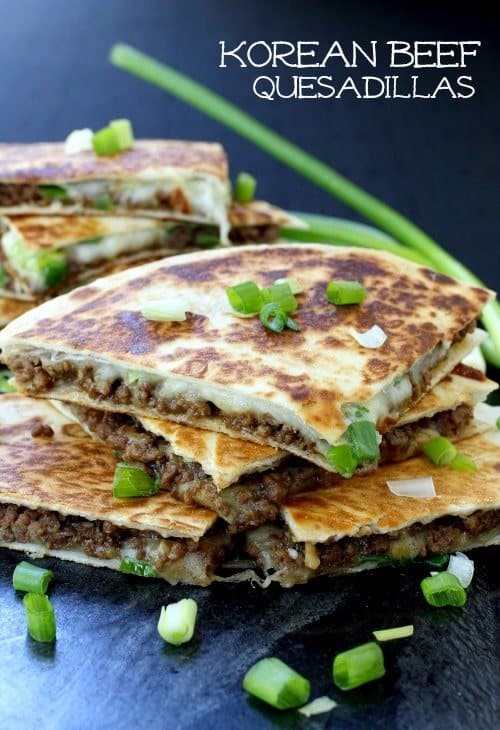 Print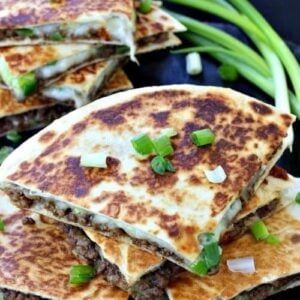 Korean Beef Quesadillas
makes 4 large quesadillas
Scale
Ingredients
8

large flour tortillas

1 1/2

lbs. ground beef

1/4

c. brown sugar

1/3

c. soy sauce

3

cloves of garlic, crushed

1

T. sesame seeds

1

T. fresh ginger, grated

1/4

t. crushed red pepper flakes

3

c. shredded mozzarella

6

scallions, chopped
Instructions
Brown the beef in a large skillet sprayed with cooking spray.
While the meat is browning, make the sauce by adding the brown sugar, soy sauce, garlic, sesame seeds, ginger and red pepper flakes to a small bowl. Whisk to combine.
Once the meat is browned, add the sauce to the skillet, stir and cook for 5 minutes.
Set the meat aside in a bowl and wipe out the same skillet.
Heat up the skillet again with another coating of cooking spray and lay one tortilla down in the center.
Add an even layer of beef (about 3/4 cup) then cover with 3/4 c. mozzarella and then 2 T. scallions.
Top with another tortilla and press down with a dinner plate.
After 3 minutes check the bottom tortilla to see if its browned. If it is then flip over to the other side and cook another 3 minutes until brown.
Transfer to a cutting board to cool while you make the other 3 quesadillas.