Homemade Pico de Gallo is a staple appetizer at our house! This fresh salsa can be scooped up with chips or used as a topping for tacos!
This fresh salsa recipe is one of our favorite appetizers to whip together in a flash! For some other fun Tex-Mex appetizer ideas, try this Cheesy Mexican Garlic Bread or this 5 minute Creamy Jalapeño Dip!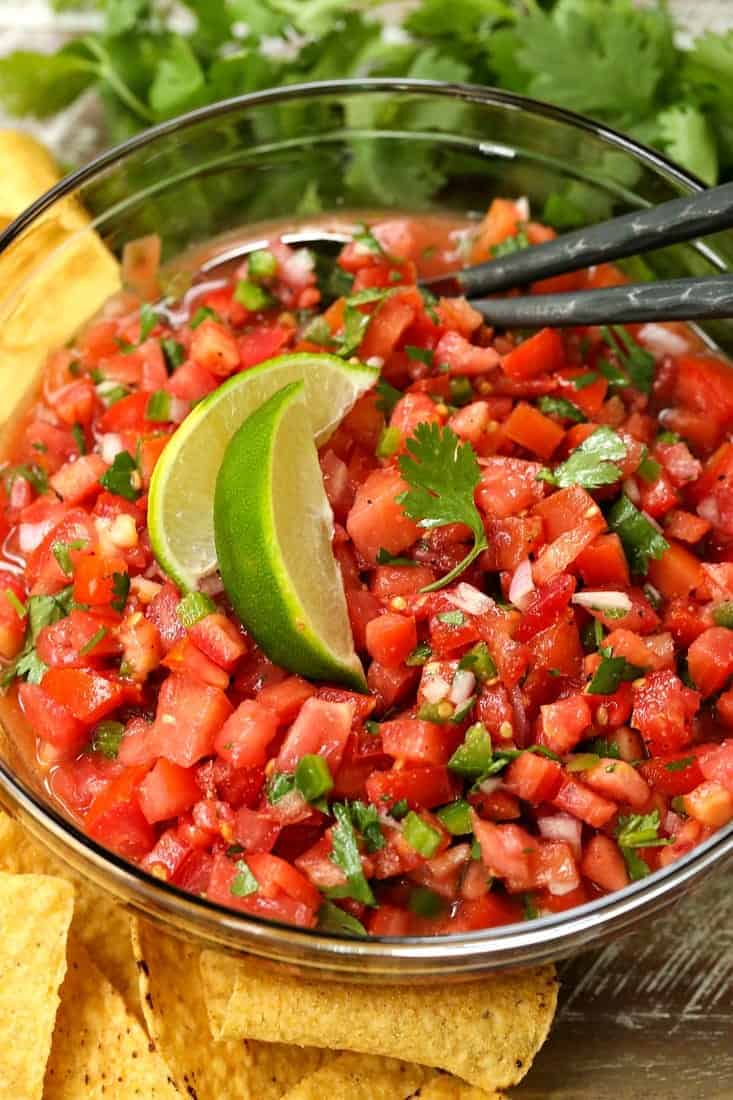 What Is Pico de Gallo?
Pico de Gallo is a fresh, Mexican salsa typically made with fresh tomatoes, onions, cilantro and fresh lime juice. Pico de Gallo is also know as Salsa Fresca or Salsa Cruda.
This salsa recipe doesn't have a lot of liquid like a salsa, although some will from as the tomatoes let off their juice as the pico de gallo sits.
Because there's not a lot of liquid in this recipe, pico de gallo can be used as a topping for many other recipes like tacos, burritos, nachos, on salads or even grilled chicken!
And it couldn't be easier to make, all you need to do is chop up a few ingredients and mix them together with some herbs and spices and you're good to go…almost.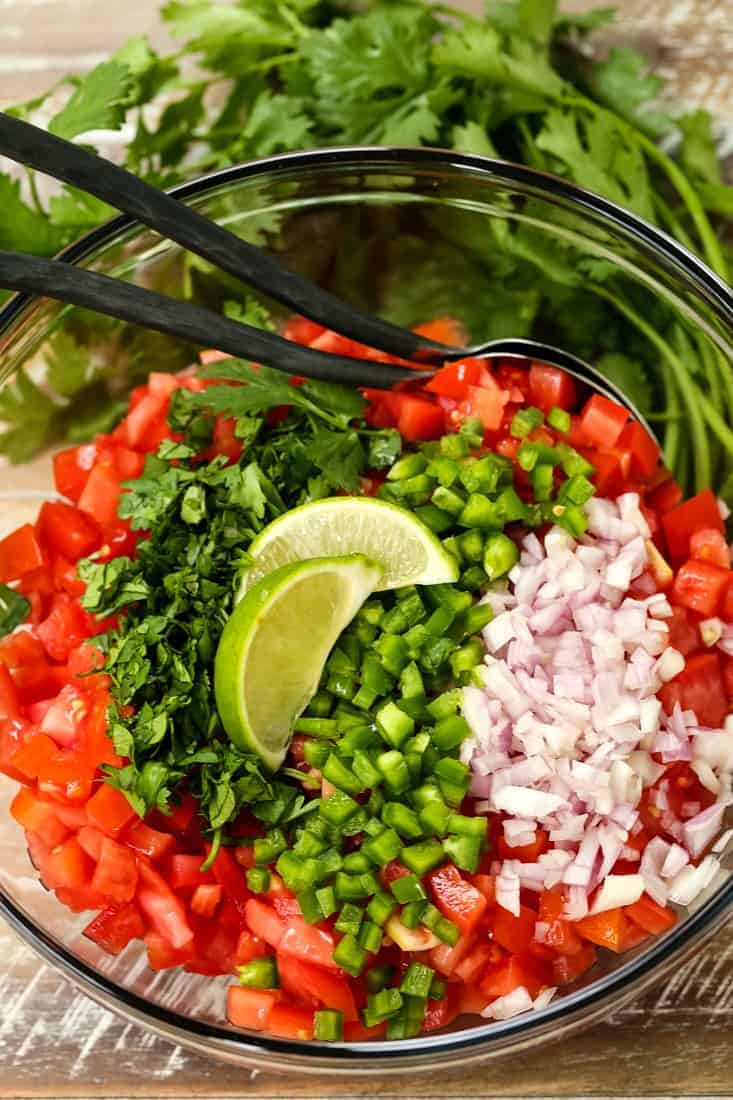 How Do You Get The Best Flavor From a Fresh Salsa Recipe?
There's really only two tips to making this Homemade Pico de Gallo achieve rock star status. Getting the freshest, most flavorful tomatoes that you can and having some patience.
After you make this recipe you need to let it sit in your refrigerator for at least an hour. The longer it sits the better the flavor will be, and like I mentioned before you'll have a little more juice from the tomatoes.
Typically, pico de gallo recipes are made with onions – red or white. I'm not a huge "raw onion" person so for my version of this recipe I used shallots which are a milder version of an onion.
You can also soak diced onion in cold ice water for 15 minutes and then drain it really well before adding it to the tomatoes. This will help to take out some of the bitter flavor of the onion.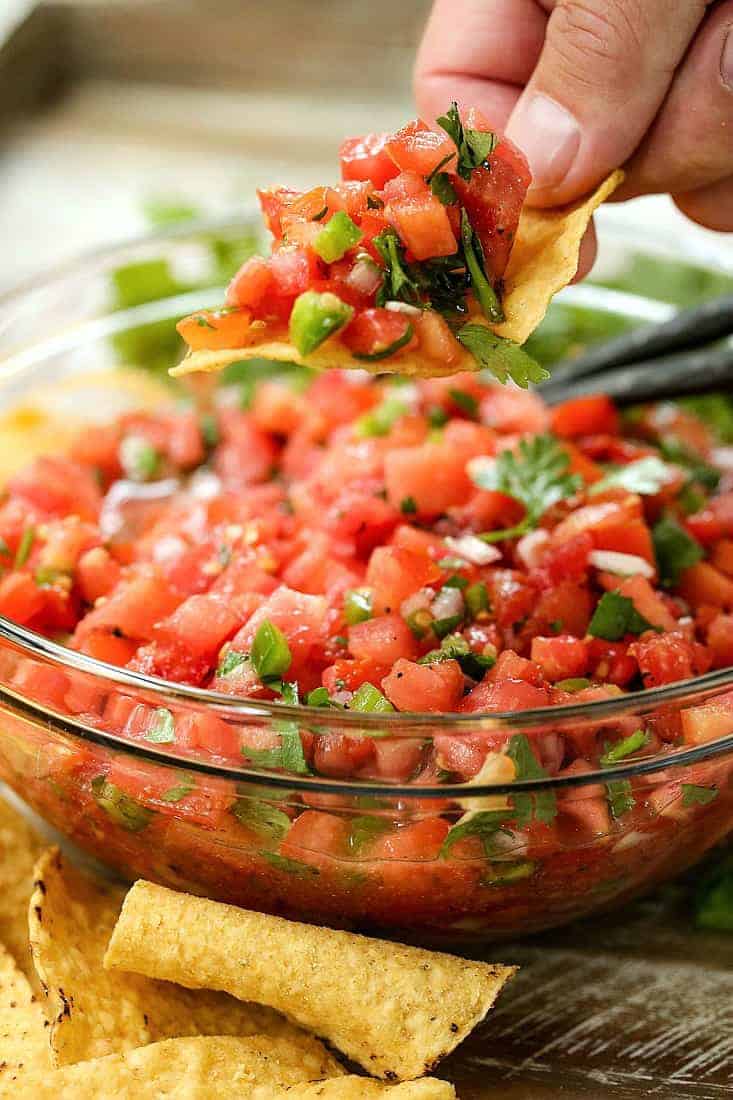 What Ingredients Can You Swap Out In This Recipe?
So you have to stick with the tomatoes, that much is for sure! I know some people have really strong feelings about cilantro, too. Definitely try it if you're on the fence, cilantro really gives this salsa a super fresh flavor!
Swap Outs:
Red or White onion instead of shallots
Green bell peppers instead of jalapeño
Chopped parsley instead of cilantro
Add Ins:
Fresh fruit like peaches, mangos, kiwis or strawberries
Cucumbers, corn, beans or avocados
Canned tomatoes is fresh tomatoes aren't available
Hot sauce if you like it spicy!
PIN IT!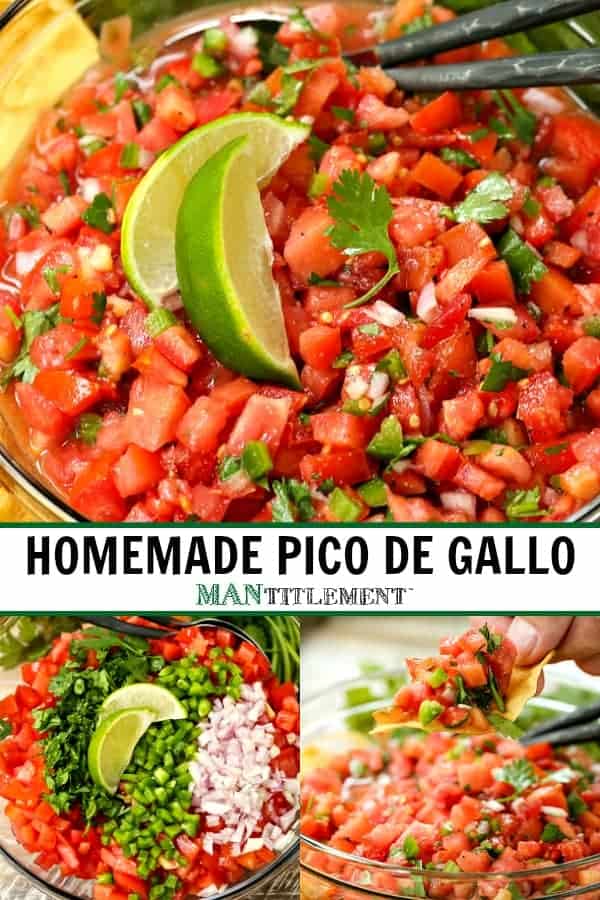 However you choose to customize this fresh salsa recipe, make sure to leave time for it to sit and chill for the best flavor!
If you find that you're tomatoes bland, add a pinch of sugar to bring out their natural sweetness!
Try Serving These Recipes With Pico de Gallo!
Print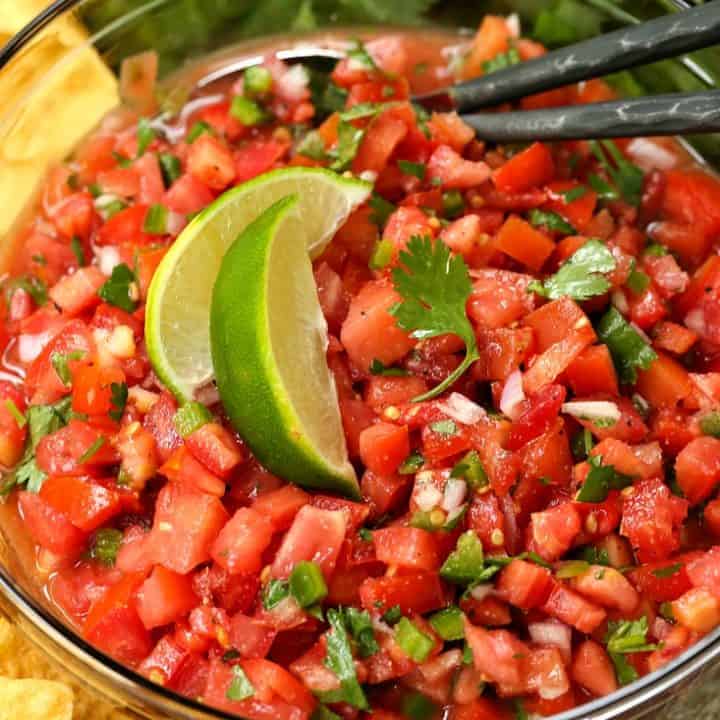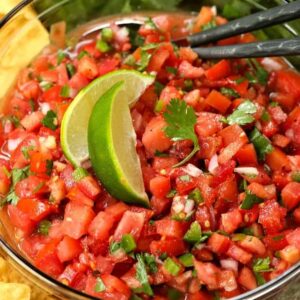 Homemade Pico de Gallo
Author:

Prep Time:

10 minutes

Cook Time:

0 minutes

Total Time:

10 minutes

Yield:

8

servings

1

x
This fresh, homemade Pico de Gallo is the perfect topping for chips, nachos, tacos or even grilled chicken!
Scale
Ingredients
4 cups

diced tomatoes (from about

10

Roma tomatoes)

1/4 cup

shallot, diced or red onion

1/4

–

1/2

cup cilantro, chopped

1/4 cup

diced jalapeno pepper

1/4 cup

fresh lime juice

2 tablespoons

avocado oil

1/2

–

3/4

teaspoon cumin

1 1/2 teaspoon

salt

Fresh black pepper to taste

1 teaspoon

garlic powder

2 tablespoons

red wine vinegar
Instructions
Add all of the ingredients to a medium bowl and stir to combine.

Cover with plastic wrap and refrigerate for at least 1 hour before serving.

Serve with tortilla chips for dipping or use as a topping for nachos, tacos, salads and chicken.
Recipe Notes
This pico de gallo will last for 4-5 days in your refrigerator. As it sits, the tomatoes will give off more juice, you can strain this off is using for a topping.
Category:

Side Dish

Method:

Stir

Cuisine:

American
Keywords: salsa recipe, homemade salsa recipe, pico de gallo recipe, appetizer recipes, easy appetizers, tomato recipes