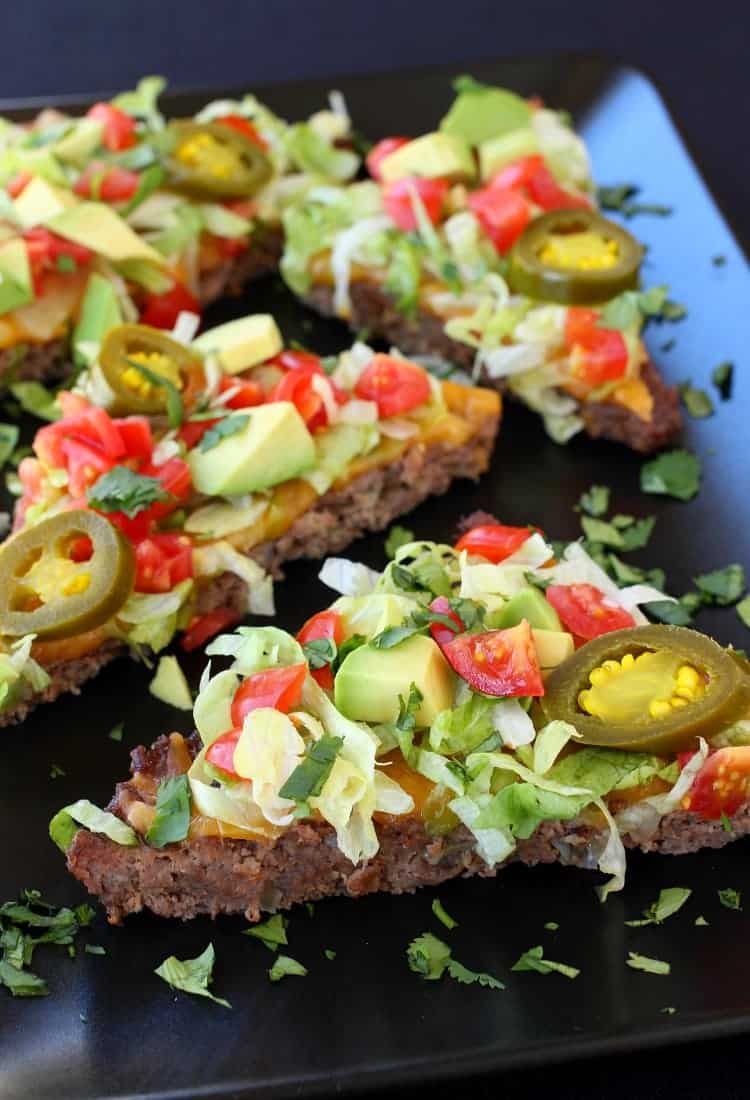 These Naked Sheet Pan Tacos are my idea of how to do a low carb taco night! No shell, just the beef and all the toppings!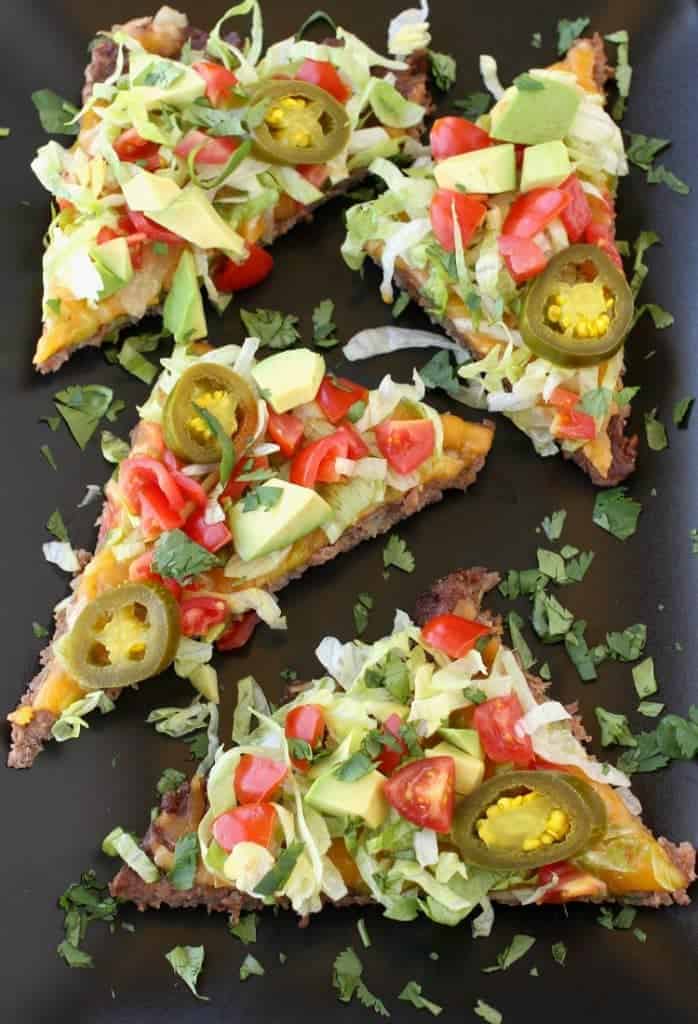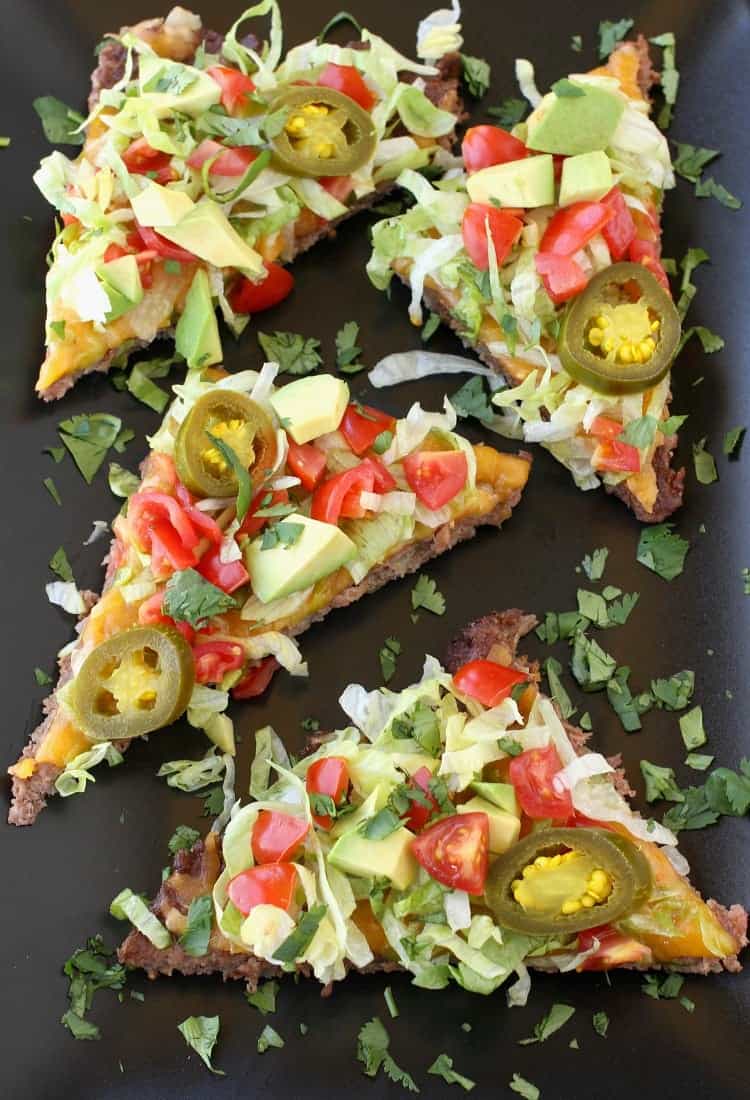 There's a lot of advantages to following a low carb diet. You get to have some fattening stuff and still say that you're on a diet.
Yeah, I know that's not really the idea behind low carb but when you're looking for some party food – or something beyond a caesar salad with grilled chicken, as much as I like caesar salad it get's boring after a while. That's when you've got to try a recipe like these Naked Sheet Pan Tacos.
Why are they naked? There's no shell for these tacos, just the beefy, cheesy filling and all the toppings you want.
We don't always follow a low carb diet, or any diet really all the time or we'd never get anything on the site here except for those types of recipes. And since we really like the deep fried, cheesy, comfort food recipes. We actually like those most of all…but every now and then we've got to give ourselves a reality check and get back in line for a while.
That's where the low carb diet comes in. Salad, lots of salads yes. But man, I get sick of that don't you? Christie could probably eat a salad every single day. So could my little guy for that matter. I'm good with a salad once a day for a couple of weeks and then I'm done.
Enter the fun, low carb recipes. One bite of these Naked Sheet Pan Tacos and you'll realize that you almost don't miss the shell at all!
The cool thing about this recipe is that it's all made in a sheet pan so there's really not a lot of mess involved. You spread the beef and onions out and let it cook – that becomes your "taco base."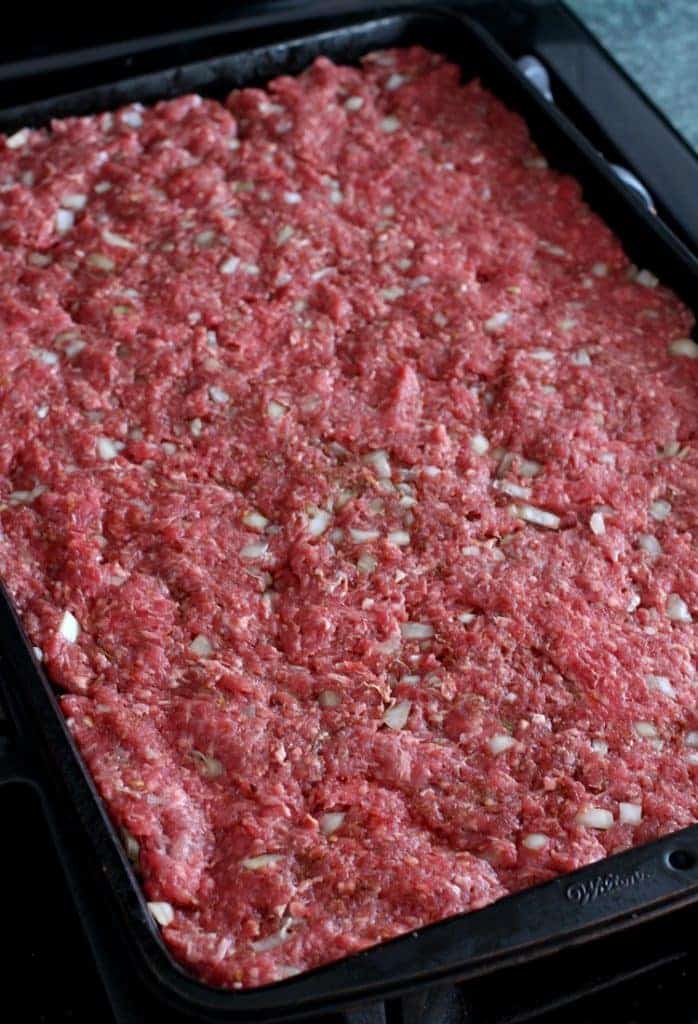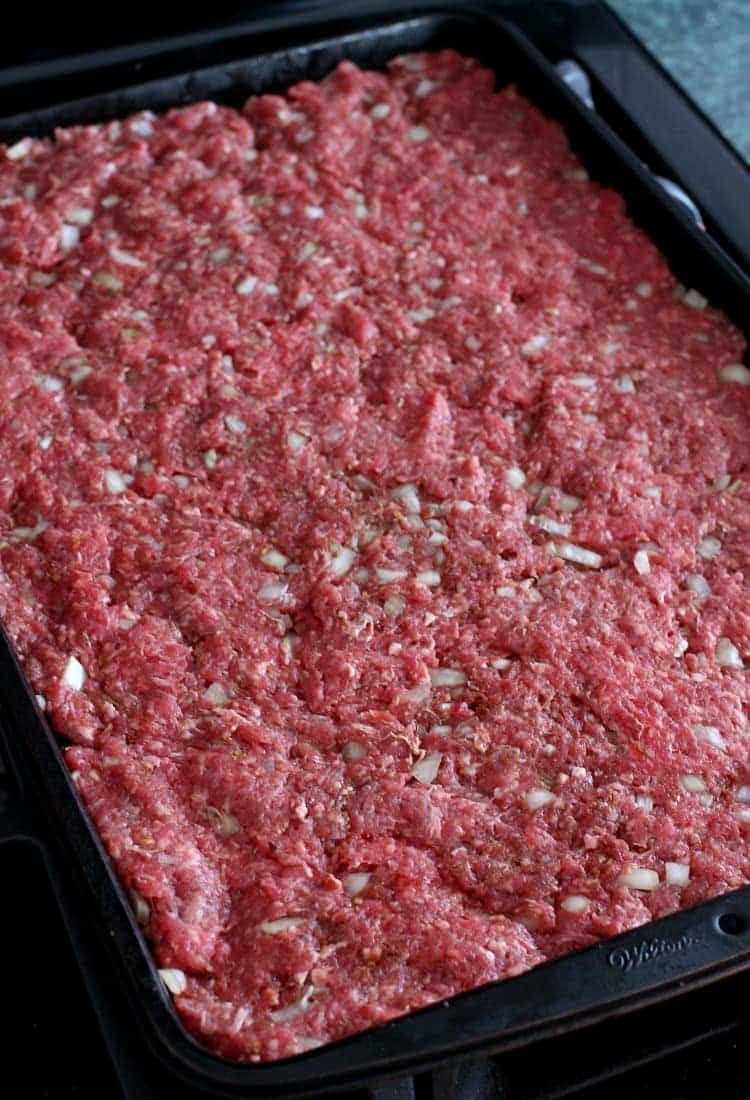 When that's done you cover it with cheese, bake it once more and then start to add on all the toppings you want. This is the fun part, you can get as crazy as you want or even keep a side more on the plain side for the kids.
It seems like most kids like things on the plainer side, mine do too sometimes. But because it's got something to do with a taco – we can pile on the toppings and they don't complain.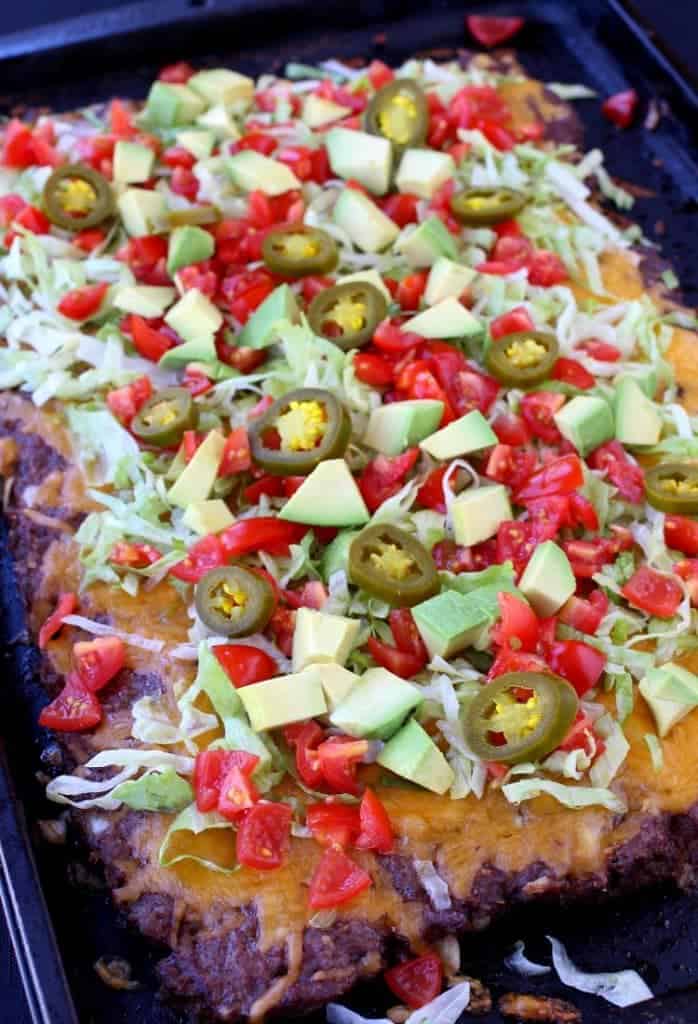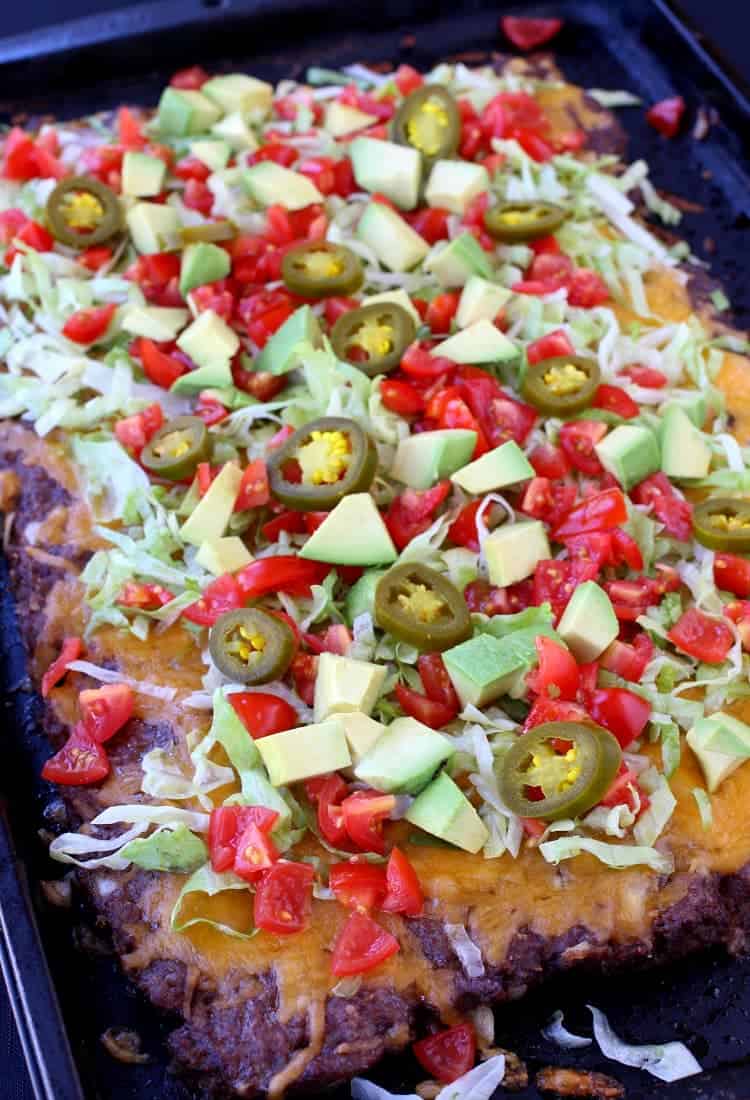 Finally, cut them up into squares or triangles, whatever shape you want and dig in. Top with sour cream, guacamole or salsa and make it a low carb party and you'e got yourself a low carb dinner for the books.
These Low Carb Sheet Pan Tacos are even fun enough to serve at a party, either for appetizers or a fun dinner!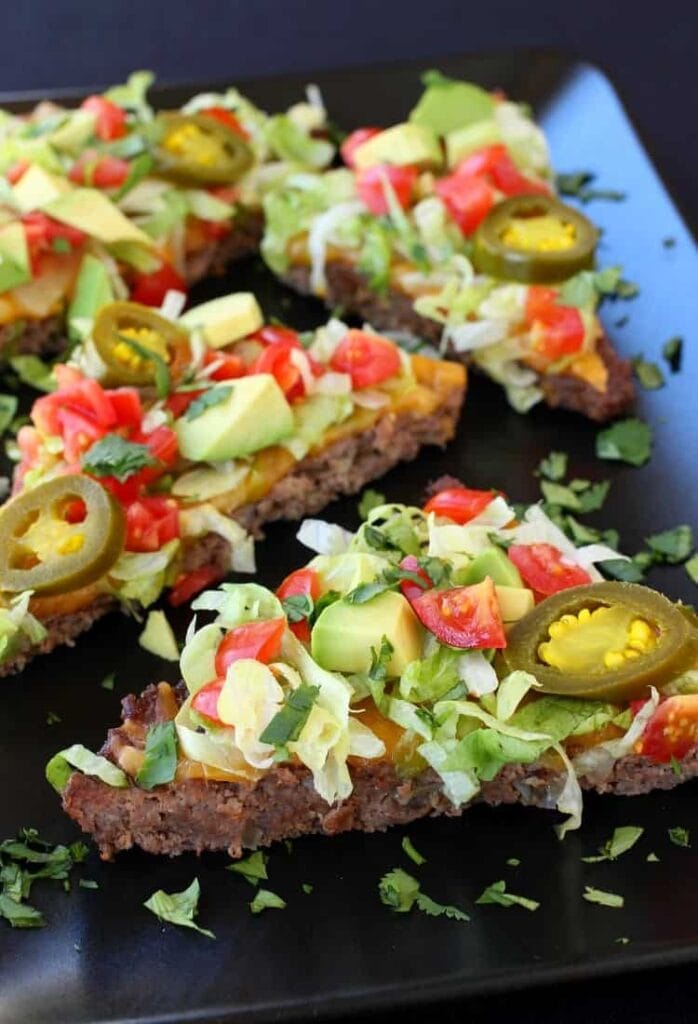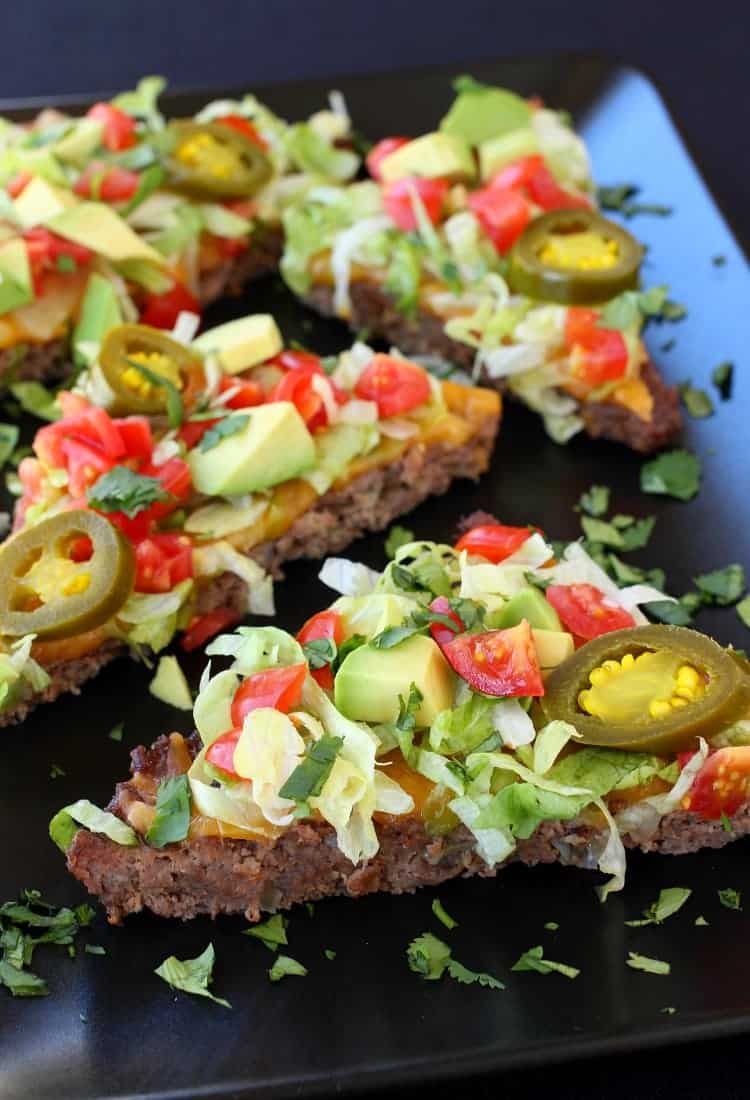 Here's a quick video to see how it's done!
Print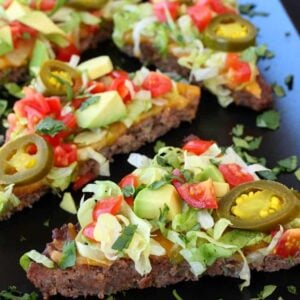 Naked Sheet Pan Tacos
Author:

Yield:

6
---
Ingredients
2 1/2 lbs. ground beef
1 cup chopped onion
1/4 cup taco seasoning
1 tablespoon salt
3 cups shredded cheddar cheese
3 cups shredded iceberg lettuce
2 cups diced tomatoes
2 avocados, diced
1 cup pickled jalapenos
cilantro for garnish (optional)
---
Instructions
Preheat the oven to 400 degrees.
Mix the ground beef, onions, taco seasoning and salt together in a bowl.
Spread out onto a baking sheet in an even layer.
Bake for 20 minutes, then take the sheet pan out of the oven and set on top of the stove.
Using 2 spatulas, remove the beef from the sheet pan an onto a cutting board.
Drain the grease in the sheet pan then place the beef back onto the pan.
Cover with cheese and bake for another 8-10 minutes until the cheese is melted.
Remove the sheet pan from the oven and top with lettuce, tomatoes, jalapenos and avocados.
Additional topping ideas are sour cream, guacamole and salsa.
---
Notes
Serves 6 for dinner or 8-10 for appetizers.