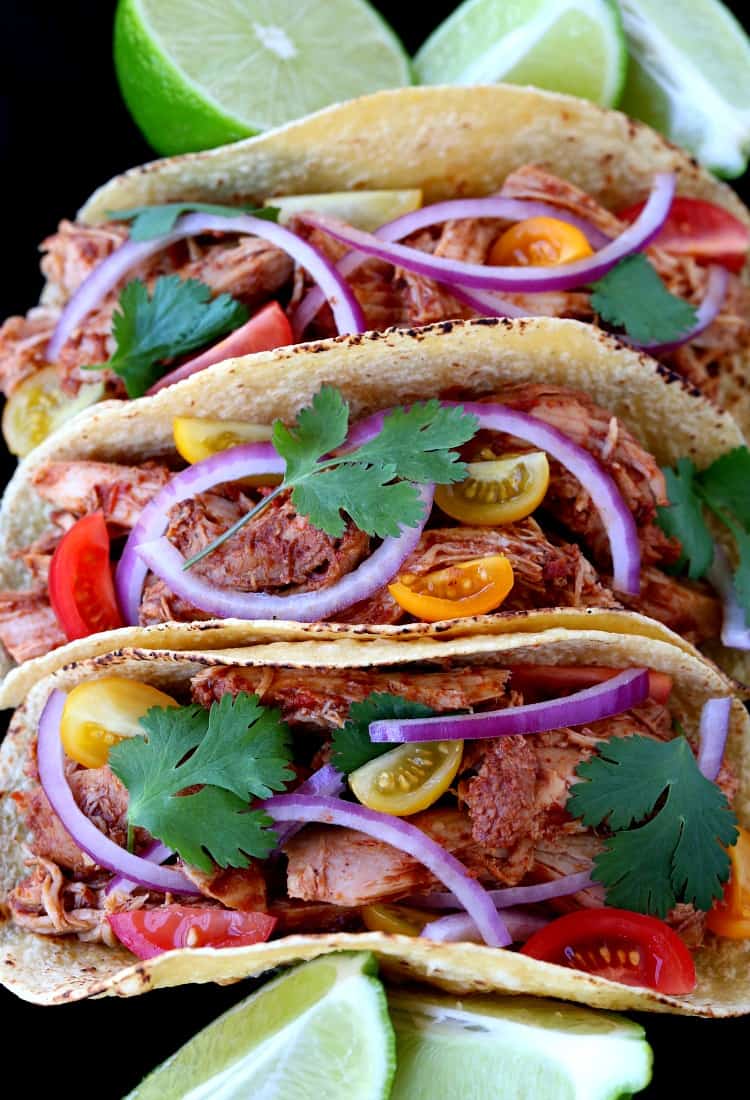 Slow Cooker Turkey Mole Tacos
Make these Slow Cooker Turkey Mole Tacos for a tasty twist on taco night! These unique flavors come together perfectly right in your slow cooker!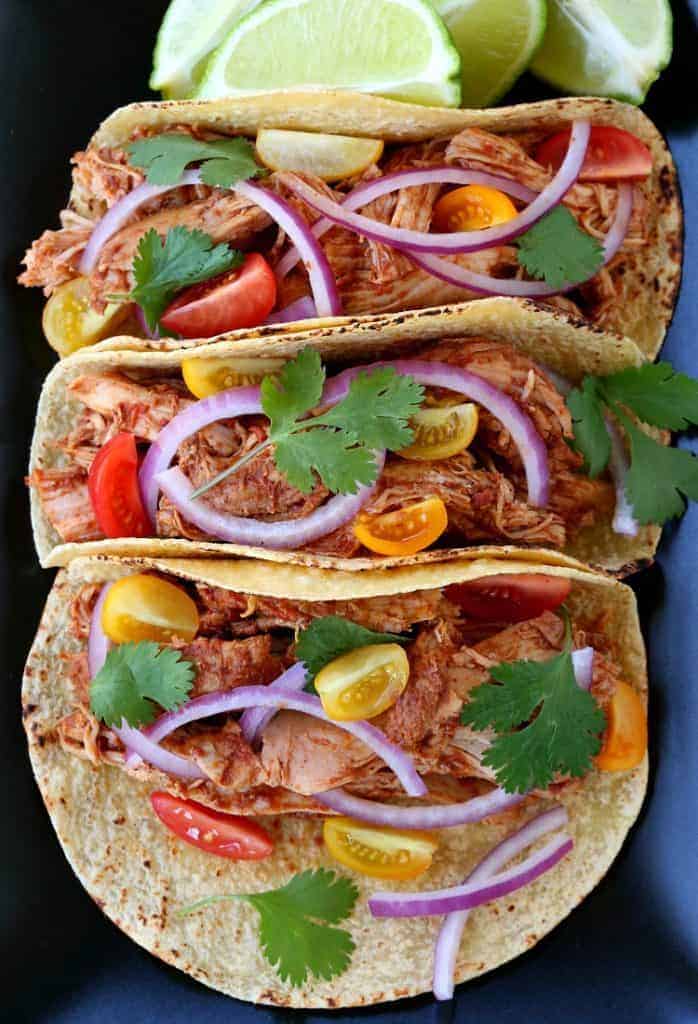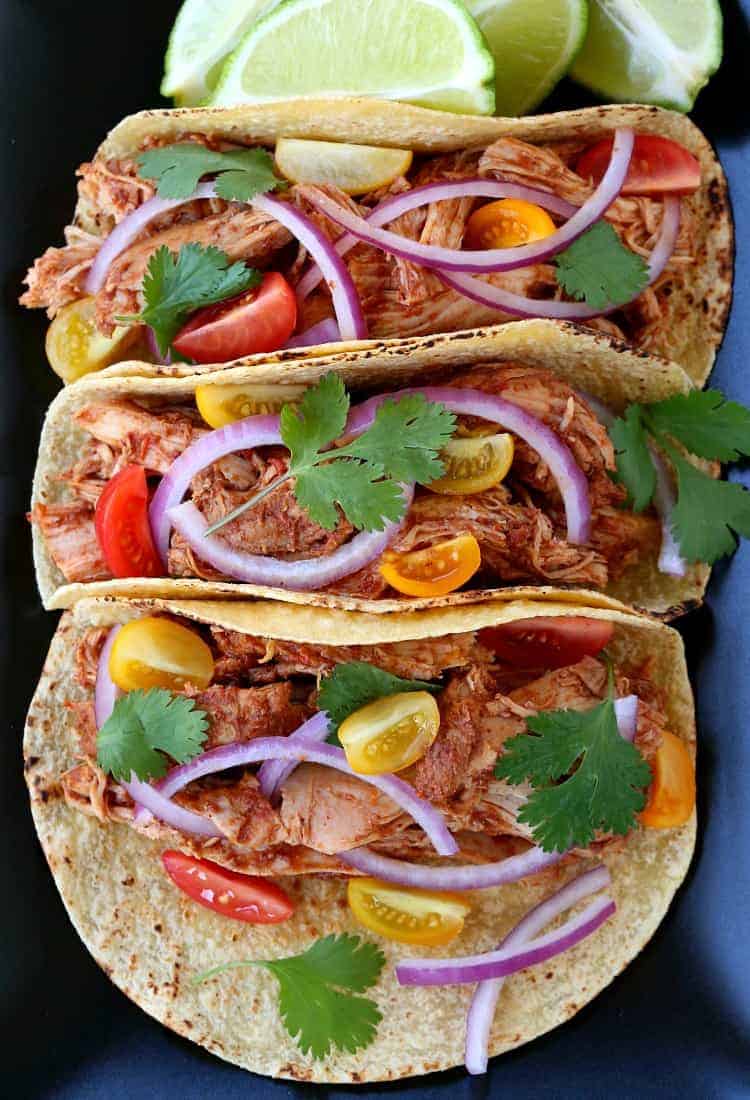 Taco night – it's still the best dinner night, am I right?
The kids love it and so do the adults so that's a dinner night win all around.
What I love about tacos is that for one, there's SO many different ways to make them…and then once you make them there's SO many different ways to top them!
A favorite recipe around our house are these Slow Cooker Crispy Chicken Carnitas, we've actually unplugged our slow cooker full of this chicken and headed over to our friends house with tortillas in hand. It's just a simple recipe that has simple flavors that everyone seems to really like.
But then you can top them with all the crazy things you want.
Then you've got your fish tacos, or even our famous Naked Sheet Pan Tacos if you're trying to keep your carb count down…even if you're not those are still really awesome.
But today we're making a new addition to our taco night, these Slow Cooker Turkey Mole Tacos.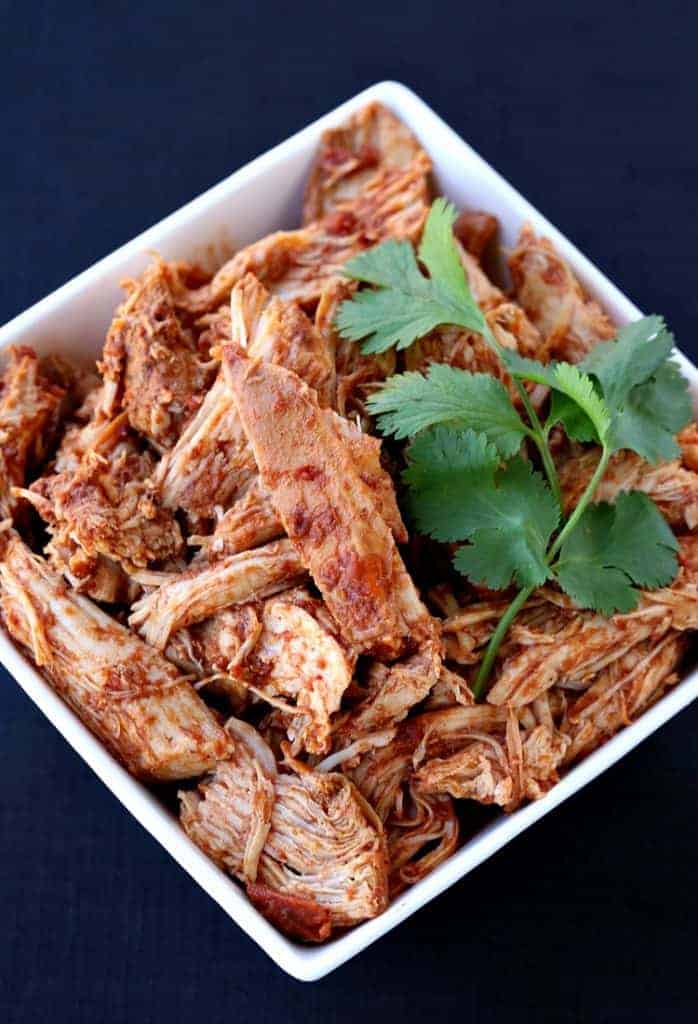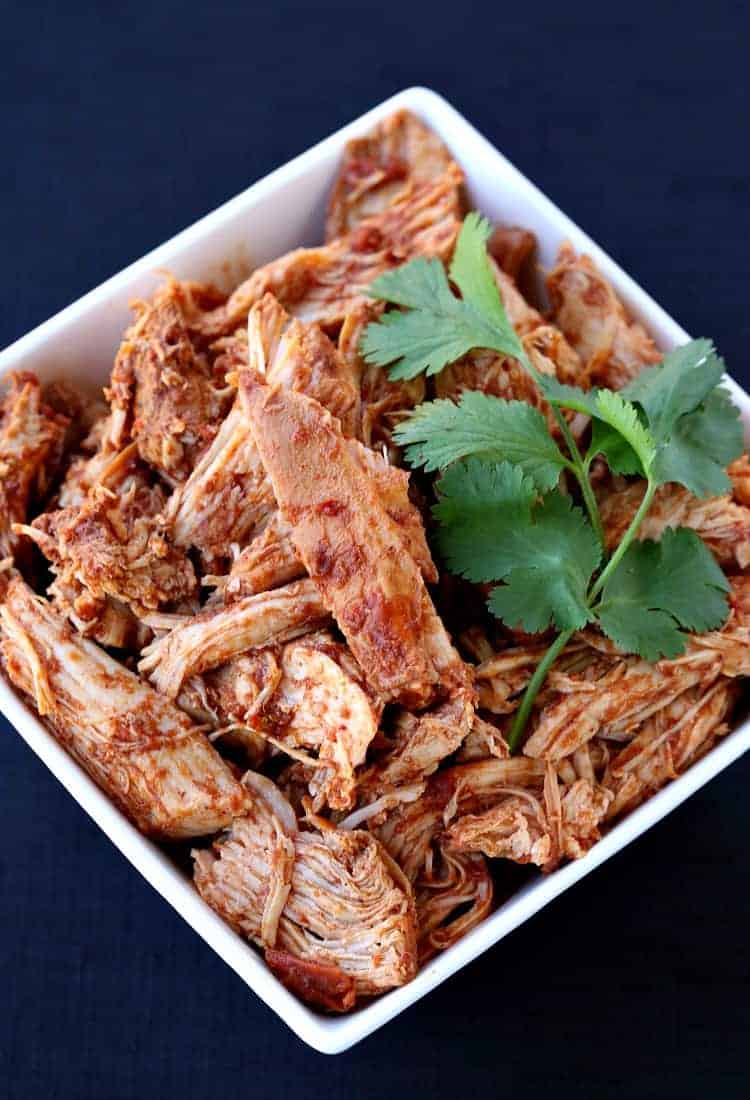 Our oldest son who loves to try new things and pretty much eats anything was asking about mole sauce. He had seen it as an option at Moe's Southwest Grill but wasn't sure if he'd like it.
Taking that as a challenge…we decide to make some mole. I kept the flavors really simple here, I know that a lot of mole recipes (or most) call for chipotle in adobo but I know my boys don't like that flavor so I kept it out.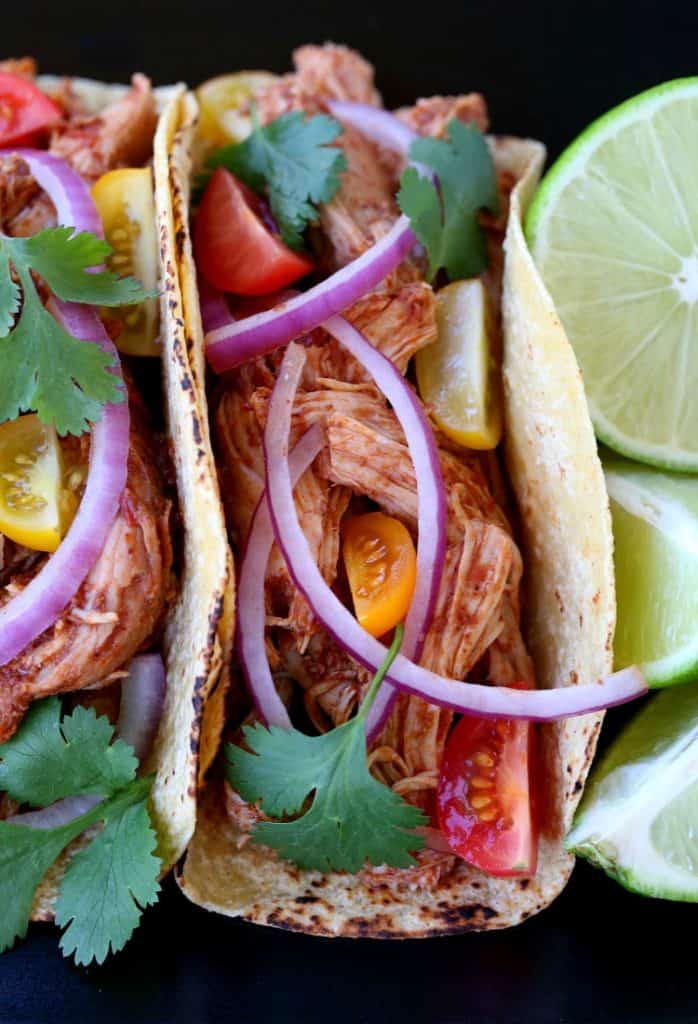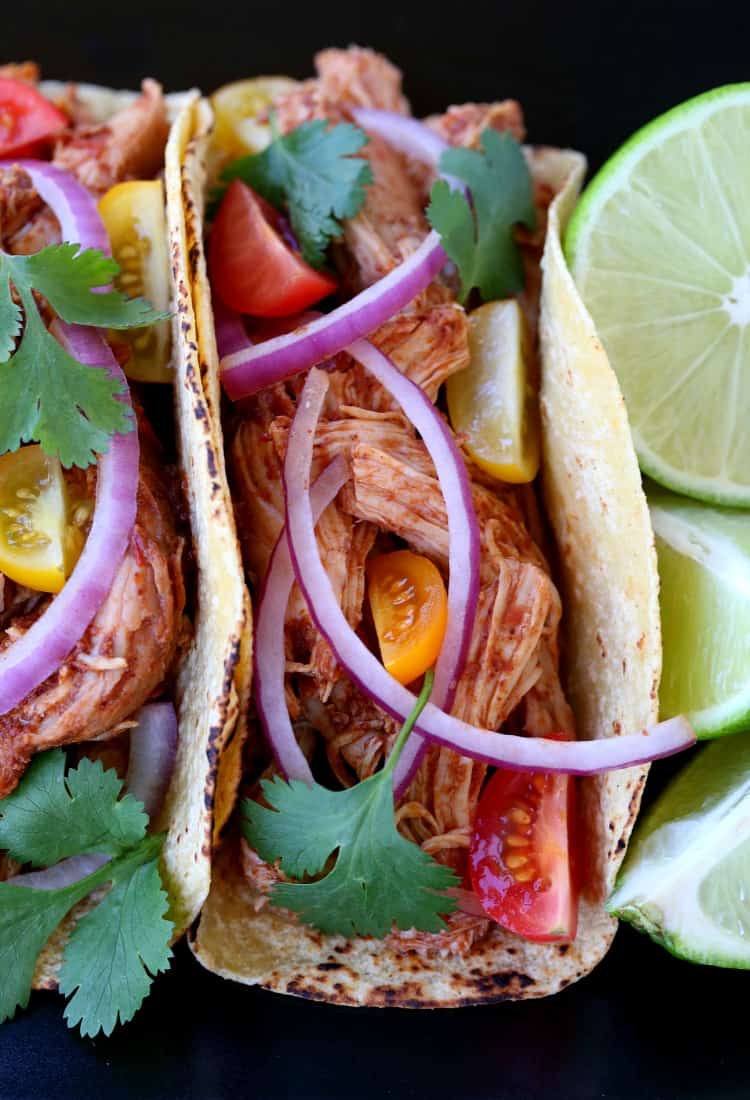 I think this is still a really flavorful recipe and also definitely kid friendly so it will be added to the dinner list for us!
All you need is a small turkey breast to get these Slow Cooker Turkey Mole Tacos started. Mix up the sauce and pour it over the turkey in a slow cooker and set it on low for about 8 hours.
I found mine was done around 6 1/2 hours, but it will depend on the size so I'd say after 6 hours start checking to see if it's tender. But if you need it to go 8 hours while you're out of the house, it's going to be just fine.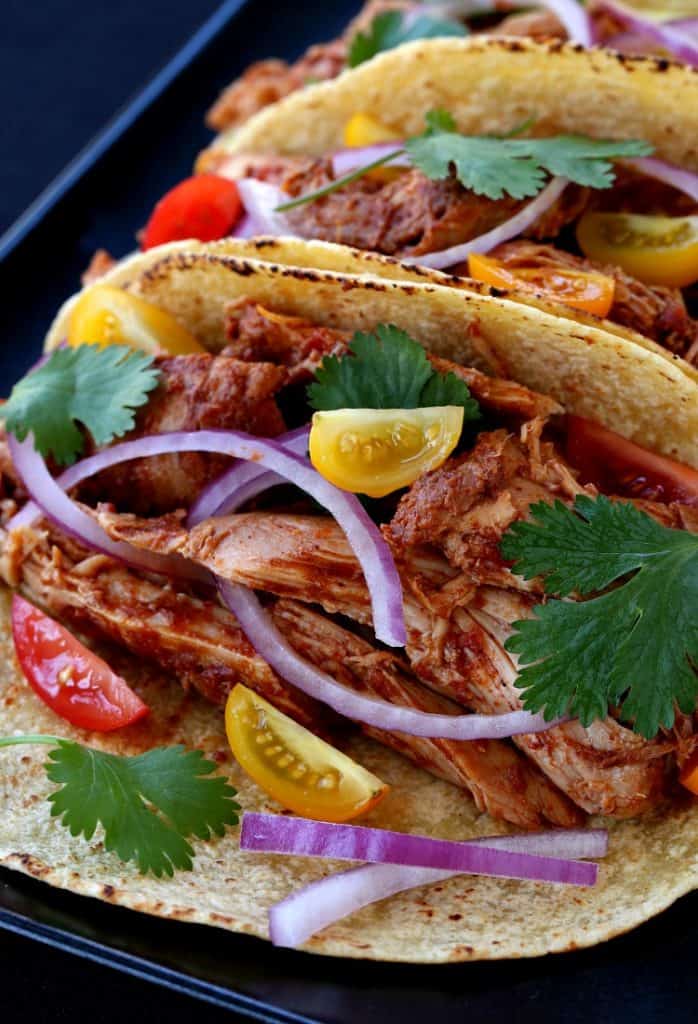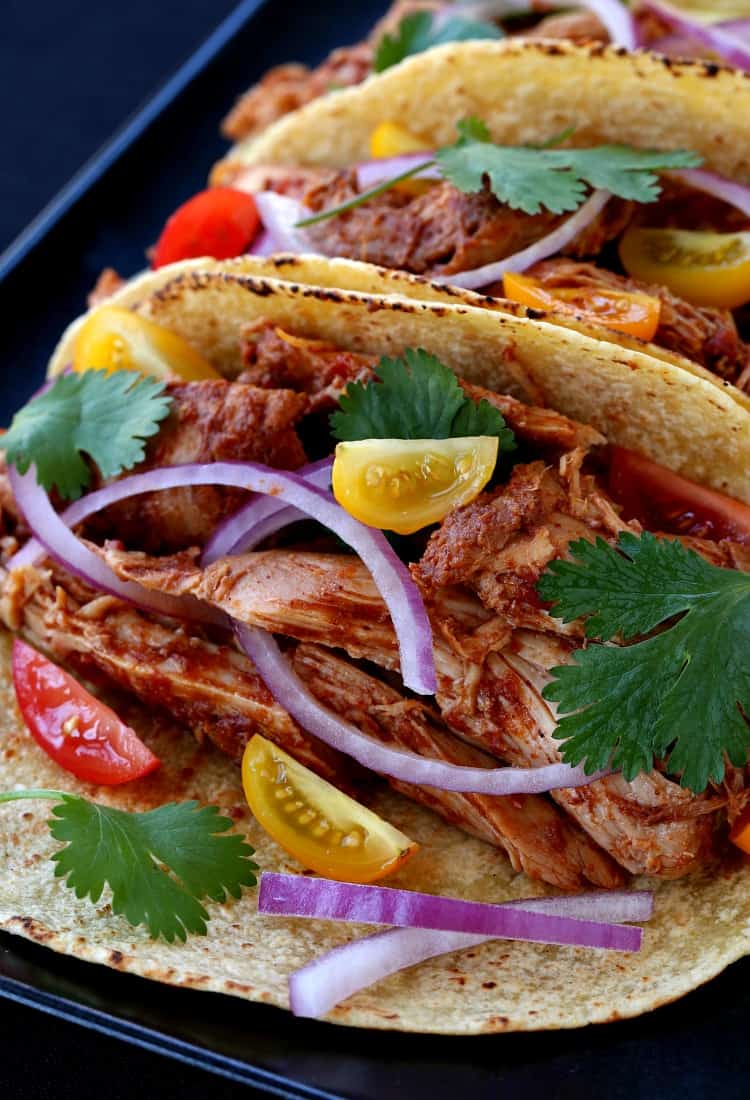 When the turkey is done, remove it from the slow cooker to a board to cool. Leave as much of the sauce behind as possible, you'll be stirring that in later.
I shredded the turkey in pretty large pieces and got it into a large bowl to toss with the mole sauce from the slow cooker.
I added just enough of the sauce to generously coat the turkey, not so much so that it was swimming in sauce but that's where your taste will come in.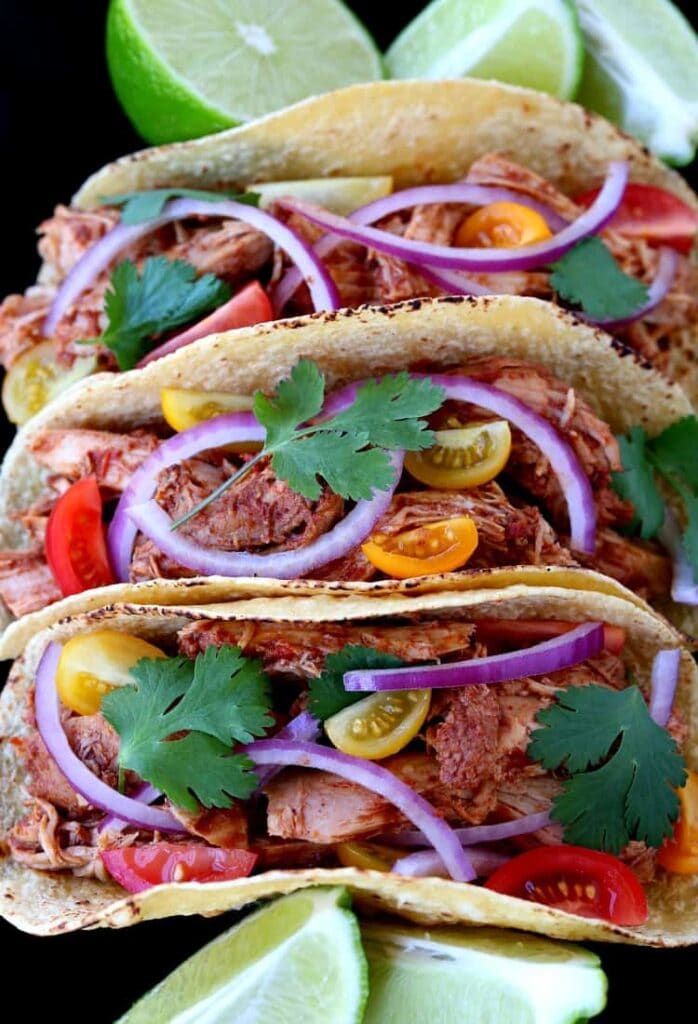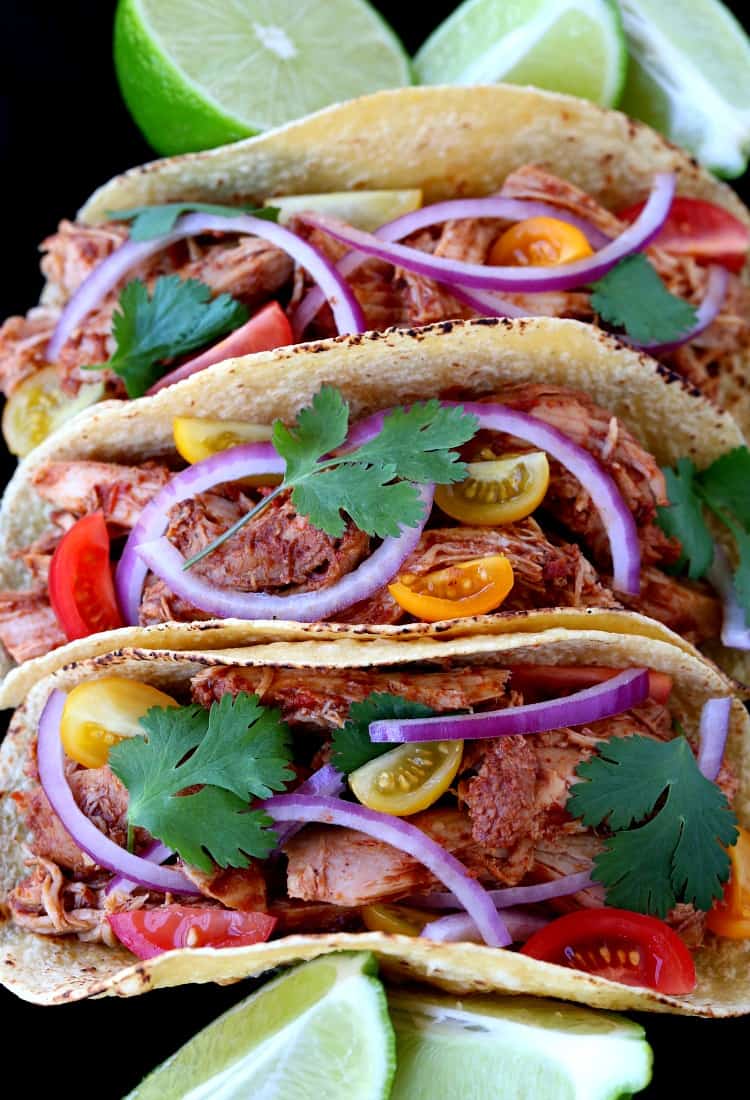 Serve these Slow Cooker Turkey Mole Tacos with sliced red onion (pickled onions would also be great) chopped tomatoes, fresh cilantro and a squeeze of lime!
Print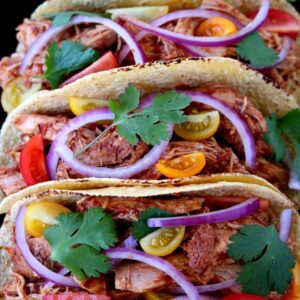 Slow Cooker Turkey Mole Tacos
Author:

Prep Time:

15 minutes

Cook Time:

8 hours

Total Time:

8 hours 15 minutes

Yield:

12
---
Description
These Slow Cooker Turkey Mole Tacos are going to be a hit on taco night!
---
Ingredients
1 skinless 2 1/2 pound turkey breast
12 flour tortillas
1 large red onion, sliced thin
1 pint cherry tomatoes, quartered
1 bunch of cilantro
Sauce Ingredients
1 15 ounce can crushed tomatoes
2 tablespoons creamy peanut butter
2 tablespoons soy sauce
1 tablespoon chili powder
2 teaspoons unsweetened cocoa powder
1 1/2 teaspoon kosher salt
1 teaspoon cumin
1/2 teaspoon cayenne pepper (optional)
---
Instructions
Place the turkey breast into a slow cooker.
Mix the sauce ingredients together in a bowl with a whisk until blended, then pour over the turkey.
Turn the turkey to coat in the sauce then cover and set the slow cooker on low for 8 hours.
Remove the turkey breast from the slow cooker and place on a board to cool.
Shred the turkey with two large forks into large, bite sized pieces and place in a large bowl.
Add a cup of sauce at a time to the shredded turkey, tossing to coat in the sauce. Add as much or as little sauce as desired for your taste.
Serve the turkey in flour tortillas, topped with the onion slices, chopped tomatoes and cilantro.
---
Notes
To take some of the raw flavor out of the red onion, add the slices to a bowl of ice water for 10 minutes. Drain and dry well.
Shop This Recipe!