These Tequila Shrimp Quesadillas taste like they came from your favorite Tex-Mex restaurant! Tequila marinated shrimp with tons of gooey cheese to hold them all together!
Tex-Mex food is one of our most favorite food groups. Don't forget to whip up some of our Homemade Guacamole and this fresh Pico de Gallo for topping!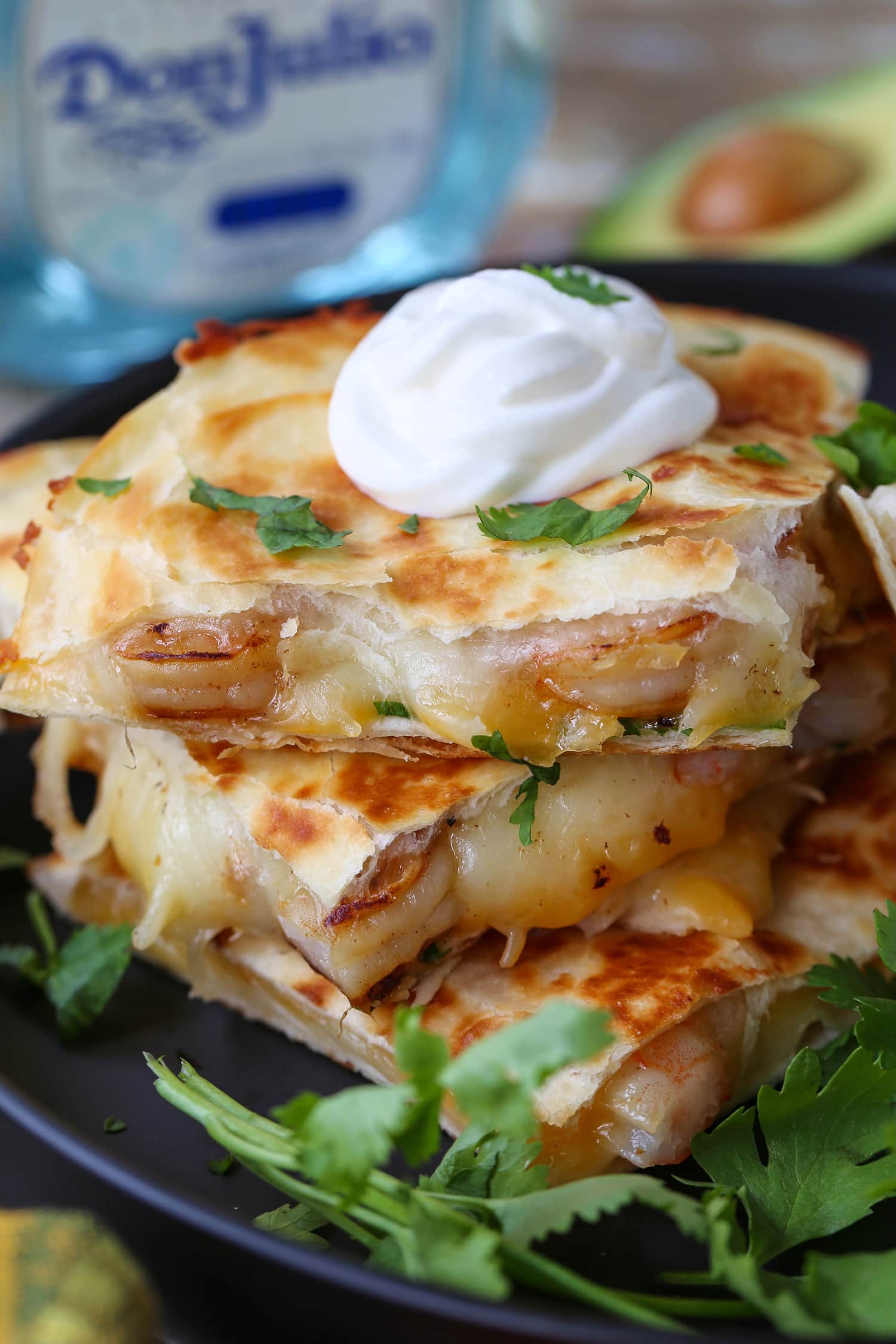 A Delicious Shrimp Quesadilla Recipe
These Tequila Shrimp Quesadillas are not only super easy to make, but your family will literally cheer when you put them on the dinner table.
Quesadillas are such a fun food to begin with, then you add some tequila marinated shrimp and tons of gooey cheese and well, you've got a party.
You can start with frozen or fresh, peeled and deveined shrimp to make this quesadilla recipe easy. Next, marinate the shrimp in a delicious tequila and lime marinade and you're just about there.
After the shrimp has marinated it only takes about 15 minutes to get these shrimp quesadillas on the table!
What Kind Of Tequila Should I Use For This Marinade?
You can really use any kind of tequila that you like or have on hand. if you need some pointers about which kind of tequila to buy, check out this tequila fact guide for some great ideas.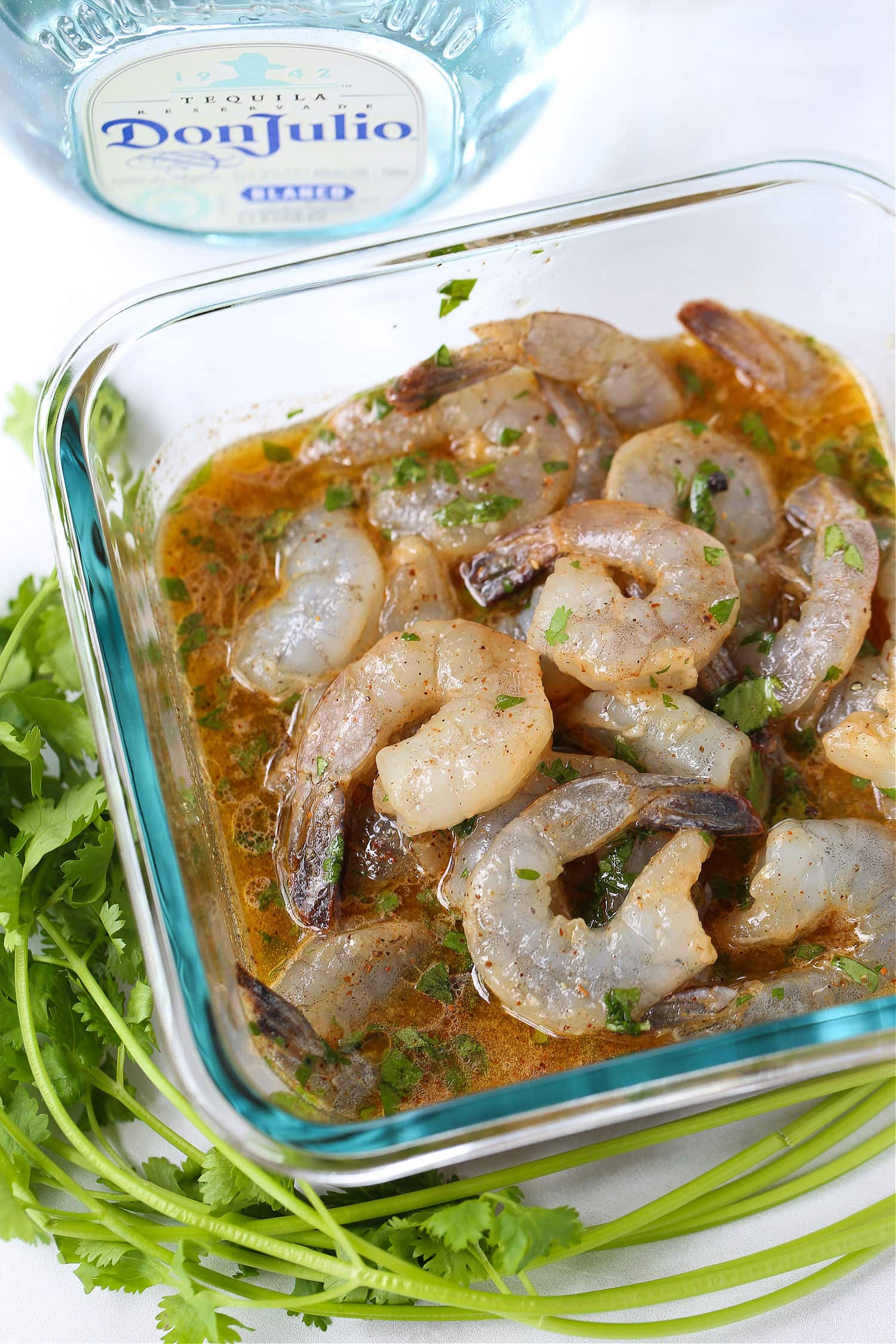 How To Make Shrimp Quesadillas
Start by making the tequila marinade for the shrimp. Add tequila, orange juice, honey, lime juice, garlic, cumin and chili powder in a dish.
Add the shrimp to the marinade, toss, cover and refrigerate for at least 1 hour or up to 4 hours.
Remove the shrimp from the marinade and then dry them off well with paper towels. Add a little olive oil to a skillet and cook the shrimp for 2-3 minutes on each side until cooked through.
Remove the shrimp from the skillet, wipe out the skillet and then start to assemble the quesadillas.
Add more oil or cooking spray to the skillet and then add your first a tortilla. Cover the tortilla with a layer of Monterey jack cheese and then pile on the cooked shrimp. We like to add about 10-12 shrimp on each quesadilla so you get some shrimp in every bite!
Add the second layer of cheese on top of the shrimp. Now use the Mexican blend, or cheddar or pepper jack or any other good melting cheese that you like.
Now cover the top with another flour tortilla and press down with a plate.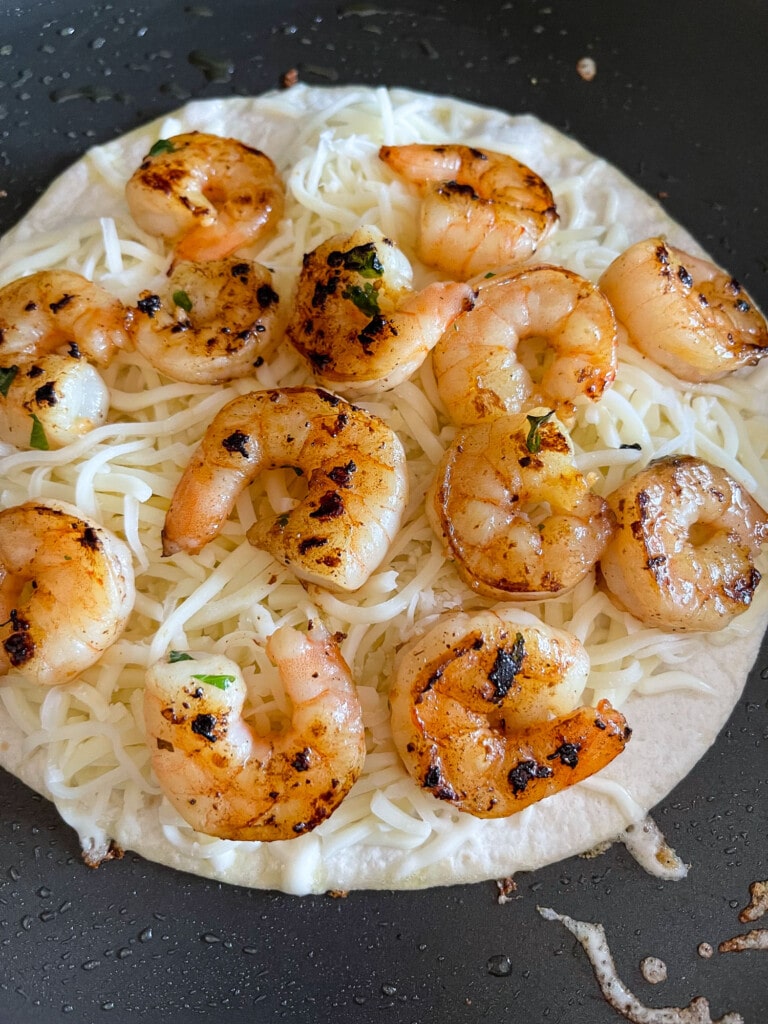 What Kind Of Shrimp Works Best For These Quesadillas?
Really, the most important thing here is that the shrimp are fresh and delicious. Smaller shrimp will work, just add more to each quesadilla.
We like to use medium shrimp that are peeled and deveined to take that step out of the process.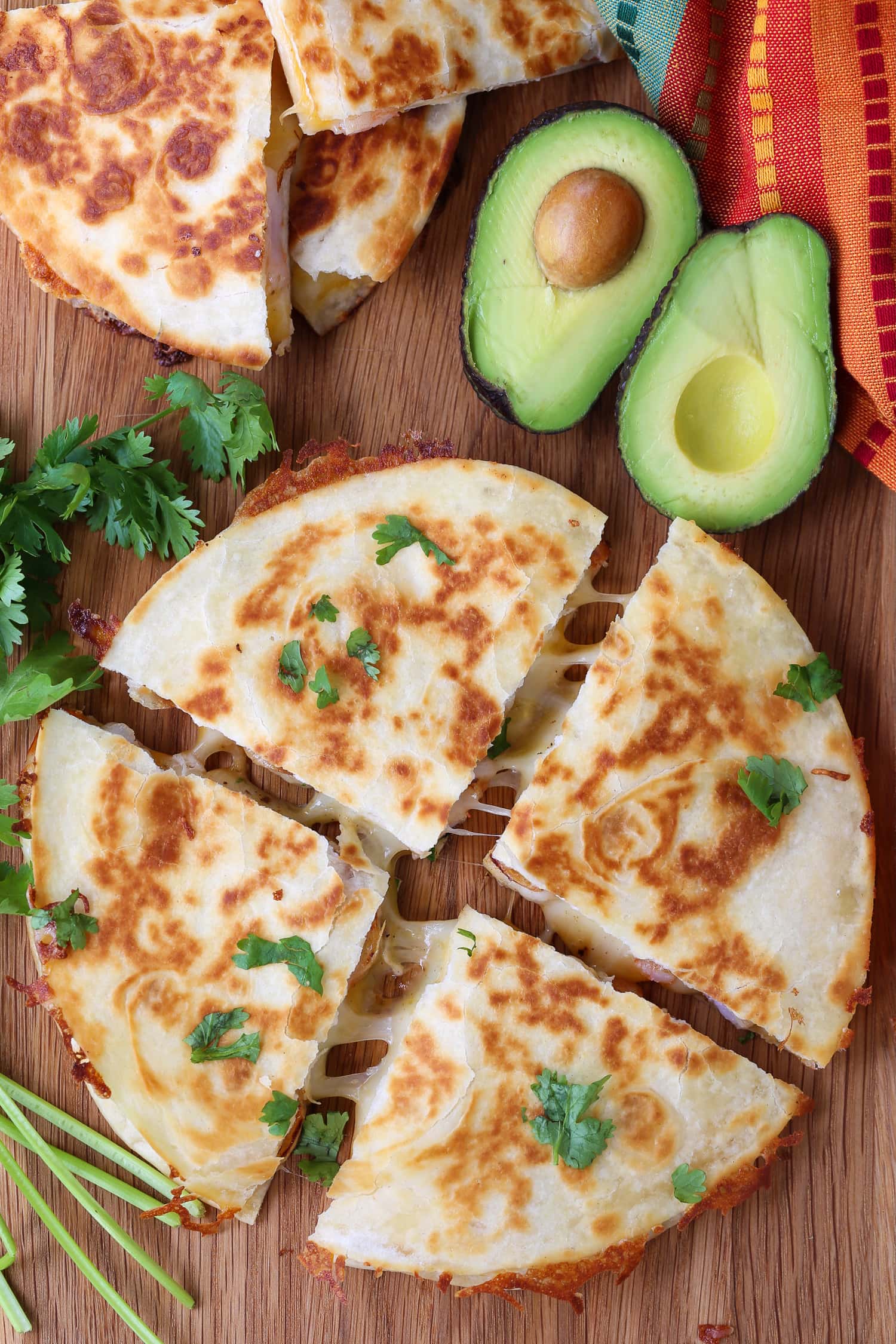 Topping Ideas For Quesadillas
I can pretty much guarantee you that you'll be eating at least one or two wedges of these Tequila Shrimp Quesadillas just as is.
This shrimp quesadilla recipe has it all, perfectly marinated shrimp, tons of cheese and just a hint of fresh cilantro.
But toppings are plentiful on our dinner table, too! Here are a few of our favorites:
Sour Cream
Fresh cilantro
Fresh lime wedges
Sriracha or hot sauce
How Do You Reheat Quesadillas So They Are Crispy?
Need to make a bunch of these shrimp quesadillas ahead of time? Or just need to reheat a few leftovers? We've got you covered. Our kids will heat leftovers right in the microwave, but it doesn't make for a crispy tortilla crust.
The best way to reheat quesadillas is to place them on a baking sheet in a 400 degree oven for about 5-7 minutes or until they're warmed through.
You can also use a skillet to reheat these with a little oil or non stick cooking spray. AND if you love these Tequila Shrimp Quesadillas, we've got some more quesadilla recipes for you to try!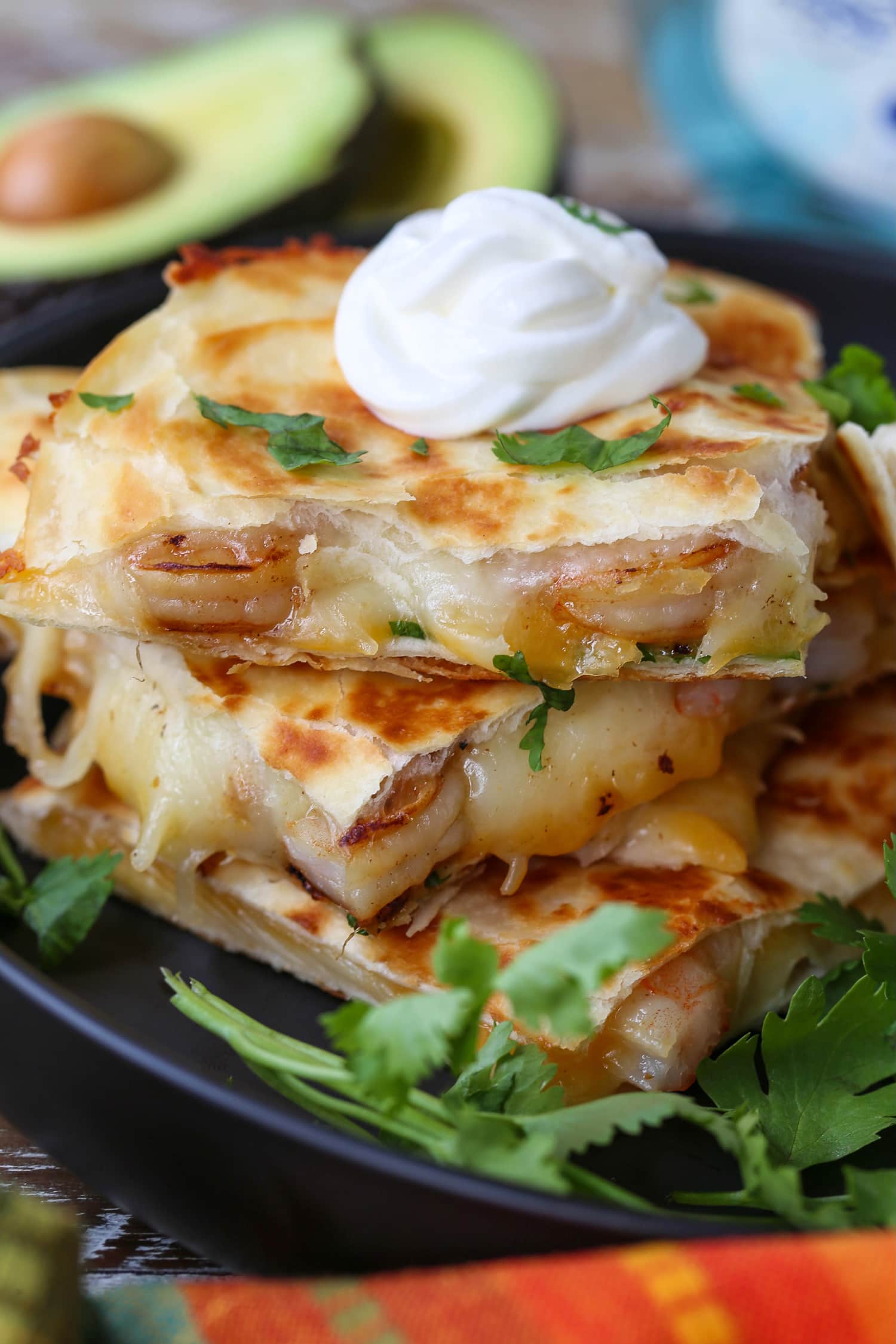 Looking For More Quesadilla Recipes?
Print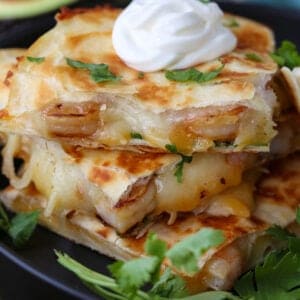 Tequila Shrimp Quesadillas
Author:

Prep Time:

5 minutes

Marinating:

4 hours

Cook Time:

25 minutes

Total Time:

4 hours 30 minutes

Yield:

4

servings

1

x
Tequila Shrimp Quesadillas are the most epic party food! Tequila and lime marinated shrimp tucked between two layers of gooey cheese!
Scale
Ingredients
For The Shrimp:
1 1/2

pounds medium shrimp, peeled and deveined

1/4 cup

tequila

1/3 cup

orange juice

2 tablespoons

honey

2 tablespoons

lime juice

1 tablespoon

chopped garlic

1 1/2 teaspoons cumin

1 1/2 teaspoons

chili powder
For The Quesadillas:
8

taco size flour tortillas

2 cups

shredded mozzarella cheese

2 cups

Mexican blend shredded cheese
Fresh cilantro leaves
Olive oil
Instructions
Whisk the ingredients together for the marinade in a bowl. Add the shrimp, toss in the marinade and refrigerate for 4-6 hours. Remove the shrimp from the marinade and dry off with paper towels.
Add a little oil or non-stick cooking spray to a medium skillet. Add the shrimp and cook for 2-3 minutes on each side until the shrimp is opaque and cooked through. remove the shrimp from the skillet and cover to keep warm. Wipe the skillet out with paper towels and return the pan to the heat.
Add a little more oil to the skillet and then place a flour tortilla in the center of the pan. Add 1/3 cup of the Monterey jack cheese, spreading to the edges of the tortilla. Place about 10 shrimp on top of the cheese and then add a 1/2 cup of the Mexican blend cheese on top of the shrimp, along with a few leaves of fresh cilantro if desired. Cover with another flour tortilla and press down with a plate.
Cook the quesadilla for 3-4 minutes until the bottom tortilla is brown and crispy. Flip the quesadilla over, press down with the plate and cook another 3-4 minutes until the other side is brown and crispy. Slide the quesadilla out of the skillet and onto a board. Repeat with the remaining ingredients to make 4 quesadillas.
Cut the quesadillas into wedges and serve with desired toppings.
Recipe Notes
You can keep the cooked quesadillas warm in a 325 degree oven until ready to serve!
Category:

Dinner

Method:

Stove Top

Cuisine:

American / Tex-Mex
Keywords: mantitlement, shrimp quesadillas, tex-mex recipes, seafood recipes, easy shrimp recipes, tequila shrimp