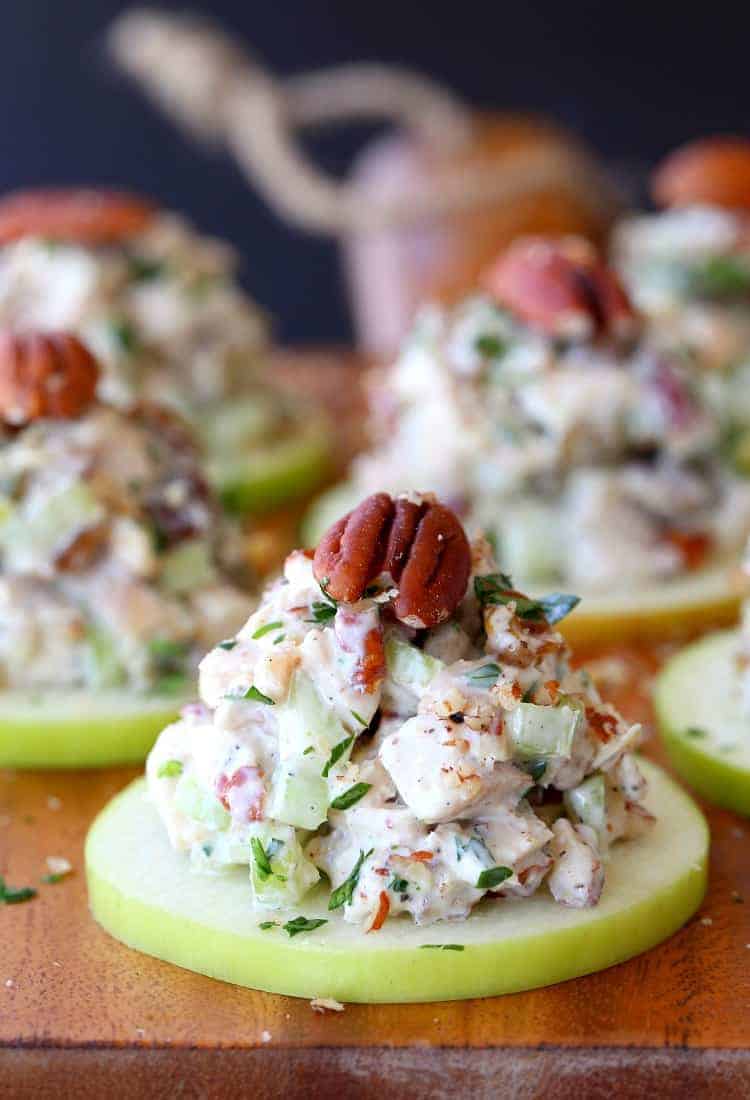 Pecan Chicken Salad Apple Slices
These Pecan Chicken Salad Apple Slices have become a new snacking staple at our house. If you're looking for an easy, low carb appetizer recipe this is it!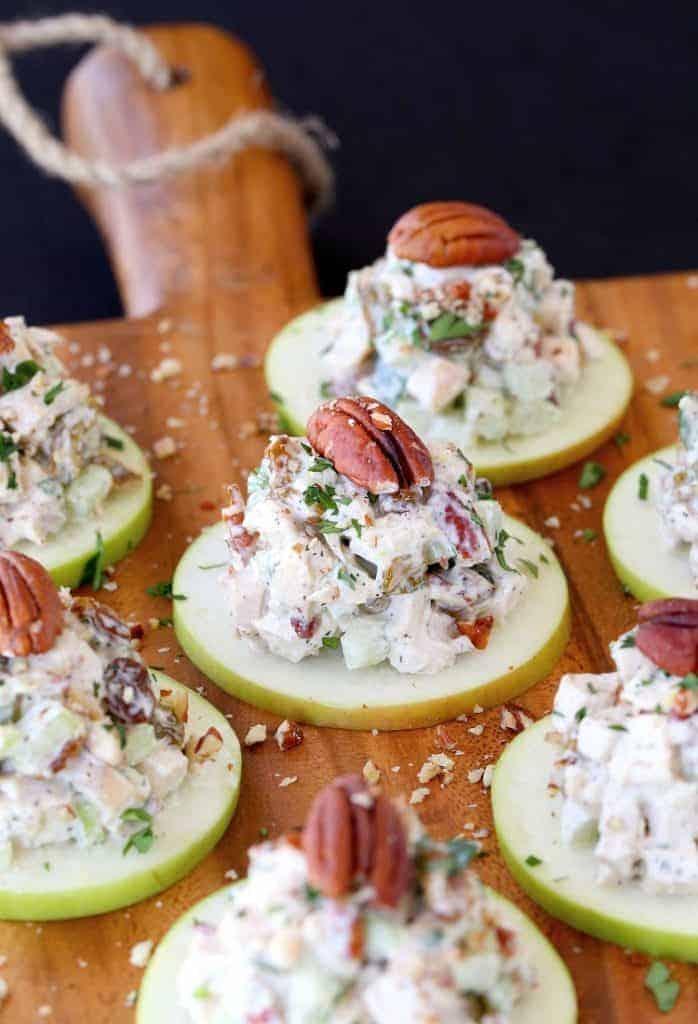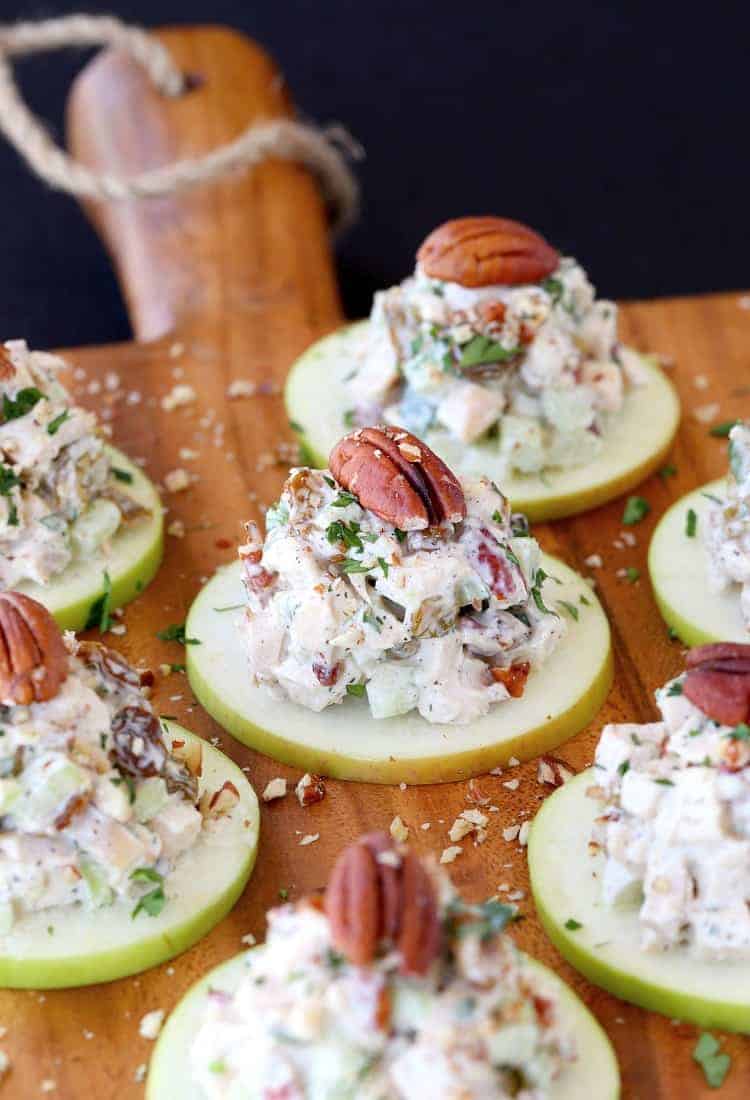 Even if you're not cutting back on bread, you're still going to love this idea low carb recipe.
There's plenty of recipes that I've seen that include apple IN the chicken salad, so why not use it in place of a slice of bread for appetizers, snacks or even a light meal.
Because most people love chicken salad, for one. The other reason is that, everyone seems to be on some sort of low carb something these days, am I right?
Also…these Pecan Chicken Salad Apple Slices are an easy appetizer or easy snack recipe and they are rockstar good.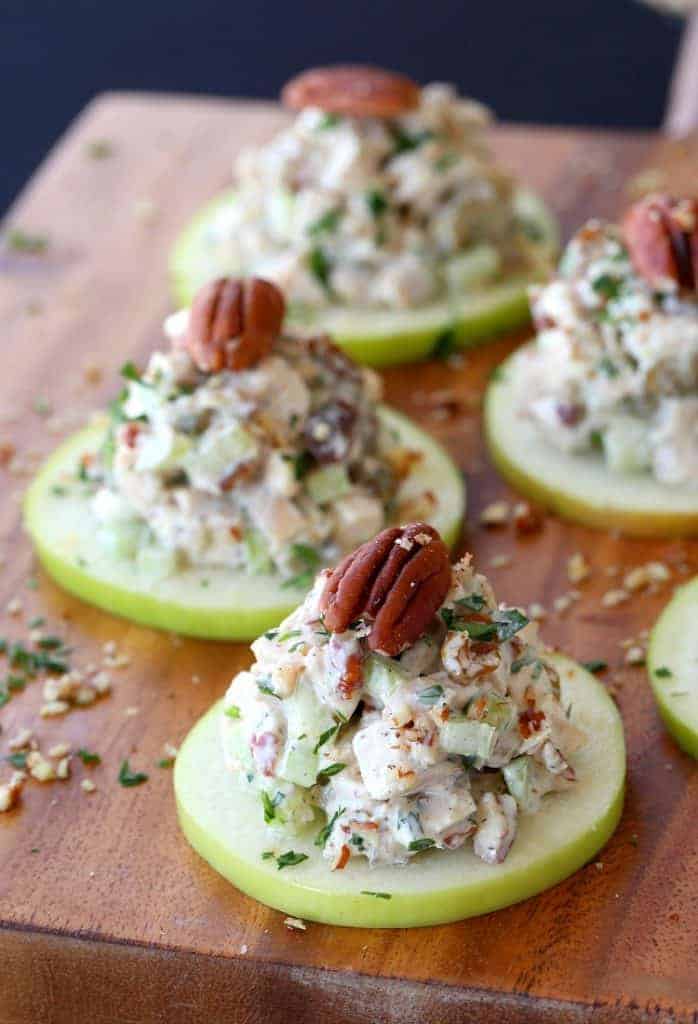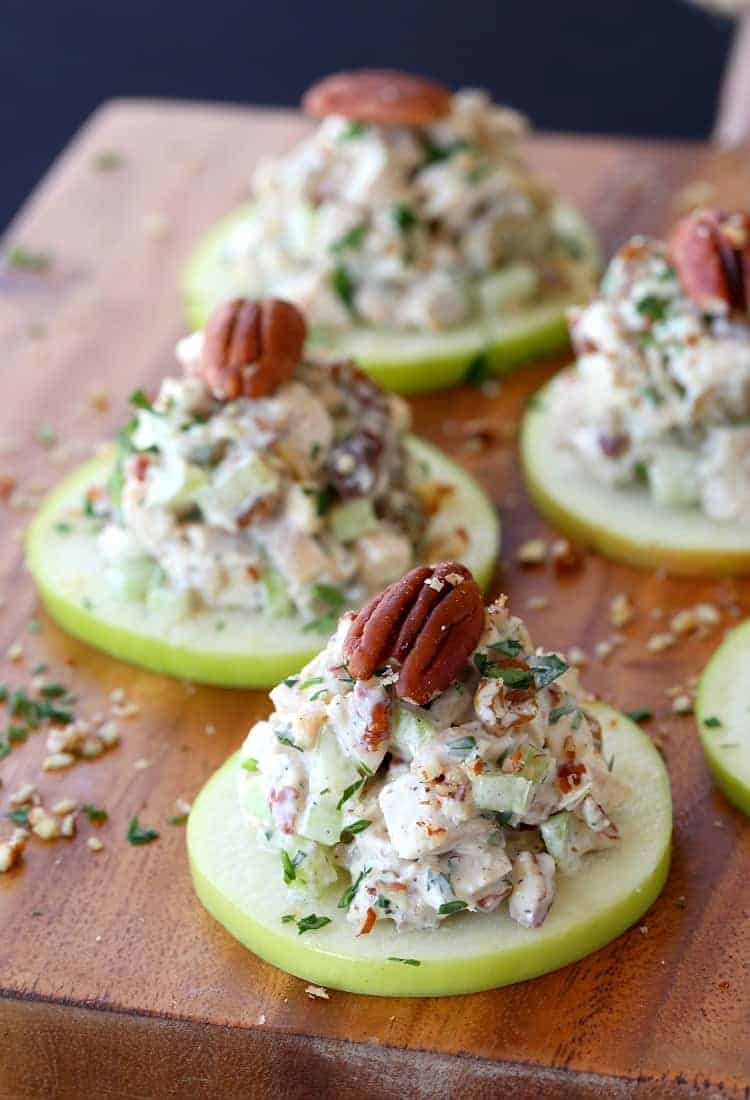 We've been trying to get a few more low carb dinner recipes in our routine…it's pretty easy to do if you do it right. You can even get some pretty epic low carb appetizers going if you're really craving something over the top.
But I guess like being on any type of diet you eventually crave what you're not supposed to have. Like a piece of bread. I promise with these Pecan Chicken Salad Apple Slices, you're not going to miss it.
Ok, hold the comments, this recipe isn't crazy low carb, there are raisins in it and the apple slice has a few carbs, but it's still a lot less carbs than eating a sandwich.
AND if you want to change up the ingredients to make this have even less carbs, you can do that very easily.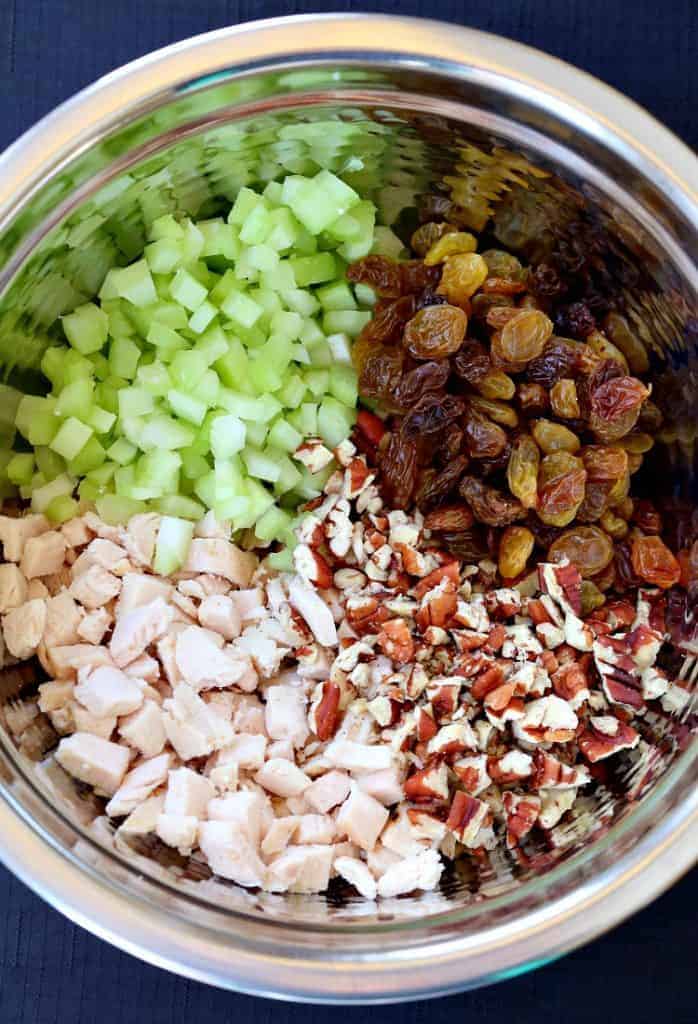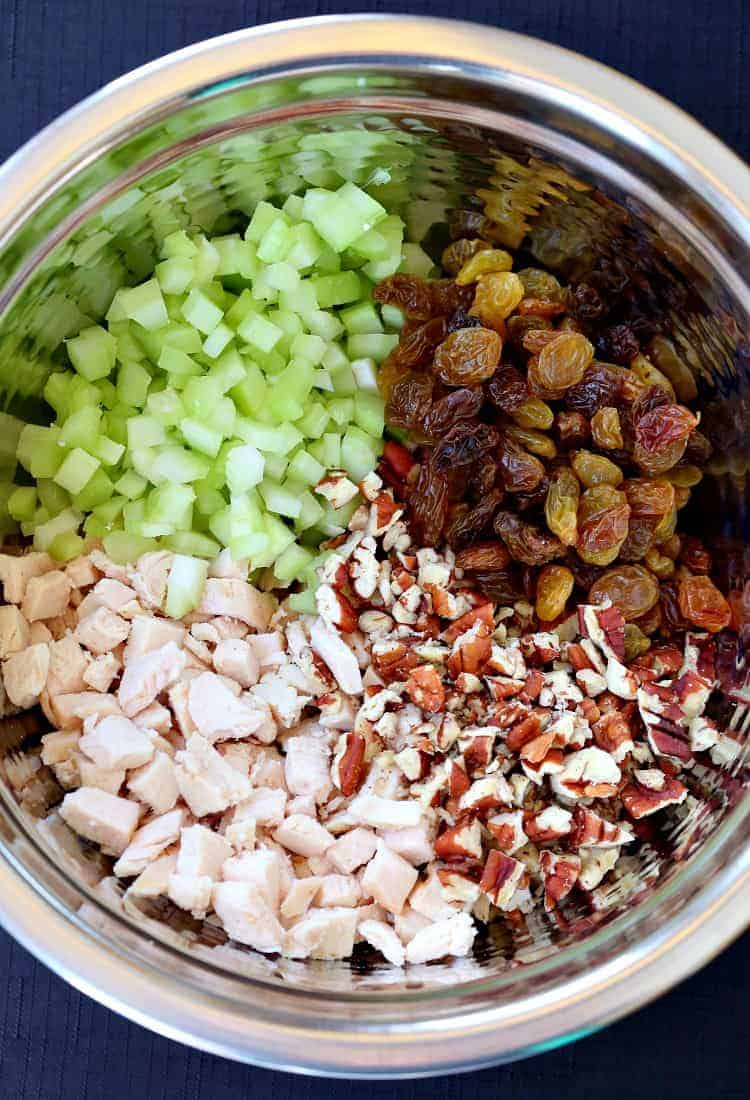 What you do have to do is get your apple slices cut pretty thin using a mandoline slicer or a really sharp knife. You want them thick enough to hold the tasty chicken salad but thin enough to bite through easily and not get all messy on you.
I didn't actually measure the thickness of the apples I sliced but if you look at the photos for reference you'll get a good idea.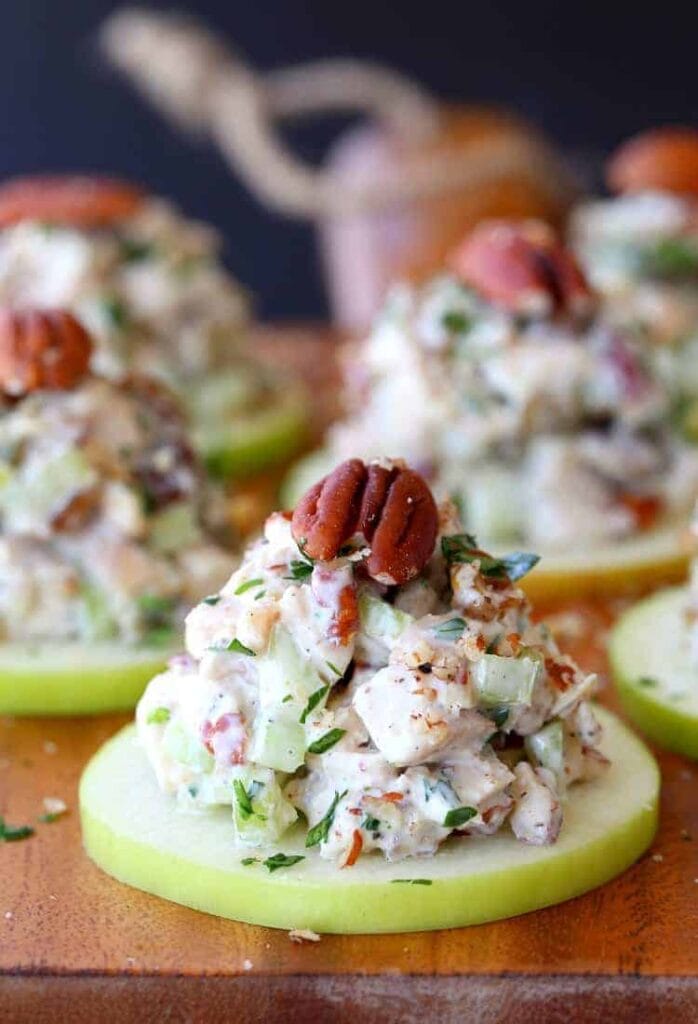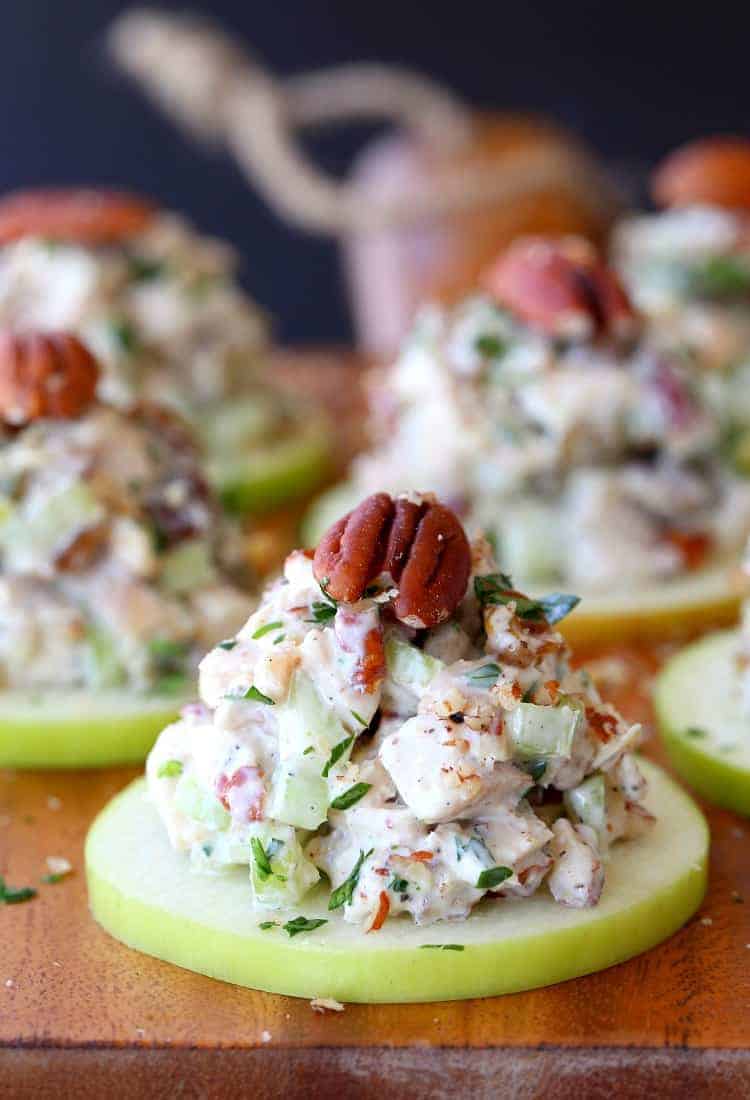 This is also a great recipe for an easy lunch on the go – no need to worry about the bread getting soggy! Just pack up this delicious chicken salad and apples slices separately and assemble as you eat!
Print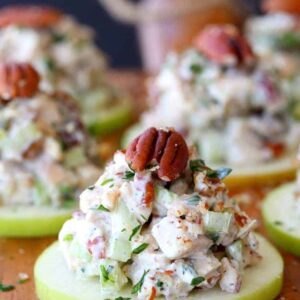 Pecan Chicken Salad Apple Slices
---
Description
This delicious chicken salad appetizer is a low carb recipe that you can serve for appetizers or eat as an on the go lunch!
---
Ingredients
2 cup

s cooked diced chicken

1 cup

diced celery

1/2 cup

diced pecans, plus more for garnish

1/2 cup

raisins or craisins (optional)

3/4 teaspoon

kosher salt

1/2 teaspoon

ground black pepper

1 tablespoon

red wine vinegar

1/2 cup

mayonnaise

1 tablespoon

dijon mustard

2 tablespoon

s chopped parsley, plus more for garnish

3

–

4

granny smith apples sliced thin on a mandoline or carefully cut with a knife (for serving the chicken salad on)
---
Instructions
Mix the ingredients together for the chicken salad in a bowl and set aside.
Place a mound of chicken salad on top of each apple slice. This will depend on the size of your apples so you can really add as much or as little as you like.
Garnish with more chopped pecans and parsley.
---
Notes
The chicken salad can be made and eaten right away, but if you have time to let it sit in the refrigerator for a few hours the flavors will come together better! If you do have time and can let it sit, just stir in the chopped pecans right before serving.
Keywords: chicken salad, low carb recipe, low carb snack, low carb appetizer, easy appetizer lunch recipe, easy chicken recipe
*This post contains affiliate links which may minimally support our site at no extra cost to you.