I'll show you How To Roast And Carve A Turkey Breast like a pro! Make a turkey breast for a smaller Thanksgiving or dinner for the week!
Don't forget that when you're done making this roasted turkey breast to save the bones and any leftover turkey to make our Homemade Turkey Soup!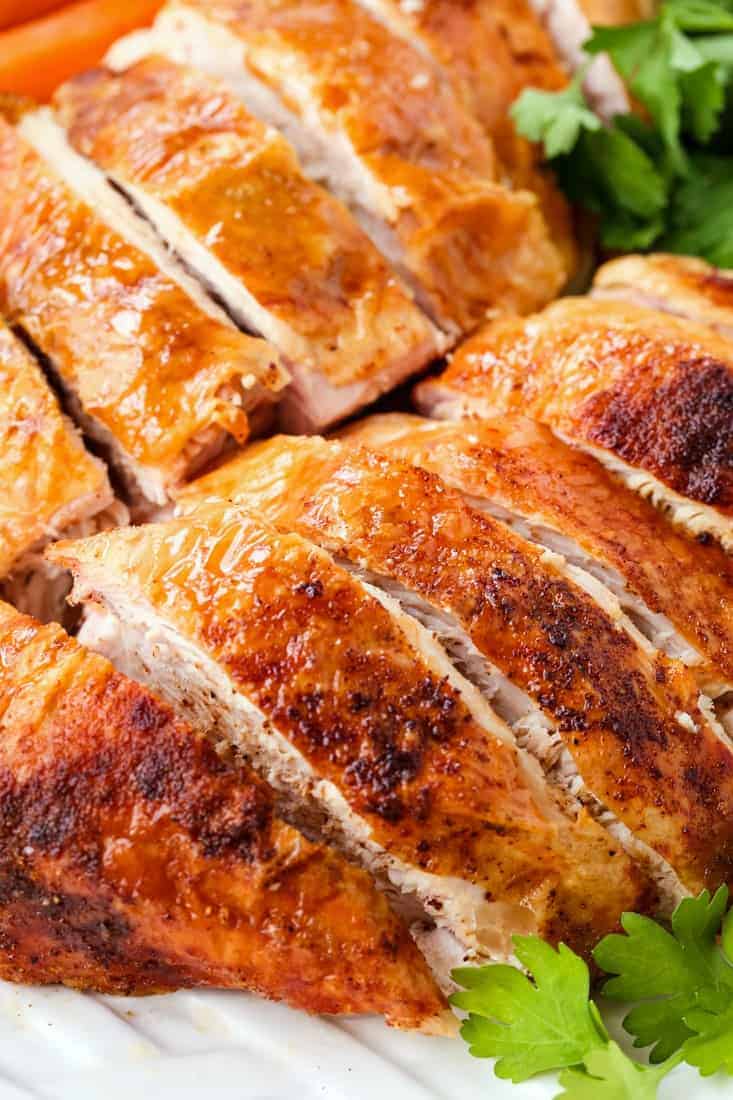 An Easy, Oven Roasted Turkey Breast Recipe
Turkey is one of those things that you have once or maybe twice a year. And every time we have it we wonder why we don't make it more often! Turkey dinners are amazing, turkey leftovers are even better…
Why do we only seem to roast a turkey around the holidays? Shame on us, I say. Once you tackle How To Roast And Carve A Turkey Breast, it's really such an easy dinner to make!
First, let's jump on over to a turkey breast instead of a whole turkey. Obviously a turkey breast is just the breast – so it's smaller and takes less time to cook. And you can usually fit a turkey breast in a regular sized baking dish instead of dragging out a big roasting pan and rack.
I'm telling you, this roasted turkey breast recipe is so easy, you'll be making it ALL the time.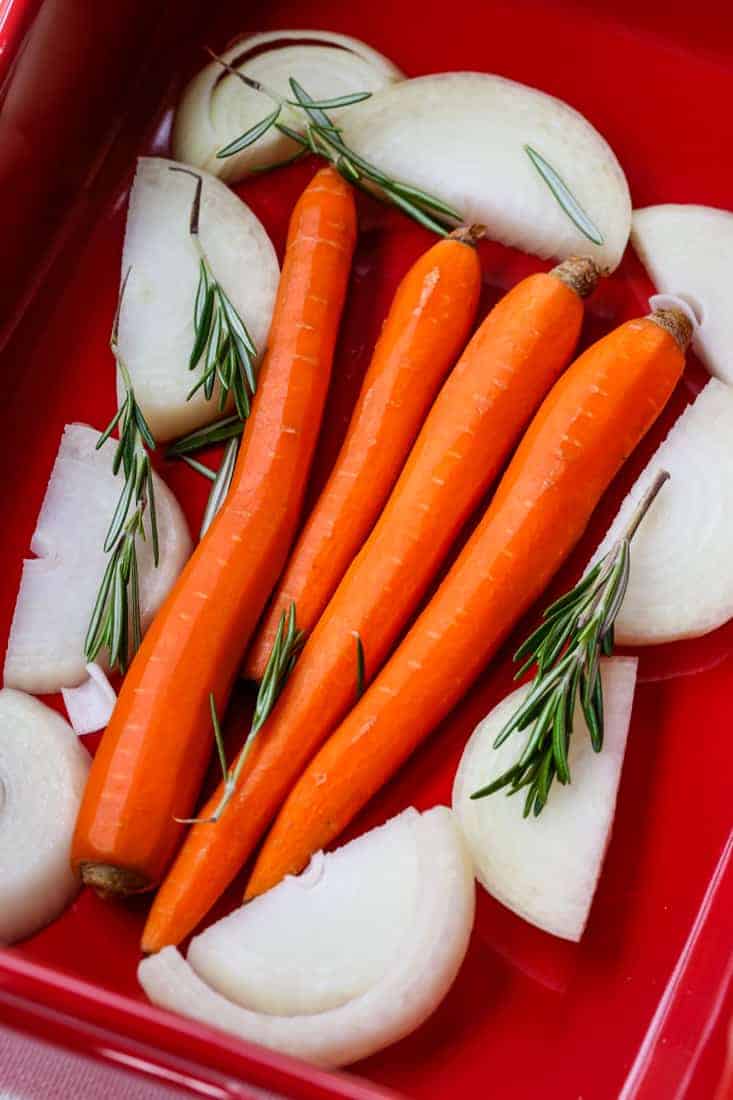 How To Roast A Turkey Breast
Ok, now let's get back to our first part of How To Roast And Carve A Turkey Breast, starting with the prep work. Make a fake rake of vegetables so that the turkey breast sits up a little instead of right on the bottom of pan. The vegetables are there to flavor the turkey drippings too.
Now rub the turkey with olive oil and softened butter to make the skin nice and crispy when it comes out of the oven…also butter or olive oil is what gives the turkey skin that nice brown color.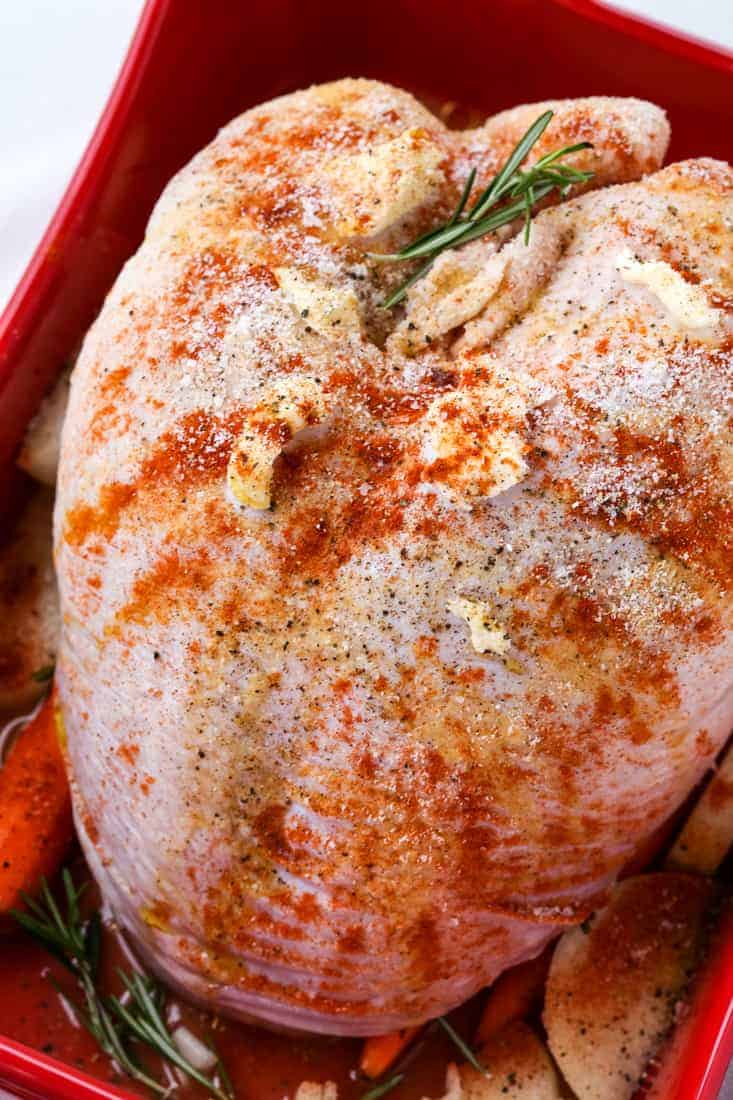 Season the turkey breast with lots of kosher salt, pepper, garlic powder, paprika and herbs. I had some fresh rosemary today so that's what I used, but you can use fresh thyme or sage if you prefer.
Fresh herbs are key when making a turkey, there's a lot of meat to season so you need strong flavors here!
How Long Does A Turkey Breast Cook In The Oven?
A typical turkey breast from the store is about 5-7 pounds. The roasting time per pound is about 20 minutes, so a 5 pound turkey breast is going to roast for about an hour and a half.
Those handy pop-up timers on your bird are fine, but I cook my turkey a little shy of the recommended time of 20 minutes per pound. For instance, instead of 100 minutes for that 5 pound bird I give it 90, or an hour and a half.
Turkey breast meat, (the white meat) should register 165 degrees on a meat thermometer when it's done, so start checking the temperature of your turkey about 30 minutes before the end of the cooking time.
Another tip for not making a dry turkey is to take the turkey breast out of the oven around 155-160 degrees because as it's resting it will rise 5 to 10 degrees in temperature.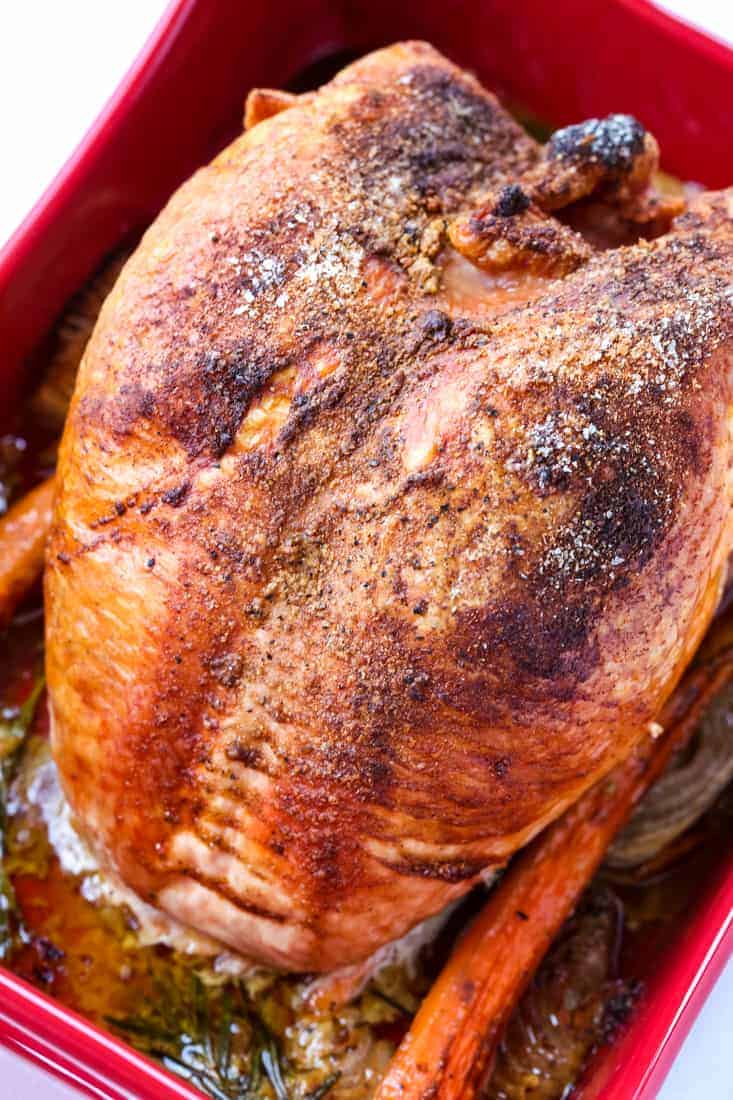 How To Carve A Turkey Breast
Carving a turkey breast really couldn't be easier to do, so don't get freaked out by it! All you need to do is to cut each half of the breast out by running your knife down one side of the backbone like I'm showing you here…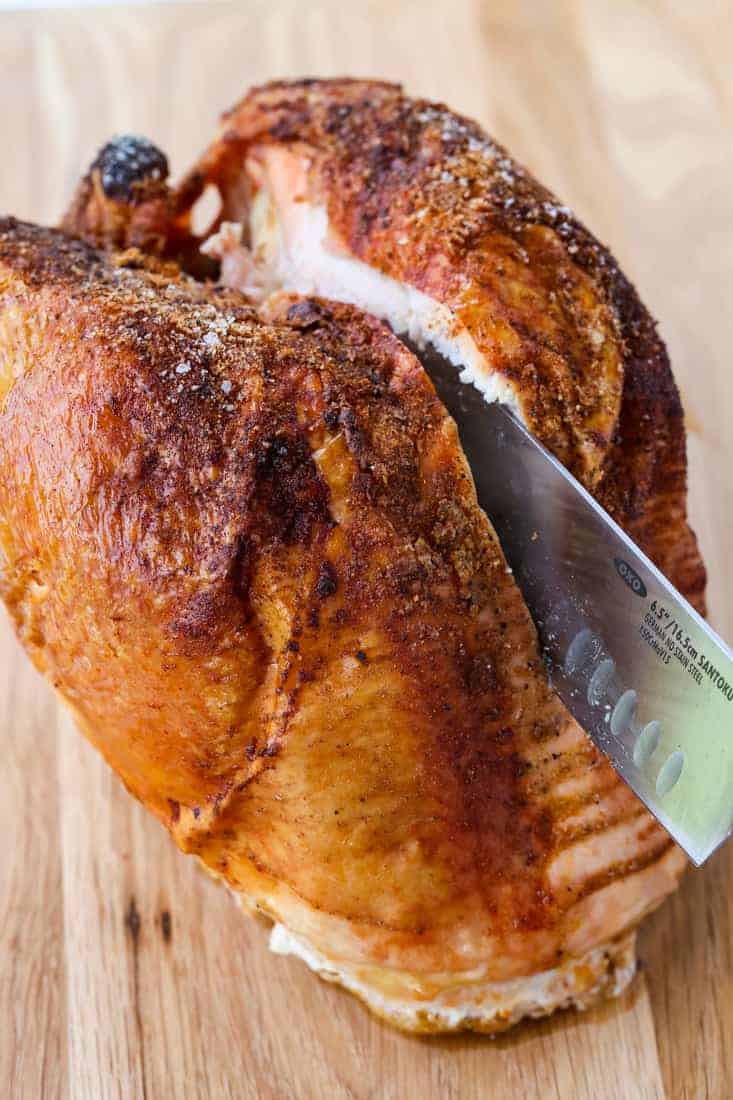 Next run your knife from the top of the turkey breast down to the bottom so you can remove the whole breast. Repeat on the other side.
Now slice each part of the turkey breast into pieces like I have here and get them onto a platter so you can reserve any juices that comes out from the meat.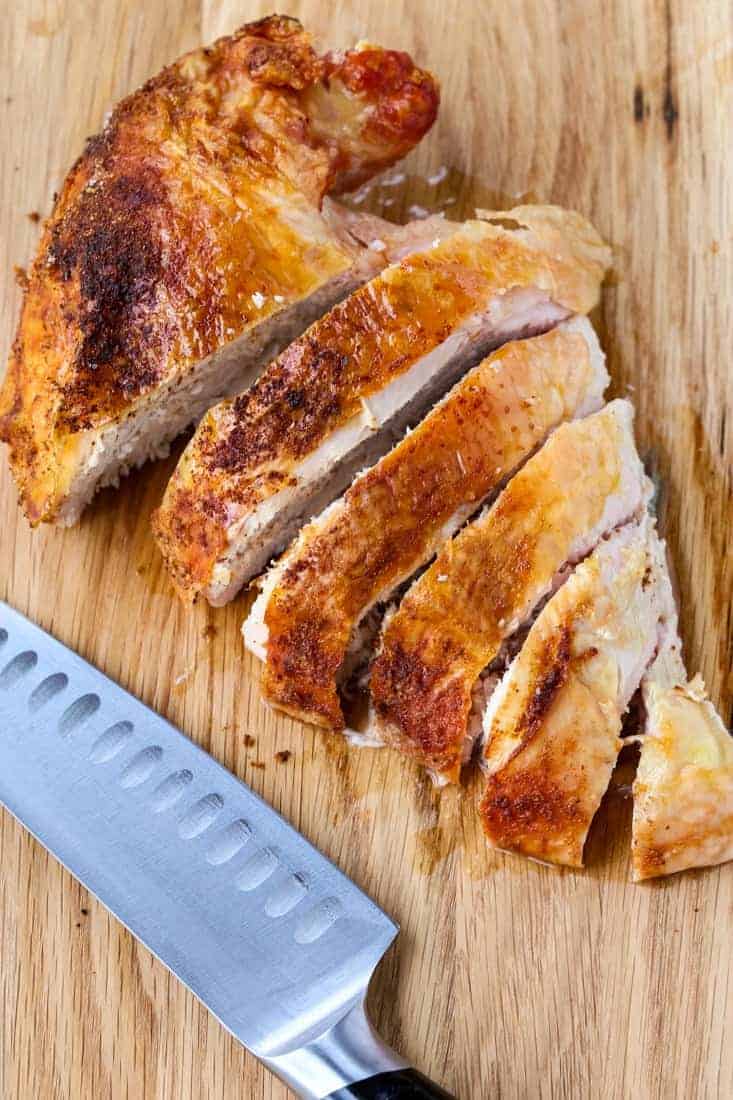 If you prefer thin slices of turkey, keep the breasts on the turkey and slice down on each side. Using an electric carving knife really helps to get nice, thin slices of turkey!
Use any drippings from the turkey to make a delicious, homemade turkey gravy for pouring over the top of your roasted turkey and serving with mashed potatoes!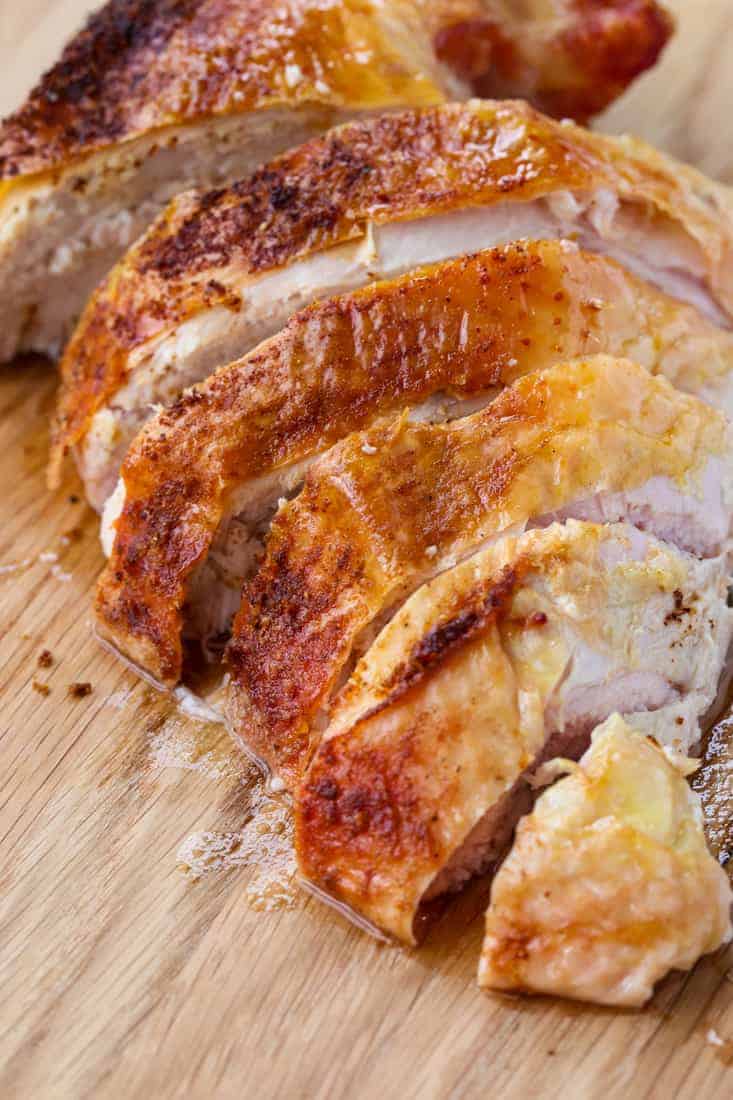 Like I mentioned before, don't get rid of those turkey bones! You can get another few days of dinner out of this turkey breast by making turkey soup. I think my family actually looks forward to the turkey soup more than thee turkey dinner itself.
You can freeze the bones and any leftover turkey too! Just pack it all in a freezer bag and pull it out when you want to make a batch of homemade turkey soup. It doesn't get much easier than that!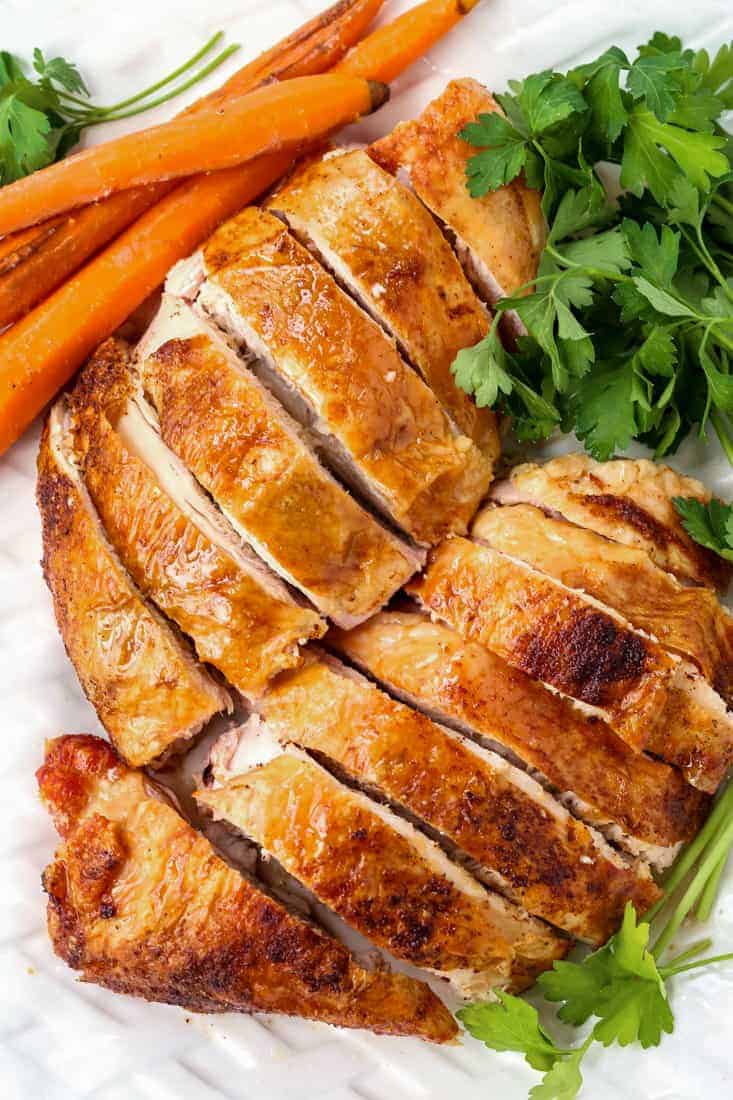 So now that you know How To Roast And Carve A Turkey Breast, let's get cooking! You don't have to be afraid to host Thanksgiving dinner with this simple recipe in your back pocket!
Even if you're not cooking for Thanksgiving, making a turkey breast is a simple dinner to make for leftovers during the week. Slice the turkey thin for turkey sandwiches or to serve with mashed potatoes on the side!
PIN IT!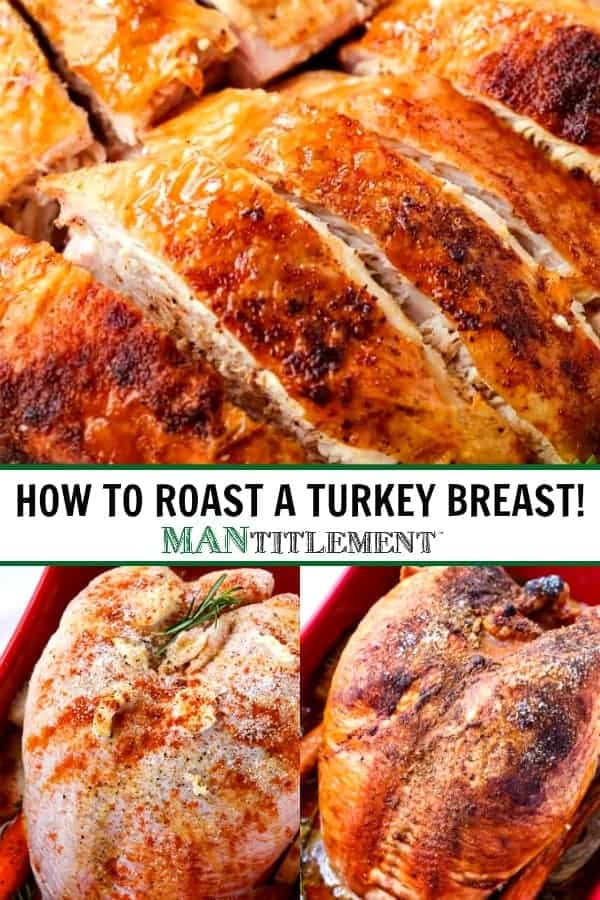 What Can I Make With Leftover Turkey?
Besides having a couple of nice dinners after you cook your turkey breast, let's talk for a second about the leftover turkey recipes. Because leftover turkey is the possibly the best leftover ingredient in the world.
We've already discussed the soup, so here are a few more of our favorites!
Print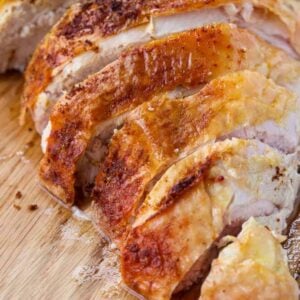 How To Cook (And Carve!) A Turkey Breast
Author:

Prep Time:

10 minutes

Cook Time:

2 hours 30 minutes

Total Time:

2 hours 40 minutes

Yield:

8

servings

1

x
This easy step by step guide for roasting a turkey breast in the oven will have your turkey dinner on the table in no time at all!
Scale
Ingredients
7

–

7 1/2

pound turkey breast

2 tablespoons

butter, softened

2 tablespoons

olive oil

1 1/2 tablespoons

kosher salt

1 teaspoon

fresh black pepper

1/2 teaspoon

garlic powder

1 teaspoon

paprika

1/2 cup

white wine

1/2 cup

chicken broth

4

carrots

1

large onion sliced into thick rounds
Fresh rosemary, thyme or sage
Instructions
Preheat the oven to 350 degrees.
Place the carrots and onions (and fresh herbs if using) in the bottom of a baking dish for the turkey breast to sit on.
Rub the olive oil and butter all over the skin of the turkey breast, then season with the salt, pepper, garlic powder and paprika.
Pour the wine and chicken broth into the bottom of the baking dish, then place the seasoned turkey breast on top of the vegetable rack.
Roast the turkey in the oven for approximately 20 minutes per pound, depending on the size of your turkey breast. A 7 1/2 pound turkey breast will take between 2 1/2 to 3 hours. Check the temperature of the breast to make sure it's at 165 degrees.
Remove the turkey from the oven and let rest for 10 minutes, covered in foil.
Carve both sides of the turkey breast of the bone, then slice into pieces and serve.
Recipe Notes
Save your turkey drippings to make homemade gravy!
And don't forget to save your turkey carcass for making homemade turkey soup!
Category:

Dinner

Method:

Oven

Cuisine:

American
Keywords: how to carve a turkey breast, how to roast a turkey breast, roasted turkey breast, leftover turkey recipes, turkey dinner, turkey recipes