Making Turkey Gravy From Drippings is the most flavorful way to make homemade gravy! It only takes minutes to make with the drippings from your turkey and it can be poured on top of just about everything on your dinner plate.
Why You'll Love Turkey Gravy Made From Drippings
Not only are we excited to share how to make Turkey Gravy From Drippings with you, we have lots of helpful tips and details to ensure success!
However, if you're ready to dive right into making this homemade turkey gravy, scroll down to the recipe card or click the "jump to recipe" button above the first photo.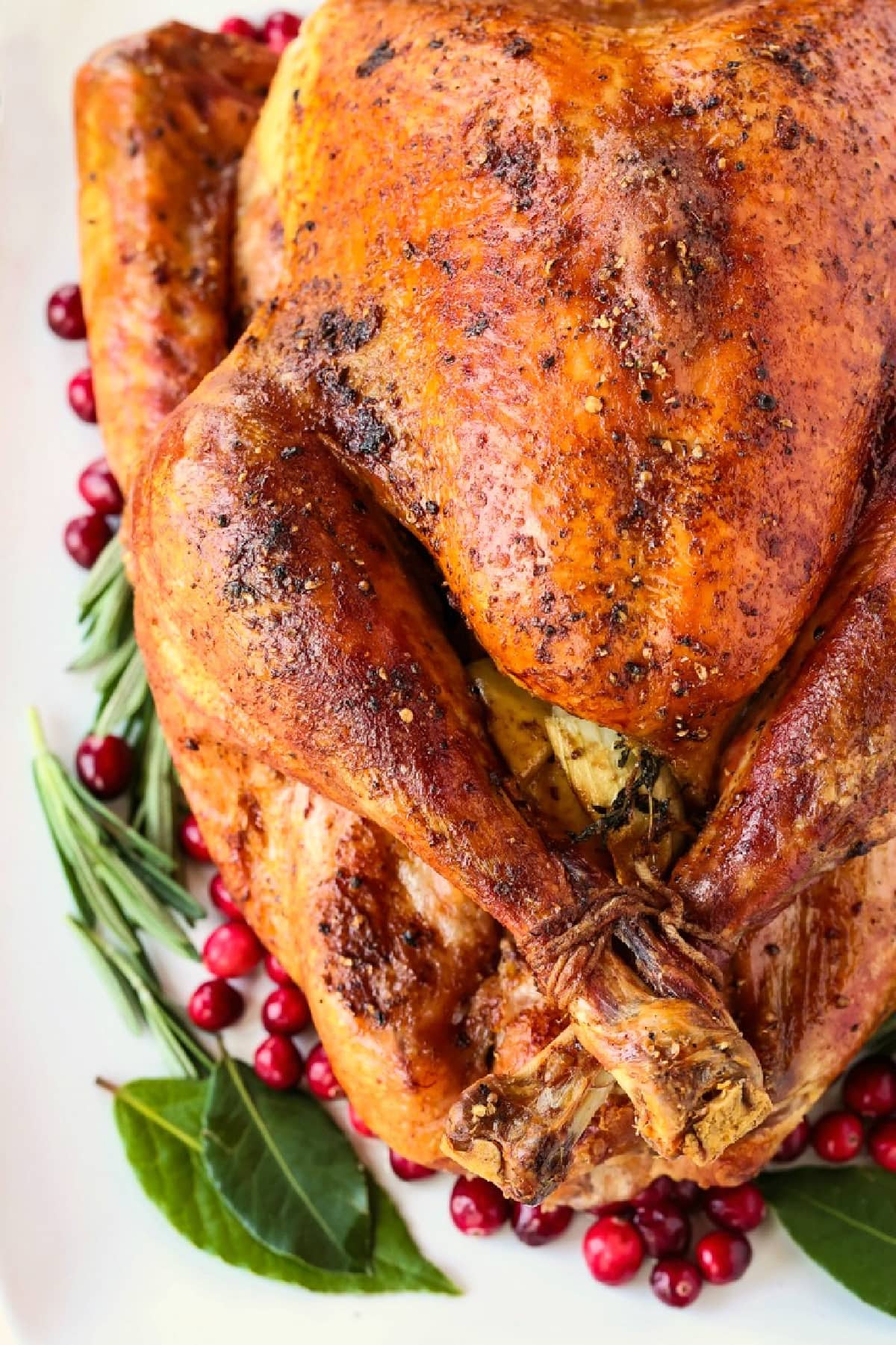 What Are Turkey Drippings?
Turkey drippings are the juice and fat that collect in your roasting pan while your turkey is in the oven. There's nothing that beats the flavor of drippings added to a gravy recipe so don't throw them away! We start off with our simple Roast Turkey Recipe every year, and the drippings are delicious every time.
You'll need to degrease the fat from the drippings before using it in your gravy. A gravy separator is a really easy tool for this, but if you don't have one just pour the drippings into a glass dish or bowl and let the grease rise to the top for a few minutes.
You can see where the grease has separated from the juice to easily ladle it out and discard it. What's left after the grease has been removed is pure turkey flavor! This is going to be the base for our turkey gravy from drippings recipe.
For a gravy recipe without drippings, of you don't have any, try our popular Brown Gravy Recipe!
How To Make Turkey Gravy From Drippings?
Once you have your turkey roasted, the hard part it over. Just strain the drippings from the pan into a gravy separator or a glass bowl like we mentioned earlier and degrease it before you start.
STEP 1 – Strain the grease off and pour the drippings into a small pot. Bring the drippings and turkey broth (or chicken broth) to a boil and then thicken the gravy with a mixture of cornstarch and water.
STEP 2 – Taste the gravy for seasonings and then stir in 1/4 cup of heavy cream to the gravy. The cream optional, but it does thicken the gravy even more and add even more flavor.
Tips For Success
Even though this turkey gravy recipe is easy to make, there are a few tips to ensure that it tastes it's best for your Thanksgiving dinner!
Degrease The Drippings: This is probably the most important step, no one wants a greasy gravy. Even letting the drippings sit for 5 minutes and skimming the grease off makes a big difference.
Good Quality Stock: Since we're using half drippings and half chicken (or turkey) broth or stock, make sure that you're using a quality brand with lots of flavor.
Taste For Seasonings: Before you add the cream at the end, if you choose to do so, make sure to taste the gravy and adjust the seasonings if needed. The drippings that you use to make this gravy are going to vary depending on what recipe you start with for the turkey, so this is also an important step to take.
PIN IT!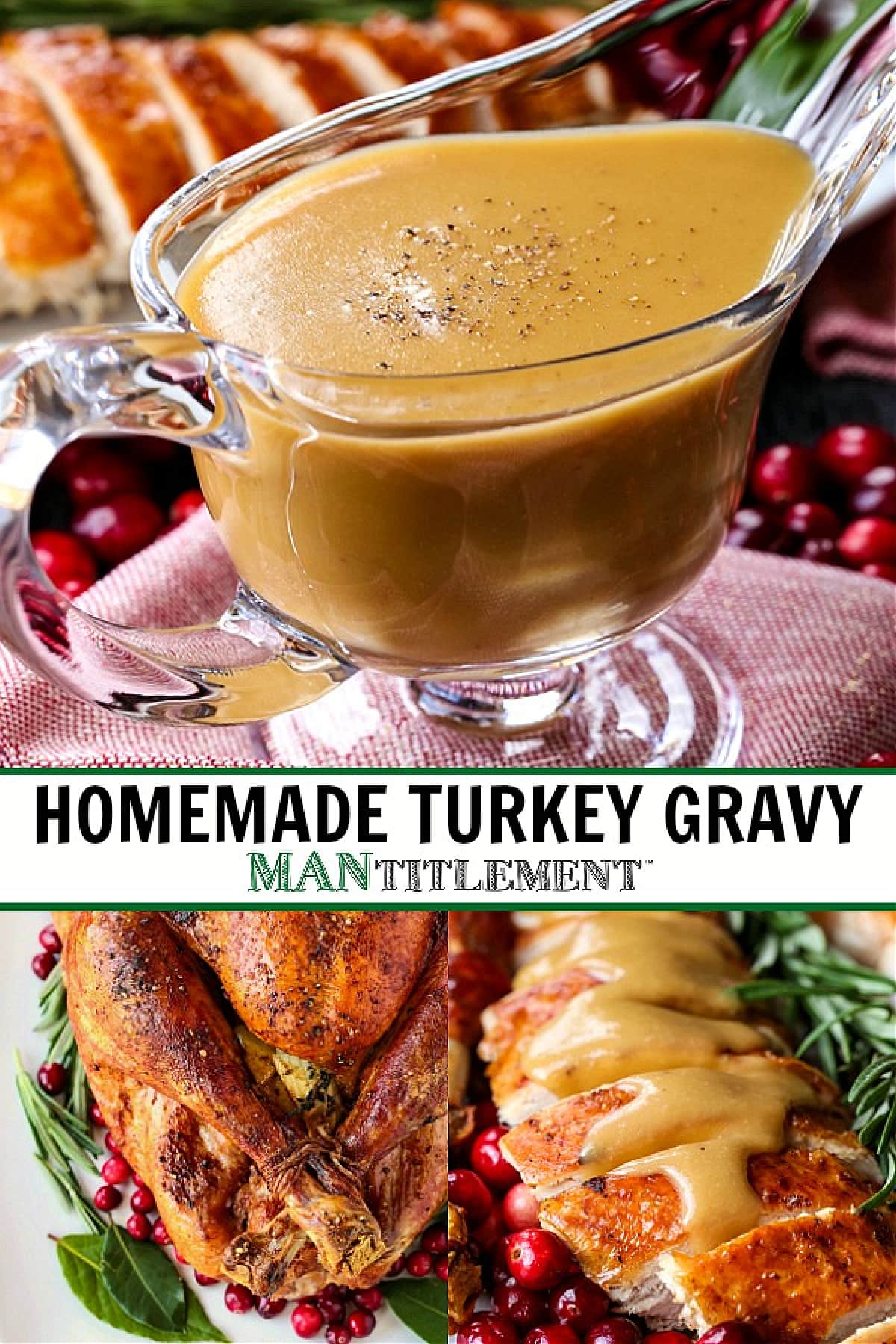 Looking For More Thanksgiving Recipes?
We know it can be overwhelming, there's so many Thanksgiving recipes out there to choose from! We'll narrow it down here for you from main courses to side dishes.
Main Dishes:
Side Dishes:
Print
Turkey Gravy From Drippings
Author:

Prep Time:

5 minutes

Cook Time:

10 minutes

Total Time:

15 minutes

Yield:

3 cups

1

x
This homemade turkey gravy from drippings only takes minutes to make! A creamy, thick, delicious gravy recipe for your entire turkey dinner!
Scale
Ingredients
2 cups

degreased drippings from roasting a turkey

1 cup

chicken or turkey broth

1/4

–

1/2

cup heavy cream

2 tablespoons

cornstarch mixed with 2 tablespoons of water

Kosher salt and fresh black pepper to taste
Instructions
Pour the turkey drippings into a pot along with the chicken or turkey broth. Bring to a boil and add then whisk in the cornstarch and water mixture.

Bring the gravy back to a boil and then turn down to a simmer for 5 minutes or until thickened. If you want a thicker gravy, add another tablespoon of cornstarch mixed with water and bring the gravy to a boil again.

Pour in the cream and season with salt and pepper if needed.
Recipe Notes
You can adjust this recipe for the amount of drippings that you have. The way it's written will produce the most flavor, but you can get away with 1 cup of drippings to 2 cups of broth or stock as well. OR 1 1/2 cups drippings to 1 1/2 cups broth.
We start with 1/4 cup of heavy cream and add a little more if we think the gravy needs it. Getting the gravy as thick as you like and as creamy as you like is up to your preference, so start with the amounts in the recipe and add if needed!
Store: This homemade turkey gravy will keep in the refrigerator for 3 days.
Category:

Side Dish

Method:

Stove Top

Cuisine:

American
Keywords: gravy recipe, homemade gravy recipe, turkey gravy recipe, thanksgiving recipes, turkey gravy with drippings, best turkey gravy recipe