Many recipes claim to be "The Best", but this really is The Best Sausage Stuffing! We make it as a Thanksgiving side dish and also during the regular year – this stuffing is so good we have to get our fix!
Wondering what to serve with stuffing? This recipe goes great with a Roasted Turkey breast or a brown sugar Glazed Baked Ham or both! Just add another side dish or two and you'll have a meal fit for a king!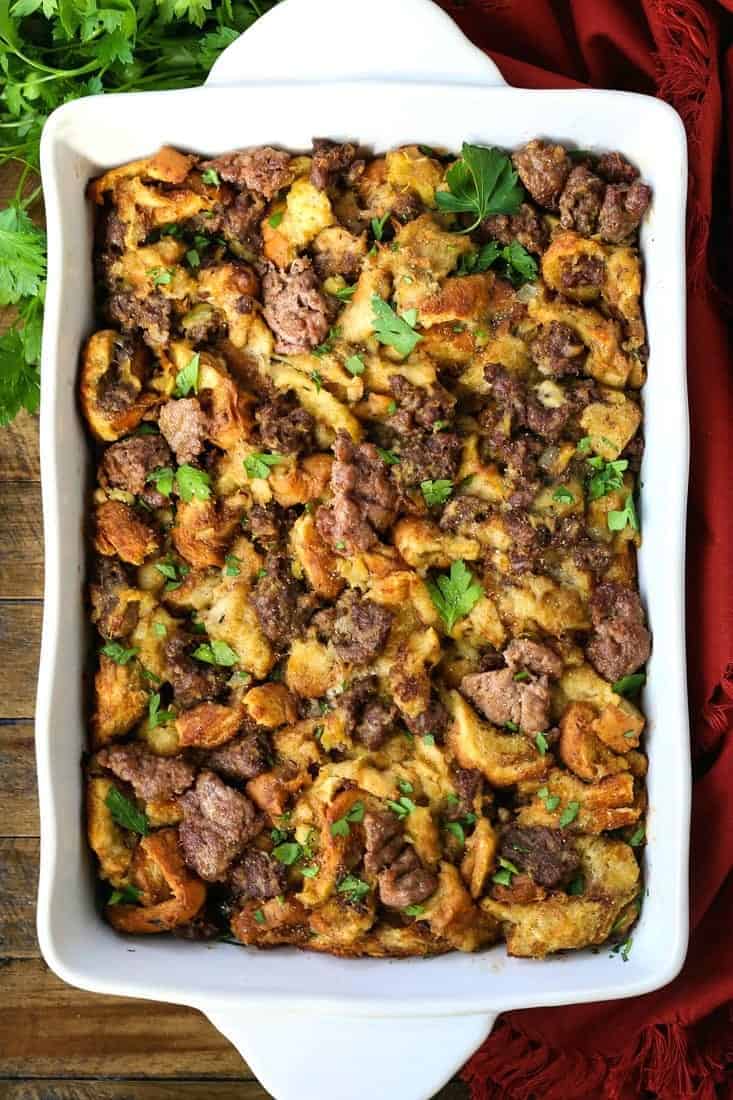 My All Time Favorite Sausage Stuffing Recipe
I've actually run into friends of mine at the grocery store with an oven stuffer chicken in one hand and two loaves of white bread in the other hand. They laugh knowing that I'm going home and hoping the wife will throw together a roast chicken dinner with some of my favorite sausage stuffing that I'm craving.
But things have changed and I want to learn how to make this recipe myself. And with Thanksgiving around the corner I thought you guys could all use a go-to recipe for the best sausage stuffing. What I really should have called this is the best sausage and apple stuffing recipe.
Because for me, it's the apples that give it that addicting flavor. Which is another funny food story for me because when Christie first made this stuffing years ago I couldn't believe she was chopping up an apple…
What is the Best Sausage To Use for Stuffing?
In my opinion you want to go with Italian sausage, mild or spicy. Or you can use a combination of both but it's the flavors and spices in Italian Sausage that really work for this stuffing recipe.
You can use a pork sausage or a breakfast sausage, that will work too but I think the flavors and spices in Italian sausage really bring the best flavor.
How To Make Sausage Stuffing
Start by browning the sausage and draining any drippings from the pan if needed. Next add onions and chopped apples, letting them cook down a bit, then pour in some good quality chicken broth.
While that is simmering start toasting a whole loaf of bread. (Or you can toast the bread ahead of time, too. Doesn't matter if it's cold) Use regular white bread for this, not sourdough or whole wheat or ciabatta.
Just white bread please, there is a time and a place for white bread and this is it. I'm not saying that you can't try different types of bread for stuffing. In fact, there are many AMAZING stuffing recipes that call for different bread…this just isn't it.
Tear or cut the bread into cubes and add them to the biggest bowl you can find. Now you can pour the sausage and broth mixture over the bread cubes and stir together gently until all the bread is moistened with the broth.
At this point you should taste a piece of bread to make sure that it's seasoned properly, adding more salt or pepper if needed. Next pour in the eggs and parsley and gently toss again. You don't want the bread to turn into mush, some of it will and that's ok but try to keep some pieces in tact.
Pour the stuffing into a heavily buttered dish, top with more cubes of butter and bake.
Can You Make Stuffing Ahead Of Time?
Yes, you can make this stuffing ahead of time and keep it in your fridge until you're ready to cook it. You can also freeze it and take it out to thaw before cooking – that'll be a huge timesaver for those big Thanksgiving dinners!
Since we make this stuffing all the time, I've actually have found that it tastes better if you make it the day before. Let it sit in the fridge until you're ready to get it in the oven. That perfect white bread soaks up all the flavor from the broth and sausage and it really makes the flavor better.
And leftover stuffing (if there is any) usually becomes a main meal for me. Pour on brown gravy or turkey gravy if you have it, but just as is works totally fine.
Tips For Making A Flavorful Stuffing Recipe:
Make sure to take the time to properly brown the sausage in the beginning. Browning the sausage properly adds tons of flavor to the overall stuffing.
Use a good quality chicken stock or broth. Many canned or boxed brands are very watery, meaning not a lot of flavor. Find the best quality stock that you can or make your own!
Taste the stuffing for seasonings before adding the eggs. A cube of bread soaked in the broth will give you an idea of how the end product is going to taste.
Let the stuffing crispy up on top before taking it out of the oven. This way you'll have soft bread cubes on the inside and slightly toasted cubes on top!
PIN IT!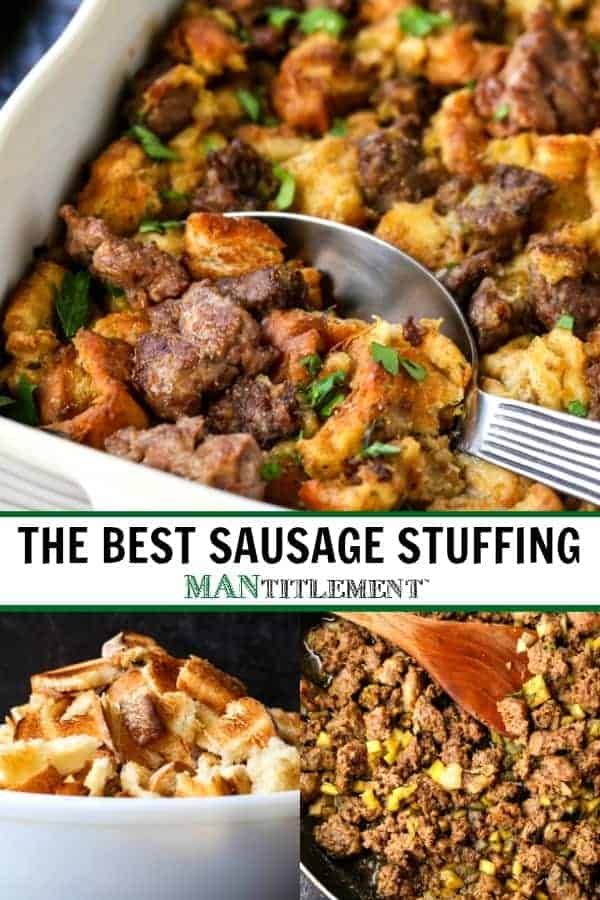 Looking For More Stuffing Recipes?
Print
The Best Sausage Stuffing
Author:

Prep Time:

25 minutes

Cook Time:

50 minutes

Total Time:

1 hour 15 minutes

Yield:

8

servings

1

x
There are a lot of recipes that claim to be the BEST, but this really is The Best Sausage Stuffing recipe! We make it as a Thanksgiving side dish and also during the regular year – it's so good we have to get our fix any time we can!
Scale
Ingredients
1

lb. bulk Italian sweet or spicy sausage

6 tablespoons

butter

1

large onion, diced (about

1 cup

)

1

large green apple, peeled and chopped (about

1 cup

)

2 teaspoons

poultry seasoning

1 tablespoon

fresh thyme, chopped

1 teaspoon

salt

1/2 teaspoon

black pepper

1/4 cup

parsley, chopped

3 cups

chicken stock

2

eggs, beaten

16 cups

cubed white bread, toasted (*see note)
Extra butter for buttering the dish and for the top of the stuffing
Instructions
Pre-heat the oven to 350 degrees.
Melt the butter in a large skillet, then add the sausage, breaking up with a spoon or spatula until browned.
When the sausage is almost all browned add in the diced apple, onion, poultry seasoning and thyme then cook for another 5 minutes. Stir in the chicken broth, salt and pepper and let simmer for 15 minutes. After the sausage and broth mixture have simmered, taste for seasonings and adjust if needed.
Add the toasted bread cubes to a large bowl. After the chicken broth has cooled slightly, pour it over the bread and toss gently until all the cubes are moistened.
Beat the eggs together with the parsley and add to the bowl. Toss gently to combine.
Pour the stuffing into a buttered, 9″ x 13″ baking dish and then top the stuffing with small pieces of butter all around, about 2 tablespoons.
Cover with aluminum foil and bake at 350 degrees for 30 minutes.
Take the foil off and bake another 20 minutes until the stuffing is crispy on top.
Recipe Notes
If you prefer to not have a crispy stuffing then leave the foil on for the entire cooking time. You can make this stuffing recipe ahead of time, cover and keep in the refrigerator until ready to bake. Bring the dish out about 30 minutes before cooking to let it come to room temperature first.
You'll need to buy 2 regular loaves of white bread (you'll use about 1 1/2 loaves for 16 cups) or you can buy and extra large 24 ounce loaf. Toast the bread and then cut or tear into cubes.
Category:

Side Dish

Method:

Oven / Stove Top

Cuisine:

American
Keywords: sausage stuffing, best stuffing recipe, easy stuffing recipe, sausage and apple stuffing, sausage and herb stuffing, thanksgiving side dish, homemade stuffing, thanksgiving stuffing