The BEST Stuffing Recipes are the BEST side dish for your Thanksgiving dinner or any meal! From sausage stuffing to vegetarian stuffing, there's something here for everyone!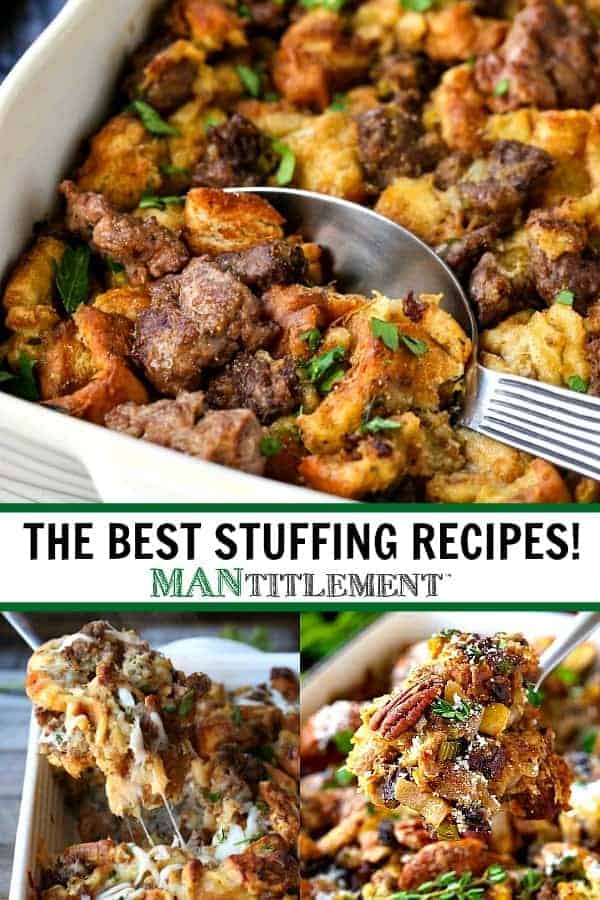 Do you have a favorite stuffing recipe that you make every year? We do! Our Sausage stuffing is up there for us, but there's so many different stuffing recipes to try, we usually make more than one!
We'll start with our hands down – family favorite stuffing recipe! Big cubes of white toasted bread soaked in herby chicken broth and butter baked with Italian sausage…it doesn't get much better than this!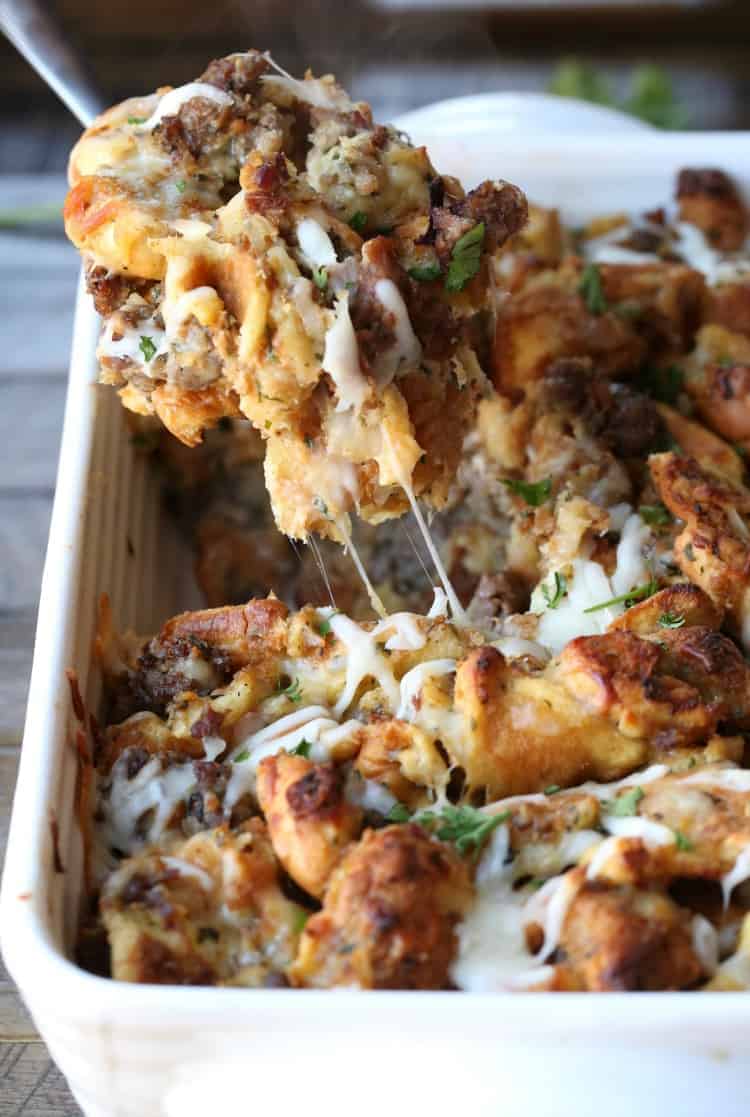 This stuffing recipe idea came from our abundance of hot dog rolls leftover from our Halloween party. Since stuffing was on our mind, we decided to use the buns as the base for this fun, kid approved stuffing recipe!
This Hot Dog Bun Stuffing also has sausage, but you can use ground beef too!
Seriously Delicious Pineapple Stuffing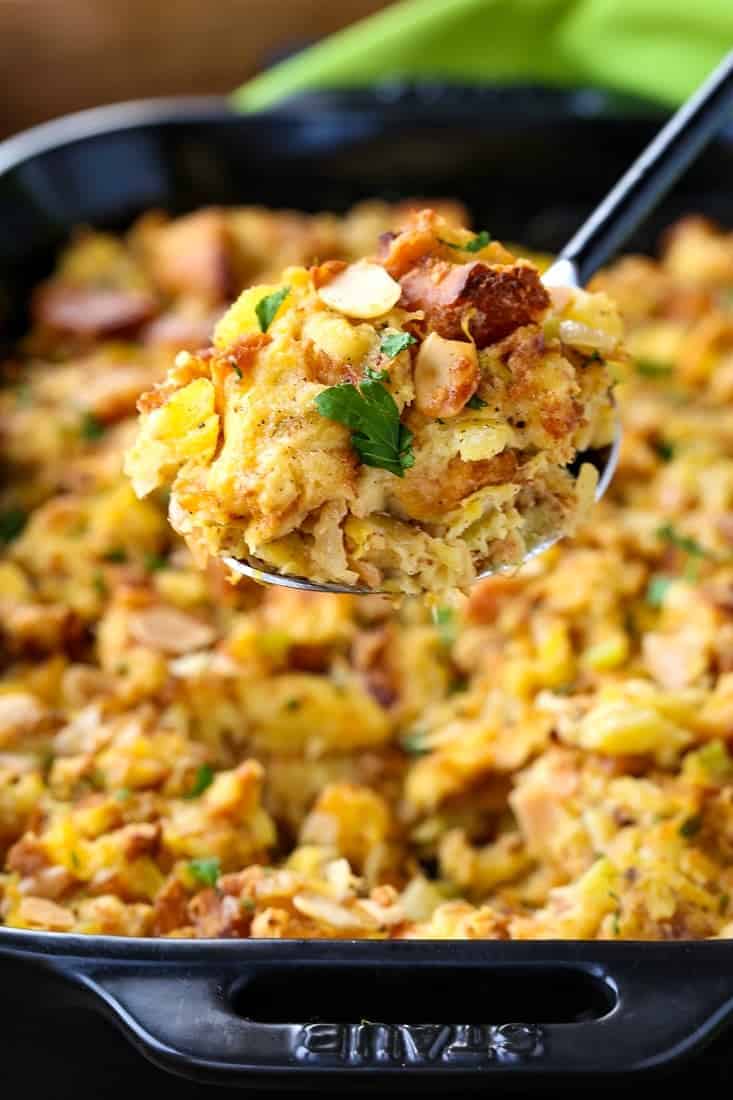 But if you're looking for a vegetarian stuffing recipe, this pineapple stuffing is sure to be a hit! We've updated this stuffing from the traditional recipe to make it more, well, delicious.
SO if you've tried pineapple stuffing before and thought it was bland or just blah…try this recipe next!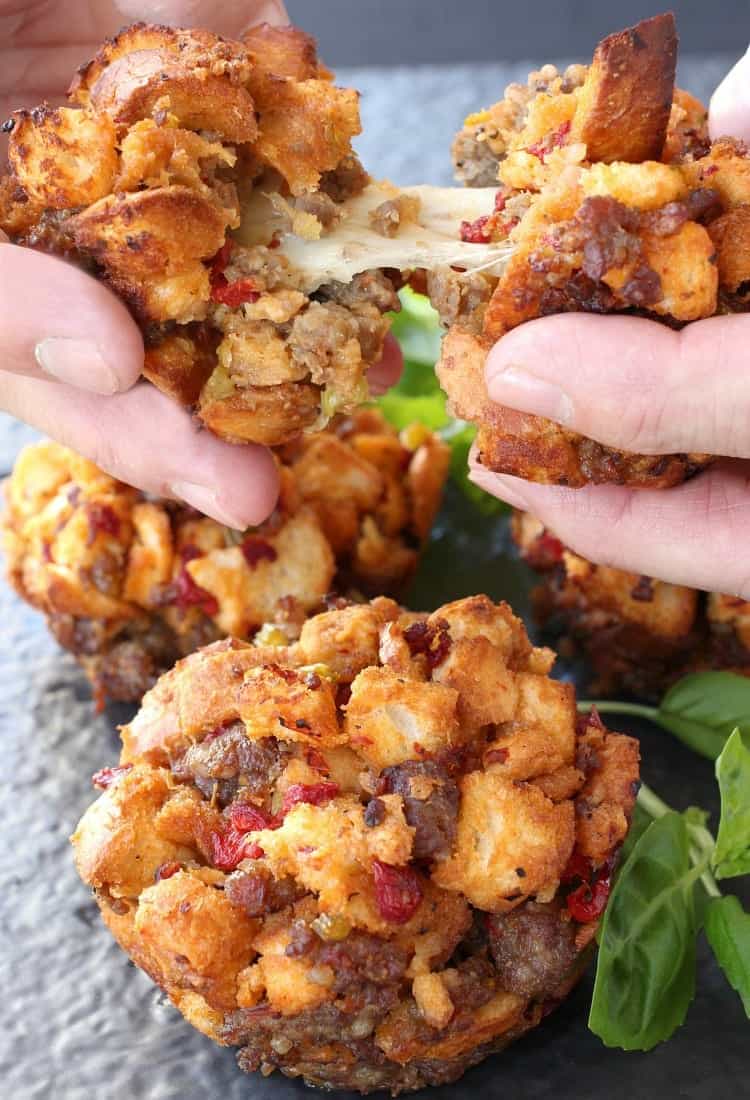 This individual stuffing recipe is a fun one to serve on Thanksgiving! This recipe takes the guesswork out of how much stuffing you need for your guests, everyone gets their own!
These stuffing muffins bake in a large-sized muffin tin, but you can adapt the recipe to use a regular size muffin tin instead. Pull these stuffing muffins apart to get a cheesy surprise inside!
Waldorf Chicken Sausage Stuffing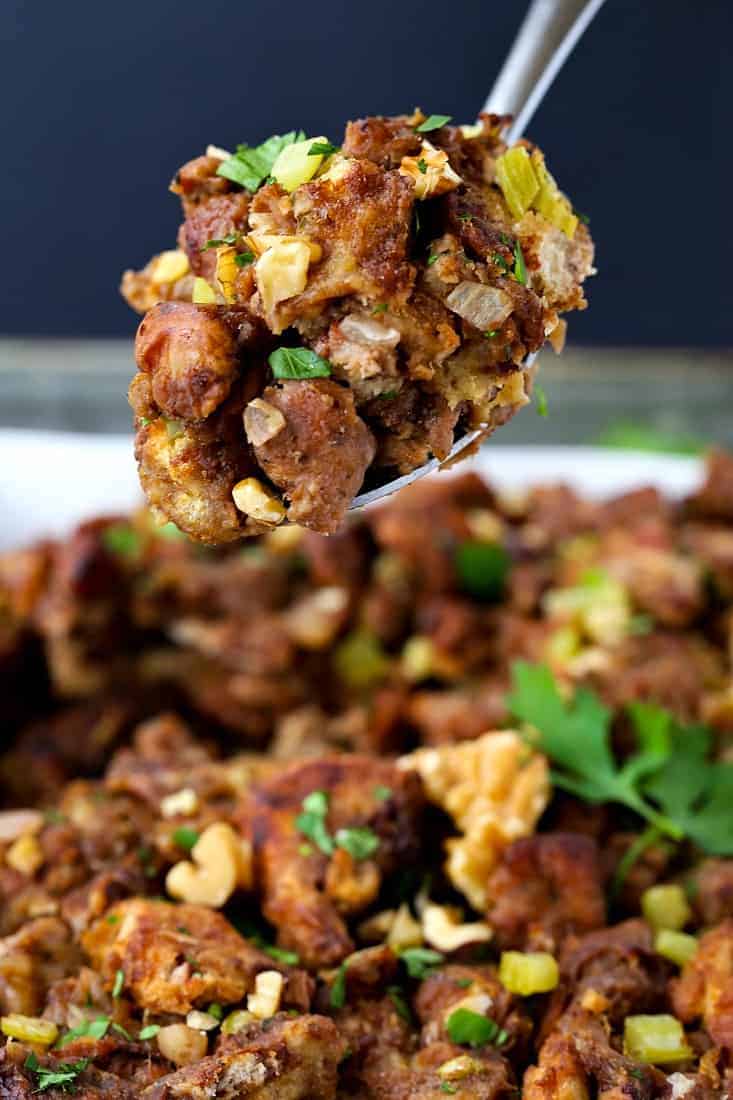 Chicken sausage is the star in this recipe! This is our take on a Waldorf Chicken Salad, baked into a casserole dish!
Raisins, green apples and walnuts go perfectly with spicy or regular chicken sausage, your guests are going to love this one!
Pineapple Upside Down Sausage Stuffing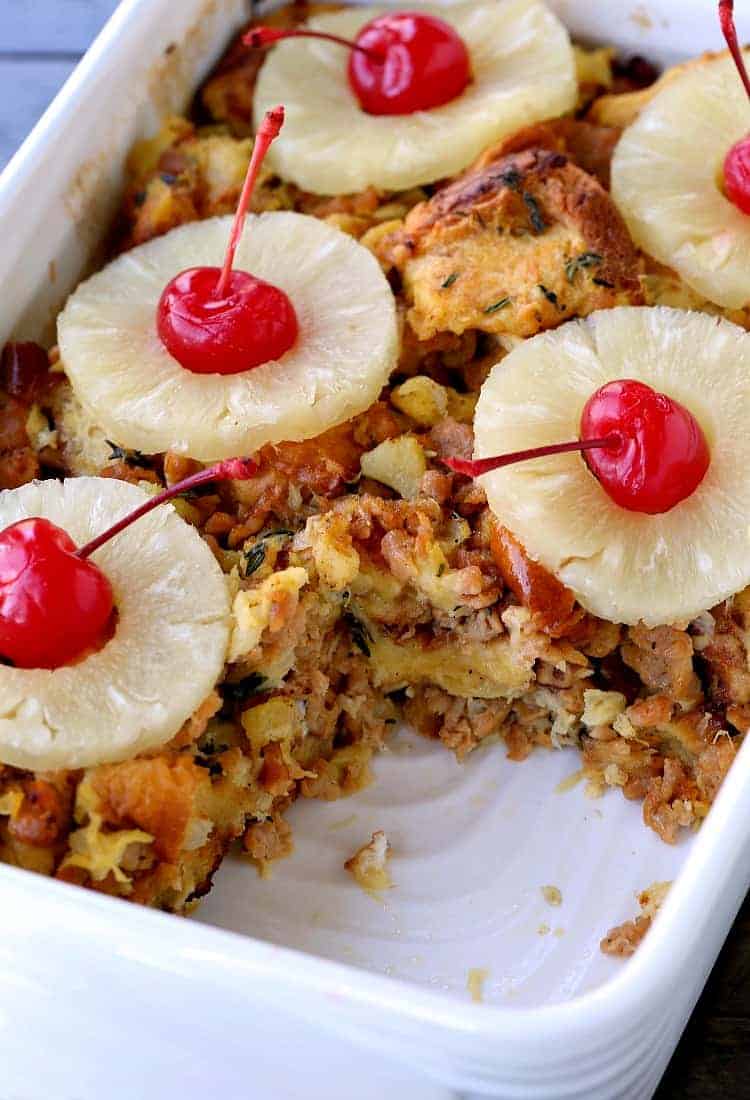 So now that we've tackled pineapple stuffing, we need to get real and add some sausage back in here!
This stuffing recipe is a play on pineapple upside down cake, but in a savory, casserole form…you're not going to believe how delicious this stuffing is!
Pecan, Fig and Pear Vegetarian Stuffing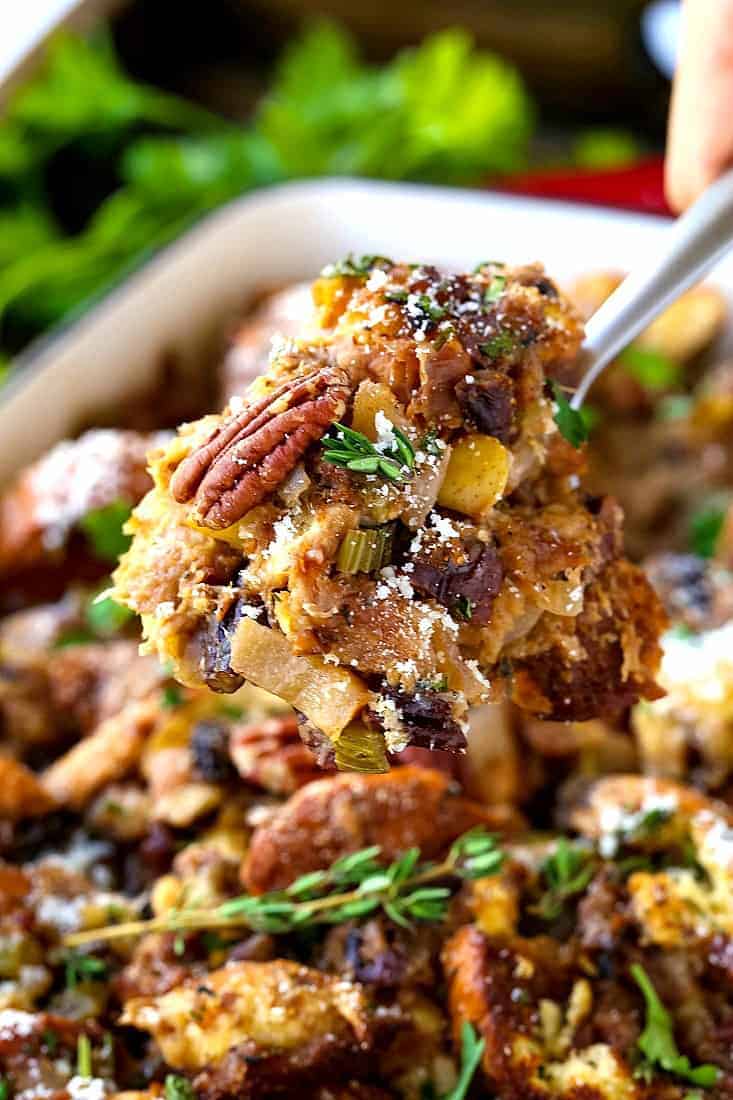 Another vegetarian option, this stuffing is sure to please everyone!
Delicious, flavorful dried fruit mixed with fresh fruit and tossed together with a crunch from pecans. Just saying if you'd like to add some sausage in here…it would be primo.
Spicy Sausage Cornbread Dressing
Dressing or stuffing? The difference is pretty simple. Stuffing is technically what you "stuff" inside your turkey and dressing is what you bake in the oven, outside your turkey. So really, all of our stuffing recipes are actually dressing, but we like the sound of stuffing better!
This spicy sausage cornbread stuffing is one for the recipe books! Super flavorful, toasted cornbread mixed with vegetables and spicy Italian sausage. Of course if your family isn't a spicy crowd then just use regular sausage instead!
We hope you've enjoyed looking at The BEST Stuffing Recipes we have to offer! I hope at least one of these stuffing recipes becomes a family favorite!