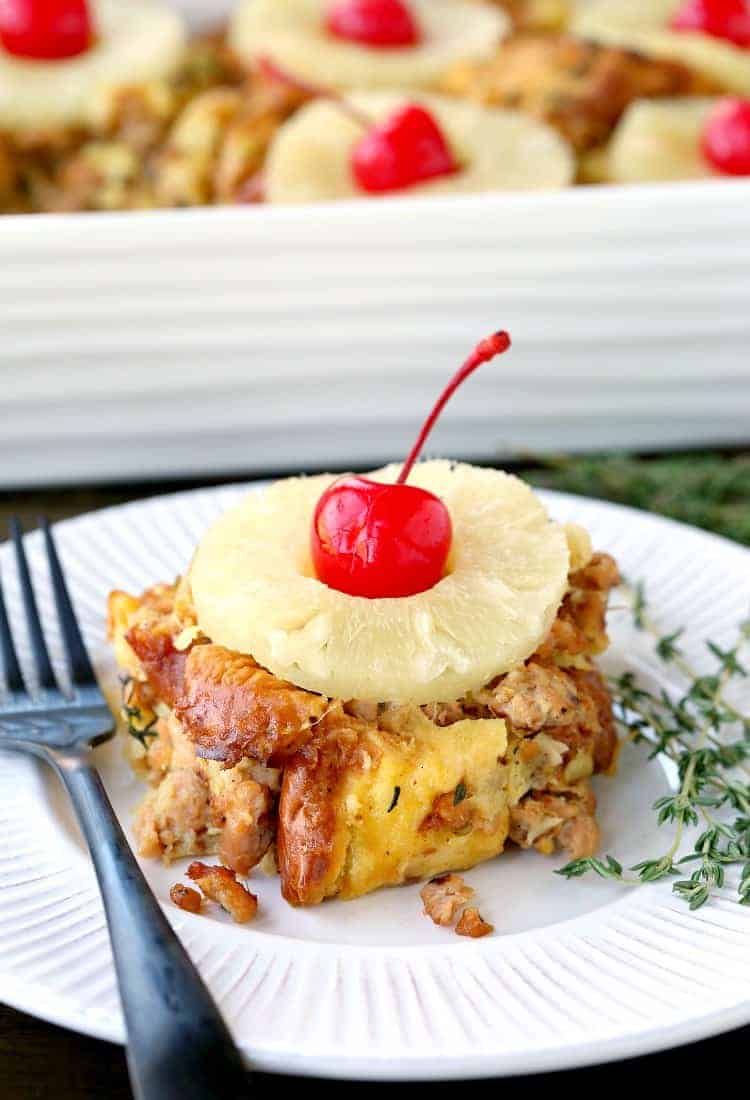 Upside Down Pineapple Sausage Stuffing
Have you heard of pineapple stuffing? Well you know I can't stop there, I had to put my own twist on the recipe and make this Upside Down Pineapple Sausage Stuffing!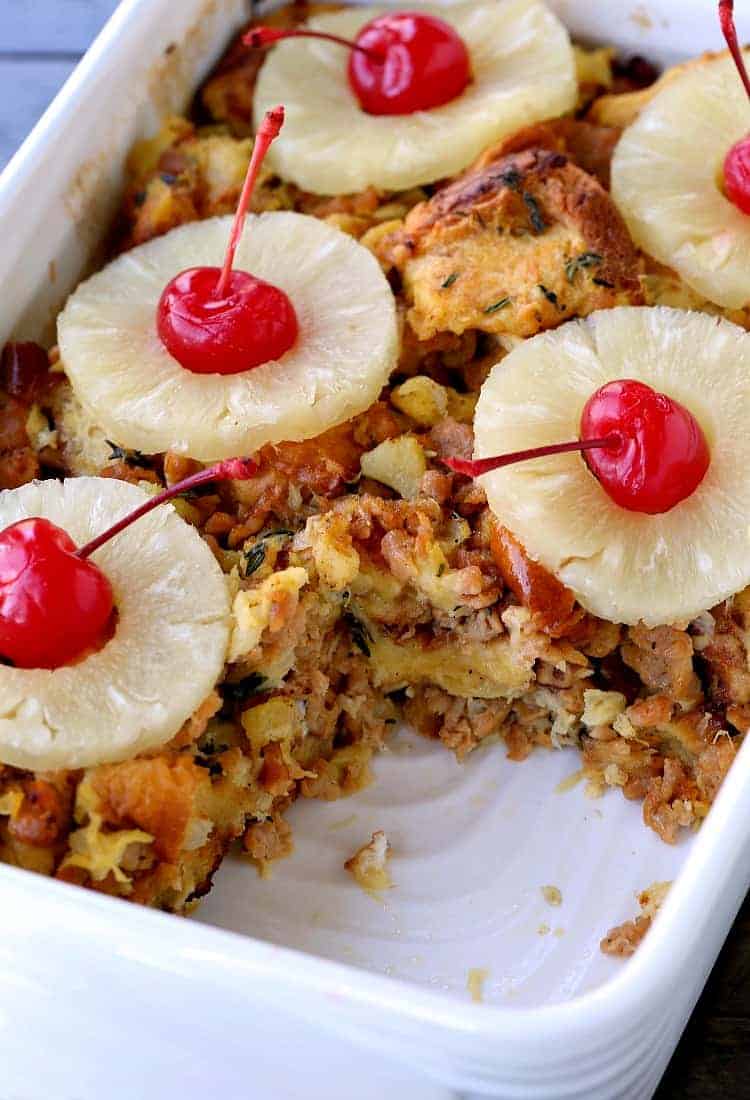 Because sausage belongs in most things.
I guess not if your a vegetarian but I don't imagine a lot of vegetarians are reading the blog here.
I'm totally addicted to our Sausage Stuffing, I could eat it likt dinner and forget about anything else that goes along with stuffing like turkey or chicken. A slice or two of that and then a PILE of stuffing.
It's just so darn tasty.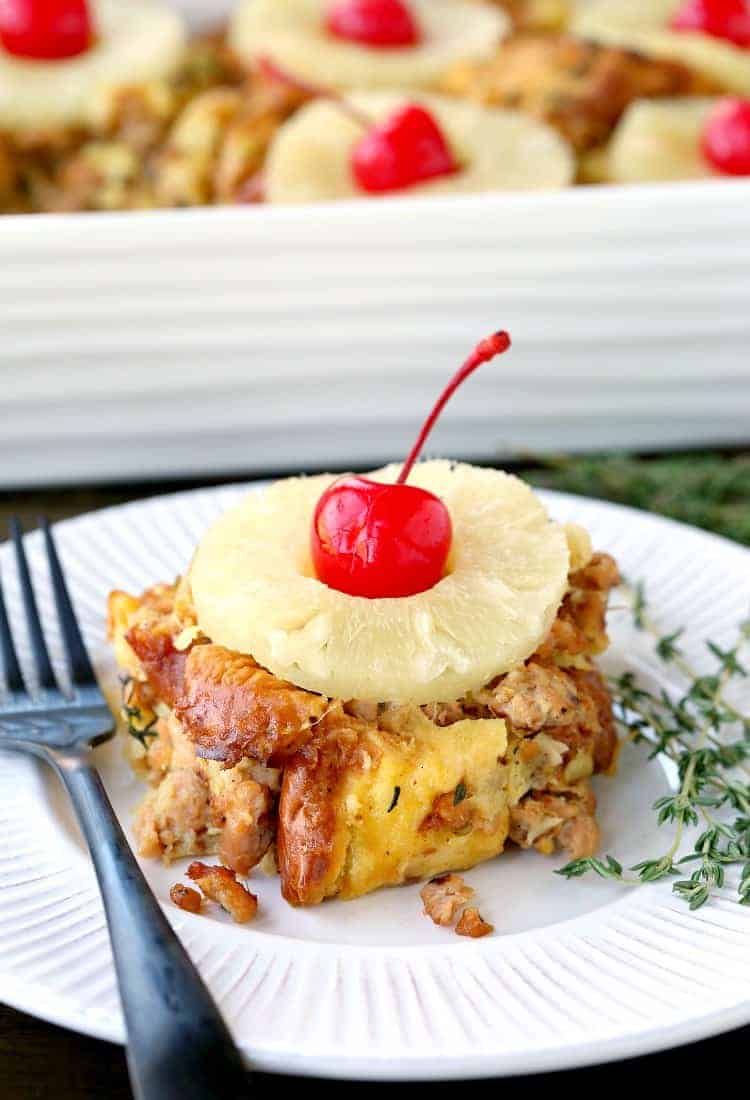 So when we were talking about making a pineapple stuffing I thought, why not just make our already delicious sausage stuffing and give it a few tweaks? Like swap the apple out for pineapple, use a sweeter bread and then of course, sausage.
I went for a spicy chicken sausage for this Upside Down Pineapple Sausage Stuffing to keep it a little lighter and also to tame down the sweetness. The spicy sausage and the sweet pineapple in this recipe are MFEO.
All you need to do is brown up the sausage and remove it from the pan to cool.
Then to the same pan add a diced onion and fresh thyme in a few tablespoons of butter.
Once that cooks down pour it over the browned sausage and get your toast going. Grab a brioche loaf, slice it thick and toast it just until lightly browned. It's a sweet bread so it will burn pretty easy so keep an eye on it.
Slice the toast into big cubes and throw them into the bowl with the sausage and onions.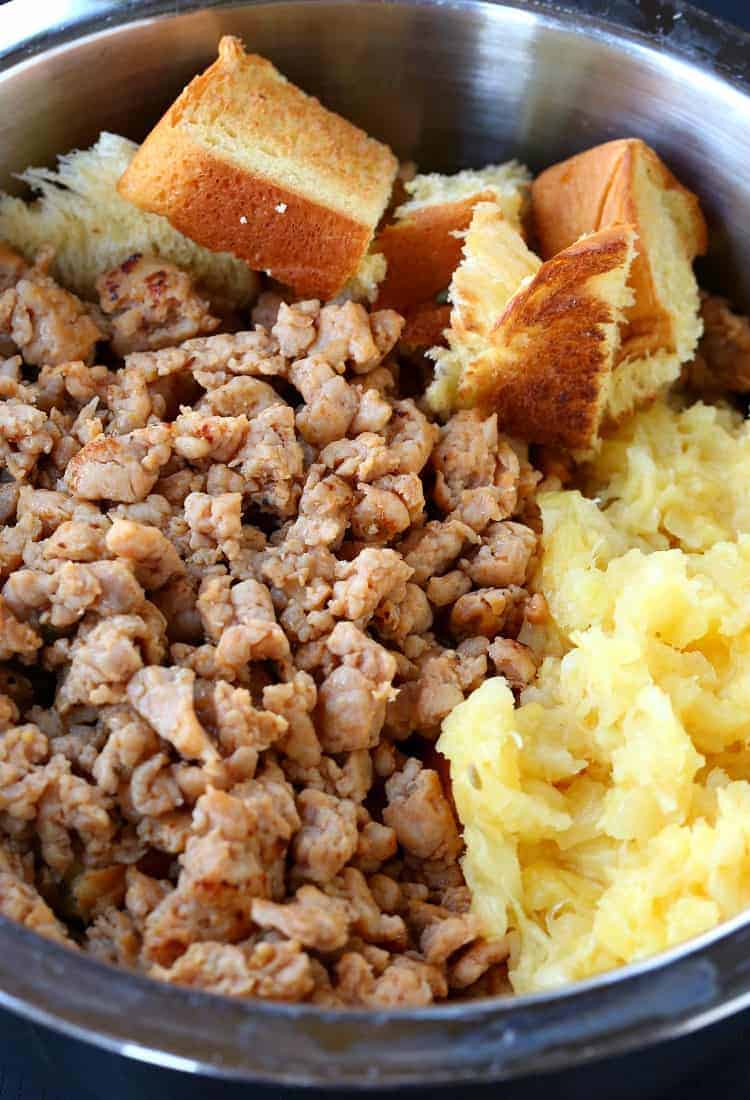 Add a can of drained, crushed pineapple, a few beaten eggs and give it a good stir.
Now you can pour this mixture into a buttered casserole dish, I used an 8 inch by 11 inch deep casserole dish but a regular rectangular baking dish will do the trick too.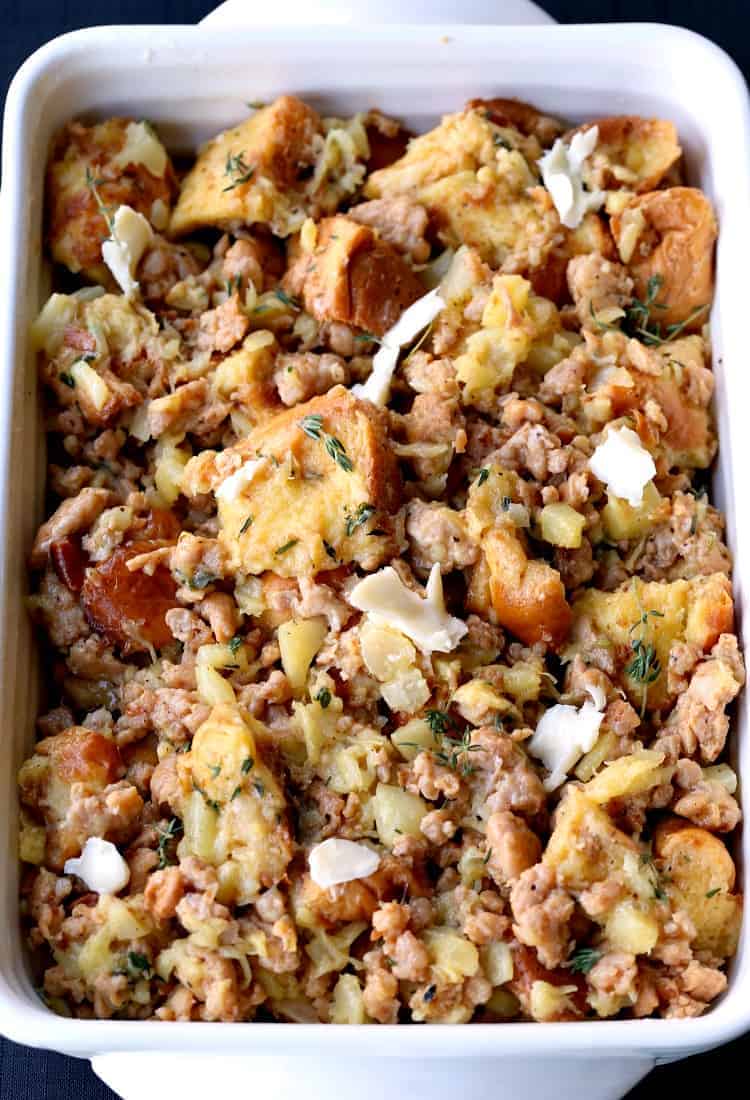 Bake the stuffing for 30 minutes covered then uncover the dish, add sliced pineapple rings and bake for 30 minutes more.
When the stuffing comes out of the oven add cherries to the center of each pineapple ring and serve.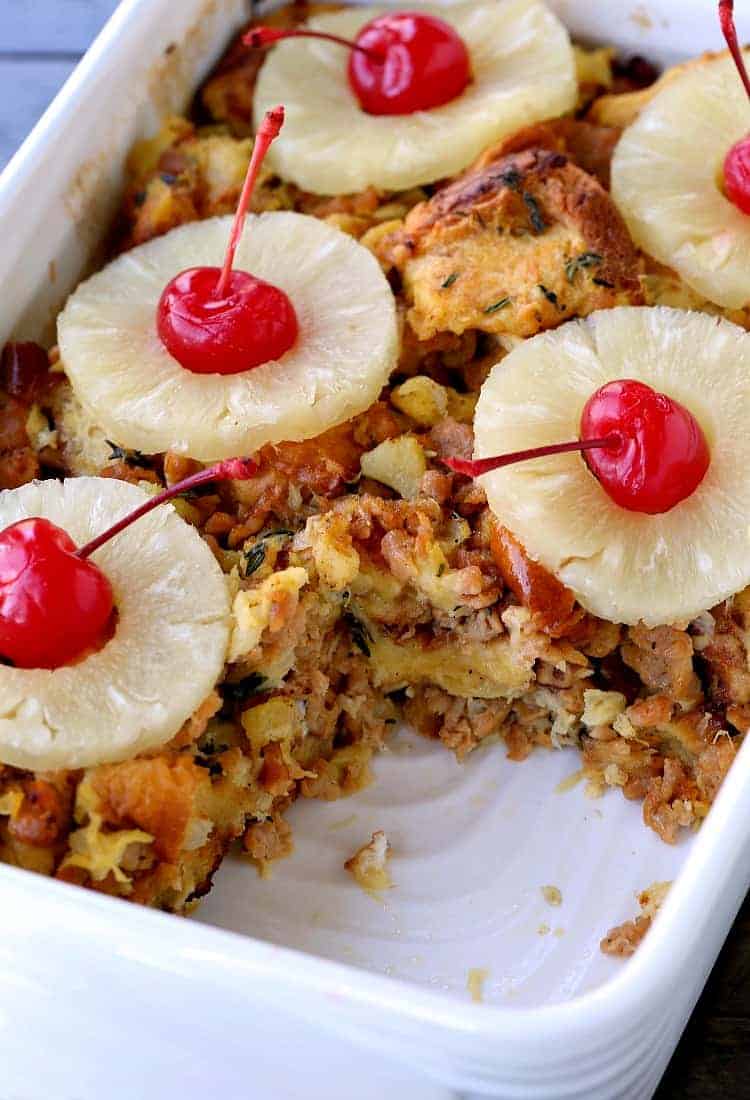 How many pineapple rings you need will depend on what size baking dish you use so just lay them on there, you can't have too much pineapple in my opinion.
This Upside Down Pineapple Sausage Stuffing is going to go awesome with ham, turkey, chicken or really all on it's own.
You could get really crazy with the Upside Down theme and make our Upside Down Pineapple Chicken Thighs too…you know I love a theme!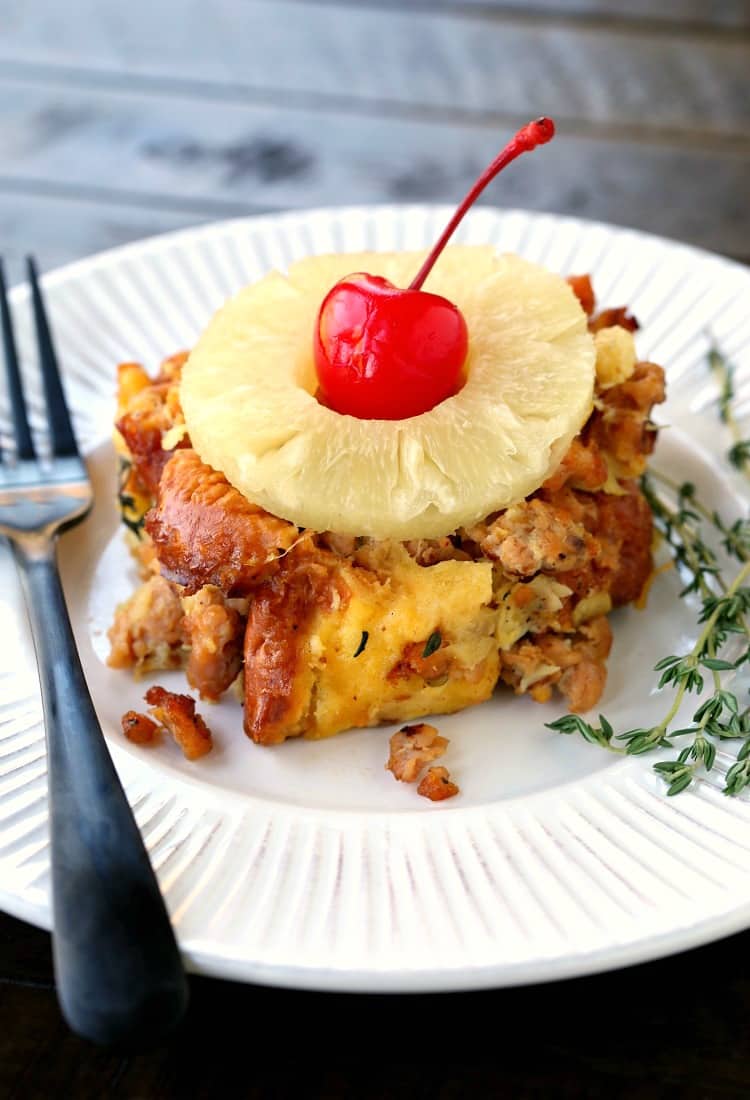 Print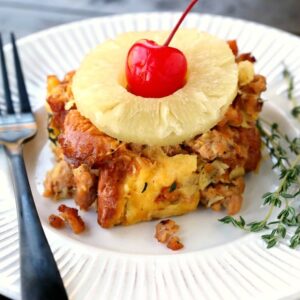 Upside Down Pineapple Sausage Stuffing
Author:

Yield:

6 servings
---
Ingredients
2 pounds spicy chicken sausage
1 loaf brioche bread, sliced and toasted (about 14 ounces)
7 tablespoons butter, divided
1 cup diced onion
2 tablespoons fresh thyme
1 teaspoon salt
1/4 teaspoon black pepper
3 eggs, beaten
1 can crushed pineapple (20 ounces)
1 can pineapple slices
maraschino cherries
---
Instructions
Brown the sausage in a non stick skillet then remove to a large bowl.
Add 6 tablespoons of the butter to the same skillet then add the onions, thyme and salt and pepper.
Cook the onions down for 8-10 minutes over medium heat until softened then add the the bowl with the sausage.
Cut the toast into large cubes and add to the bowl with the sausage and onions.
Pour in the beaten eggs and the crushed pineapple then stir to combine, making sure all the toast cubes are coated in the mixture.
Butter a rectangular baking dish with the remaining tablespoon of butter.
Pour the stuffing mixture into the dish and cover with foil.
Bake for 30 minutes covered, then remove the baking dish from the oven.
Add pineapple slices to the top of the stuffing and bake uncovered for an additional 30 minutes.
After removing the stuffing from the oven, add cherries to the center of each pineapple slice and serve.