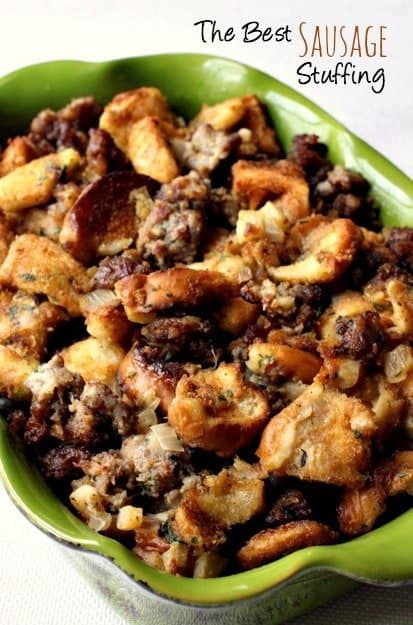 The Best Sausage Stuffing
There's a lot of recipes that claim to be "The Best", but this really is The Best Sausage Stuffing recipe! We make it for Thanksgiving or just for dinner!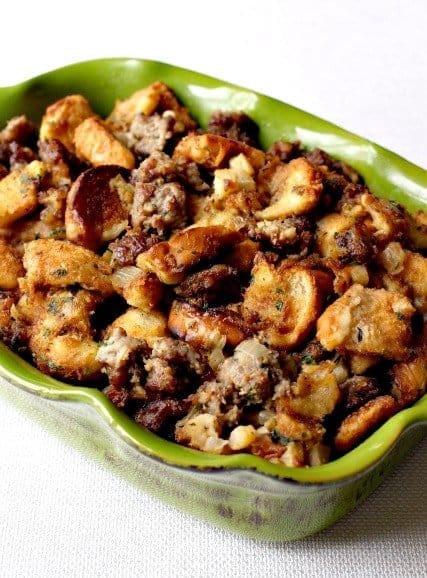 I've actually run into friends of mine at the grocery store with an oven stuffer chicken in one hand and two loaves of white bread in the other hand. They laugh knowing that I'm going home and hoping the wife will throw together a roast chicken dinner with some of my favorite sausage stuffing that I'm craving.
Luckily for me she usually does.
But things have changed and I want to learn how to make this recipe myself. And with Thanksgiving around the corner I thought you guys could all use a go-to recipe for the best sausage stuffing.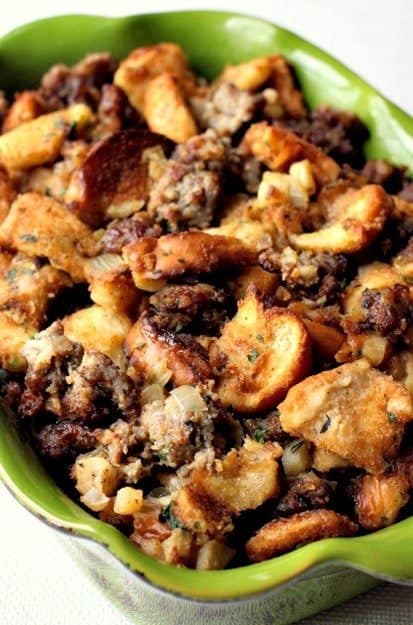 Seems like most people have a favorite stuffing recipe…but this might just become your family favorite too.
What I really should have called this is the best sausage and apple stuffing recipe. Because for me, it's the apples that give it that addicting flavor.
I did make a few changes to the wife's recipe. First of all, I probably doubled the amount of sausage.
If it's a sausage stuffing, I want tons of sausage in there not just a few pieces in every third bite. Similarly, I doubled the apple – which is funny because years ago when she first made this I saw her cutting up apples and I wasn't happy.
Why does there need to be apples in stuffing I said? Just make it the "normal" way, I told her. So because I listened to her, now there is a new "normal" for stuffing.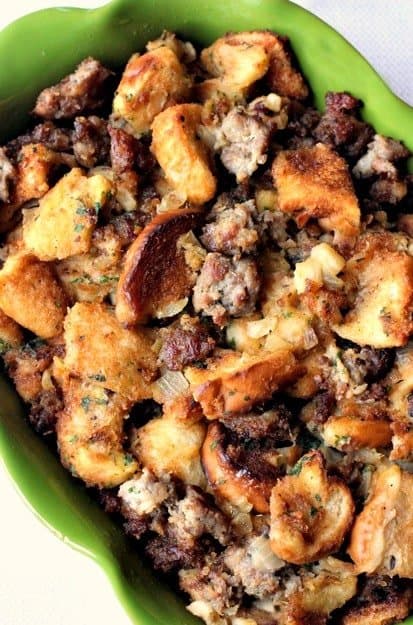 What is the Best Sausage for Stuffing?
In my opinion you want to go with Italian sausage, mild or spicy. Or you can use a combination of both but it's the flavors and spices in Italian Sausage that really work for this stuffing recipe.
Now I know you guys want to get into it so let's get ready to make the Best Sausage Stuffing ever.
Start by browning up the sausage and then add onions and chicken broth.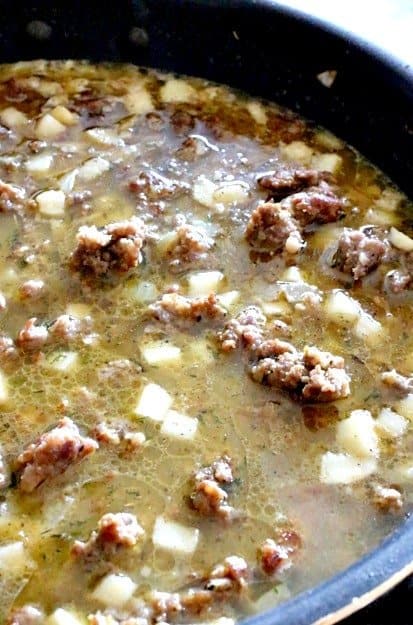 While that is simmering start toasting a whole loaf of bread. (Or you can toast the bread ahead of time, too. Doesn't matter if it's cold) Use regular white bread for this, not sourdough or whole wheat or ciabatta.
Just white bread please, there is a time and a place for white bread and this is it.
I'm not saying that you can't try different types of bread for stuffing. In fact, there are many AMAZING recipes that call for different bread.
Just not this one.
So if you want to try Upside Down Pineapple Stuffing with brioche, or maybe these Italian Stuffing Muffins with Italian bread…you absolutely should.
But for my recipe, my favorite stuffing recipe ever…just stick with good old fashioned white bread. White bread does have a purpose and it's for stuffing and grilled cheese sandwiches.
All of these ingredients added together is what makes The Best Sausage Stuffing taste the best…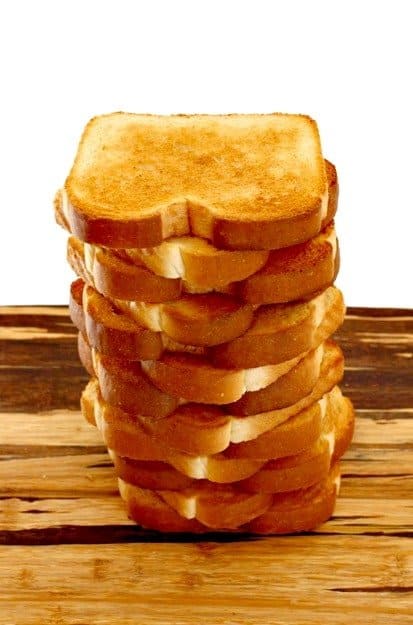 Grab the biggest bowl, and I mean the biggest bowl you have and mix together a couple eggs with some parsley.
Add in the bread cubes and the sausage mixture and stir it all together, you want to make sure all the bread is coated with the sausage mixture.
Pour into a heavily buttered dish and bake…because butter. It makes everything better.
Can You Make This Stuffing Ahead Of Time?
Yes, you can make this stuffing ahead of time and keep it in your fridge until you're ready to cook it. You can also freeze it and take it out to thaw before cooking – that'll be a huge timesaver for those big Thanksgiving meals!
Since we make this stuffing all the time, I've actually have found that it tastes better if you make it the day before. Let it sit in the fridge until you're ready to get it in the oven. That perfect white bread soaks up all the flavor from the broth and sausage and it really makes a difference in the flavor!
And leftover stuffing (if there is any) usually becomes a main meal for me. A big bowl with gravy poured on top is all I need!
Turkey is actually what I like to eat on the side of this stuffing!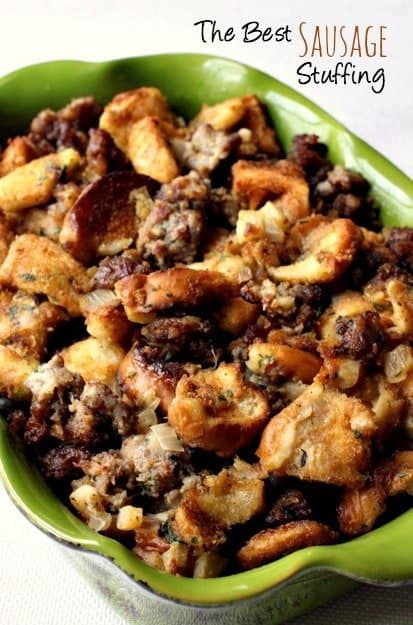 Check back in with me here if you can and let me know if you've tried our stuffing for dinner or at your holiday meal!
Print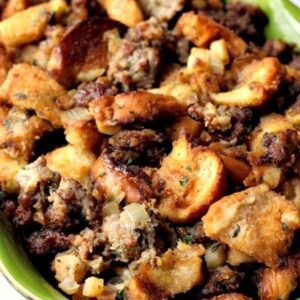 The Best Sausage Stuffing
Author:

Prep Time:

25 minutes

Cook Time:

50 minutes

Total Time:

1 hour 15 minutes

Yield:

8

servings

1

x
Category:

side dish

Method:

Oven/Stove Top

Cuisine:

American
---
Description
A simple but amazing sausage and apple stuffing for your Thanksgiving table, or as a side dish to any dinner!
---
Ingredients
1

lb. bulk italian sweet or spicy sausage

6 tablespoon

s butter

1

large onion, diced

2 teaspoon

s poultry seasoning

1 Tablespoon

fresh thyme, chopped

1

large apple, peeled and chopped

3 cup

s chicken stock

2

eggs

1/4 cup

parsley, chopped

1 teaspoon

salt

1/2 teaspoon

black pepper

16 cup

s white bread, toasted (I use 1 extra large loaf like Freihofer's

24 oz

. loaf)
Extra butter for buttering the dish and for the top of the stuffing
---
Instructions
Pre-heat the oven to 350 degrees.
Melt the butter in a large skillet, then add the sausage to brown breaking up with a wooden spoon.
When the sausage is almost all browned add in the diced apple, onion, poultry seasoning and thyme then cook for another 5 minutes.
Stir in the chicken broth, salt and pepper and let simmer for 15 minutes.
After the sausage and broth mixture has simmered, taste for seasonings and adjust if needed.
While the broth is simmering, toast the bread slices until golden brown and cut into large cubes then add to a very large bowl.
Let the chicken broth mixture cool slightly, then pour into the bowl with the toasted bread and toss gently until all the bread is coated in the chicken broth.
Beat the eggs together with the parsley, add to the bowl then gently mix together with the bread and sausage.
Pour into a buttered, 9″ x 13″ casserole dish then top the stuffing with small pieces of butter all around.
Cover with aluminum foil and bake at 350 degrees for 30 minutes.
Take the foil off and bake another 20 minutes until the stuffing is crispy on top.
---
Notes
If you prefer to not have a crispy stuffing then leave the foil on for the entire cooking time. You can make this stuffing recipe ahead of time, cover and keep in the refrigerator until ready to bake. Bring the dish out about 30 minutes before cooking to let it come to room temperature first.
Keywords: sausage stuffing, the best stuffing, stuffing recipe, sausage and apple stuffing, thanksgiving side dish, stuffing for thanksgiving