Don't throw away the bones from your rotisserie chicken! We'll show you how to make a delicious and hearty Rotisserie Chicken Stock that can be used to make soups or just for sipping. When you see how amazing this stock turns out, you'll know why it's called liquid gold!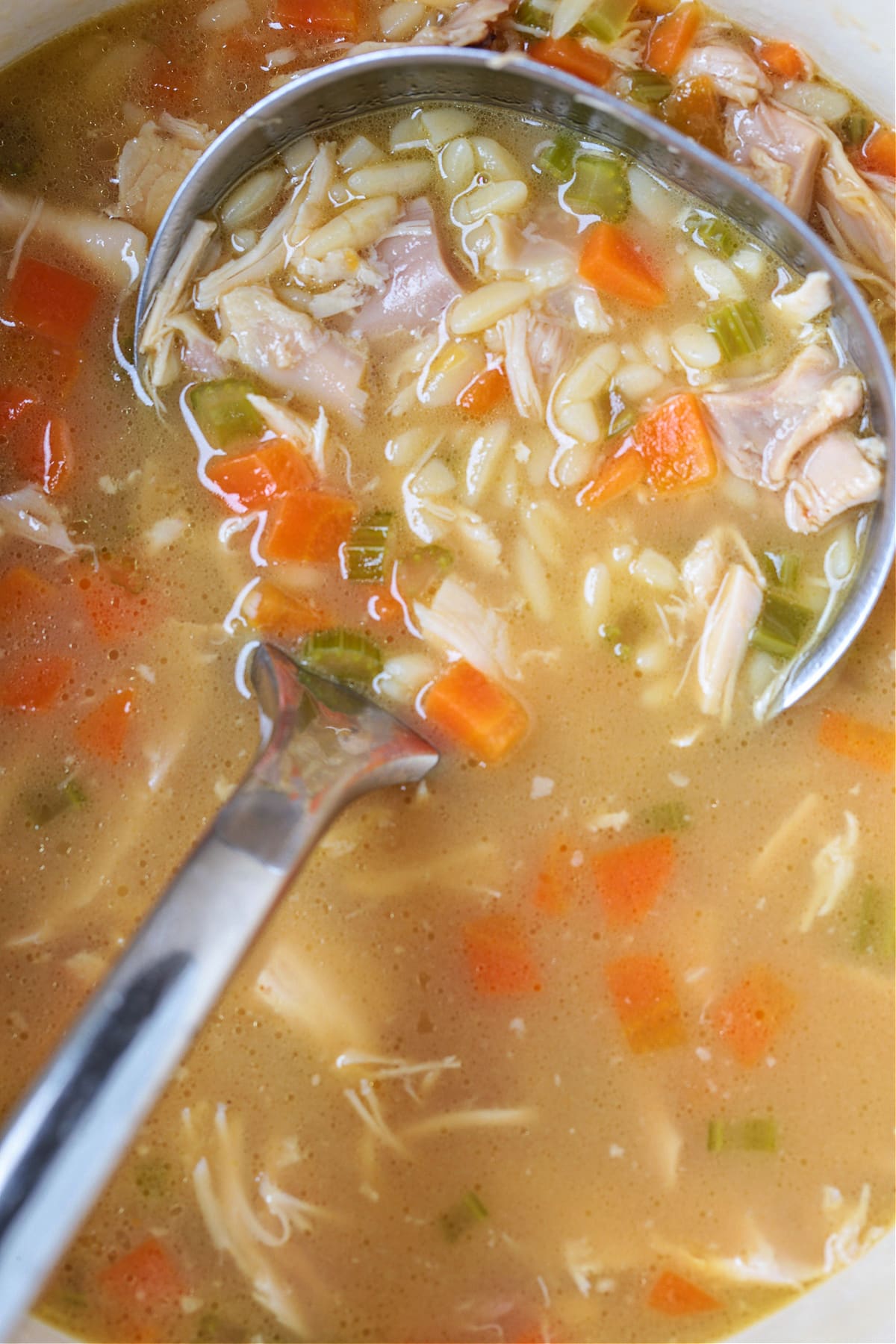 Why We Love This Rotisserie Chicken Stock
Not only do we love the fact that we aren't wasting any part of the chicken, this Rotisserie Chicken Stock turns out so hearty and flavorful, you'll never throw away chicken bones again.
In just about an hour you'll have a chicken stock that can be used in many recipes, and of course to make soups like this Chicken Pastina Soup recipe and much more. Also be sure to check out our Homemade Turkey Soup recipe that starts with your leftover turkey carcass!
Ingredients You'll Need
The ingredients for this Rotisserie Chicken Stock of course include a couple rotisserie chicken carcasses, along with a few more simple ingredients. For a complete list of ingredients and amounts you'll need, scroll to the bottom of the post to the recipe card.
Rotisserie Chickens: To make the stock, you'll only need the bones and a little meat that's left on them after removing the chicken. Reserve the meat for making chicken salad or to use in soup after the stock is made.
Vegetables: Typically, we use carrots, celery and onions but you can also add other vegetables that we'll talk about further down in the post.
Seasonings: Simple seasonings like kosher salt and black pepper is all you really need. If you have a bay leaf you can add that too.
Water: Just plain water simmered with the chicken bones and vegetables make this chicken stock hearty and flavorful.
How To Make Chicken Stock From Rotisserie Chicken
Making homemade chicken stock is so easy to do, and if you use leftover rotisserie chicken bones it's extremely affordable! You can even freeze the leftover chicken bones and save them to make this stock at another time.
PREP THE ROTISSERIE CHICKEN: Start by removing the meat from the rotisserie chicken if you haven't done so already (reserve the chicken meat for another use). A little bit of chicken left on the bones will add more flavor. Add the bones to a large soup pot or dutch oven.
ADD THE VEGETABLES: Carrots, celery, onions go into the pot. In this recipe we added a knob of ginger and a bay leaf for a punch of flavor. If you don't have those ingredients you can still make this chicken stock recipe.
ADD SEASONINGS AND WATER: Add kosher salt, black pepper and a by leaf. Fill the pot with water just to cover the ingredients. See the photo on the above right for reference. If you add too much water the stock will be weak in flavor.
BRING TO A BOIL AND SIMMER: Bring the pot to a boil and then turn the heat down to a simmer. Simmer the stock for an hour to an hour and a half for the best flavor.
STRAIN: Place a colander over another large pot and then strain the stock. Make sure to let all of the stock drip out, you don't want to waste any of it. Discard the vegetables and bones.
USE OR STORE: The stock is ready to use for making soup recipes and much more. If you're not using it right away, let the stock cool and then store in containers and refrigerate or freeze.
What Other Ingredients Can I Add To Homemade Stock?
Besides the basics that we have here, you can add many different vegetables to you stock to enhance the flavor.
Root Vegetables/Vegetables: Parsnips, ginger, celeriac, sweet potatoes and even radishes can all be used to make chicken stock. Keep in mind that radishes will impart a slight spice to the stock. Garlic also adds tons of flavor, and some great antibiotic properties.
Herbs: Fresh and dried herbs alike make chicken stock rich with flavor. Thyme, tarragon, rosemary and parsley all work well in homemade stock. Fresh or dried.
Wine: If you like to cook with wine, it can also be used to make this stock. Any dry white wine that you like drinking will work.
What's The Difference Between Chicken Stock and Chicken Broth?
Most of us seem to use the words stock and broth interchangeably, but there are distinct differences between the two.
Chicken Stock refers to the liquid that is made from bones. Stocks tend to be thicker and darker in color than broths. This is because of the collagen and natural gelatin in the bones. You can see in the photo below all of that glistening fat on top of the stock. That's the liquid gold that everyone always talks about.
Chicken Broth is typically made from the raw flesh of chicken, sometimes including the bones. It tends to be lighter in color and more clear. Some feel that chicken broth doesn't have as much flavor, but it's meant to be a base for recipes that are adding other flavors to it.
Can Chicken Stock And Chicken Broth Be Used Interchangeably?
Yes and no, it really depends on what you're making. You might not want to use chicken stock to make Chicken Francese, for instance, if it's very strong in flavor. A rich stock that has been enhanced with garlic and ginger may change the flavor of the dish.
If you think that the flavors in your stock will change the flavor of a recipe, chicken broth would be a better option. Of course if you have a stock that is pretty universal in flavor, with just carrots and celery like our recipe here, then both would be fine.
How To Use Homemade Chicken Stock
This Rotisserie Chicken Stock is so good, you can really just pour it in a cup and sip on it. Not quite a bone broth – those are cooked for many hours – but really pretty close.
There's also many different recipes that use chicken stock in them, from chicken recipes to rice recipes and of course soups and stews. We'll list a few of our favorites here.
To Store And Freeze
To store chicken stock, add cooled down stock to air tight containers. Refrigerate for up to 4 days for ultimate freshness. If you won't be using the stock within 4 days, it's best to transfer it to the freezer.
Frozen chicken stock will keep for up to 3 months. Try to store the stock in 2-cup portions that can be pulled out for ease of use. Another idea is to use plastic ice cube trays! Fill them with chicken stock, freeze and then pop out individual potions for recipes.
We also love the Souper Cubes for freezing soup recipes and this chicken stock. Souper Cubes are silicone freezer trays with lids that make freezing soups and lots of recipes easily. All you need to do is pop out the individual cube when needed!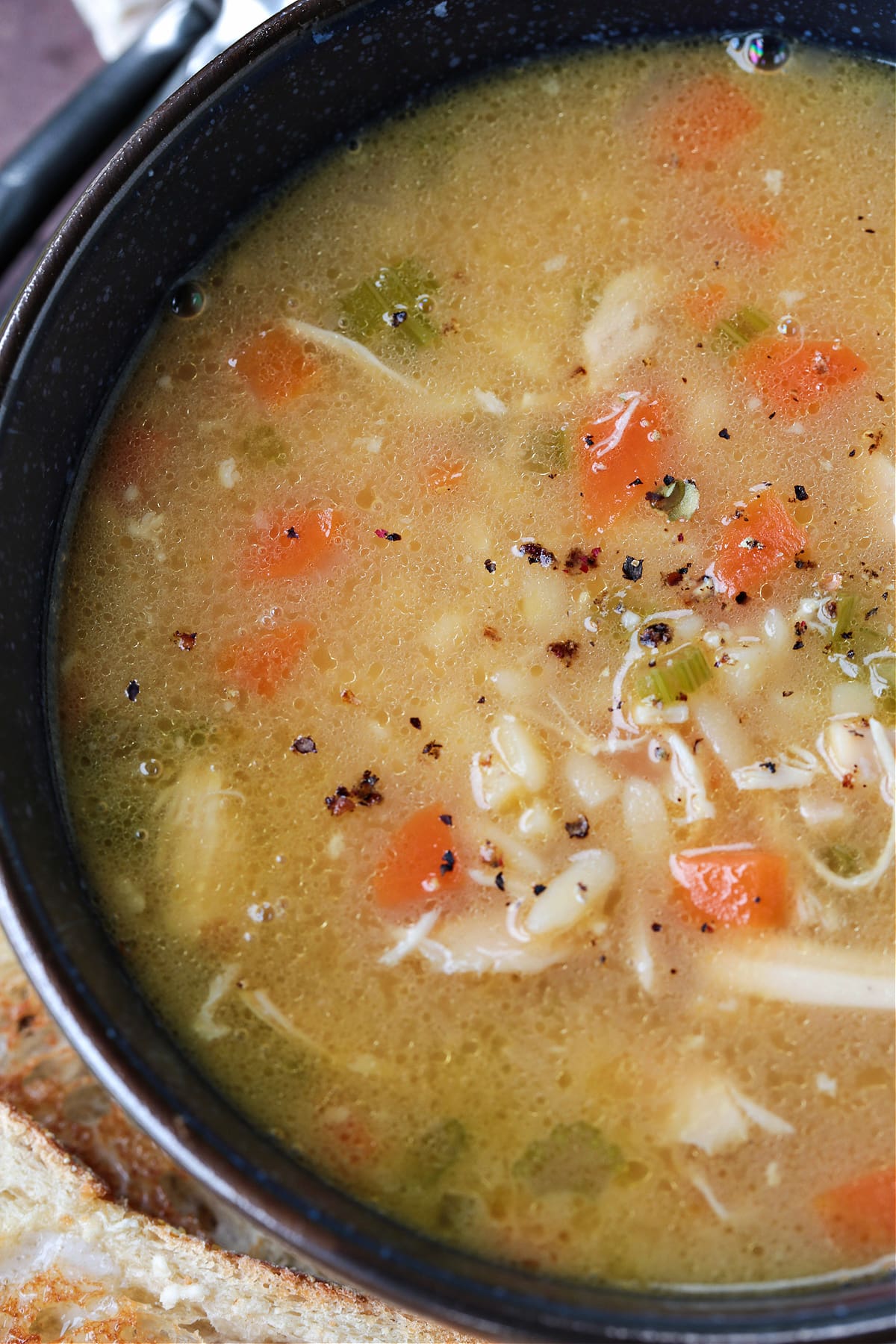 Health Benefits Of Homemade Chicken Stock
Now that we've talked about how delicious this rotisserie chicken stock is, let's talk about how good it is for you.
Homemade chicken stock is packed with vitamins and nutrients and it's very low in calories and fat. Chicken stock is also anti-inflammatory in nature. It helps with inflammation in many parts of the body, including gut health.
Of course chicken stock is also an immune boosting power-house, which is why we all turn to our favorite chicken soup recipes when we're under the weather.
More Recipes That Use Chicken Stock
Print
Rotisserie Chicken Stock
Author:

Prep Time:

10 minutes

Cook Time:

1 hour 30 minutes

Total Time:

1 hour 40 minutes

Yield:

4 cups

of stock

1

x
Rotisserie Chicken Stock is so easy to make with leftover rotisserie chicken bones! Use this hearty chicken stock in soups, stews and more. So hearty and flavorful you can sip it right from a cup!
Scale
Ingredients
2

rotisserie chickens – meat and most of skin removed (just bones and some meat left on the bones will go into making the stock)

2

large carrots, peeled and cut into large pieces (Alternately, you can leave the peel on, just wash the carrots first)

1

large yellow onion, peeled and cut into large pieces

2

celery stalks, cut into large pieces

1

bay leaf

1

small knob of ginger, skin removed (optional)

2 teaspoons

kosher salt

1 teaspoon

black pepper
Instructions
Place the bones from the rotisserie chickens into a large stock pot or dutch oven.
Add the carrots, onion, celery, bay leaf, ginger, salt and pepper to the pot with the chicken bones.
Add water to the pot just to cover the chicken bones and vegetables. This is the perfect formula for getting the most flavorful stock, if you add too much water the stock will be weaker in flavor.
Bring the pot to a boil and then reduce the heat to a simmer. Simmer for 1 hour to 1 hour and 30 minutes, removing any scum from the top of the water if needed as it cooks.
Place a large colander/strainer over another large pot. Drain the chicken stock into the colander and let the stock drain completely from the bones. Discard the vegetables and bones.
Let the chicken stock cool and then store into containers. If you're making soup, you can bring the stock back to a simmer along with diced carrots and celery and any reserved chicken meat that you have from the rotisserie chickens. Noodles or small shaped pasta like pastina or orzo are always delicious!
Recipe Notes
Store: Store stock in air tight containers in the refrigerator for up to 4 days.
Freeze: Freeze chicken stock in air tight containers or freezer bags in the freezer for up to 3 months.
Category:

Soup

Method:

Stove Top

Cuisine:

American
Keywords: mantitlement, homemade chicken stock, rotisserie chicken stock, how to make chicken stock from chicken bones, bone broth, sipping broth