Make this Warm German Potato Salad for your next BBQ or party! A no-mayonnaise potato salad recipe with tender potatoes, crispy bacon and a tangy, warm vinaigrette!
Of course we love our Classic Potato Salad recipe, but we often serve more than one, especially at parties. This classic bacon potato salad can be made ahead of time and tossed right before serving.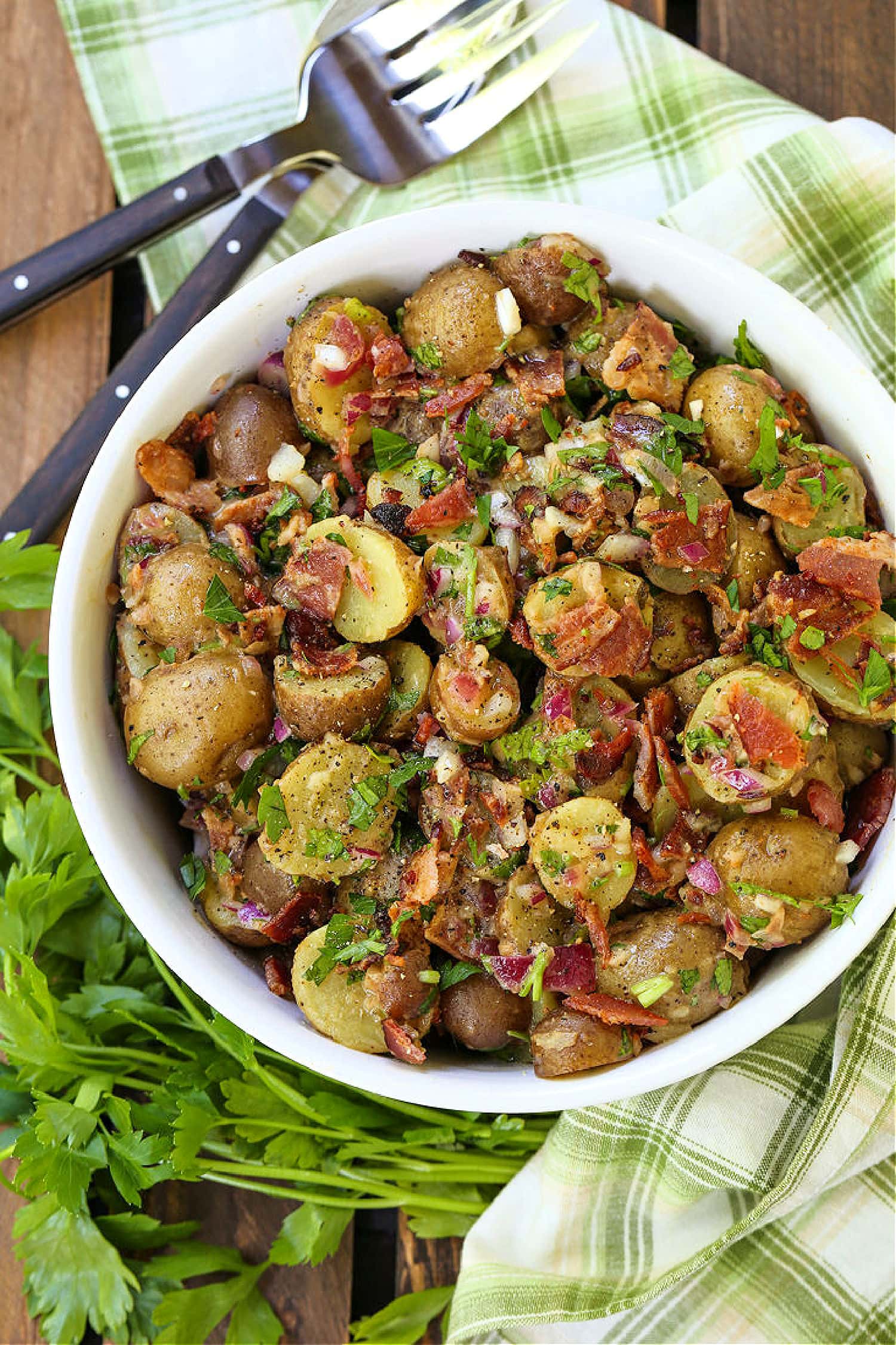 Warm German Potato Salad Recipe
This Warm German Potato Salad is a classic side dish for family dinners, holidays and BBQ's. We love the contrast and flavors of the creamy, tender potatoes, crisp bacon and warm, tangy vinaigrette.
This bacon potato salad can be made ahead of time, which makes party planning so much easier. Just prep all of the ingredients and toss with the warm bacon vinaigrette right before serving.
Also, check out some tips down in the post and the recipe card for making this potato salad recipe even faster!
How Do You Make German Potato Salad?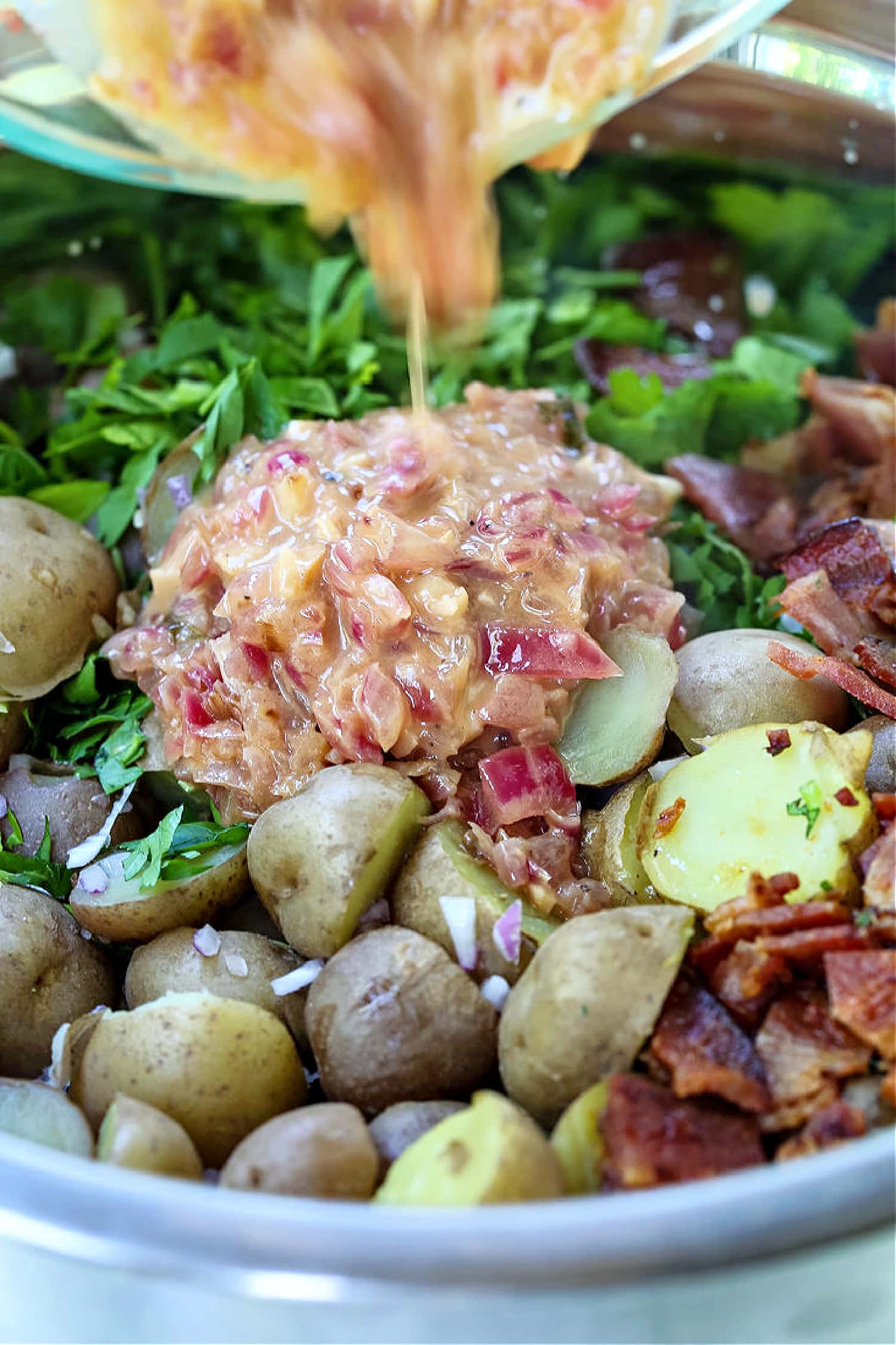 Start by steaming or boiling the potatoes. We like to use the small baby potatoes, red, yellow or a mixture of colors. They typically come in a 3 pound bag at the grocery store which is the perfect size for this recipe. (See Tip In Recipe Card Below!)
While the potatoes are cooking, make the bacon vinaigrette. This warm bacon dressing is super easy to make, it'll only take you about 5 minutes to get together.
Toss it with the warm potatoes and this potato salad is done.
What Ingredients Do You Need For This Potato Salad Recipe?
Baby or New potatoes: Red, yellow or mixed colors are all fine for this potato salad recipe.
Bacon: Any kind of bacon you like will work!
Red Onion: You can swap out yellow if that's all you have but red onion gives this potato salad a delicious, tangy flavor.
Garlic: Start with a few cloves and go from there.
Apple Cider Vinegar: The mild acidity in apple cider vinegar is perfect for this warm vinaigrette. Not too tart, just right.
Dijon Mustard: You can also use a whole grain mustard, but we like the spiciness of dijon. Just don't use regular yellow mustard as it will change the color won't add the right flavor to this recipe.
Chicken Broth: Chicken broth or stock is the liquid base for this bacon vinaigrette.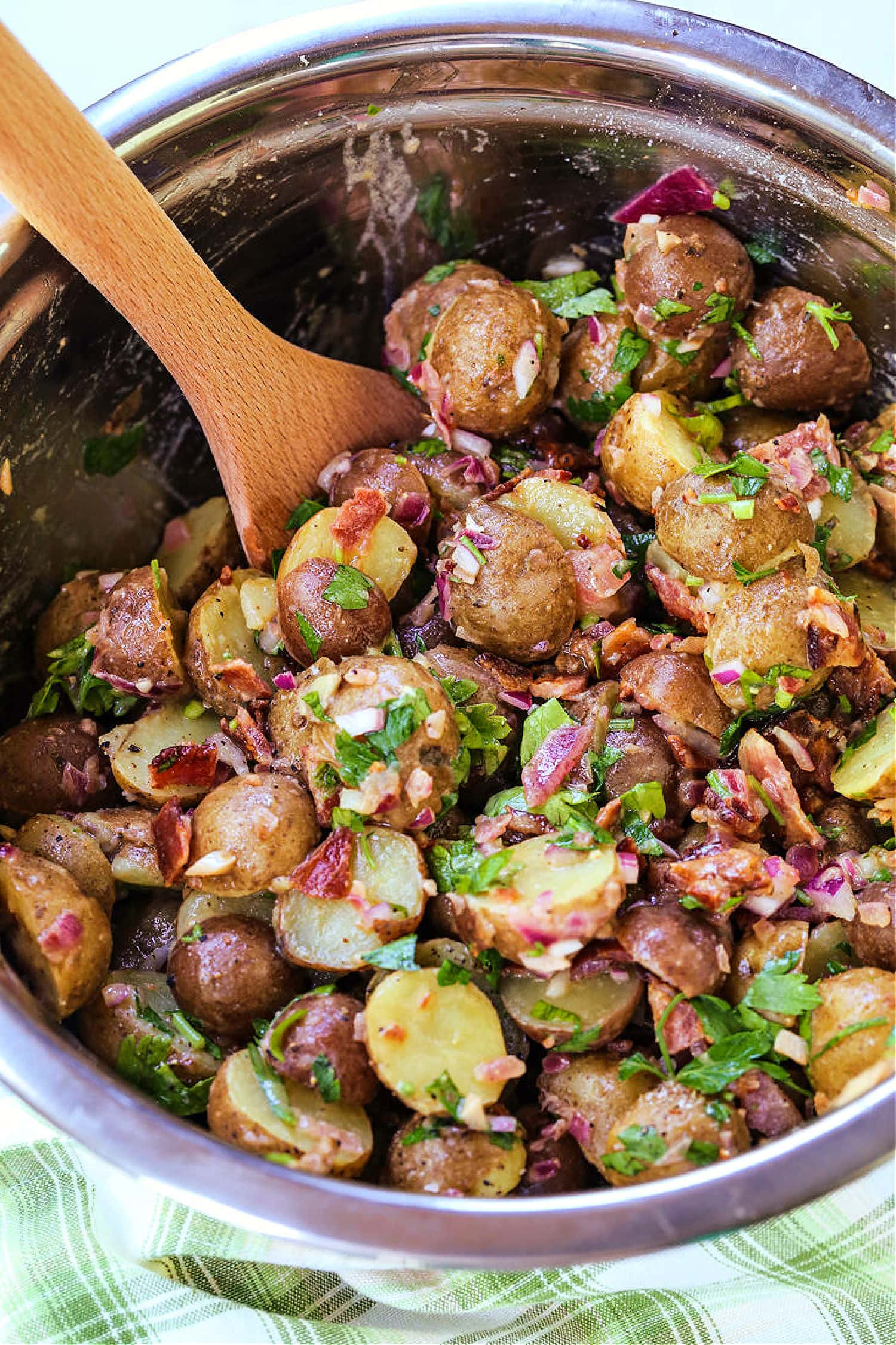 Is It Better To Cook The Potatoes Whole?
Yes. Cook these little guys whole with the skins on. Using these small potatoes makes it easy because they steam or boil very quickly. Then once they've cooled you can cut them in half.
If you are starting with a larger potato, then you can cut the potato in half or in fourths before cooking. Steam and boil the potato pieces until tender and then roughly cut into a bite size piece.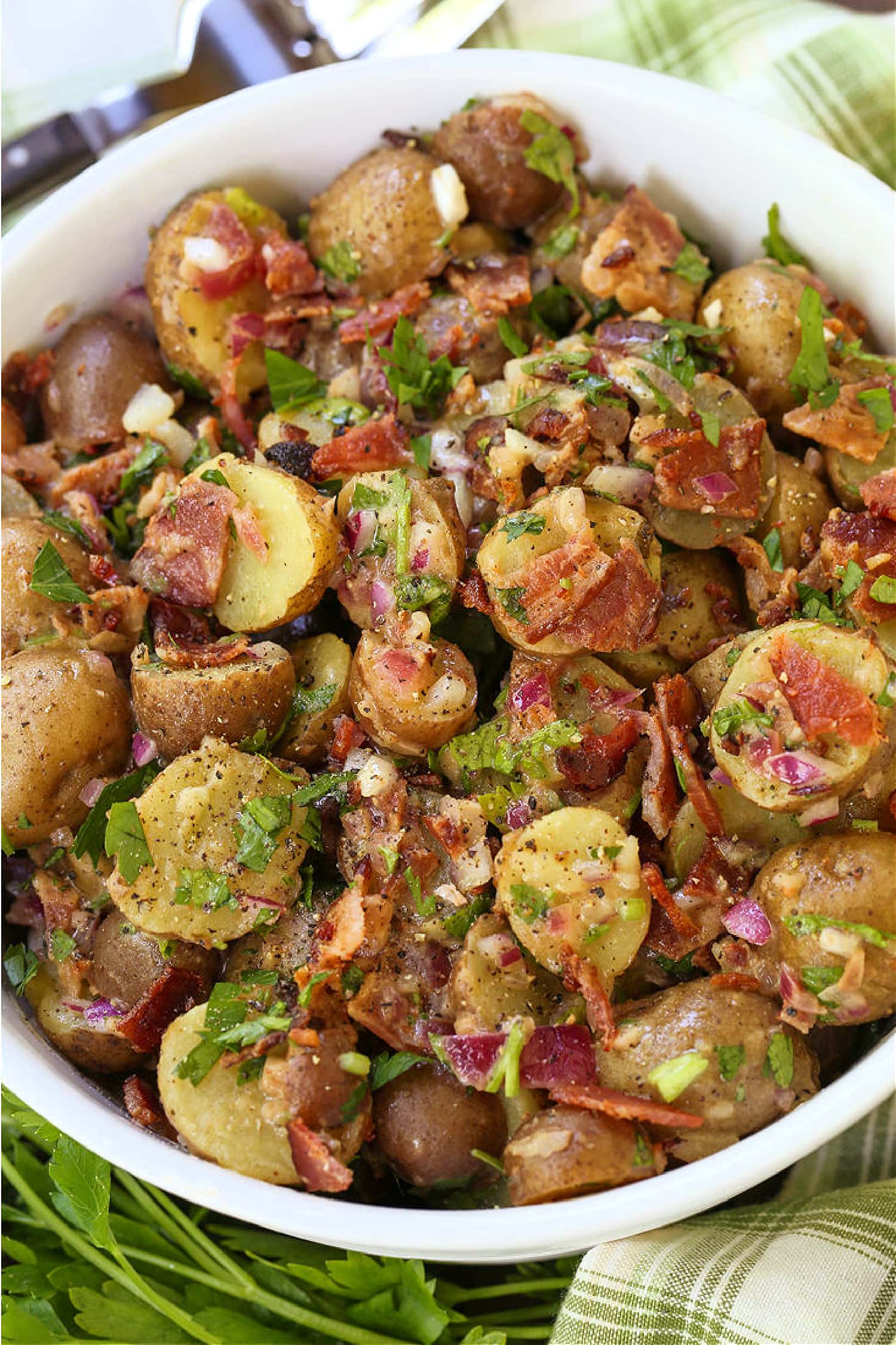 What Main Courses Go Well With This Potato Salad Recipe?
There are so many delicious main courses that will go perfectly with this Warm German Potato Salad. It's honestly hard to choose but we'll list a few of our favorites here. If you still need more ideas, head over to our Dinner Ideas menu and browse around for more!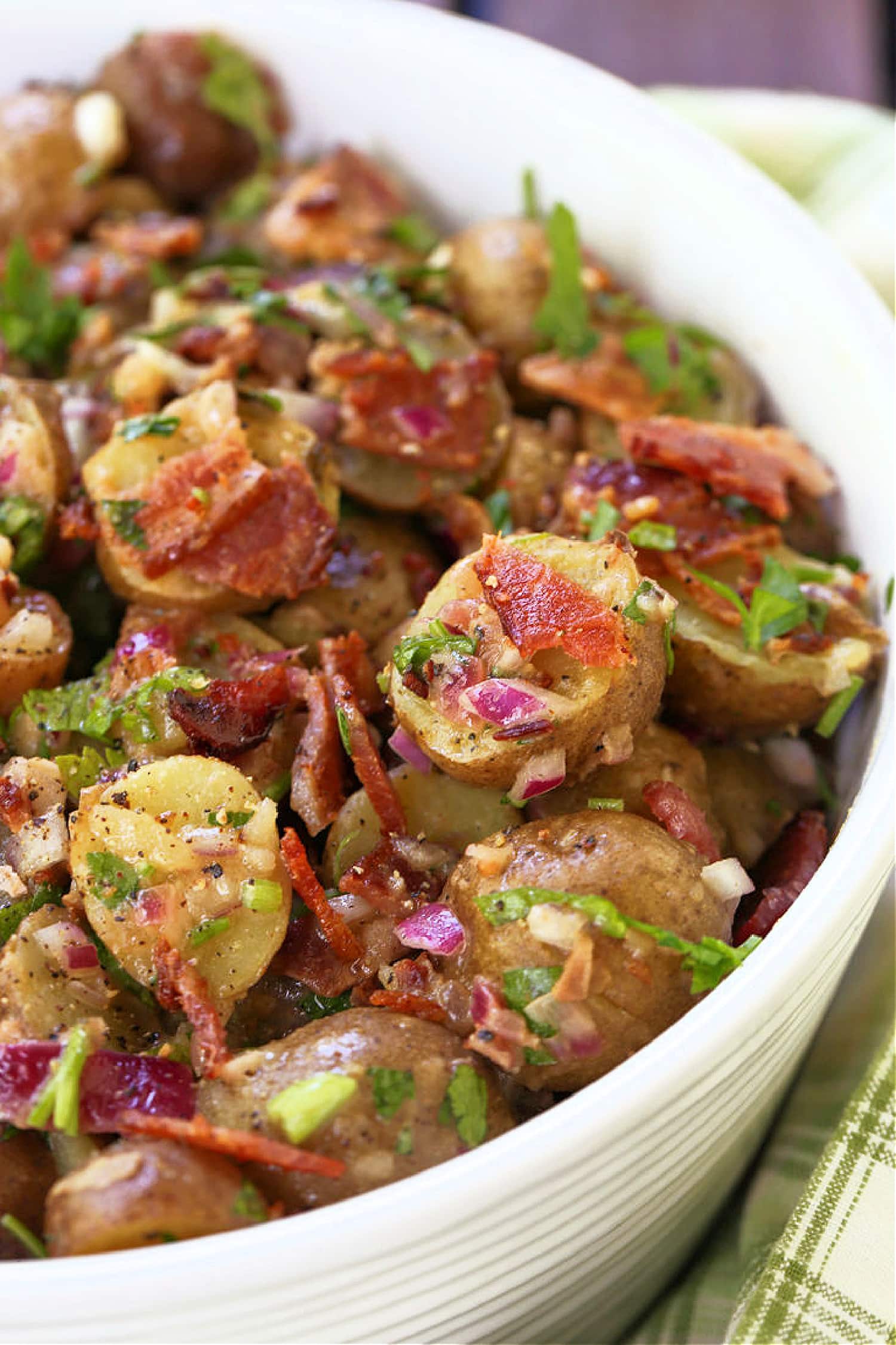 Can You Make German Potato Salad Ahead Of Time?
You definitely can, but here are a few tips! Typically this potato salad recipe is served warm, so if you'd like to serve it warm here's how you do it. Cook your potatoes and prep all the ingredients for the dressing.
If you're doing this a few hours ahead of time, you can leave the potatoes at room temperature until you're ready and then make the bacon vinaigrette, toss and serve.
Need even more time? If you need to make this potato salad a day ahead of time, cook the potatoes and refrigerate. Prep the ingredients for the bacon vinaigrette and refrigerate.
An hour or two before you're ready to serve, take the potatoes out of the refrigerator and let them come to room temperature. Prepare the bacon vinaigrette, toss and serve.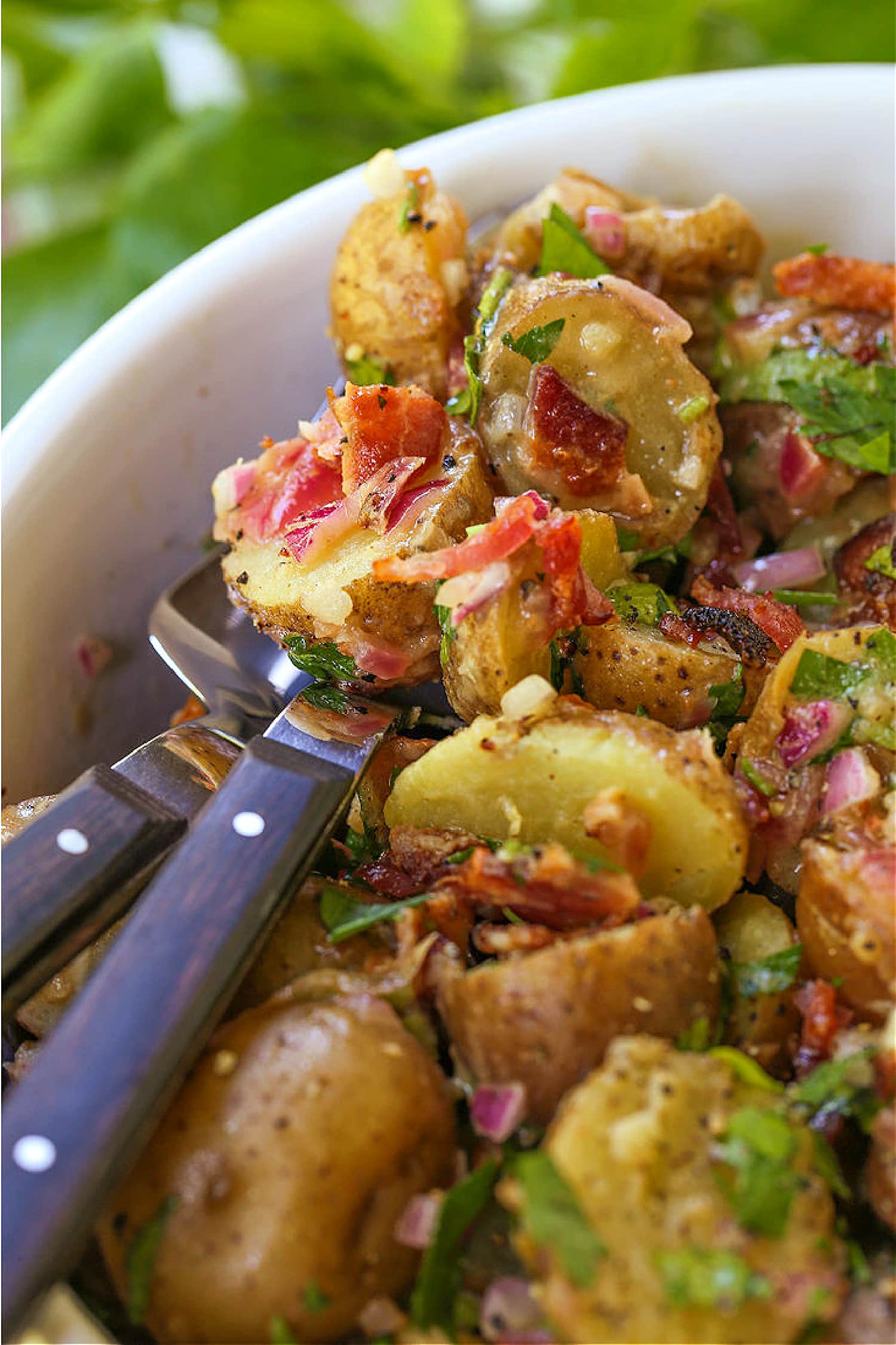 Just another note, as much as we love serving this German Potato Salad warm, as it should be, it's also very good cold as well.
So if you have leftovers you can either microwave them for a minute or two to warm the potatoes up or just eat it right from the fridge as is.
Looking For More Potato Recipes?
Print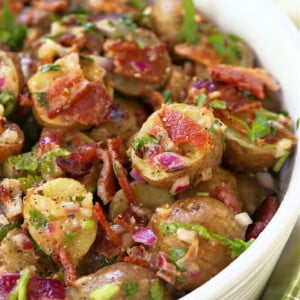 Warm German Potato Salad
Author:

Prep Time:

5 minutes

Cook Time:

20 minutes

Total Time:

25 minutes

Yield:

8

servings

1

x
This Warm German Potato Salad is a classic party side! A no-mayo potato salad with tender potatoes, crispy bacon and a warm vinaigrette!
Scale
Ingredients
3

pounds baby potatoes (we like the skin on but you can peel them if you like)

1 cup

finely diced red onion

8

strips of bacon, cooked crisp and rough chopped – reserve drippings

1 tablespoon

minced garlic

1 1/2 teaspoons

kosher salt
Fresh black pepper to taste

3/4 cup

chicken broth

1/3 cup

apple cider vinegar

2 tablespoons

dijon mustard

2 teaspoons

sugar

1/3 cup

chopped parsley
Drizzle of olive oil (optional)
Instructions
Start by steaming the potatoes in a steamer for about 15 minutes until fork tender. If you don't have a steamer you can also boil the potatoes for about the same amount of time until the are just fork tender. Place the potatoes in a colander or a bowl and let them cool slightly while you make the bacon vinaigrette. See note*
Add 1/4 cup of bacon drippings to a medium sized skillet over medium heat. Once the drippings are hot, add the red onion and cook for 4-5 minutes. Add the garlic and cook 1 minute longer and then season with salt and pepper.
Pour the chicken broth and vinegar into the skillet, stir and let reduce for 3 minutes while on a low simmer. Whisk in the mustard and sugar and remove from the heat.
Cut the potatoes in half and place them in a large serving bowl along with the chopped bacon. Pour the warm dressing over the potatoes, add the chopped parsley and drizzle with a little olive oil. Toss the potato salad gently, taste for seasonings and adjust if needed.
Serve immediately so the potato salad is warm. (See post for how to make this recipe ahead of time)
Recipe Notes
Store: Store leftover potato salad in an air tight container in the refrigerator for up to 4 days.
Reheat: You can absolutely eat this potato salad chilled, but if you like the warm vibe, microwave leftover potato salad for a few seconds until just warmed through.
Quick and Easy Method! As an alternative to steaming or boiling the potatoes, you can also buy steam-in-bag potatoes that come in 1 1/2 pound packages, so you'd need two bags for this recipe. Just steam them in the microwave, cut and add the your bowl!
Category:

Side Dish

Method:

Stove Top

Cuisine:

American
Keywords: mantitlement, potato recipes, potato salad recipes, german potato salad, side dish recipes, side dishes, make ahead recipes, recipes with bacon