This Simple Roast Chicken is perfect for Sunday dinners and for meal prepping during the week! Leftover chicken is great for sandwiches or salads, and you can even make a quick chicken stock with the bones when you're done!
Knowing how to roast a whole chicken is a basic kitchen skill that will give you meals for days. Also be sure and check out our Simple Roast Turkey Recipe and our Perfectly Smooth Mashed Potatoes for the ultimate side dish to your roasted chicken!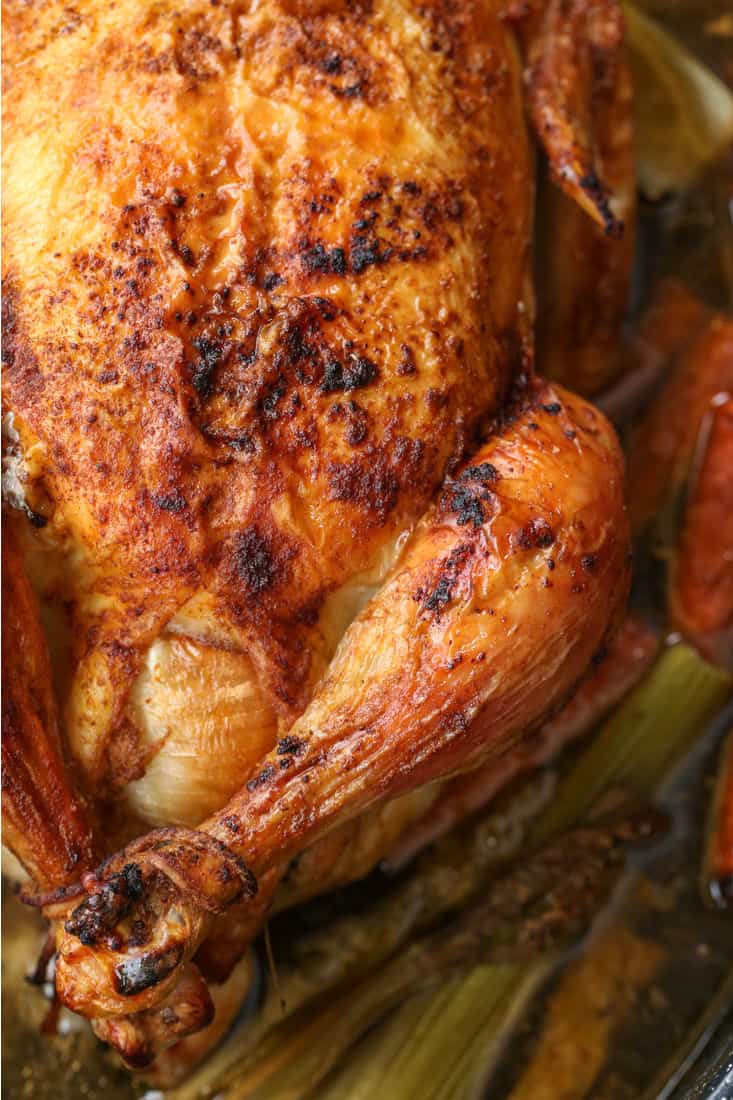 Why You'll Love This Roast Chicken Recipe
This is one of those recipes that you need to tuck away in your recipe book, Pin it, memorize it, whatever. It's an easy, cost efficient, delicious way to feed your family that still feels like something special.
Roasting a chicken doesn't have to be complicated at all, in fact, this recipe is just a basic guide and you can switch up the seasonings and flavors really however you like. Just get the basic steps down here and you can do the rest!
Easy To Make: Once you master this chicken recipe, you'll be making it every week. Only a few minutes of prep time and it's ready for the oven.
Versatile: You can easily switch up the flavors and seasonings in this recipe to your liking.
Leftover Recipes: Chicken can be used in many recipes like pasta dishes, soups and casseroles. We'll get into some more ideas later in the post.
Affordable: Making a roasted chicken is really very budget friendly since it can be used to make so many different recipes, including stock from the bones.
How Do You Roast A Whole Chicken?
First things first. Take out the giblet packet. I've made the rookie mistake before and it's one of those things that you kind of never repeat. Discard the giblets (or save them if you like for gravy) and place the chicken on a board.
Pat the chicken dry with paper towels, no need for rinsing, and then gather up your seasonings and aromatics. We're using onion, celery, carrots and lemon to stuff our chicken but there are many more ingredients that you can use as well.
Pro Tip! This is a great way to clean out the fridge if you have any veggies laying around or fresh herbs that you didn't get to using.
Generously season the chicken with salt, pepper, paprika and garlic powder. Use more seasoning than you think you need – this is a whole chicken and you need to make sure it's properly seasoned.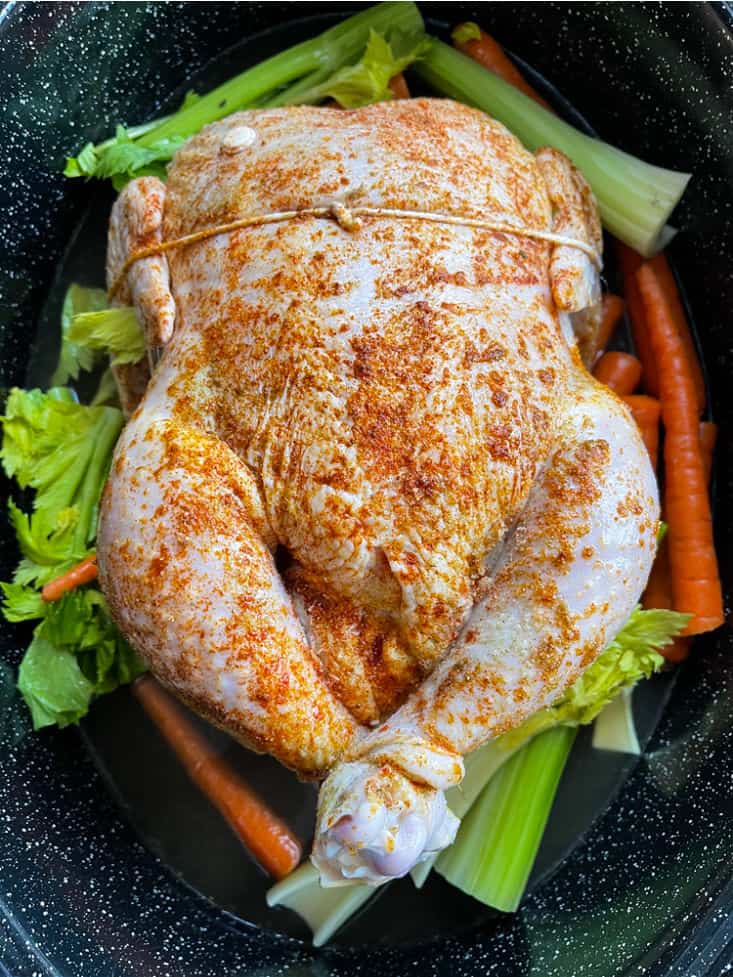 Do You Need To Truss A Chicken Before Roasting?
After stuffing and seasoning the chicken, you do need to truss the bird. Tucking the wings and legs tight into the chicken helps everything to cook evenly.
I run a long strand of kitchen twine underneath the breast of the bird and bring it up and over the wings. Tie the string in the middle like you see in the picture above.
Grab another piece of string and wrap it around the legs, using a criss cross pattern and then pull the legs together and tie a knot.
What Other Seasonings Can I Use For This Chicken Recipe?
Pretty much anything you like and have on hand. What you need for certain is kosher salt and black pepper. You could make this whole roasted chicken just with salt and pepper if that's all you have. But here are some more options!
For The Outside Of The Chicken:
Dried Oregano
Dired Rosemary
Dried Thyme
Onion Powder
Cayenne Pepper
For The Inside Of The Chicken:
Bay leaves
Turnips
Parsley
Shallots
Fresh Herbs
Oranges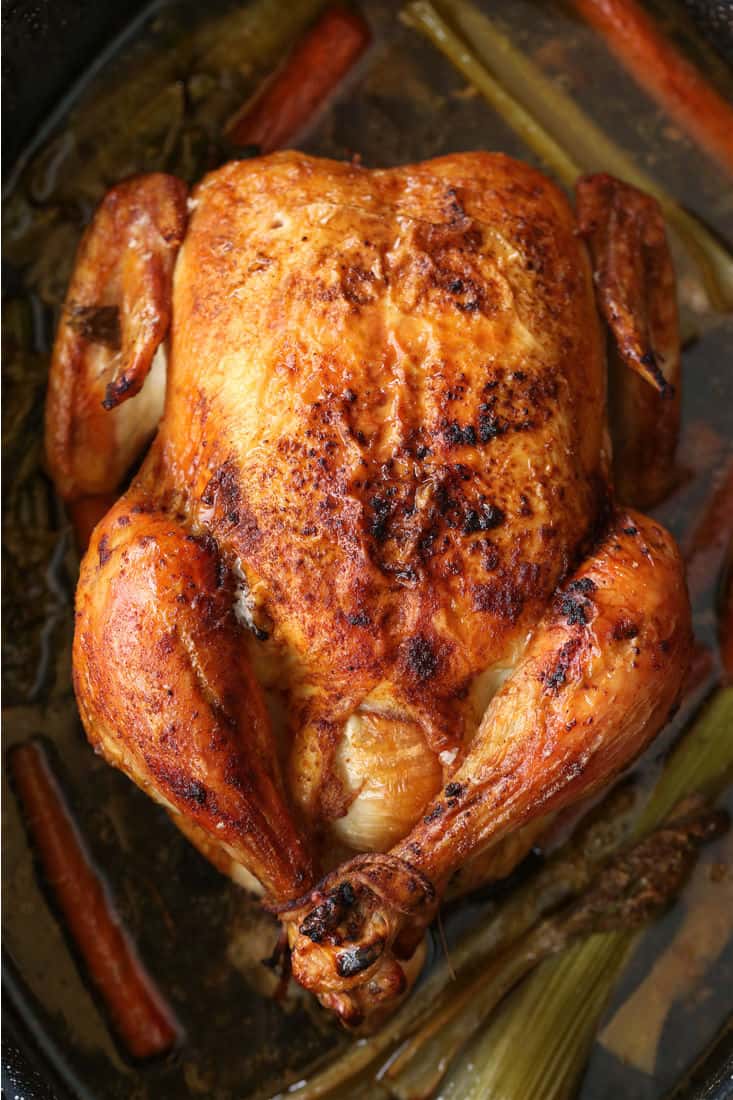 What Kind Of Pan Do You Use To Roast A Chicken?
Any baking dish or roasting pan will work that's big enough to fit your chicken and deep enough to hold the broth and juices. We like using a covered roasting pan because cooking the chicken covered helps to keep the juices in and not dry out.
If you don't have a covered roasting pan, you can use a baking dish and cover the chicken with heavy duty aluminum foil.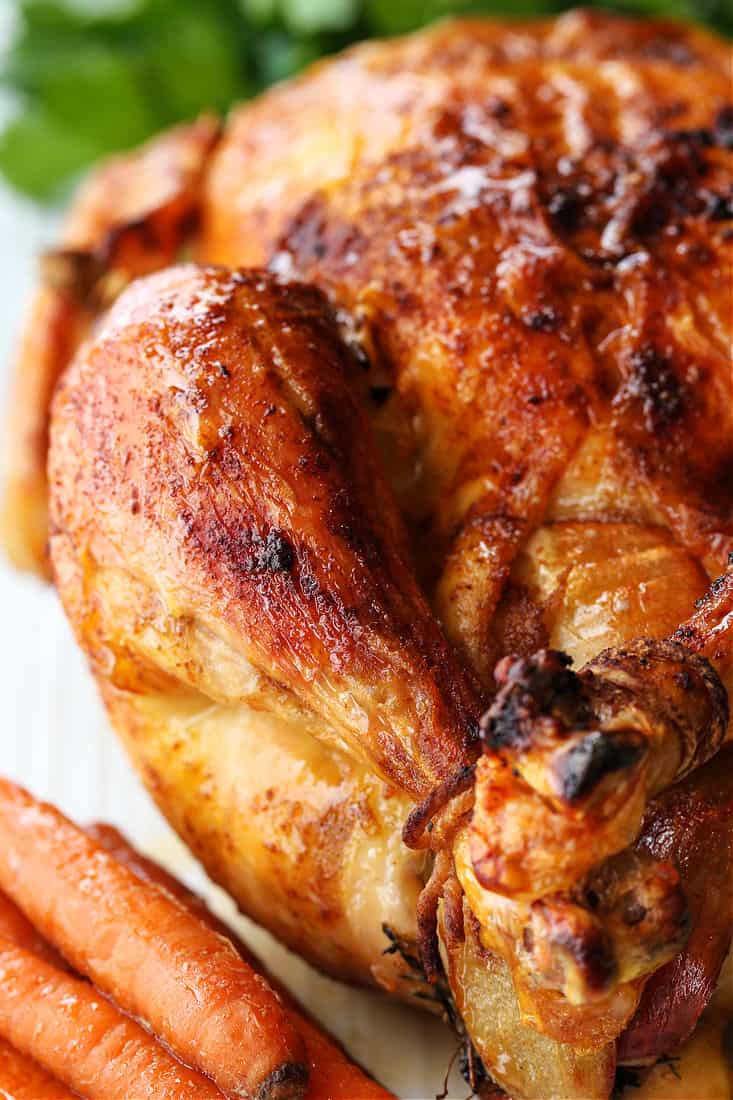 This Simple Roast Chicken Recipe starts in the oven covered, then we uncover it to brown the skin and get it super crispy like you see here. There's literally nothing better than perfectly crispy, seasoned chicken skin.
Need help carving this bird? Check out our a How To Carve A Turkey Breast post for a step by step guide. Same steps, just a bigger bird.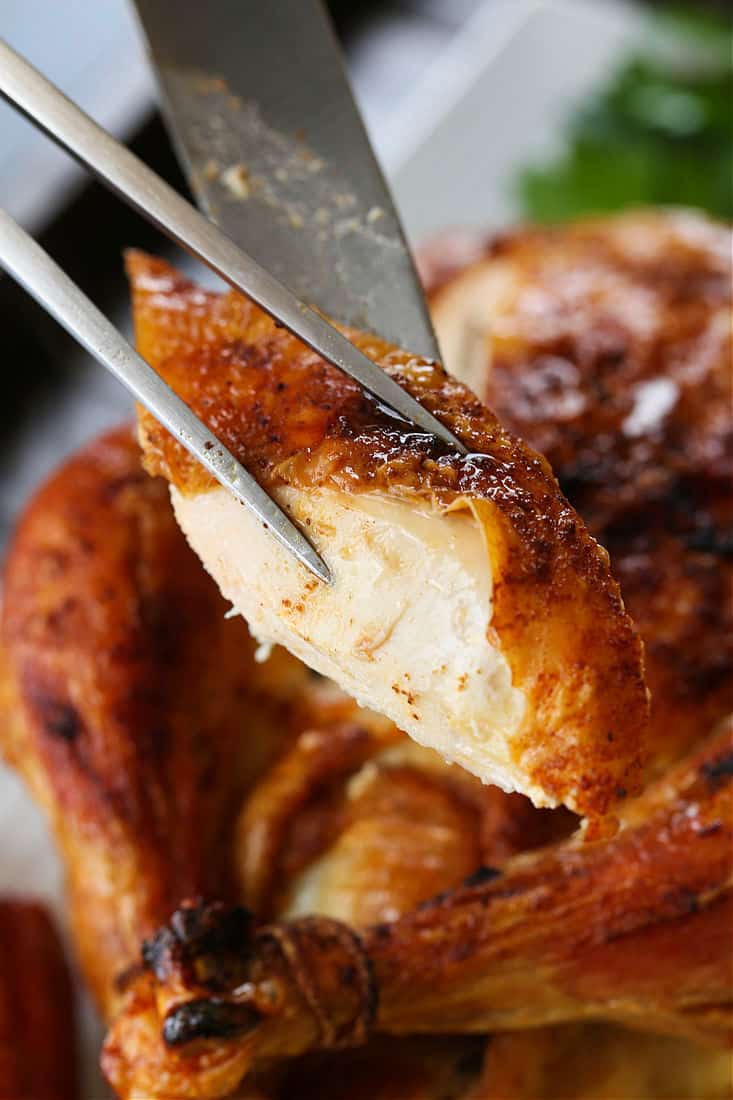 Recipes To Make With Leftover Chicken
Leftover chicken and turkey is a coveted item around my house. We make so many leftover recipes with chicken and turkey that we often make a bigger chicken just for the leftovers!
Looking For More Chicken Recipes?
Print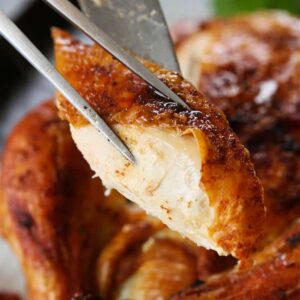 Simple Roast Chicken
Author:

Prep Time:

15 minutes

Cook Time:

1 hour 30 minutes

Total Time:

1 hour 45 minutes

Yield:

8

servings

1

x
This easy roast chicken recipe is a staple at our house! Perfect for Sunday dinners and meal prepping during the week, and you can make a quick chicken stock with the bones when you're done!
Scale
Ingredients
7

–

8

pound oven stuffer roasting chicken
Kosher salt, fresh black pepper, paprika, garlic powder (For seasoning the chicken)

1

head of garlic, cut in half

1

lemon, cut in half

2

celery stalks with leaves, cut in half

2

small carrots, washed and cut in half

1

yellow onion, cut in fourths and peels removed
Instructions
Preheat the oven to 400 degrees.
Remove the giblets packet from the chicken and discard. Pat the chicken dry with paper towels and place on a board. Stuff the cavity with the head of garlic, lemon, celery stalks, carrots and onion.
Tie the legs together, crisscrossing the ends together and then wrap a strand of twine around the bottom of the chicken and over the wings and tie on the top of the chicken to keep the wings in place.
Season the chicken generously with salt, pepper, paprika and garlic powder. Use your hands to rub the spices and seasonings all over the legs, wings and the undersides of the chicken.
Place the chicken into a roasting pan or a baking dish. Pour 2 cups of chicken broth into the bottom of the pan and add extra carrots and celery if making a gravy after the chicken is roasted.
Tent the chicken with foil (or cover if your roasting pan has a lid) and cook for 1 hour. Remove the chicken from the oven, baste with the juices from the pan and then return to the oven with the foil or lid removed.
Continue to cook for another 30-40 minutes, depending on the size of your chicken. Chicken needs to be cooked to 180 degrees in the thickest part of the thigh, until the juices run clear. Also, many roasting chickens have a pop up timer that will let you know when your chicken is done.
Remove the chicken from the oven, tent with foil to let rest for 10 minutes and then carve and serve.
Recipe Notes
You can also use 1 cup of white wine and 1 cup of chicken broth instead of the 2 cups of chicken broth – wine gives this roasted chicken an excellent flavor!
Category:

Dinner

Method:

Oven

Cuisine:

American
Keywords: roast chicken, chicken recipes, roasted chicken, whole chicken recipes, easy chicken recipes, how to roast a chicken